As I mentioned in an earlier posting, several of my masks are named after Greek mythological characters. In March of this year I realized I had not painted a "Zeus" yet, and decided it was time. I chose a Venetian Casanova mask to design this composition around, placing it atop a stormy sky to give a feeling of power and intensity. I then added a silhouette of a tree with a stylized color pallet to show an organic tie-in from the heavens to the earth while suggesting lightning-which Zeus is always associated with. The design grew to be quite different from where I'd been before with my masks which really excited me.
As I was painting I decided I did not want to include this piece as one of my Greek gods since it was so different from the rest in the series. The colors and intensity in the piece got me to thinking about radioactivity and environmental decay. My thoughts then went to everyone jumping on the "going green" bandwagon. Everywhere I look we are being inundated with "save the environment"…but everyone has their own agenda and most seem to be using it for political or monetary gain. I guess I'm always looking behind the curtain… Anyway, I chose the title "An Inconvenient Half-Truth", a perversion of the title from Al Gore's documentary, to convey this sense of political, corporate and environmental hypocrisy.
As of this posting I still have not created a Zeus painting…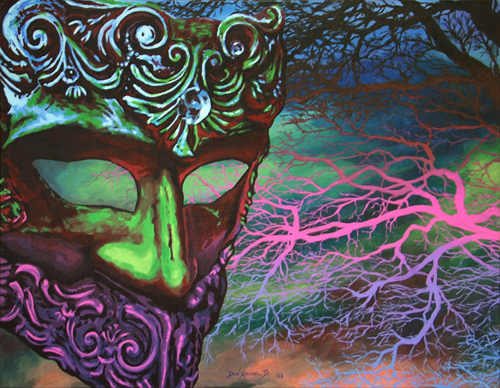 "An Inconvenient Half-Truth" – 24″x30″ – Acrylic – Completed 3-18-08
©2008, Don Michael, Jr.
In June of 2006 I had the opportunity to visit the Museum of Modern Art in NYC for the first time. I got in front of my favorite Picasso that day entitled "Girl Before a Mirror" and had a near-religious experience. I came home from New York transformed. I decided it was time to loosen up my brushwork and stop being so concise(anal-retentive) about seperating my painting into tightly controlled fields of color. The resulting painting is "Daphne".
With this painting I also changed my naming conventions. Prior to "Daphne" all of my mask paintings had started with the letters "in-" (ie: "Incongruous", "Incumbant", "Ingenue", etc.). It was always a fun challenge to find a name to fit a painting with that as a limitation and there are many more wonderful unused "in" words, but I felt with a change in style had to come a change in titling. The next several masks were named after Greek mythological characters.
I continued this looser style of painting for several canvases until I found myself evolving to a more refined, soft edged brushstroke which I am currently employing.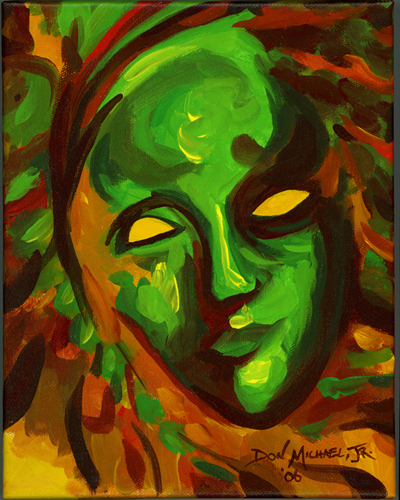 "Daphne" – 10″x8″ – Acrylic on Canvas – Completed 6-26-06
©2006, Don Michael, Jr.
In August of 2002 I was at an unexpected crossroads in my Television Graphic Design career and needed to find an outlet for my fears, confusion and excess energy. I decided it was time to pick up a paintbrush again for the first time in 6 years. But, what to paint??? I decided to paint one of the masks which is part of a collection I've been accumulating for the last several years since my brother, Duane, was in the Navy sending me masks from different ports around the Pacific. Other friends and family have joined in the fun and I now have more than 30 masks hanging on my walls from all corners of the earth.
The mask I chose to paint that day comes from Marmaris, Turkey and is one of my favorites. It has a primitive look with harsh angles in its features and cool hair made from twine. I placed it on a stylized modern cityscape to contrast its primitive feel. The way I broke up everything into individual planes of color (my brother, David, calls it paint-by-number) comes from my years of creating silkscreen(serigraphy) prints. I named the painting "Incongruous" to reflect the contrasting primitive/modern concept.
I had such a good time painting this mask that I decided to pull another off the wall to paint. This started a trend which I have continued for the past 6 years. Except for a couple commission works the only subject matter I have painted during this time has been masks. And, I see no end in sight.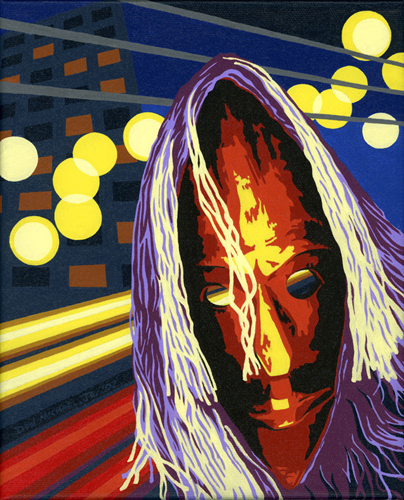 "Incongruous" – 10″x8″ – Acrylic on Canvas – Completed 9-29-02
©2002, Don Michael, Jr.
I just finished a new painting entitled "A Rose By Any Other Name". Her quiet beauty was designed to balance the heaviness of my previous painting "Silence Gives Consent". Sometimes I get caught up in my dark humors and I have to get them out – preferably on canvas – but then I have to find a good place to land for respite. "A Rose…" was a lovely place to land for me. I hope you enjoy…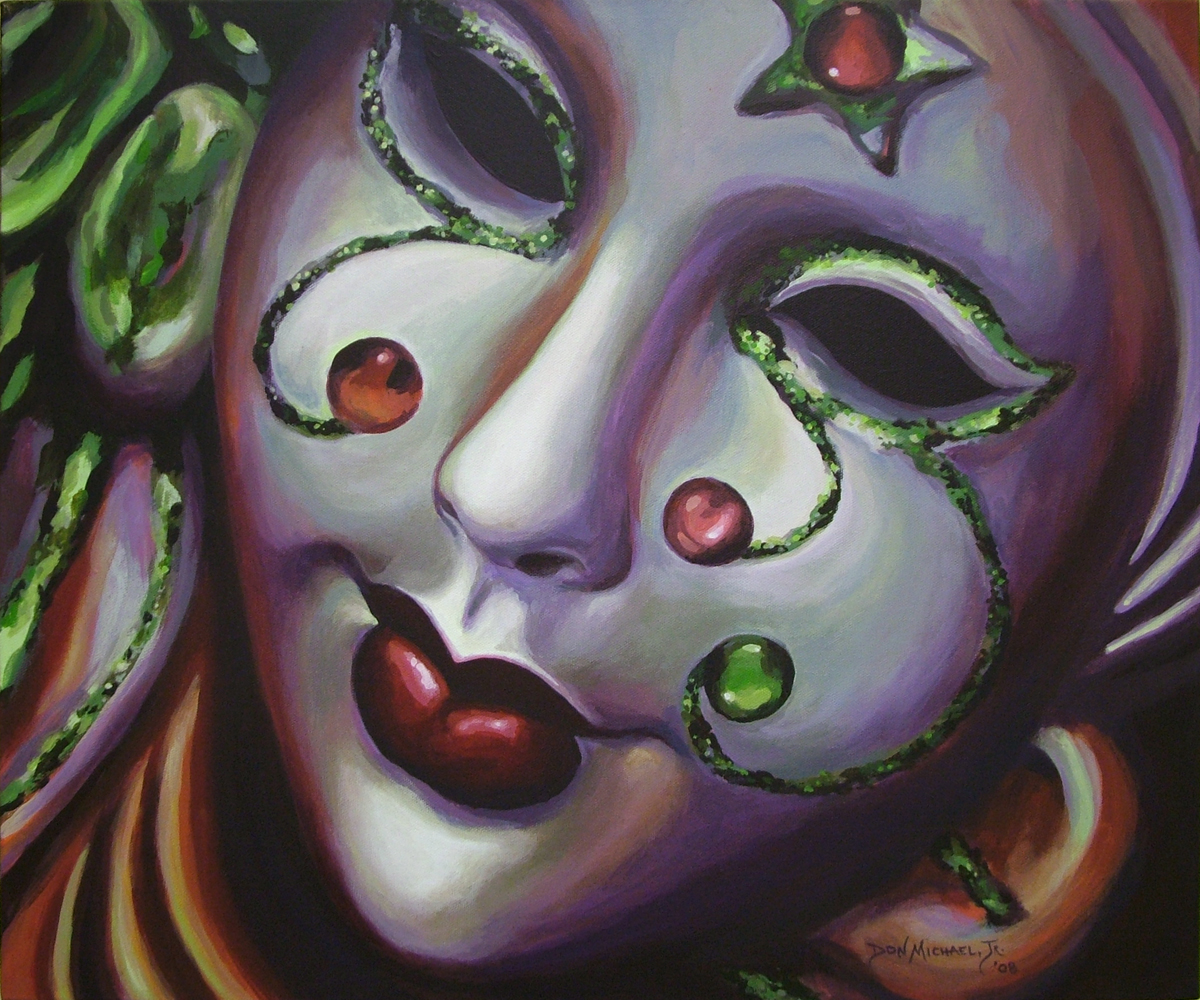 Above is "A Rose By Any Other Name" (20″x24″ acrylic on canvas – ©2008, Don Michael, Jr.). You can see how her mood differs greatly from "Silence Gives Consent" (24″x30″ acrylic on canvas – ©2008, Don Michael, Jr.) shown below.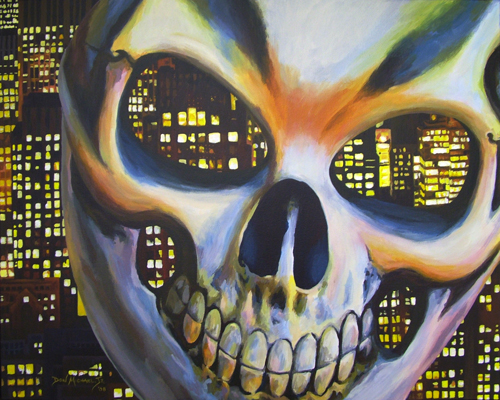 "Silence Gives Consent" was a concept I worked on for several months before I came up with the final design. I wanted to show my concern that too many people go quietly thru life while decisions are being made for them that aren't necessarily for their own good – me included. The leather skull mask represents those very decisions and the large population is represented by the many windows in the cityscape.