Take an old rubber Halloween mask. Throw it on the desk with just a desk lamp for lighting. Mix in some crazy colors all applied with a palette knife. Take into account the crazy economic mess going on in this country – and the whole world, for that matter. Out of this mad conglomeration comes something that looks a bit like this…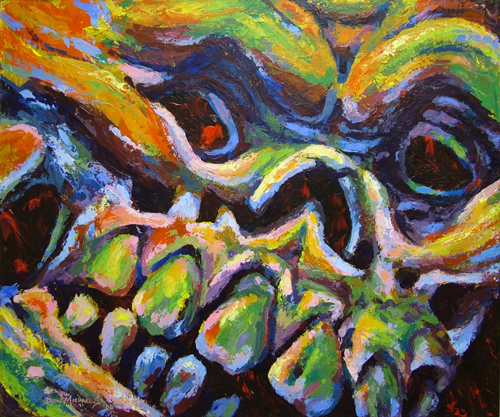 Cost of Living – 20″x24″ – Acrylic on Canvas – Completed 9-29-08
©2008, Don Michael, Jr.
This is #4 in my palette knife series of paintings. I started this one Sunday night and finished it Monday. I feel the palette knife has liberated me in a way that has never happened with a brush. It's really hard for me to put into words how excited I am by this. It's like something has suddenly clicked for me, and I wasn't even looking for it…
As I was preparing to paint the designs in the mask's face I felt I would need a paintbrush to accomplish their subtle lines. But, as soon as I started painting with the brush and had a couple of the lines painted in I felt it was totally wrong. It just didn't fit… So, I quickly rinsed out my brush, picked up my palette knife and voila! all was right in the world again.
As I was painting this I started thinking about one of my favorite Edgar Allan Poe short stories. Prince Prospero is the protagonist in this story. Can you guess which one?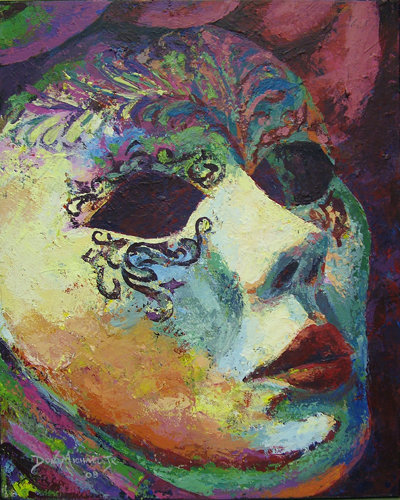 "Prince Prospero" – 20″x16″ – Acrylic on Canvas – Completed 9-23-08
©2008, Don Michael, Jr.
I've had a few people who visited my www.artscuttlebutt.com/don_in_vegas homepage wonder, "who is the man behind the mask?".
Above is my profile image for Artscuttlebutt.com. At the time I set up my profile this was the most current of my paintings. It is a detail of  "Anywhere the Wind Blows", which is still one of my favorites.
 I just figured my masks were prettier than me so I chose one of them to represent me. But, for those who are curious, I am the one on the right in the photo below…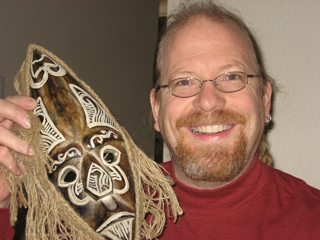 Go to a casino. Gamble a while. Use up the allotted cash you took in with you. Glance around. There it is… a nice and convenient ATM. It will take debit or credit. It only charges a small fee. No worries. Keep playing. You might get lucky… You might even win back your money. Oops, there went that cash. Let's try it again. I'm bound to win soon. What do you mean I'm overdrawn? How could I possibly be at my credit limit? How am I supposed to keep playing?!!??
"Flirting With Disaster" is the third painting in my palette knife series. I love the organic look and feel that occurs when the colors are globbed and buttered onto the canvas. This textured surface adds to the drama and tension I was trying to convey in this composition. You take a credit card into a casino and, to borrow a phrase from my wife, Laura, "first there's the laughing and then there's the crying".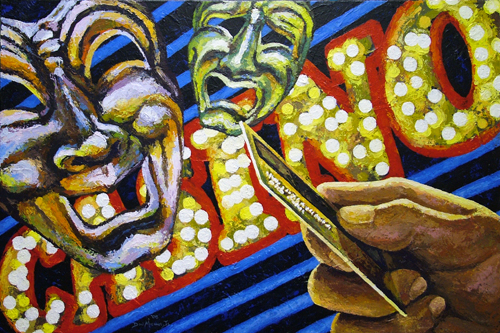 "Flirting With Disaster" – 24″x36″ – Acrylic on Canvas – Completed 9-21-08
©2008, Don Michael, Jr.
I had so much fun painting "Hermes" using only a palette knife that I had to do it again. This time I went to a larger canvas – 20″x16″. I started by getting out some old tubes of paint and smearing their contents all over the canvas with my palette knife. I did several layers of this to get texture and variety of color. I intentionally chose colors for this undercoating that would contrast with the colors of the mask knowing that they would show thru via the texturing. I then blocked in the darkest areas of the design to give my reference points and started slinging paint. Wow is this fun. The resulting painting is below.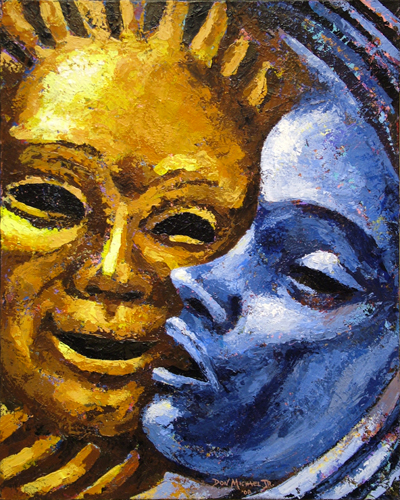 "Eclipse" – 20″x16″ – Acrylic on Canvas – Completed 9/10/08
©2008, Don Michael, Jr.
I started another painting in this style last night. I got bold – and maybe a little cocky – and went to a "24×36" canvas for this next one. We'll see how it goes…
For years after mixing paint I've been wiping the excess from my palette knife onto my easel. The easel had sustained water damage in a previous life and I thought the best way to cover up the damage was to smear paint all over it. Years of doing this has created a very colorful abstract mess which I find entirely delightful. A couple months ago I decided I wanted to see what would happen if I started that same type of treatment on canvas. So, I took an 8×10 canvas and started smearing my palette knife across it every time I mixed up paint. I did this during the process of creating 3 different paintings and ended up with a pretty cool abstract piece. But, it didn't feel finished to me and I wanted a mask to be its subject matter. So, a couple nights ago I grabbed my palette knife and started painting right on top of the textured surface. It was a very liberating experience watching the mask rise from this abstract chaos. I love the way the textures and earlier colors show through the final composition giving it a very organic feel. It was tremendous fun and I anticipate more like this will be coming.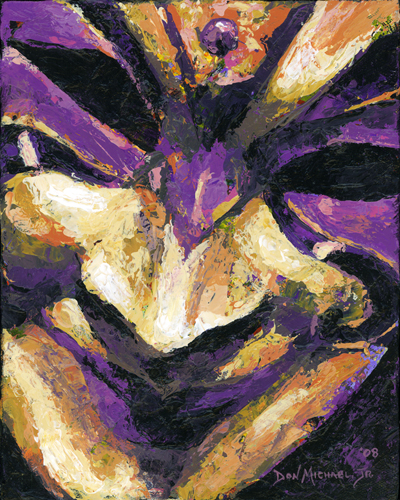 "Hermes" – 10″x8″ – Acrylic on Canvas – Completed 9-4-08
©2008, Don Michael, Jr.
Have you ever noticed how great a smile is at hiding what we truly feel? This question crossed my mind as I was painting my most recent mask, "The Perfect Hiding Place", and listening to Queensryche's "Empire" album. In their song "Anybody Listening?" they ask the question, "Is there anyone who smiles without a mask?" This really got me to thinking. I've always been a big smiler, even having others comment on my smiling, happy persona over the years. Is my smile just a mask?
I remember as a child being moved often from new school to new school. Nothing is more unsettling for a child than having to make new friends over and over, especially if the move occurs during the school year when all the kids have established their "clicks" for the year. I learned that the best way for me to hide my fears was to smile. When you're lonely, smile. When you're scared, smile. When you're embarrassed, smile. When you're being laughed at, smile – and even laugh along.
Now as an adult I find I do the same thing. No matter what I'm dealing with I smile. When I'm pissed, I smile. When I'm upset, I smile. When I'm overwhelmed, I smile. When I'm freaking out inside I'm smiling on the outside. It's hard for others to hurt you if they can't get thru the smile and see what's really going on inside.
Don't get me wrong, I am a relatively happy person. I survived those school years. I have a wonderful life with a loving family, a great job, and a fulfilling hobby. I've Just found that the best way for me to handle life is to smile. A smile is endearing; it's disarming; it's distracting; it diverts attention and it puts those around you at ease. I guess it's also a lazy way to go thru life since I've heard smiling takes fewer muscles than frowning. Try it, you just might enjoy it…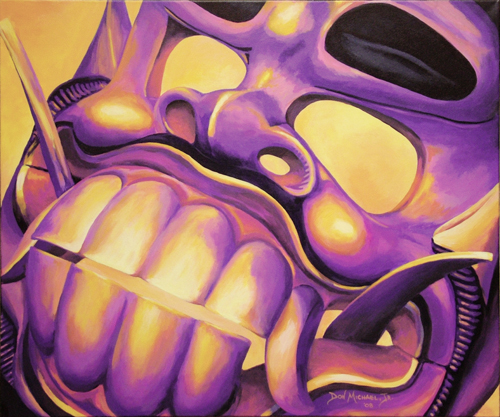 "The Perfect Hiding Place" – 20″x 24″ – Acrylic on Canvas – Completed 9-2-08 ©2008, Don Michael, Jr.