What started out as another painting for my Greek gods & goddesses series changed during the creation process. As I was painting this one I became troubled by the state of unrest in our country right now and how it is affecting so many working families. As corporations tighten their purse strings jobs are cut. As jobs are cut people spend less money. As less money is spent corporations tighten up their budgets even more and then more jobs are cut. I hope this trend ends soon because this phenomenon is hitting too damn close to home for comfort. Trickle-down economics is a freakin' killer, especially when the only thing trickling down is crap, crap and more crap…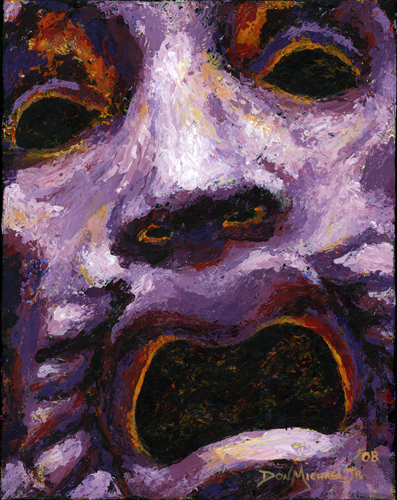 Job Security – 10″x8″ – Acrylic on Canvas – Completed 10-29-08
©2008, Don Michael, Jr.
I decided it was time to get all of my Greek mythology paintings into one gallery. I did not realize how many pieces were in this series until I saw them all in one spot. I'm sure there will be more to come…

All above paintings 10″x8″ –  ©2006-2008, Don Michael, Jr.
Zeus proved just as difficult to paint as he is as a Greek god. I wanted to create a stormy-looking sky and mask combo to accentuate this character's tumultuous personality; but I never anticipated that "storminess" would translate to the creation process as well. I chose, once again, to use only my palette knife to render this work. However, I found that the swirls and lines in his beard and hair were not coming across the way I wanted. So, I got out a brush for the first time in several paintings. I really had to fight this painting thru to completion…and I'm still not sure I got exactly what I wanted. I'm still too close to it right now, but time will tell.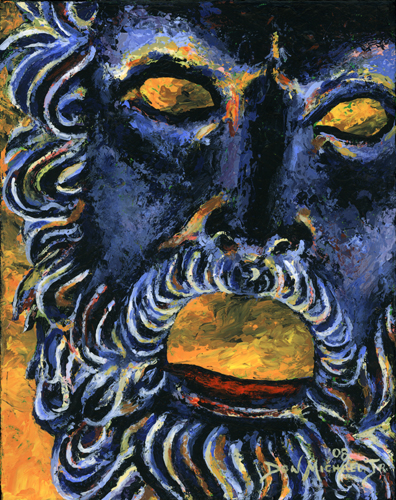 Zeus – 10″x8″ – Acrylic on Canvas – Completed 10-27-08
©2008, Don Michael, Jr.
Hephaestus, the Greek god of the smith, seemed like the perfect choice for the name of my most current painting. The mask in this painting comes from Ghana and is composed of hammered metal and wood. Once again I used only my palette knife to apply the paint to the canvas. I continue pushing the envelop with this tool as I explore its possibilities. I thoroughly enjoyed the challenge of all the detail in this mask with the divets and grooves.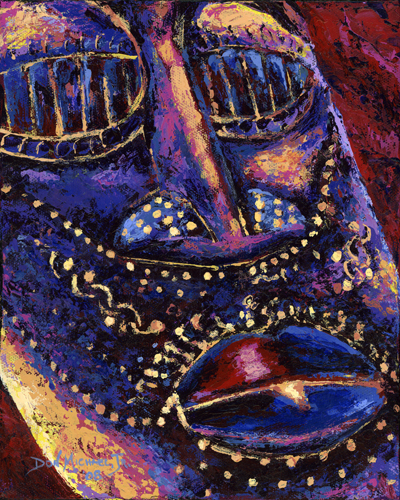 Hephaestus – 10″x8″ -Acrylic on Canvas – Completed 10-22-08
©2008, Don Michael, Jr.
Stoic, unmoving, resolute, intense, cold… These were the words going thru my mind as I painted my most current piece. But, organizing those thoughts into a title wasn't happening. So, I asked my 14 year old son, Eric, what was the first thing he thought of when he looked at the finished canvas. He immediately replied that it made him think of "…Ironman. Not the movie, but the one in Black Sabbath's song…". I knew right away he was onto something. The line from the song that I chose as its title is my wife Laura's favorite, "He Just Stares at the World". If you've never paid attention to what Ozzy is singing in this song, give it another listen – or google "ironman lyrics". It's really quite powerful.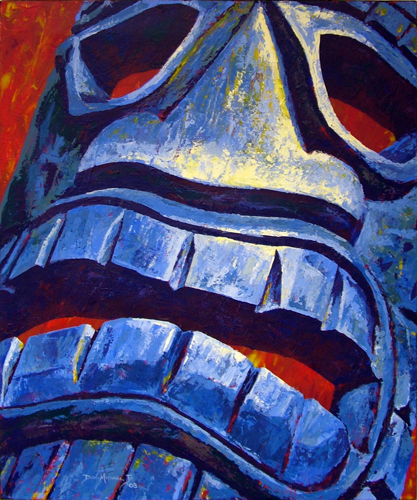 He Just Stares at the World – 24″x20″ – Acrylic – Completed 10-17-08
©2008, Don Michael, Jr.
Early autumn and a winding road going who knows where… Sometimes when I'm feeling my age I realize that's exactly where I am in my life's travels. I'm probably past the half-way point of my life and I'm not sure what comes next. At least, as the bright colors signify, I've been enjoying the ride, so far. As I stop to ponder where I've been and what I've done I become a bit meloncholy. But, the breeze of life keeps me moving forward – ever towards the next bend in the road. Eventually one of those bends in the road will take me to where "The Inevitable Adventure" awaits me.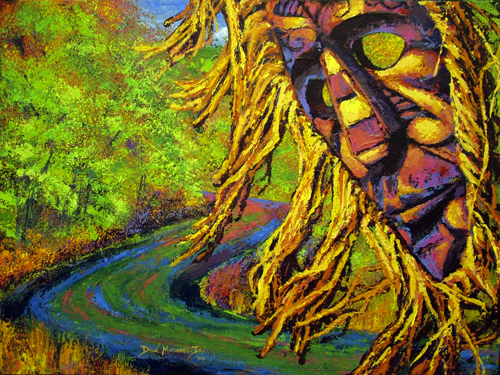 The Inevitable Adventure – 18″x24″ – Acrylic on Canvas – Completed 10-9-08
©2008, Don Michael, Jr.
This is another of my palette knife pieces. I also used a natural sponge to lay in the texture and undercolors for the trees in the background. I love what then occurred when the palette knife, laden with color, was wiped across that texture. Fun, fun, fun…