During the course of our lives we go through many ups and downs. I've discovered that when we get into the valleys of life we have a tendency to focus on the obstacles in front of us and forget to stop and smell the flowers. If we're not careful we can also forget to look up. How can we find our peaks if we're not looking for them? I'm a firm believer that we need the valleys to truly appreciate the peaks. The balance is there…it's just up to us to find it.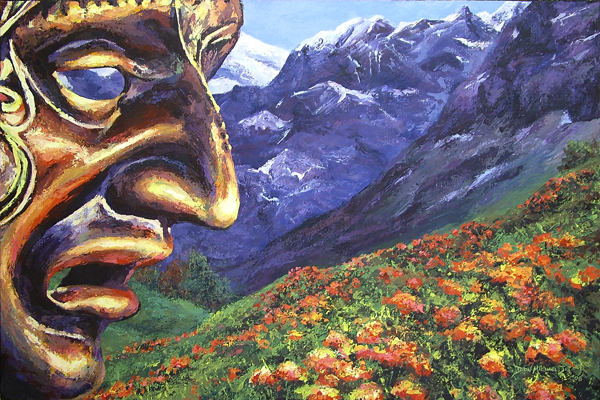 Down Time – 24″x36″ – Acrylic on Canvas – Completed 11-22-09
©2008, Don Michael, Jr.
This mask has been waiting on me to paint it for quite some time now. After much trial and error I finally decided on my color palette and started painting. As hard as that was, it was even tougher coming up with a fitting title for the finished piece. Several trains of thought were circling in my head: mesmerizing, hypnotic, organic, floral, regality, cold, hot… I had already spent several hours when the song "You Make Loving Fun" by Fleetwood Mac's Christine McVie came on. There is a line in the song which includes "Don't, don't break the spell". When I heard that I wrote it down and continued my title search. After coming back to it over and over I finally realized, with a little help from my friend, CJ, that with one minor tweak this was my title. Her eyes draw you in and keep you riveted. You don't want to turn away and "break the spell". I wanted it to feel more personal and intimate to the viewer so I changed "the" to "this".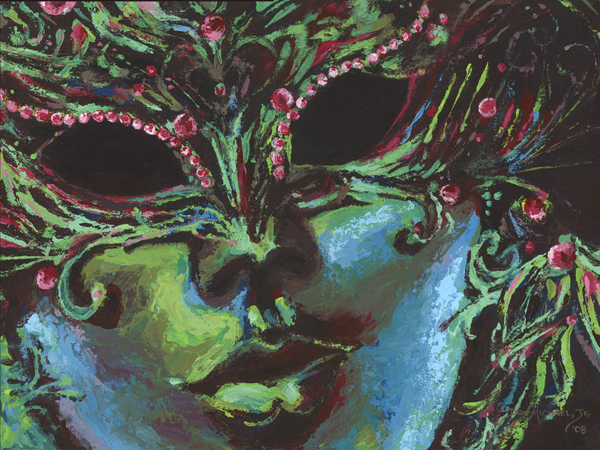 Don't Break This Spell – 12″x16″ – Acrylic on Canvas – Completed 11-17-08  ©2008, Don Michael, Jr.
For those keeping score, this is my 13th painting completed using primarily a palette knife to apply the paint.
This is an exciting post for me. I just found out that my painting "Poetic Justice" received 3rd place in the International Society of Acrylic Painters' online juried exhibit. This is a validation of what I've been working towards this entire year. In January I committed to being accepted into at least one juried exhibition before the end of the year. Here it is November and I've not only been accepted into 3 shows in the past few weeks, but now I've placed in one. Hard work and dedication do pay off… This solidifies my other commitment to paint every single night after my family retires to bed.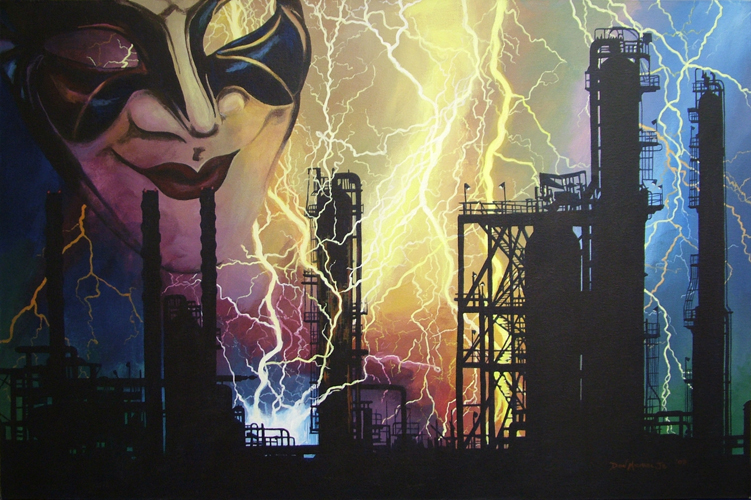 Poetic Justice – 24″x36″ – ©2008, Don Michael, Jr., – 3rd Place winner in the International Society of Acrylic Painters' First Online Digital Open International Show. This painting and the other winners can be viewed at http://www.isaponline.com/showwinners.htm. Please stop by and check out all of the winners. There are many excellent acrylic paintings to enjoy.
In the movie Shreck, Shreck tells Donkey, "Ogres are like onions… Onions have layers". I think the same is true for humans. We layer ourselves behind masks. Even when we reveal something about ourselves it's tempered and sanitized. Do we truly ever put ourselves "out there" without holding back something? I am attempting to convey that thought in my most current painting, "To Know Me".
To Know Me – 30″x24″ – Acrylic on Canvas – Completed 11/13/08
©2008, Don Michael, Jr.
After going 0 for 15 trying to get into juried exhibitions this year I have finally gotten over the hump. In the last 10 days I have had 3 of my works accepted into two exhibitions. This is exciting for me and the realization of commitments I made to myself this past January. After my mask paintings were shown for the first time in a one-man show last December at the Caramel Lounge in the Bellagio Hotel/Casino I decided it was time to get really serious about painting. So, I committed to 1) Paint every night, even if for just a few minutes, and 2) Get accepted into a juried show by the end of the year. Now I can say I lived up to both of these commitments
"Afterglow" – 20″x16″ – ©2008, Don Michael, Jr., will be hanging at the Northwest Cultural Council in Palatine, IL as a part of their show "Life's Unique Journey 2008" from 11/18 thru 12/30/08. And, two paintings, "Cost of Living" – 20″x24″ – ©2008, Don Michael, Jr., and "Flirting With Disaster" – 24″x36″ – ©2008, Don Michael, Jr., will be hanging in Fredericksburg, VA's Center for the Creative Arts as part of their "Color of Money" show from 11/30/80 thru 1/31/09.
No matter how bad things get, they could always be worse…
This painting is of a rubber halloween mask that is kind of scary and kind of goofy. My color palette was chosen to reflect autumn colors with the intent of creating a piece with a halloween/autumn narrative. However, as I was painting and going over where I've been lately with my work I realized I've been getting a little focused on negatives and decided I wanted to have a positive message come out of this one. But, how do you reflect positive when your subject matter involves a skull, the epitome of negative? Well, the title of course… So, being the eternal optomist I chose a name to reflect the true definition of such – "Glass Half Full". And, once I put the title to this guy it just felt right… I hope you agree.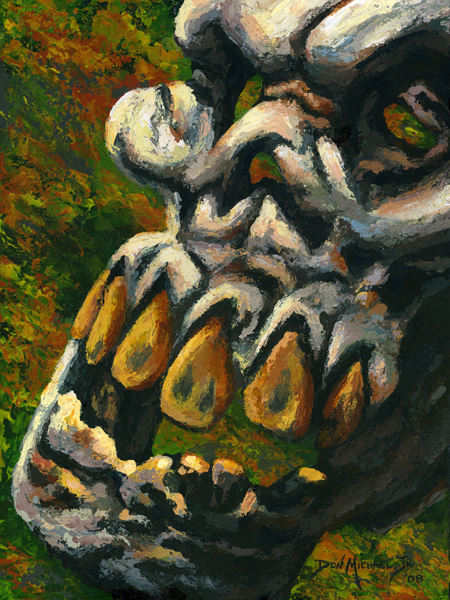 Glass Half Full – 16″x12″ – Acrylic on Canvas – Completed Election Night, 11-4-08
©2008, Don Michael, Jr.