This is the painting I spoke of in my "Decoy" blog several days ago. It is a gift to my wife for Christmas. This comes from a photo of Laura and me from 1985. It is my first attempt at a portrait in almost 2 decades. To make it more of a challenge, I chose to use only a palette knife to paint this one – as I have done for the past several paintings. As I told my friend Doug, I also made a rookie move – using a photo taken with a flash. It is very difficult to create contrast and definition when working from such. I think I pulled it off, tho. And, Laura seems to really like it…which is what it's really all about. The title is not only a statement of fact, but also a tip-of-the-hat to the song by Queen – one of our favorites.
I hope you had a Merry Christmas and enjoy a prosperous New Year.   -Don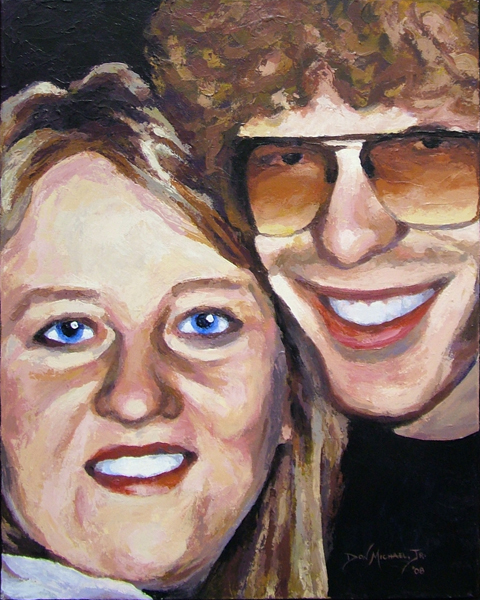 You're My Best Friend – 20″x16″ – Acrylic on Canvas – Completed 12-17-09
©2008, Don Michael, Jr.
May Joy, Love and Peace be with you this Holiday Season.
With the state of our economy and all that's going on with the finances, jobs and homes of friends and family I wanted to create a painting which acknowledges the holiday season while reinforcing the need to focus on joy. This painting will be the cover of this year's family Christmas Card. To paraphrase and totally change the meaning of an old Christmas Carol, let us all allow Joyful to be Triumphant.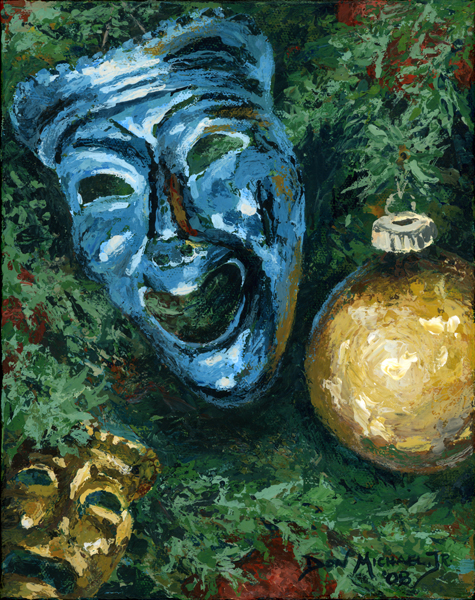 May Joyful Be Triumphant – 10″x8″ – Acrylic on Canvas – Completed 12/20/08
©2008, Don Michael, Jr.
Not only do we all wear masks, but we gild them to make them look even more valuable or desirable than they really are. We know who and what we really are, but as we present ourselves to others we want them to see us in a much better light. What better way than to distract them with a pretty and shiny surface?
I am painting a canvas which will be a gift to my wife for Christmas. I will post that finished painting after the 25th. To keep her in the dark about what I'm up to I needed a decoy painting to have on my easel which uses the same color palette. I went thru all of my pending designs and settled on the one for "Gilded". It is a design I've had for quite a while trying to figure out just what I wanted to do with it. I decided to just go for it and see what came of it. Here are the results…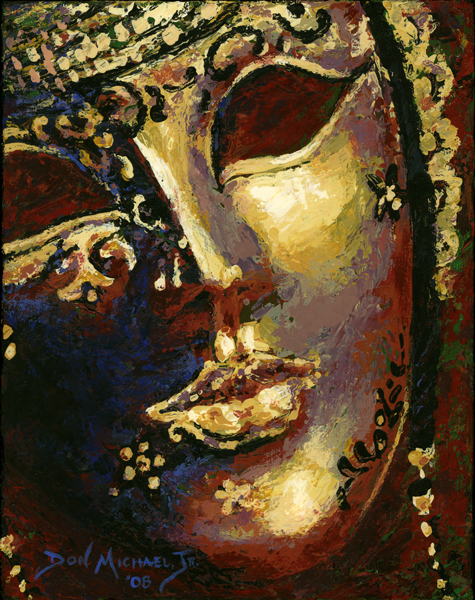 Gilded – 10″x8″ – Acrylic on Canvas – Completed 12/12/08
©2008, Don Michael, Jr.
Summer's gone. There's been a chill in the air. The leaves have fallen. Decay is all around. The harsh cold of winter is right around the corner. In comes a warm breeze to remind us of summer past and of spring to come. With death and decay all around us there is still hope in the air. It's Indian Summer. Enjoy the moment, and may its memory last thru those dark days of winter.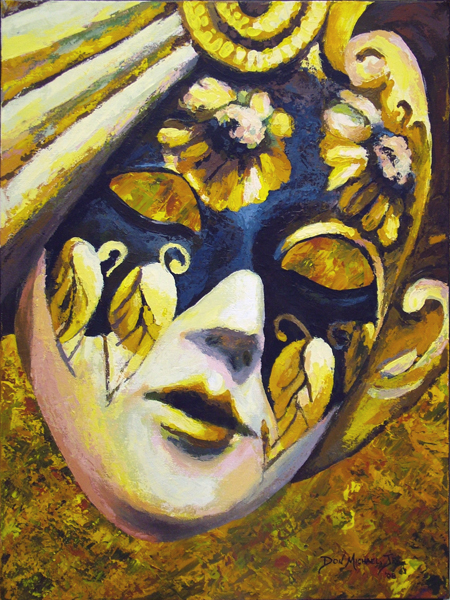 Indian Summer – 24″x18″ – Acrylic on Canvas – Completed 12-5-08
©2008, Don Michael, Jr.
Indian Summer is a continuation of my palette knife series. This tool has opened up my eyes and psyche in ways I never even imagined. I feel liberated and on fire… not a bad combination, I might add…
After we've made it thru life's valleys – after we've overcome adversity – after we've gotten past the obstacles life throws our way – it's time to enjoy the highs that life can give us. Those high times are precious and should be savored. We must remember those times to help us thru the next valley which will surely come. It's impossible to hold onto the high times for too long. The scenery from the peak is a beauty to behold, but the peak itself is jagged and precarious. Enjoy it while it lasts…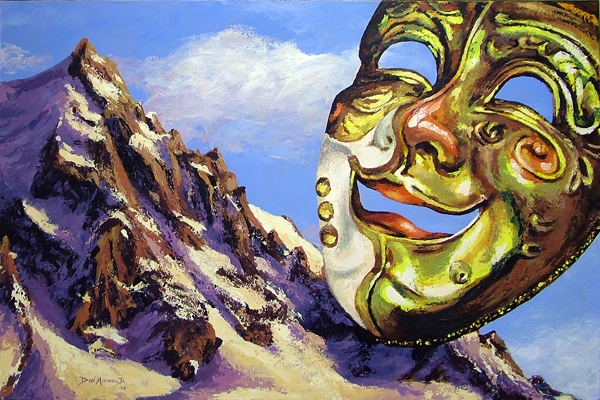 High on Life – 24″x36″ – Acrylic on Canvas – Completed 11/29/08
©2008, Don Michael, Jr.