"…A Joy Forever" – John Keats.
Although I had totally different ideas about how I wanted to title this piece, my wife felt that it should revolve around the idea of "lovely". Being a man of peace, and totally into self-preservation, I immediately changed my titling strategy. Since I enjoy working in abstracts when it comes to titling my work, I went looking for the perfect quote from which I could pull some delicious nugget that would fit within the parameters of the aforementioned 'suggestion'. I think I found it.
This painting is of a Venetian mask. I had never attempted copper before and thought it would be fun. The red-orange of the copper needed to be complemented to really make it "pop", so I used a blue-green sky behind her eyes. I primarily used a palette knife with finishing touches applied via brush. Wanting to experiment further with texture, I mixed a  light molding paste into my bright green underpainting. I applied the underpainting with extreme and random strokes of my palette knife which made a mountainous mess. I loved it! On the next one I plan on doing the same thing, except this time I'm going to stiple in the texture with my natural sponge. I can hardly wait to get started…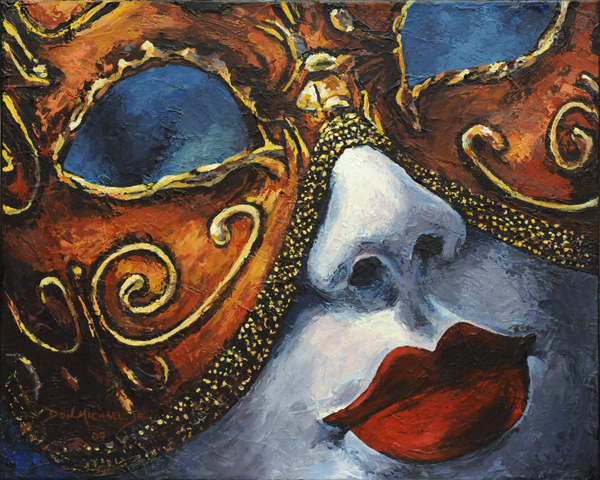 A Joy Forever– 16″x20″ – Acrylic on Canvas – Completed 2-22-09
©2009, Don Michael, Jr.
A thing of beauty is a joy forever. -John Keats
On April 3, 2009, Three Square, an organization in Las Vegas dedicated to ending hunger in Southern Nevada, is having its annual DISH fundraising event. This event features some of the top chefs and entertainers from Las Vegas. As part of this fundraiser Three Square is featuring Signature Dish which is an annual juried art exhibition of local artists, celebrity chefs and top entertainers who have been invited to present their artwork on dinner plates which will then be auctioned off. I feel honored that I was invited to take part in this year's Signature Dish. You can see more info on this event by clicking here: Three Square Dish Event.
This year's theme for Signature Dish is "Passionately persuing a hunger free community". Since my focus has been masks for several years I chose to include one in my submission. The mask featured on my plate is of a Roman copy of a Greek drama mask. I wanted to illustrate hunger and thought the best way would be to imply a hot burning feeling behind the mouth, which obviously then shows behind the eyes as well. The burning in the eyes made me think of John Steinbeck's line in The Grapes of Wrath which goes, "In the eyes of the hungry there is a growing wrath". I feel this is a very relevant statement regarding both hunger and what is going on in our country on so many levels right now.
The plates will be judged on February 26th and then be on display March 5 – 31 at the BeauxArts Gallery in the Arts Factory here in Las Vegas. They will then be auctioned at the DISH event on April 3rd.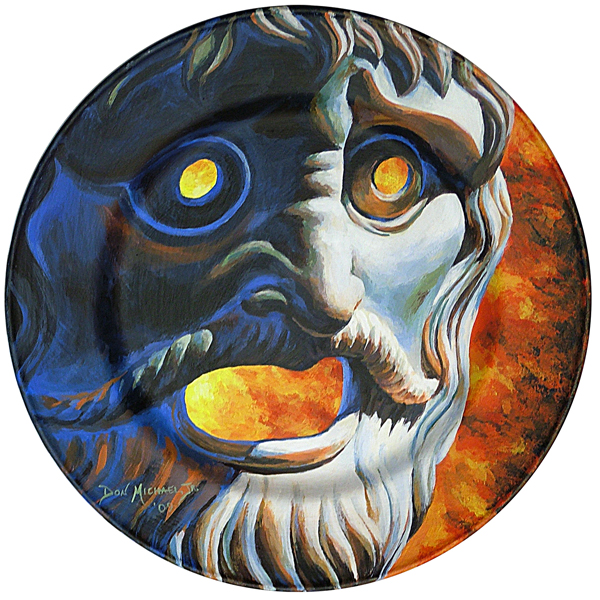 Hunger Pangs – 12″ Diameter – Acrylic on Ceramic Plate – Completed 2-15-09
©2009, Don Michael, Jr.
"So, How's the Water?" It's a question all of us have heard at some time in our life when we get into the pool, stream, lake or ocean first. Is the water too cold? Is the water too warm? Should I join you? Well, I suggest we ask this same question of the water we drink, cook with, bathe in, and water our plants with. Is it safe? Is there enough of it? So, how's the water?
This painting features what I call an alien skull mask. It's not quite the shape of a human skull, made out of very reflective, transluscent plastic. I hope the symbolism of putting it against a sunset over water is obvious even without the title.
Once again I started this piece using my palette knife and a natural sponge, but found myself going to a brush much sooner than on the past two. The plasticity of the mask demanded it.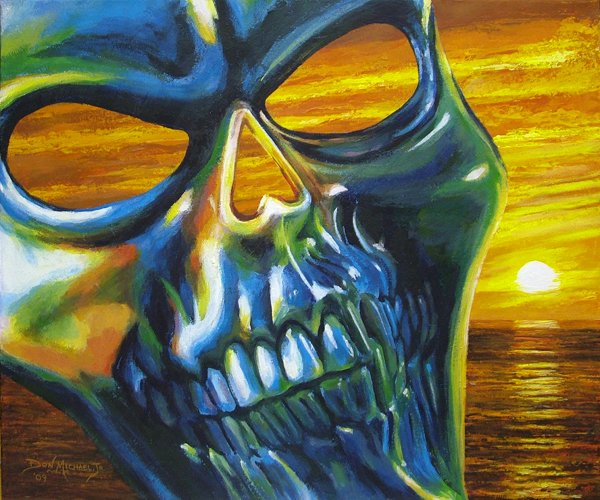 So, How's the Water? – 20″x24″ – Acrylic on Canvas – Completed 2-8-09
©2009, Don Michael, Jr.
Recently I delivered two of my paintings to the Contemporary Arts Coalition Gallery here in Las Vegas as submissions into their 20th Annual Juried Art Show. The two paintings were "To Know Me" and "Silence Gives Consent". A week later, I received an email telling me their regrets that my work was not chosen and I needed to come pick them up. With a heavy heart I headed down there this past Monday. When I got to the gallery I noticed that "Silence Gives Consent" was hanging on the wall and thought that rather odd – since it was rejected. I told the curator I was there to pick up my work and she asked which ones were mine. I told her one of them was hanging on the wall, at which point she said "Well, that means it was accepted into the show". Imagine my delight and confusion… When I told her about my email she said that she had made a couple mistakes with the email and luckily mine was for 'the good'. Apparently she had emailed one guy that he was accepted and when he came to pick up his other submission realized both were not accepted. OUCH!
With all that said, I am proud to say that "Silence Gives Consent" will be hanging in the CAC 20th Annual Juried Show from 2/5/09 thru the end of March. I'm really proud of this piece and what I was trying to say with it (I wrote about it here: http://www.donmichaeljr.com/blog/2008/08/22/a-rose/).  I had tried – unsuccessfully until now – to get it hanging in a juried show. Several jury fees later I can now say that perserverance does pay off.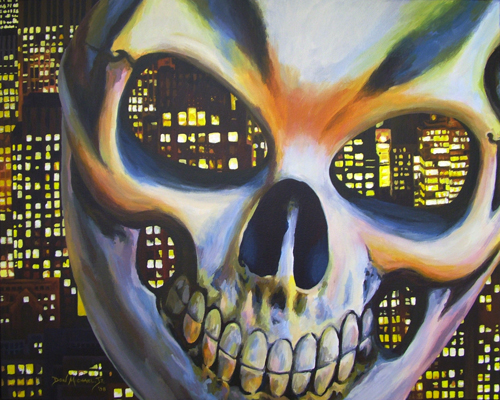 Silence Gives Consent – 24″x30″ – ©2008, Don Michael, Jr., is hanging at the Contemporary Arts Coalition Gallery inside the Arts Factory at Charleston and Main in Las Vegas, Feb. 5th thru March 28th, 2009.
We all need a place where we can get away from it all. A place where we feel safe. A place where only good things happen. A place where we can rejuvenate. A place of peace. A place we call "Sanctuary". Lately, that place for me is in my studio, late at night, when I'm on a roll. My mind is free. My spirit is free. The noise of the world cannot get thru. There are no worries, there are no fears, there is no doubt, there is no sorrow – there is only peace. If only I could bottle it…
"Sanctuary" is of a mask sent to me by a friend while he was on shore-leave in Jebel Ali, a port town near Dubai in the United Arab Emirates. It is another one of my favorites to paint – this being its 5th time to appear on canvas. Recently I had painted a waterfall from above in "Where's the Easy Button" and decided I wanted to try one from below. I have always loved hanging out in the pool below a falls on a hot summer day. The coolness in the air, the constant roar of the falls, the refreshingly brisk water – totally Eden-esk. I wanted to convey the sense of "getting away from it all" and thought this represented that feeling quite well.
Once again, I used a palette knife and natural sponge to create texture in laying in the foundation, followed up by laying in the bulk of my composition using a palette knife, and finished with a paintbrush to draw out the details. The natural progression mentioned in my previous post continues…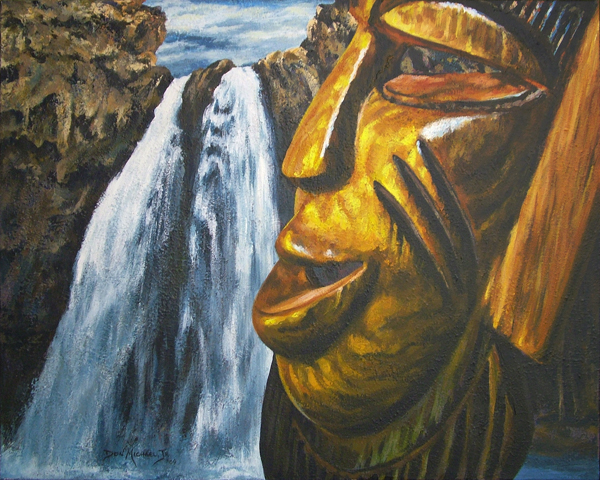 Sanctuary – 24″x30″ – Acrylic on Canvas – Completed 1-31-09
©2009, Don Michael, Jr.