So, what's the state of our environment? What's the state of our economy? Can we trust our leadership? If I'm not politically correct does that make me evil? Well, to put it mildly, it's a fine mess we're in. These were the thoughts I was having as I designed this composition. The dead tree, the stormy clouds, the angst-laden expression of the mask and the color palette were chosen to illustrate these thoughts which became amplified as I tried unsuccessfully to put my vision to the canvas. So, the title I chose is indicative of all of the above – but especially the painting. Maybe I'm just too close to it right now, but I finally just felt it was time to call it done and move on.
And, on that positive note, I give you "A Fine Mess". Once again I used only the palette knife. The intricate carvings in the mask gave me fits at times, but I chose to stick with the palette knife all the way to completion.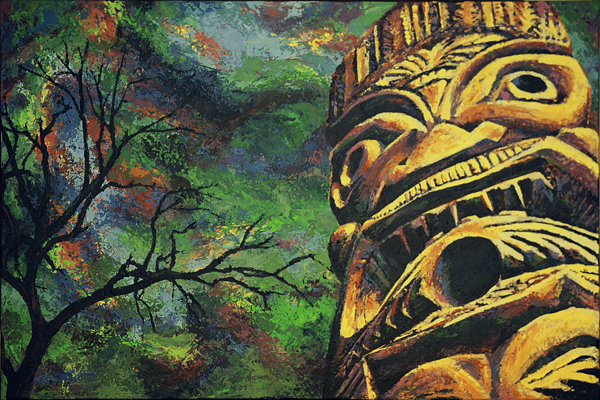 A Fine Mess – 24″x36″ – Acrylic on Canvas – Completed 4-24-09
©2009, Don Michael, Jr.
I just received notice that five of my paintings have been accepted into the 11th Annual Contemporary Art International Online Juried Exhibition – (try typing that 5 times fast!!!). The exhibition opens worldwide on May 1st and will run thru May 31st at http://www.UpstreamPeopleGallery.com after which they will be exhibited in the gallery's archives thru April 30, 2010. (Did I really just type 2010 – what has happened to this decade?!?!?!?)
I thank Larry Bradshaw, Curator and Professor of Art for including me in this exhibition.
The accepted paintings are as follows:
Now it's time for me to get back to the easel. Happy Painting!
The weather's changing. The trees are blooming. The birds are chirping. The itch is upon me. It's time to take a little "Spring Break", get out of the studio, head outside and enjoy this season of new beginnings.
Always enjoying a challenge, I decided to push my limits with detail work using the palette knife. Choosing to paint a tree with several small limbs and leaves was at first a little intimidating, but I pushed through and now feel pretty good with the results. I like how with a palette knife even the most subtle detail retains an organic, painterly feel to it. Then, the further back you are from the piece the more clear it becomes.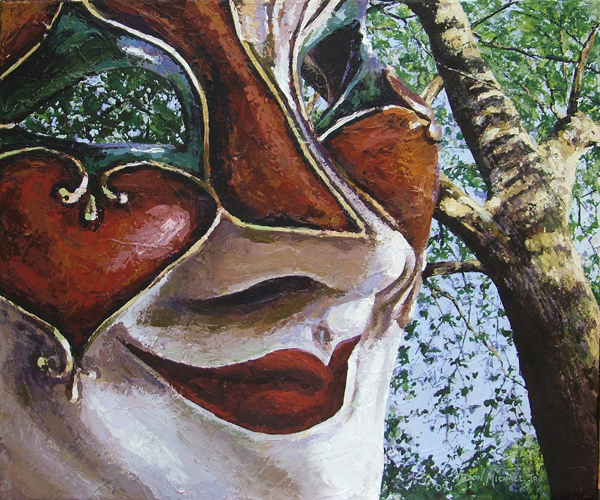 Spring Break – 20″x24″ – Acrylic on Canvas – Completed 4-6-09
©2009, Don Michael, Jr.
"An optimist is the human personification of spring." – Susan J. Bissonette
A one-night-only exhibit last weekend, another last night, two art exhibits to attend, and preparing artwork to ship out has kept me from painting as much as I would like this past week. But, it's the right kind of busy which keeps me "in the game".
I am honored to have had my work accepted into three juried exhibitions around the country. Next week the following pieces will be heading out to Fayetteville, NC; Springfield, OR; and Englewood, CO respectively.
Breath of Fresh Air will be showing at Cape Fear Studios in Fayetteville, NC from April 24 thru May 20.
Cult of Personality will be showing at Emerald Art Center Gallery in Springfield, OR from April 28 thru May 29.
Prince Prospero will be showing at the Englewood Civic Center in Englewood, CO from April 30 thru May 23.
OK… Enough with the distractions… It's time to paint!