Walking from the nice air-conditioning of your home or business into the desert heat will make you think the flesh is melting off your face. As soon as you open the door you get hit with a blast of heat that is reminiscent of opening an oven door. Add a breeze to the mix and it's like you've been hit by a blast from a furnace.
Absolutely none of the above was going thru my mind as I painted "Summer Breeze". I just wanted to have some fun with color and chose this mask for no particular reason. For my color scheme I decided to use the analogous yellow, yellow-green, green, blue-green for the first time in years. This was coming across a bit too 'cool', so I added yellow-orange to warm things up. To me these colors helped to make this hideous Halloween mask a little friendlier.
I wanted the name for this to be fairly innocuous, with no political, sociological or psychological undertones. So, after many hours of writing down and then eliminating names "Summer Breeze" came to mind and I decided that was about as harmless a name as I'd find.  An interesting side note: Some of you may have already noticed that I'd used this mask as a model a few months ago and titled it "Sweet Tooth". Once I posted "Summer Breeze" on my website I realized they are now side by side – since my gallery is alphabetical. Somehow that just seems right…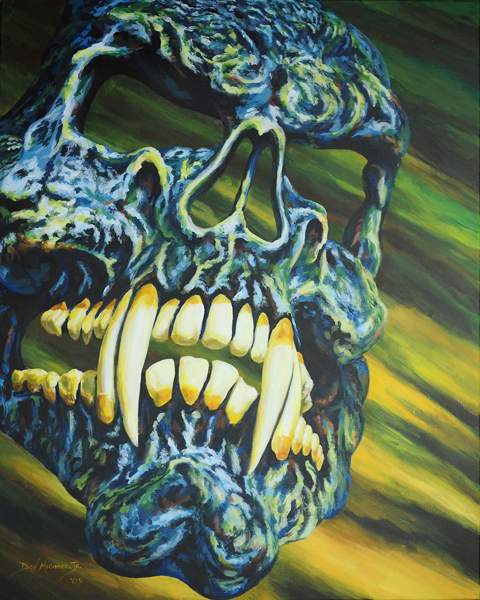 Summer Breeze – 30″x24″ – Acrylic on Canvas – Completed 6-27-09
©2009, Don Michael, Jr.
My Greek gods and goddesses series has been in need of a Poseidon, but I was waiting for the right mask to come along. Recently I came upon a door knocker that had a stylized little bronze mask incorporated into its design. After experimenting with several designs, it finally registered to me that this could be my Poseidon. Since in Greek mythology Poseidon always ran hot and cold, I wanted his image to reflect this in my color choices. So, one side of his face reflects red light and the other blue. To balance this I decided on a triad color scheme and used lower intensity yellow in the background. I like how all the elements in this composition push your eyes to his stern yet pouty lip, which reflects the way I've always interpreted his temperament.
I started "Poseidon" using only my palette knife, but about half way thru decided to start using a brush to accentuate some of the details. I also used the brush to smooth out the strokes in the background, giving it a softer, blurrier look which helped to push it back – especially behind the eyes.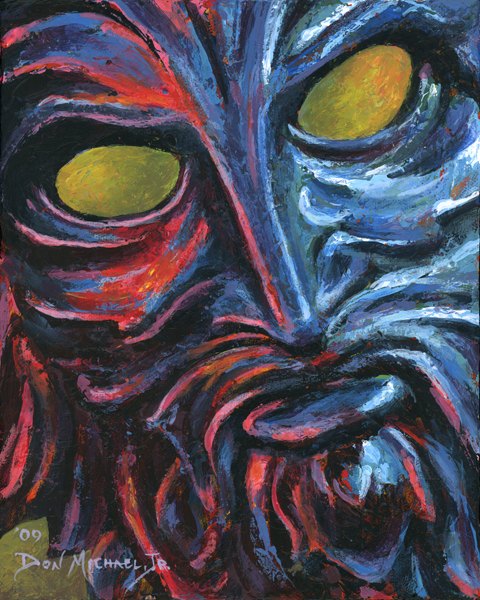 Poseidon – 10″x8″ – Acrylic on Canvas – Completed 6-21-09
©2009, Don Michael, Jr.
After lighting this one from below with an intense light source, I wanted to create a 'reason' for this light. What better than a cloudy sky with the sun trying to explode thru? I then flipped the sky and made it appear that the mask was above the sky and looking down, giving the mask an almost supernatural feel.
My son, Eric, picked up on that supernatural feeling and wanted me to call this one Alpha and Omega. But, my wife, Laura, did not want me to (in her words), "put a face on God". Her take on it was more hollywood, or someone on a stage in the limelight. So I settled on a title that I felt was a perfect compromise and yet has a really cool abstract nature to it.
An interesting side note: I see this painting as happy and friendly, but my daughter, Christina (10), says "this one is scary and evil" (thankfully, no nightmares…). I absolutely LOVE how everyone takes something different from each of my paintings. It's like these masks each have a life of their own and speak to each person in a totally unique way.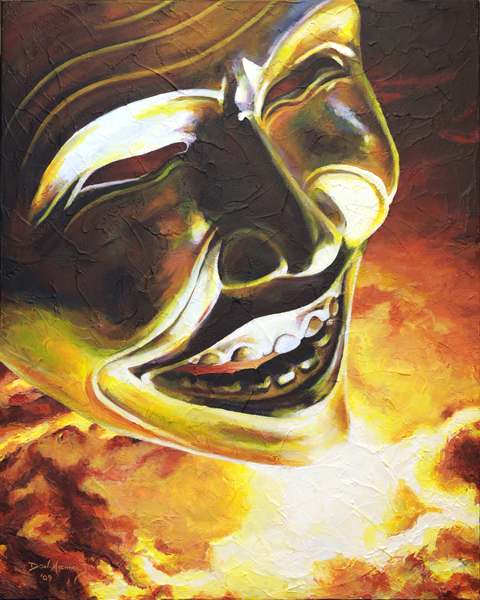 Curtain Call – 30″x24″ – Acrylic on Canvas – Completed 6-13-09
©2009, Don Michael, Jr.
OK, I'm sitting here trying to come up with an exhibition guideline to justify getting an individual art exhibit opportunity in a local gallery and everything I come up with just sounds like so much bulls**t. To top it off I just got my 10th straight rejection letter/email from a juried show and I'm feeling a tad frustrated. What made the rejection even juicier was the coldest, most insensitive rejection email I've ever received.
Early this year I got accepted into 3 shows in fairly quick succession and was feeling pretty good about my work. Since then it's been bam!, bam!, bam!, bam!, bam!, bam!, bam!, bam!, bam!, bam! and I'm feeling just a bit punch-drunk. Don't get me wrong, I'm really proud of the work I'm doing and will continue to do it because it feels right. But, how do I get it to punch thru? And, how do I put into words what I do as a whole? Describing individual pieces as I finish them is relatively easy. It's the overall synopsis which blows my circuits. To be honest, I really just want to paint and blow all this other crap off, but I know it's a necessary part of trying to get my artwork 'out there'.
OK, I got that out of my system and I actually feel better now. I leave you with the 3 paintings most recently rejected:
I realized after I posted this that one of the rejected paintings above – "Cult of Personality" – was actually accepted into a juried show earlier this year. A bit ironic, wouldn't you say?
"We're not in Kansas anymore" is what my wife, Laura, said as soon as she saw the early stages of my most recent painting. Without realizing it she had given me my title. Of course, I didn't tell her what it would be until it was finished.
I had been working on the concept for this painting for a while, but had not come upon the right mask until I got an email recently from my online art buddy, Renuka Pillai. She had just been to the Fowler Museum at UCLA and taken several shots of masks they have on display there. Thankfully, she thought of me and passed her photos along. This one jumped out at me and I knew immediately I had found the mask to finish this composition. I'm not sure what country this mask comes from originally and would welcome anyone's insight.
As you can see, I've once again opened up the dialogue about man's impact on our environment. It's just a little statement about cause and effect… Didn't Newton say something about for every action there being an equal and opposite reaction? Just sayin'…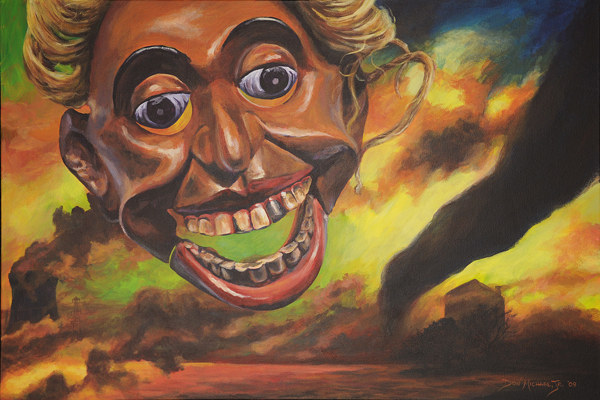 Over the Rainbow – 24″x36″ – Acrylic on Canvas – Completed 6-3-09
©2009, Don Michael, Jr.