OK, Here it is… the painting I had just started the night before I got my devastating news. Needless to say, it was a bit difficult to continue at first, but I pressed thru and finished this past Thursday.
Using only the palette knife I rendered what had originally been planned as a bright happy image with birds flying around in the sky into a darker, more somber image indicative of the emotions I was/am going thru.
They say that there are 5 stages of grief: Denial, Anger, Bargaining, Depression and finally Acceptance. Well, if that's true, I'm living in "Stages One thru Four" right now, and thought it was a fitting title.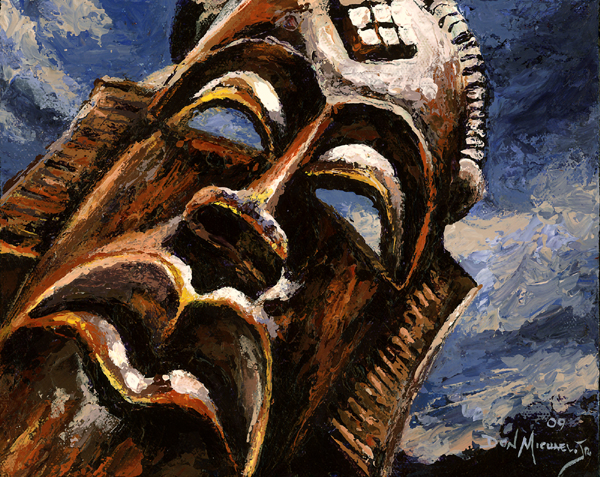 Stages One thru Four – 8″x10″ – Acrylic on canvas – Completed 8-27-09     ©2009, Don Michael, Jr.
I ask all my artist/blogger friends to bear with me. I'll be back in all my bemused glory soon. But, until then, please keep me and my family in your thoughts…
This past Monday was the first day of school – already. While my baby girl set off for her first day of Jr. High, her brother was starting his sophomore year of high school. My wife and I have decided that our children are growing up way too fast – especially when you consider we also have a 21 year old…
Later Monday, after an excellent lunch with several of my good friends I was called into the office of my General Manager and told that my services were no longer needed with the company I had given the last 6+ years of my life. And, just like that, as I'm sure you can imagine, my day went from a high to a low mighty quickly. I'm still in the shock phase right now while I figure out what's next professionally. My dream is to paint full time and make that pay for itself while paying the bills. We'll see…
One of my best friends, and my now former boss, was let go the same day as I was. As I type this I'm finding out that even more people, some I care for deeply, have been let go over the past couple of days from this same company. My heart goes out to each of them and I wish them nothing but the best and much success.
I leave you with a serigraph (silkscreen) print that I did several years ago. I think I will keep its title very close to my heart for the foreseeable future.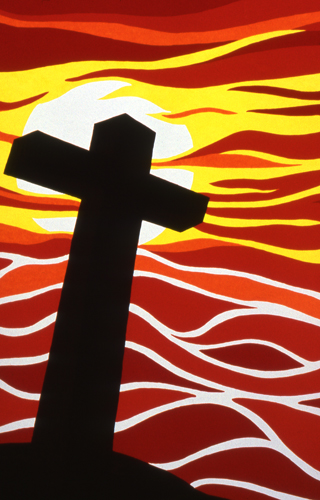 Victory – A New Day Dawning – 20″x14″ – Serigraphy –  January 1992   ©1992, Don Michael, Jr.
To show that I could not truly go completely away from color in one of my paintings I decided to include a detail of my most recent painting, "Hades". Even though the painting was done entirely with Payne's Grey and Titanium White, I had laid in an undercoat of orange. You can see that orange peeking thru when you look close, but from just a few inches away it starts receding into the "gray matter". Be sure to click on the image to see it much larger.
As I zoomed in on this for the detail shot I was transfixed by the interesting texturing that occurs when paint is slathered on with a palette knife. Super-close-up it makes for a really cool abstract. Isn't this art stuff we do fun???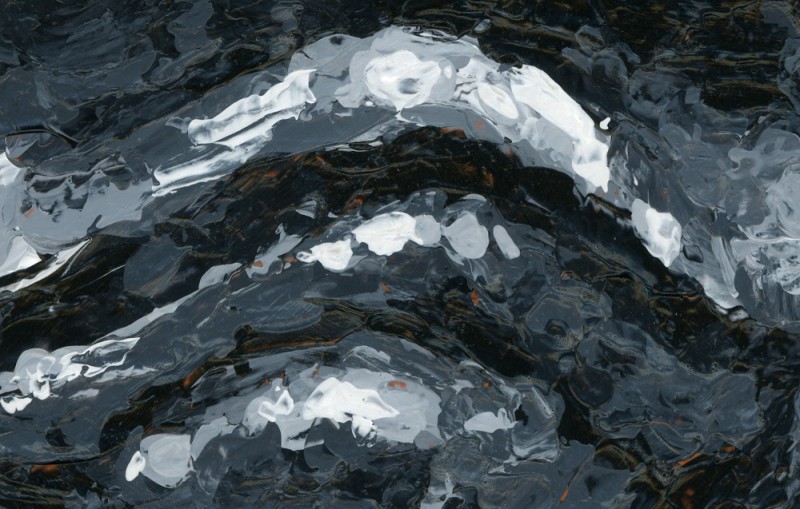 This detail is from around the bottom lip of Hades. Click on it to see it even larger.
For my day job (Art Director in a television station) I am currently struggling with the challenge of adding a new color to our color palette which can be incorporated into all of our animations and on-air graphics. This may sound like an easy task, but believe me, I am having nightmares about color right now. So, to counter this color angst I decided to do a painting entirely monochromaticly using only Payne's Grey and Titanium White. Ah, what sweet release. I had fun, didn't have to make any color decisions, and ended up with a new piece for my Greek mythology series. Please welcome "Hades" to the fold…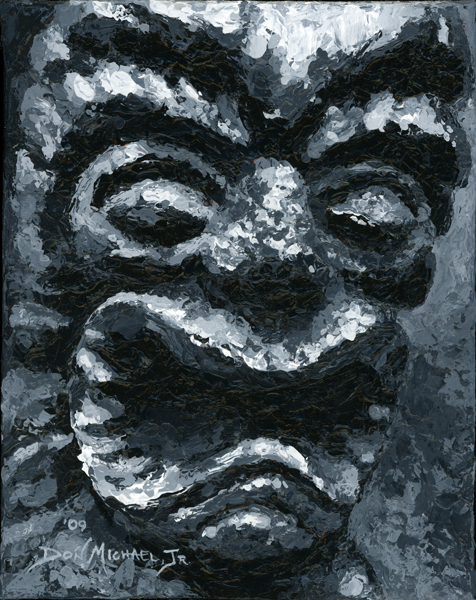 Hades – 10″x8″ – Acrylic on canvas – Completed 8-13-09
©2009, Don Michael, Jr.
I finally broke down and joined the world wide arena of social networking recently and have rediscovered several old friends from WAY back. Needless to say, this has caused many memories of 'back in the day' to rise up in me. Since this "Nostalgia" inevitably became mixed with my creative workflow I challenged myself to create an image that represents those abstract thoughts and emotions. The best physical description I can come up with for nostalgia is etherial, and what better representation of etherial is there than outer space? To represent the memories of younger days going around and around in my brain I chose a carousel. A carousel is fun, safe, and the beginner ride we all enjoy before we 'graduate' to the roller coasters of life. Finding the right mask for this one took days of trial and error before I landed on this mardi gras mask which appears for the fourth time in one of my paintings. Once I added her to the composition I knew it was time to get out the paint…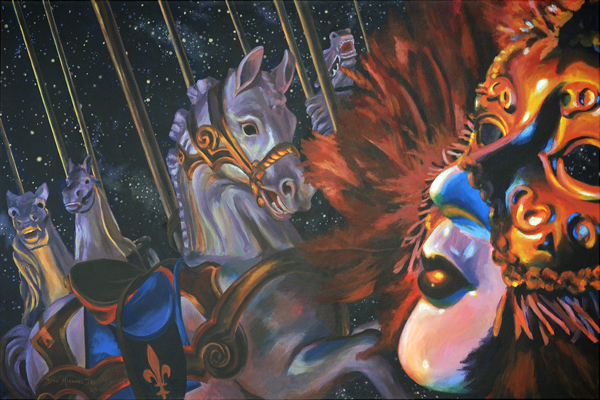 Nostalgia – 24″x36″ – Acrylic on canvas – Completed 8-5-09
©2009, Don Michael, Jr.
Five of my paintings have been accepted into the 8th Annual Summer All Media Juried Online International Exhibition. The exhibition opens worldwide today and will run thru August 30th at http://www.UpstreamPeopleGallery.com after which they will be exhibited in the gallery's archives thru July 31, 2010.
One of my paintings, "Birthright", received Special Recognition by the Juror, Larry Bradshaw, who wrote, "DON MICHAEL, JR., of North Las Vegas, Nevada has a very special message that is profound in that it deals with life itself. "Birthright" gets to the heart of the matter with emphasis given with the teardrop."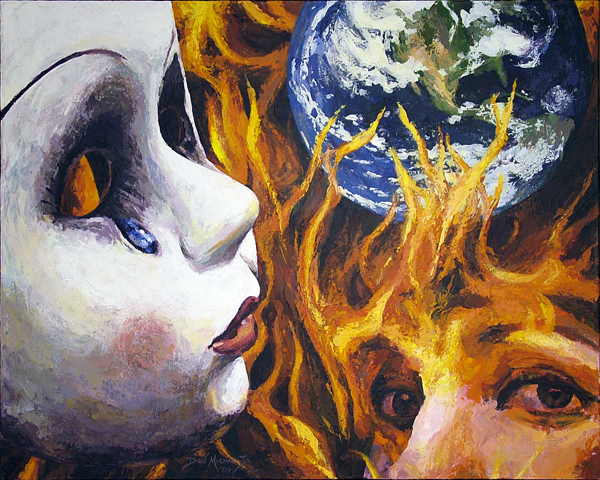 Birthright – 24″x30″ – Acrylic on canvas – ©2009, Don Michael, Jr.
Stop by the gallery for the 8th Annual Summer All Media Juried Online International Exhibition and check out all of the excellent work that is on display.