I'm sure everyone has heard the old adage "You only get one chance to make a first impression". Regrettably, it is a truism and something we have to be aware of in our daily lives. I have been dismissed out-of-hand by a few people I've come upon over the years simply because I choose to wear my hair long. All I can say is, "Too bad for them". I try to be conscious of this in my own responses to others. I would really hate to miss out on getting to know someone who has a lot to offer simply because something about them made me react negatively on my first impression of them. Why must we be so superficial???
I've noticed that some people have this same type of reaction with my masks (and sometimes my mask paintings). They may see one of them and immediately say, "that's scary", and then never give it a second look. If they do, they miss out on so much. Masks are nothing more than innocuous objects with designs carved and painted into them that are often quite impressive and elaborate. I dare say we often project our own fears and prejudices on these inanimate objects causing us to miss what they really are – works of art. The mask featured in my latest painting is one of those that people immediately have a strong reaction to. I understand why, but I also encourage them to take the time to check it out a little further and they may find it has a lot more to offer than they originally thought.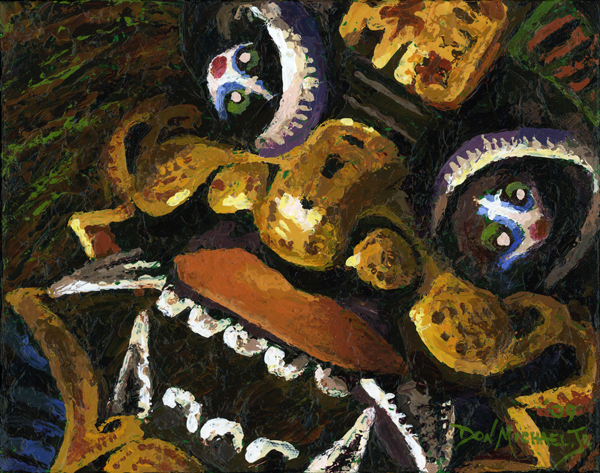 First Impression – 8″x10″ – Acrylic on canvas – Completed 9-26-09             ©2009, Don Michael, Jr.
What follows is the progression I went thru on bringing this one to fruition. Be sure to click on each image to see it in much closer detail.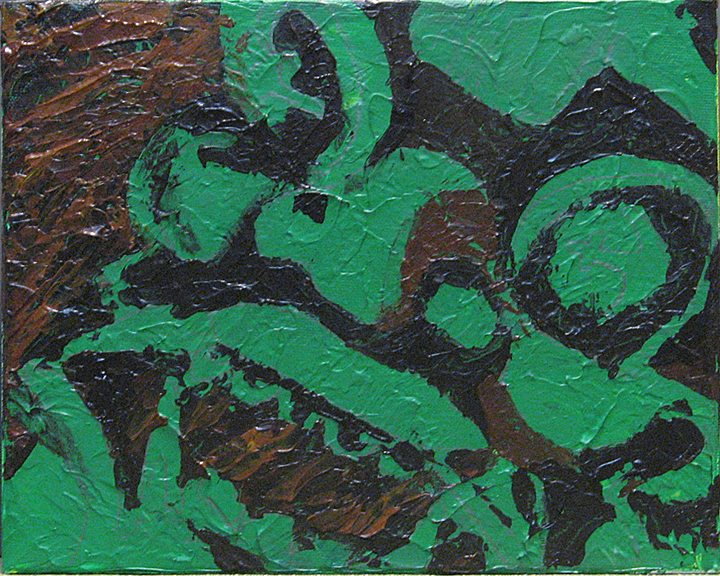 I started with a base coat of Thalo Green and Cadmium Yellow Light mixed with Molding Paste slathered on with a palette knife. I then started bringing in the darkest areas with my palette knife. If you look closely you can see some of my pencil lines which I drew on top of the base coat after it dried.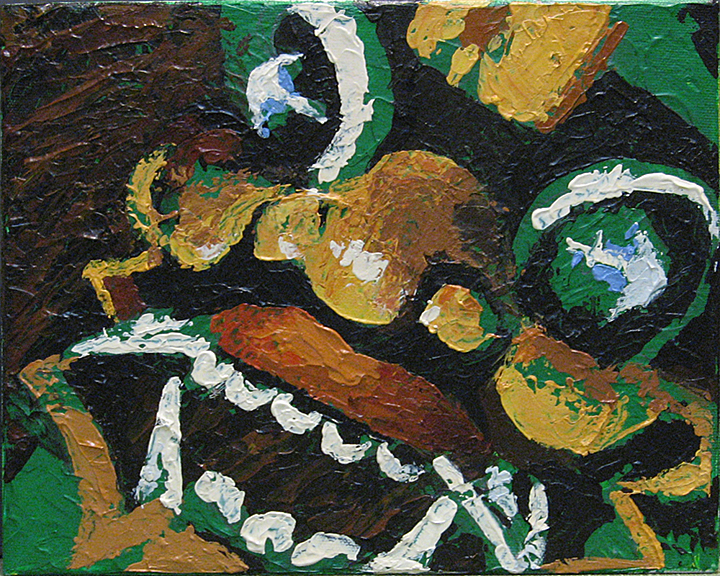 I then laid in my lightest colors. Often I work from darkest to lightest, but in this case I was losing track of my lines because of the darkness of the base coat. So, I decided to work from both extremes to the middle. My palette for this one was Ultramarine Blue, Hansa Yellow Opaque, Permanent Alizarin Crimson and Titanium White.
I continued to slather in layer after layer of color working my way towards my middle values while enhancing both the dark and light areas I'd already established. I took the last photo just after signing it, but before I added the matte varnish. You can see the difference the matte varnish makes by comparing the last of these photos to the finished photo up above.
To give you an idea of how much of the green under coat is still visible I leave you with this final detail…

When life gets crazy and there is so much to do it is hard to remember everything. An excellent idea may pop into my mind and if I don't write it down immediately, POOF!, it's gone.  I notice as I get older and have more going on I'd better write things down or they will fly away with the next thought. This is exceedingly inconvenient when it has to do with something I was supposed to do for my wife. Maybe I'm the only one with this problem???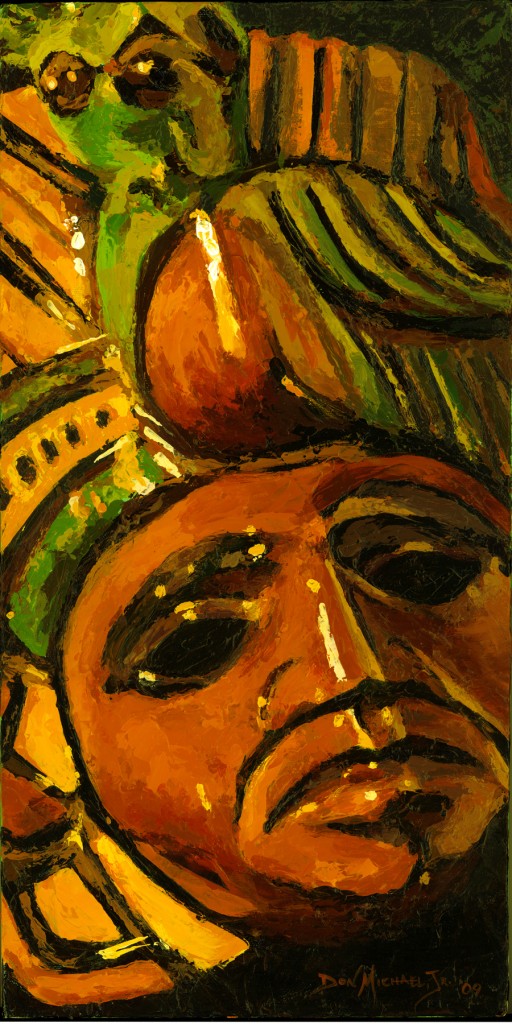 Hold That Thought – 20″x10″ – Acrylic on canvas – Completed 9-23-09              ©2009, Don Michael, Jr.
There are a couple of firsts for me on this one. It's the first time I've ever painted on a canvas that was twice as tall as it is wide. Also, it is the first time I've ever documented my progress.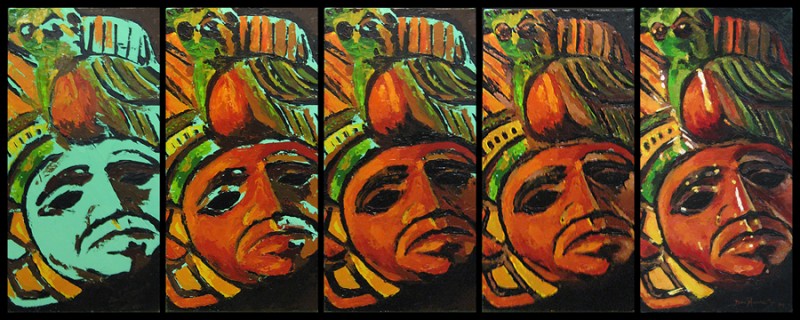 As you can see, I started with a base undercoat which was a light blue-green (mint, anyone?). I hate painting on a white canvas and in this case I mixed gesso, thalo green and cad. yellow light directly on the canvas with my palette knife and slathered it around. After that dried, using my palette knife, I then blocked in my dark areas to give me my reference points. At this point, I decided to stay with just the palette knife for the duration. I then proceeded to block in the large areas of color as I attempted to obliterate the mint green below. I never even opened up my tube of Titanium White until the fourth step when I started mixing my lesser intense colors in the reflected light of the shadow areas. (The rest of my palette on this one is Phtholocyanine Blue, Hansa Yellow Opaque and Alizarin Crimson Hue.) I then finished by adding my highlights, sharpening up some of my hard edges and signing it. Voila!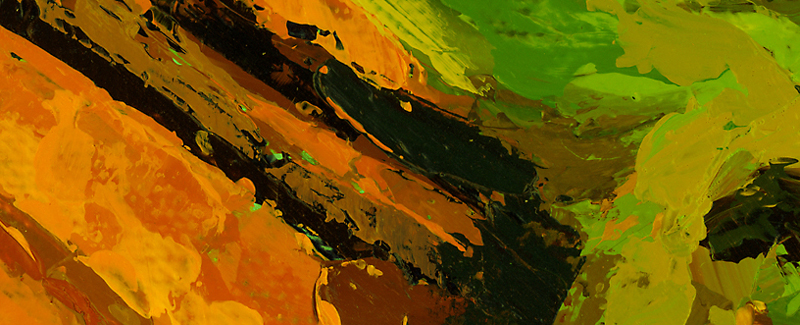 I added this detail for those of you who have asked about the mint-green undercoat. You can see that it doesn't get entirely obliterated, which is entirely what I'm striving for. I love the organic feel of the undercoat and proceeding layers peaking thru.
I started to write a long rant about what this painting means to me and decided, nope, I'm not gonna do it. Instead, I'd love to hear what it means to you.
It's title is "Economic Downturn", which was part of a phrase I heard just 4 short weeks ago designed to make the person delivering the phrase feel better about their self.
Enough said…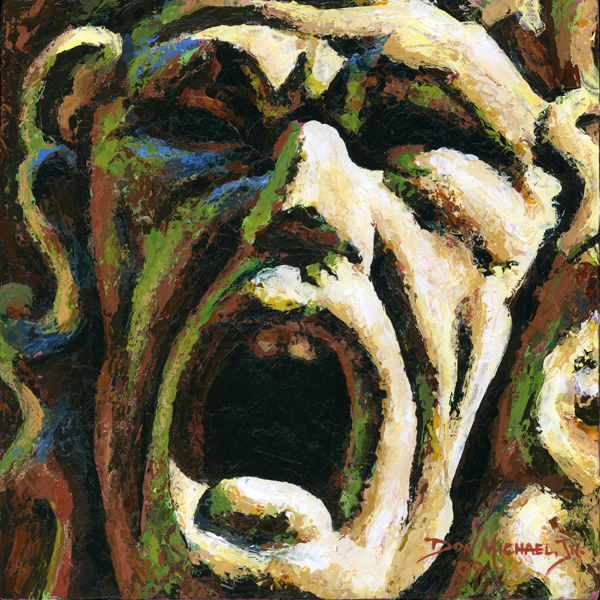 Economic Downturn – 10″x10″ -Acrylic on canvas – Completed 9-18-09                    ©2009, Don Michael, Jr.
I was invited this past week to paint two masks for a charity auction called "Un-Masking the Mind" which will benefit Innovations International Charter School of Nevada. What made these particular masks special is they had been autographed by Matt Lauer and Meredith Vieira, the anchors for NBC's Today Show. My challenge was to create a design around their autographs that both tied the autograph into the design and somehow represented what they do.
For Matt's mask I chose to use the Today Show color scheme with the Today Show logo and the NBC Peacock since he has been a major part of the Today Show for many years now. For Meredith's mask I split the mask into two parts, one representing her work on the Today Show, and the other representing her work as host for the syndicated "Who Wants to Be a Millionaire". I used a similar color scheme to Matt's for the top section and included a white NBC peacock. For the bottom section I chose blue, which is a major part of "Millionaire's" color scheme, and included two abstract shapes similar to those used in the "Millionaire" clues. In both masks I was able to work these designs around their signatures fairly seemlessly, for which I am quite proud.
The auction is now open, so you can see these masks and the others being painted by several other artists and organizations. Who knows, maybe you'll even want to make a bid…
Matt Lauer & Meredith Vieira Autograph Masks – Completed 9-16-09
I have painted another mask for this event autographed by "Kathy Griffin". Click on her name to see the finished piece and what I had to say about it.
I was going thru photos recently that my wife had taken last year in New York City and came upon some great shots of the Statue of Liberty. As I was admiring these I realized that when you view the statue from behind it looks like she's walking away. I asked myself, "what would cause Liberty to leave?". I immediately thought of the multitudes of lobbyists in Washington, DC who have bottomless pockets from which they draw unimaginable sums of money with which they attempt to procure favors from our elected officials – and often succeed, much to the detriment of the average tax-paying citizen.
In deciding how to represent these "Special Interests", I thought about a photo of a mask from Sri Lanka sent to me earlier this year by my friend and fellow artist, Renuka Pillai. I think you'll agree that this mask – with its clownish face, sharp fangs and slithering slimy snakes poised and ready to strike – embodies the image I was going for…
This painting took longer for me to create than any I've done so far in this series. Not only is it the largest (30″x40″), but those aforementioned slithering slimy snakes were quite challenging – especially since for reference I only had one photo shot in a museum with many different light sources. I also found Lady Liberty to be a bit of a challenge with her many layers, drapes and seams. With all that said, this was still another fun one to create…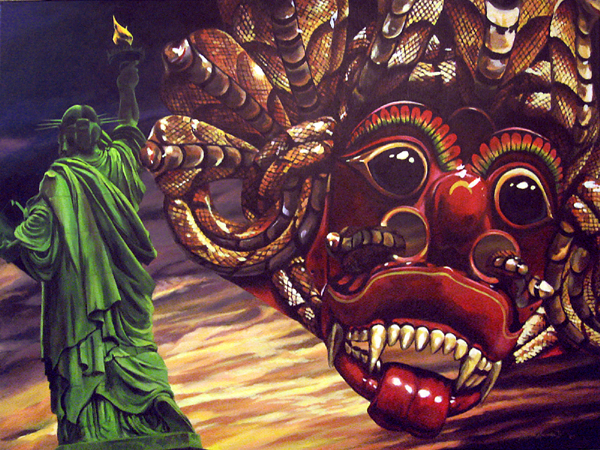 Special Interests – 30″x40″ – Acrylic on canvas – Completed 9-13-09       ©2009, Don Michael, Jr.
Please forgive the quality of the above photo. One of the perks that went away recently with my job was a phenomenal camera. I am now relegated to using our little family snapshot camera until I can get something better. At least I have Photoshop with which to tweak…
I would like to thank everyone for your kind words of support, your thoughts and your prayers. The past two weeks have been trying, but I feel I have finished the infamous 5 step process and I can now move on with my life. I'm still not sure what's ahead, but that's not necessarily a bad thing.
There is a new painting in the works. It's taking me a while to finish because not only is it much larger than any of the mask paintings I've done so far (30″x40″), it has a couple very complex elements – which you will see soon. I hope to have it finished by midweek… we'll see.
Until then, I leave you with another of my serigraph prints. This one is a self-portrait from 15 years ago when serigraphy was still my primary passion. This image came from an old slide so it's a bit soft and the color is not exactly right, but you get the idea…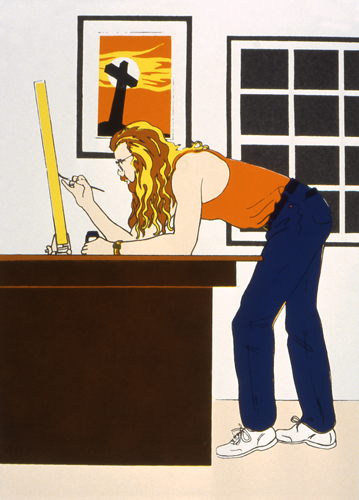 Labor of Love – 10″x8″ – Serigraphy – March 1994 – ©1994, Don Michael, Jr.