A couple Halloween masks, a palette knife, a natural sponge, black gesso and some fall colors were the main ingredients in this recipe for fun the past couple of days.
I had never considered using black gesso as my underpainting until recently when I was reading the October 24th entry of Deano's Den. It piqued my interest so I invested in a pint of Golden's Black Gesso (which luckily for me happened to be on clearance at Michael's). In preparing my canvas I slathered on some molding paste, poured some black gesso on top of that, mixed it all together with my palette knife, smoothed it around like thick black icing on a cake, and then grabbed my natural sponge and textured the heck out of it while it was still wet. Once this textural monstrosity dried I blocked in most of the brightest areas with my palette knife. Staying with the palette knife, I continued painting until this lovely couple emerged.
While I was painting, my son Eric stopped by and mentioned that this painting reminded him of a portrait of a married couple. At first I wasn't sure how I wanted to take that statement – but upon further consideration I could see what he was referring to. With that in mind, as I neared completion the phrase, "Until Death Do Us Part", came to mind and I was pretty sure I had my title. First I had to run it by Eric – who almost fell off his computer chair laughing so hard – and then his mom, who is so used to my corny humor that she rarely even chuckles at it any more, and she actually laughed out loud! And thus the painting was so titled…
Have a happy and safe Halloween.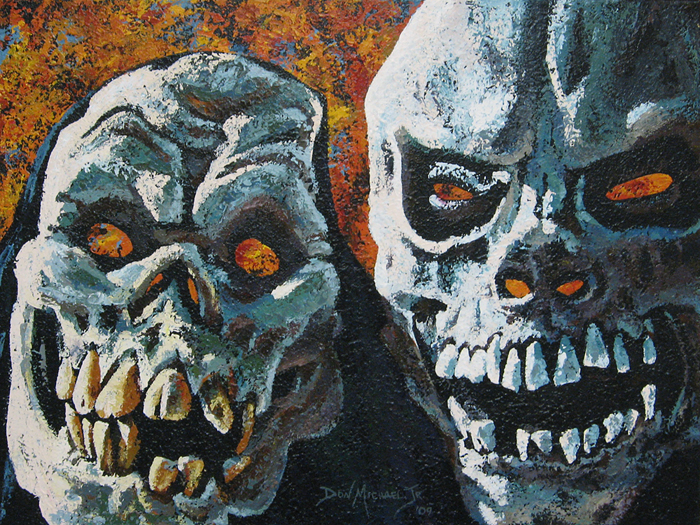 Until Death Do Us Part – 18″x24″ – Acrylic on canvas – Completed 10-31-09  ©2009, Don Michael, Jr.
Go ahead and try to get quality medical attention if you don't have insurance. See how that works out for you. Now, bring up the words "Health Care Reform" at your next social gathering. See how frosty the room can become, and then how heated the debate that ensues. I've seen and heard some of the most ridiculous things over the past few months with regards to this issue. Extremists from both sides of the issue have thrown out inflammatory and unsubstantiated accusations and innuendoes. It's enough to make me sick…but wait, I can't get sick, my HMO might not have this listed as covered within the policy…
I've seen a LOT of money thrown at this issue, especially from companies who would not profit as much from a unified national medical insurance. Pharmaceuticals don't want their "research money" (or is it advertising money) impacted. HMO's sure don't want to lose their control over this huge cash cow. Our elected officials have spent lots of money and time on research and polling and still remain divided. I don't know what the best plan of action would be; but, is what we have now working? For everyone? Really?
With all that in mind I started work on this composition several weeks ago. It finally came to fruition for me about 2 weeks ago and I started putting it to canvas. Once again, I stayed with the palette knife for the entire painting until it came time to sign it (I haven't got that brave, yet). The mask in this one comes from Malaysia. My brother, Duane, sent it to me when he passed thru there back in the mid-90's while serving in the Navy. My understanding is that it's a demon mask. If someone knows otherwise I would welcome your input.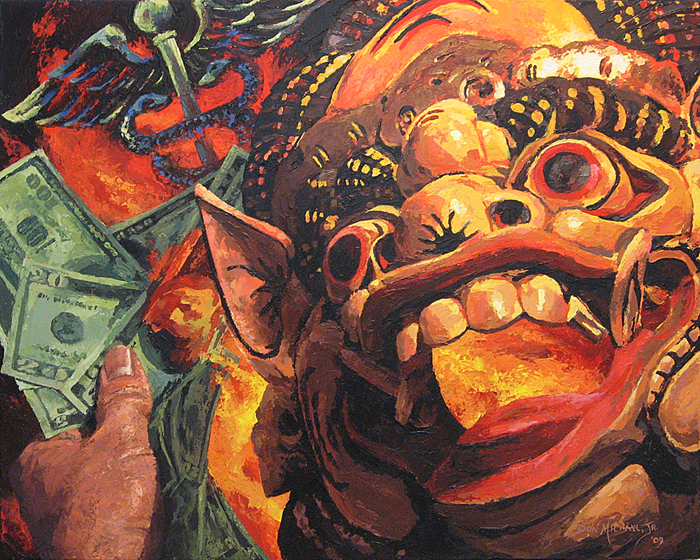 Health Care Reform – 24″x30″ – Acrylic on canvas – Completed 10-27-09  ©2009, Don Michael, Jr.
On November 12th, from 6-9pm, some of my mask paintings will be hanging in "Arts Alive!" at the Green Valley Library in Henderson, Nevada. There will be 7 local artists exhibiting. There will also be poetry readings and music. If you are in the area come by and see me and my work. The paintings will remain on display for two weeks after the opening.

I hope to see you there.

Arts Alive!
Green Valley Library
2797 Green Valley Parkway
I still haven't decided which paintings I'll be taking to the event, so I randomly selected a few of my older ones to give you something to look at besides my words. "Incongruous" was completed in 2002, "Invective" in 2005, and "Indivisible" in 2004. I hope you enjoy…
Last week was a busy week of preparation for the Un-Masking the Mind charity auction which occurred this past Saturday evening at the House of Blues inside Mandalay Bay Resort and Casino. The money collected from the event will help buy books and supplies for the Innovations International Charter School of Nevada, here in Las Vegas. Since my work focusses on masks I was invited to show a few of my paintings at the event. Not being one to pass up such a wonderful opportunity, I loaded up 17 of my paintings and hung them around the room. There were 41 masks on hand for the live auction, and all 41 were sold that night! I'm proud to say that the three I had been invited to paint garnered over $300 for the school.
The mask earning the most money for the school was also my favorite of all the entries. It was created by the puppet masters of Disney's The Lion King musical and signed by the cast. It ended up being purchased for $450. I bid on it until it got a little rich for my blood and then just sat back and enjoyed the energetic bidding that went on for several minutes. You can imagine how raucous the place got as this was going on.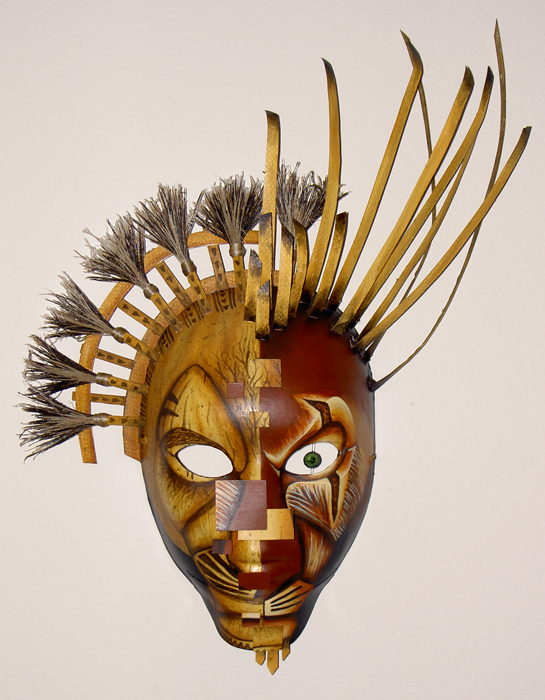 Lion King Mask
With all those wonderful masks around there was no way I was going to leave empty handed. So, I am now the proud owner of a mask painted by Jenyan Martinez, one of the teachers from the school. It is titled "Flowering Grape" and is now hanging on my living room wall among the rest of my mask collection patiently awaiting its chance to become immortalized on canvas. We'll see…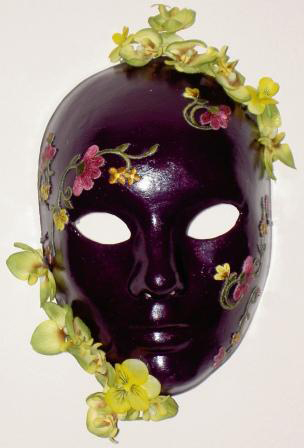 "Flowering Grape" mask painted and signed by Jenyan Martinez
All-in-all the event was quite a success. My wife and I had a blast, we ended up with a new mask, and we garnered a few new contacts. Regrettably, we forgot our camera, so I am now at the mercy of others who were not so silly. As soon as I have some photos from the event I'll post them on my Facebook page".
We live in a city that has drunken drivers on the road at pretty much any hour of the day. The casinos are open 24/7 and people lose track of time while they gamble and have drinks continually administered to them. So, any hour of the day you could be venturing out into the path of a drunken buffoon. I'm a firm believer that people on their cell phones are just as efficient in their driving skills as those with too many drinks in their system. They swerve. They suddenly stop. They don't use their turn-signals. They turn into oncoming traffic. They run red lights. They are a menace to themselves and every other driver on the road. Now you add texting to the mix and we have the perfect formula for disaster. Since very few people can effectively talk on the phone and do any task other than doodle it amazes me that they think they could do it while driving a huge missile hurtling down the road. Maybe that's just me…
Or, maybe this is…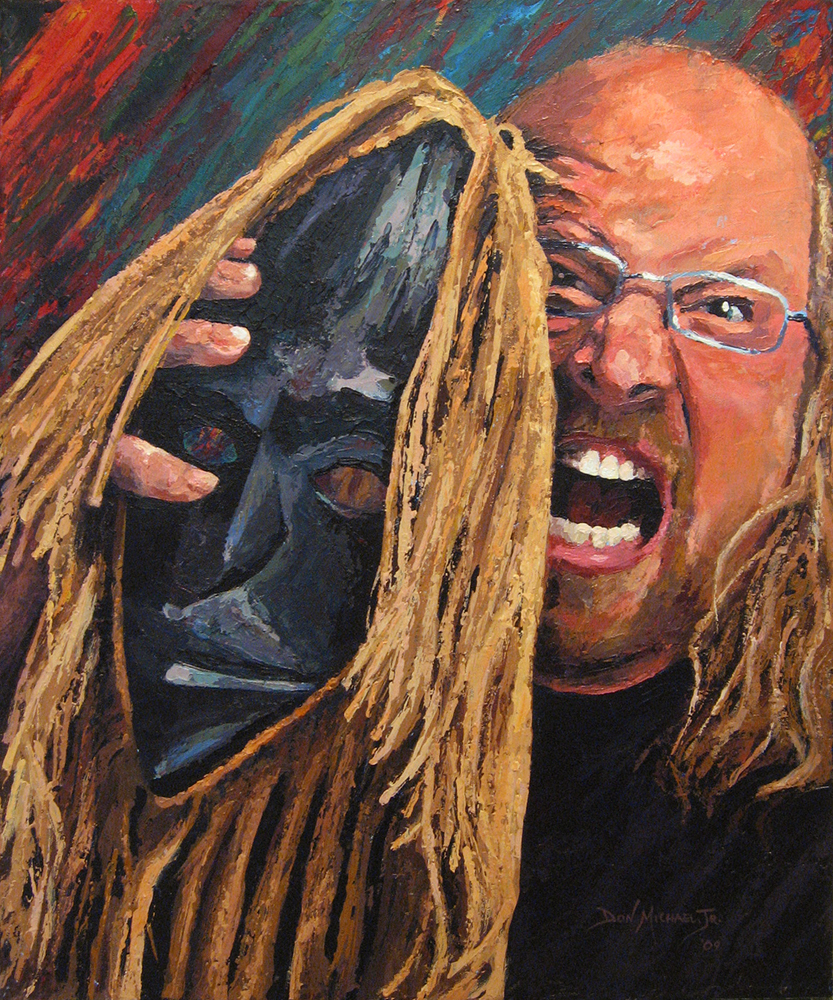 Hang Up and Drive! – 24″x20″ – Acrylic on canvas – Completed 10-14-09 ©2009, Don Michael, Jr.
I haven't done a self-portrait in several years and decided it was time. (I'd like to thank HW Farber for giving me the notion in her September 17th blog entry.) Not being one for traditional treatment of such and also wanting to include a mask, I set about coming up with a composition that would be fun and challenging. To increase the difficulty factor, I decided to use only my palette knife to administer the paint to the canvas. About halfway thru I was questioning my sanity on that decision…but, I stuck it out. Since I didn't want anything deep or ominous read into this self-portrait I felt the title should be abstract and fun. As I neared completion the idea of titling it "Hang Up and Drive!" popped into my head and it just felt right. I told my family at dinner that night what the title would be and they loved it. In fact, my wife could not wait for me to finish just because she was so excited about the title.
It's been a busy week full of many good distractions which has kept me from painting as much as I like. Monday was an all-day networking day as I try to establish free-lance graphics clientele. Tuesday, I woke up to an announcement that some of my work has been accepted into the book, "Art Buzz 2010 Collection", which will be published early next year and go out to galleries and museums around the world. Later Tuesday, I was surprised to find out that my work was selected by the Art/Stage Director of a movie titled "Red Herring", being filmed here in Vegas, to be used as wall art in some of their scenes. So, Thursday and Friday were spent hauling paintings to and from the location shoot for this movie. For several hours 7 of my paintings were hanging in a multi-million dollar mansion! Maybe this will give them a taste of the good life and they'll find their way permanently to similar residents in the future.
While all of this was going on, I took the time to finally create a "fan page on Facebook". Stop by and join up…
Also, the online charity auction site for "Un-Mask", for which I painted "3 masks", is now up and running. Check out all the great work. Masks are continually being added so be sure to sign up for the email updates.
With all that said, I am in the middle of my next painting, but I don't anticipate having it finished until mid-next week. Until then, I give you the most involved and most successful of my Serigraphy editions… It took 37 pulls (basically, 37 colors) to create and garnered a Purchase Award, a Judges Choice award and an Honorable Mention in juried shows during '93 & '94. Regrettably, the cropping on this old slide cuts off about 1.5 inches of the right side, but luckily the composition stays fairly intact. I hope you enjoy…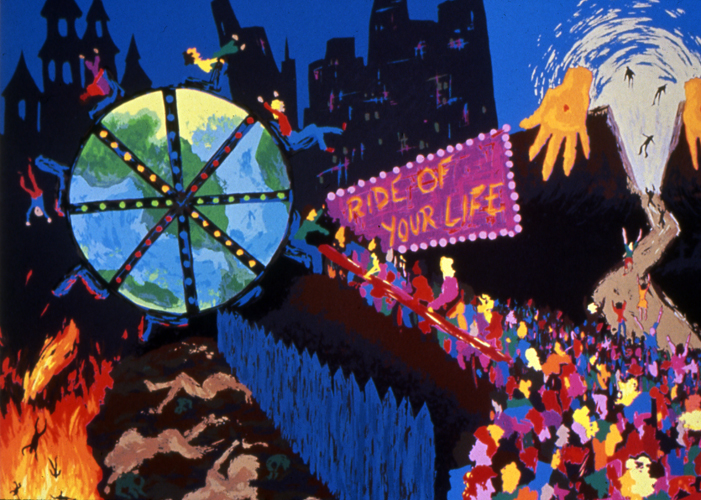 What Profit a Man…?, Matt. 16:26 – 12″x16″ – Serigraphy on Daniel Smith Archival Paper – edition of 13 (7 still available) – Completed March 1993 – ©1993, Don Michael, Jr.
After posting this blog I found the original acrylic and india ink "sketch" I did in preparation for the aforementioned print. I was so excited about finding it that I thought I'd share… I kept this one's jpeg as large as my blog software would let me. Be sure to click on it so you can see the gestural brushwork and the raw paper where the staples held it to its support.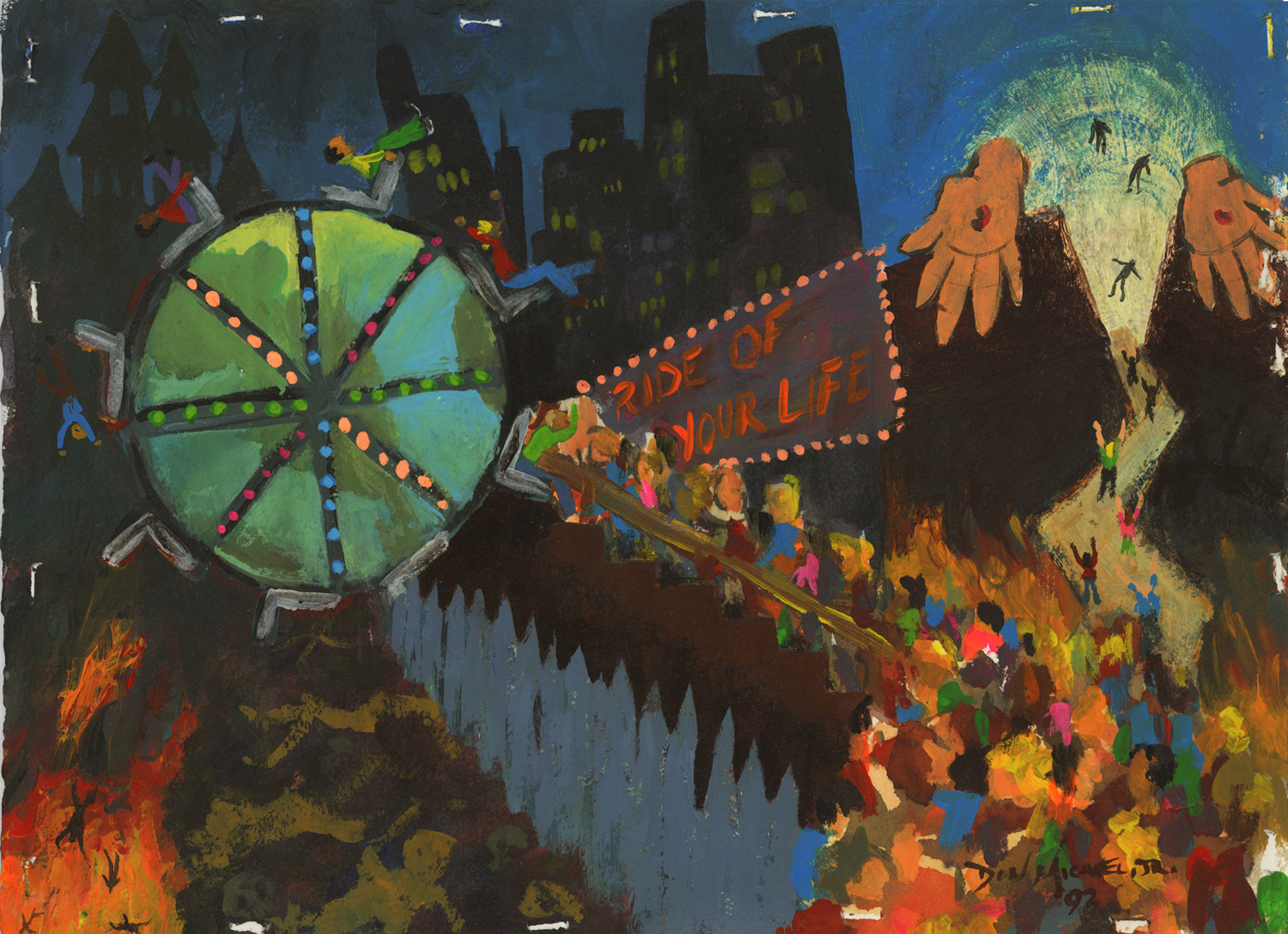 What Profit a Man…? "sketch" – 12″x16″ – Acrylic, India Ink & Markers on Cold Press Watercolor Paper – Completed January 1993 – ©1993, Don Michael, Jr.
You may remember that a couple weeks ago I was invited to paint two masks for a charity auction called "Un-Masking the Mind" – one signed by Matt Lauer and the other by Meredith Vieira. Well, this past Friday, my good friend Peggy, who is putting the event together, called in a panic because she had just received a mask in the mail with Kathy Griffin's autograph, but no decor, and it was past the deadline. Peggy asked if I'd be willing to paint another mask. It's a mask! How could I refuse?
As with the two I had done before, I wanted this mask to reflect in some way the celebrity who had signed it. I find Kathy Griffin to be very funny in a dark, in-your-face kind of way. I remember seeing her on Seinfeld when her act was about  "Jerry Seinfeld, the Devil". She had my wife and I in stitches. She has found her most success to date with her reality show, "Kathy Griffin, My Life on the D-List".
To represent the dark undertones of Kathy's humor I painted the mask with an undercoat made up of black, green and red blended together. I then painted a large gold D across her face, representing her current successful show. For her in-your-face style I chose to fling, splatter and drip pink, purple, turquoise and gold paint all over the mask's face. I even allowed the splatters and globs to slightly obliterate the D to symbolize how her in-your-face humor caused a major backlash when accepting the 2007 EMMY award for her show.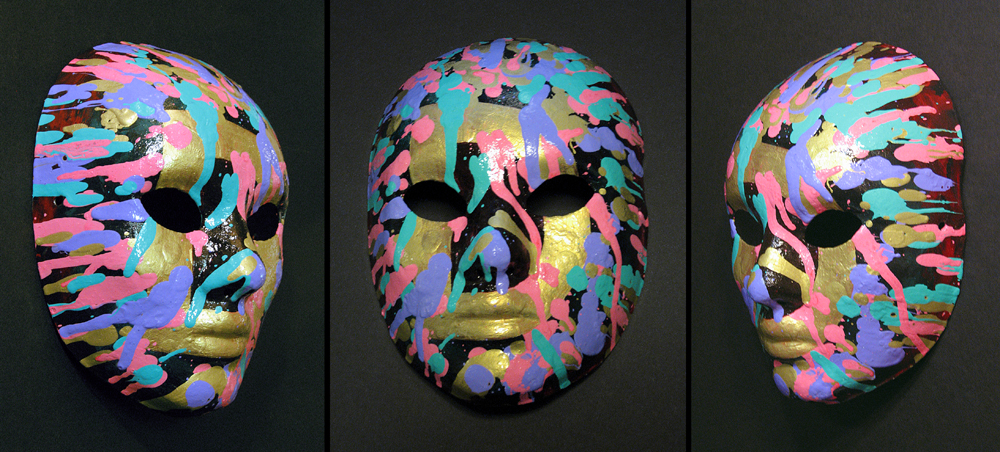 Kathy Griffin Autograph Mask – 3 views – Completed 9-30-09
I stepped outside of my comfort zone on this one – which kinda' fits considering the personality who signed it. (BTW, Kathy signed this one on the back.) I'm used to controlling every stroke and where every speck of paint lands on a piece, and I definitely did not have that control when flinging the paint. All-in-all, though, I would say it was a fun and educational experience. I just hope it finds favor with someone at the auction…
The auction is now open… check it out here.