More Un-Masking the Mind
October 1st, 2009
You may remember that a couple weeks ago I was invited to paint two masks for a charity auction called "Un-Masking the Mind" – one signed by Matt Lauer and the other by Meredith Vieira. Well, this past Friday, my good friend Peggy, who is putting the event together, called in a panic because she had just received a mask in the mail with Kathy Griffin's autograph, but no decor, and it was past the deadline. Peggy asked if I'd be willing to paint another mask. It's a mask! How could I refuse?
As with the two I had done before, I wanted this mask to reflect in some way the celebrity who had signed it. I find Kathy Griffin to be very funny in a dark, in-your-face kind of way. I remember seeing her on Seinfeld when her act was about  "Jerry Seinfeld, the Devil". She had my wife and I in stitches. She has found her most success to date with her reality show, "Kathy Griffin, My Life on the D-List".
To represent the dark undertones of Kathy's humor I painted the mask with an undercoat made up of black, green and red blended together. I then painted a large gold D across her face, representing her current successful show. For her in-your-face style I chose to fling, splatter and drip pink, purple, turquoise and gold paint all over the mask's face. I even allowed the splatters and globs to slightly obliterate the D to symbolize how her in-your-face humor caused a major backlash when accepting the 2007 EMMY award for her show.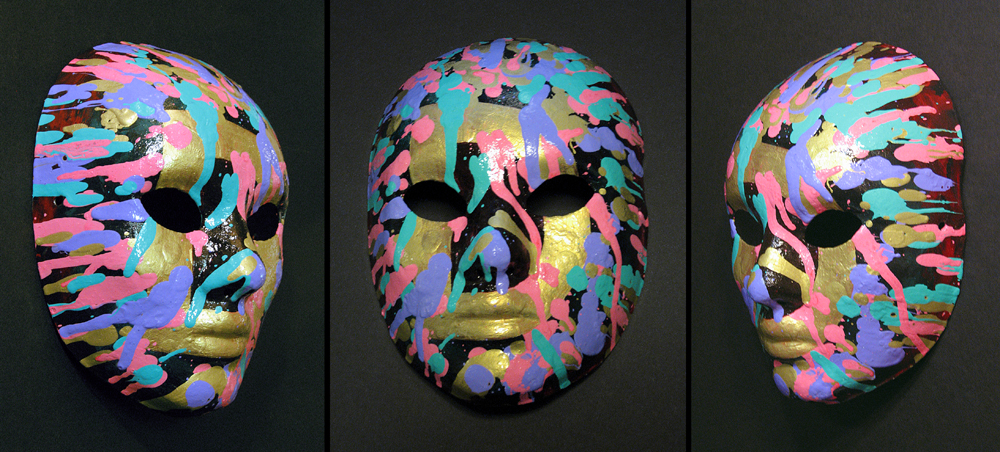 Kathy Griffin Autograph Mask – 3 views – Completed 9-30-09
I stepped outside of my comfort zone on this one – which kinda' fits considering the personality who signed it. (BTW, Kathy signed this one on the back.) I'm used to controlling every stroke and where every speck of paint lands on a piece, and I definitely did not have that control when flinging the paint. All-in-all, though, I would say it was a fun and educational experience. I just hope it finds favor with someone at the auction…
The auction is now open… check it out here.
6 Comments for 'More Un-Masking the Mind'
Aaron Said:

I love it. Good for you for going outside your comfort zone. You're an artist not a style or procedure!

deborah Said:

Hey Don, isn't flinging paint fun? The serious expression in the face coupled with the wild paint job definitely says Kathy Griffin! By the way, this reminds me of Carnival in my native Trinidad, where on the first morning of the most decadent 2-day street party on the planet, revellers fling paint and mud at each other!

hallie Said:

I like your choice of dark undertones and non-control. I haven't watched Kathy Griffin's current show but I recently saw her on an HGTV Design Star segment. She is funny–if she doesn't like this, she'll probably let you know.

Don's Blog » Un-Masking the Mind Said:

[…] Don's Blog » More Un-Masking the Mind Said: […]

Don Michael, Jr. Said:

Aaron, Thanks for your great comment. I agree!

Deborah, It sounds like Carnival in Trinidad is FUN! I am so glad you see Kathy in this.

Hallie, I was actually nervous about that. I sure hopes she likes it…

-Don

Don's Blog » Unmasking Yet Again Said:

[…] event here.) I had the honor of painting the masks autographed by Matt Lauer, Meredith Vieira and Kathy Griffin which garnered over $300 for the […]