Un-Masking the Mind Event
October 26th, 2009
Last week was a busy week of preparation for the Un-Masking the Mind charity auction which occurred this past Saturday evening at the House of Blues inside Mandalay Bay Resort and Casino. The money collected from the event will help buy books and supplies for the Innovations International Charter School of Nevada, here in Las Vegas. Since my work focusses on masks I was invited to show a few of my paintings at the event. Not being one to pass up such a wonderful opportunity, I loaded up 17 of my paintings and hung them around the room. There were 41 masks on hand for the live auction, and all 41 were sold that night! I'm proud to say that the three I had been invited to paint garnered over $300 for the school.
The mask earning the most money for the school was also my favorite of all the entries. It was created by the puppet masters of Disney's The Lion King musical and signed by the cast. It ended up being purchased for $450. I bid on it until it got a little rich for my blood and then just sat back and enjoyed the energetic bidding that went on for several minutes. You can imagine how raucous the place got as this was going on.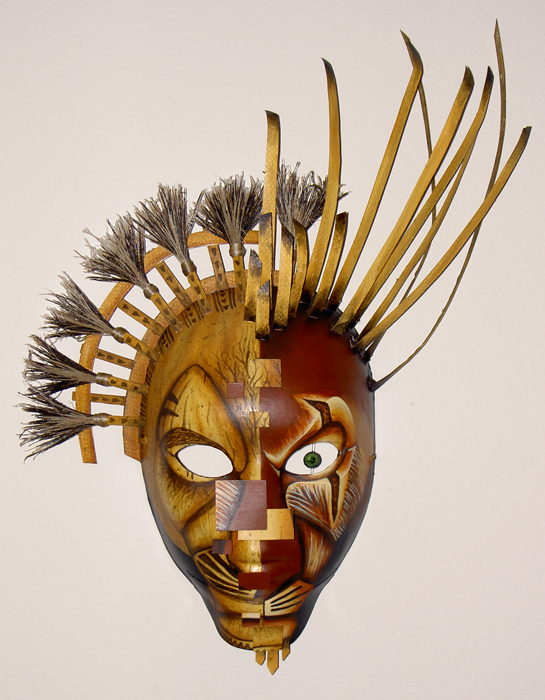 Lion King Mask
With all those wonderful masks around there was no way I was going to leave empty handed. So, I am now the proud owner of a mask painted by Jenyan Martinez, one of the teachers from the school. It is titled "Flowering Grape" and is now hanging on my living room wall among the rest of my mask collection patiently awaiting its chance to become immortalized on canvas. We'll see…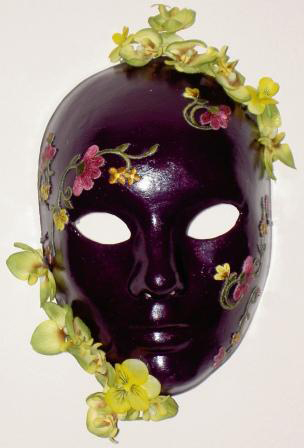 "Flowering Grape" mask painted and signed by Jenyan Martinez
All-in-all the event was quite a success. My wife and I had a blast, we ended up with a new mask, and we garnered a few new contacts. Regrettably, we forgot our camera, so I am now at the mercy of others who were not so silly. As soon as I have some photos from the event I'll post them on my Facebook page".
8 Comments for 'Un-Masking the Mind Event'
Kathy Said:

What a great account of a successful event! Thanks for sharing this, Don. I like the mask you purchased and agree that the Lion King mask is wonderful. I'm really pleased to learn that you were able to exhibit 17 of your paintings. Any feedback??

Kathleen Krucoff Said:

Hi Don!

I was wondering how all of this went. Great to hear it was such a success. I too am curious to know about the feedback about your paintings that were hanging with the exhibit. What great exposure and I hope it brought some sales for you too?

deborah Said:

What a wonderful event to be a part of! The masks were all so creative, it must have been a hard choice for the bidders. Apart from your contribution to the cause, I hope you get some future work out of it!

Judy Said:

Thanks so much for the last minute invite. We had SO MUCH FUN! I'd seen the masks on-line, so knew what to expect. It was great to see you & Laura. We're so pleased with our purchases, that they benefit the school, and that we were there to support you as well. We'll have to see where their new homes will be! Thanks, Don.

Don Michael, Jr. Said:

Thank you ladies for your kind and supportive comments. They mean a lot.

Kathy, It was my pleasure to share. Yes, I received some wonderful and rewarding feedback. The masks and paintings complimented each other nicely.

Kathleen, This WAS really great exposure and I hope it grows into something else in the future. I came REALLY close to making a sale at the event, but just received word that they are backing out.

Deborah, Yes, it was hard to choose, they were all so well done. You could tell the crowd favorites because their prices jumped quickly. The auctioneer was really good at stirring the crowd up when things started getting exciting. It was a lot of fun and very rewarding.

Judy, As always, it was my pleasure. Laura and I enjoyed seeing both you and Gary and really appreciate all of your continued support. I also emailed you earlier today. Hugs to both of you…

-Don

hallie Said:

Sounds like a really great event–and exciting that you showed paintings, too. I'm impressed that you had 17 works ready to go! I have a feeling (though I'm deficient in psychic ability) that this showing will lead to sales.

Don Michael, Jr. Said:

Hallie, Thank you. I always have several ready to go (It's hard not to with an inventory now of over 100). I do hope that you are psychic, indeed… -Don

Don's Blog » Unmasking Yet Again Said:

[…] autographed and decorated by celebrities and local Las Vegas artists. (I wrote about the event here.) I had the honor of painting the masks autographed by Matt Lauer, Meredith Vieira and Kathy […]