For the first time in years I have actually relegated a painting I've been working on to the "unresolved-needs-to-be-hidden-away" closet. I've tried and tried to come up with a resolution to an experiment I'm working on and have yet to find the right answer. So, instead of beating myself up anymore, I'm going to put it away for awhile and move on to more productive pieces. Don't get me wrong, I am not giving up. I know I will find the answers, but sometimes they aren't as forthcoming as I would like.
Since I have no new painting to post I thought I'd feature one of my serigraph prints from 1993. I thought this piece would be a perfect fit on this day of Thanksgiving since it illustrates one of the things in my life that I am most thankful for. I hope you enjoy.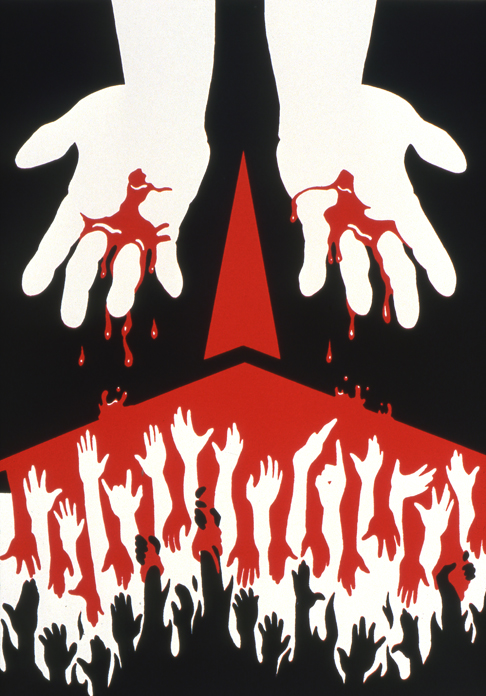 Atonement – 17″x11″ – Serigraphy edition of 7 – Completed November 1993
©1993, Don Michael, Jr.
I hope each and every one of you has a happy and blessed Thanksgiving. No matter what your situation there are good things that have happened for you over the past year. Take time to reflect on them and be thankful. God Bless, -Don
I've been trying something new with my mask paintings this past week, but found myself at a temporary impasse. I'm really excited with what I'm experimenting with, but I'm faced with a dilemma I must wade thru before calling it complete. I usually only have one painting on the easel at a time, but this time I felt it was time to step away and work on something else.
So, I once again got out my black gesso and molding paste and really globbed up a canvas using a palette knife and natural sea sponge. I chose for my subject a little tiki aquarium accessory I've been wanting to paint for a while and then got busy. I had a blast with this one. My palette knife was flying around like a helicopter blade with paint flying everywhere. Nothing was safe. The kids and the animals swung a wide berth while the maniac exploded onto the canvas. (Well, I may be exaggerating a bit…but, I did have fun!)
This definitely got my mind off of my "problem child" for a couple days. Now I can go back to it with a fresh set of eyes and a new lease on life. I can't wait to get it finished and get your feedback on it. But, for now I leave you with this fun little fellow…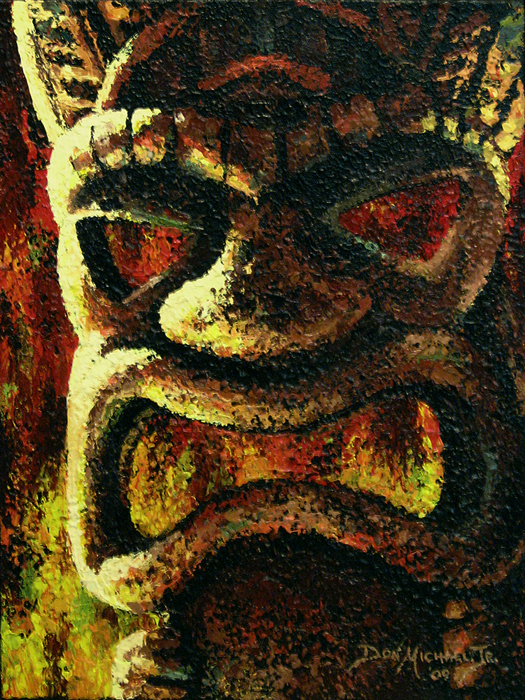 My Biscuits Are Burnin'! – 16″x12″ – Acrylic on canvas – Completed 11-18-09
I recently shared many of the family Christmas cards I had created over the years. While I was digging out those old gems I found a couple other cards I had created and thought I'd share them with you as well. Thank you for indulging me in this trip down memory lane.
The first one is an invitation to a Halloween party my wife and I threw the year we were pregnant with our first child – hence the pumpkin suit on the card. We actually dressed up quite differently for the party. Laura was a lovely witch and I was a freakishly ugly Frankenstein's Monster (and then I put on my costume, ba dum pum…). There were some great costumes that night, my personal favorite being four of our friends showing up as the "Heard it thru the Grapevine Singing Raisons".
Halloween Party Invitation – Serigraphy, edition of 30 – October 1987
©1987, Don Michael, Jr.
The second card was created 4 years earlier when I was preparing to celebrate my 23rd birthday. I based the theme of the party on the movie "Happy Birthday to Me", a pretty good slasher/psychological thriller from 1981, starring Melissa Sue Anderson of "Little House on the Prairie" fame. As you can see, most of the party materials were provided, so it ended up being well attended. It's like that line from the song "Too Much Time on My Hands" by Styx:
"…I have dozens of friends and the fun never ends, That is, as long as I'm buying…".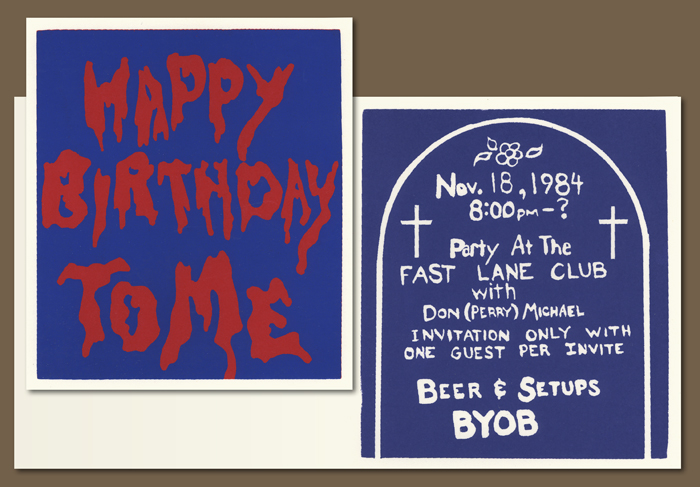 Happy Birthday to Me – Serigraphy, edition of 105 – November 1984
©1984, Don Michael, Jr.
In both instances there was fun had by all… and I'm sure there were a few boo-boo-heads the next day (except for Laura on Halloween 1987 – there's no drinking when you're pregnant!). As the years have gone by and the family has grown, about the only parties sponsored by the Michael clan anymore are pool parties, bowling parties, and sleep-overs where the strongest spirit imbibed in is root beer… It sure does make it a lot easier to get up the next day, though…
The two masks in my newest painting come from the gift shops of the Vegas Cirque du Soleil shows "KA" and "O". The masks are so different from each other that I thought it would be fun to find a way to get them into a composition together. After coming up with my concept, I started prepping my canvas. I'd had so much fun with my last painting where I started with a heavily textured black gesso undercoat that I wanted to do it again – and I did.
While the prepped canvas was drying I headed into my office to do some work on the computer. A few minutes later, my daughter, Christina – age 11, came into the office and told me that she and her brother, Eric (15), had been looking at my designs for this painting and she thought it should be titled "Love at First Sight". I had to smile at my baby girl's romantic inclinations. Eric, of course, disagreed and wanted it to be titled something dark and ominous – but, who would expect anything different from a 15 year-old-boy? I told Christina I'd think about it, but would wait until I was painting it to decide what its title would be. Interestingly, my working title to that point had been "It Must Be Love"…maybe Dad is a romantic as well…
Once again, I chose to use my palette knife to paint the entire piece. With the pebbly texture of the undercoating I knew this would be quite a challenge, and I was not disappointed. Rendering the smooth surface of the mask on the lower left while keeping the integrity of the texturing of the whole piece was one of the most difficult challenges I have assigned myself since beginning my exploration with texture and knife painting. Those patterns in the faces of both the masks gave me fits I'm just now recovering from.
As I painted, I thought of Christina's title quite a bit. I usually like a more abstract title that can have multiple meanings, so I thought of several other options, including things like "Love Her Madly" or "The End of Wisdom". But, upon completing the painting last night and then looking at it with fresh eyes this morning I realized that Christina was right. It SHOULD be titled "Love At First Sight". And, so it is…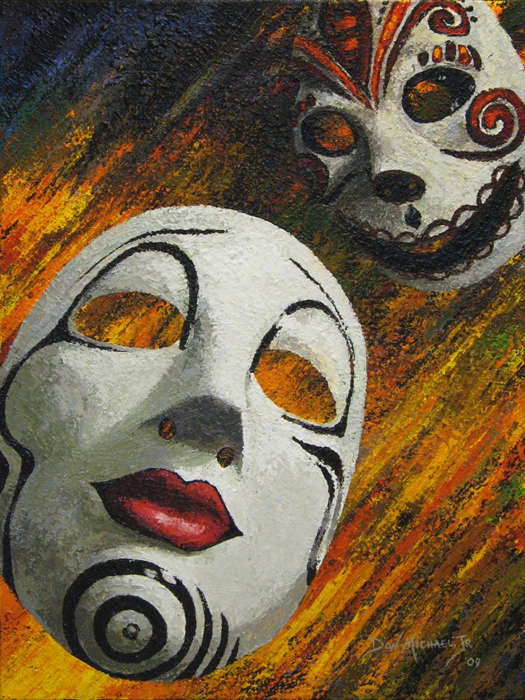 Love At First Sight – 24″x18″ – Acrylic on canvas – Completed 11-11-09
©2009, Don Michael, Jr.
As we enter into the holiday season I wanted to share some of the Christmas Cards I've created over the years. I've designed my own since 1983 when I was a raw 22 year old. You can get a sense of where I was each year in my life as you view the progression. From 1983 thru 1995 I used serigraphy (silkscreen) to create the card editions. Since 1996 they have been computer generated.
In order to post them all in a format that was easy to view, I have posted them on my facebook Fan Page. I hope you enjoy.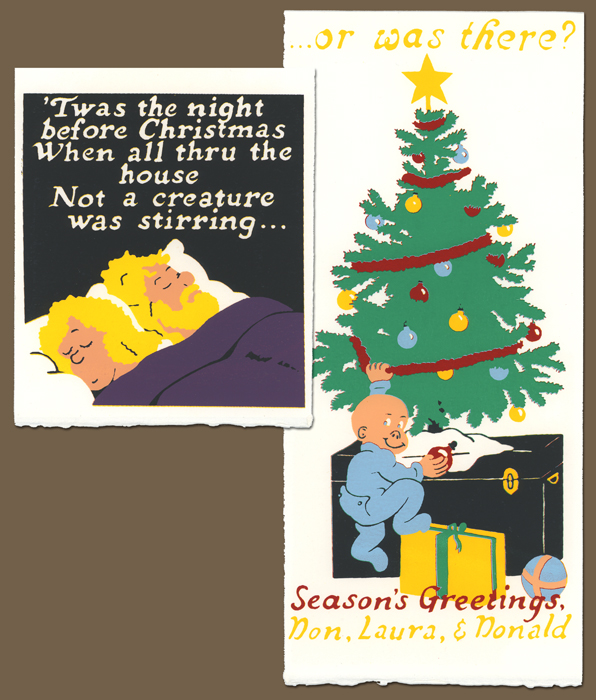 Our Oldest Son's First Christmas – 1988 – Serigraphy editions of 70 & 10 – ©1988, Don Michael, Jr.