A few years ago my family and I went to Galveston, TX while on vacation. While there I found a cool mask in a souvenir shop labeled as a Mardi Gras mask. Well, the price was right and I wanted a momento of Galveston so I bought it. (actually any excuse to acquire a new mask is a good one.) Since then, she has been featured in 5 of my paintings, including my most recent.
In my ongoing explorations with my magical palette knife (thanks Pam) I decided it was time to attempt this lovely lady's countenance. I must say that she challenged me greatly – as she has done with each of her incarnations – so I decided to title her appropriately…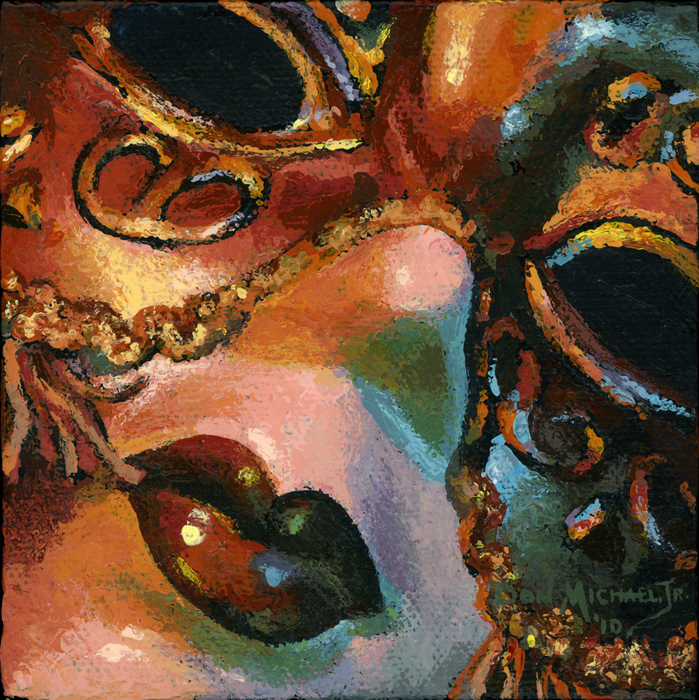 Sassy – 4″x4″ – Acrylic on canvas – Completed 1-30-10
©2010, Don Michael, Jr.
In case you are interested, I have included her other incarnations in order of their original appearance.
As you will see, I have taken some liberties with her over the years.
Thankfully, she hasn't held it against me.
At least I hope not…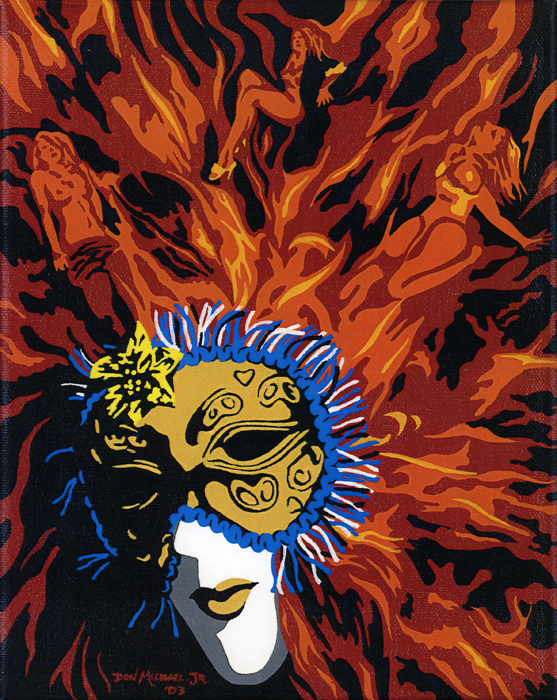 Incendiary – 10″x8″ – Acrylic on canvas – Completed 4-28-03
©2003, Don Michael, Jr.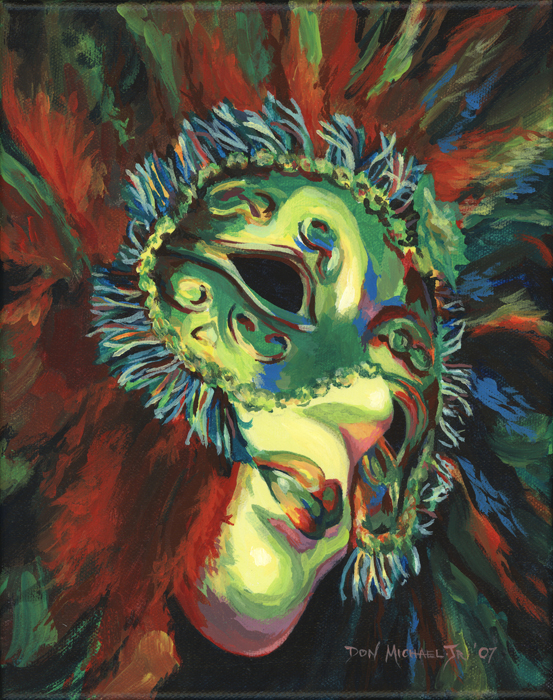 Hera – 10″x8″ – Acrylic on canvas – Completed 11-6-07
©2007, Don Michael, Jr.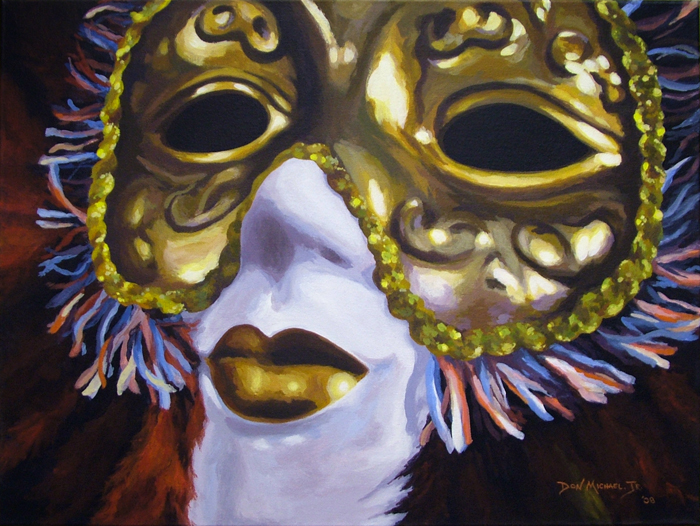 Awake Within a Dream – 18″x24″ – Acrylic on canvas – Completed 5-31-08
©2008, Don Michael, Jr.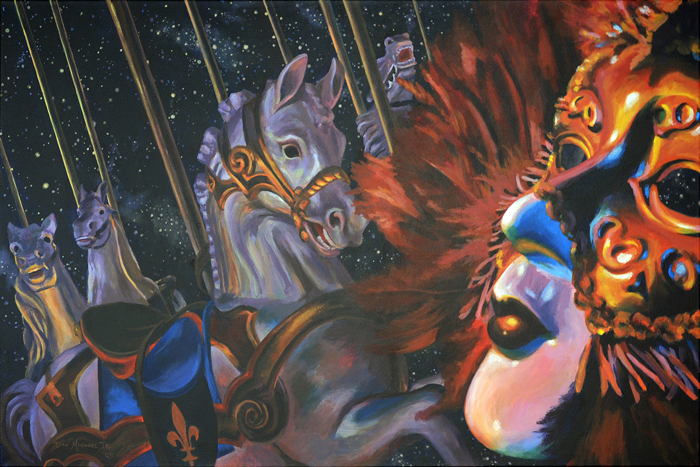 Nostalgia – 24″x36″ – Acrylic on canvas – Completed 8-5-09
©2009, Don Michael, Jr.
I've been told I have one of these all my life. Maybe everyone does.
No, not a skull (that's too easy)…
No, not bad teeth (I brush – c'mon!)…
…an Ornery Streak.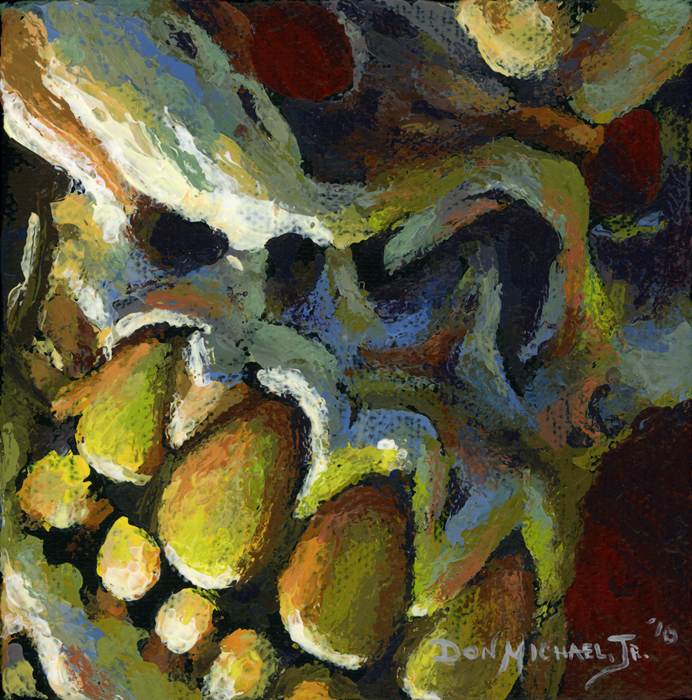 Ornery Streak – 4″x4″ – Acrylic on canvas – Completed 1-28-10
©2010, Don Michael, Jr.
Yesterday's self-induced challenge was to use the Winsor & Newton color Renaissance Gold in lieu of yellow on my palette. Yikes! That created a marathon of frustration as I was never able to achieve the greens I wanted – even though I had also included Cobalt Green in the palette. I originally rounded out my palette with Red Oxide and Zinc White. But, once I got well under way I realized I was going to need some blue to balance all the earthy oranges and red-oranges so I got out my favored Phthalo Blue and added it to the mix. The resulting colors were not my original intent, but I was pleased with them none-the-less.
This mask is a little beauty I picked up from a street-vendor in Manhattan a few years ago. I put her to canvas once before in a very similar pose, but with a VERY different color scheme. I think I'll be revisiting her soon from an entirely different angle…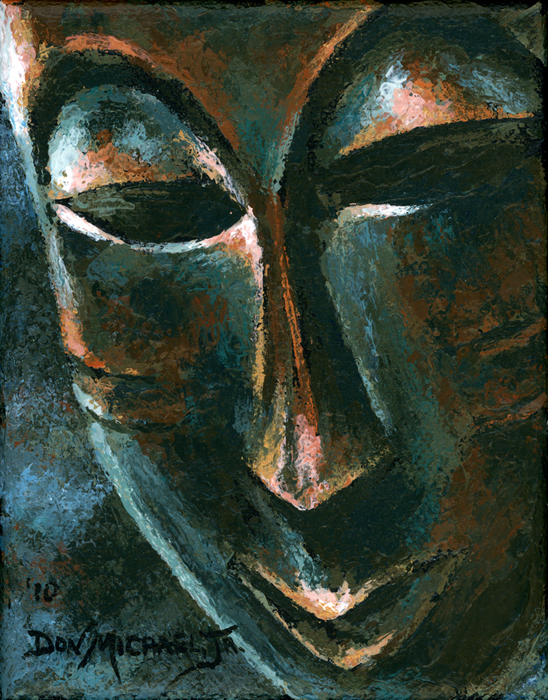 Quiescence – 5″x4″ – Acrylic on canvas – Completed 1-27-10
©2010, Don Michael, Jr.
When it came time to sign it I tried something new that I will NEVER do again. I used black gesso because I wasn't happy with any of the colors I was mixing to sign off with. I discovered my mistake right away – you cannot wipe off the gesso if you're not happy with it, even if you try immediately. Plus, I don't like how its color does not belong to the rest of the color palette. I chose to not paint over it as both a lesson to myself and one to share.
Instead of leaving you with a negative I want to share this fun tidbit. I love zooming in on the texture created with the palette knife and checking out all the nuances I wouldn't see otherwise. Here is a .75″x1.15″ detail blown up about 7x. You get a sense of all the layering of color that occurs as I glob and smear with the palette knife. You can also see a touch of the sparkle from the gold paint. Enjoy!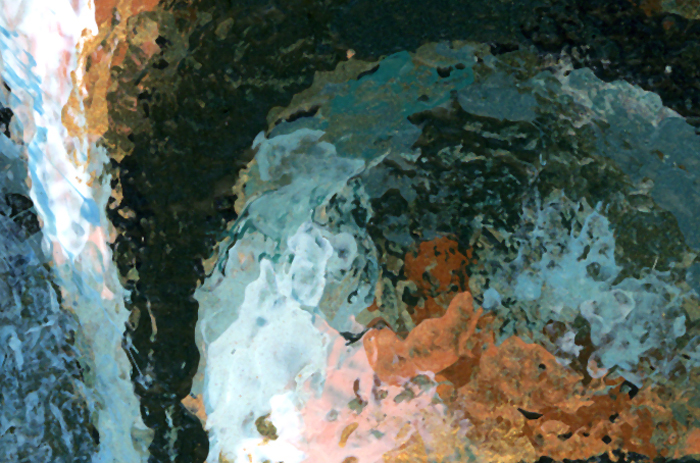 Quiescence – detail
©2010, Don Michael, Jr.
I've been asked a few times over the past several months about the palette knife or knives I may use for painting. Today I decided it was time to reveal the primary culprit. What you see below is the only palette knife I've used to any large degree. I have experimented with a few others, but I find this one to be the most comfortable to me.
I've been using this palette knife to mix paint for about 5 years. The first time I used it to actually apply paint to a canvas was in September of 2008 with the painting, "Hermes". What started as an experiment took me and my paintings to a new level. It excited the painter in me in ways no other tool ever had. I wrote about that first experiment here, and then the affects it had on me here.
To give a sense of the actual size of this knife I have included my most recent painting, "Easily Amused", and a ruler.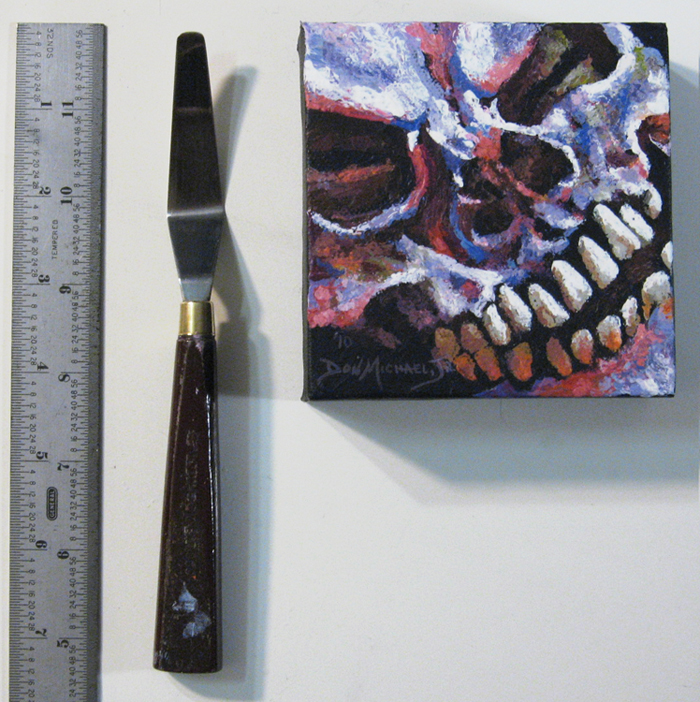 ©2010, Don Michael, Jr.
Well, last night I proved to myself I could paint a 4″x4″ canvas using only a palette knife. I'm quite happy with the results, as seems the subject. But, then, he's "Easily Amused".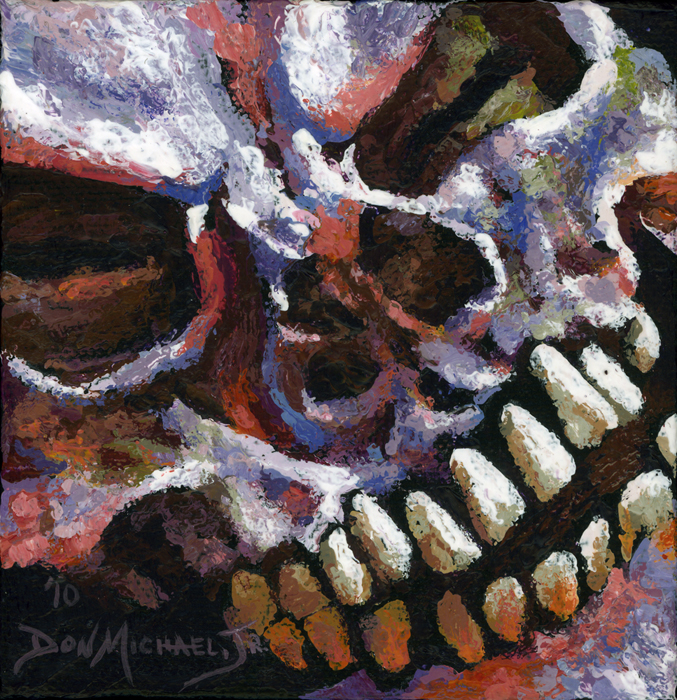 Easily Amused – 4″x4″ – Acrylic on canvas – Completed 1-26-10
©2010, Don Michael, Jr.
An interesting side-note. I always present my work here on my blog sized to 700 pixels on the largest side. I just realized that at 72 dpi this image – when clicked on – is more than double its original size. Talk about up-close-and-personal…
Recently, my art/blog friend, Douglas Hoover, completed a painting which included one of the best compositions I've seen on a 3:1 panoramic canvas. Please go check it out, you'll be glad you did.
After seeing Douglas' wonderful painting I decided that a panoramic style composition would be a good challenge for me to undertake. I went looking for a 3:1 canvas, but had to settle for one with a 5:2 aspect ratio instead – which was still a new challenge. I tried several designs both vertically and horizontally before deciding on my final composition (as you can see, panoramic is still on my challenge list). You may recognize the mask. This is another first – I created this composition based on a detail area of one of my earlier paintings. To create a trifecta of newness, I used the color Titanate Yellow (made by Golden Acrylics) for the first time. It sure takes a LOT of it to make any kind of impact – especially since I used Phthalo Blue and Cadmium Red Deep Hue as my other colors. I ended up using an entire 60ml tube for this one painting!
As I was slathering and smearing paint all over what was once a perfectly good canvas, I started thinking about new beginnings. The composition leant itself to this train of thought with the face rising out of the water and a morning glow beginning to appear on its right side. The best word I could think of to sum up these feelings is "Baptism". I hope you enjoy…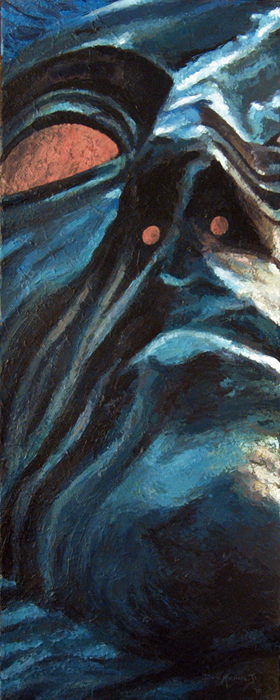 Baptism – 40″x16″ – Acrylic on canvas – Completed 1-26-2010
©2010, Don Michael, Jr.
In my continuing quest to try new colors I discovered a color that can compete with Phthalocyanine Blue for dominance on the palette – Violet Oxide. I think this is the first red that I've used that can actually make that kind of an impact on the phthalo blue head-to-head. This made it really hard for the other colors, Yellow Oxide and Titanium White, to keep up.
You may recognize the mask in this painting as being from my recent major project, "Loan Modification Request". He had such a negative roll to play in the previous painting that I had to give him a happier spin for this incarnation. I hope you enjoy…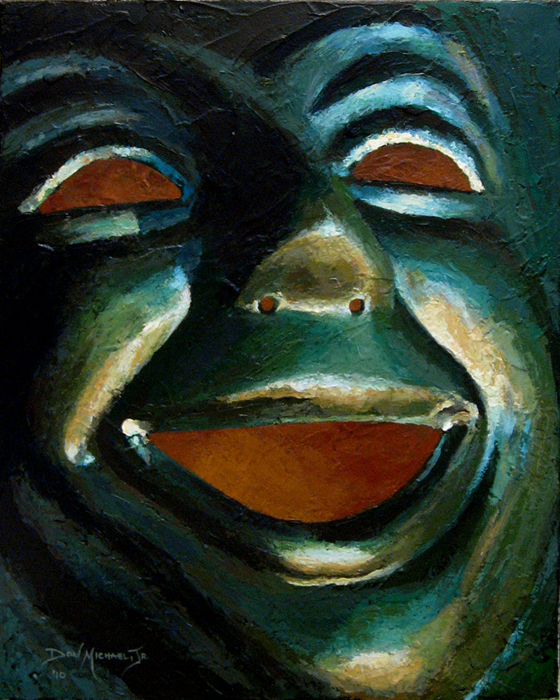 High on Believing – 20″x16″ – Acrylic on canvas – Completed 1-21-10
©2010, Don Michael, Jr.
I had mentioned a while back that I work out the compositions and color schemes for a lot of my paintings in Photoshop. Several people have asked me to show my method so I thought I'd use this painting as my guinea pig. Bear with me, I'm new at this teaching thing…
I started with a photo from the early stages of "Loan Modification Request" that had the mask paper mache'd to the canvas and gessoed black. I really liked the shadow pattern and thought I could have some fun with it. The focus on the photo is very soft, but that doesn't matter to me when I work on one of these projects. Using the crop tool (hi-lighted in the left tool bar) I cropped the image to 20″x16″.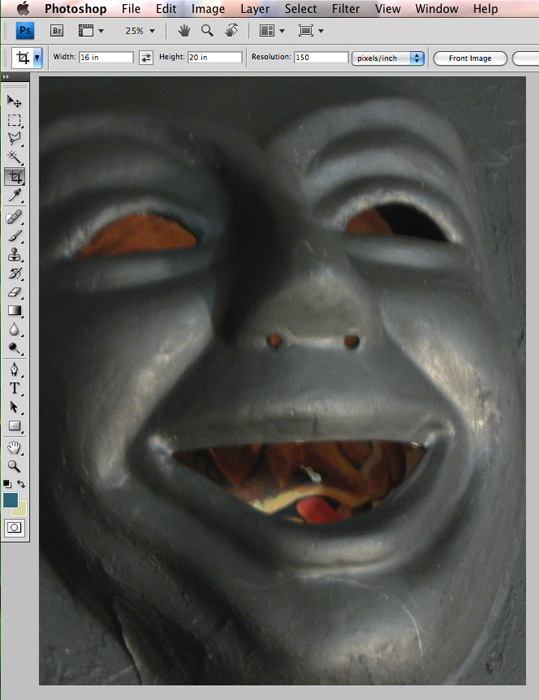 After making a duplicate layer of my background I used the polygonal lasso tool (hi-lighted below) to create a selection of the eyes, nostrils and mouth. (I was not able to do a screen capture of this tool in use – sorry.) After creating the selection I pressed delete on my keyboard to erase those items. You can now see thru them. For Photoshop novices, the checkered background represents transparency.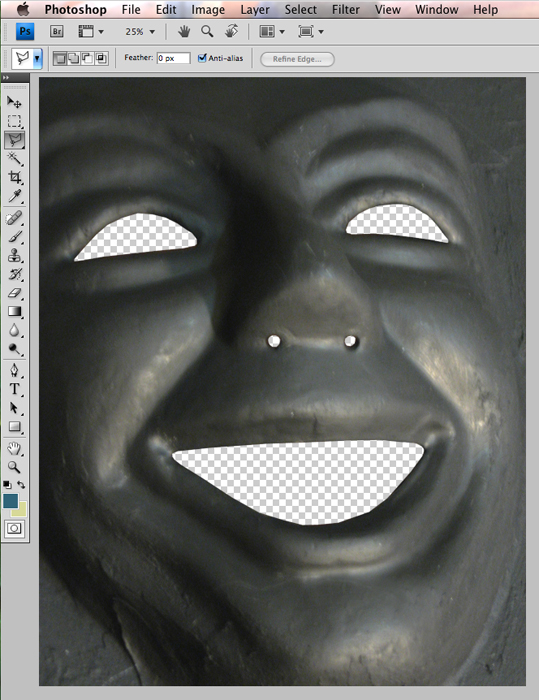 Here it is over the background I created. In the interest of keeping this post from being ridiculously long I will address creating my backgrounds on a later posting.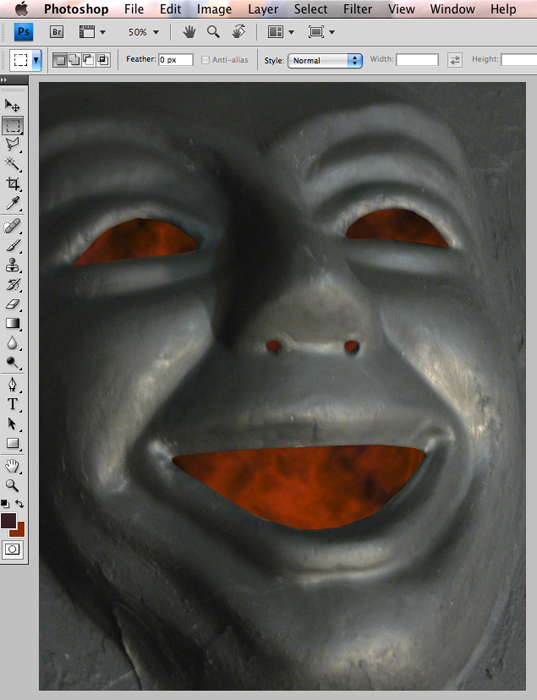 I wanted the mask to have sharper features and higher contrast on its edges, so I used the filter Unsharp Mask (one of my favorite filters).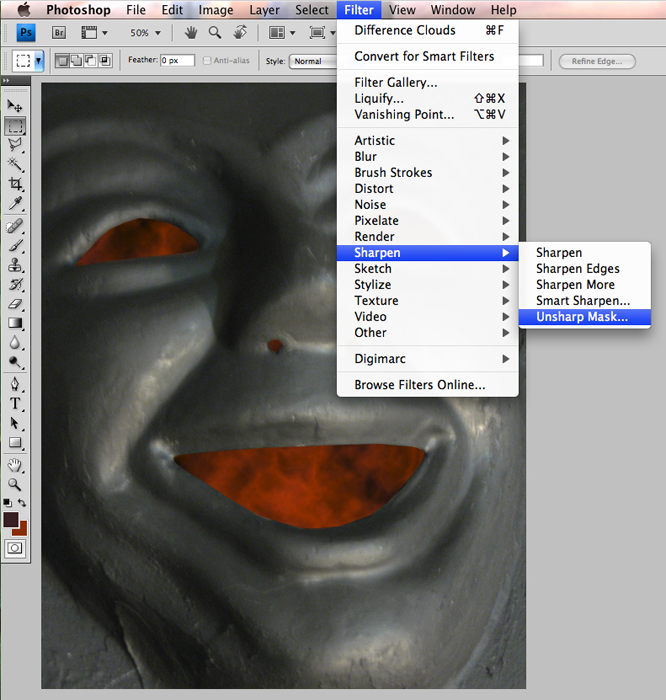 Here you can see the Unsharp Mask popup window. I moved the sliders around until I found what I was looking for. Notice the changes in contrast – gotta love it!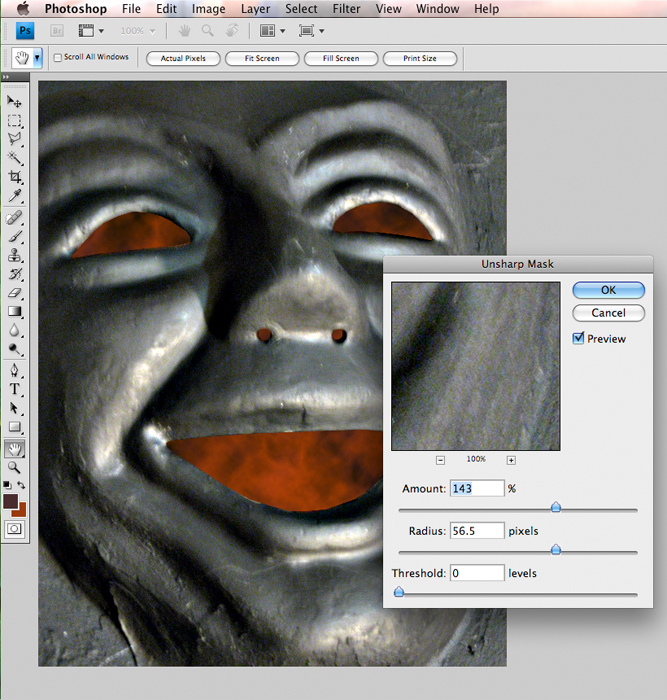 Now it's time to have fun with the color of the mask. I first made a duplicate of my sharpened layer (always make major changes on a duplicate layer – that way you still have your original when you mess it all up). I then went to the Hue and Saturation adjustment.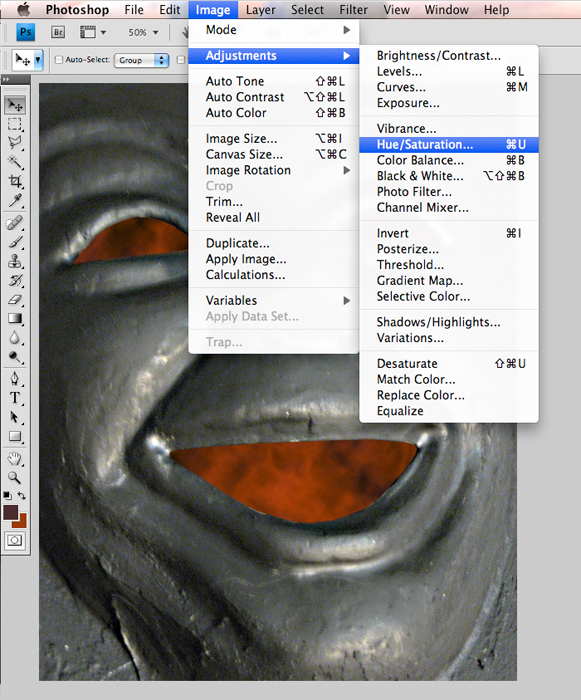 I took the Saturation slider as high as it would go. Notice that this really pixelates the color. Have no fear, I have a solution…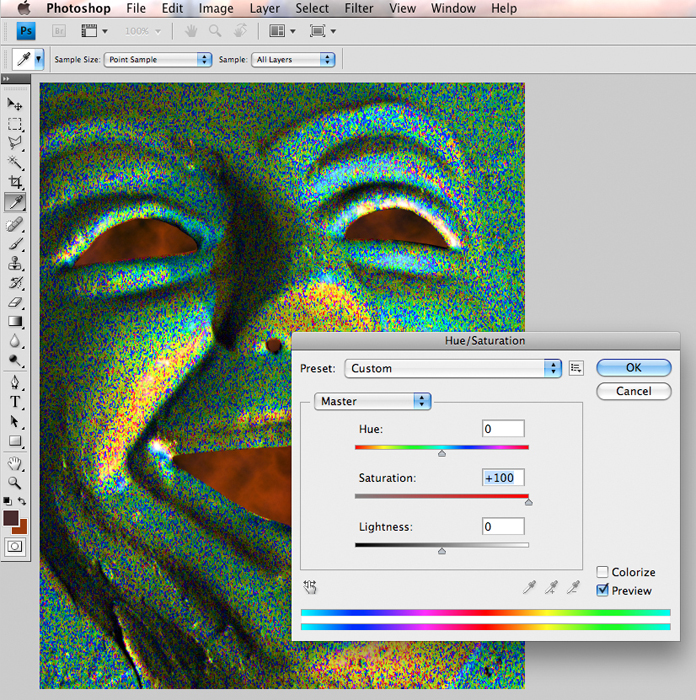 …I'm going to blur the heck out of it using the Gaussian Blur filter.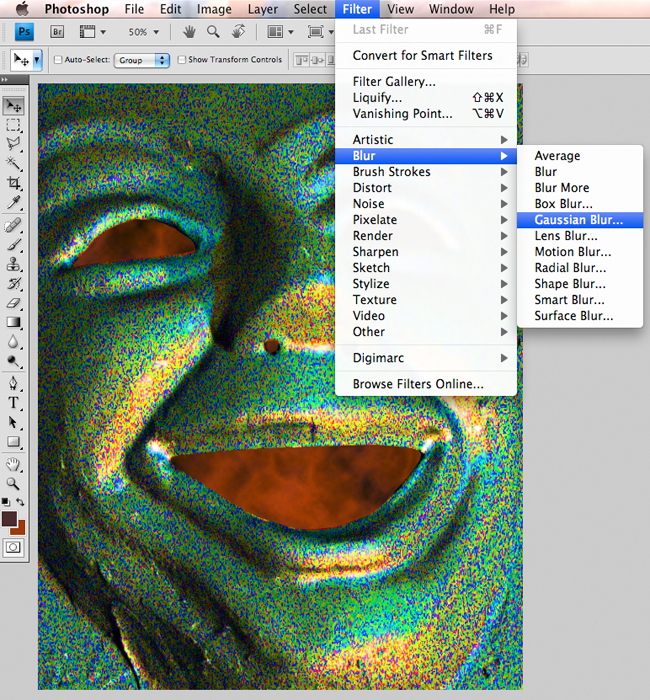 I adjusted the slider up until the pixelations started blending together to make some pretty nice colors.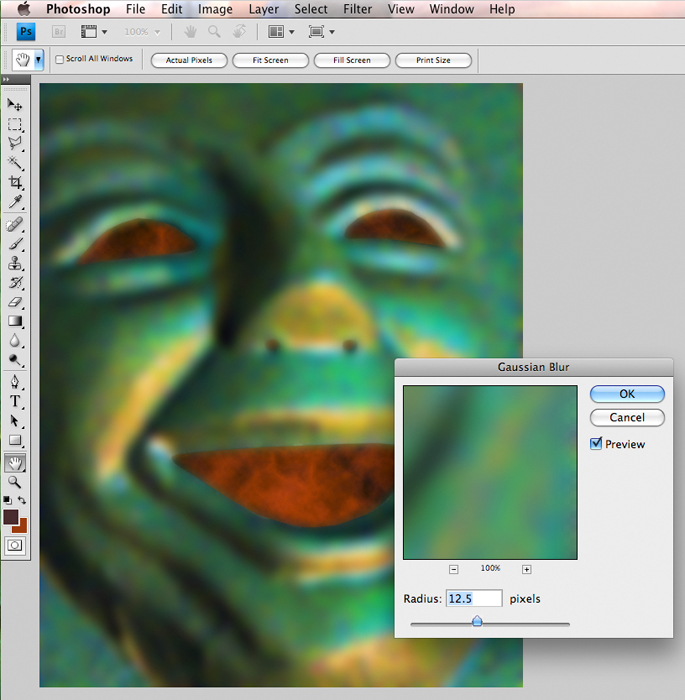 Now that it's blurry I've lost all my crisp edges! No worries, I have the answer for that, as well.
First, below you'll see my layers palette. You can see all my layers – the blurred brightly colored version, the sharpened version, the background, and the original image. Notice that there is a button that says Normal. This is a drop down menu which chooses the Blending Mode between the selected layer and the layer below it.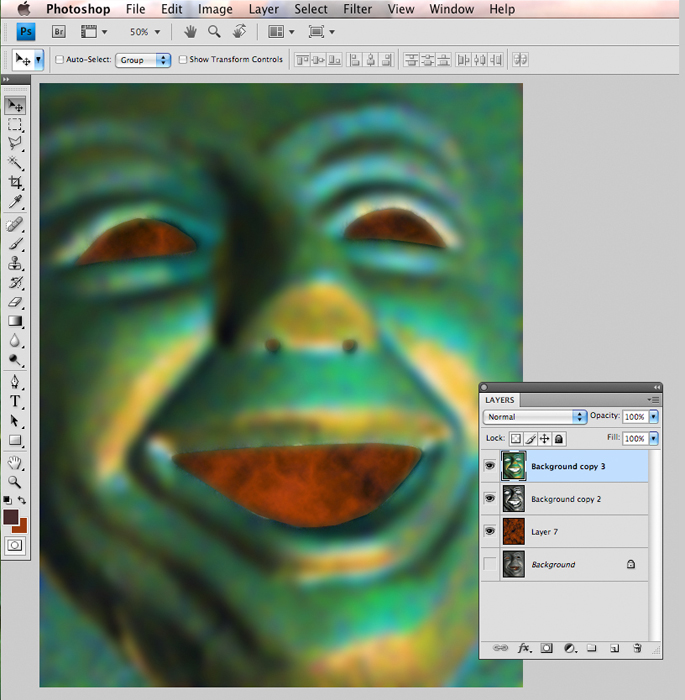 I want to change the Blending Mode for the blurred colorful layer from Normal to Color. You can see it hi-lighted below.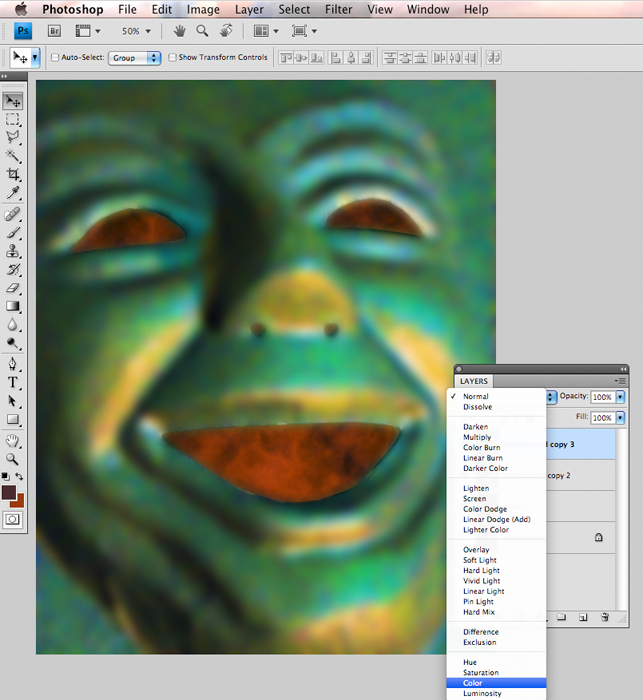 Hey look! Everything is crisp again! And now the colors look like they belong to the mask. I like how this has a brushed metal feel to it.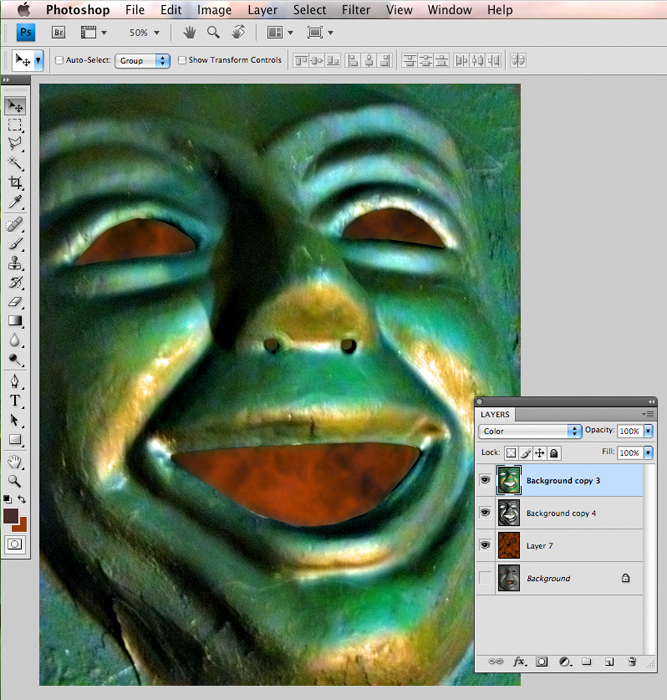 Well, I'm not satisfied. I want more drama. But, before I make any changes it's time to duplicate the layers I want to adjust. You can see below that I've selected both layers to duplicate at the same time. (Selecting multiple layers like this is not possible in versions of Photoshop earlier than the Creative Suite. If you have an older version and need assistance feel free to email me.)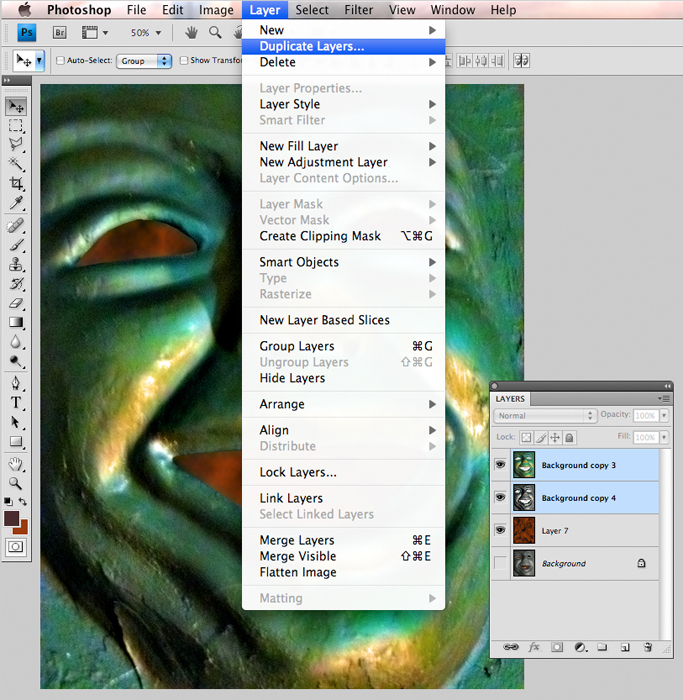 After both layers are duplicated I want to merge them. I have clicked in the drop down menu on the extreme top right of the layers palette and scrolled down to Merge Layers. (You can also do this from the Layers menu at the top of the screen.) It's necessary for me to merge them to be able to do the next step.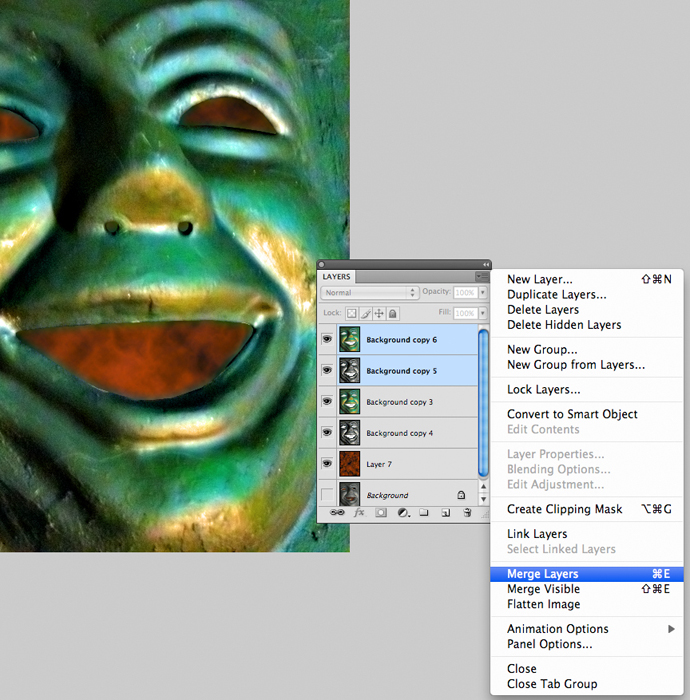 I want to add more contrast to the values. The easiest way to do this quickly is to use the Curves adjustment menu (hi-lighted below).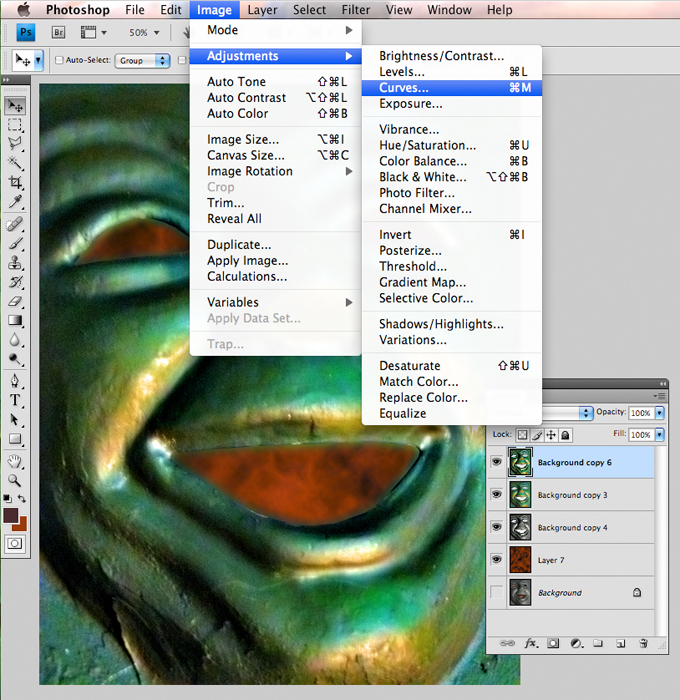 In the Curves menu I have clicked in the middle of the diagonal line and started pulling it downward. You can see how the image is gathering more contrast – especially in the darkest areas.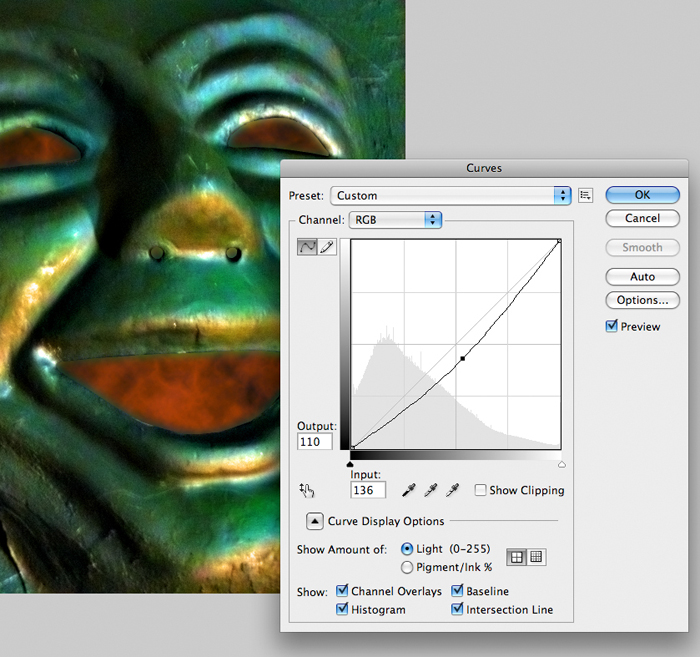 Now that it's darker, I want this layer to affect the layers below it. So, once again I'm using the Blending Mode – but this time I'm using Overlay (hi-lighted below).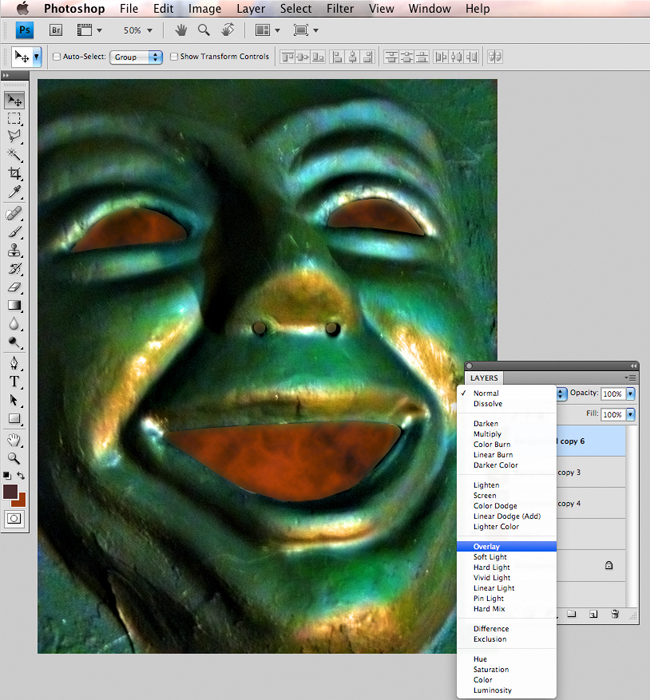 Now that's what I'm talking about! I can print this out, gesso my canvas black, get out the paints and palette knife and start slathering some paint around.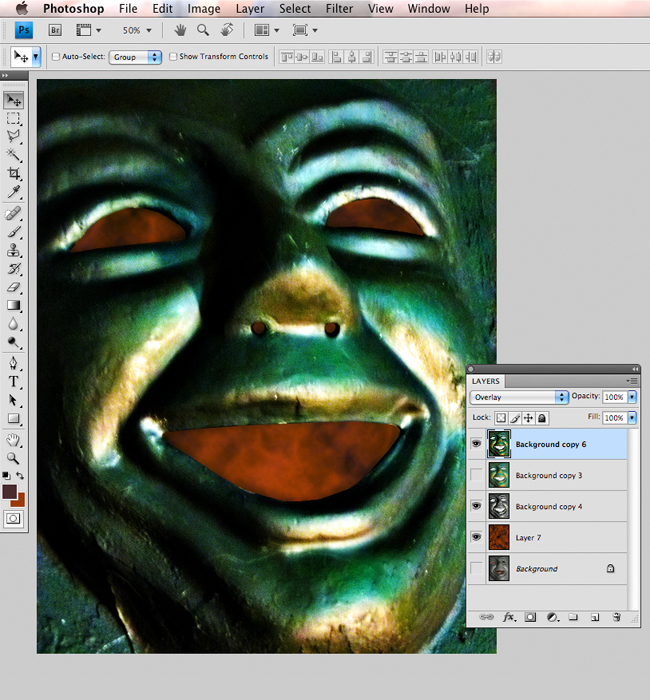 I hope you found this interesting.
Happy Creating!
©2010, Don Michael, Jr.
To continue my self-imposed challenge of seeing how far I can take detail work with my palette knife I went looking for a mask in my collection with lots of nuance and intricacy. I settled on this Chinese "old man" drama mask. I must admit to having more fun than I'm probably allowed with this challenge. I once again started with a black gessoed undercoating for this 5″x4″ canvas. My palette consisted of Ultramarine Blue, Naphthol Red, Cadmium Yellow Primrose and Titanium White.
As soon as I finished I picked up the canvas and spoke out loud to it, "So, what's your story?". Immediately the word "Bygones" came to mind. It was like he answered me… creepy, huh?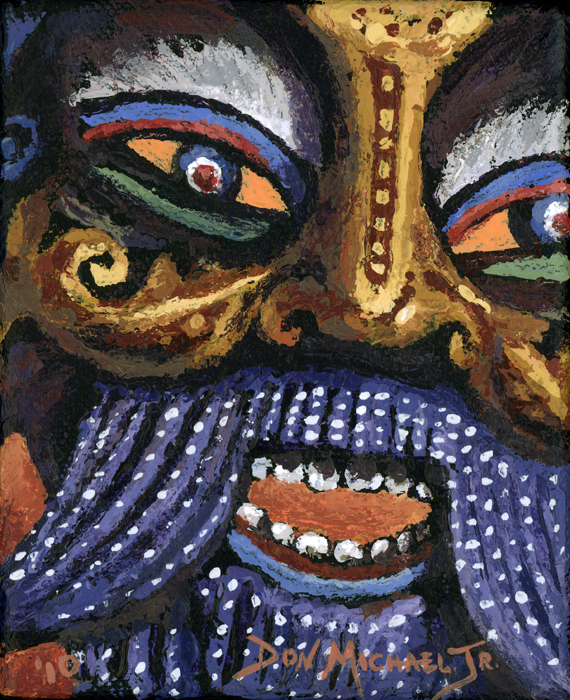 Bygones – 5″x4″ – Acrylic on canvas – Completed 1-17-10
©2010, Don Michael, Jr.
I featured this same mask in a painting back in July of 2008. I thought it would be interesting to include it in this post to show the differences and similarities in my approach and the end results. You'll notice I chickened out on the white dots in the beard back then. What a coward! Regrettably, I did not keep notes on my color palette back then. (I think it was the painting right after this one that started me on that path.) Anyway, hope you enjoy.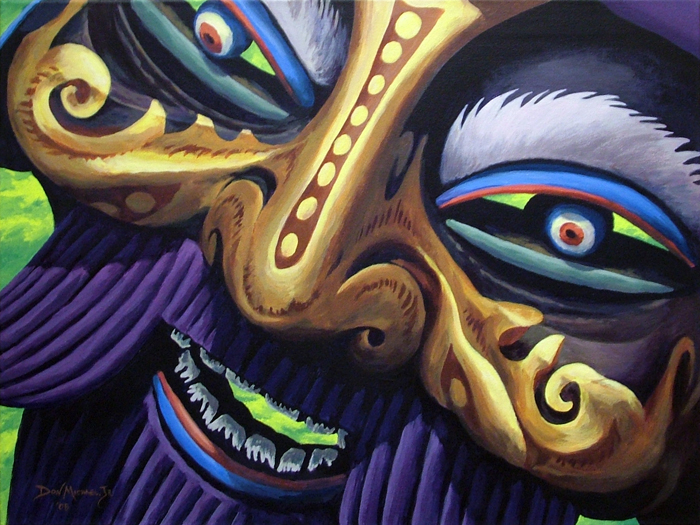 Daddy Voice – 18″x24″ – Acrylic on canvas – Completed 7-7-08
©2008, Don Michael, Jr.
Thank you to EVERYONE who stayed with me throughout the creative process of "Loan Modification Request". Your words of encouragement mean so much to me. It's exciting to know there are people out there who enjoy what I do and are willing to share in the experience. THANK YOU! THANK YOU! THANK YOU!
Since, I could never get a perfect shot of the full painting I thought I'd share some detail shots. Once again, the color is not exact, but you can at least quasi-experience it in the round…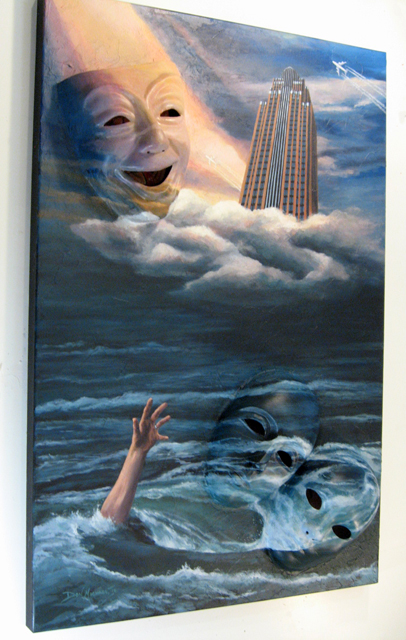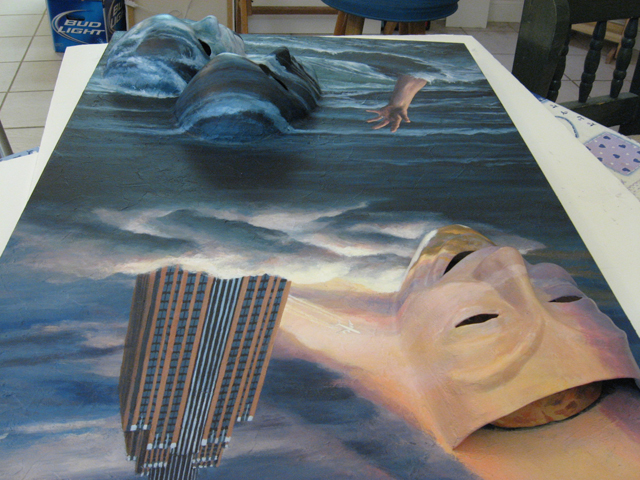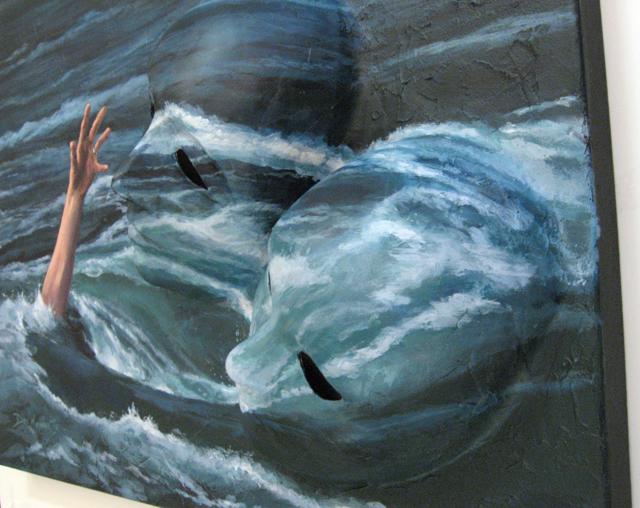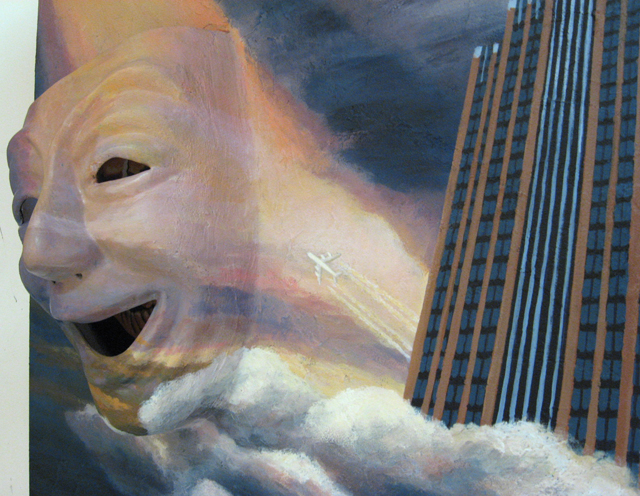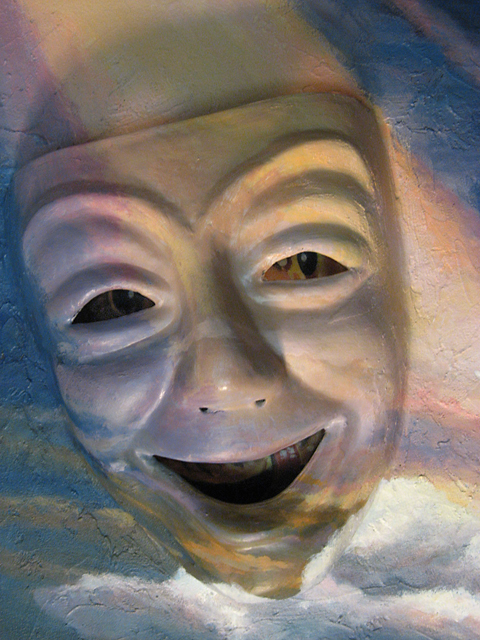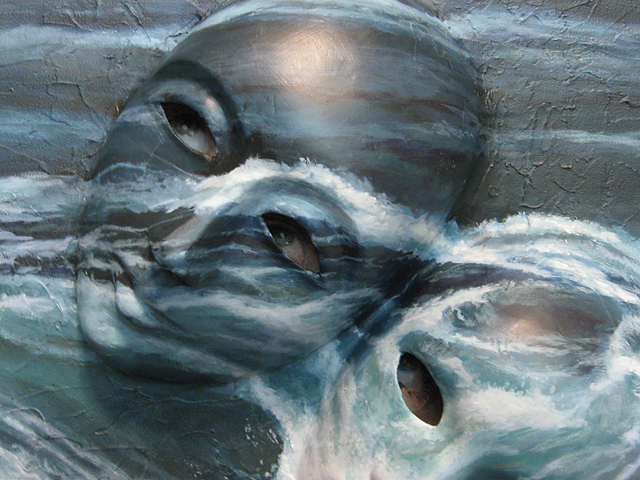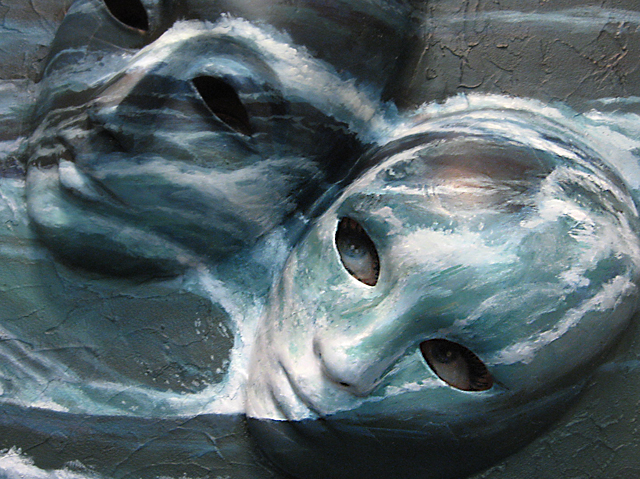 ©2010, Don Michael, Jr.
Last year there was a HUGE practical joke played on the American taxpayers called the Economic Stimulus Package. Banks all across the U.S. were recipients of some hard-earned taxpayer money, which was immediately put to good use paying well-deserved bonuses and taking long-overdue company retreats to other countries (my tongue is firmly planted in my cheek here). This money was supposed to help "kick-start" the economy and trickle down to the average citizen on the street. Regrettably, very little, if any, of that money stayed in America and the average citizens are none the better for it. I thought so highly of this stimulus package that I did a painting about it last March.
Those same banks are now playing another HUGE practical joke. It's called a Loan Modification Request. Get upside down on your mortgage and see how this works out for you. I know several people who have, in good faith, tried this route only to be given the run-around. Here's an example based on an actual couple:
Money's already tight when you find out you and your spouse will be getting 20% and 10% pay-cuts, respectively, in the upcoming year. So, wanting to be preemptive, you contact your bank to look into options for saving your home. They suggest you fill out a loan modification request and include copies of all your bank statements and pay-stubs from the past 6 months. You jump through their hoops only to be told you make a little too much money. You tell them, "But, we won't be making that much money very soon". They tell you to wait until you start getting behind and then contact them. After your pay is cut, you start getting behind so quickly that you're forced to resort to filing Chapter 13 bankruptcy to save your home. After Chapter 13 goes thru one of you unexpectedly loses their job. You immediately contact the bank saying, "I lost my job and I'm worried about losing my house. Please help!". They tell you to fill out a loan modification form, send in your termination letter and financial documents from the last 6 months. You do so and then call them twice a week for the next 6 weeks during which time they do not return your calls. When you finally get to talk to someone they tell you that you should have filed your bankruptcy differently (so, they're lawyers now, too). You then find out there is new legislation which is supposed to make banks consider your loan modification request "seriously". So, you jump through all their hoops one more time, with the added pleasure of filling out the government forms, only to be told, "We don't see how you can afford it."
So, in less than a year you have been told, "You make too much money", and, "You aren't behind enough"; followed by feet dragging and no returned calls; and finally the coup de grace, "You can't afford it". Isn't this the greatest practical joke ever?!? They sure went to a lot of trouble to enjoy this laugh…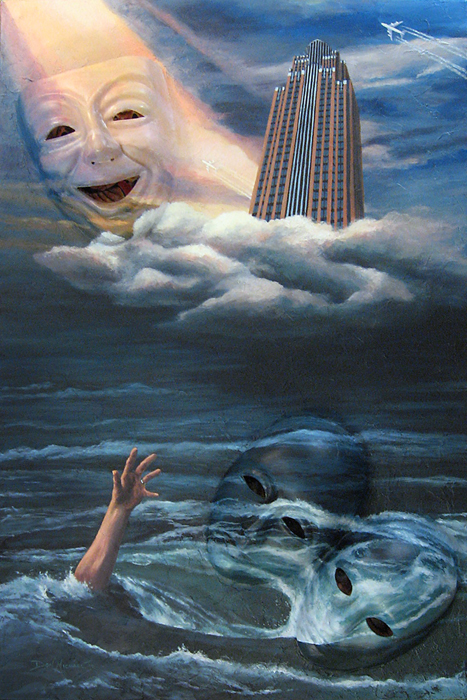 Loan Modification Request – 36″x24″ – Acrylic and paper mache' on canvas – Completed 1-16-10
©2010, Don Michael, Jr.
The hardest part of this painting was photographing it. I did the best I could with the camera I have. Wish it were better…
Next Page >>