I'm in the middle of one of my assembled pieces and it's taking longer than I like. This morning I was considering the fact that I hadn't written anything new in a few days when I received a message from a friend asking if I was on vacation. I knew right then I'd better let everyone know I'm still around and still busy, but with nothing new to show… yet…
In March of 1993 I had just completed a piece that I consider the magnum opus of my serigraphy work titled What Profit a Man?. (I wrote about that piece this past October.) At the time, I was exploring the ideals of the German Expressionists and had started designing another piece that was fairly expressive and was approaching non-objective. I was ready to start rendering my design, but still needed to decide how I was going to treat the background element in the piece. I had a conversation with my professor about the direction I wanted to go with the piece, during which I stated, "I can never see myself creating totally non-objective work".
Let me say that this is the last time I EVER used the word NEVER in this type of context. That very night, things changed radically in my art.
Before I continue, let me explain my schedule at the time so this story will make sense. I went to school from 9am to 1pm every weekday. I then picked up my son from preschool, fed him lunch and then prepared for work. At 3pm I traded my son off with my wife at the door of the factory we both worked in. At about 12:30am I got off work and headed to the Art Department at my college (I had permission to work there after hours because of my work schedule). I usually worked on my art until 3am or after, at which point I'd go home and crash.
OK, back to this story. That night I met an artist who had been using serigraphy for years. He showed me several of his works and the backgrounds greatly intrigued me. Without going into a long tutorial on serigraphy, let me just say that it was novel to me. He would put several colors directly on the printing area of the screen and pull them through with his squeegee – in effect, letting them react together in a random state as he pulled them through. (sorry, I know this is very vague, but stay with me – hopefully it will be worth it.) These prints he would create would then be the backgrounds for his final design. Mind you, this is still the same night that I had the aforementioned conversation with my Professor earlier that morning.
I was so stoked after viewing that artist's work that I quickly got a screen ready and started pouring different colored inks directly onto it and pulling them through with my squeegee. I was SO excited from the very first result that I ended up staying up all night experimenting. By the next morning I had the drying racks in the Art Department all filled with my experiments. I rushed home, showered, got my son out of bed, took him to daycare, and headed back to the Art Department. When I walked into the lab, my professor was standing there looking at what I had done. I think he was as excited with what he saw as I was. I used a few of those pieces I pulled that night as backgrounds in the series I was working on. But, most of those pieces ended up being the final product – which were basically the beginnings of my exploration of Abstract Expressionism – totally non-objective.
Never say never…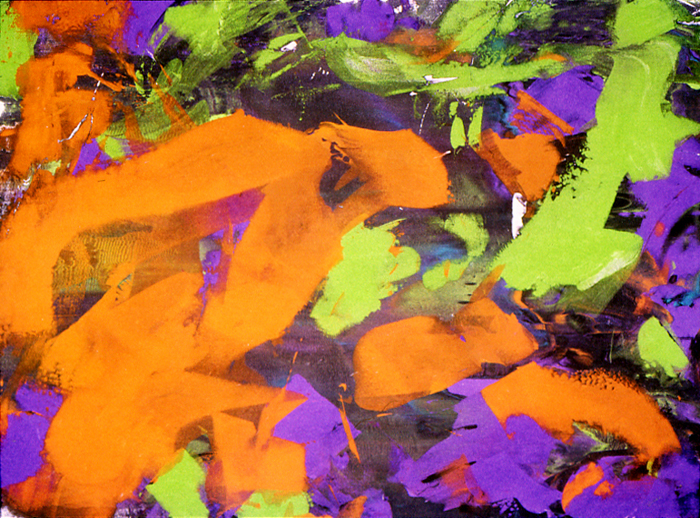 Nationalistic Fervor – 17″x23″ – Serigraphy monoprint – April 1993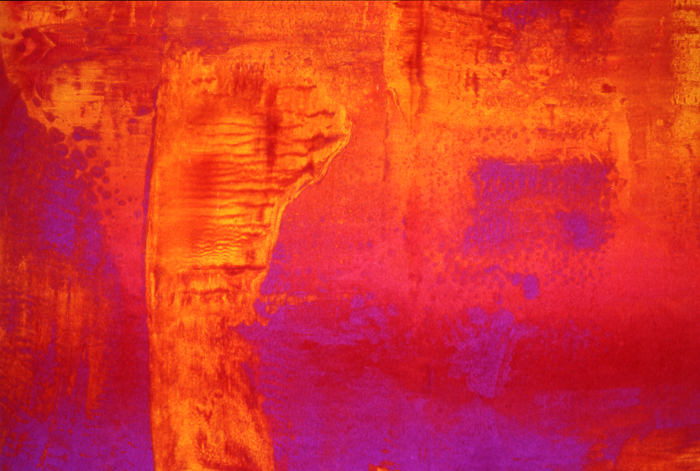 Infrared Speliology – 17″x23″ – Serigraphy monoprint – April 1993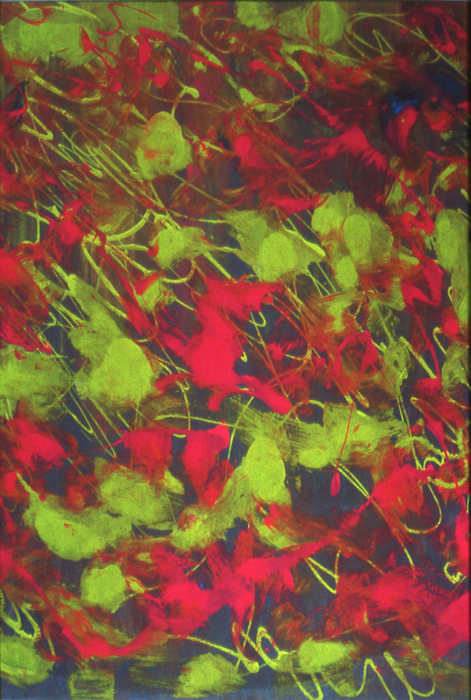 Flight of the Flamingos – 23″x17″ – Serigraphy monoprint – April 1993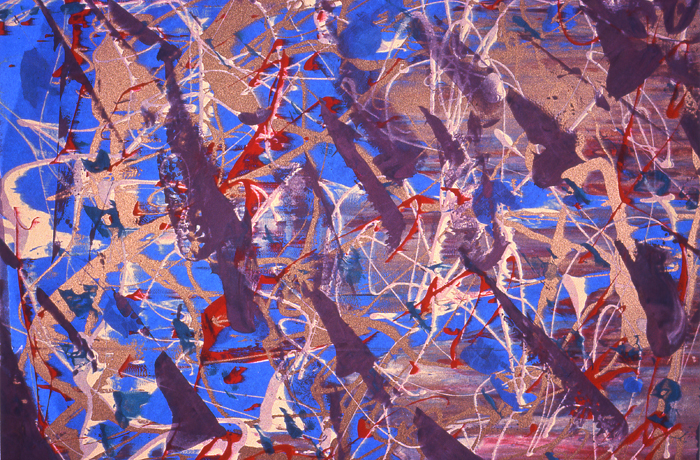 Deforestational Erosion – 17″x23″ -Serigraphy monoprint – April 1993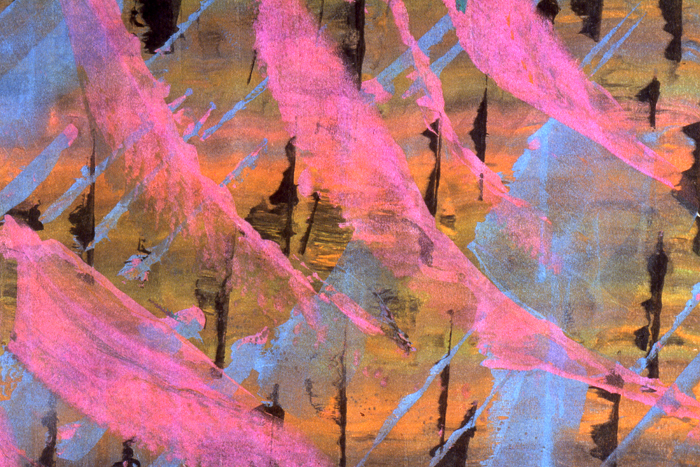 Light Autumn Breeze – 17″x22″ – Serigraphy monoprint – October 1993
All Images in this post ©1993, Don Michael, Jr.
These are but a few of the pieces I created over the ensuing several months. I ended up with nearly a hundred in the series, of which only a handful have seen the light of day in over a decade. After this trip down memory lane I may need to go pull out some boxes and see just what I did back then…
My neighbors stopped by a few minutes ago in a very excited state. They had opened the newspaper to find me on the cover of this week's local section. I apologized for ruining their reading experience like that, but they would have none of it and insisted I take their copy of the offending article off their hands. So, being the kind person I am, I acquiesced to their request. If you haven't yet tired of my ongoing self-promotion you can click on the photo below to see the entire article.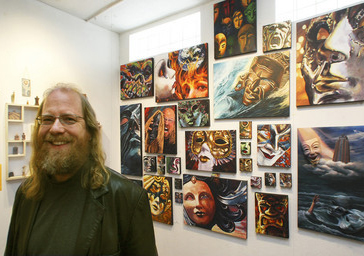 In all seriousness, this was a wonderful experience for me. My friend Peggy Copeland, of Image Brokers, set up the interview and made all of the arrangements. All I had to do was show up, stand around for photos, and run my mouth. I'd like to thank Amanda Llewellyn for writing such a nice article and Gary Thompson for the great photos. And, I'd like to thank the North Las Vegas View for putting me on the front page of this weeks edition.
One of my paintings will be a part of an exciting charity event called Circus Couture coming up this Sunday, February 28th at Rain Nightclub in the Palms Resort and Casino. In their own words, "Circus Couture is a Performance, Fashion, and Art Event to benefit St. Baldrick's and The Children's Center for Cancer and Blood Diseases of Las Vegas." You can find out more about the event and this wonderful charity on their website www.circuscouture.org/.
Once I found out that this event would be put together by performers and crew from the different Cirque du Soleil shows here in Las Vegas I knew instantly which painting I wanted to contribute. Late last year I featured masks from the Cirque shows "O" and "KA" in my painting Love at First Sight, shown below. (I wrote about the creation of this painting here.) When I dropped the painting off today it was met with much excitement – making me even happier with my decision.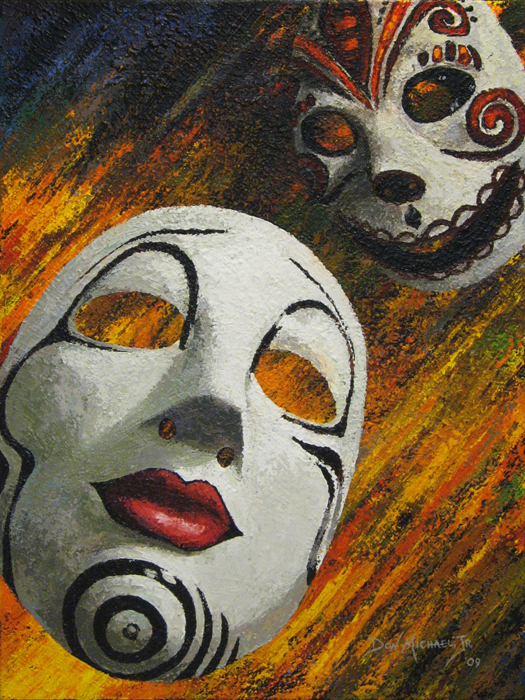 Love at First Sight – ©2009, Don Michael, Jr.
On a TOTALLY" different front, my copy of the book "Art Buzz, the 2010 Collection" finally arrived in the mail today. I now know that my painting Birthright was the one selected to appear in this publication which will be sent to museums and galleries around the world in support of up-and-coming artists. I'm so happy Birthright was juried into the book and proud that it was also awarded a 3rd place in acrylic. Below is a photo showing my featured painting as well as an inset showing the cover.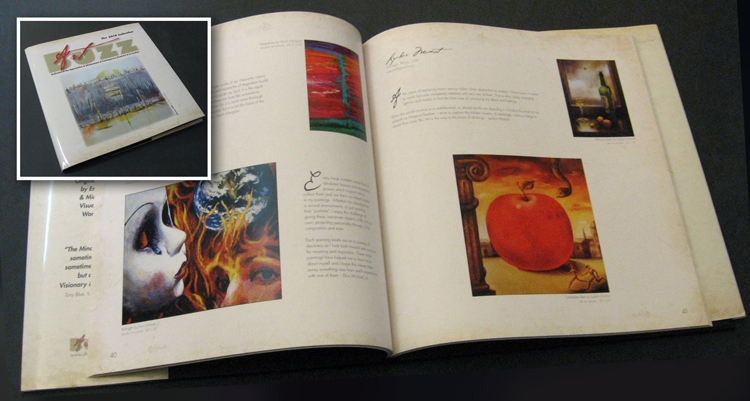 You can find out more about this publication here.
Now, it's time to paint… Happy Creating!
A few weeks ago I posted about  a fun experiment I did that resulted in the painting, Transitive. In short, I cleaned my palette knife by smearing it all over a canvas creating a chaotic mess which I then finished out by incorporating a mask into the chaos.
In a similar vein, I experimented with a second piece a week later, titled I Heard the News, but did not write about its process because of the emotional context unintentionally vested into the piece. The abstract qualities of the background on which the mask is painted did not show through as much in that one, but I was still fairly pleased with the result. So, I decided to try another.
During the process of painting Golden early last week, I once again cleaned my palette knife by wiping it on an 8″x8″ canvas creating yet another fun, chaotic mess. You can see the resulting amalgam below on the left. (On the right is the final painting – included in this side-by-side format per suggestions from some of my previous before/after posts…)
For this one I wanted to make sure that the mask would seem to be one with the chaos instead of just painted on top of it. I took down a mask from Ghana (I have no other details about this mask – I believe it is a mass produced "tourist" piece – but it's still cool), threw some strong light on it to give me some good light/dark reference points, and then cropped in really tight on its face. Using Burgundy (a blend of Burnt Umber and Naphthol Red), Payne's Grey, Iridescent Brilliant Gold, and Titanium White I started bringing the mask out of the chaos. I was careful to keep the background's original colors, strokes and textures as visible as possible, but found that I needed to add subtle washes to tone some of them down.
I've decided that I will continue to pursue this adventure as I work on other pieces in my mask series. I guess you could call this a sub-series… or, maybe a series within a series… or, possibly a tangential series… or, how about just plain fun…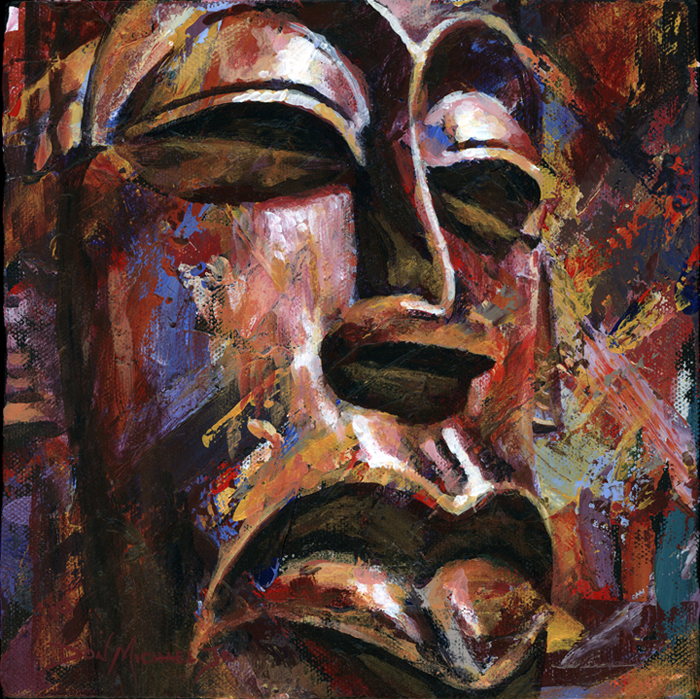 Tacit Lucidity – 8″x8″ – Acrylic on canvas – Completed 2-20-10
©2010, Don Michael, Jr.
The title, Tacit Lucidity, is a play on words revolving around the thought of implied clarity – a possible moment of clear thinking in the midst of an emotional, physical or psychological maelstrom…
I took the opportunity a couple days ago to go thru all of the printouts of unused designs I have accumulated over the past 7 years – throwing out several while setting others aside to explore more deeply in the future. One of the designs I kept was for a 10″x8″ that I've looked at every few months since I designed it and printed it out back in 2003. I loved the colors, but I hated the composition.
Recently I posted about a serendipitous moment of dropping a sheet of paper over a printout of a design which led to discovering the perfect composition for that particular mask. I decided I would try something similar with this troublesome design. So, I cut a 4″x4″ frame out of some scrap paper and moved it around over the original design – twisting it and turning it – until a composition I could live with jumped out at me. I wish I had stopped for a moment to document my process, but in my enthusiasm I immediately cut up the original design and threw away the pieces that were no longer of any use to me.
I wanted to do something to recognize the fact that Mardi Gras is now in full swing. I felt like it had to include Venetian style masks and vivid colors indicative of a party atmosphere. I think I accomplished my goals… I hope you enjoy.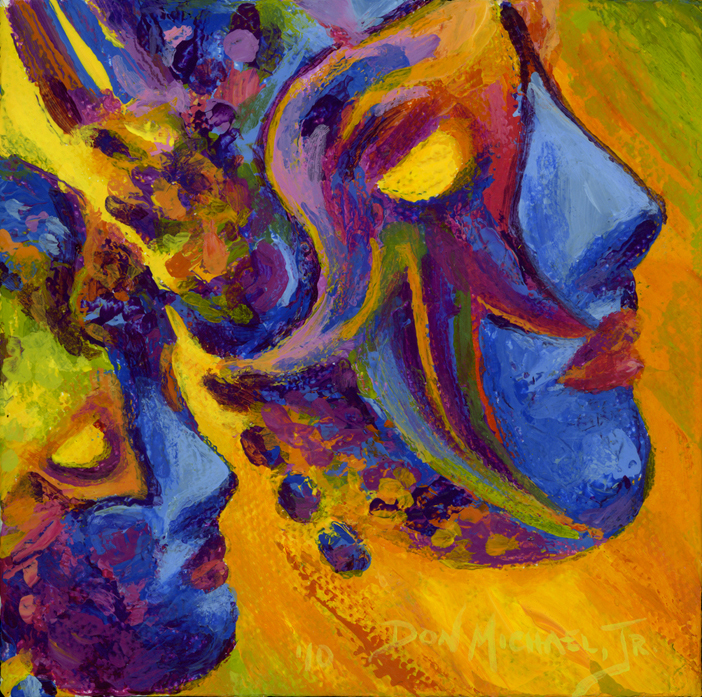 Deuces Wild – 4″x4″ – Acrylic on canvas – Completed 2-18-10
©2010, Don Michael, Jr.
BTW, For those keeping score, I did use a palette knife to lay in most of this one (I wish the scan could show you all the cool textures). But, I finished with a #8 round brush to accent some of the edges and blend some of the colors… a little two-for-one special. Fun times!
I started painting this mask Monday morning before I knew what the date was or what events were going to occur that day during the Olympics. Imagine my delight when I found out, a) It was the Chinese New Year, and b) The Chinese would be attempting to win their first gold medal – ever – in Pairs Figure Skating. (Not only did they attempt it, but they achieved it!)
You may ask, "What does this have to do with this painting?". And a good question it would be… The mask in this painting was bought by my brother while in Japan with the label "Chinese Holiday Mask" on it. The stripes in the face, and the feline look make me wonder if it's associated with the Tiger – with which I now share this year. (For those new to my blog, I declared this the "Year of the Don" for my New Year's goal on January 1 – And now it's the Year of the Tiger according to the Chinese calendar).
On my previous painting I had chickened out and didn't use a palette knife to paint that little 5″x4″ canvas. As punishment, I determined to REALLY challenge myself by getting down the most elaborately decorated mask in my collection to paint from. I chose not to let all those sharp edged stripes and circles intimidate me, although I did use a few choice words a couple times as I was applying the paint with my palette knife.
Being excited about how it turned out, and to honor the groundbreaking achievement of China's Shen Xue and Zhao Hongbo in the Figure Skating event, I dub this painting "Golden". I hope you enjoy…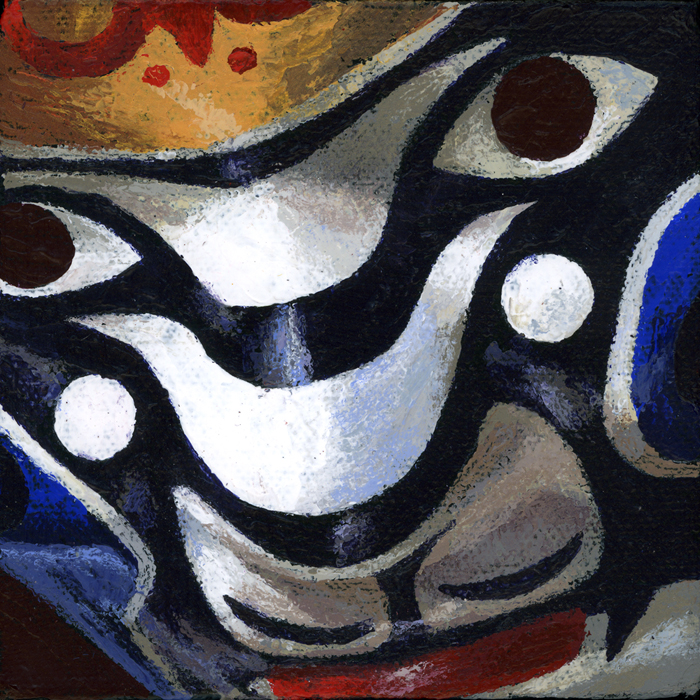 Golden – 4″x4″ – Acrylic on canvas – Completed 2-16-10
©2010, Don Michael, Jr.
The judging in Figure Skating is VERY suspect – oops, I mean interesting…
The Nordic Combined  – Individual, Normal Hill was EXCITING – what a finish!…
Apolo Ohno is fun to watch skate – can you believe the Koreans took themselves out?… Thanks for the Silver and Bronze…
I'm glad Alexandre Bilodeau won Canada it's first "home field" Gold Medal today… 1) What an excellent bit of skiing! 2) Maybe now NBC will find something else to obsess about…
Every race has some sort of MAJOR historical significance – just ask the comentators…
I really just listed these things as my segue to one of the most overused phrases in Olympic coverage… and the title of my latest painting…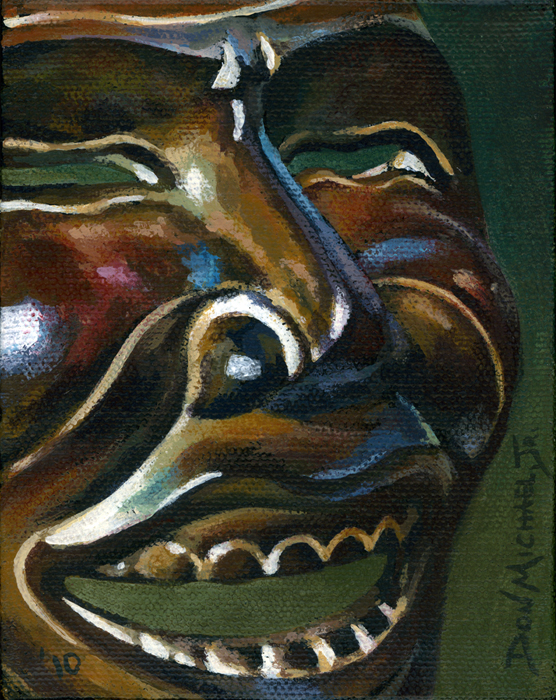 A Defining Moment – 5″x4″ – Acrylic on canvas – Completed 2-14-10
©2010, Don Michael, Jr.
Every two years my wife and I enjoy the two week event that is the Olympics. We can pinpoint important events in our lives around whichever Olympics were occurring that year. We knew that this year would be no different and had been anticipating the opening ceremonies all week long.
With the rest of the world we immediately found out about the tragic death of 21-year-old Nodar Kumaritashvili while on his training run in the luge. NBC warned us the video was gruesome – and so it was. I hope I NEVER see that video again. My heart breaks for Nodar's family, friends and teammates. I question, with so many others, why there is no protective wall at that last turn, which had already been an area of concern for months. Now I fear for the other athletes and don't know that I will be able to watch the luge, skeleton, or bobsled events in coming days unless I know they have taken precautions to help prevent another such occurrence.
I was just finishing this painting at the time I heard of Nodar Kumaritashvili's death. It will forever be associated with that memory in my mind. I had so much to talk about in the creation of this piece. Maybe another time.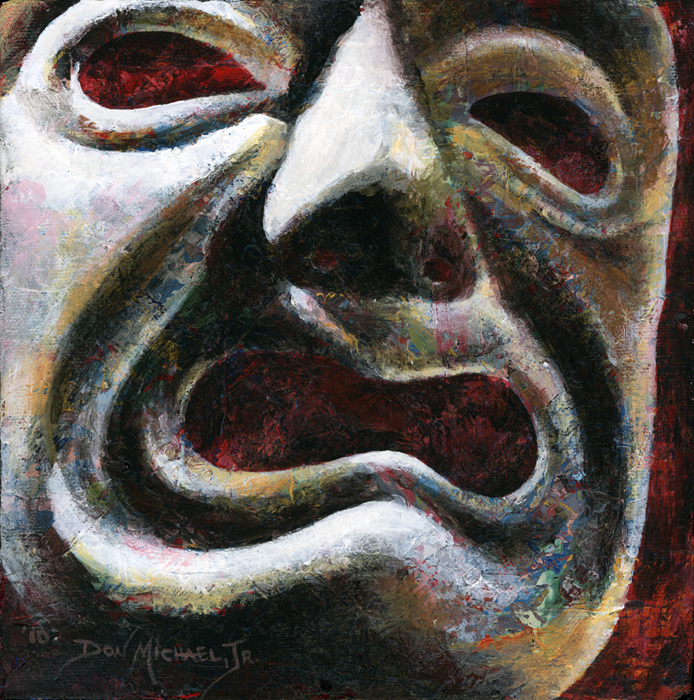 I Heard the News – 8″x8″ – Acrylic on canvas – Completed 2-12-10
©2010, Don Michael, Jr.
When I used to work near Downtown Las Vegas, Luca's Cafe & Deli was one of my regular lunch destinations. The proprietors, Alberto and Beatriz Wolcoff, surprised me this past Friday by stopping by the gallery where I had some work hanging during our Arts District's First Friday event. They had been following my work thru facebook and told me they wanted me to exhibit on their walls. Needless to say, I gave Beatriz a HUGE hug and shook Alberto's hand quite enthusiastically.
I asked Beatriz if there were any particular pieces she wanted me to bring and her immediate response was "Shadow of a Doubt". So, yesterday I packed it up with 14 others and headed over to Luca's where I spent the afternoon hanging them. I am honored to be the first artist they have invited to hang on their walls.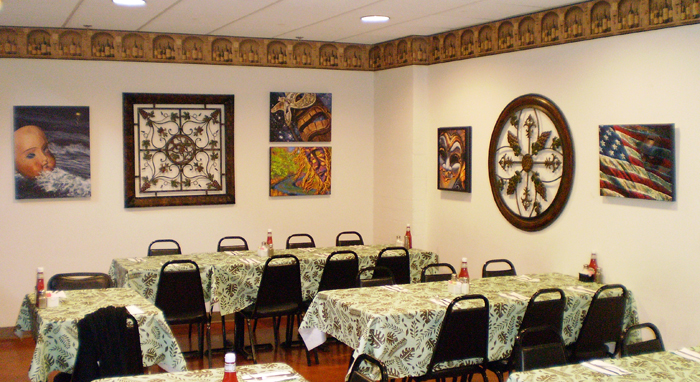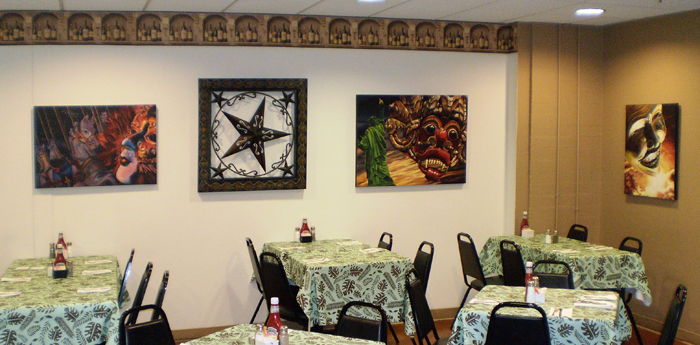 Luca's is a really cool place. The building was once the first church in Las Vegas, built in 1905. It is located on 3rd Street, just north of Bridger Avenue. They are opened Monday – Friday from 7:00 am to 2:00 pm. I dare say they have some of the best homemade food in Downtown Las Vegas. Stop by and tell them I said "hi".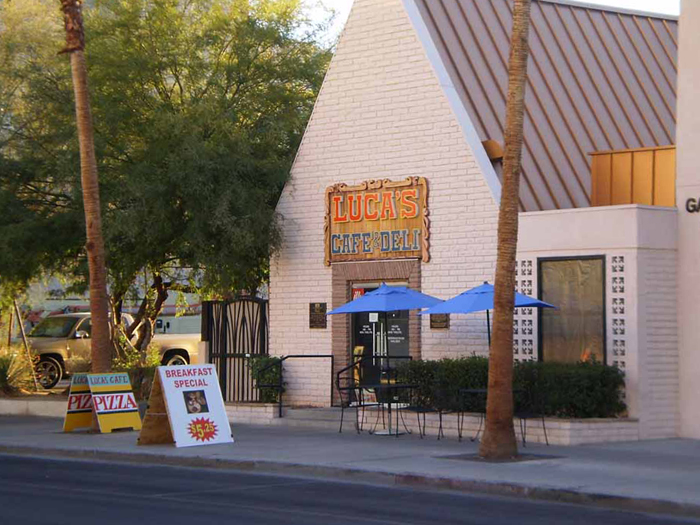 Luca's Cafe & Deli – 231 s. 3rd St. #110, Las Vegas – 384-3115
Those who have followed my blog for a while may remember me mentioning this past fall that some of my work had been juried into the book Art Buzz, The 2010 Collection. Well, finally, they are printing and will ship later this month! They have a special pre-order price right now which will end on 2/15/10 so I wanted to mention this in case anyone is interested. You can see details here. Anyone interested in trying to get their work published in Art Buzz, The 2011 Collection can find details on the Art Buzz website.
The four works I submitted are:
I have no idea which piece(s) were accepted. But I do know that I tied for 3rd place in the Acrylics category. Now I just have to wait for my book to arrive to elaborate…
Next Page >>