I am currently in the middle of another of my multi-media pieces which has been moving along quite slowly. Instead of running out the door while screaming in frustration, I decided to work on a diversionary piece to clear out the creative cobwebs. For this diversion I chose to work on the next edition in my Over the Under-Schmeerings series. The background from this one was created during the process of painting the diminutive "Happy-Go-Lucky" several weeks ago. I had tried on numerous occasions to come up with a composition that would work within this chaos; but, to no avail. Finally, Tuesday morning the solution presented itself, and today I offer the resulting painting for you perusal…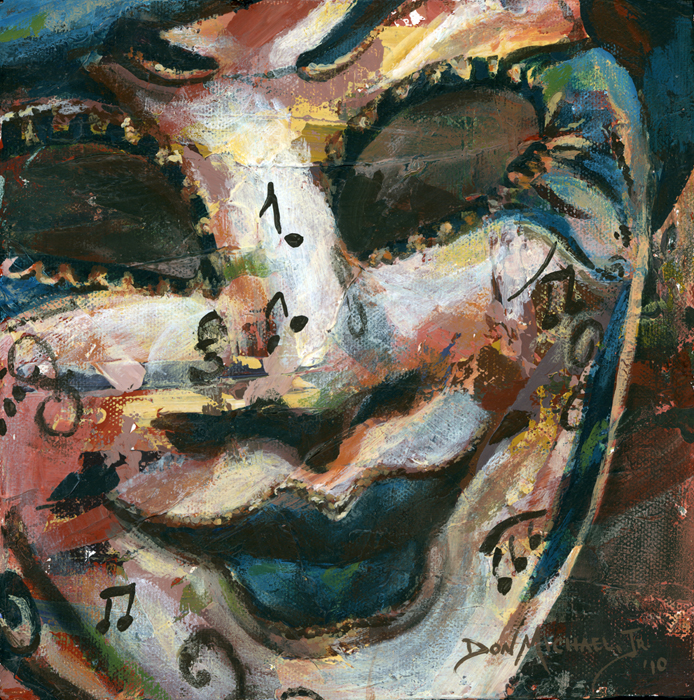 Dilettante – 8″x8″ – Acrylic on canvas – Completed 3-31-10 – ©2010, Don Michael, Jr.
Since this painting includes elements from visual, aural, and performing arts, my wife thought I should name it accordingly. I bounced several titles off of her and, based on her reactions, knew this was the right one.
Below is the ever-present before-and-after that accompanies these Over the Under-Schmeerings. I hope you enjoy…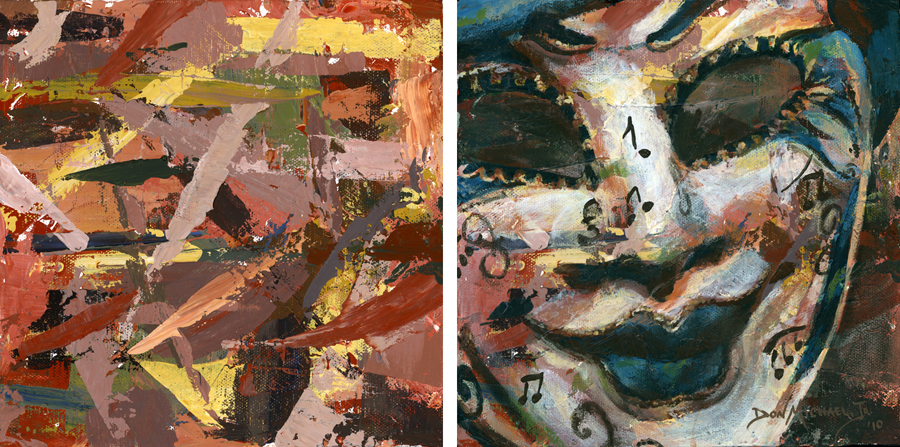 ©2010, Don Michael, Jr.
Yesterday I posted my latest work, "Mixed Emotions". As promised, today I am posting the process of its creation.
I've been exploring the use of paper mache' masks in my compositions the past few months. The masks I had used so far were purchased online from various vendors. What I've found, though, is there are only a half-dozen different blank paper mache' masks available out there – no matter who the vendor – and I was getting bored with using only those few. Knowing myself and what happens when I get bored, I knew that this exploration would come to an end unless I found a new source of masks to work with. One night while eating dinner with the family I was looking up at the masks on my wall and a lightbulb went off over my head. Why not create a paper mache' replica of one of them?!? I decided to use one of my cheapy, mass produced masks for this experiment in case something went terribly wrong and I messed up the mask in the process of figuring out how to do this. First I wrapped the mask in aluminum foil to protect it. I then tore strips of 100% cotton paper (with help from my wife) and started to paper mache' over the foil wrapped mask with acrylic gel medium as my adhesive. You can see the resulting clone with its original below. (I'll take my readers on a journey through this process in a future post.)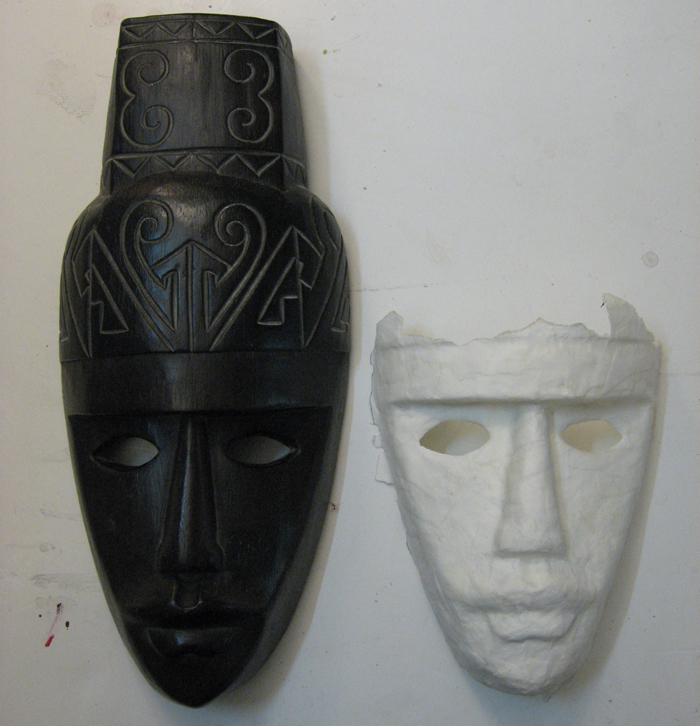 The next challenge was, what do I do with this now? So, I took all of the paper mache' masks that I have and started laying them around on different sized canvases as I waited for inspiration. In the meantime, while going through some old boxes, I found some leftover scraps of linen and canvas from my days of stretching my own. I almost threw them away but had to walk by all those masks laying around in my studio to get to the trash can. BAM! An idea hit me and I quickly rearranged a few of the masks and included the fabric scraps. Here is what resulted…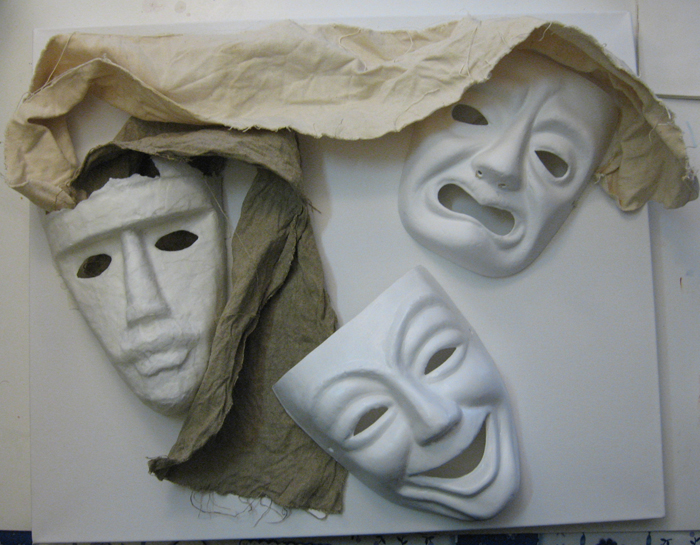 I then carefully deconstructed my composition and prepared to start adhering it all together.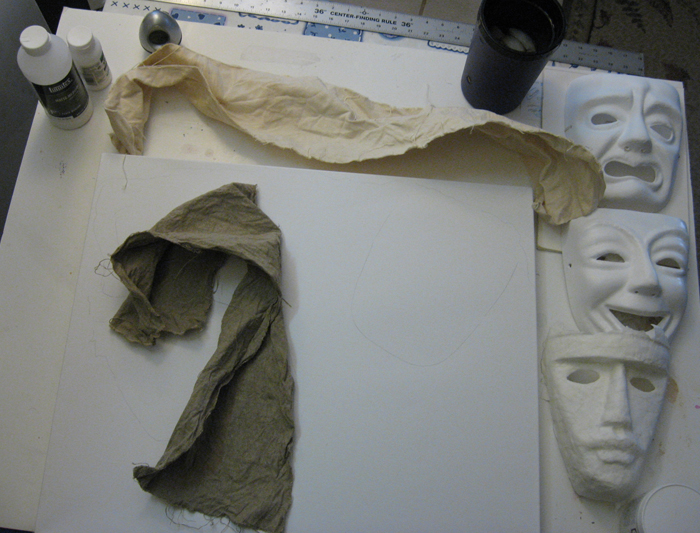 For the fabric I decided to use Liquitex's Acrylic Matte Medium which is very fluid. That way I could saturate the cloth and allow the acrylic medium to help it maintain its form upon drying. I then used Golden's Soft Gel (Matte) to adhere the fabric to the canvas and smeared it all over the fabric to give it even more body. Here is the linen piece adhered and drying with the mask sitting there for placement and support.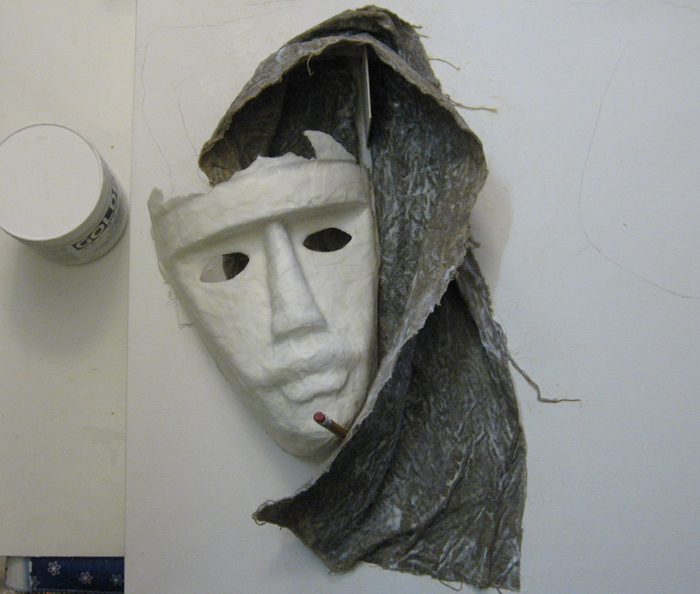 And here is the canvas piece adhered and drying…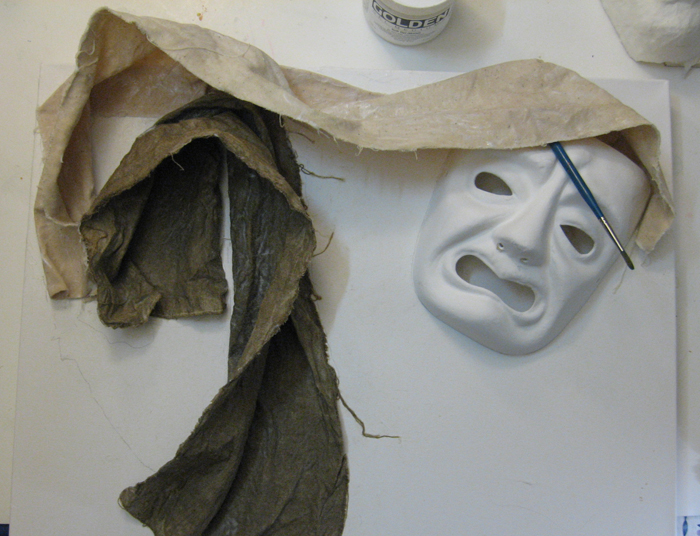 I decided that for this project I wanted to keep everything fairly abstract and sculptural, so instead of painting eyes behind this mask like I've done in the past, I chose to create forms to represent eyes. I needed the perfect sized templates for these eye orbs and found them in the basket my wife was preparing to send a friend's child for Easter. Here the eye shapes have been cloned and attached to the canvas – with their parent forms looking on…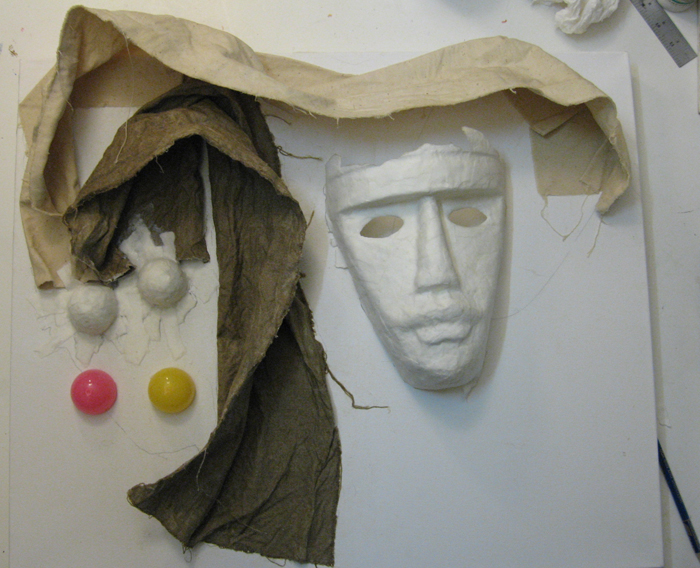 …and here they are behind the mask awaiting further decisions…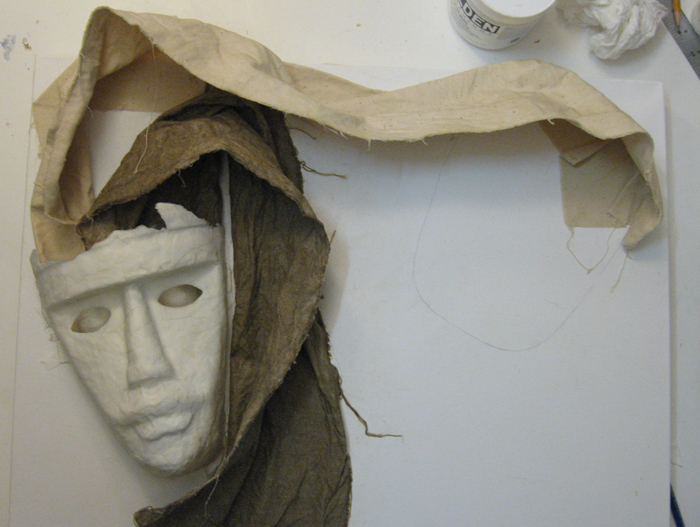 At this point I had no idea how I was going to paint this piece. There was a part of me that really liked the raw colors of the linen and canvas with the various whites of the gesso and paper mache'. But, that would have been too easy…
I had already chosen my color palette (Golden's Iridescent Brilliant Gold, Quinacridone Magenta, Quinacridone Gold, Iridescent Silver, and Phthalocyanine Blue -Green Shade), but I had not decided anything beyond that. I decided to just go with my gut and let the decisions come as I needed them. Gut, phase one, involves black gesso and the colors behind the expressive masks…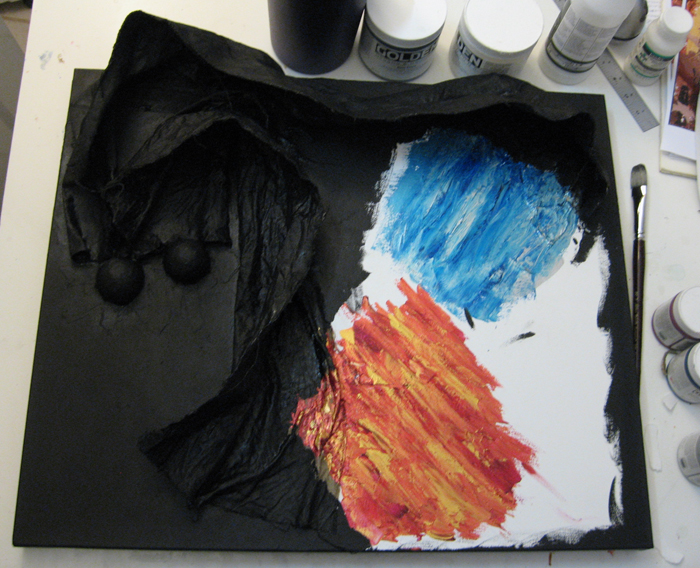 Gut, phase two, involves attaching the masks to the canvas… (upon further consideration, this step may not count as a gut one, but I've already numbered them all so I'll go with it…)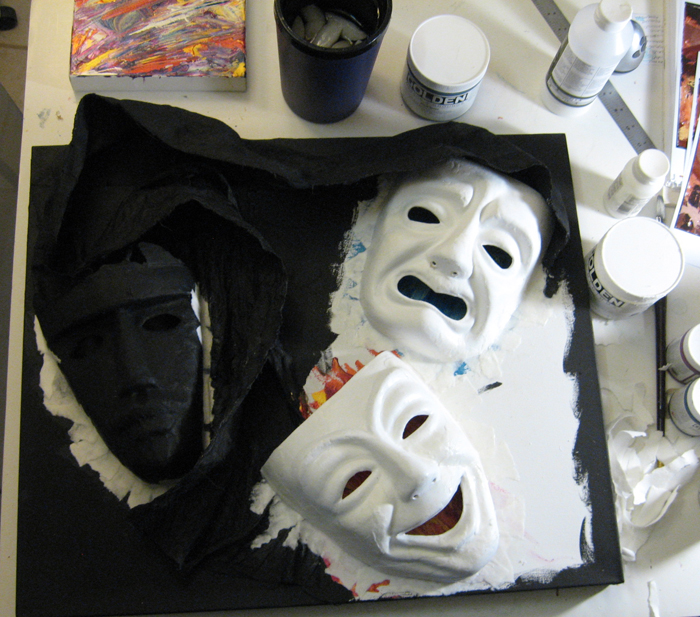 Gut, phase three – texture the heck out of the canvas and masks. For this stage I used Golden's Hard Molding Paste and a palette knife with a flat, round tipped blade. I allowed the textured strokes in the background to guide the eyes through the composition and help unite all the pieces. For the masks I wanted to unify their textures and cover the seams caused by the adhering paper strips – I also wanted nothing smooth on this canvas at all…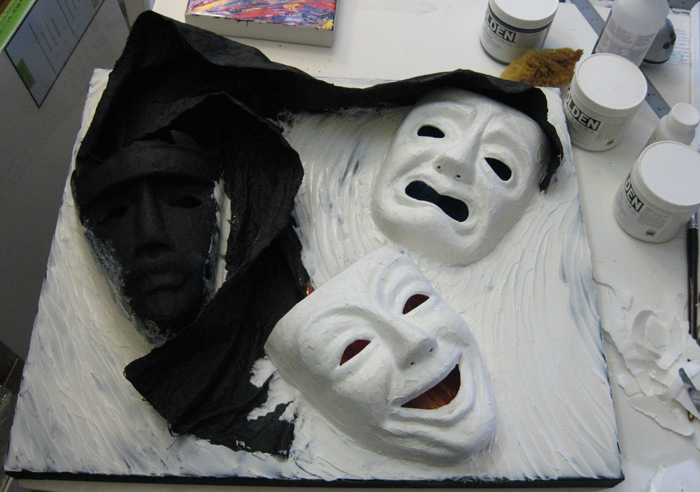 This next stage was easy. Just cover the whole thing with black gesso…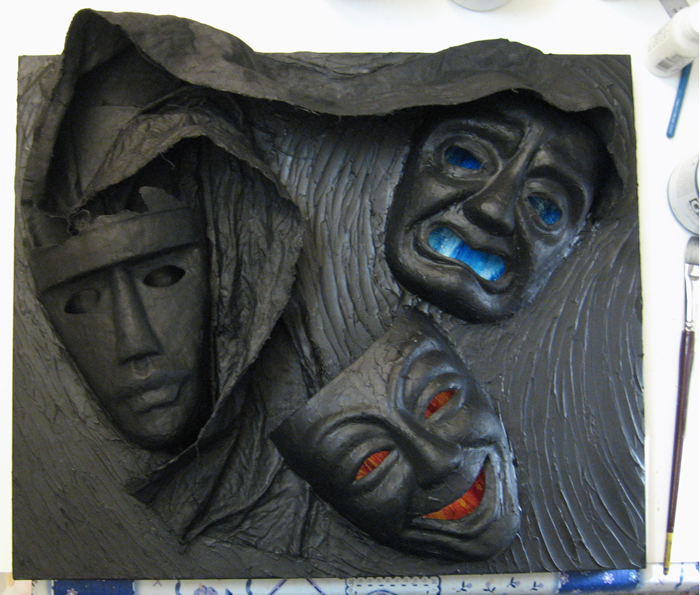 Now it's back to my gut. Phase four – using an old worn out #16 round brush, with some of the softest bristles ever, I started feathering paint onto the masks. I wanted to create a "patina" look, with the black showing thru in the emotive masks, and for the non-emotive mask have a neutral "carved from wood or stone" feel to it.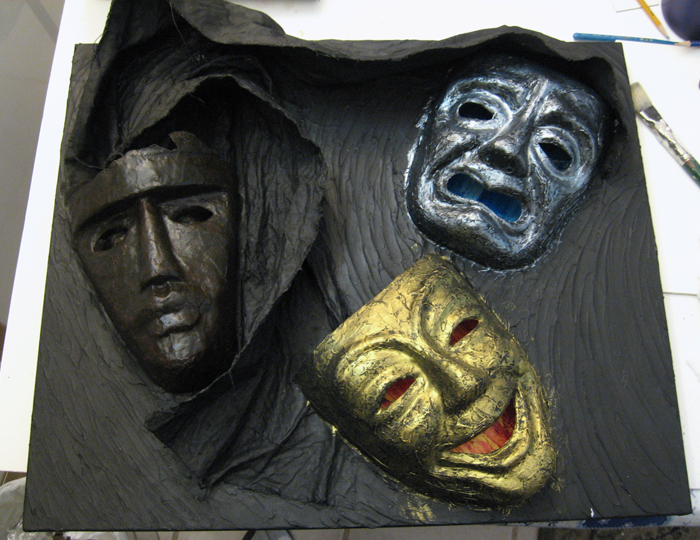 At this point I knew I needed to wait on inspiration before I proceeded, so I placed this is a prominent location in my studio while I worked on other things. Finally, I decided to just go for it and started brushing in my background colors. This was a HUGE gut moment (phase 5), because I really didn't know what would be coming next… (BTW, you may notice a little canvas in the upper right corner – my longtime readers will recognize this as my paint scraps being "schmeered" onto an extra canvas…)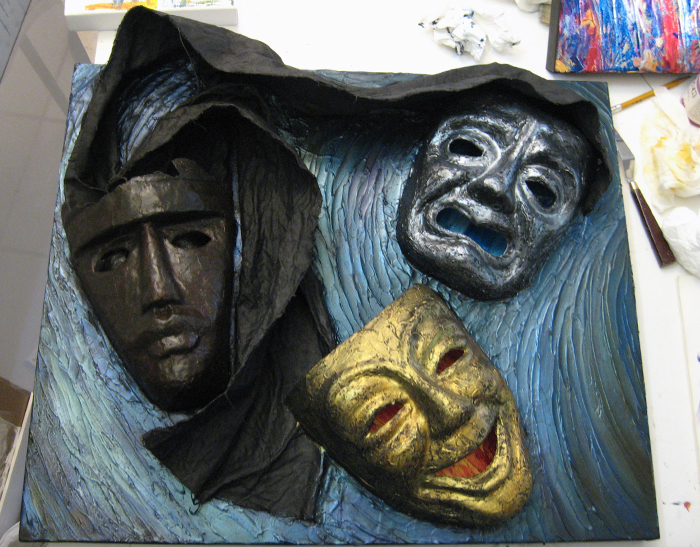 Upon studying where this creation had taken me so far, I realized that the oppositional element of the linen fabric needed to have a strong presence and decided to go with the reds that are visible behind the "happy" mask. I once again used my ancient brush to implement gut, phase 6…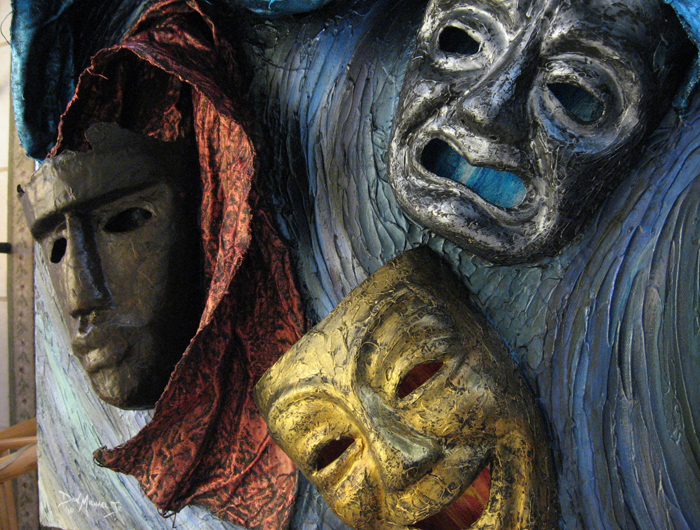 Gut, phase seven, ended up being a pretty easy call, since I decided to follow what I had done with the red drape to its mask by using the blues on the drape to its mask.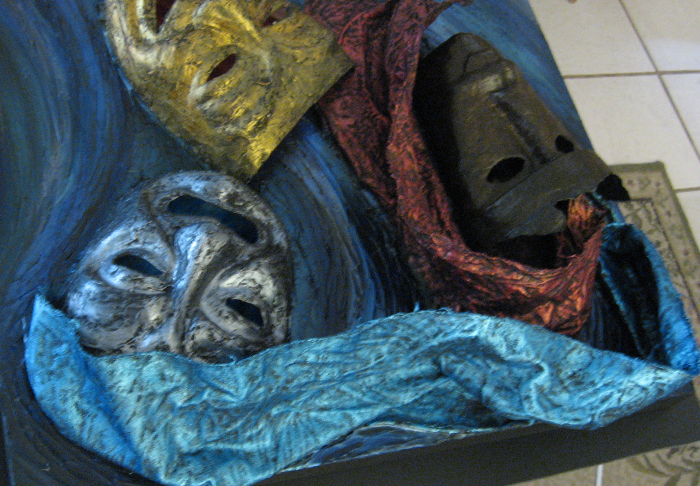 And, there you have it…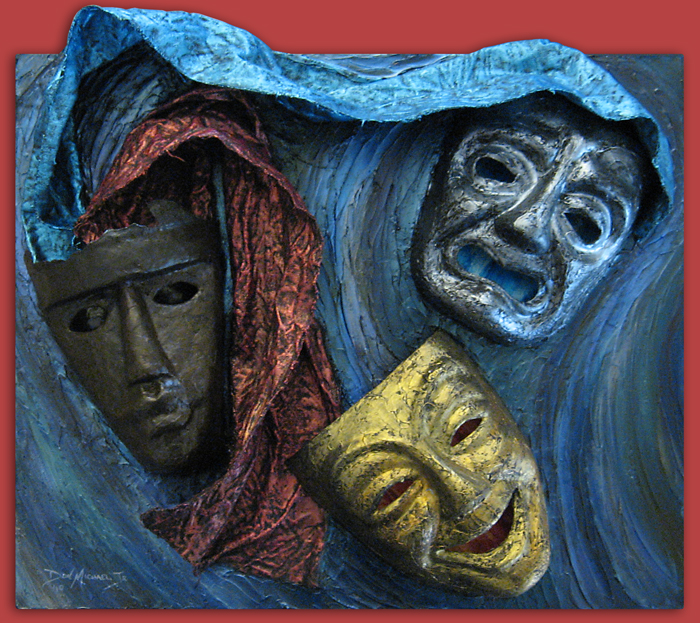 Mixed Emotions – 21″x24″ – Mixed media on canvas – ©2010, Don Michael, Jr.
I obviously had to leave out many steps and thought processes to keep this post down to an almost manageable size. Suffice it to say that going into a project with no ideas about its final outcome is very scary. But, I felt that the nature of this piece and the direction I'm trying to go with my work required me to approach it this way. Thankfully, the next few already have plans, but as we artists know, there will still be many gut decisions put into play before the final results are unveiled.
Happy Creating!
I have created a new dilemma for myself. Is my latest piece a painting,? Or, is it a sculpture? Well, either way, it was a lot of fun to create…
Today, I'll let the work speak for itself. Tomorrow, I will post the process I went through in creating it. I hope you enjoy…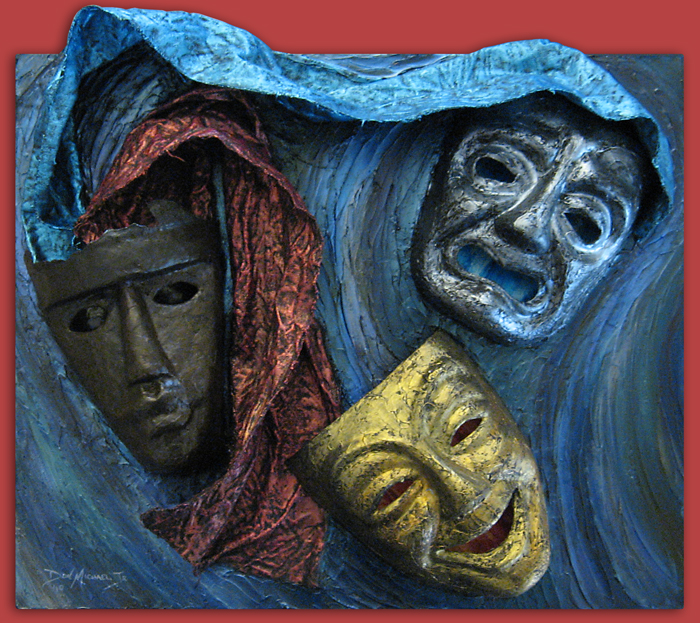 Mixed Emotions – 21″x24″ – Acrylic, paper mache', linen and canvas on canvas – Completed 3-26-10 – ©2010, Don Michael, Jr.
Since the work contains metallic paints which are quite reflective it's really hard to get a true shot of its colors and values. I've included some alternate views which help, but still don't quite capture its true essence. The mica particles in the paint gives a mother-of-pearl feel to it, especially in the background…
All images ©2010, Don Michael, Jr.
As I've mentioned in a couple of my previous postings, I recently went through EVERY piece of art I ever created that is still in my possession. In the process I found a few pieces that I knew I'd be sharing as time went on, but I wanted to have a good reason to do so. My good friend, Katharine Cartwright, posted a blog two days ago called "A Point of Departure" which felt like the perfect segue for introducing one of them.
In 1980 I was a RAW freshman in college, just getting my feet wet in the art world and in the real world (if you want to call college life real) . I was able to draw just about anything with ease, but was always finding good – or bad – excuses not to. (I've mentioned before that if I get bored, I get in trouble – well, I wasn't joking.) All of my art classes came relatively easy for me, but my orneriness kept me from excelling the way I should have. (Why is youth wasted on the young?) When I take an honest look back I realize that I really liked just getting by – it gave me more time to be in all that trouble I mentioned. Maybe that's why it was 14 years later that I finally graduated…
Anyway… towards the end of that first semester of college my professor in Design & Composition 101 presented a challenge to the class which at the time just seemed like a pain in my "just getting by" butt, but would prove to be a point of departure in my journey as an artist. He had us get out a piece of watercolor paper and a pencil and told us to scribble all over the paper using one continuous line. After we had ruined these perfectly good sheets of paper he told us to put our pencils down and take a serious look at what we had scribbled. He then told us to find a composition with recognizable subject matter  in that scribble and bring it out using one color with black and white. I really didn't get it at first. I could draw anything you put in front of me, but how the heck was I supposed to make anything out of that mess? Well, after much cajoling and a bit of threatening from my professor I was finally able to create what I just recently titled, "Butterfly Effect". If you'll bear with me, I think you'll see that this title has some relevance…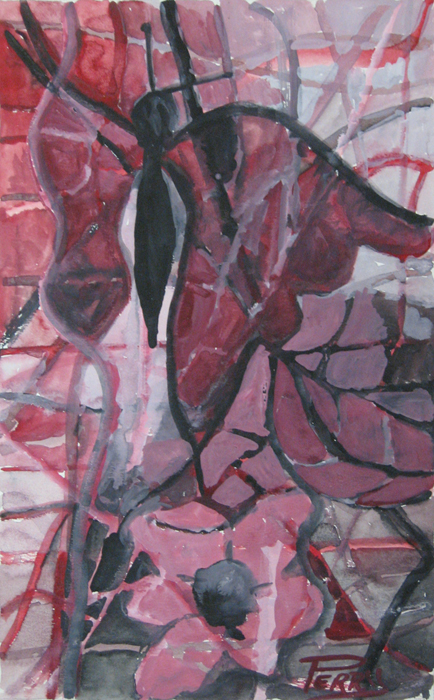 Butterfly Effect – 15.5″x9.75″ – Gouache and india ink on W/C paper – Completed Fall 1980 – ©1980, Don Michael, Jr.
(The signature in this piece is an enigma which will stay that way for now. Suffice it to say that there are only a couple dozen people in the world who even know why I went by "Perry" for a period of time in the early '80s. That's another story all-together.)
Begrudgingly, I realized that I had found this little experiment to be both intriguing and worth further exploration. I did several drawings using this technique with colored pencils and magic marker over the next few years until one of those drawings  finally manifested as a watercolor painting in 1986.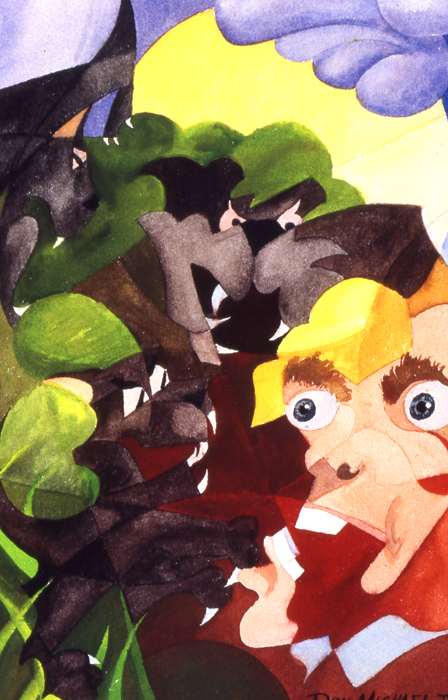 Bad Moon Rising – 14″x10.5″ – Watercolor on W/C paper – October 1986
©1986, Don Michael, Jr.
In 1990 I created another watercolor using this same technique. Instead of having that painting be a stand-alone work  I decided to use it as the design for the following serigraphy edition in 1992.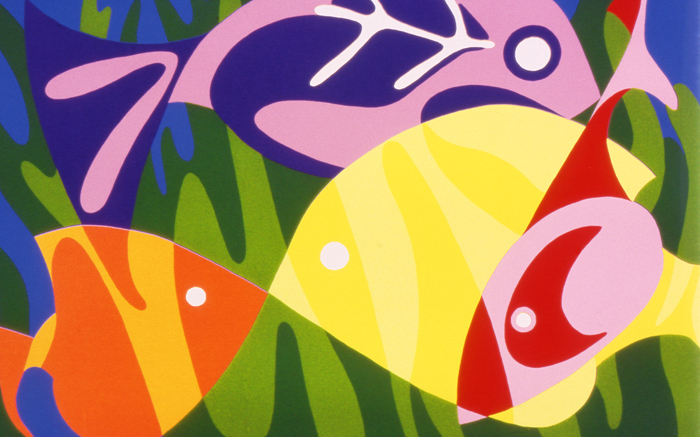 Tranquility – 15″x22″ – Serigraphy, edition of 8 – March 1992 – ©1992, Don Michael, Jr.
I continued to use this technique on several more of my serigraphy editions until I felt it had finally run its course. But then, in 1993, after realizing the joy of creating non-objective/abstract work in my serigraphy (which was written about here), I decided to revisit that which had once been an onerous assignment, but had become an old friend. This time I scribbled all over a large sheet of watercolor paper and then used acrylics to bring out the composition using only color without bringing any recognizable subject matter into the mix.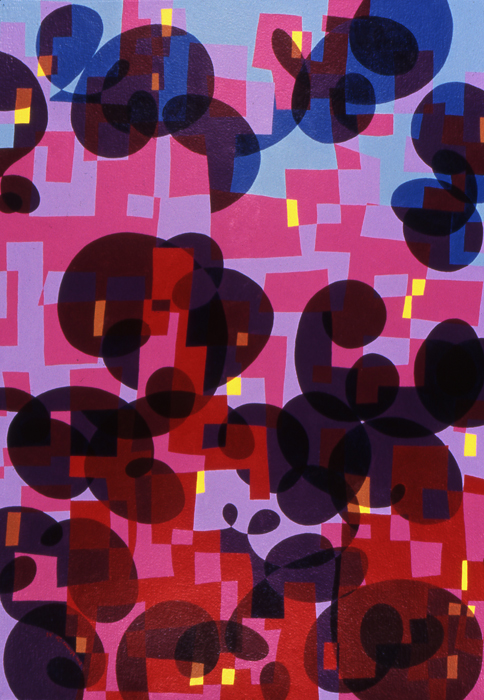 The Air We Breathe – 25.5″x22″ – Acrylic on W/C paper – May 1993 – ©1993, Don Michael, Jr.
I continued creating compositions based on this approach over the next couple of years until I started working in television, at which point I put all of my fine art materials away for several years. As I look back, I realize that this point of departure – originally designed as a simple class assignment – has informed much of my work over the years. (It even informed my television graphic work to an extent.) I could show dozens of examples, but I feel I've probably bored you enough for one post.
The journey continues…
Sixteen years ago I had just completed my Senior Art Show in college and was preparing for graduation. Also, my second son had been born just two months before. So, you could say it was an intense, yet rewarding, time in my life. In some ways that seems so long ago, and in others it seems like just a couple months ago. You may wonder what set me on this tangent… Well, as I was going thru all my old work recently I came upon the posters I created for my Senior Art Show. Using serigraphy (silkscreen) I had created two separate editions by hand on 100% cotton, acid free paper to hang around the town and campus promoting my show. As soon as people figured out these posters were handmade they started disappearing off the walls which was very befuddling in a quasi-complimentary way. (I ended up having to make color Xerox copies to replace them.) Thankfully I had set aside about 20 of them, which were the ones I came upon recently. Some of my readers may recognize that this is closely tied to my serigraphy edition titled "Labor of Love" which I featured a few months ago. (You can see that post here.)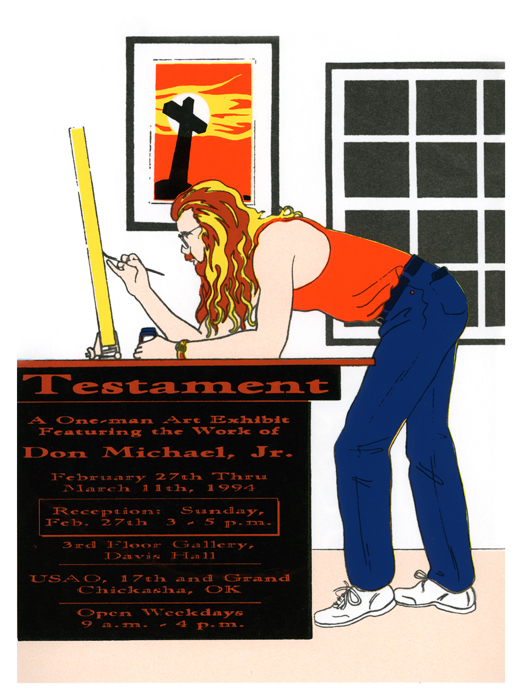 Testament – 10″x 7.5″ – Serigraphy edition of 36 – Completed February 1994
©1994, Don Michael, Jr.
Four of the prints from the "Testament" edition will have new homes in the next few days. They are the surprise gift I promised this past week when I posted 4 of my serigraphy monoprints with the request that my readers help me title them. I'll just need those who's titles were chosen to email me their mailing address and their new "Don Michael, Jr. original" will be coming their way. My email is don@donmichaeljr.com.
Before I tell you the winning titles, let me first tell you the process by which I chose them. My wife was kind enough to write down all of the suggestions onto 4 separate sheets of paper designated simply #1, #2, #3, & #4. This way it was all about the titles, since I had no idea who had suggested them. I then sat down with each monoprint on the easel in front of me and proceeded to go down the list. I made several notes regarding the suggestions for each piece of which I'll share a few as I reveal each title.
Serigraphy Monoprint #1:
I noticed two trends in the titling suggestions for this piece 1) music and/or dance, and 2) intense or uncontrolled energy. I felt that based on these trends the name "Light Fantastic" seemed to best encapsulate the fun and energy that everyone seemed to pick up on with this one. Congratulations to Dean H. for coming up with this title.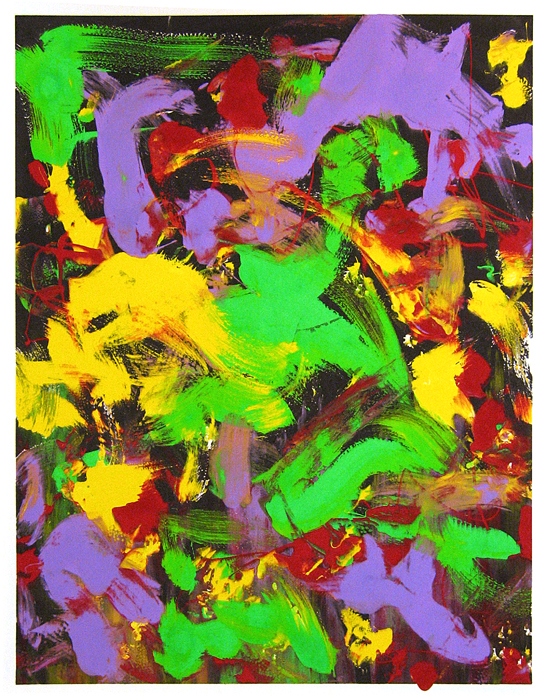 Light Fantastic – 23″x17″ – Serigraphy Monoprint – ©1993, Don Michael, Jr.
Serigraphy Monoprint #2:
There were several themes represented in the suggestions for this one – opposites, sunset, autumn, ponds and fish, fire, and birds. Several of the titles seemed to be reacting to the strong predominance of orange and how it reacted with the blues. (I know that the oranges always captured my attention first.) When I read the titles associated with birds, though, I found myself "seeing" the dark blues in a way I had never noticed before. This excited me, leading me to choose Margaret Ryall's title, "Migration".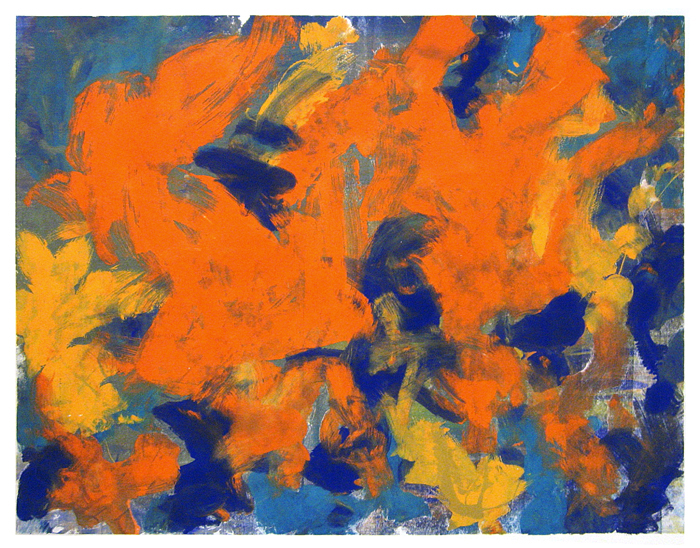 Migration – 17″x23″ – Serigraphy Monoprint – ©1993, Don Michael, Jr.
Serigraphy Monoprint #3:
The predominant themes in the titles listed for this one were of dance, movement and joy. But, I'm afraid once I read the title, "Sylvester Got Tweety", I laughed so hard that I could never get past it. I tried really hard to give the other titles a legitimate shot, but Hallie had already wrapped it up…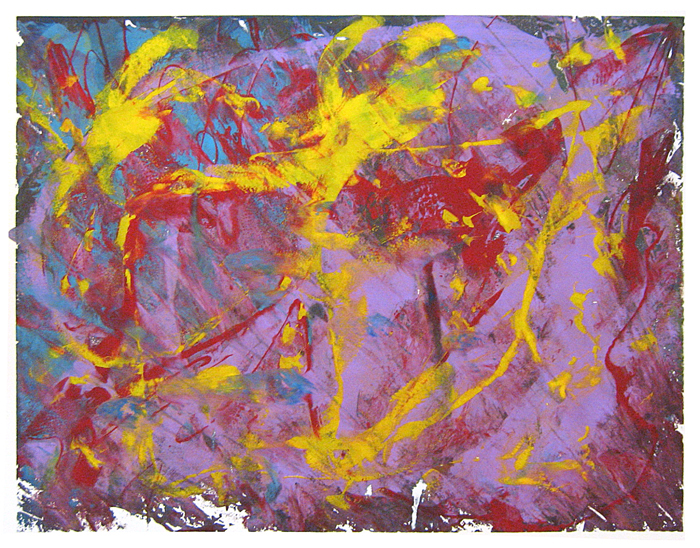 Sylvester Got Tweety – 17″x23″ – Serigraphy Monoprint – ©1993, Don Michael, Jr.
Serigraphy Monoprint #4:
Rhythm, music, chaos and environmental concerns were the themes addressed by the titles suggested for this one. I found myself leaning more towards the environmental themes and felt that the abstract nature of "Pandora's Door", suggested by Sue Elliot, was exactly what I was going for.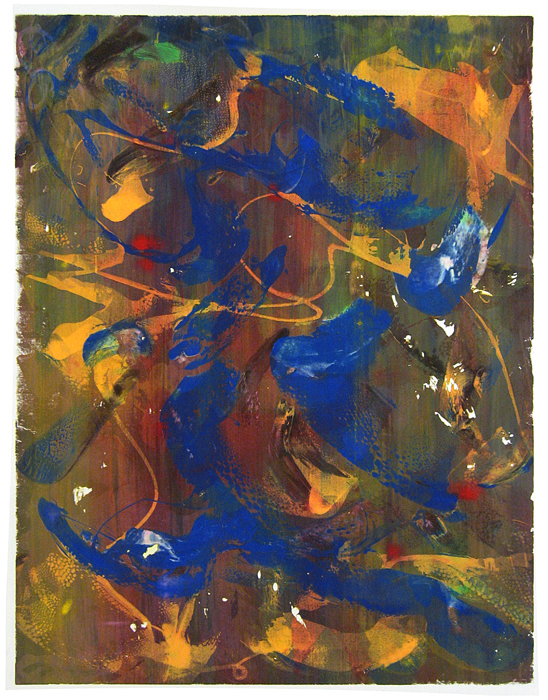 Pandora's Door – 23″x17″ – Serigraphy monoprint – ©1993, Don Michael, Jr.
Thank you to EVERYONE who took part in this fun adventure. Your titles helped to bring fresh insights to each of these works. I found this very inspiring and quite rewarding. Now it's time to head back to the easel…
As I continue to wreak havoc in my studio with several experiments in varying stages of completion I felt the need to finish something. So, I did.
This is the 6th piece in my ongoing "Over the Under-Schmeerings" series. The fun, chaotic mess that is the undercoating on this painting started as the refuse smearings from the painting Tacit Lucidity completed about a month ago. (You can read more about the process of creating these pieces here.) I really liked the strong burgundy and gold in this undercoating and wanted as much of it to show through in the final painting as possible. To make this happen I knew that with whatever mask I chose for the subject matter I'd need to focus on painting just the hottest highlights and darkest shadows while keeping all the middle values transparent.
For the mask in this painting I decided to use one of my current favorites which comes from the gift shop of Cirque du Soleil's "O" at the Bellagio Hotel and Casino. Many of my blogger friends will recognize it as having appeared in a couple of other paintings recently – Love at First Sight and Sage. (It's been fun to use three totally different color schemes to immortalize this beauty.) Another reason that I chose this mask is for the designs painted into it. I felt they'd help add interest to the composition.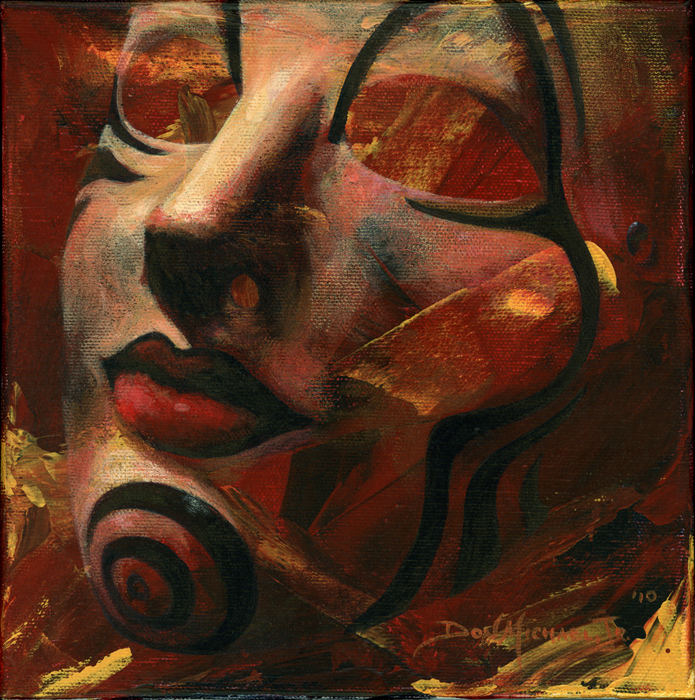 Memory Lane – 8″x8″ – Acrylic on canvas – Completed 3-17-10
©2010, Don Michael, Jr.
To give you a better sense of the original undercoating I am including a before-and-after for your perusal…
I hope you enjoy.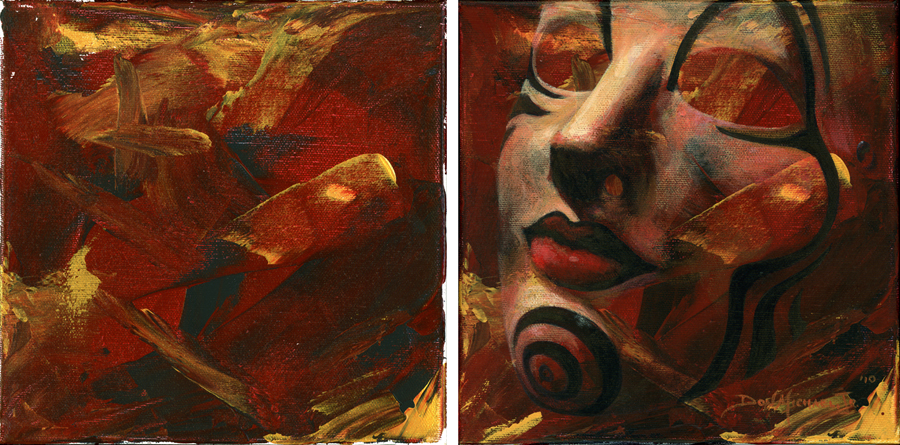 ©2010, Don Michael, Jr.
If you haven't already, be sure to stop by yesterday's blog to have a chance at winning 1 of 4 Don Michael, Jr. originals. All you have to do is help me title 4 of my serigraphy monoprints. You'll find all the details here. (For clarity, I feel I must mention that none of the pieces you will be helping title will be of the gifts the winners will receive. I will disclose the gifts when revealing the new titles Monday morning.)
A couple weeks ago I took my readers on a trip down memory lane where I featured five serigraphy monoprints completed several years ago along with the story of how they came to be. (You can read about that here.) The response to these pieces was tremendously uplifting and caused me to dig out the rest of this series completed so many years ago. I realized as I was digging these out that I had not seen many of them since I boxed them up after graduation in 1994. In some instances I was seeing works I had almost forgotten I had created. I would compare the joy of the experience to unwrapping presents Christmas morning as a child…
As I sorted through these relics of days gone by, I decided that several shall not see the light of day – for now anyway (remember, Never Say Never). But, there are a few that I feel comfortable sharing. In order to not overdo it by hitting you with too many works at once, I've decided that over the next several weeks I'll unveil a few at a time.
One of the things I discovered as I dug these monoprints out is that with the sheer volume of work I did that year (1993) I had not titled all of them. Upon reading some of the names I had forced upon the others I'm glad I held off. With over 50 pieces to name in a short period of time you can just imagine the struggle. You'll see some of those questionable titles as I continue to unveil them – but that'll be another day.
In the comments of my Memory Lane posting I had a couple of people give their own names to the featured monoprints. I really enjoyed this interaction and the opportunity to see how these works triggered different reactions and feelings in each person. This gave me the idea of enlisting your help in naming a few. With that in mind, here are four 17″x23″ serigraphy monoprints just waiting for you to slap your title on them. Please, feel free and have fun.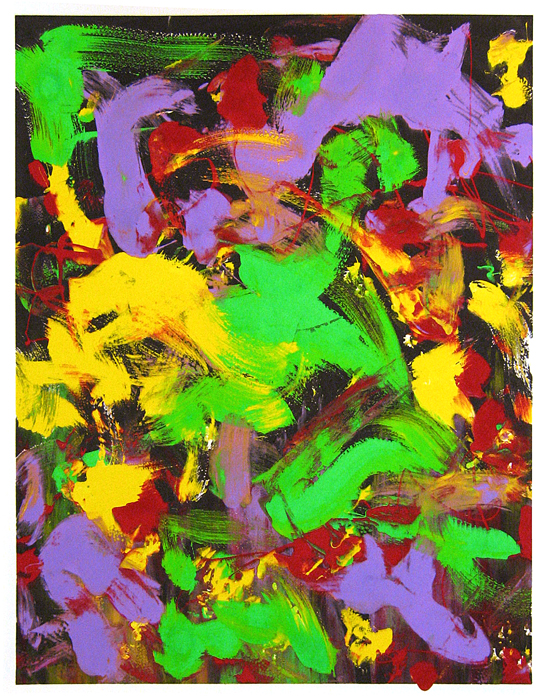 Serigraphy Monoprint #1 – ©1993, Don Michael, Jr.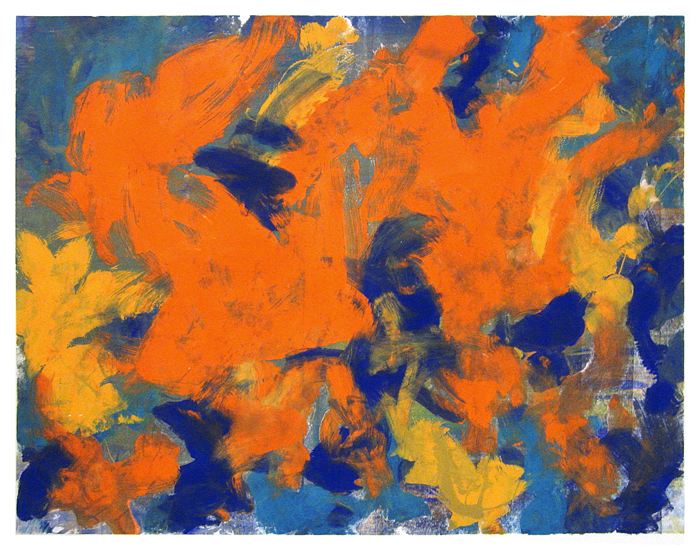 Serigraphy Monoprint #2 – ©1993, Don Michael, Jr.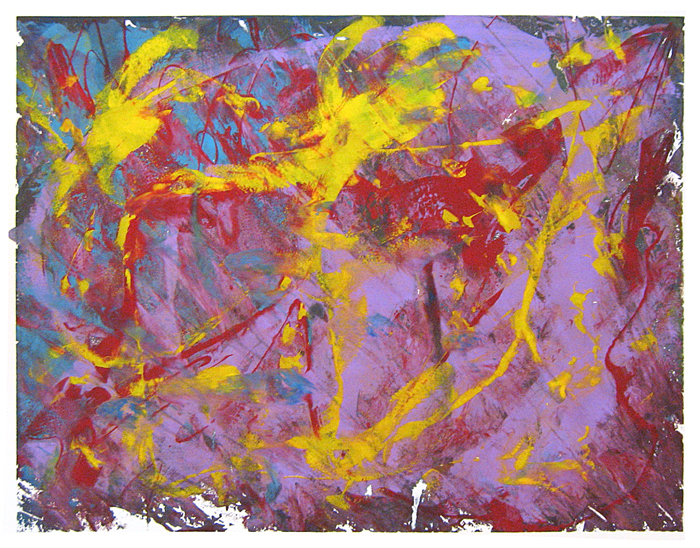 Serigraphy Monoprint #3 – ©1993, Don Michael, Jr.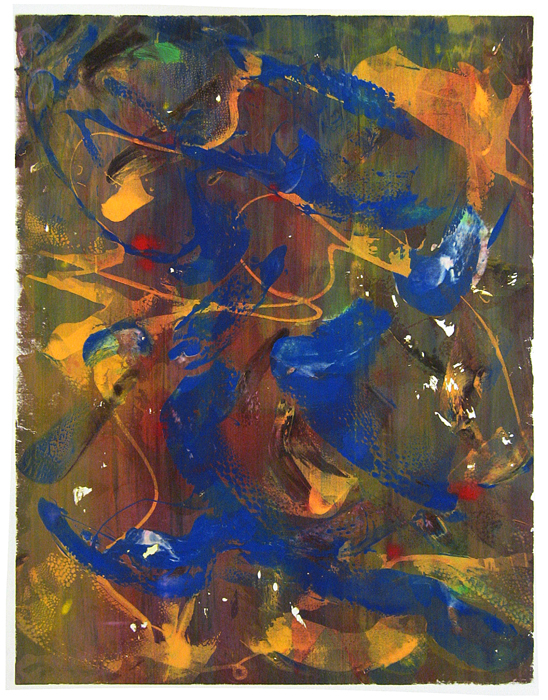 Serigraphy Monoprint #4 – ©1993, Don Michael, Jr.
There will be a nice surprise for the person whose title is chosen for each piece. Yours truly will be the judge. (FYI, the first person choosing any particular title will be the recipient of said surprise.) On the day that I unveil the new titles I will announce what the surprise will be – let it be known that it is a tangible item which you can hold in your hand and even put on your wall, unless, of course, you choose to dispose of it instead…
The title of this blog comes from two of our blog friends, Stan and Kathy. Stan had commented on me "working over the under" and Kathy commented about me making "a cohesive painting from the smearings" – which sounded like "schmeerings" in her head. I liked both of these descriptions so well that I have now titled this series, "Over the Under-Schmeerings". Thanks you two…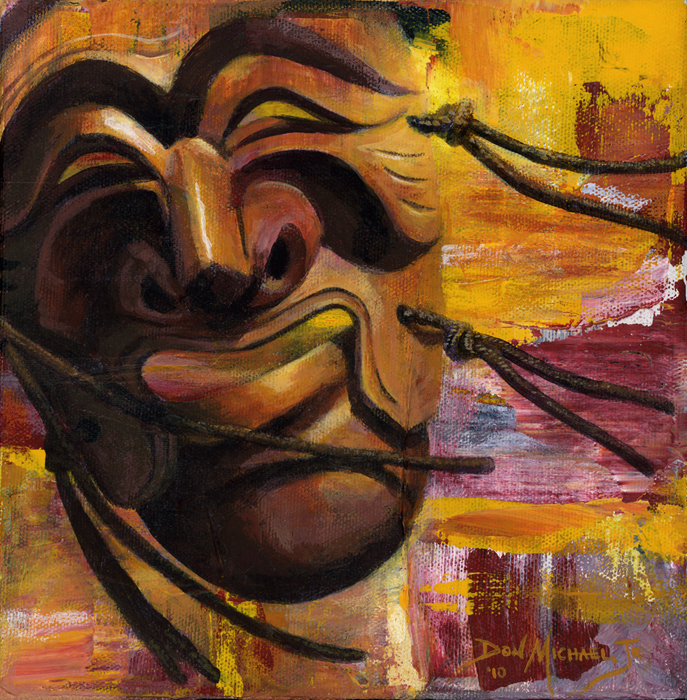 Soul Drifter – 8″x8″ – Acrylic on canvas – Completed 3-11-10
©2010, Don Michael, Jr.
This latest installment in the Over the Under-Schmeerings series started with the leftover paint from my painting Petroleum By-Product being smeared across an 8″x8″ canvas. The strong horizontal and vertical nature of the strokes in this abstract piece and the strength of the colors gave me pause. I knew I would need to create a composition that flowed across the canvas – that wouldn't get overpowered by the "under". I also felt that I would need some strong curves in the subject matter to balance all the straight lines. So, I got down my Korean "old man" drama mask which has some wonderful curves in its carving and is held together by dangling cords which could be implemented to imply motion.
As you can see below, I started by using a dark wash of payne's grey and violet oxide to block in my composition. Then, using those colors with red oxide, cadmium yellow medium hue, and soft white (a blend of titanium white and iron oxide yellow), I proceeded to bring the mask up out of the chaos. As I neared completion, I realized I would need to make some tweaks to the background to eliminate some distracting "hot spots" and to better guide the eye through and then back into the composition.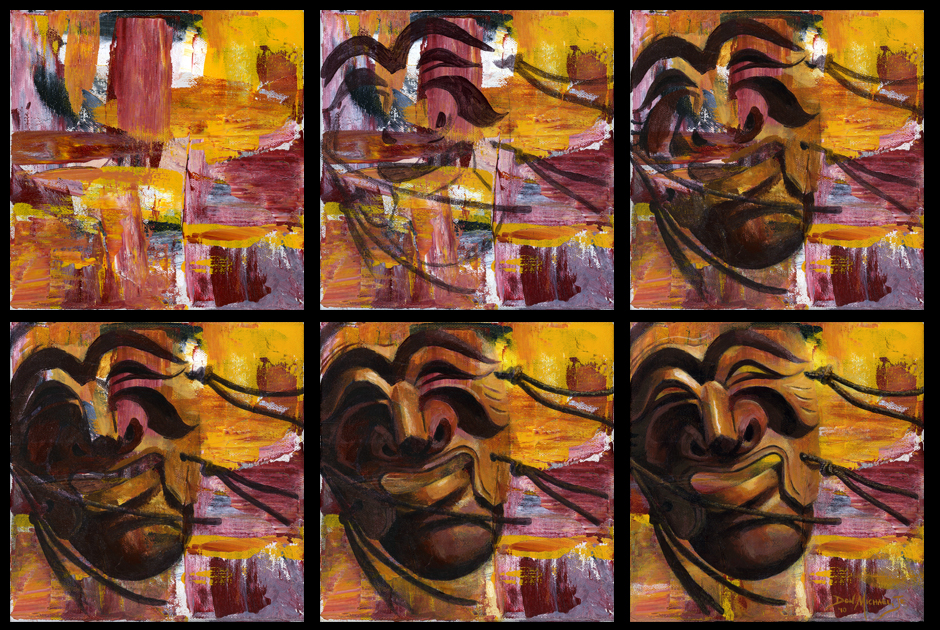 ©2010, Don Michael, Jr.
Well, I'm off to go scout a gallery which will feature some of  my work next month. Happy Creating!
The past couple weeks have been quite busy. Not only did I take part in both a charity auction and an art exhibition, but I decided to go through EVERY piece of art I have created in the past 4 decades. I wanted to better organize everything I have , plus I wanted to review where I've been as I decide where I want to go. So, for about 10 days my studio was stacked up with flat boxes and artwork from the past. Saturday I finally got the last of things boxed back up and put away. I'll go into more detail on this adventure in the future…
Needless to say, it is difficult to paint when one's studio is in total upheaval, but I was still able to complete a couple paintings during this time. After my output from earlier this year this felt like I'd been slacking off – and there's no time for that. (After all, this IS the Year of the Don!) So, yesterday evening I dove back in with paint-a-flying.
This latest painting is number four in my new series where I attempt to create a cohesive composition from a chaotic background generated from palette knife remains being swiped across a canvas. I better describe the process here and here.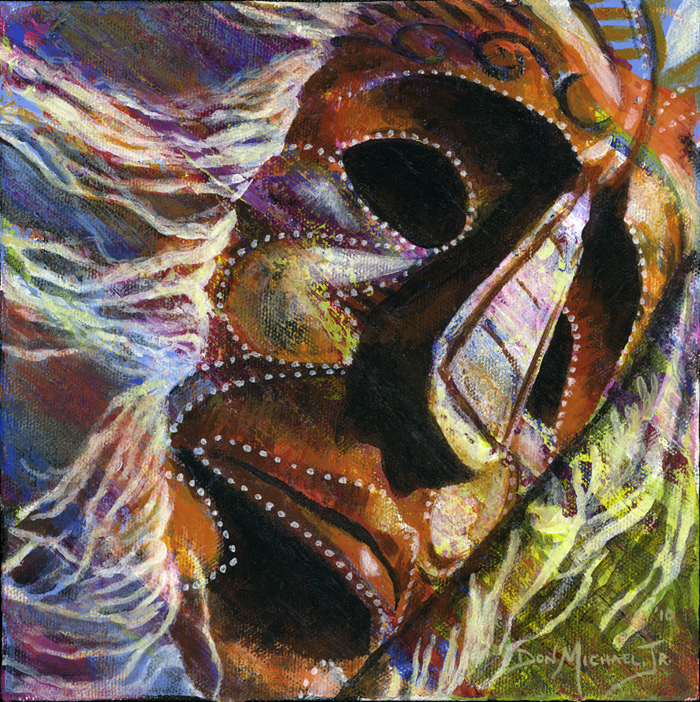 Zephyr's Kiss – 8″x8″ – Acrylic on canvas – Completed 3-8-10
©2010, Don Michael, Jr.
The background for this one was generated during the process of painting Deuces Wild a few weeks ago. I'm not sure where the mask in this one originated since I bought it online a couple years ago from a bulk retailer. It's one of my favorites, though, and I enjoyed the opportunity of getting it into a painting and dealing with the unique challenges it brought with it.
Below I have thrown together a before and after for your perusal. I hope you enjoy.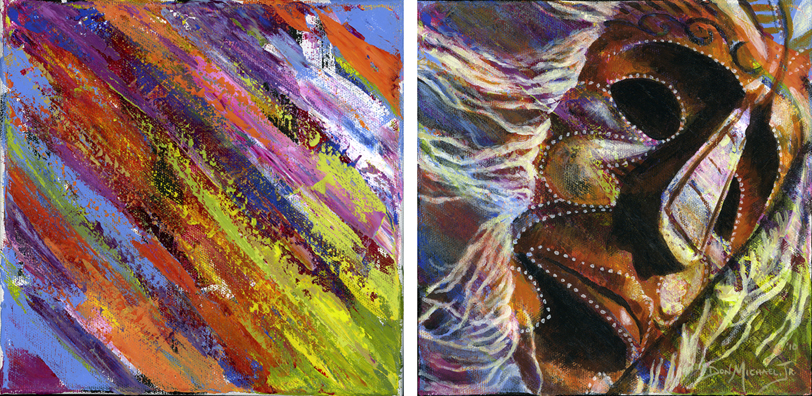 ©2010, Don Michael, Jr.
Well, break's over. It's time for me to head back to the easel.
Happy Creating!
Several weeks ago I did a fun experiment with a paper mache' drama mask where I dripped Golden Liquid Acrylics' burnt umber directly from the bottle through the eyes and nose holes of the mask. This generated a pretty cool, yet slightly grotesque result that I took several photos of to use for reference in a possible future work.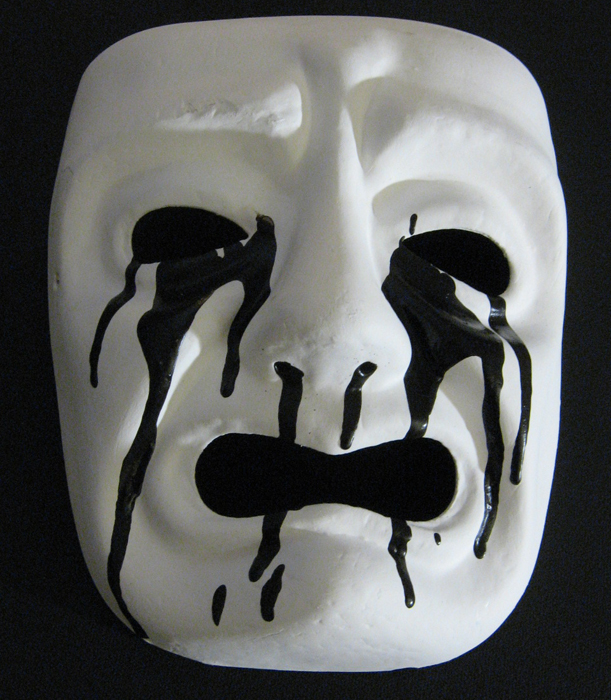 No immediate compositions came to mind, so I set the original mask on my drafting table where I would see it all the time as I stewed over possible answers. One night I realized that the drips looked like crude oil and I asked myself, "What would "cry" crude oil?". In a blink the answer came to me, the earth cries crude oil all the time. And just like that, the seed of an idea had been planted. At this point I decided to make this an environmental statement and started mulling over how. After many false starts I finally came to the decision to paint rolling flames – like from an oil fire – behind the mask. Below you can see that I've painted the flames and the mask is sitting ready to be paper mache'd to the canvas. I've used a round brush loaded with white to mark in the mask's final resting spot.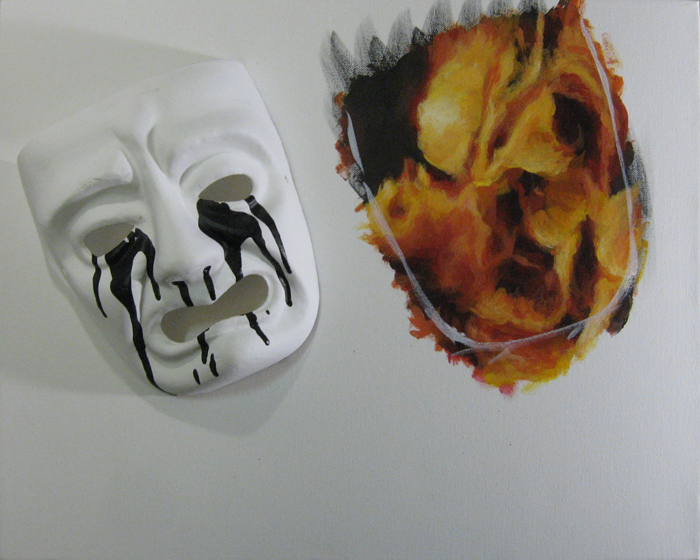 I then paper mache'd the mask to the canvas, textured the heck out of it with light molding paste, and gessoed it black.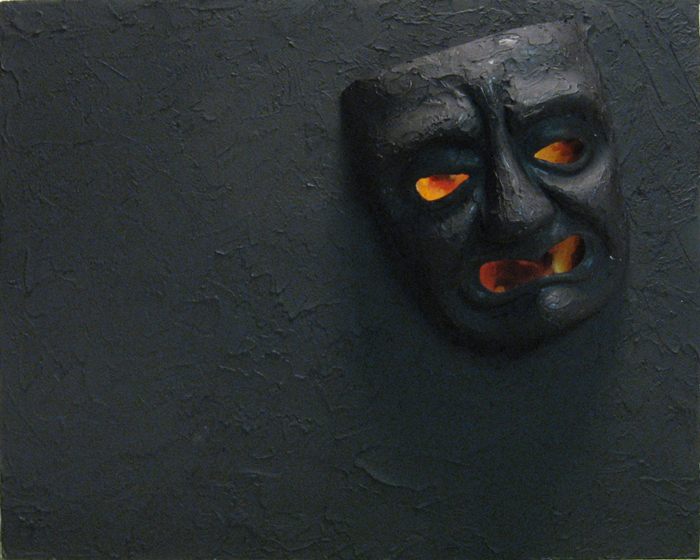 For the rest of my composition I decided to use a view of the earth from space. I wanted to subtly insinuate damages created to the earth via the exploitation of petroleum throughout the world, so I imagined what the oceans would look like with massive slicks of oil spread across them. I created the land masses and some of the ocean surface using my trusty palette knife. I then went to a bristle brush to bring in the oil slicks. I finished by going back to the palette knife to render the clouds.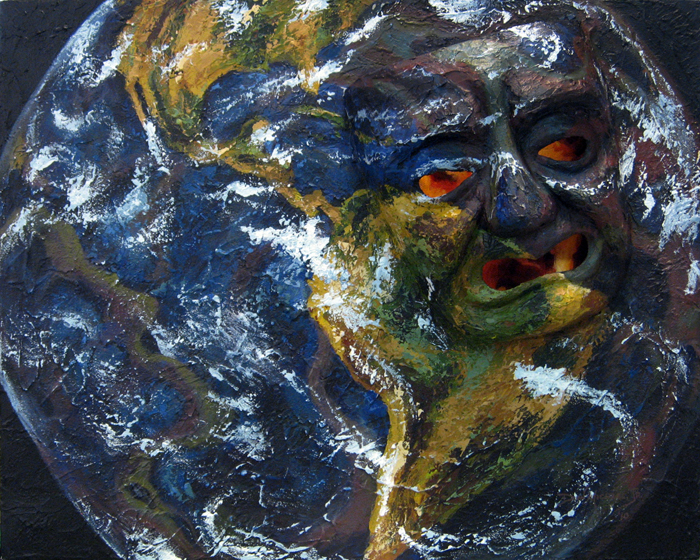 At this point I decided I was finished. So, I added a matte varnish to the whole piece and then took my final photos of the image. Once I started viewing it on my computer screen, though, I realized I needed to bring the tears back. So, with much trepidation, I once again poured burnt umber directly onto the mask at the eyes. To get the paint to look natural coming out of the nose I had to use a fountain drink straw with paint gently sucked up into it which I inserted down into the mask to the nose holes where I allowed gravity to do it's job. Once the paint had finished its journey down the face I was able to finally breathe a sigh of relief and call it done.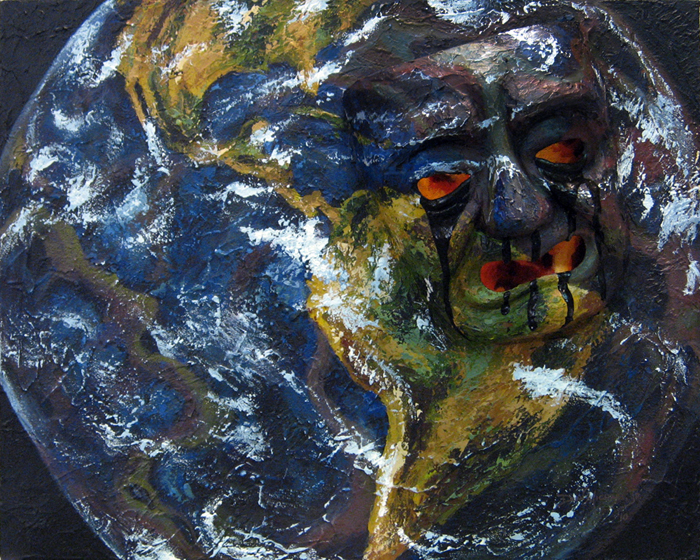 Petroleum By-Product – 16″x20″ – Acrylic and paper mache' mask on canvas – Completed 3-2-10
©2010, Don Michael, Jr.
After I posted this I realized you need a close-up to get a better sense of the "tears". So, here it is… You can also get a feeling for the texture from both the undercoat and the application of the paint with the palette knife.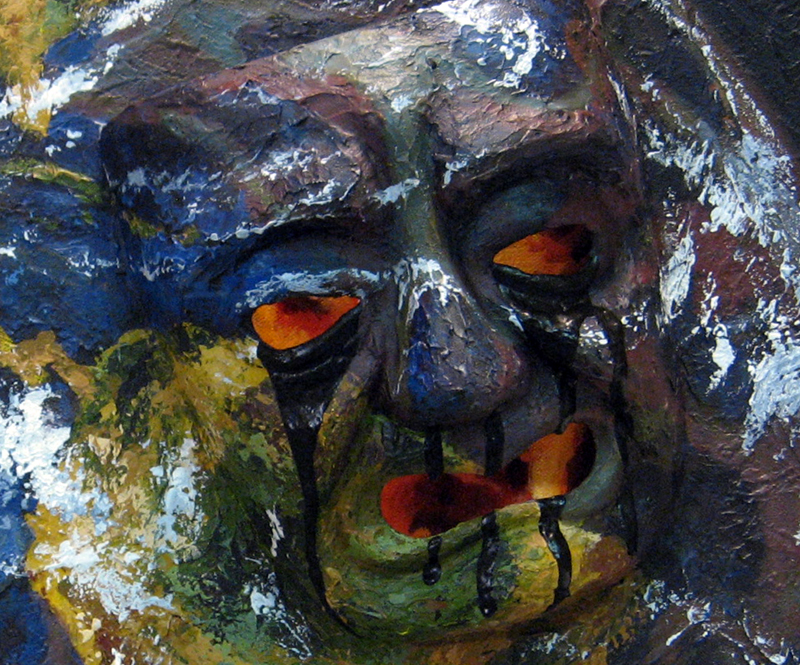 Next Page >>