Circus Couture – The Event
March 1st, 2010
Last week I blogged about one of my works being auctioned off for charity. (You can read about it here.) Well, last night was the event and I knew I couldn't miss it.
I knew it was going to be a good night when I arrived at the Palms Resort. I parked on the roof of the parking garage (a local's secret) and was met with an amazing sight. The full moon was just coming up over the strip and it was gorgeous! I wish my camera would have been able to capture the full beauty, but here's what I got…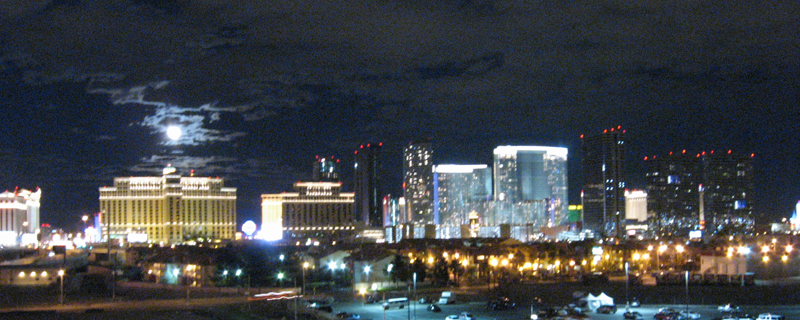 Once I got into the nightclub, Rain, where the event was being held, I was inundated with lots of wonderful artwork. I counted 46 pieces up for auction, including mine. You can see that not only were there static works of art on display, there were also some very lovely organic works making the rounds.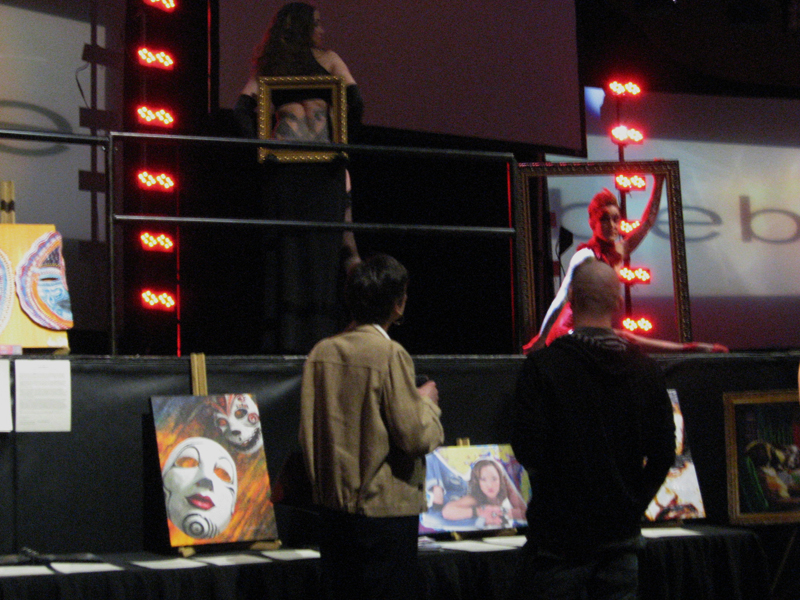 To get a sense of the whole room, I put together a rough panoramic montage of shots from my seat which covers about 180 degrees.

They finally closed the silent auction and then started the live auction with a piece created by a 3 year old, Devon Lynn Weniger, who has been battling Acute Lymphoblastic Leukemia since she was just 22 months old. She is a little art and dance prodigy who will be receiving her last treatment in June. (You may recognize the MC who is holding Devon's painting. He is Murray SawChuck from VH1 television.)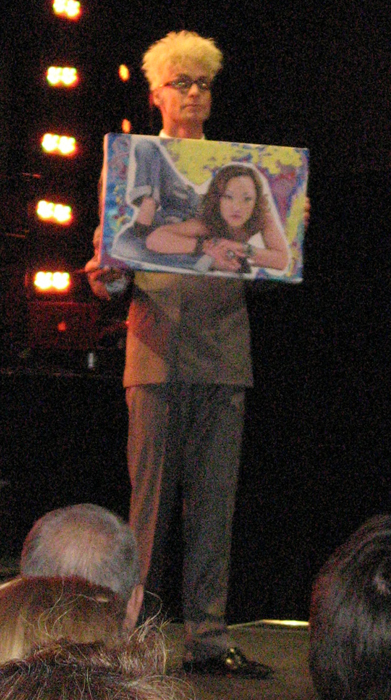 The auction continued with only one hiccup. My painting had disappeared! Apparently someone had bid on it in the silent auction because it had not been properly labeled and had "won" it. Needless to say I was a bit befuddled, but glad that the disappearance had a legitimate reason. After a couple other items were auctioned they announced that the person who had purchased my painting was donating it back so it could be properly auctioned. It ended up going for 3 times what the original purchase had been, which was quite satisfying. I would like to congratulate my friend, Mark Jenkins, for having the largest purchase price for his Beatles portrait.
After the auction things got even more exciting with the entrance of Mr. and Mrs. G who shot crossbow arrows at each other while holding different objects including an apple on her head and a balloon between his legs while he was doing a handstand. The energy of the crowd was up when they left the stage – as I'm sure you can imagine. They had no sooner left the stage than a gorgeous couple of performers came out with a mirror which they kept switching back and forth while each preened. The man ripped off his shirt at one point eliciting a cheer from the ladies. We guys were waiting in anticipation as the woman reach for her leather jacket. You should have heard the gasp of the crowd when she whipped out an electric razor and immediately started shaving her head! They finished their set with her starting to shave his head as well…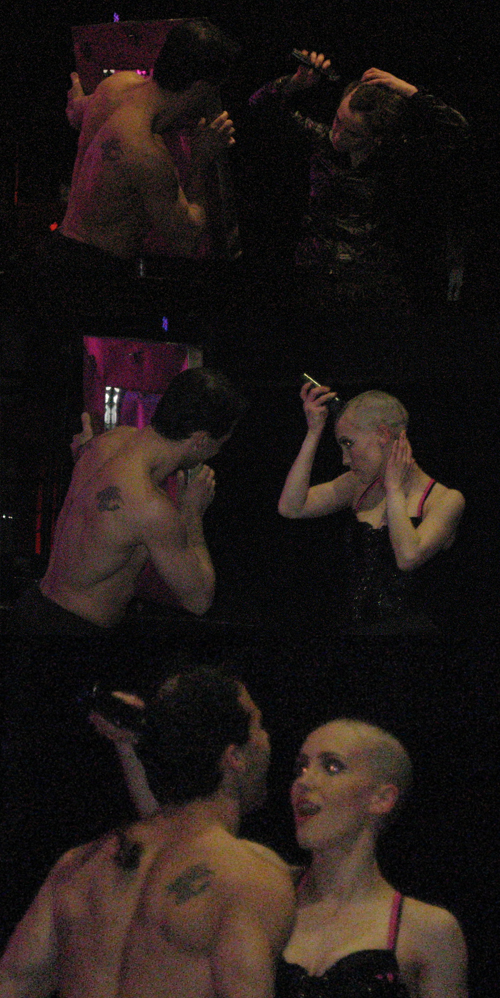 (Let me explain what just happened. The charity this event was raising money for is called St. Baldrick's which these Cirque performers have been supporting for a few years now.)
The fun continued after this lovely couple left with a slew of models doing the runway in all sorts of interesting and lovely attire. Then a young man came out to perform on the Corde Lisse. I was excited to see that this was Brien McCrea, who had headed up the art auction part of the event. (After the event I had the opportunity to take a quick photo with him.)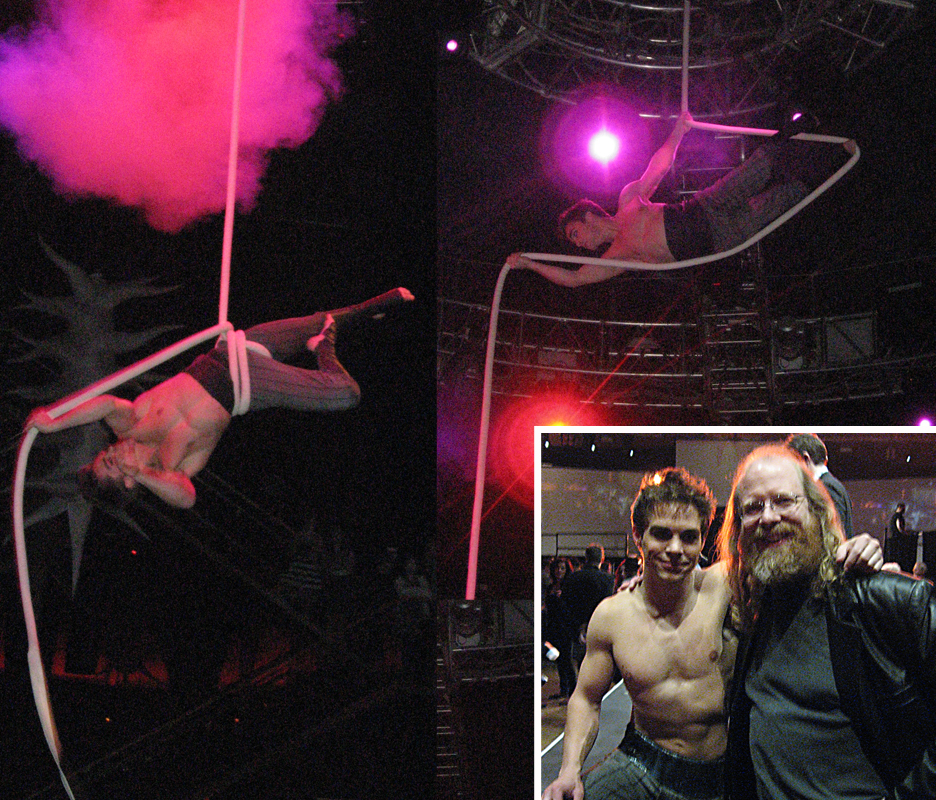 After Brien performed out strolled some more models. First there were the ladies and then came the guys. The last two guys came out with a little more attitude than the others so there was a sense of anticipation as to what could be next. Suddenly both of them ripped their shirts off and, yep, they were ripped! A group of male singers, called Mosaic, came out to perform "Lean on Me" a capella while these hunks did a whole lot of leaning on each other.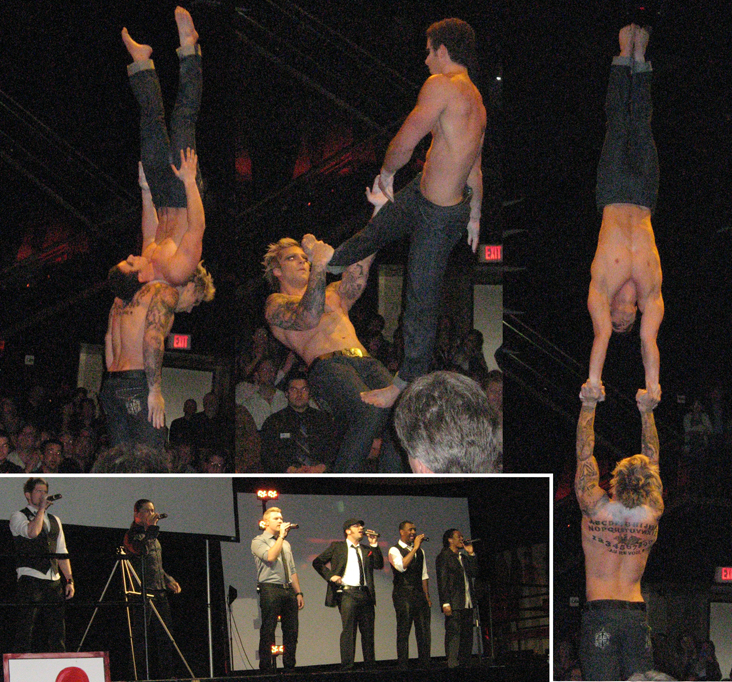 This was followed by even more models, some magic, some more acrobatics, some contortion, and some wushu (martial arts style dancing/faux fighting). Some of my photos didn't turn out very well so I've fast-forwarded quite a ways. Remember the lovely couple who shaved their heads? Well they showed back up with a wonderful performance on the Aerial Straps.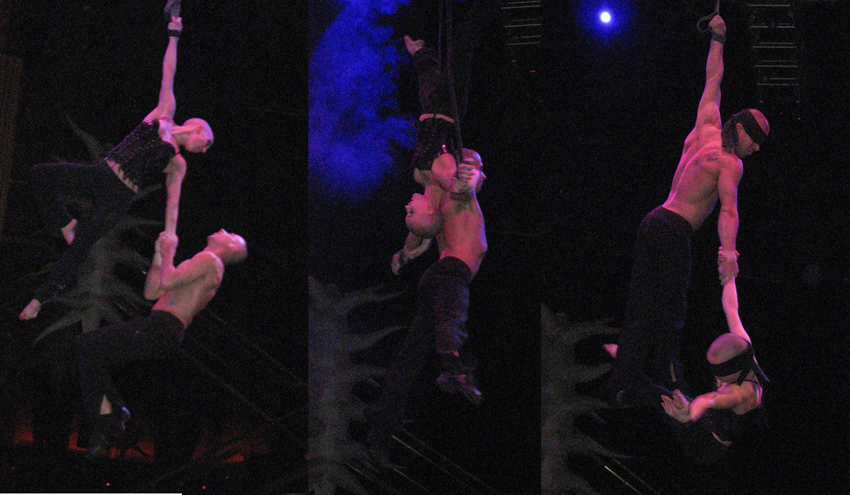 I found out later that this lovely lady is Erica Linz, who is the Artistic Director of this wonderful event. And boy was it an artful event! She should be quite proud of how it turned out. Erica and her partner, Pierre-Luc Sylvain were followed by more models cavorting on the runway. But, these models were dressed in some outrageously fun costumes. Once again, my camera failed me since they were moving so quickly on the runway. After the models finished, they ALL came back out for a curtain call, so I was able to at least capture a few of them in this last photo.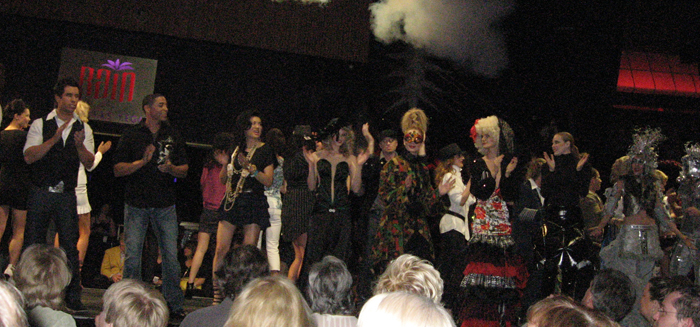 As you can tell, I had a great time. They had an after party up in the Palms' Ghost Bar for people to go hang out with the performers and models, but this old man chose to come on home.
I have me some creating to do…
22 Comments for 'Circus Couture – The Event'
Margaret Ryall Said:

Now that's what I call an art auction!

Dean Said:

Thanks for sharing all of this so well, Don! Excitement galore! I am happy to visit this party through photos. Don't think this ol' boy would last too long in person! 🙂

Kathy Said:

Wowee!!! It doesn't get more exciting than this. Congratulations on the sale of your work, and money you helped to raise for charity. As I was reading this post and enjoying the great images you provided, I was thinking about the contrast with this bleak environment in Upstate New York! I live in a four-city area and when I was looking for some cultural events in the newspaper over the weekend, found very little. Looks like I'll have to create my own excitement 🙂
Thanks for so completely sharing your terrific evening with us.

Stan Kurth Said:

Great night. Great cause. What happens in Vegas doesn't always stay in Vegas! Thanks Don!

hallie Said:

Wow and congratulations–again. Big difference between Vegas and southern Virginia.

Don Michael, Jr. Said:

Margaret… That's what's called Vegas style… 😀

Dean… I feel ya' friend. Those folding chairs had this ol' boy aching all over. But it was definitely worth it!

Kathy… Thank you. It is a very worthy cause. I'll admit, my wife and I are spoiled to Vegas. There's always something going on. With that said, though, you're a pretty creative type. I imagine you can come up with some pretty entertaining excitement. 😉

Stan… Thanks! I like your reinterpretation of the Vegas slogan.

Hallie… Thanks! I can appreciate what you mean, having lived in rural North Carolina. There are definite plusses to both.

-Don

Kathleen Krucoff Said:

Hi Don!

Wow, what a great event and an even better story about your painting and how it ultimately sold. Awesome.

Love the pictures; get a great sense of being there. Thanks for sharing!

Don Michael, Jr. Said:

Thanks, Kathleen! I thought about you last night while I was there. I remembered your comment from "Love at First Sight" about loving Cirque and I knew you'd love this up-close-and-personal event.

-Don

Pam Huggins Said:

Fantastic!!! Devon is only three??? My gosh- I'll keep her name in my subconscious- what a talent. Congratulations too on your submission getting sold twice! I'm sure you were thrilled. An exciting and worthy event for sure. You guys in Vegas really know how to throw a party!!!!

sue elliot Said:

You could have another career as a photojournalist. Congratulations on having people compete to buy your piece!

Robin Samiljan Said:

your photos were entertaining, like the event, and what a great place to be included with an art donation, kinda makes me wish I lived near Vegas!

Sandy B Said:

Don,
Thanks so much for taking us with you :). It sounds like such a wonderful and exciting event and for such a great cause. Kudos to you for having your painting do so well (no doubt it would :). I really enjoyed the excitement of the meoment(s)

Bravo and congratulations!
Sandy

Don Michael, Jr. Said:

Pam… Thank you! Yes, Devon is only 3 – too young to have already gone thru so much. I was indeed thrilled about the sale of my painting, once I finally knew what was going on…

Sue… I think I'll stick to painting for now. Thanks, though. I was thinking during the event that this was TOO cool and could only happen in Vegas.

Sandy… It was my pleasure… I'm glad you enjoyed the ride. 😀 Thanks!

-Don

Brien McCrea Said:

Wonderful wrapup of the event. I'd love to see more of your photos Don. Thanks again for participating and for attending, I love when we can bring communities together for a good cause and have some fun in the way that only artists can!

Don Michael, Jr. Said:

Hey Brien! Thanks! You guys put on a great event. You should be proud with how it turned out. I'm glad to hear that you exceeded your goals! Congratulations!

I think I'll put some more of the photos on my facebook fan page. I'll send you an email when they're available.

-Don

Erica Linz Said:

Don-
Thank you so much for your art, your lack of panic during the "hiccup" and this wonderful recap. It is humbling to see my charity pipe dream turn into a reality. It was only possible because, like Brien said, the arts, circus, fashion and philanthropy communities all came together and took a chance on the project. We're still awaiting the grand total from the Circus Couture and St. Baldrick's events, but I'm comfortable estimating that Cirque du SoBald raised about $70,000 and the Children's Center (Where Devon is treated) will be receiving a match totaling $140k as a result!

Could you tell me which piece was yours? I was in love with a few of the live auction pieces and I have a gut feeling yours was one. 🙂

Thank you again, I am humbled by the way everything turned out.
-Erica

Don Michael, Jr. Said:

Hi Erica… Thanks so much for weighing in! Your "pipe dream" was one of the most exciting, well put together events I have ever attended. I was totally blown away! Congratulations on not only reaching your goal, but SHATTERING it! I'm really proud to have been even a small part of this.

The piece I donated is titled "Love at First Sight". You can see it and read about its creation here: http://www.donmichaeljr.com/blog/2009/11/12/romancing-the-texture/

Be proud. You deserve it!

-Don

Erica Linz Said:

Don-
Just looked at your gallery… I was absolutely in love with your piece! It was one that we selected to take to the Fox 5 morning show live shoot. You do beautiful work! Do let us know if you want to be involved next year.
x x- Erica

Don Michael, Jr. Said:

Erica… You make me blush… Thanks! I'm excited to know that you took my piece to the live shoot. I wish I could have seen it.

Your answer for next year is a resounding YES! I would love to be a part of this wonderful outpouring of love again.

-Don

Erica Linz Said:

Proof! (So you know I'm not blowing smoke… Brien picked it, I couldn't have agreed more on his selection) We did half a dozen live shots that day, but this is the only one Fox posted:
http://www.fox5vegas.com/video/22645798/index.html
I assure you, it was more visible in the earlier interviews. I stayed out of this last segment as I was on no sleep (common in charity work I've found!) and felt I'd lost my ability to speak intelligently. 🙂

Don Michael, Jr. Said:

Well, would you look at that… Proof, indeed! Thank you, Erica! It would have been cool to have seen one of the earlier segments with you in it. That Amy is a real hoot! Was she crazy like that for every segment? Thanks again…

-Don

Niki Said:

Hi Don

Sorry I missed the event…thanks for sending me Brien's info, I will call him to apologize for not being able to participate.

Your narrative of the event was captivating, thanks for sharing my friend.

xo