Well, my blogging friends, I will be taking a nice 4 day weekend to enjoy with my kids. I'll fill you in on all our "doings" when once again I fire up my trusty Mac.
Before I turn my Mac off for the weekend I'd like to share a little tease of what I'm currently working on. It is another in my multi-media/3d series which involves paper mache' masks, acrylic paint and social commentary based on my own observations. The only clue I will give you to go with these two images is that the final piece will be regarding the ironic images and words on certain pieces of paper we all use fairly regularly.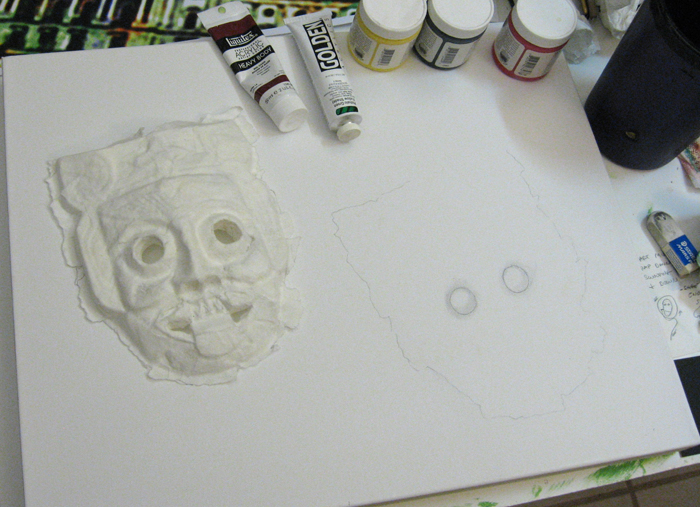 Above, you can see that I've chosen my palette and drawn in where the mask will find his final resting spot. If you notice the little scribblings to the right of the canvas, that has nothing to do with this piece, but everything to do with an upcoming one. I'm always making quick little notes as I create and have scraps of paper laying around my studio for just that purpose.
Below, you can see that the mask is ready to be adhered to his final resting spot. His eyes are finished and some color is suggested to go behind his mouth. Now it's time to get out my acrylic medium and paper strips and get busy adhering…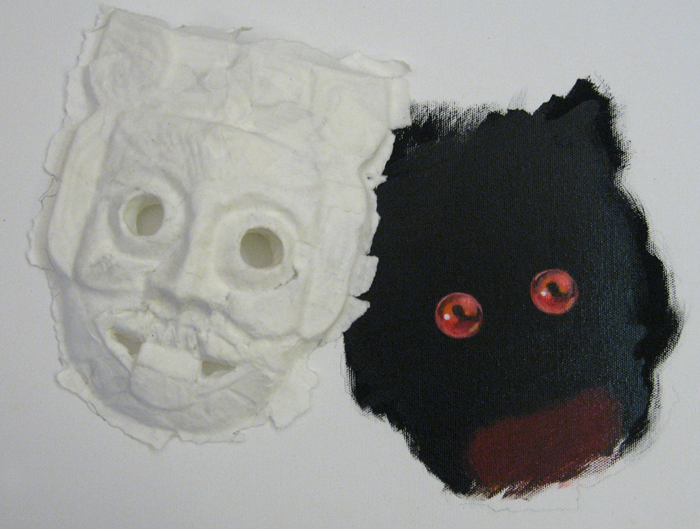 ©2010, Don Michael, Jr.
Have a wonderful weekend…
I've been having a lot of fun the last few days working on some new stuff. I finished two over the weekend but will only post one of them for today. The other is unavailable until next week at which time I'll share.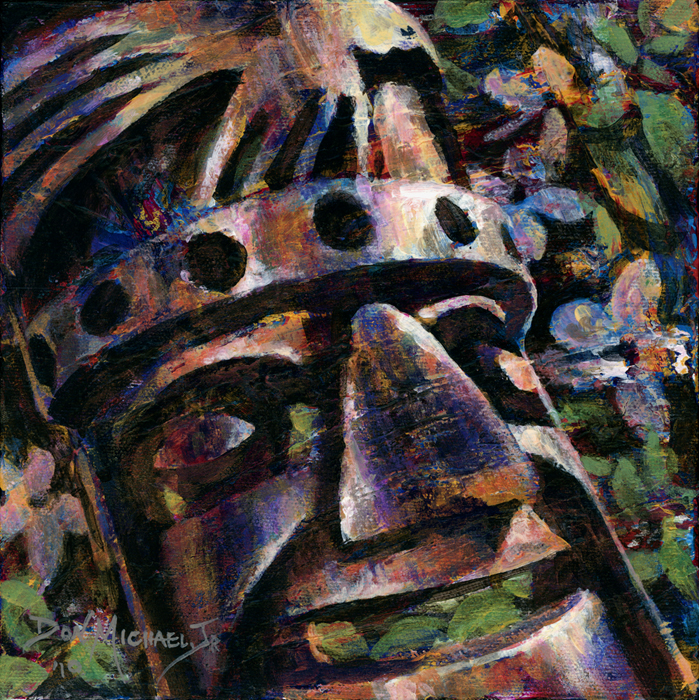 Panacea – 8″x8″ – Acrylic on canvas – Completed 4-26-10
©2010, Don Michael, Jr.
What started out as a pretty big challenge with this one evolved into an even bigger challenge once I started painting. The "Under-Schmeerings" for this one came from the painting Mixed Emotions that I finished over a month ago. I'd been putting off doing anything with it because of the chaotic nature of the schmeerings and the challenge they created for me in trying to design around/over/through them. Once I finally had a design I could live with I started painting. About 30 minutes into brushing on paint, I realized I had started with the canvas turned 90 degrees from my original design and I was going to have to start making some major tweaks. (Since I paint in acrylics, 30 minutes means the paint has set and there is no "oops, let me wipe that off" option available.) It was time to find a magical elixir in my attempts to cure this canvas' ills…
As you can see below in the before/after image, a LOT of the schmeerings have disappeared. I think enough of them, plus the texture they created, remain for me to be able to include this in my Over the Under-Schmeerings series.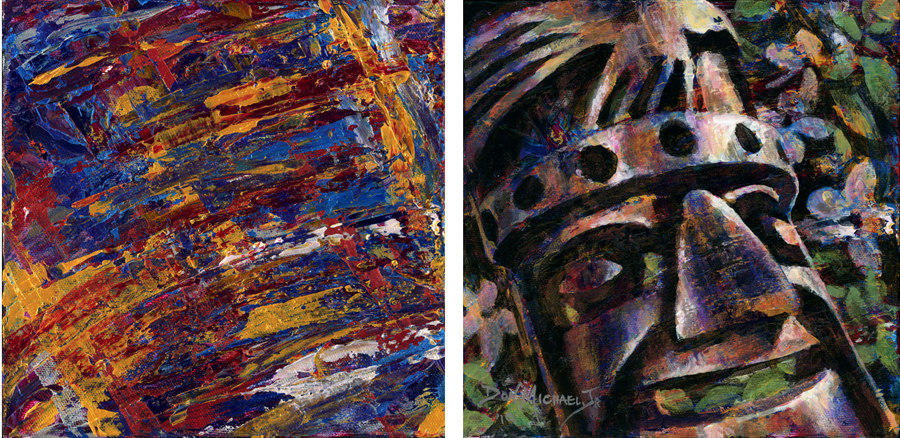 ©2010, Don Michael, Jr.
One of my good friends described my last piece, Hidden in Plain Sight, as being "in your emotions" and conveying "meaning that all of us can connect with". She specifically mentioned pathos, which she said the painting was "loaded with in a unique way". I could not feel more proud. As is often the case, her words have described exactly what I was striving for. Several of my friends and family were so moved by the painting that they felt led to share their own situations in dealing with our all-too-large and seemingly hopeless homeless population. Every one of the comments I received here on my blog, on my other sites, and via email are sincerely appreciated.
Needless to say, I found myself emotionally spent after all I had put into creating and then corresponding about Hidden In Plain Sight. I even took a couple of rare days off from painting and instead focussed on designing future works to clear my mind.
I decided I wanted my next piece to be light and happy with a focus on positive emotions. On that note, I took one of the 'schmeerings' generated during the creation of Hidden… and created an image which I hope brings a calmness and a smile to those who view it – I know it does me.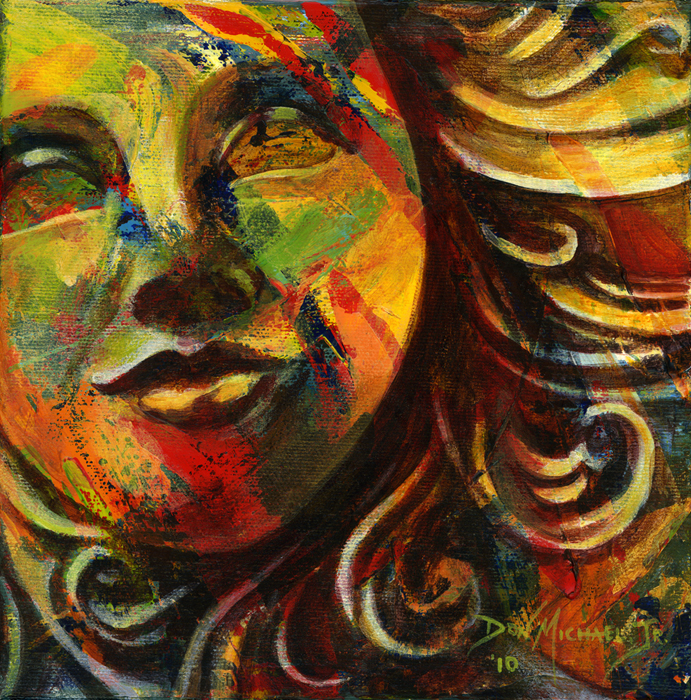 Hope Springs Eternal – 8″x8″ – Acrylic on canvas – Completed 4-22-10
©2010, Don Michael, Jr.
Below is the before and after of this Over the Under-Schmeerings painting. This was another of the 'befores' that was really hard to take to the next stage. But, I wanted to use the 'calming' of this intensely chaotic and lively abstract as a metaphor for what I'm striving for as an artist and as a person.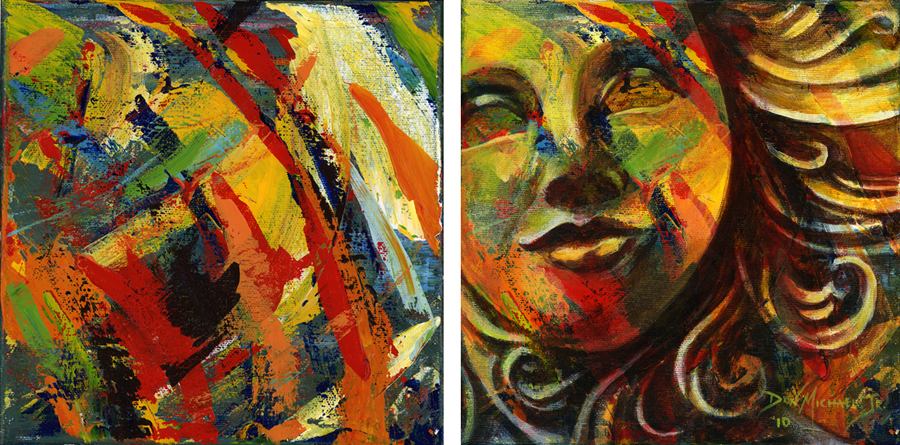 ©2010, Don Michael, Jr.
I want to end this post by adding my own personal belief that as long as there is life, there is hope. I wish blessings upon all who have done their part to help alleviate the situations of those living on the streets. Although it may often seem overwhelming and thankless, keep up the good fight.
Until next time, Happy Creating!
Have you ever considered as you were driving by a homeless person in your comfortably air-conditioned or heated car how easy it would be to end up right there on the street with them? The human condition is so fragile that the right circumstances can send one spiraling out of control – emotionally, psychologically, medically, socially, legally and/or economically. It saddens me to think that personal demons can drive a person to the point of loneliness, despair and poverty – sending them out to fend for themselves in the streets. Regrettably, once they get to the streets they can become Hidden in Plain Sight .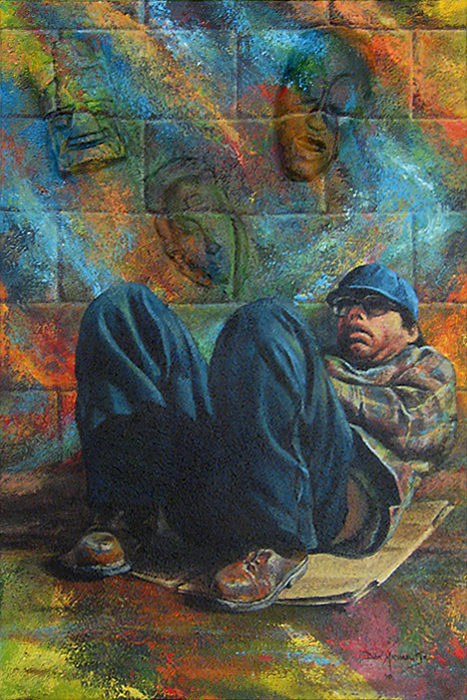 Hidden in Plain Sight – 36″x24″x3.25″ – Acrylic and paper mache' on canvas
Completed 4-18-10 – ©2010, Don Michael, Jr.
This is a concept that has been brewing in the back of my mind for several years. The TV stations I worked for in both Norfolk, VA and Las Vegas were just down the street from social services facilities that strove to care for the homeless populations of those cities. Every day I saw these people living on the streets, pushing their shopping carts around gathering what they could find throughout the day and curling up in a box or just their many layers of clothes to sleep at night. Recently I was meditating on how to approach this subject while the Rush song, Sweet Miracle, was playing. The line "I was hiding in plain sight" resonated with me and I immediately started the process of putting my vision to canvas. (BTW, IMHO, Neil Peart is one of the best lyricists EVER – and a dang good author, as well.)
After working out the composition in Photoshop I realized that I would need to incorporate some of my masks to help underscore the impact I was striving for. So I got down 3 of my smaller masks and wrapped them in foil.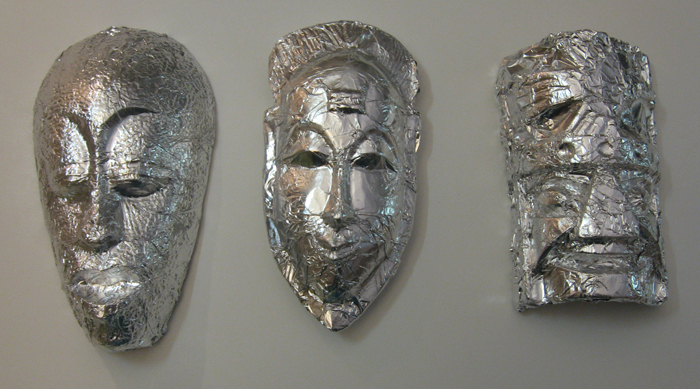 I then got out my box of torn up archival cotton paper strips and my jar of acrylic medium gel and started paper mache'ing. After the paper mache' set, I separated the foil/paper mache' from the masks. Here's what the paper mache'd masks look like before I peel all the foil from the back of them…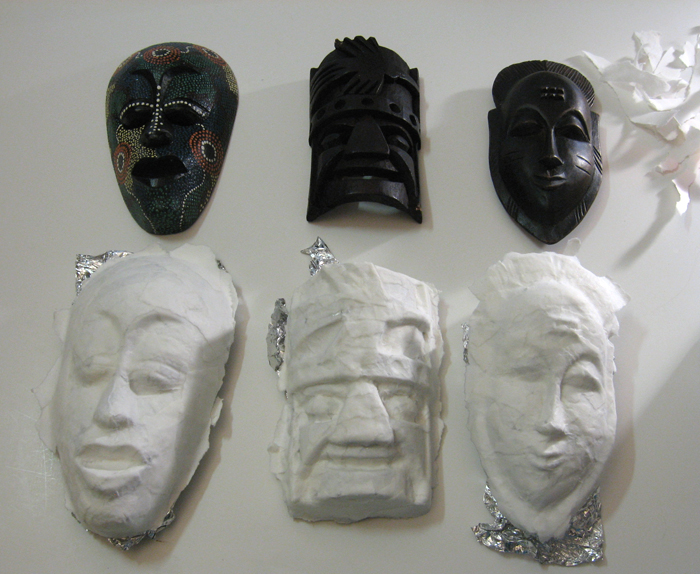 After peeling the foil, I arranged them on my canvas to determine their placement.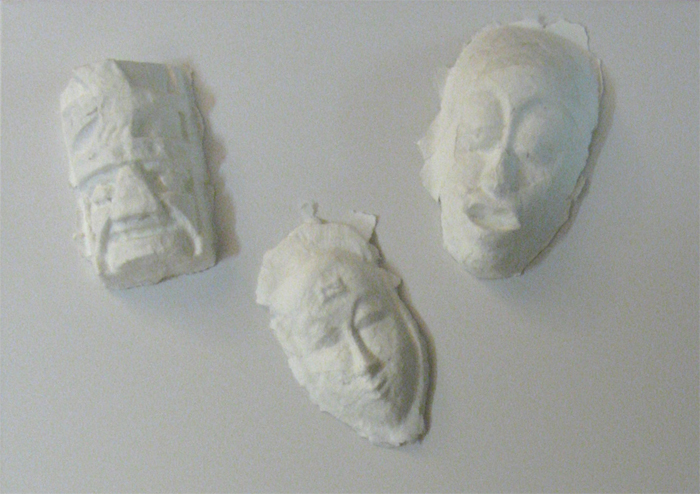 After penciling in their placement, I started adhering them to the canvas with the paper strips and acrylic medium gel.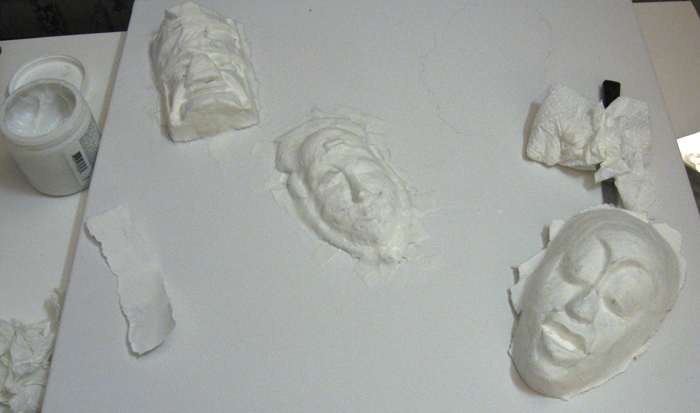 Once the paper mache'd strips had dried I started slathering on molding paste to camoflauge the seams.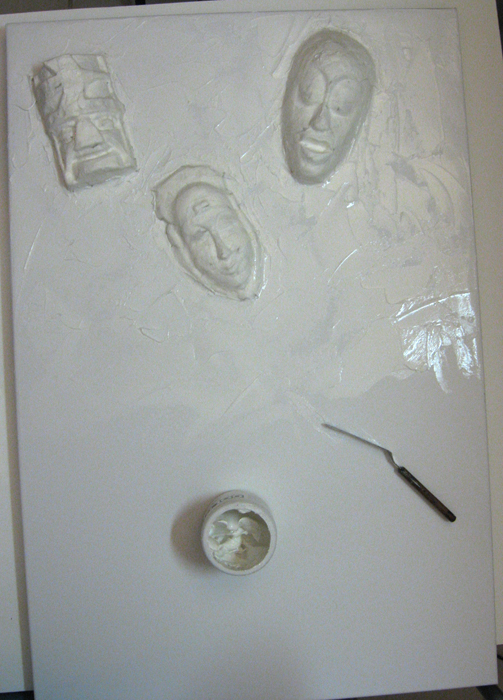 Before the molding paste started to cure I grabbed one of my natural sponges and started texturing the heck out of the whole thing giving it a stucco-esque look.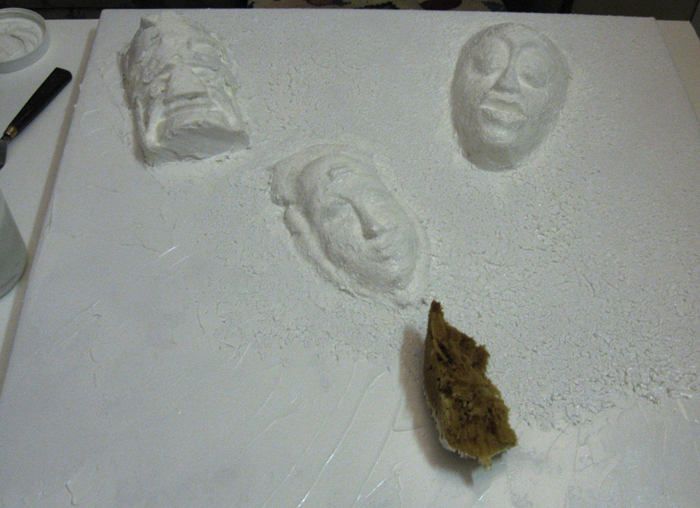 After the molding paste dried I squeezed neutral gray gesso, phthalo blue, cadmium red medium and cadmium yellow deep directly onto the canvas and proceeded to scrub it all together with one of my large flat bristle brushes to create the undercoat.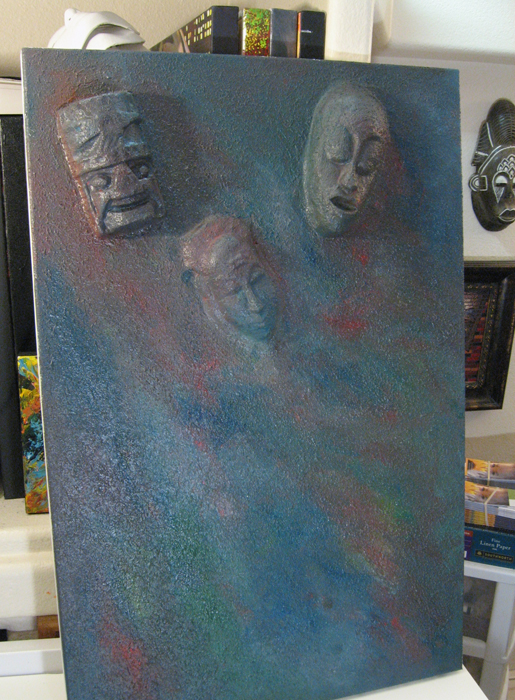 While the gesso was drying I took time out to paint one of my "Over the Under-Schmeerings" pieces titled Perennial. (Above, you can see its 'schmeered' canvas hiding just to the left behind this one.) After I finished with my little side-track I got back to work on this one by schmeering globs of pure color right onto the canvas.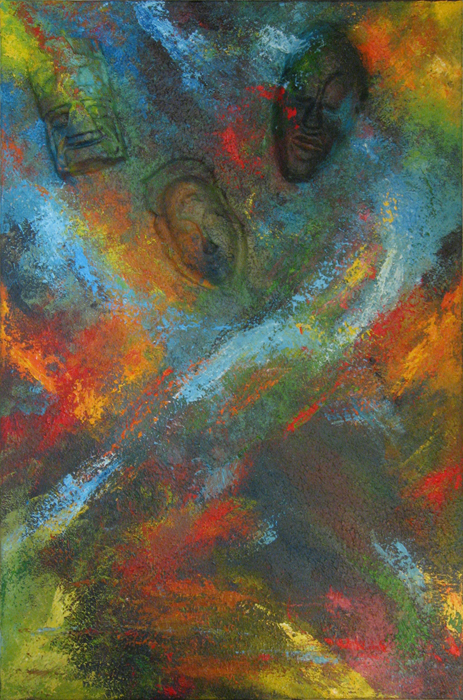 While this was drying I leaned it up out of the way and decided to take a few photos of my studio in action. You can see a clue to one of my upcoming projects in this shot.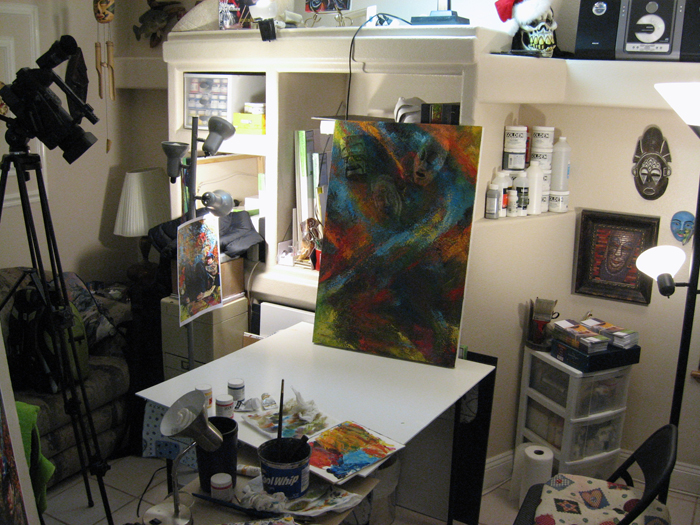 OK, back to this project… I painted in the lights and darks to delineate the bricks in the background.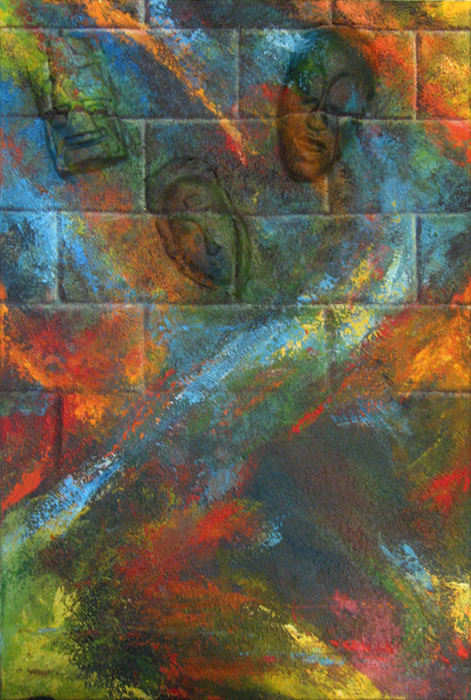 Using my bristle brush I blocked in the shape of my foreground figure and then started painting the pants, shoes and other elements.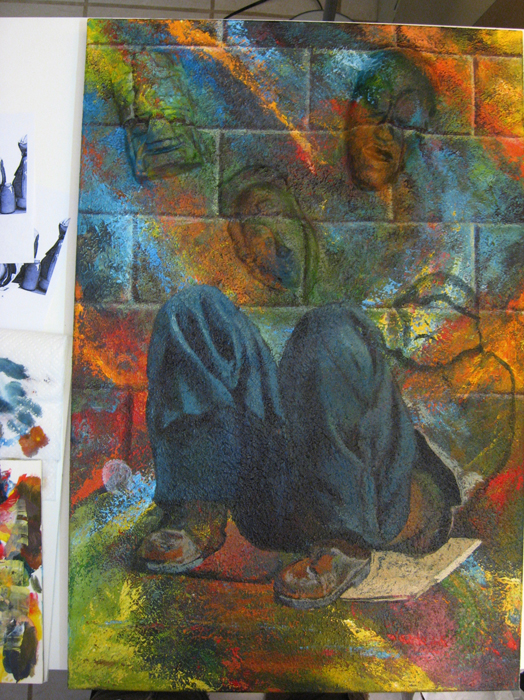 Continuing to move forward I finished blocking everything in and prepared to get down to the final details. I thought I'd throw in one more shot of the studio in action, but from a different perspective. Among other things, you can see one of the two under-schmeering canvases that came to fruition during the creative process of this piece laying on the table there with the paints.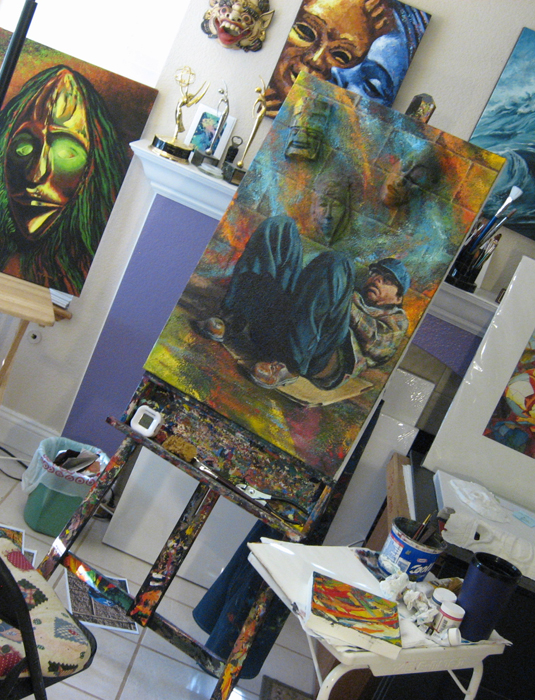 From this shot I only needed to add a few details and tweaks, after which I signed it and applied a protective coat of matte acrylic varnish.
Now its time to move on to the next one…
I am currently in the middle of a couple of big projects which have prevented me from finishing anything new in the past few days. I'm really excited about how these projects are going and cannot wait to share them – hopefully soon.
In the meantime, I thought I'd share a few more of the serigraphy monoprints I created several years ago. (You can read about the events leading up to this series of works here.) I realized as I was preparing these to post that some of them have not been seen by anyone outside of my family before today. I hope you enjoy…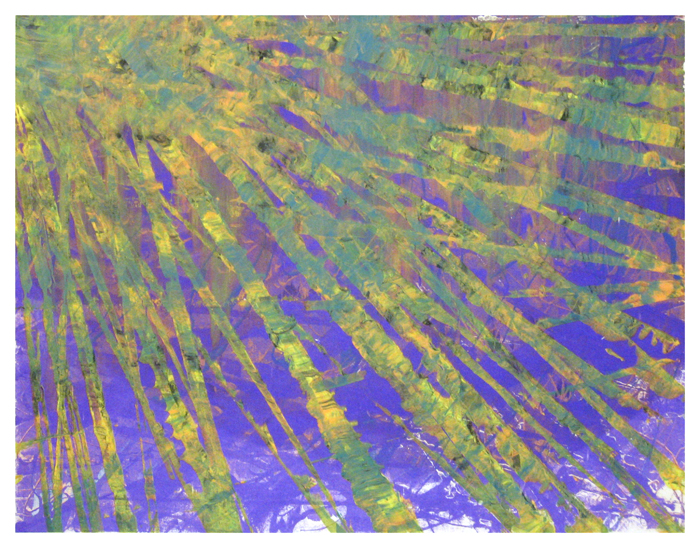 There is No New Thing Under the Sun – 17″x22″ – Serigraphy monoprint
©1993, Don Michael, Jr.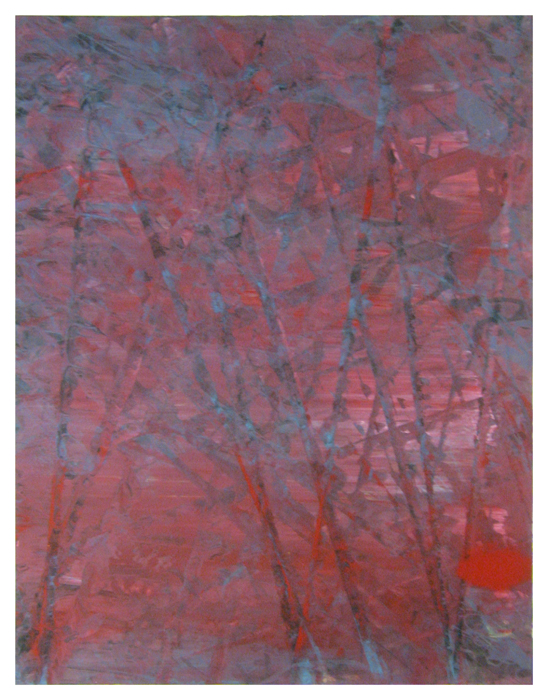 The Last Stand – 22″x17″ – Serigraphy monoprint
©1993, Don Michael, Jr.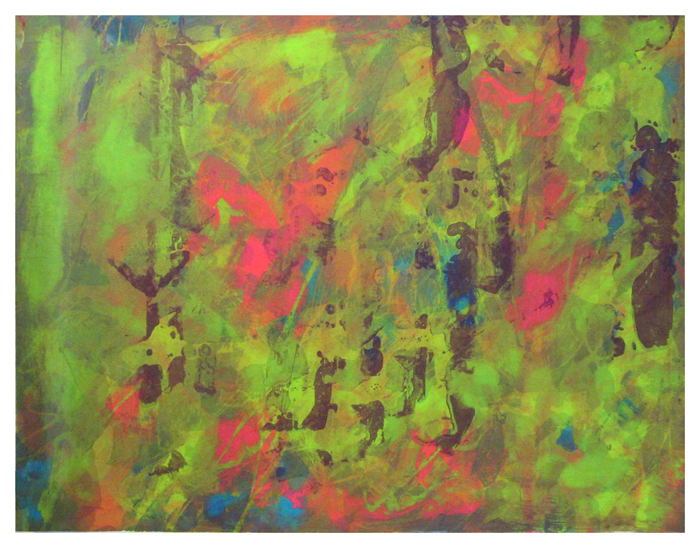 Oceanic Vilification – 17″x22″ – Serigraphy monoprint
©1993, Don Michael, Jr.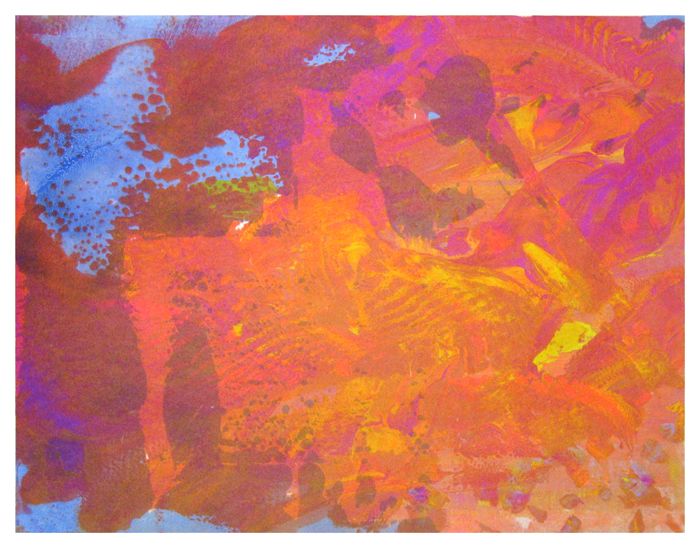 Hurricane – 17″x22″ – Serigraphy monoprint
©1993, Don Michael, Jr.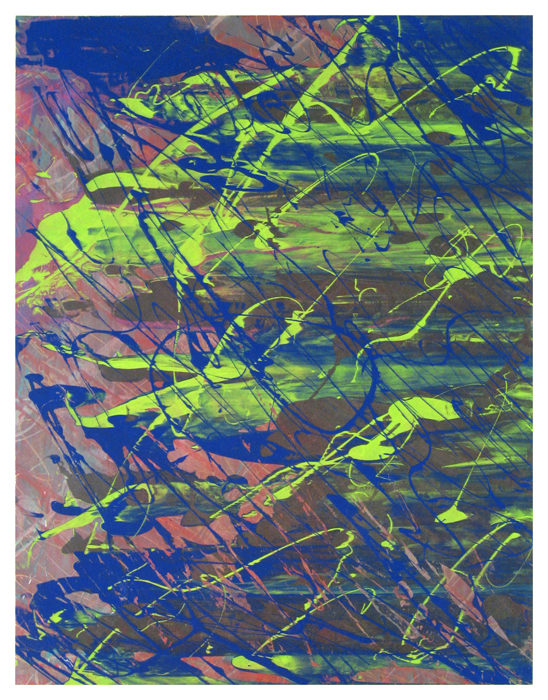 Toxic Seepage – 22″x17″ – Serigraphy monoprint
©1993, Don Michael, Jr.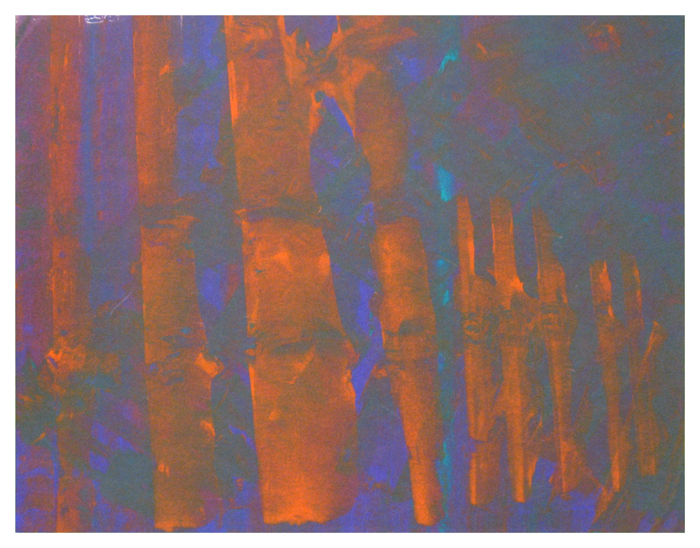 Stand – 17″x22″ – Serigraphy monoprint
©1993, Don Michael, Jr.
I cannot express enough how rewarding and enlightening it has been to go through these old pieces. They've helped me to revisit mentally, emotionally and spiritually where I've been artistically as I continue to blaze my current path. It's truly been a case of looking back to move forward.
(Hmmm… I came to the conclusion as I was posting these that if I had it to do over again a couple of them would have much different titling. Oh well… live and learn…)
There are a tremendous number of projects going on in and around my studio right now which have kept me quite busy of late. Some will be coming to fruition in the next few days, some in the next couple weeks, some closer to mid-summer, and one right now…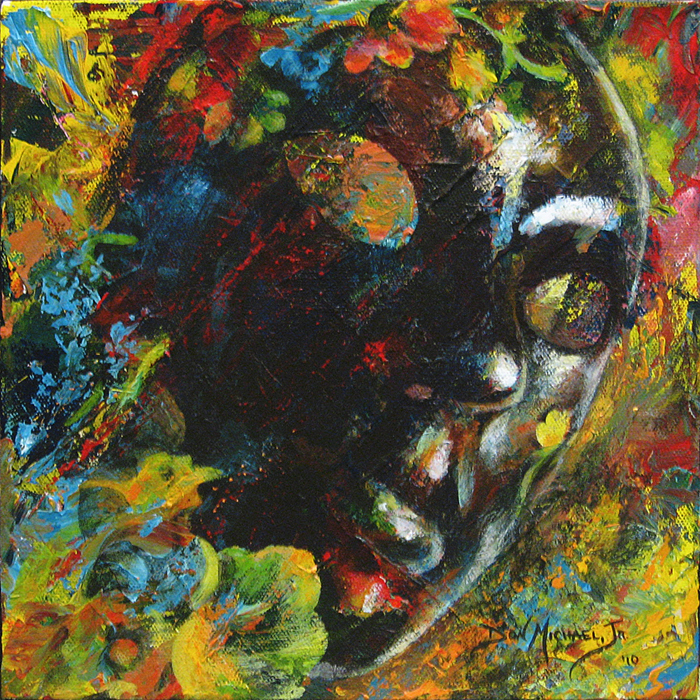 Perennial – 10″x10″ – Acrylic on canvas – Completed 4-13-10
©2010, Don Michael, Jr.
This latest piece from the "Over the Under-Schmeerings" series is the first to be larger than 8″x8″, albeit barely. The schmeerings here came from the excess paint of several paintings being slathered and layered onto the canvas over the past couple of months. I kept no notes on the progression of this one, so there is no hierarchal chain to link it to its parent paintings. The last painting that donated to this piece was Adolescence, and since its colors were the most dominant I decided to stay with its color palette of Pyrrole Red, Cad Yellow Deep, Phtalo Blue – Green Shade, and Titanium White.
Below is the before-and-after …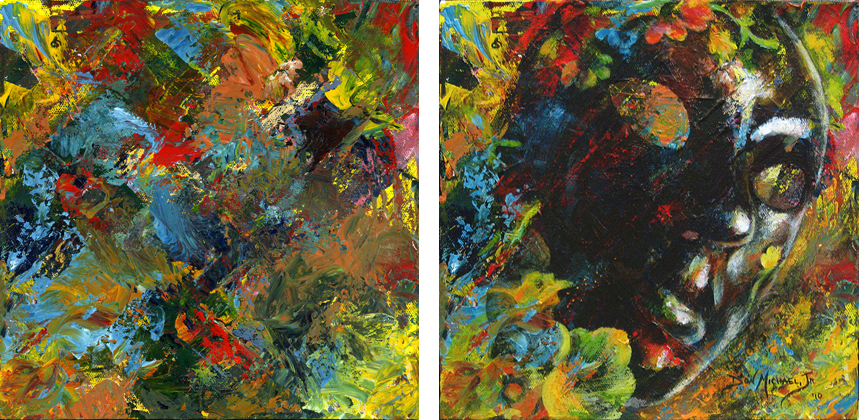 ©2010, Don Michael, Jr.
It's fair to say that this was the hardest one for me to move forward with so far. My wife and I really liked the abstract qualities of this under-schmeering and I almost kept it as it was. But then, much to Laura's chagrin, I started painting on it anyway. I had come up with a nice "springy" idea using the mask I had purchased at the Un-Masking the Mind charity auction back in October and felt this was the perfect background for it. I hope you agree… (thankfully, she does.)
Some of you may remember that back in December I griped about a painting that drove me so crazy I repainted it twice and finally gessoed over it – after which I went in a totally different direction to create what became Shadow of a Doubt.
At the time I didn't think I 'd ever go back to this problematic concept. But, being a glutton for punishment and not being one to let a challenge go unheeded, I DID go back to it recently. I added a new element, used a different paper mache' mask, rearranged the composition and started painting. After three weeks of gnashing my teeth and ripping out handfuls of my hair (now you know why I'm going bald) I can finally call this project complete.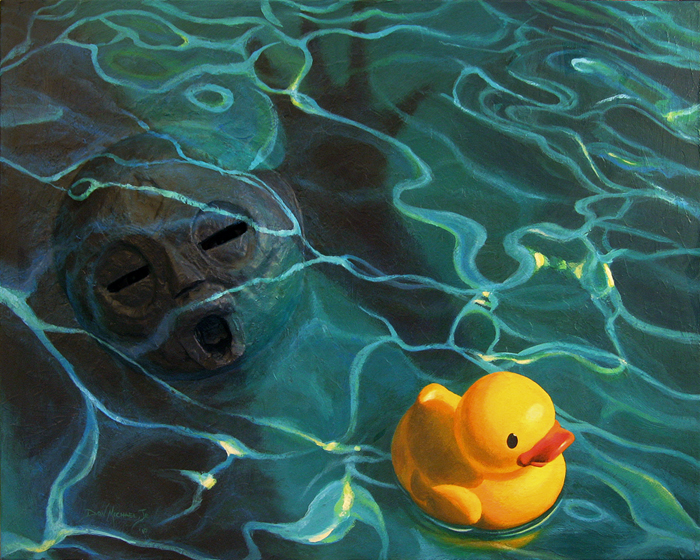 Adolescence – 24″x30″ – Acrylic on canvas – Completed 4-7-10
©2010, Don Michael, Jr.
(Regrettably, the above photo does not do justice to the painting. The cheapy camera I have could not handle the brightness of the yellows in the rubber duck. It had trouble figuring out what it should focus on. I color corrected as best I could with what I had to work with in Photoshop.)
The mask in this composition was originally created by wrapping one of the masks in my collection with aluminum foil and then paper mache'ing over the top of it. Here it is, foiled and ready for some glooping. You can see all the strips of torn paper, the acrylic medium gel, the foil and my ever present and trusty palette knife gathered around and ready to take part in the fun.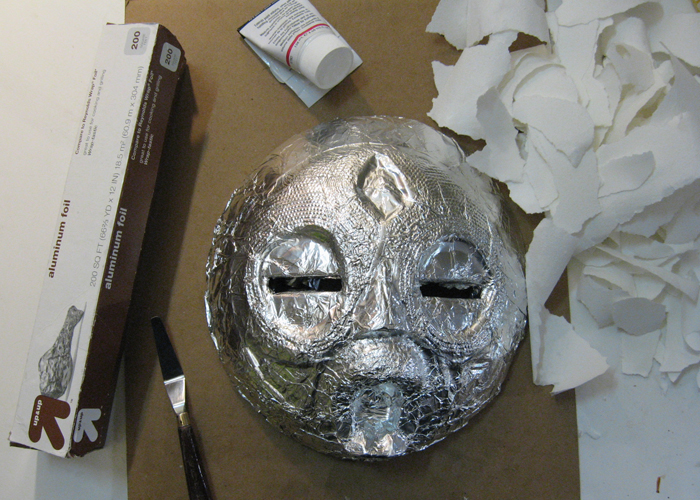 I didn't get any photos during the glooping process. It's a bit messy, as I'm sure you can imagine, and I want my camera to last a while longer. Therefore, the next photo we see below is of the paper mache' mask ready to be adhered to the canvas. It waits patiently by the eyes I have painted to go behind it. You can see the mess that is my palette to the right.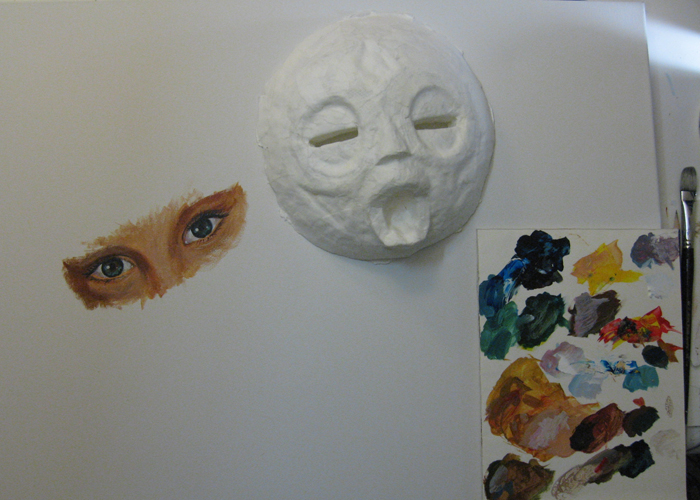 The mask is now attached to the canvas and awaits texturing. You can see a couple of my leftover strips of torn paper in the lower right corner, next to an ever present balled-up paper towel – a must-have when I'm around…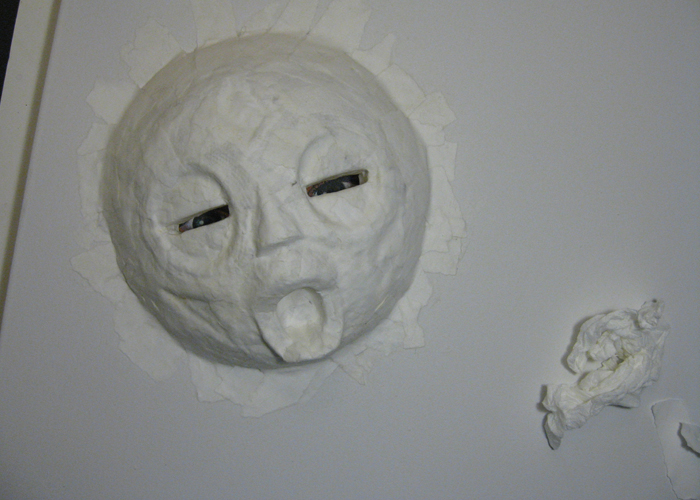 I textured the canvas using Golden's Hard Molding Paste to camoflauge the paper strips and to add continuity to the whole piece. I then gessoed everything with a mixture of white gesso mixed with the red and yellow from my palette. You can see the results below. In the upper left corner you can see the beginning of the schmeerings canvas that would soon become the painting Reflection…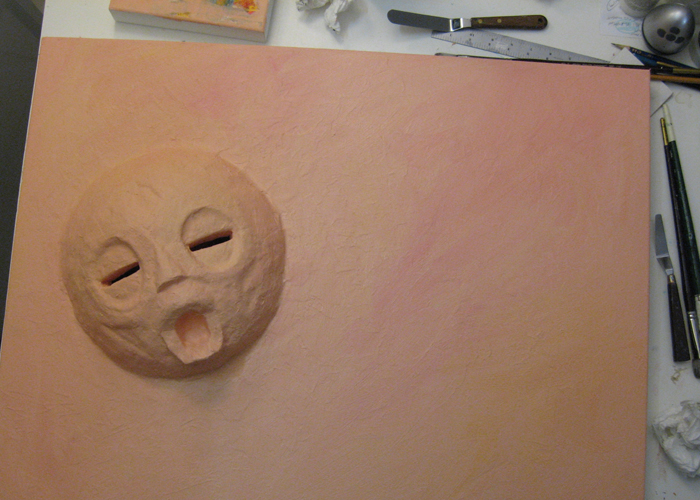 I had such a "fun" time painting this one that I did not take any photos during the painting process. You'll have to use your imagination to fill in the blanks. (Be sure to include tufts of hair surrounding flipped over furniture while imagining this). Now I'm going to go have a beer – or so…
I'm STILL in the middle of my latest mixed-media piece. It's taking me a bit longer than usual, but I hope to have it finished by the middle of this week. It would probably help though if I'd quit finding so many great distractions…
This past week was spring break for my wife and kids, so we had a wonderful "Staycation" which involved lots of fun family distractions. I also prepared for and took part in First Friday, a downtown art festival here in Vegas, which occurred this past Friday. The week culminated in an excellent Easter, which brought our 22-year-old son home for the evening. The family is not ready to get back into normal routines, but, ready-or-not, we're all back at it tomorrow.
Speaking of distractions… While working on the current mixed-media piece I "schmeered" my leftover paint onto an extra canvas, as I've been doing of late, and found the results so exciting that I allowed myself the luxury of turning it into a final painting.  We are now looking at another first in this, the Year of the Don – the offspring was finished before the parent. I've probably broken many laws of nature, but I hope you can find it in yourself to forgive me…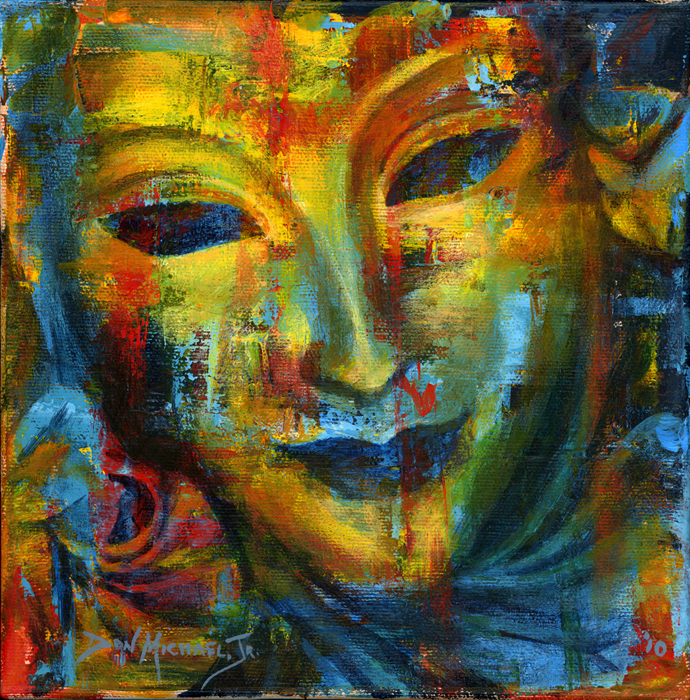 Reflection – 8″x8″ – Acrylic on canvas – Completed 4-4-10
©2010, Don Michael, Jr.
As you can see below, the colors in the under-schmeerings for this one were very rich and bright, which I found quite fun to work with. I tried really hard to allow a lot of the under-schmeerings to show through, but the subtle, yet elegant, beauty of this mask demanded a little extra presence.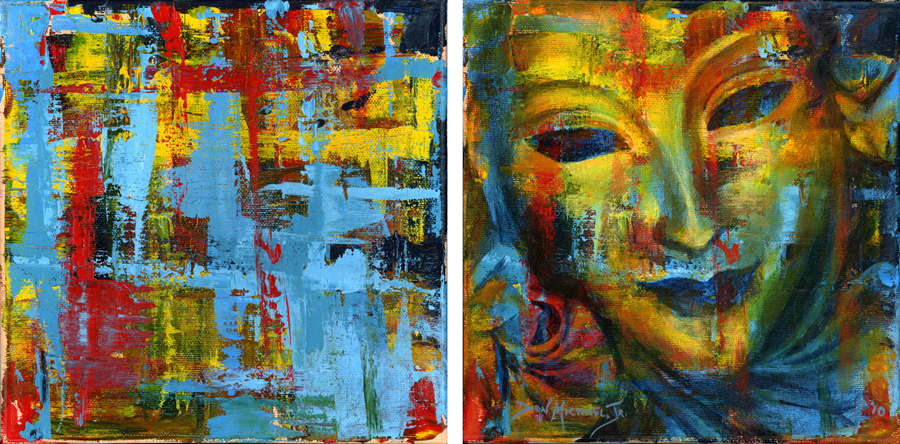 ©2010, Don Michael, Jr.
My daughter told me that this painting made her feel like this was about a lady who has lived a full life, but is starting to fade into her life's experiences and memories. How's that for some deep insight from an 11-year-old? Anyway, her proud father used this ideal to come up with the title, "Reflection".
It's time now for me to become un-distracted and get busy…