Perspective
April 19th, 2010
Have you ever considered as you were driving by a homeless person in your comfortably air-conditioned or heated car how easy it would be to end up right there on the street with them? The human condition is so fragile that the right circumstances can send one spiraling out of control – emotionally, psychologically, medically, socially, legally and/or economically. It saddens me to think that personal demons can drive a person to the point of loneliness, despair and poverty – sending them out to fend for themselves in the streets. Regrettably, once they get to the streets they can become Hidden in Plain Sight .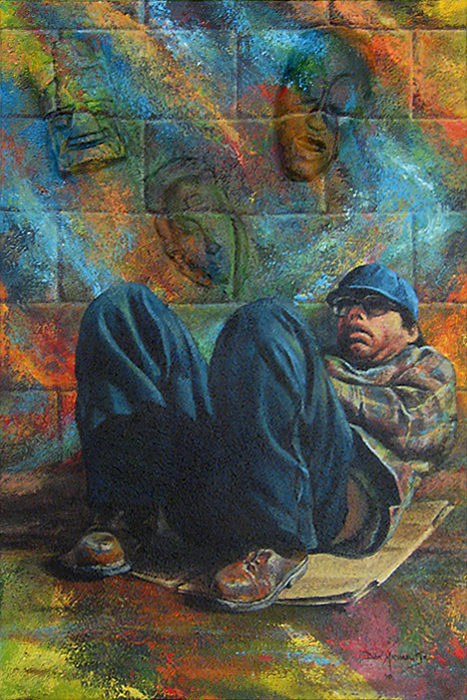 Hidden in Plain Sight – 36″x24″x3.25″ – Acrylic and paper mache' on canvas
Completed 4-18-10 – Β©2010, Don Michael, Jr.
This is a concept that has been brewing in the back of my mind for several years. The TV stations I worked for in both Norfolk, VA and Las Vegas were just down the street from social services facilities that strove to care for the homeless populations of those cities. Every day I saw these people living on the streets, pushing their shopping carts around gathering what they could find throughout the day and curling up in a box or just their many layers of clothes to sleep at night. Recently I was meditating on how to approach this subject while the Rush song, Sweet Miracle, was playing. The line "I was hiding in plain sight" resonated with me and I immediately started the process of putting my vision to canvas. (BTW, IMHO, Neil Peart is one of the best lyricists EVER – and a dang good author, as well.)
After working out the composition in Photoshop I realized that I would need to incorporate some of my masks to help underscore the impact I was striving for. So I got down 3 of my smaller masks and wrapped them in foil.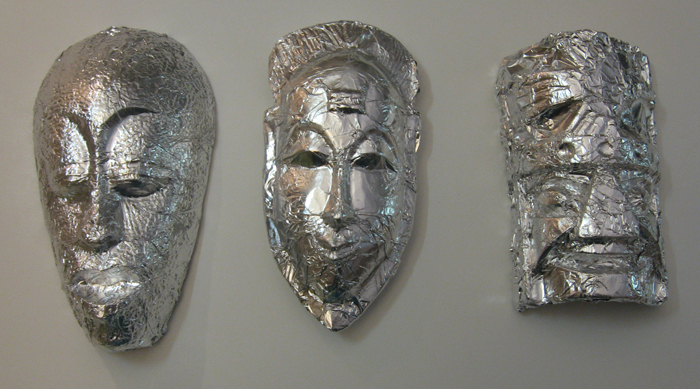 I then got out my box of torn up archival cotton paper strips and my jar of acrylic medium gel and started paper mache'ing. After the paper mache' set, I separated the foil/paper mache' from the masks. Here's what the paper mache'd masks look like before I peel all the foil from the back of them…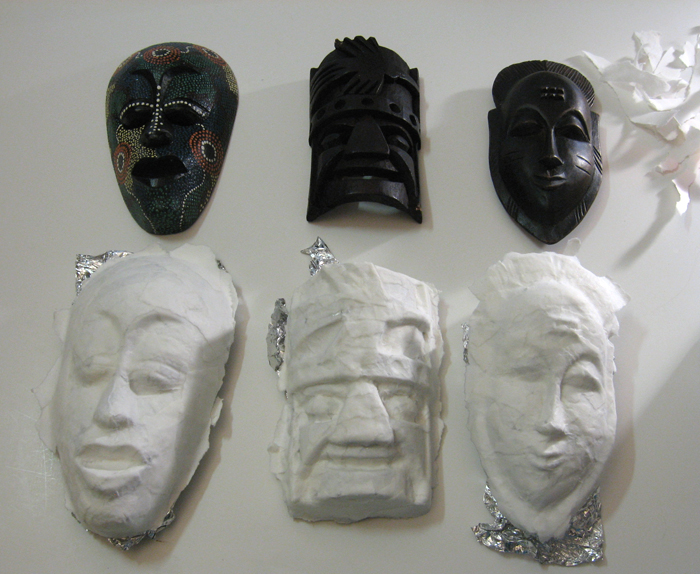 After peeling the foil, I arranged them on my canvas to determine their placement.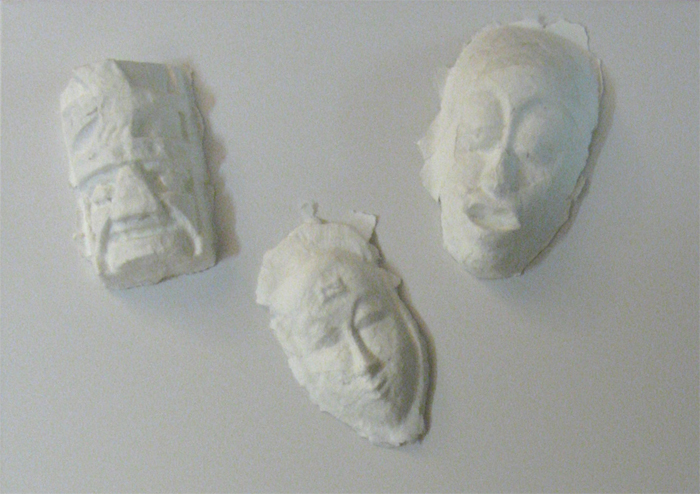 After penciling in their placement, I started adhering them to the canvas with the paper strips and acrylic medium gel.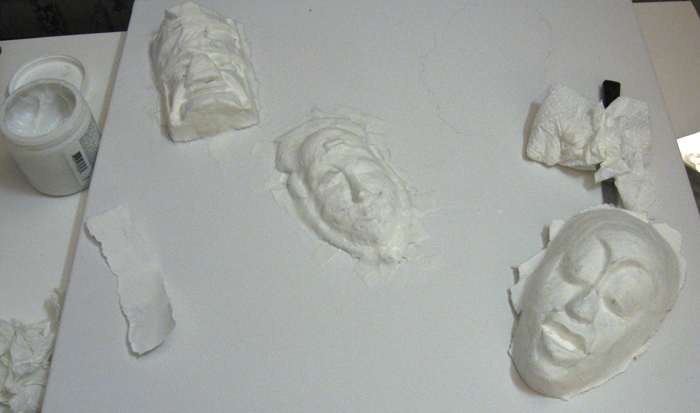 Once the paper mache'd strips had dried I started slathering on molding paste to camoflauge the seams.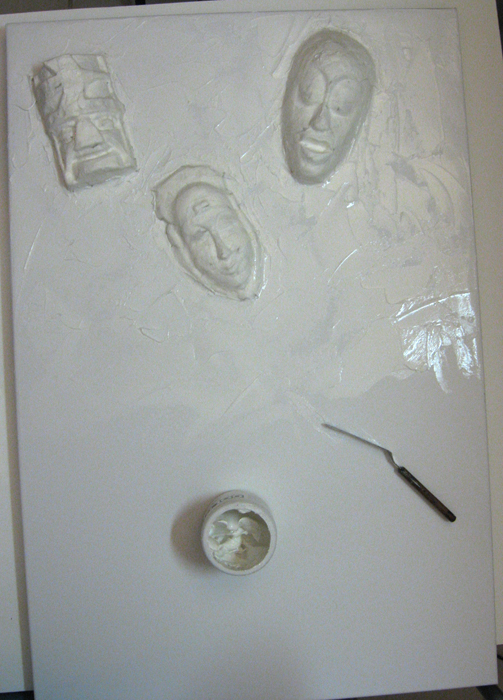 Before the molding paste started to cure I grabbed one of my natural sponges and started texturing the heck out of the whole thing giving it a stucco-esque look.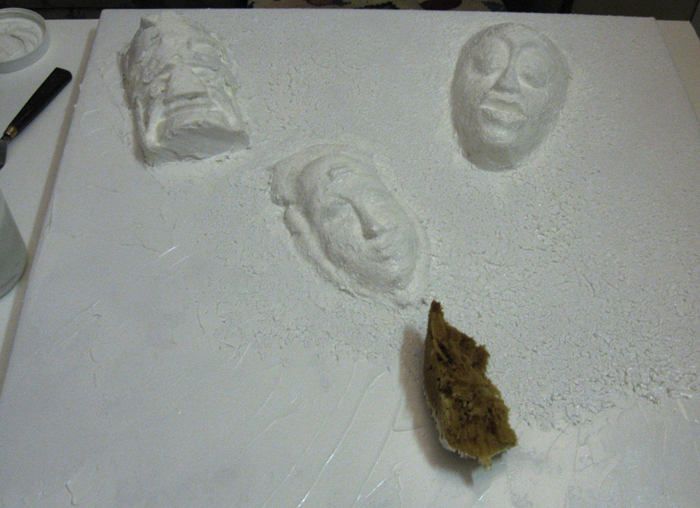 After the molding paste dried I squeezed neutral gray gesso, phthalo blue, cadmium red medium and cadmium yellow deep directly onto the canvas and proceeded to scrub it all together with one of my large flat bristle brushes to create the undercoat.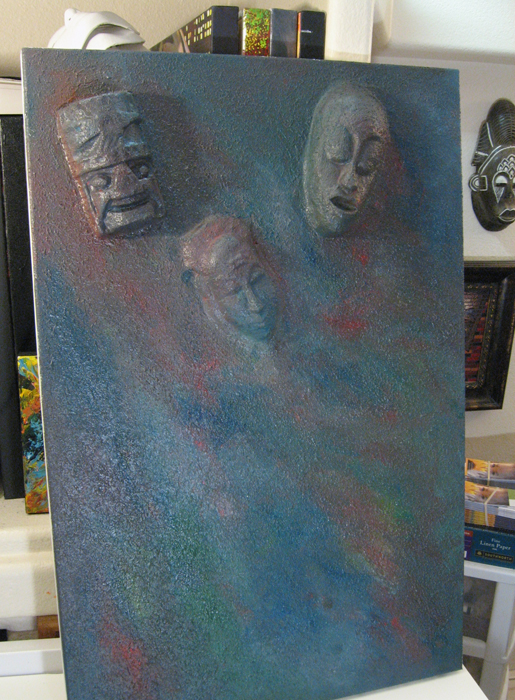 While the gesso was drying I took time out to paint one of my "Over the Under-Schmeerings" pieces titledΒ Perennial. (Above, you can see its 'schmeered' canvas hiding just to the left behind this one.) After I finished with my little side-track I got back to work on this one by schmeering globs of pure color right onto the canvas.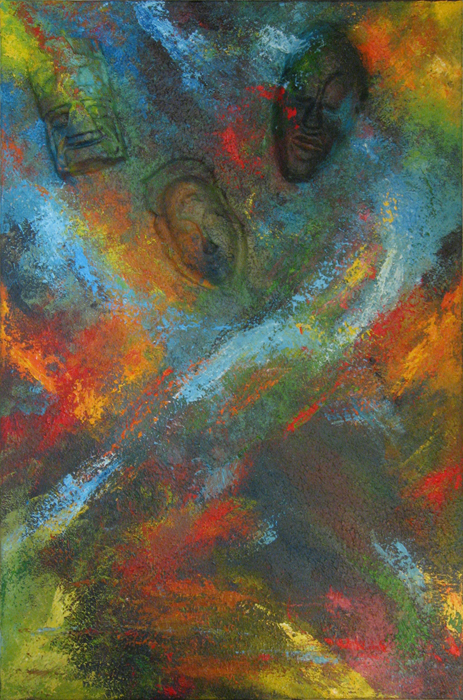 While this was drying I leaned it up out of the way and decided to take a few photos of my studio in action. You can see a clue to one of my upcoming projects in this shot.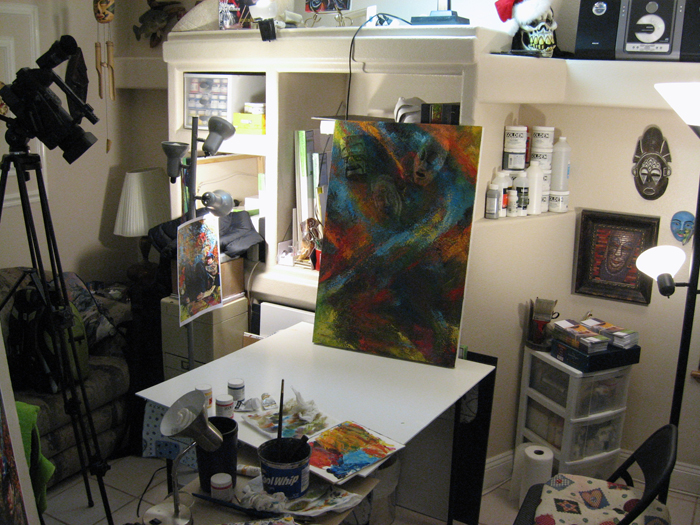 OK, back to this project… I painted in the lights and darks to delineate the bricks in the background.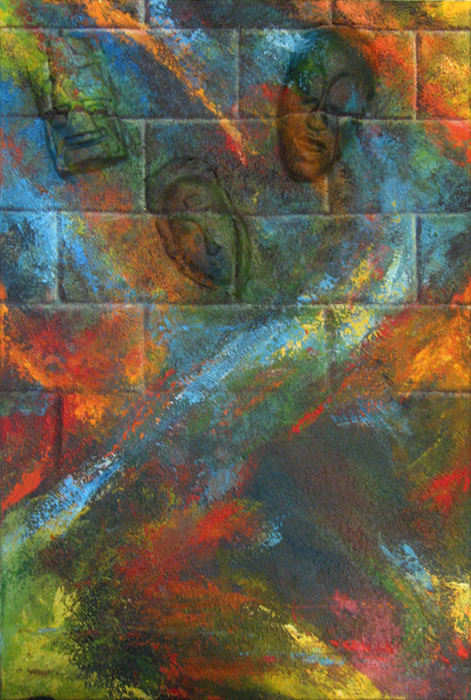 Using my bristle brush I blocked in the shape of my foreground figure and then started painting the pants, shoes and other elements.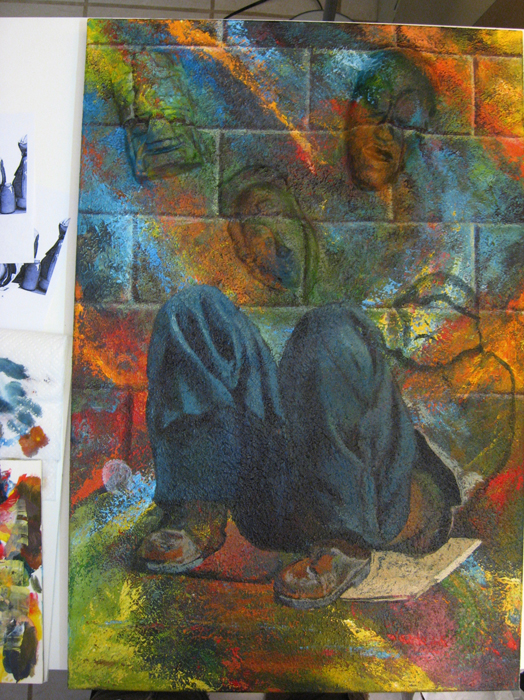 Continuing to move forward I finished blocking everything in and prepared to get down to the final details. I thought I'd throw in one more shot of the studio in action, but from a different perspective. Among other things, you can see one of the two under-schmeering canvases that came to fruition during the creative process of this piece laying on the table there with the paints.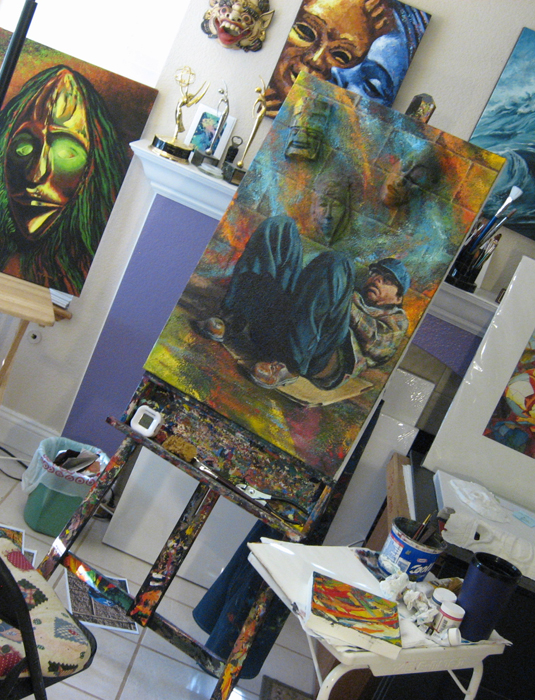 From this shot I only needed to add a few details and tweaks, after which I signed it and applied a protective coat of matte acrylic varnish.
Now its time to move on to the next one…
35 Comments for 'Perspective'
Stan Kurth Said:

You continue to amaze me with your unique style and conception. Excellent work! I too am a huge fan of Neil Peart, especially "Moving Pictures"(lots of mega hits) and "Signals"(which got bad reviews).

Heather Said:

I love this! Actually, you know, I like it better at the second last stage where you can just see the outline of the guy's upper body – like he is disappearing into the wall/melting into the background – hidden in plain sight.

Who doesn't love Rush?! My favourites are Permanent Waves and Moving in Pictures. Jacob's Ladder is just monumental. You can really image the shaft of light breaking through the clouds! I remember reading a bass guitar magazine (my hubby's a bassist), and it was talking about Geddy Lee, and they referred to him as 'he, with the helium filled larynx'! Brilliant line.

Mark Webster Said:

Excellent work yet again. Everything about it feels tactile from the folds of the pant legs to the masonry on the brick wall. I'd love to see it in person. Great Job!

-Mark

Susanne Said:

Great post Don. Love all the pictures of the process and the addition of the masks to the work. Is this going to be a new direction in your work?

Tonya Said:

Just fabulously amazing! Very moving subject. Beautiful painting. I have so many photos of homeless people from New Orleans and have always thought I would do a series of paintings from them but each time I try sorting through the photos I get so overwhelmed that I just end up putting them away again. I did manage to sneak one into a collage type composition of a watercolor (I actually ran into him again over Christmas and had a nice conversation with him. He has a job as a doorman now and is doing much better!) I loved your description of how you came to do the piece and your thoughts and the song lyrics. It was great to see the painting unfold in the series of photos. Nicely done!

Kathleen Krucoff Said:

Hi Don,

Another powerful painting. The first thing that came to mind for me as I looked at this was a scene from the B&W Christmas Carol movie where the spirits where lamenting over a homeless mother & child, with that haunting music. Great work Don, you are a master as you captured that essence/feeling with this painting.

And thanks for the photo of your studio. I really enjoy seeing glimpses of the creative space with fellow artists work. I especially love the Santa hat on the skull mask!!!

Thanks too for your comment on my latest post…for some reason I have a wonderful song stuck in my head…let's see, "Always look on the bright side of life!". Yep, I like it. πŸ˜€

Judy Said:

Yes. In the nearly 18 years I used to consider it almost every day driving into work, to lunch and home as I drove past homeless people in and around Foremaster Lane. But for the Grace of God go I. There were some scary moments I never shared with anyone – but I always survived, and never had to join them. I am so grateful. Thank You God.

hallie Said:

This beautiful painting has tremendous power. I looked at it last night and can't think of a comment that does it justice. Great work.

Jody Spence Said:

It is very sad to think that sometimes when you lend a hand you can get sucked into the same situation. I live downtown Las Vegas and see the homeless everywhere and always wonder what was the defining moment that changed there course in life.

Douglas Said:

Powerful, Don… In message and execution of this piece. You're inspired, man. Continue on, brother.

Don Michael, Jr. Said:

Stan… Thanks! I really appreciate your enthusiasm for what I'm up to. It's always good to meet another Rush fan. I love something about every one of their albums, but my current favorites are "Grace Under Pressure" and "Vapor Trails".

Heather… Thank you! My son liked it at that stage, also. It did fit within the parameters of the concept, but it wasn't my vision for the final. I may look into something along that lines in the future, since it falls within what I'm attempting to achieve with my "Over the Under-Schmeerings" series. "Jacob's Ladder" is definitely a great Rush song. As for Geddy Lee, I'm afraid I would lose my wife to him if he were available…

Mark… I, too, wish you could see it in person. The photo never does these justice. Thanks for the great comment!

Susanne… Thank you so much! This is the 6th in my 3D mask series. I haven't really titled the series yet, but you can read about the others by clicking on my Archives tab above, and choosing'3D Mask Series' under Category.

Tonya… Thanks for your enthusiastic endorsement! It means a lot to me. I know what you mean about the emotion of trying to begin a project using this type of imagery. It took a lot out of me – especially at first as I was designing it. Once I started painting though it became all about the process. It encourages me to know that you respond to the homeless as people and engage in conversation with them – That means they are NOT hidden in plain sight to you. Kudos.

Kathleen… Thank you! And, great analogy about the lamenting spirits. I intentionally have not assigned meaning to them in my words because I know that they can represent many things depending on what one brings to the viewing of the painting. I'm glad you enjoyed the studio shots. I realized as I was posting that I had never shared any before and thought I'd give a little peak behind the curtain. I see that you noticed my skull mask is looking on the bright side of life… πŸ˜›

Judy… I originally titled this post, "There, but for the grace of God, go I", but felt it was too long and assigned too much gravity to it. I'm glad you brought it up. And, I'm even gladder you never joined them. Thanks for the great comment. (It was great seeing you at lunch yesterday.)

Hallie… Thank you. I'm glad you feel so strongly about the piece. It really means a lot to me.

Jody… Thanks for commenting, both here and on Facebook. I'm not sure what your first sentence means. I would love for you to elaborate. As for the second sentence, I too have those thoughts as I drive by them downtown. It really breaks my heart to see so many of God's creatures so destitute and depending on the good will of others.

Douglas… Thank you! I am so glad the message comes through so loud and clear. Inspired is what I aspire to be… And, if, in the process, I can inspire others, all the better…

-Don

DavidRM Said:

So…now you need to do a painting called "Personal Demons"…

-David

Peggy Stermer-Cox Said:

Hi Don, Interesting question you posed about homelessness. I like how you gave the question a visual voice. It's fun to see how you work the masks into all sorts of situations.

Robin Samiljan Said:

your constructions for your 3 d work are so interesting, thanks for taking the photos and sharing the process. the dimensionality is so captivating – sculpture, painting, a mixed media? is that how would you classify these new works?

Kathy Said:

I'm truly moved by this painting!! It's so thought-provoking and skillfully rendered. The viewer can't miss your message. And, there's a tenderness to it – an essence that makes the viewer sympathize with the subject, which was your intent. The schmeerings take on a new role in this work, since they're now an integral part of the scene – like graffiti or worn paint. Your work is transforming, and I like the change! "The Year of the Don" continues πŸ™'

Yellow Said:

It's great to find someone tackling this subjest honestly, and not sentimentally. I'm another Rush fan. At the age of 17 (I'm 37 now) I had A Fairwell To Kings playing repeatedly thanks to a carefully positioned small rock and some blu-tac on the turntable. my sister works a lot with textured acrylics, I must direct her to this site, with you use of paper & moulding paste.

Don Michael, Jr. Said:

Hey David… Hmmm…. I think I could actually cull a few of the pieces I've already done and title the series Personal Demons. πŸ˜›

Peggy… "A visual voice" is a great description of what I'm trying to create here. I figure MsK doesn't get to be the only one worked into different situations. πŸ˜‰ Thanks for the great comment.

Robin… I'm glad you enjoyed the process. It's really fun to document what I'm doing and then revisit it upon completion – almost like taking photos while on vacation. I've been labeling these mixed-media, but I'm not sure about the other categories. I didn't even think about this quandry when I was starting the series… hmmm… Thanks.

Kathy… Graffiti, worn paint, and an urban feel were all ideals I was trying to convey without showing elements from a city or actual graffiti. I felt that what I had been doing with my "Over the Under-Schmeerings" could help me in this – and they did. You have a tendency to camp out in my head. Yikes! Thanks for the great comment. I'm so glad the message comes through loud and clear

-Don

Don Michael, Jr. Said:

Hi Yellow, and welcome to my blog… Thanks for the great comment. Any friend of Rush is a friend of mine. Happy creating!

-Don

Carla Michael Said:

Absolutely awesome Don. We just had a homeless guy, Steve, regress too far into drugs again and he died about a week ago. But he was right there–"hiding in plain sight." Our church and some folks tried to help him, but with "two steps forward, one step back," the one step turned out to be forever fateful for Steve. We loved him, and so many other homeless and hopeless souls reside on the edge as in your painting. Great work.

Celeste Said:

Your piece makes me think also of the Viet Nam veterans… so many of them are street people. Here in Portland OR we have a very large homeless constituency. It has always been that way..through good economic times and bad–we just have a lot of people on the streets. When I worked downtown I regularly stepped over a homeless guy to get into my office. I have always felt almost a kinship to the people who don't have homes. I couldn't ask him to come inside..but in true Portlander tradition, I never called the police, either.

say, is that an Emmy on your desk?

Don Michael, Jr. Said:

Hi Carla… Thanks for the wonderful comment. I am so sorry to hear about Steve. Everyone deals with their own personal demons, but it's such a tragedy when they allow them to consume them to the point of total destruction. Bless you and your church family for reaching out and trying. Your efforts may have seemed for naught, but maybe Steve found that special something he was looking for before it was too late. I hope so…

Celeste… I've known so many of the Vietnam vets over the years who were teetering right on that precipice of self-destruction as they battled the baggage they brought home from that mess. A few of them have seemingly fallen off the face of the earth. I've continued to look for them over the years, always hoping… Thanks for the great comment.

In answer to your question, yes, that is an EMMY – and yep, it's mine… Cool, huh? I won it in 2006, and was nominated for others in 1999 and 2007.

-Don

Technobabe Said:

This is a first for me. I haven't seen this process before. You put so much work into a painting. I can't even find the words to say how great this painting is, it is a complete work of art and so full of emotion.

Don Michael, Jr. Said:

Hi Technobabe… Thanks for stopping by my blog. I'm glad you were moved by my work. As for the process, it's something I've just recently "invented" in my artistic journey. It comes from a love of painting and a love of all things related to masks. I just checked out your blog and really enjoyed your post about music and what it means to you – POWERFUL! I'll be back for more… (Great name, BTW)

-Don

Don's Blog » And On a Lighter Note Said:

[…] of my good friends described my last piece, Hidden in Plain Sight, as being "in your emotions" and conveying "meaning that all of us can connect […]

Susan Elliot Said:

I might have said "wow" out loud to myself when I saw this. You could have used blues and grays and made it dismal, but you used beautiful colors and made it hopeful. The masks could be haunting, but instead they are protective. There is so much to think about when I look at it. This is definately in the top three in a category I have created for you entitled "Outstanding works by the masked man". I know I can't afford it, but what's the price?

Don Michael, Jr. Said:

Hi Sue… What a wonderful comment! Thank you! I really like the perspective you took with the colors and the masks – I'm especially glad you picked up on the hope. It means a lot to me that you think so highly of it. As for the price, there will be an email coming your way.

-The Masked Man

Dean Said:

Powerful, moving painting, Don!
Loved the progression shots and seeing your studio in the throes of creativity…"in the trenches".

Sandy Byers Said:

Hi Don,
You have done such a heartfelt job with this piece that he reminds me of a small bird I have seen – one I just want to bend down and scoop up in my hands to try and protect. You have achieved excellence in evoking emotion in this piece Don and I thoroughly enjoyed being able to see your process, too. Thanks so much for sharing.

Nicki Said:

Don,
I was so enthralled while reading this post and studying the stages of this piece that I forgot to take my son to school! Well, I should say that I remembered in a panic when I looked at the clock. I got him there, but he was late!

I, too, am glad you gave this piece the colour you did. It adds that element of hope, and also in my mind I think it conjures up images of down-and-out neighborhoods that are uplifted with vibrancy of true spray can art by spray can artists.

You are not just The Masked Man, but THE MAN! πŸ™' I'll take constructive critiques from you any day and thank you so much for helping me take "Spotlight" to that next level. You are a generous artist.

And thanks for sharing your workspace with us.

Nicki

Don Michael, Jr. Said:

Hi Nicki… Yikes! I will not be a party to tardiness! Just kidding. πŸ™' It makes me proud that you got so into this that you lost track of time. I hope he wasn't too late… Thanks for the great comment. I feel honored that you think so highly of my work and my opinion. It was a pleasure sharing my studio with you. Stay tuned, because there's more coming sometime in May…

-Don

Gail Said:

Don, I haven't seen your work in awhile. Loved it when we met years ago. This is a great piece, both the meaning behind it and the very interesting explanation of your process. What I like best is the three dimensional aspect you added with the masks. It has a nice sense of movement coming from the light bluish color, almost like the energy of the masks interacting with the figure, to me. very nice!

Don Michael, Jr. Said:

Hi Gail… Nice to 'see' you around… It's been a while. Thanks for the great comment. I'm glad you got so much out of the piece and the progression. I'm glad you picked up on the blue 'energy', as you put it. That was the element I used to tie everything together as you astutely noticed.

-Don

rahina qh Said:

hey Don, what a unique process! and an amazing result!

Don's Blog » A Change of Plans Said:

[…] 'under-schmeering' for this painting was created during the process of creating Hidden in Plain Sight. Below is the […]

Don Michael, Jr. Said:

Thank you, Rahina… I don't know how I had missed your comment, but it is greatly appreciated…

-Don