Recently I posted a mask that I had created to be donated to this year's Un-masking the Mind charity auction. You may recall that I mentioned having the honor of 'decorating' a couple of masks autographed by certain celebrities. Well, the first of these is finally complete.
Jay Leno, the host of The Tonight Show, was kind enough to autograph this mask for the charity. My design is based on his status in nighttime television and his love for cars/motorcycles. I used a crescent moon to represent his nighttime hosting duties. The 'clouds' around the moon are made with denim because every video or photo I ever saw of him around his auto shops or riding his bikes usually had him wearing denim.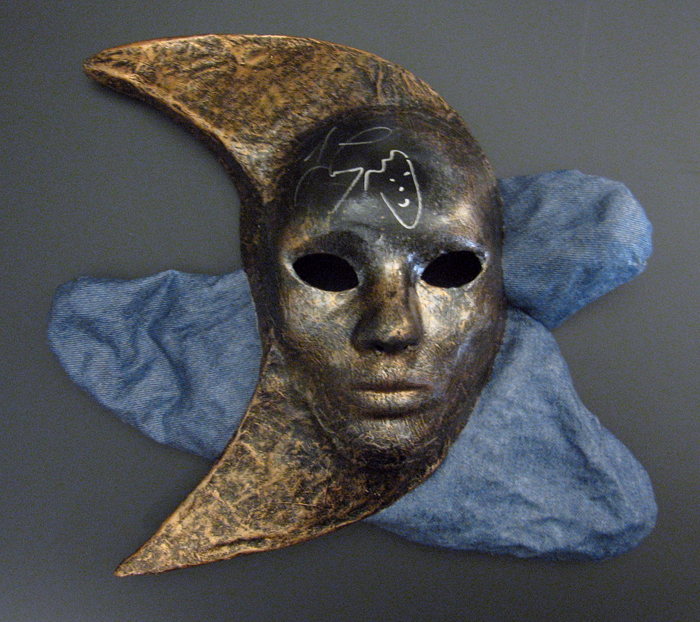 Lunar Leno – Paper mache' and denim mask – Completed 5-28-10
©2010, Don Michael, Jr.
I had asked that the mask be painted with black gesso before it was autographed, and that the autograph be with silver sharpie. Well, they complied and this is what I had to start with.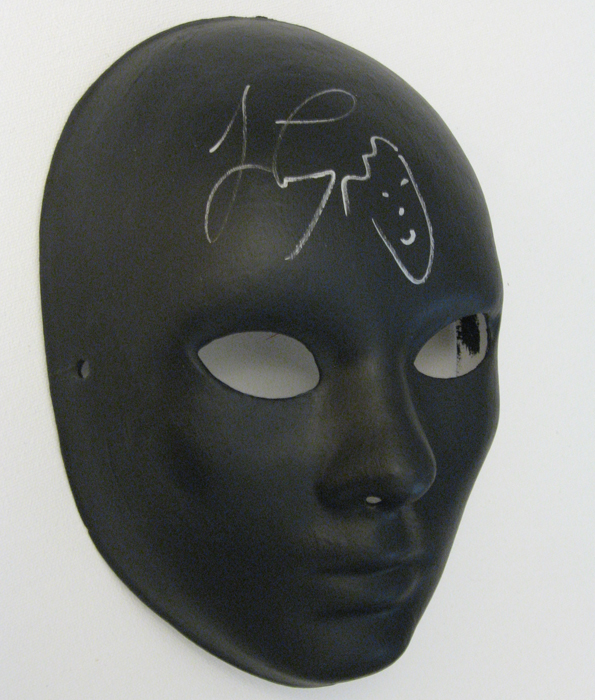 Using a sheet of drawing paper I quickly drew out my crescent moon shape and transfered it to cardboard which I then cut into shape to use as forms for what was to come next. Notice I have a blank mask here with the autographed one. All tests were done to this one before anything ever touched the other.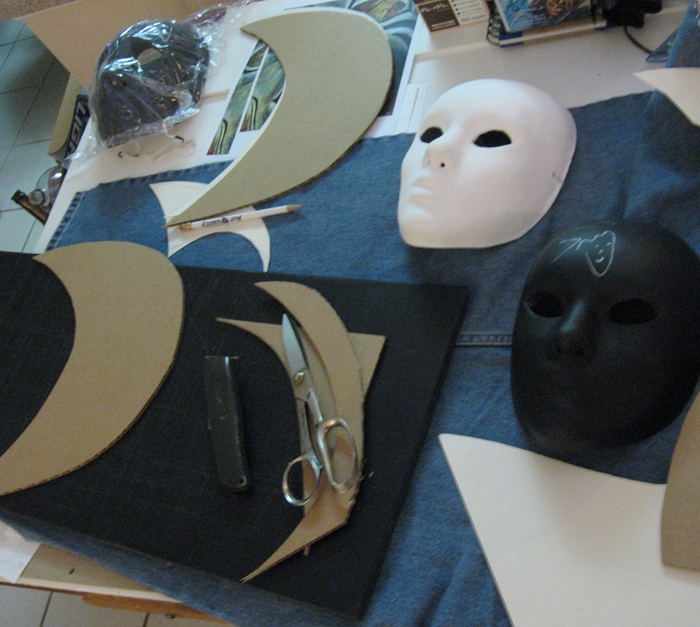 I wrapped the blank mask in foil and created my forms around it using good old-fashioned masking tape.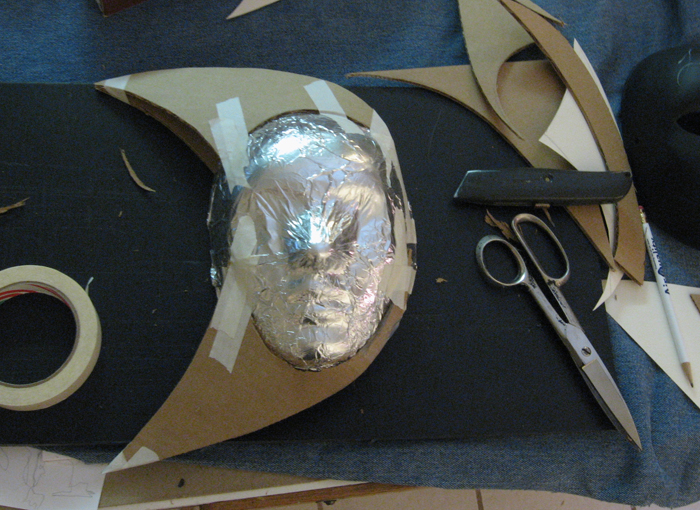 I then wrapped the entire form in foil and proceeded to paper mache'ing the moon shape using brown wrapping paper and acrylic gel medium. Notice that the face is left unpapered. You'll see why soon.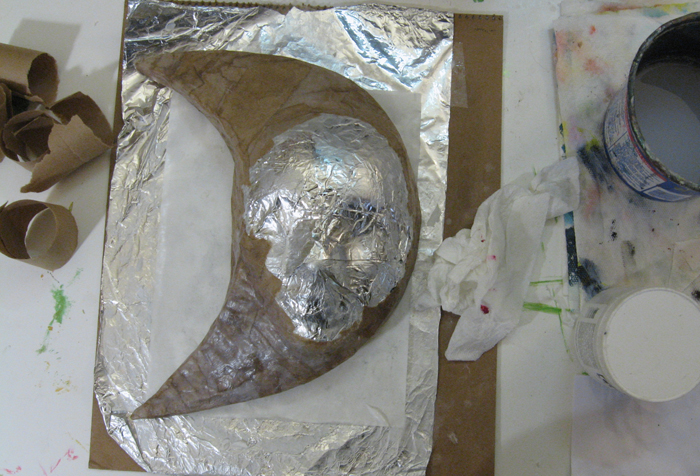 The mask started getting claustrophobic, so I busted the foil around its face and proceeded to release the paper mache' from the foil – after it had dried, of course…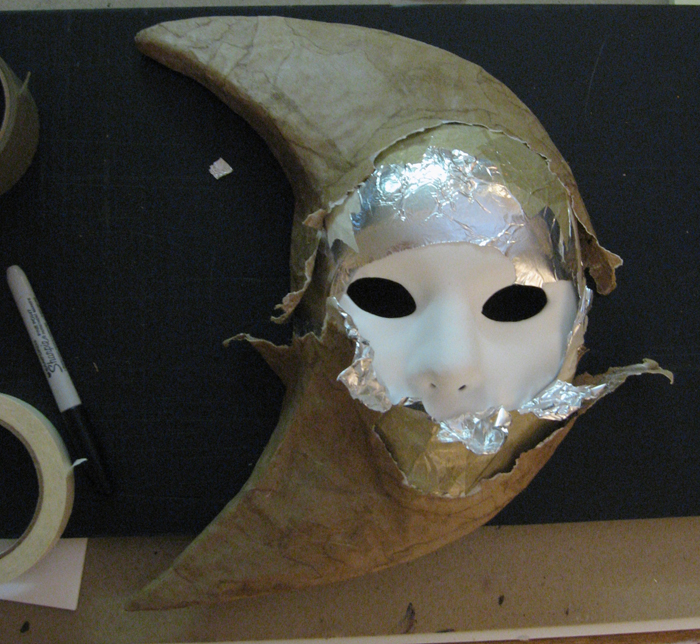 Here's where my butt starts to pucker… Now it was time to start attaching the 'horns' to the original autographed mask. I had a limited area in which to work, and I wanted in no way to mess up Mr. Leno's autograph. BTW, I had put two coats of acrylic matte varnish on the mask to protect the autograph before starting this process. The cardboard crescent beneath the mask and 'horn' is only there for placement. It goes away after this step.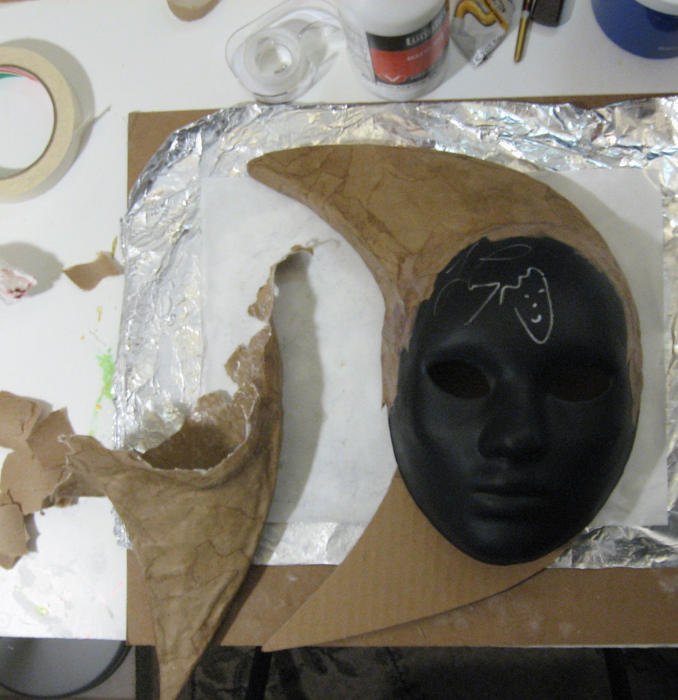 While the paper mache' was drying on the autographed mask, I used the lunar mask form as a model to create and wrap foil around the 'clouds'. The 'clouds' are made of wadded up packing paper. You can see the strips of denim I have cut and torn to be used in the next step.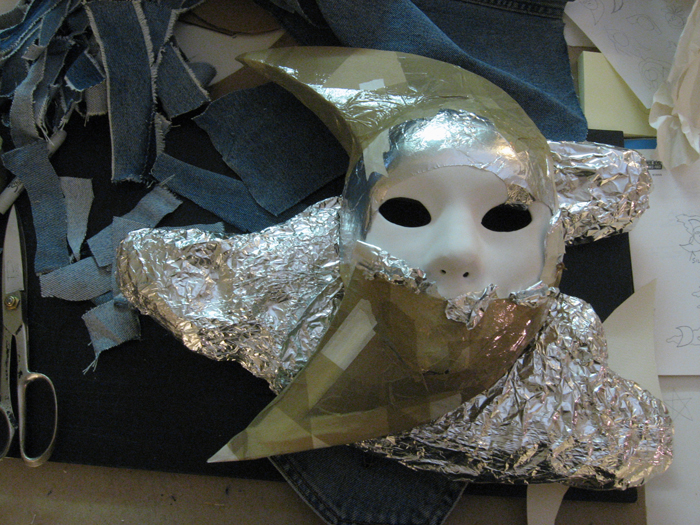 Using the denim like paper mache' I adhered the strips to my cloud forms. You can see that this workstation in my studio is getting a bit cluttered as this process continues…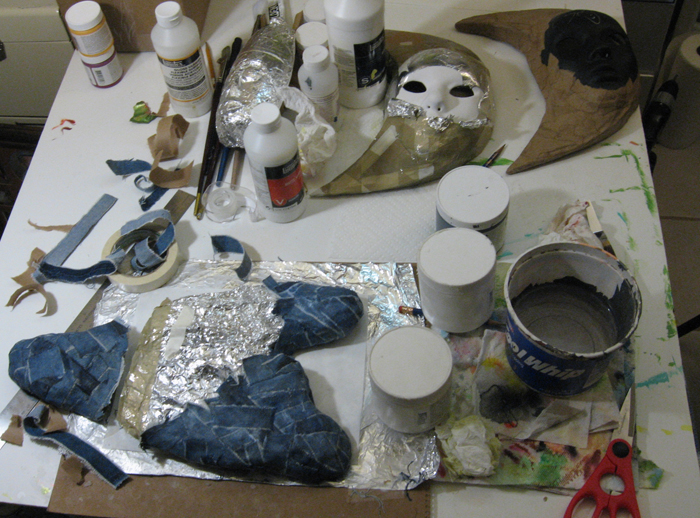 While the denim mache' was drying I painted the final mask entirely in black gesso, being careful of Mr. Leno's name. Before starting to put color directly onto the Lunar Leno, I did a few tests with other paper mache' masks I'd created in a recent flurry of experimentation (mentioned here). The mask on the right was my original intent of creating a 'chrome' look, but I found it unsatisfactory. The chrome look did not work with the organic nature of the paper mache' – chrome needs a totally slick, manufactured feel with no wrinkles, dips or crevices. So, I decided it was time to rethink this part of the plan and the mask on the left was brought into play. Thankfully the color experiments with that one gave me something I could work with.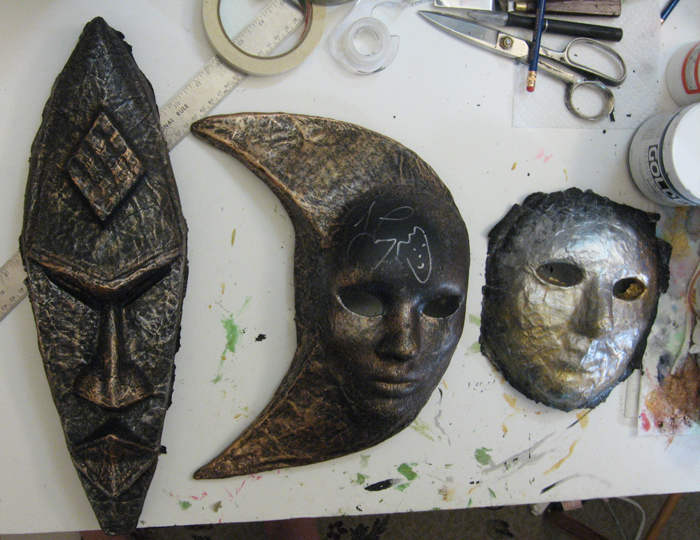 When I laid all the pieces together I realized that although I like the way the strips of denim looked, they seemed a little too 'busy' for what I wanted for this mask. They seemed to compete with it… (This photo actually looks better than it appeared in real life.)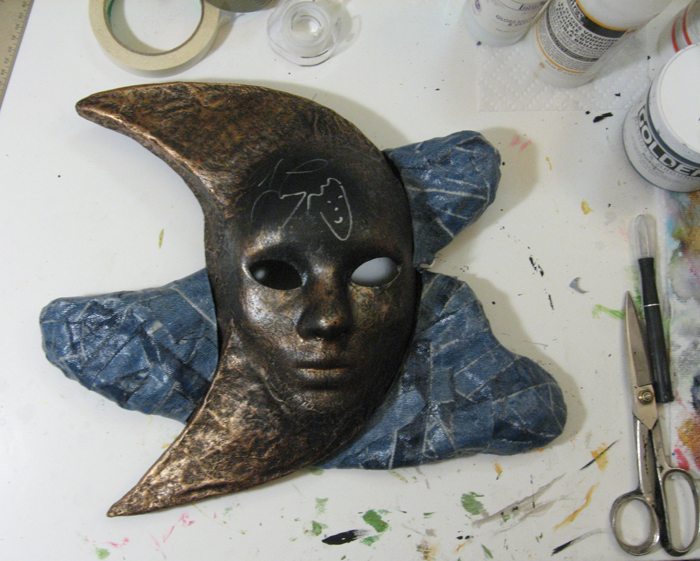 So, using those denim 'cloud' pieces as forms, I wrapped them in foil and proceeded to adhering full pieces of denim to each. Regrettably, my camera was out of action during this process since my wife and daughter had gone over to my oldest son's apartment to see the four newborn kittens. With the Dad of this family being such a bonehead the proof of these kittens was accidently deleted from the camera. Luckily, my daughter had taken photos with her cellphone (although they're not as good a quality as the ones from the camera), so Dad was able to escape the doghouse…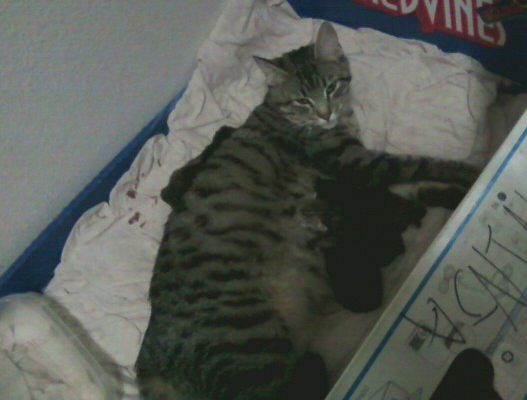 Whew! I was worried there for a minute…
OK, back to Lunar Leno. Attaching those 'cloud' pieces to the mask was one of the most labor-intensive feats of brain wracking activity I have had the pleasure of taking part in in a long time. But, attached, they are…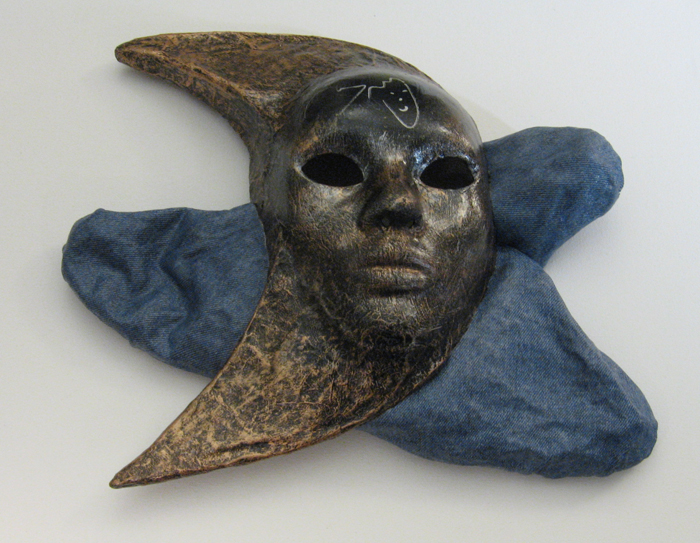 After getting everything put together I used a gloss acrylic varnish on the front, and used black gesso to clean up everything in the back. Once again (like in my previous mask), as I took photos of the back I noticed the inversion of the face. I don't know why the camera cannot see the concave nature of this and wants to make it convex, but it does… Cool, huh?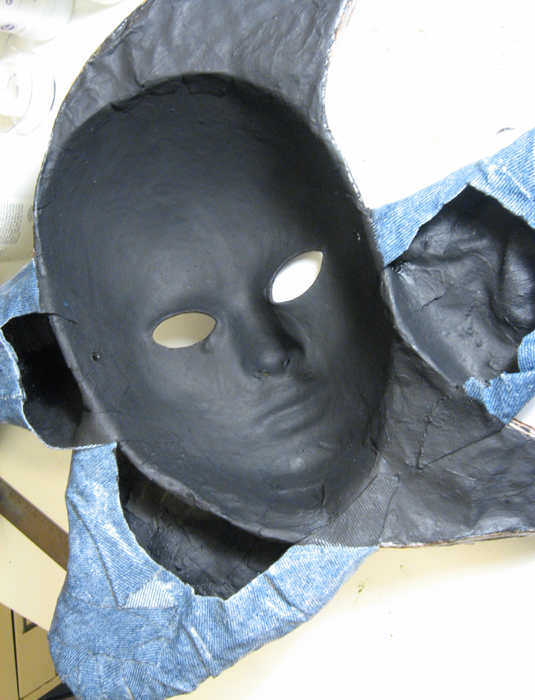 This took me about two weeks to complete, and was totally distracting – but in a good way. I am certainly looking forward to getting back to canvas for a while, though…
During the month of March my painting Health Care Reform was hanging in the juried show, "Art 2010" at the Nathan D. Rosen Museum Gallery in Boca Raton, Florida. In mid April it arrived back home in great shape. I dug around in the shipping box to see if any notes, letters, catalogs or flyers were included and was disappointed to find the box empty of anything except the artwork. "Oh well", I thought, "at least the painting's home and in great shape."
Imagine my delight yesterday when I got the mail and found an envelope with a check made out to me with "Award of Merit" in the memo line. Imagine my dismay that once again there was no letter or note regarding the show or the fact that I had won this award. Oh well… the check is in the bank and the honor is recorded on my website, so I'm quite happy, if just a touch befuddled. (Don't worry friends, the show was legit and the award is for real – I'm not being scammed here.)
I'd like to thank juror Jorge H. Santis for choosing my work for this exhibition, as well as for awarding me this honor. I'd also like to thank everyone at the Nathan D. Rosen Museum Gallery for taking such good care of my work and making sure I received such a nice surprise. It was like Christmas in May…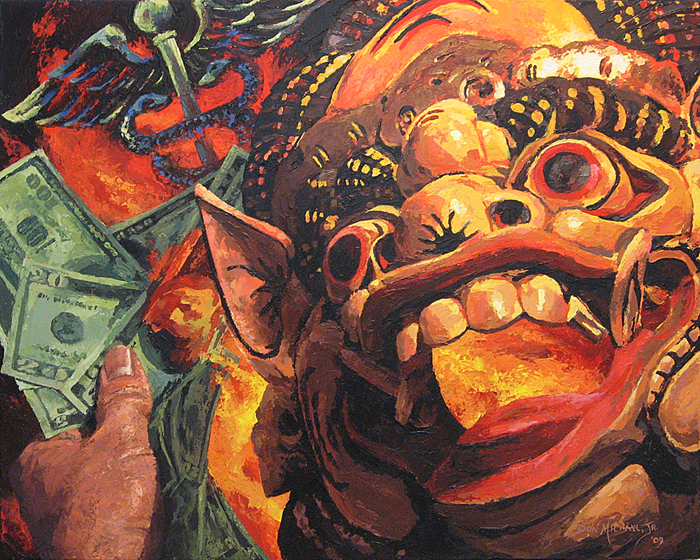 Health Care Reform – ©2009, Don Michael, Jr.
For the first time since late August I've been involved in some graphic design/animation/editing and it feels better than I thought it would. The last several months of my tenure as an Art Director in television did a job on my creative psyche (just check out my paintings Job Security, Glass Half Full and A Fine Mess to see what I mean) and I thought I was ready to put that all completely behind me. Now I know that it will never be completely out of my life. It flows through my bloodstream almost as strongly as the painting and other organic creative mediums do…
So, for the first time I have put a few of my graphic creations up on my website. You can check them out here. It was fun to revisit many of these projects as I prepared them for placing on the website.
Also, my good friend, CJ, and I have put together some montages of my Art Directing/Animating/Graphic Design work from my life in television. The first is a 'whiz-bang' reel of animations I created and implemented over the years. The second is a montage of promotional and commercial work I art directed, designed and animated for. (We are still working on a third piece which will feature the opens and animations I created for newscasts.) Regrettably, a lot of my work did not survive my rapid exit from television, including a few of my favorites. But, I think I still have a pretty good representation of what I did/do.
I would like to thank my friends, CJ, Peggy and Sandi for helping stir back into life the joy of working within the graphics world once again. (Careful ladies, I may be cussing you later… :-P)
With all this said, nothing is creatively more important to me than my painting. I anticipate this may always be the way of it. We'll see…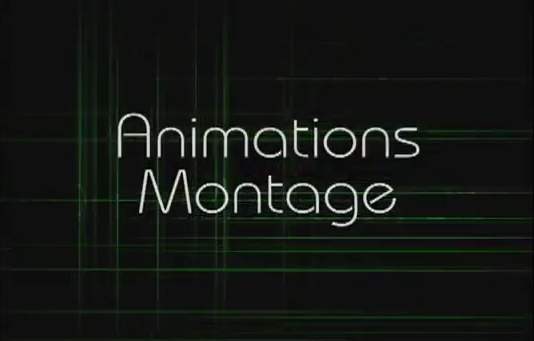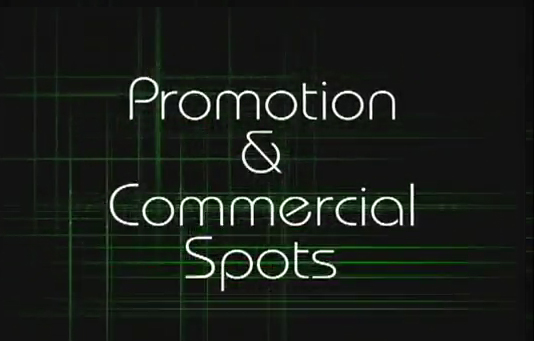 ©1996-2010, Don Michael, Jr.
My good friend, CJ Boisvert, of AlleyZoomProductions convinced me recently to get in front of a camera as I was creating Hidden in Plain Sight. This may not seem like much to many, but you have to understand that I worked in television for 15 years and did a pretty good job of avoiding the front end of a camera – and I liked it that way.
All the shooting, editing, and music composition was done by CJ. She is my Promo Goddess… and a true Renaissance Woman. All I had to do was show up at my easel and run my mouth. Here's what we came up with…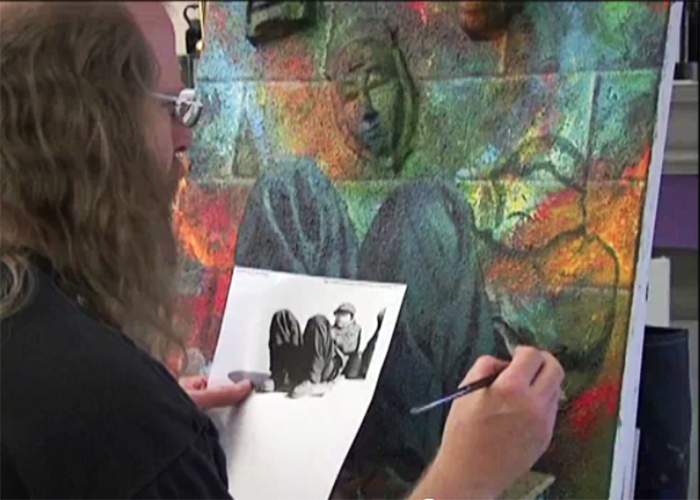 So, I have a plan in place. I've chosen the 'under-schmeered' canvas I'm going to use. I've chosen the mask I'm going to paint on it. I've even worked out my design in its entirety in Photoshop and printed out a copy to paint from. I start painting. I get the darkest areas blocked in. I get the brightest areas blocked in. And then I stopped. She was finished. But, she was nowhere near what I had planned. It didn't matter. She was finished.
She looks like she's discovered something. Or, maybe she just got discovered emerging from the chaos. Maybe I just discovered something new. Whatever may be, this is "Discovery".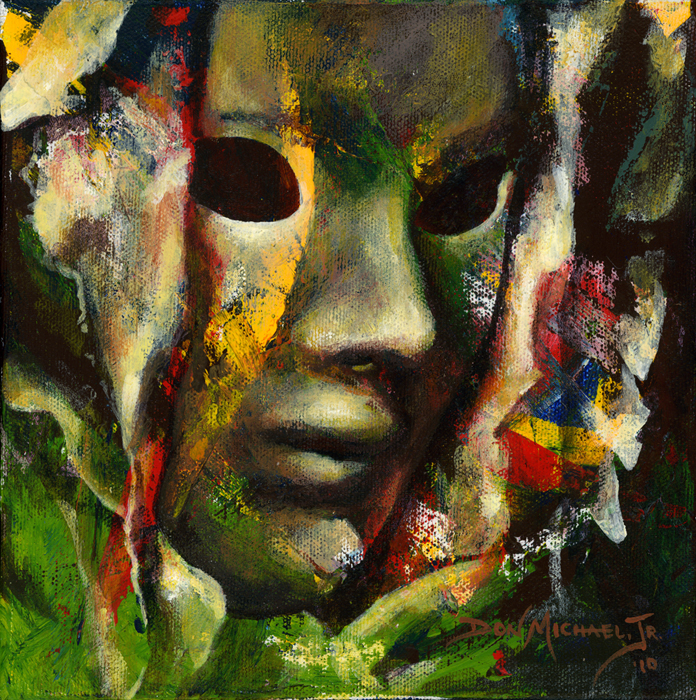 Discovery – 8″x8″ – Acrylic on canvas – Completed 5-22-10
©2010, Don Michael, Jr.
The 'under-schmeering' for this painting was created during the process of creating Hidden in Plain Sight. Below is the before/after.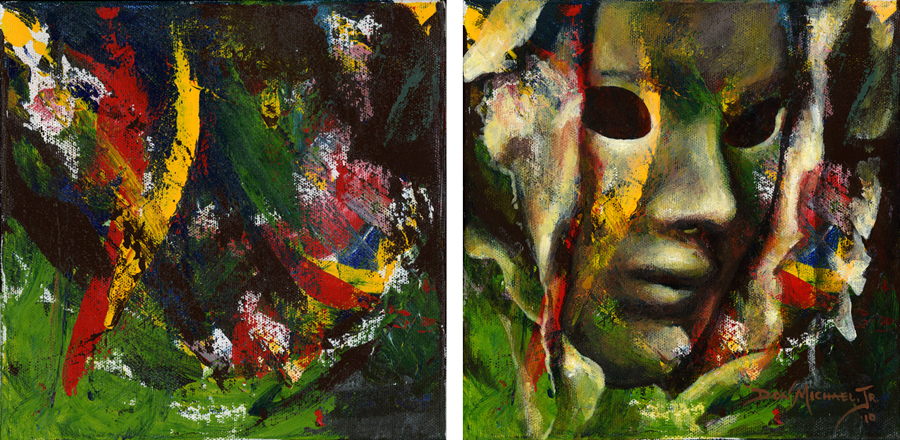 ©2010, Don Michael, Jr.
Now it's time to get back into the studio. Happy Creating!
This past October I had the wonderful opportunity to take part in a charity auction which featured masks autographed and decorated by celebrities and local Las Vegas artists. (I wrote about the event here.) I had the honor of painting the masks autographed by Matt Lauer, Meredith Vieira and Kathy Griffin which garnered over $300 for the charity.
The event, called "Un-Masking the Mind" is coming up again this Fall (October 23rd, to be exact) and I have once again volunteered to paint masks autographed by a couple of celebrities. Since I love being a big tease I will not reveal who the celebrities are until I've completed their respective masks. Meanwhile, though, I will share with you the mask I just completed and will be donating, autographed by yours truly. I wanted to do mine first as a trial run so I could hopefully garner some fun ideas for decorating the others.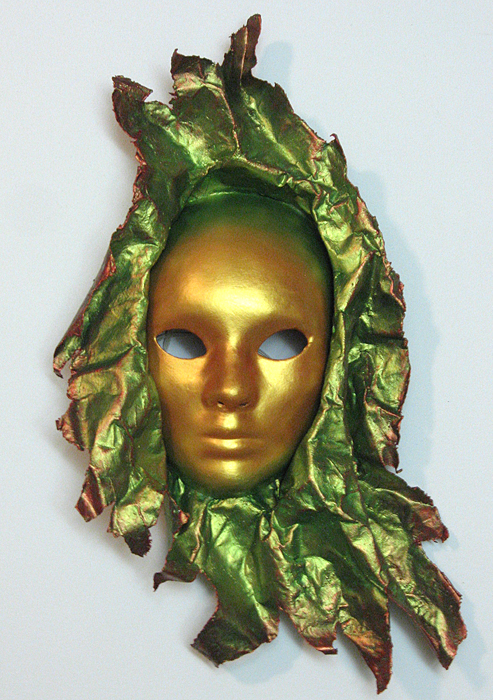 Persephone Returns – 19″x11″x4″ – Paper mache' and acrylic
©2010, Don Michael, Jr.
I came up with the idea of the flowing 'drapes' while I was experimenting last week with my 3D paper mache' masks. I wadded up some packing paper, formed it into a 'wreath' around a mask and used aluminum foil to create my shape. I then tore strips of brown shipping paper and proceeded to paper mache'ing. I didn't get any photos of the "mold", but here is a photo of the drapery drying with a foil-wrapped mask tucked in there for support.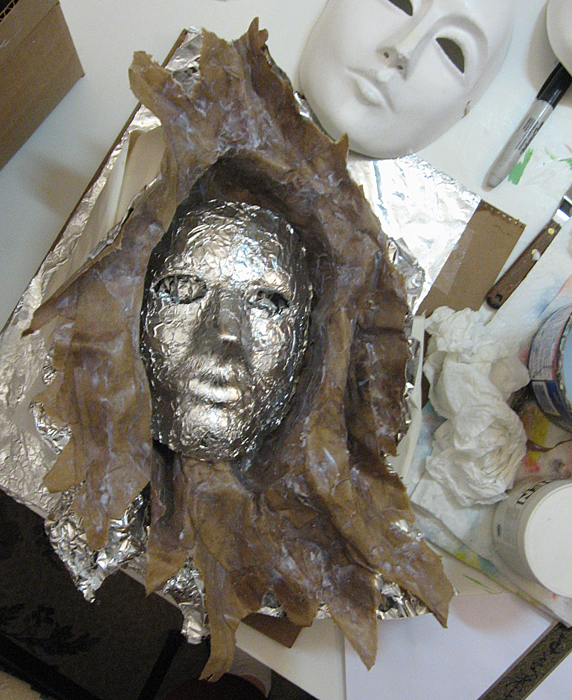 After the paper mache' dried I painted both it and the mask I was planning to use with white gesso. They are not connected yet, because I knew it would be a huge challenge to paint them the way I planned if they were already fused.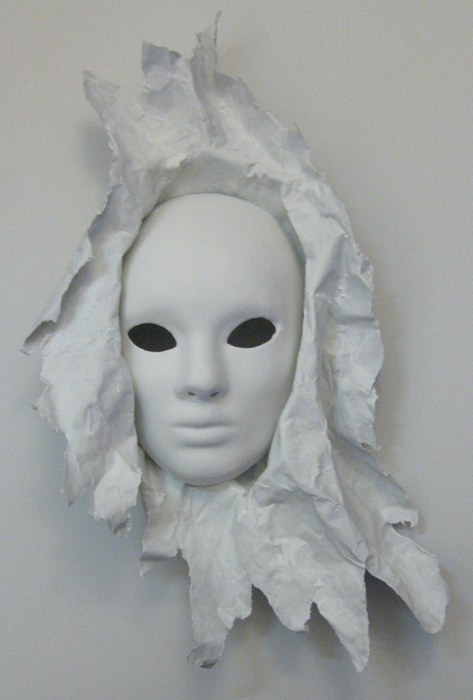 I then painted the drapery a green mixed from Phthalo Green(Yellow Shade), Iridescent Brilliant Gold(Fine), and touches of Quinacridone Magenta – all from Golden Acrylics.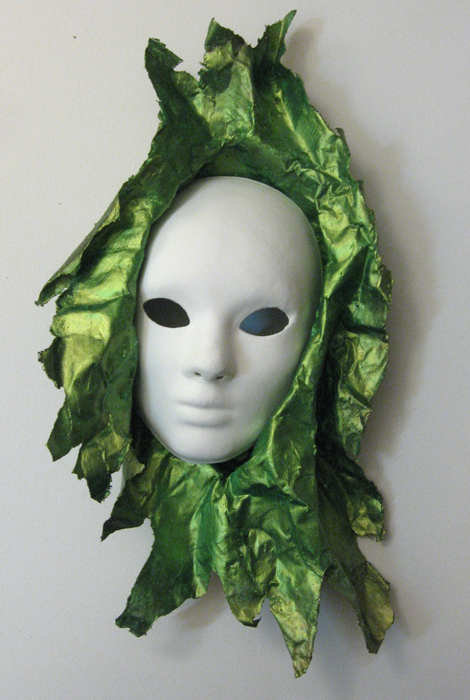 While the drapery was drying I painted the mask using the same colors, differently…
After the drapery dried, I lightly brushed the gold over it to brighten the greens and give it a little more iridescence.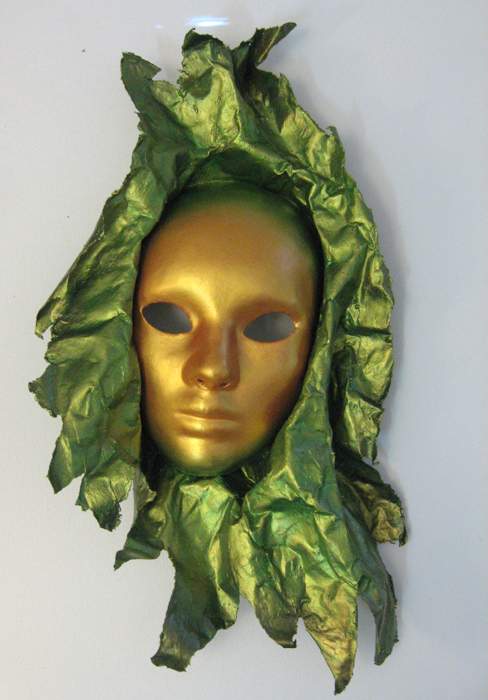 After these both dried I turned them over and started fusing them. That ended up being a two day process because I had to do it in increments. After the final touches of acrylic medium had dried I decided that as much as I liked the green-to-gold blend I had created, it was still a touch boring to me. I decided I needed to add some red tips and accents to the drapery, so I mixed the gold and magenta together to create a nice rich burgundy and started wisping it on with a mega-soft brush.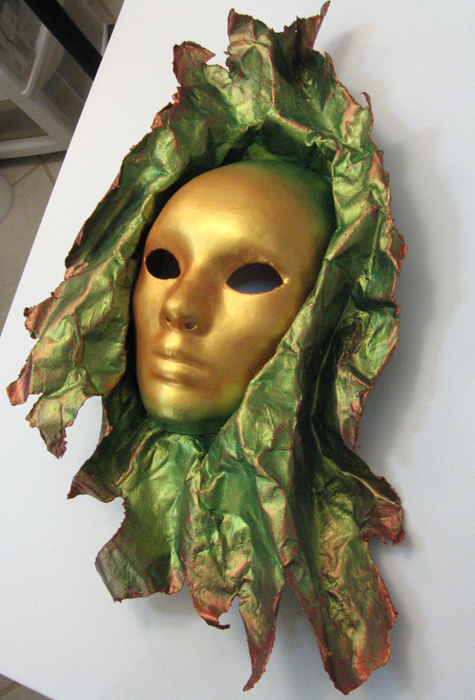 I had so much of the red mixture left over that I decided to paint the back-side of the mask. When I started photographing the back I noticed a cool phenomenon – the face looked inverted…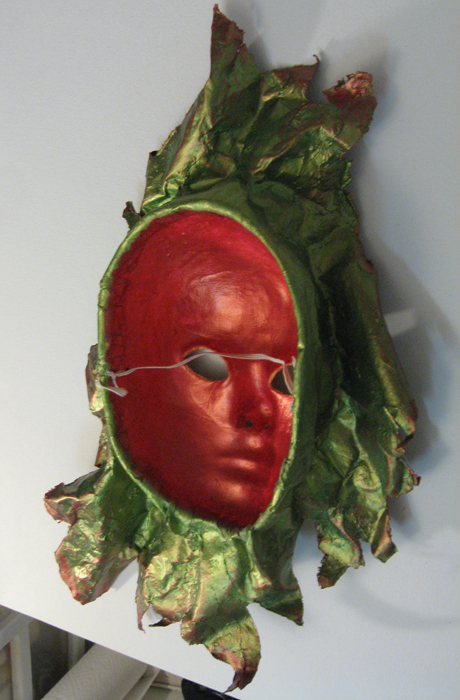 …no matter which direction I turned it.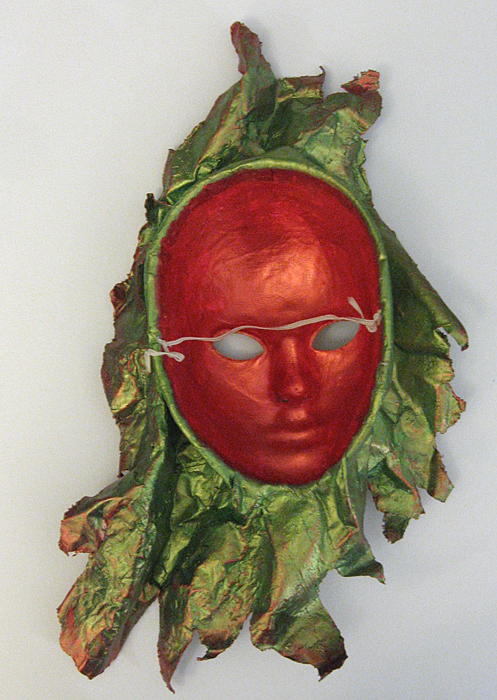 In an attempt to show the depth in the back of the mask I stuck my hand down in it. I don't know that it totally disrupted the illusion at all, so you'll just have to take my word that this is the back/inside of the mask.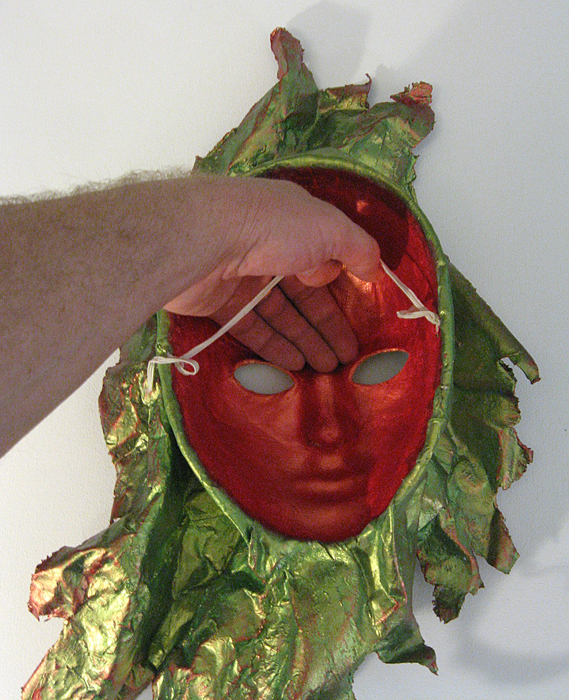 If you'd like to know more about this event feel free to check out their Facebook Fan Page. As the event gets closer we will have an online element for people to be able to bid on the masks before the event. As soon as that goes live, I'll let you know.
Happy Creating!
All last week I was experimenting with new and innovative ways to implement paper mache' masks into my 3D series of paintings. (I wrote about some of my adventures here). While the paper mache' was drying I would take the opportunity to work on another of my Over the Under-Schmeerings pieces. It's fun and fulfilling to have work going on at several different workstations in my studio at the same time.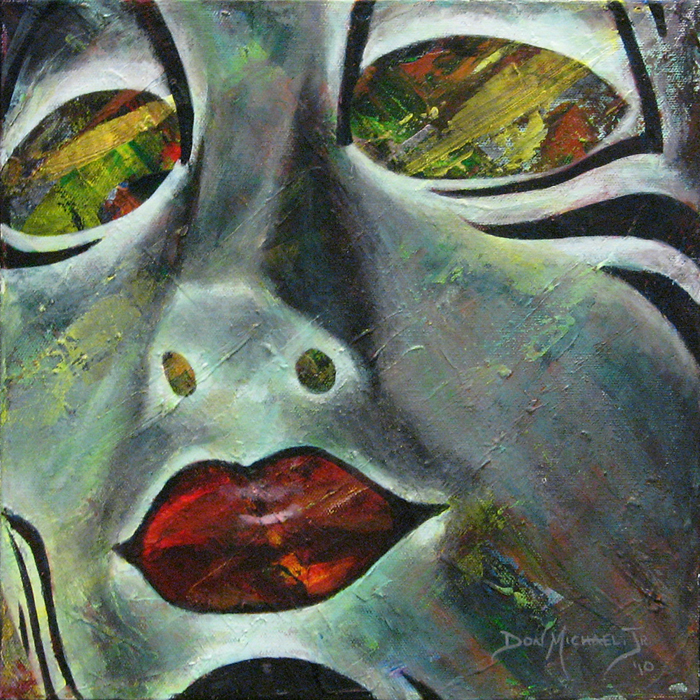 In a Song – 12″x12″ – Acrylic on canvas – Completed 5-14-10
©2010, Don Michael, Jr.
Have you ever noticed how a song can 'take you back' to a place, time or circumstance in your life? My son, Eric, felt like this painting epitomized that thought, so I honored his observation by titling it accordingly.
The "under-schmeering" for this one was created during the painting process of Lip Service. As you can see below, I ended up covering up a lot of the schmeerings. The colors had ended up clashing a bit which led to this need.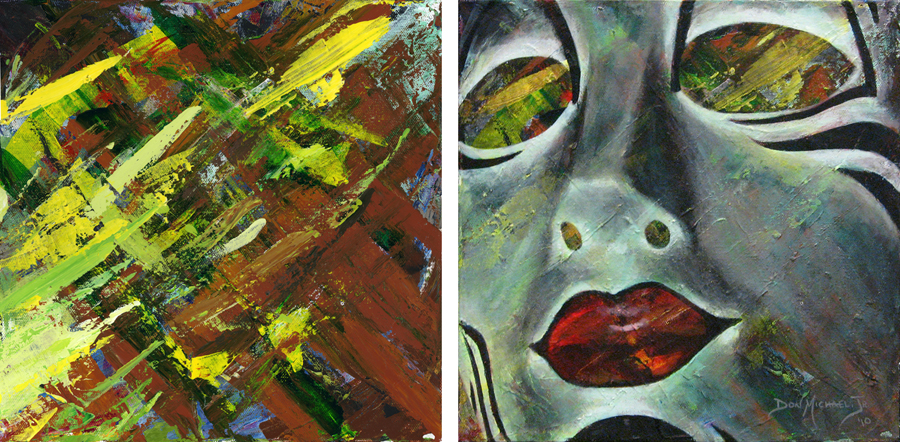 ©2010, Don Michael, Jr.
I think my favorite part of this painting is the lips. I love how the red almost looks ruby-esque with the under-schmeerings showing through just enough to give it a wonderful translucent feel. This is exactly what I'm shooting for, but haven't quite captured on an entire canvas… YET…
May 17, 1985 fell on a Friday night. On that Friday night, 25 years ago this weekend, my best friend and I became partners for life. It was the best thing that had ever happened to me and is only equalled by the births of the three children we share together. My life did not really start until that wonderful evening. I thank God for putting Laura into my life.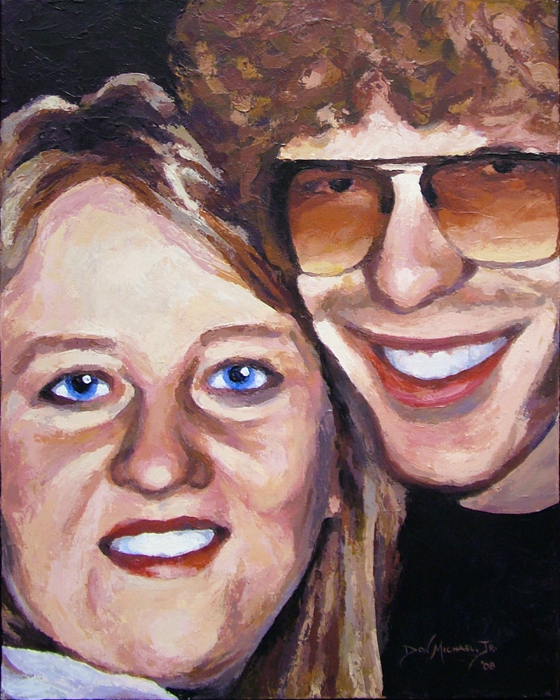 You're My Best Friend – 20×16 – Acrylic on canvas – ©2008, Don Michael, Jr.
This painting was a Christmas gift to Laura in 2008. I originally wrote about its creation here.
I hope everyone has a great weekend. I know I will…
After finishing my latest painting, Lip Service, I realized that I had no brilliant ideas lined up for starting anything new. This doesn't mean there are no pieces in the works; but, it means that none of them are 'speaking' to me right now. In the distant past, I would have used this as an excuse to mope around and feel sorry for myself while getting nothing done. In the more recent past I would have started another painting whether I had any real plans for it or not and used it as an opportunity to experiment with paint or its application. This time I decided I was going to use this as an opportunity to experiment further with creating my paper mache' masks hoping that ideas will start percolating as I do so.
First, I got out two of the blank Mardi-Gras paper mache' masks that you can buy fairly cheaply online and wrapped them with aluminum foil. (I use  cheap foil since it conforms to the shapes a lot  easier than the heavy duty stuff.) I then got two of my masks down from the walls in our home and wrapped them as well. You can see what they look like in all their reflective glory below. (The mask on the far left was sent to me by my brother, Duane, when he was a sailor on shore leave in Guam. The one on the far right is a joker/jolly Venetian mask that I added to my collection late last year from an online site.) Using Golden's Regular Gel (Matte finish) acrylic medium and torn strips of cotton paper I spent the next few hours mache'ing away.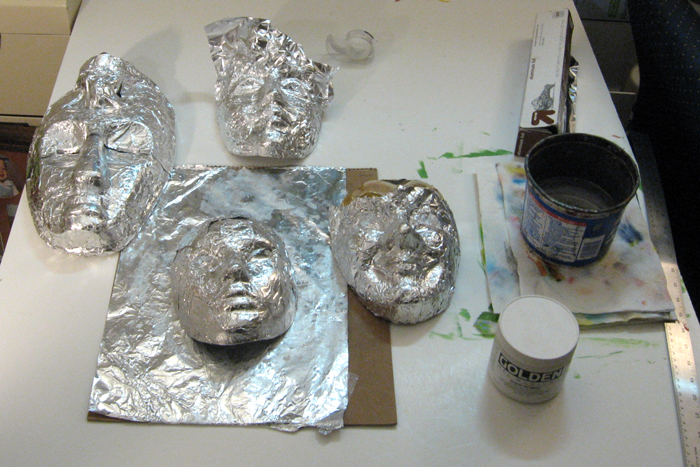 After paper mache'ing all four of them into the wee hours of the morning I went to bed with a sense of having accomplished something and anticipating what fun ideas could come from this exercise. When I got up later in the morning and saw what I'd done I got excited and grabbed down a couple more of my masks to continue this process. You can see below that I've wrapped my mask from the Cirque show "Ka" and am preparing to wrap my "O" Cirque mask. You can also see that I've peeled the foil from three of the finished pieces and still await the final drying of the one in the upper right corner so I can peel it as well.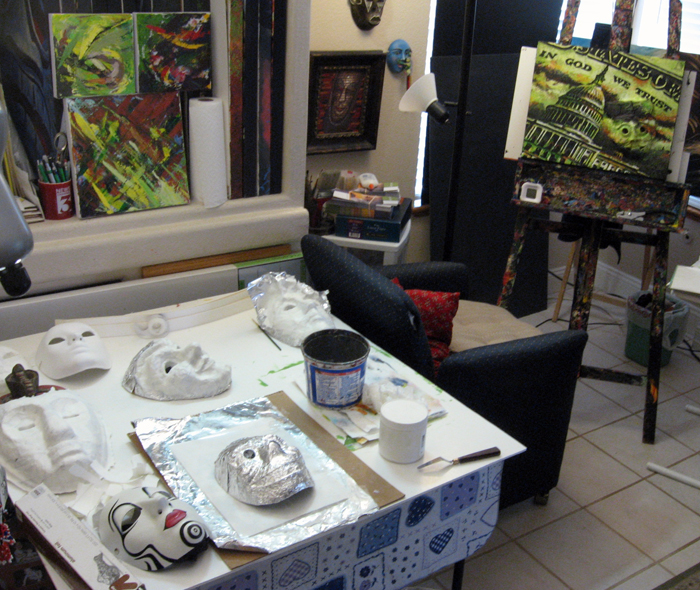 As I was preparing to paper mache' these masks I suddenly had a wild idea and re-foiled two of the masks I'd paper mache'd the night before. I allowed the foil to hang off the masks and really liked the 'draped' look this created – especially on the one in the upper left. While I was wrapping them I also got down my Chinese holiday mask (sent to me by Duane while on shore leave in Japan) and included it in this foiling frenzy. It is the one sitting front and center below.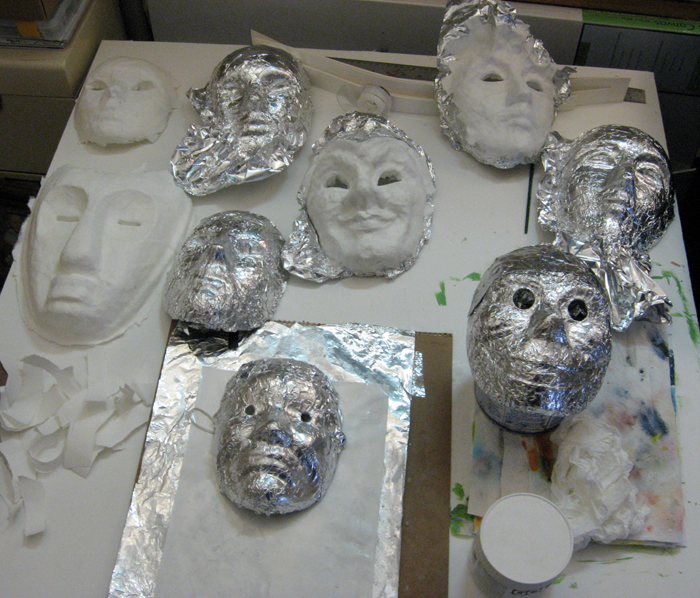 After another few hours of paper mache'ing I finished two more – including the 'draped' one that I was so excited about. Below you can see how they've all turned out, so far. I've still got a few to paper mache', but I've definitely made some progress. I consider this 24 hours well spent.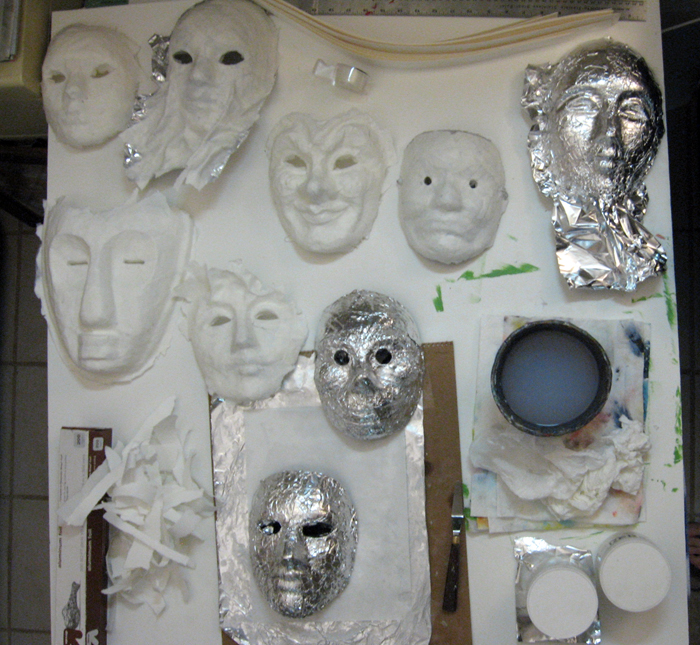 My army of lightness is ready for duty and awaiting orders. Hmmm… I've got some ideas starting to swirl around in that empty space between my ears – now if they'd only gel.
Stay tuned…
Wow! Was this one busy week! With plane trips, airports, sick kids, art shows and everything else life threw at me it was a challenge to squeeze in time to create. But, create I did, albeit much slower than usual.
You may recall that I posted a tease late last week about the progress of my latest 3d painting. Well, I've finally finished. Since the irony is pretty obvious on this one I will let it speak for itself. The one thing I'll add is that the working title was "Mammon", but I didn't feel it quite got across the message I was trying to convey – although it did fit within the context of the image. I don't think I have ever gotten as excited about a title for one of my works as I did when the words "Lip Service" popped into my mind as I was finishing the painting.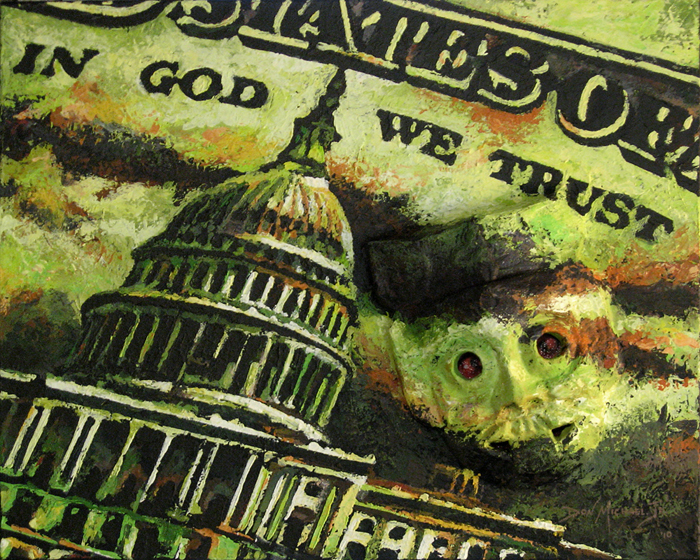 Lip Service – 16″x20″ – Acrylic and paper mache' on canvas – Completed 5-8-10
©2010, Don Michael, Jr.
In my post last week I had finished the eyes and was preparing to paper mache' the mask to the canvas. After doing so, I used hard molding paste to texture the entire piece and hide the seams created by the paper strips.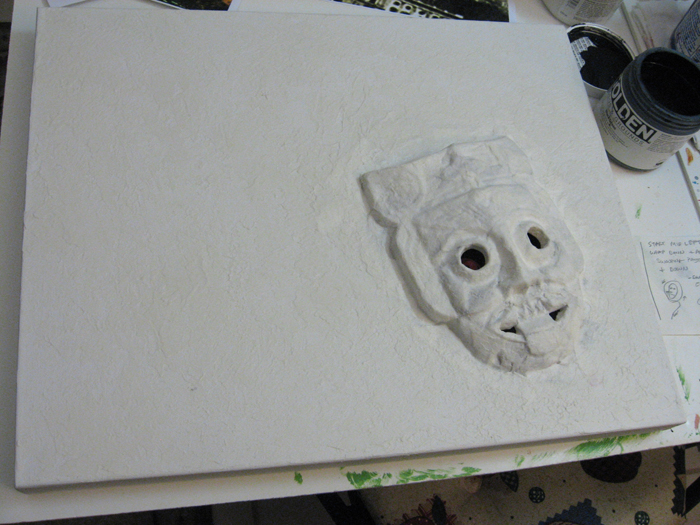 I then used black gesso to coat the canvas and mask…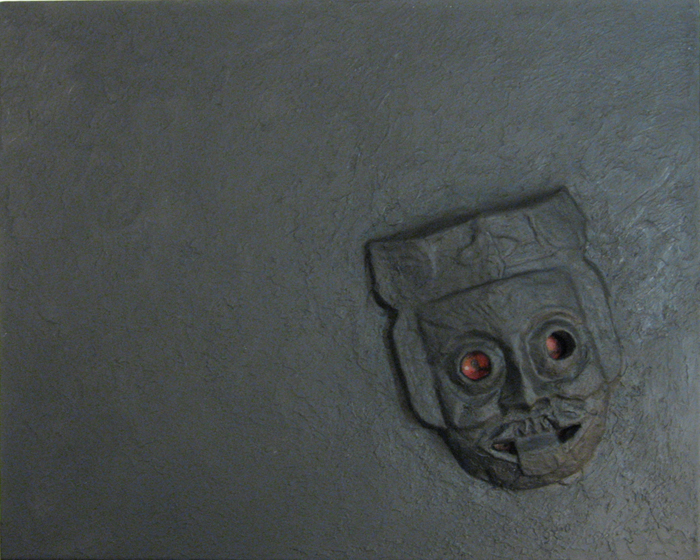 The intricacy of this design required I sketch everything in fairly precisely – so I did… Here is the tracing paper with gray conte' scribbled on the back waiting for me to transfer image.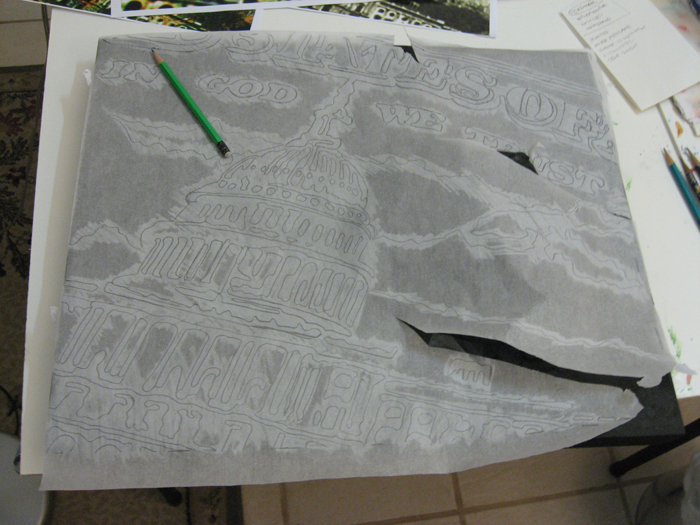 And, here it is traced in and waiting for me to grab up my trusty palette knife and start schmeering some paint…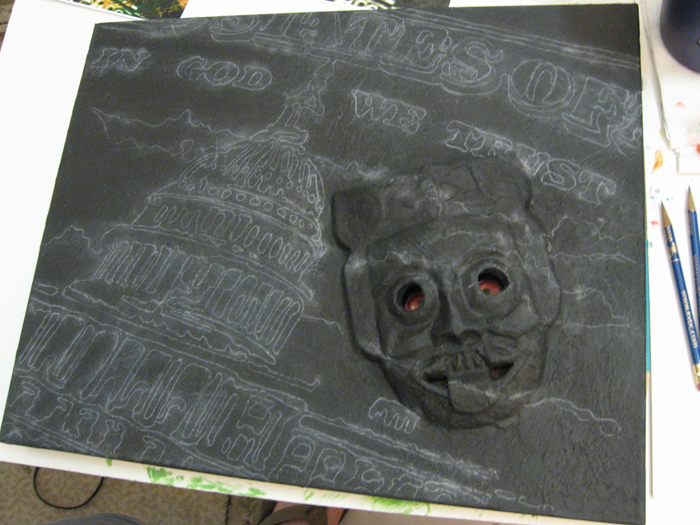 The first painting session involved getting those letters all blocked in… It was getting pretty late when I finished this session, so I just quickly shot my working area.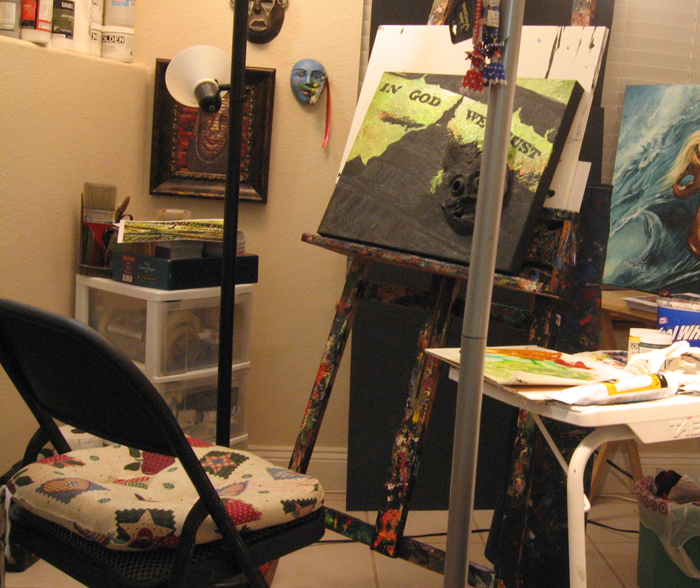 As I was turning to put my camera up, I noticed that our ferocious watchdog, Lucy, was on full alert – giving me a sense of security that I wish everyone could enjoy in their home late at night…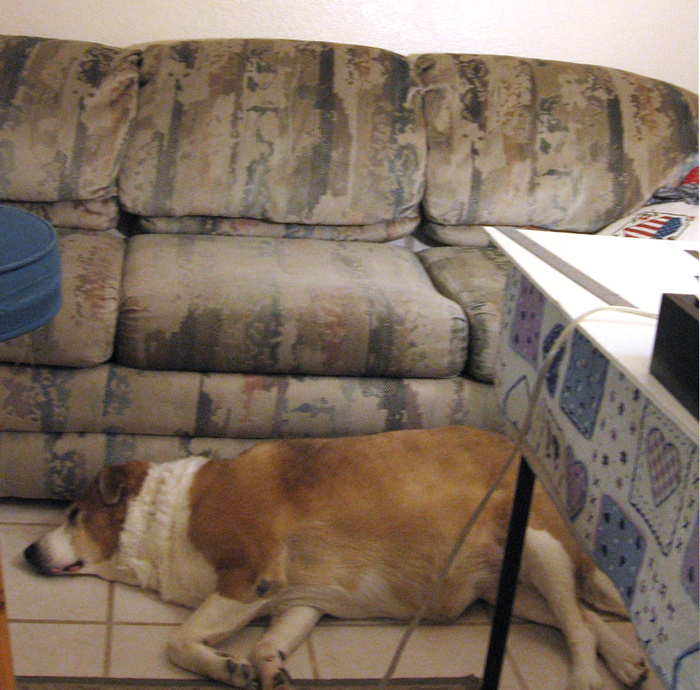 After Lucy and I got a bit of shuteye, it was back at it… In this photo you can see I'm well on my way towards getting paint over the entire canvas. You can also see the two Under-Schmeering canvases that were being created at the same time.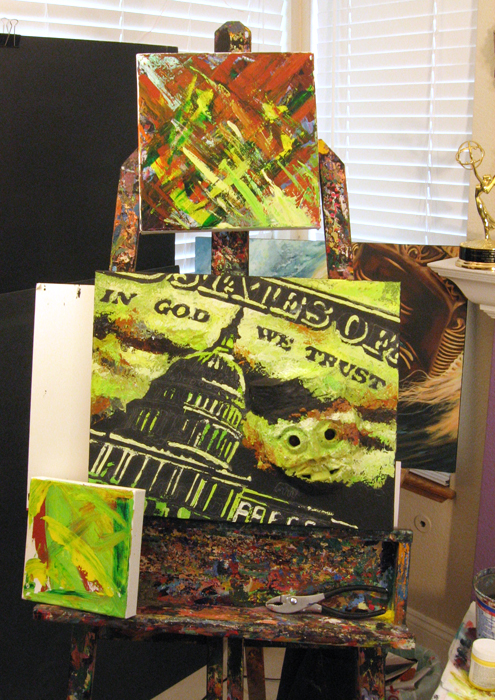 At long last, I am almost finished… In the following shot you can see a couple other projects that are now in the works.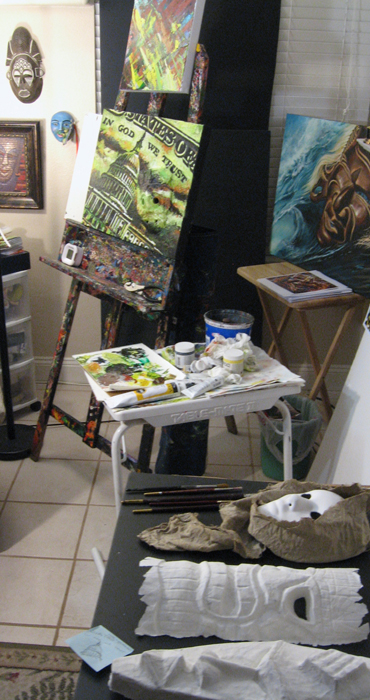 As I was shooting the above photo, I realized that the little Post-It note you see in the extreme foreground was my original quick sketch made late one night which led to Lip Service. It will now be stored away with my other little scraps of paper for me to 'discover' again some year down the road…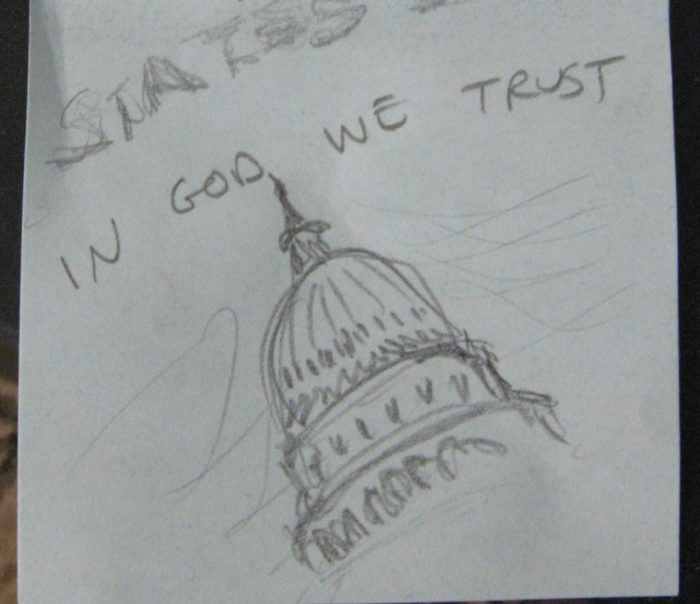 One final note: For my international blog friends who may not be familiar with the different denominations of U.S. currency, the image used in Lip Service comes from the back of the $50 bill.
I now bid everyone a good night and Happy Creating!
Next Page >>