Funny Money
May 9th, 2010
Wow! Was this one busy week! With plane trips, airports, sick kids, art shows and everything else life threw at me it was a challenge to squeeze in time to create. But, create I did, albeit much slower than usual.
You may recall that I posted a tease late last week about the progress of my latest 3d painting. Well, I've finally finished.Β Since the irony is pretty obvious on this one I will let it speak for itself. The one thing I'll add is that the working title was "Mammon", but I didn't feel it quite got across the message I was trying to convey – although it did fit within the context of the image. I don't think I have ever gotten as excited about a title for one of my works as I did when the words "Lip Service" popped into my mind as I was finishing the painting.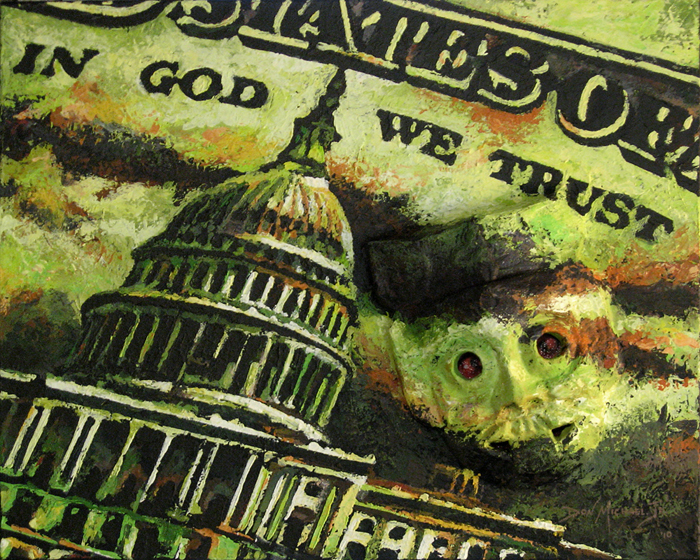 Lip Service – 16″x20″ – Acrylic and paper mache' on canvas – Completed 5-8-10
Β©2010, Don Michael, Jr.
In my post last week I had finished the eyes and was preparing to paper mache' the mask to the canvas. After doing so, I used hard molding paste to texture the entire piece and hide the seams created by the paper strips.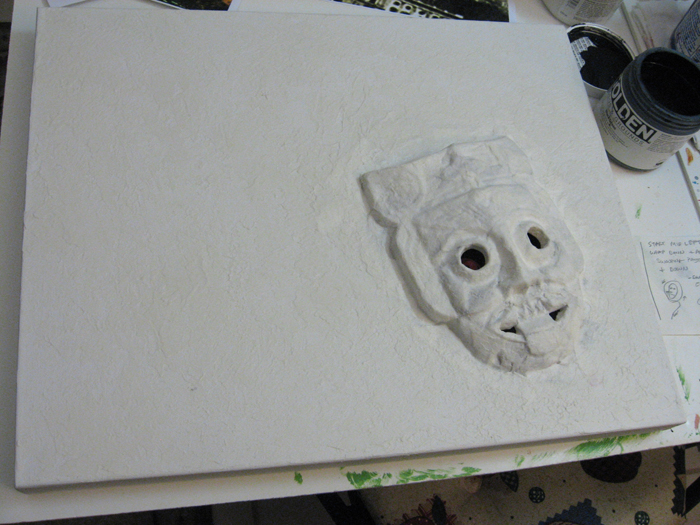 I then used black gesso to coat the canvas and mask…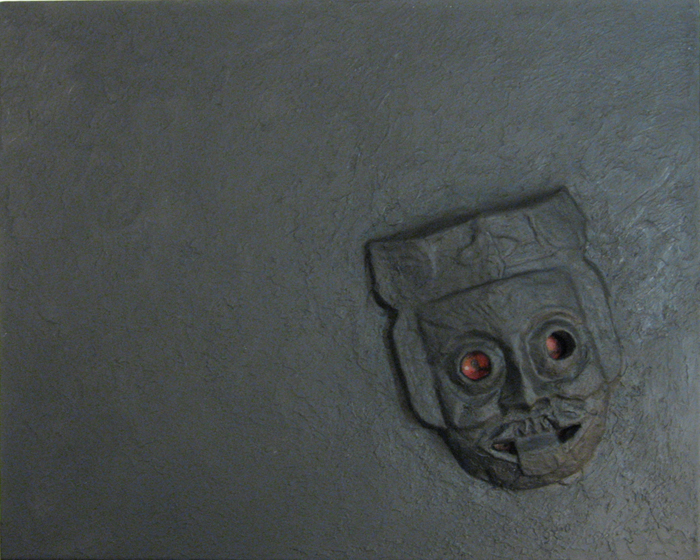 The intricacy of this design required I sketch everything in fairly precisely – so I did… Here is the tracing paper with gray conte' scribbled on the back waiting for me to transfer image.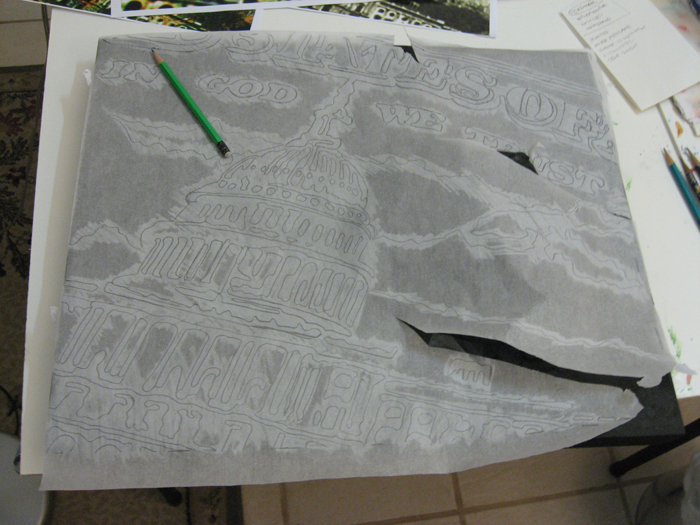 And, here it is traced in and waiting for me to grab up my trusty palette knife and start schmeering some paint…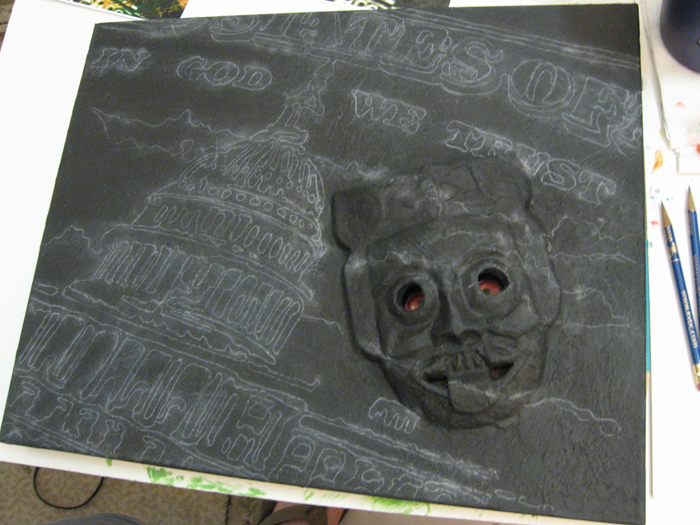 The first painting session involved getting those letters all blocked in… It was getting pretty late when I finished this session, so I just quickly shot my working area.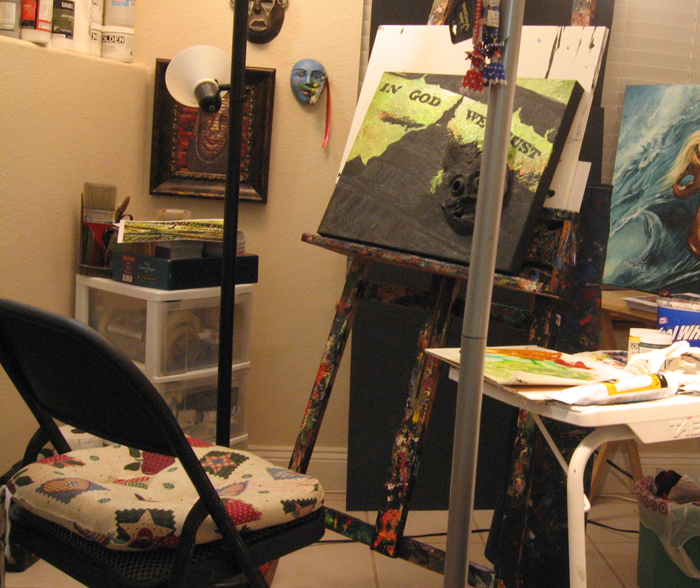 As I was turning to put my camera up, I noticed that our ferocious watchdog, Lucy, was on full alert – giving me a sense of security that I wish everyone could enjoy in their home late at night…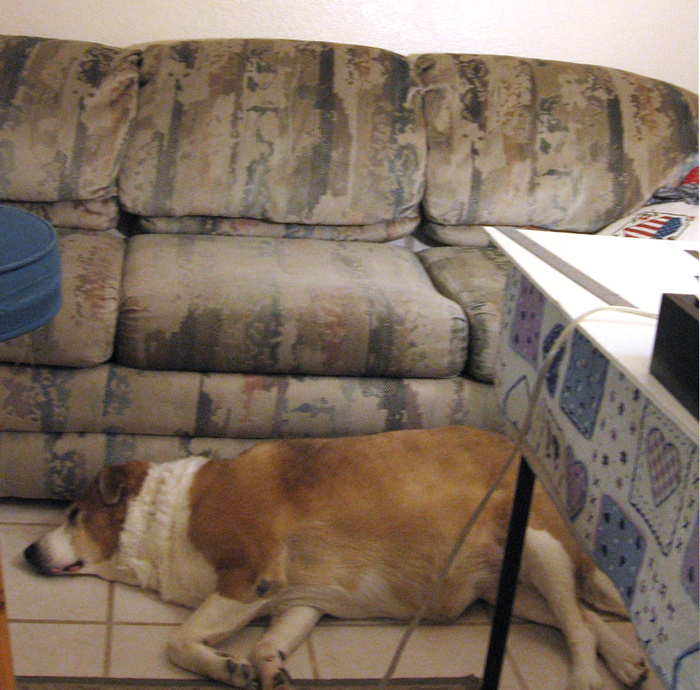 After Lucy and I got a bit of shuteye, it was back at it… In this photo you can see I'm well on my way towards getting paint over the entire canvas. You can also see the two Under-Schmeering canvases that were being created at the same time.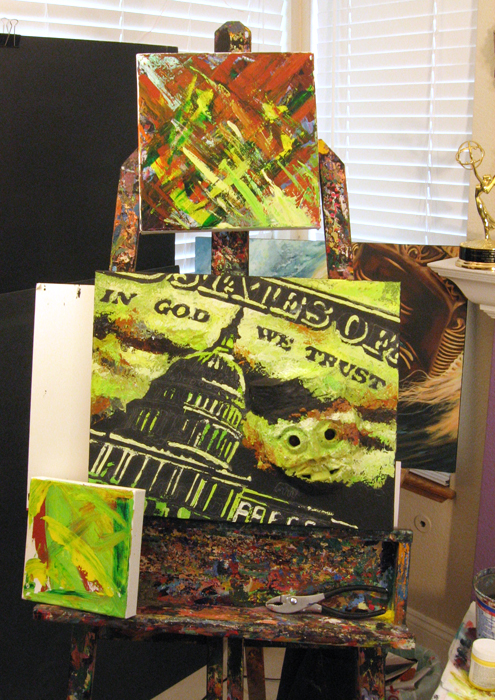 At long last, I am almost finished… In the following shot you can see a couple other projects that are now in the works.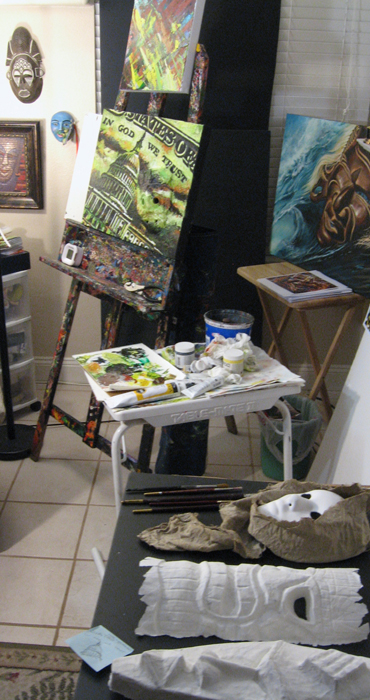 As I was shooting the above photo, I realized that the little Post-It note you see in the extreme foreground was my original quick sketch made late one night which led to Lip Service. It will now be stored away with my other little scraps of paper for me to 'discover' again some year down the road…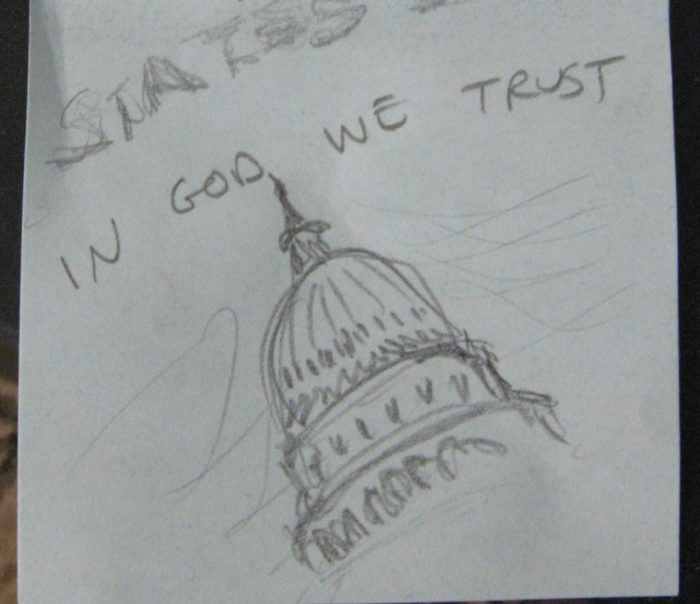 One final note: For my international blog friends who may not be familiar with the different denominations of U.S. currency, the image used in Lip Service comes from the back of the $50 bill.
I now bid everyone a good night and Happy Creating!
14 Comments for 'Funny Money'
Celeste Said:

that has to be one of your most unusual paintings. I assume that it is social commentary about our money no longer being "trustworthy"?
bTW I love lucy!

Kathy Said:

Gee, what's it like to own a real $50 bill!! (wink) Now, about your wonderful painting – another masterpiece! All the elements work well together, and I know how difficult it is to paint the Capitol building (I painted it last year) so you did a great job. Looks like this skill will come in handing when you start counterfeiting (oops! did I spill the beans???) The palette you selected for this peice coupled with the diagonal orientation of the composition really supports your message. The mask, with its mocking expression, blends nicely but is just obvious enough to work well. It adds and doesn't distract. Lucy looks like a loveable pet …. and, what's that beautiful gold statue I see off to the side?!

PAMO Said:

First off- Lucy is a TOTAL doll!!!! I smiled and laughed- just love her! And I really enjoyed seeing how you work and your workspace. Secondly- your painting is wonderful! I've always wondered why our money has "In God we trust" on it- I've never understood the relationship. Not in our lifetime- but maybe some day- money will no longer exist.

Suzanne Berry Said:

I love your commentary on our present state of affairs. Brilliant and incredibly clever and well done. I also love that you share your process with each one, it really helps to see the progress of these works and the thinking that goes into them. This one hits the nail on the head! Perfect! And Lucy!!! She is also quite perfect as well. Happy Mom's Day to the wife!

Technobabe Said:

Lip Service is a great title. Your work area so organized and clean. You must clean it up to take the photos?

Dan Kent Said:

This very successfully sums up the last year in politics. Next painting should be of a grain of salt (which is how we must take everything with..). Love seeing the glimpses into your process – beautifully drawn and painted! And, as for Lucy, let's just say I trust Lucy more for protection than I do Uncle Sam with everything else at the moment.

RuTh Said:

Wow! This is really interesting, and a great and inventive idea! I love that you are incorporating the masks in your work. I once tried the same, but it ended up as an unfinished project.. Maybe it is time to clean the dust off it, and have another go..?! Seeing your work sure was inspiring! Best wishes, Ruth:)

hallie Said:

A great painting, Don, and perfectly titled. The lettering was done with a palette knife?

(The dollar was up last week but I don't know about the $50.
Ha!)

Stan Kurth Said:

"Valuable" painting! I do like the title but I think "Mammon" would have worked too. You used the perfect mask for the painting. Not sure why but this Painting made me thing of an old tune by 10cc, "Art for Art's sake"

Gimme your body
Gimme your mind
Open your heart
Pull down the blind
Gimme your love gimme it all
Gimme in the kitchen gimme in the hall
Art for arts sake
Money for Gods sake
Art for Arts sake
Money for Gods sake
Gimme the readys
Gimme the cash
Gimme a bullet
Gimme a smash
Gimme a silver gimme a gold
Make it a million for when I get old
Art for arts sake
Money for Gods sake
Art for Arts sake
Money for Gods sake
Money talks so listen to it
Money talks to me
Anyone can understand it
Money can't be beat Oh no
When you get down, down to the root
Don't give a damn don't give a hoot
Still gotta keep makin the loot
Chauffeur driven
Gotta make her quick as you can
Give her lovin' make you a man
Get her in the palm of your hand
Bread from Heaven
Gimme a country
Where I can be free
Don't need the unions
Strangling me
Keep me in exile the rest of my days
Burn me in hell but as long as it pays
Art for arts sake
Money for Gods sake
Art for arts sake
Money for Gods sake
Art for arts sake
Money for Gods sake
Art for arts sake
Money for Gods sake)

Don Michael, Jr. Said:

Celeste… Thank you for the comment. I like 'unusual' – it fits me. πŸ™' I like your interpretation of the piece. I bet if you ever met her, Lucy would love you too…

Kathy… I had to look up what a $50 looked like online – who can afford to own one anymore? πŸ˜‰ Thank you for your wonderful observations about this painting. You're right, it was a bit difficult to paint the Capitol building, but the challenge is what makes it all fun… As for printing my own $50's, I can't afford to do the time, so I ain't gonna do the crime. Lucy is definitely beloved around this household, even begrudgingly by the curmudgeonly patriarch of the household… (FYI, that golden statue is one of the most useful paperweights I have in my studio.)

Pam… Lucy sends her love backatcha… Thanks for the great comment. I'm with you, I don't understand the relationship between those words and what they're printed on. Let's just say that I believe in one, but not the other… Hence the irony. I bet when paper money no longer exists there will be fewer colds and viruses spread around – just sayin'…

Suz… Thank you! I'm glad you and the others get so much out of viewing my progress. It's fun to share and I'm finding it rewarding to revisit as I write about it. I don't know how perfect Lucy is, but she enjoyed the compliment. Also, Laura says thanks for the good wishes… I think she had a good one.

Technobabe… Thanks! I actually keep my work area fairly clean and organized all the time. It makes it easier for me to jump right into the next project and also makes it easier to find everything. I have no patience when it comes to looking for something I need RIGHT NOW… πŸ™'

Dan… I'm glad you can relate so strongly to the message conveyed through this piece. Thank you for the great comments. I'm with you on the trust issue, even though I know how 'ferocious' Lucy really is…

Ruth… Welcome to my blog. Thank you! I'm glad you enjoyed my work. I do hope you finish the unfinished project. It would be great to see what you create.

Hallie… Thank you! Yes, everything was done with a palette knife on this one. I felt that the raw nature of how the paint is applied with the palette knife better conveyed the 'feeling' I was going for with the piece. (I laughed at your silly joke. Thanks for that.)

Stan… Thank you! I find your words inspiring. I don't know of many bands who had more irony inserted into their lyrics than 10cc did. Thanks for this reminder of a song I haven't heard in over a decade. I can see why it came to mind – it fits…

-Don

Don's Blog » Recruiting Expedition Said:

[…] finishing my latest painting, Lip Service, I realized that I had no brilliant ideas lined up for starting anything new. This doesn't […]

Don's Blog » Musical Chairs Said:

[…] "under-schmeering" for this one was created during the painting process of Lip Service. As you can see below, I ended up covering up a lot of my schmeerings. The colors ended up clashing […]

Douglas Said:

Hey Don… how'd I miss this? Wonderful concept and of course the painting rocks! I love seeing your progress photos and your space "where the magic happens" πŸ™'

Don Michael, Jr. Said:

Hey Douglas! Thanks! It's a lot of fun hanging out in my 'magic' room. Swing on by sometime. There's a cold beer waiting with your name on it… πŸ™'

-Don