The Mask Has Been Removed
May 23rd, 2010
My good friend, CJ Boisvert, of AlleyZoomProductions convinced me recently to get in front of a camera as I was creating Hidden in Plain Sight. This may not seem like much to many, but you have to understand that I worked in television for 15 years and did a pretty good job of avoiding the front end of a camera – and I liked it that way.
All the shooting, editing, and music composition was done by CJ. She is my Promo Goddess… and a true Renaissance Woman. All I had to do was show up at my easel and run my mouth. Here's what we came up with…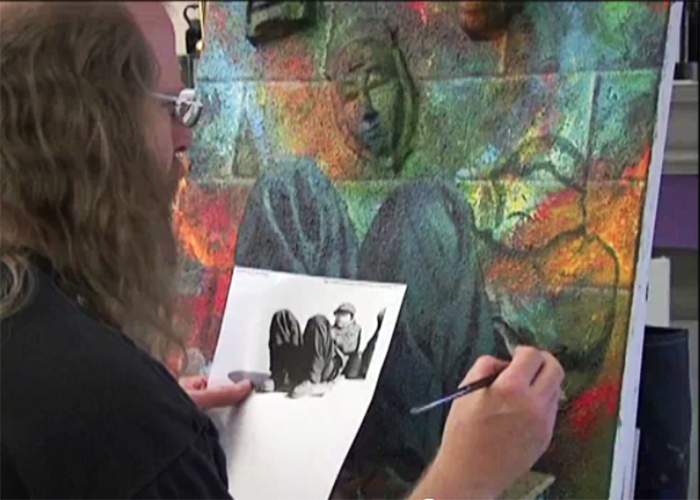 17 Comments for 'The Mask Has Been Removed'
kathy Said:

Gee – you sure do paint fast!! Kidding aside, the video is great. Seeing how you work fills in some of the gaps in my understanding. Your decision-making process is logical and yet you also use your intuition. Keep making these videos! P.S. – thanks for showing some other interesting art in the background 😉

PAMO Said:

OMG!!! Don- you are GREAT in front of the camera!! Watching your painting EVOLVE was FANTASTIC!!! The 10 minutes felt like 2 minutes- I was engrossed in your process. Such a meaningful painting- and seeing the artist at work- was just priceless. WOW, WOW, WOW!!!!!!!!!!!!!!!!!!

Stan Kurth Said:

Wow, that was really cool video and painting process combo Don! But you know what? Now we all know you're a white speck hater.

elizabeth seaver Said:

Wow! I really loved watching you paint Hidden in Plain Sight. What a powerful piece. So cool to see your process exposed to the light. Seriously, Don. It was so interesting to hear you explain why you paint the way you do and see it all happen magically before our eyes. It's so easy, right?!

Sandy Byers Said:

Can you hear the applause all around you, Don? That was fantastic and so entertaining and educational. I really enjoyed it and enjoyed seeing you in your working environment. The video helped show the dimension and texture of your painting, too. It was great. I hope you will do more of these and good for you for getting in FRONT of the camera!

hallie Said:

Wow! You are fast with that palette knife. This was great; I hope we see more. I'm not sure that I could ever talk and paint at the same time–you must be ambibrained.

Margaret Ryall Said:

Boy, my entry back to blogging has been exciting. A video no less! I liked watching you work and I particularly enjoyed seeing how you created your background. For the first four minutes I kept wondering how you were going to get to the end because everything was so laid back. Then at 4:45 you broke loose. It was wonderful watching the painting develop at warp speed. In addition to the painting, I enjoyed the little glimpses of your studio and that amazing lilac colour under your mantle.

Don Michael, Jr. Said:

Well, Kathy, I only have so much time left, so speed is of the essence… 😉 Thanks for the great comment. I'm glad you enjoyed the other interesting art in my studio. I have a few favorite works of art I like to keep around for inspiration…

Pam… Thank you! I was really unsure about the camera thing, but didn't hate how it all worked out. CJ is such a great shooter and editor and then outdid herself with the addition of music. She made even this wooly booger look ok…

Stan. Thanks, my friend. I do not mind going on record as being a white speck hater. Whoever came up with those offending dots should be beheaded…

Elizabeth… Thank you! I'm glad you were able to see how easy all this is. You probably thought I had to work hard at this thing, didn't you? Well, now you know, it only takes ten minutes to finish… 😉

Sandy… Stop it. No really, stop… 😀 I'm glad you enjoyed seeing me at work. This was a lot of fun to do and with such a talent as CJ shooting/editing it it makes it look like I know what I'm doing. Thanks!

Hallie… I've mentioned before how dangerous it is to be around my studio when I've got that knife flailing around. Now you've seen what I mean. I don't know how 'ambibrained' I am. Did you hear all those "um's"? Thanks for the great comment.

Margaret… Welcome back from your journeys. Wasn't it fun how CJ created the pacing in this? I honestly felt the same way when I was watching it with her for the first time. I'm glad you enjoyed all those little glimpses of the studio. My wife and I smiled about your comment on the lilac fireplace. We inherited that, liked it, and left it… Thanks!

-Don

Celeste Said:

that was a lot of fun to watch–I really enjoyed it. I like how you talk with your paintbrush between your teeth. You are very un-narcissistic. lol. That is one of my favorite paintings of yours–so I am glad I got to see this in particular.

Nicki Said:

How fun was that???!!! A very well done video of your process. It is always interesting to see the photos you post of the stages of your work, so the moving picture show :o) added a cool dimension to how we know you. And it was nice to see this painting again.

Also, thanks for your observant comments on my little portrait attempt. As always, I think you are right. Thank you Master!

Nicki

Don Michael, Jr. Said:

Celeste… I glad you enjoyed it. Thanks! That paintbrush ends up in my mouth almost as much as in the paint. 🙂 When my wife saw the video she chuckled at that part.

Nicki… Fun is what it's all about… I'm really glad you got something out of this. It was really easy to do, I just showed up at my easel, painted, and gabbed (two things I'm good at). I'm glad you found my advice helpful on your portrait. It's really great to see you stretching your painting muscles. Keep up the great work.

-Don

Dan Kent Said:

Magnificent video! The underpainting with gesso (with shmear) was not as all as I imagined it, so it was fascinating to watch. I second Celeste, btw, this is also one of my favorite paintings of yours. Much meaning there.

Kathleen Krucoff Said:

I am just blown away Don! Both Dan & I watched the video. Captivating to see how you work and create a painting like this one. Had to share this on FB too….I hope others enjoy watching it as much as Dan & I did.

Kathleen

Don Michael, Jr. Said:

Dan… Thank you! I'm glad you got something new out of it. I'll admit, that along with you and Celeste, this painting has a special place in my heart. I'm glad this happened to be the one I was on when CJ showed up with the camera.

Kathleen & Dan… Thank you, so much! I'm glad you enjoyed it. I also appreciate you sharing sharing the love on FB…

-Don

Heather Said:

Hey Don. Haven't been by in a while. My internet was off for a month, so I'm trying to catch up on all the blog posts I've missed.

Great video! I'm always fascinated by seeing the artist in progress. It's nice to see the processes – great for the learner. You don't look too uncomfortable in front of the camera at all. Remember the video shoot I did a while ago? I saw it before I finished my course, and it was awful. At least to me it was. I spoke at a hundred miles an hour because I was so nervous. I already talk fast but this was fast even by my standards! Horrid experience. At least yours wasn't so bad!

Suzanne Berry Said:

It's so nice to meet you in person!!! What a strange feeling to have "spoken" with someone online and then to see them in the flesh! This video is brilliant, thank you so much for sharing your process this way… it's amazing and so inspirational. Seeing an artist at work just gets me going. The finished piece is stunning and I won't belabor the obvious, hell, I will. You paint really fast! Thank you!

Suzanne Berry Said:

Me again. I just finished viewing it and I wanted to tell you how much I admire this piece. A somber statement, so well done. and getting to see your work was an inspiring treat. Bravo.