Today I decided it was time for another palette knife challenge. Here is the result…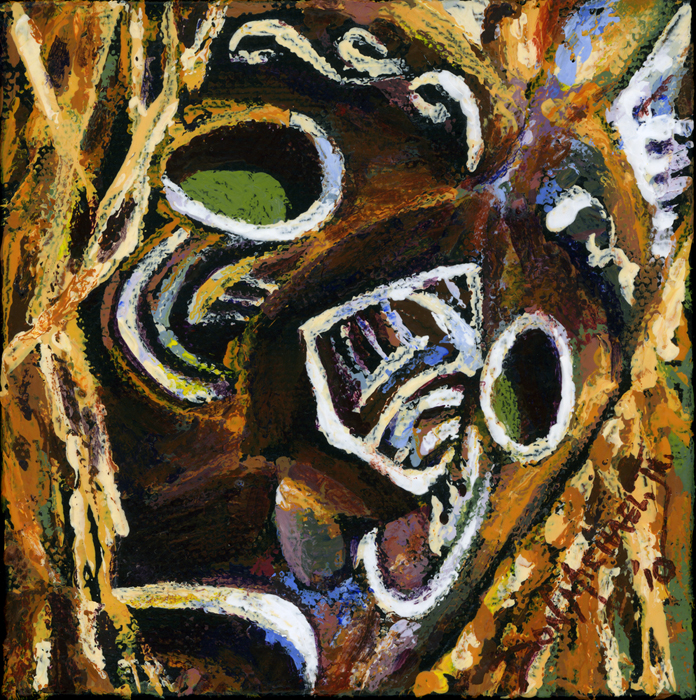 Apatheia – 4″x4″ – Acrylic on canvas – Completed 6-27-10
©2010, Don Michael, Jr.
My daughter, Christina, told me this one felt very calm to her. So I went searching for a title which fit that description as well as my sense of its impassivity. After a visit to the thesaurus and dictionary I worked my way to the word Stoic. From there I went to Wikipedia and  found exactly what I was looking for – which I then cross-referenced in my dictionary to  make sure. Sometimes finding the names for my paintings is almost as much fun and educational as painting them.
Apatheia (Greek ἀπάθεια) in Stoic philosophy refers to a state of mind where one is free from emotional disturbance. (Source: Wikipedia)
I have been so focussed on creating masks the past couple of months that my painting output has suffered drastically. I finished another mask earlier this week which I'll be sharing soon, but today I decided it was time to paint. And I did…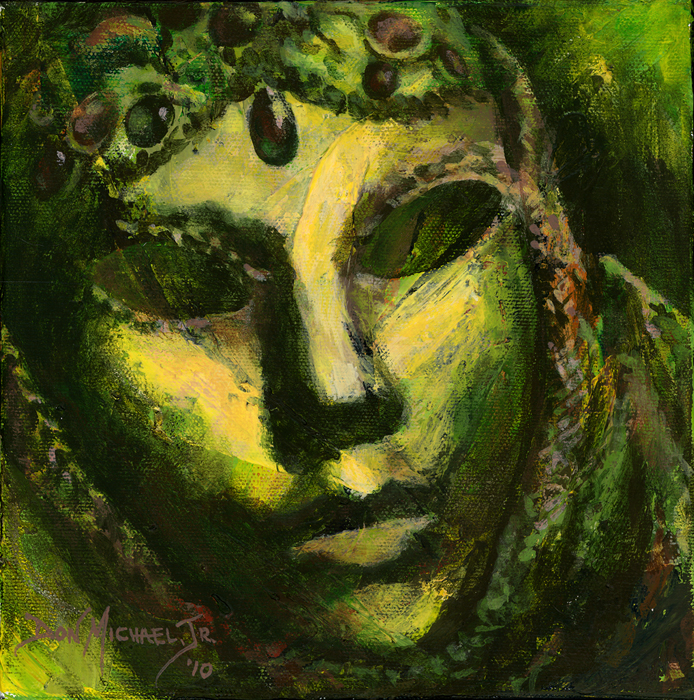 Night Vision – 8″x8″ – Acrylic on canvas – Completed 6-25-10
©2010, Don Michael, Jr.
This painting is number 16 in my Over the Under-Schmeerings series. Its abstract background was created during the painting phase of my mixed media piece Lip Service. Below you can see the before/after. I hope you enjoy…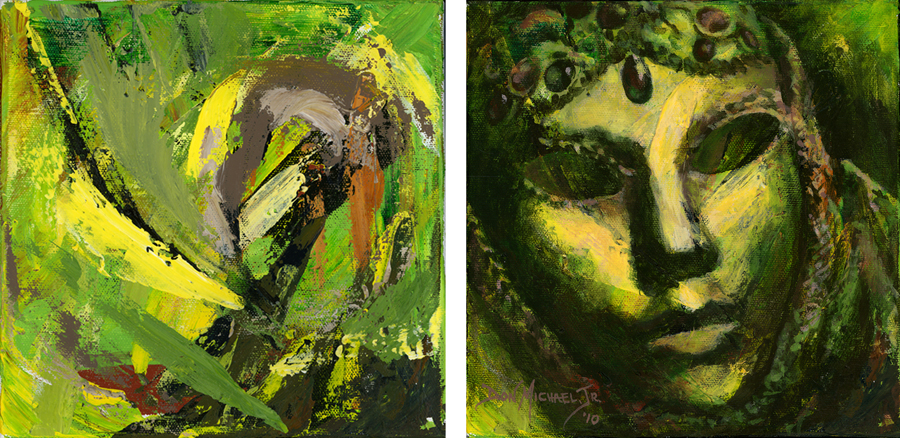 ©2010, Don Michael, Jr.
Both my son and daughter had first impressions of this one that went WAY to the dark side with words like "buried", "death" and "princess of darkness" being thrown my way. (Their input came at totally different times and neither had an opportunity to discuss their thoughts with the other.) I decided that even with their similar thoughts, what they had provided would be too strong of a verbal imagery to associate with this little piece, so I chose something much more benign and slightly abstract – with the possibility of multiple meanings.
Now it's time to get back to the easel… Happy Creating!
After a week of near silence in the land of the blogs, I have returned. My trusty Mac was sitting on a workbench for many days and was finally released to come home late yesterday afternoon. I then had the pleasure of re-installing every piece of software that I use. I still have some more work to do to get it back to 100%, but, like it or not, I'm baaaaa-aaaack…
I would now like to introduce you to one of my latest mask creations. This mask will be autographed by two friends of mine who happen to be the morning anchors at one of the local TV stations here in Las Vegas. Interestingly enough, they also happen to be married to each other. This mask will be donated to the Un-Masking the Mind Charity Auction coming up in late October. You can see more details about the charity here.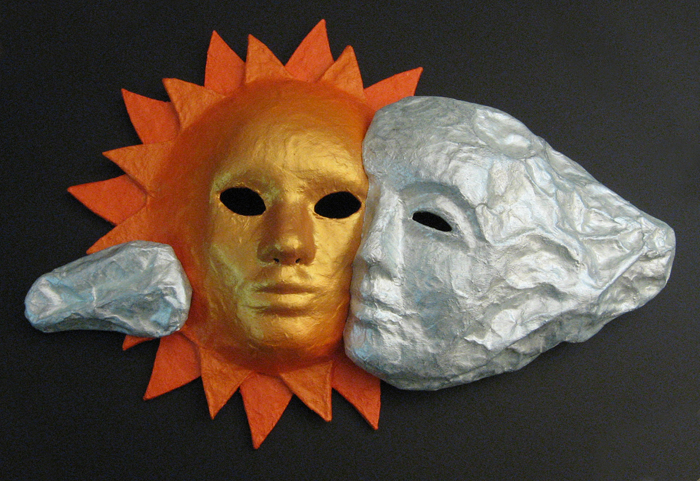 Wake Up – 14″x20″x4″ – Paper Mache' Mask – Completed 6-16-10
©2010, Don Michael, Jr.
With this couple anchoring a morning show, I felt the sun was an obvious choice of subject matter. Since they're married, I decided to challenge myself with the task of creating a "double" mask. I'd seen one double mask in the past which included a sun and a moon (in fact I did a painting of it called Eclipse). However, not being one to copy something outright, I thought I'd include some other element and thought that a cloud would be a perfect fit since the husband is also a meteorologist.
To create the sun, I built a mold using one of the blank masks wrapped in foil, a circle cut out of stiff cardboard and duct tape. (Is that MacGyver enough for you, Kathleen. :-P)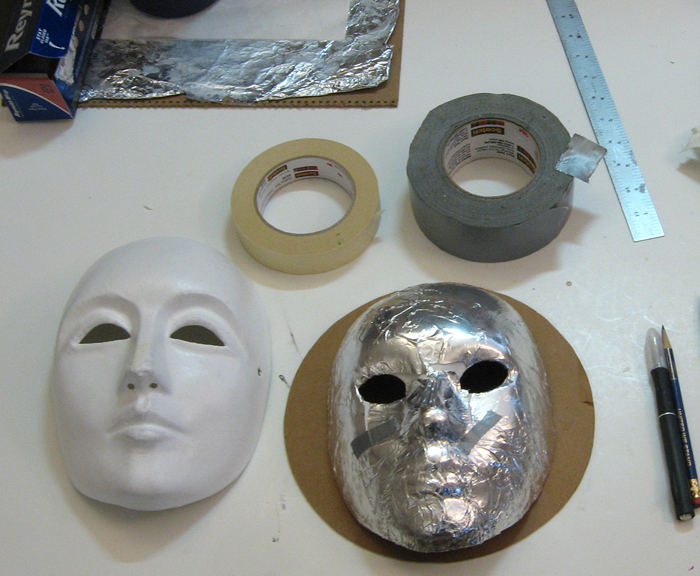 Tearing the duct tape into thin strips, I slowly worked my way around creating a 'blend' between the face of the mask and the circle.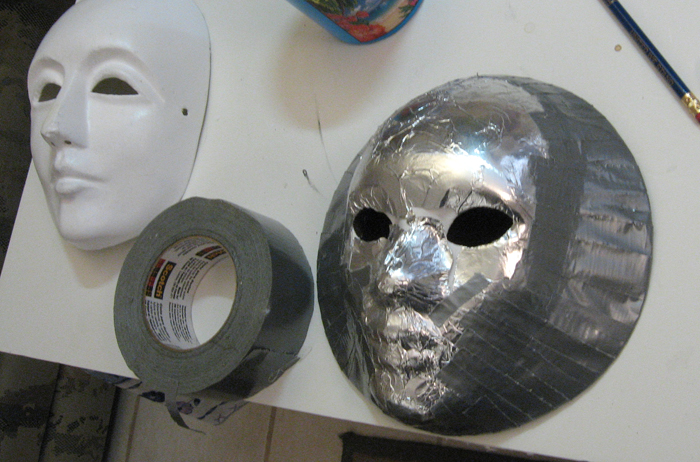 Before going too far, I used one of my scrap/test masks from an earlier project as a template to use later in creating the cloud to make it fit to the sun. Stay with me here, it'll make sense soon…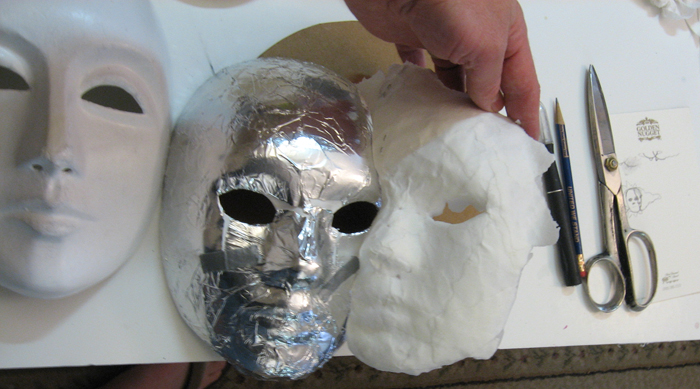 OK, back to the sun… Using foam board, I cut a form for the outer ring of 'rays'. I then cut individual 'rays' to be used for the inner ring. You can see them attached here and ready for the paper mache'ing to begin.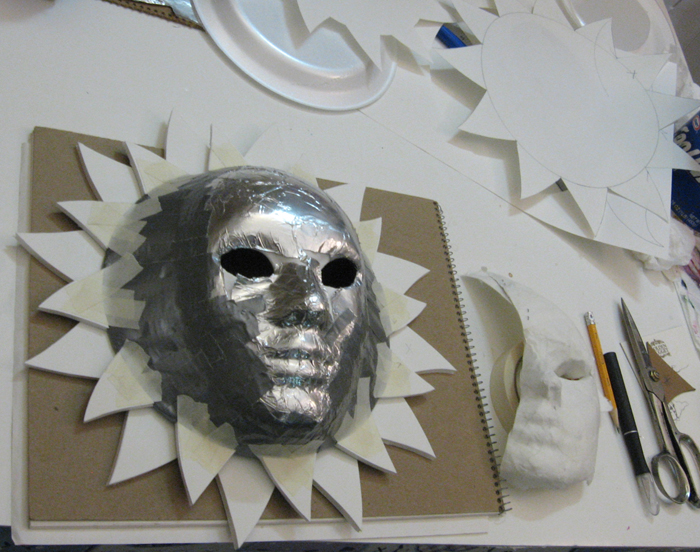 After wrapping the whole thing in foil, I started adhering torn strips of brown shipping/wrapping paper using acrylic medium.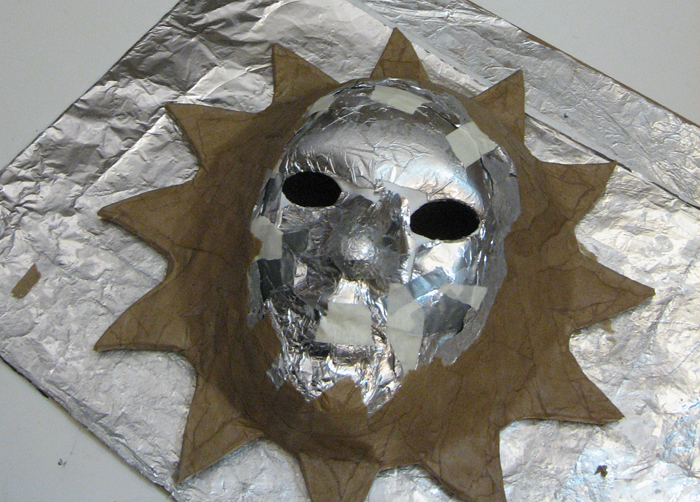 While the paper mache' was drying on the sun, I started prepping the mask for the cloud. You can see that I've wrapped it with foil and used my template created earlier to trace the edge with a blue Sharpie. I discovered in an earlier project that the blue line will transfer to the paper mache' making it easier to cut correctly later. (Remember everyone, live and learn…)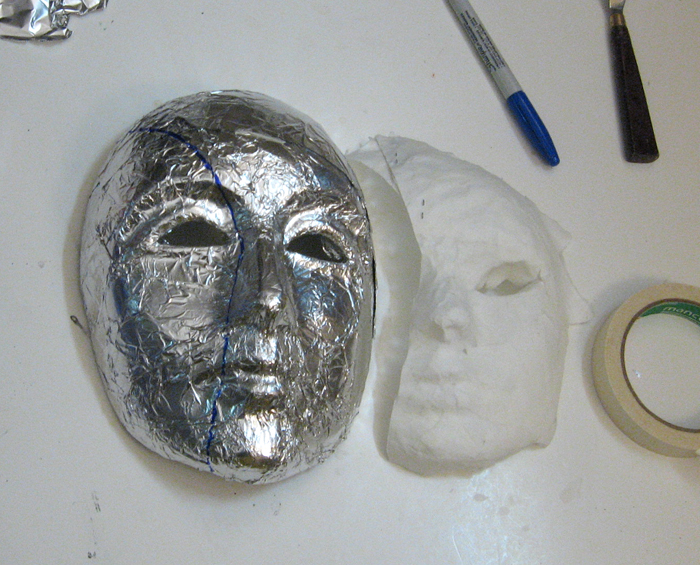 I decided to do two different masks for the cloud from which to choose my favorite later, and also give me a buffer in case I screwed one of them up. Here they are with one drying and the other already awaiting the next step.
Below you can see several things. 1) the rings of the sun mask are dry and ready to be adhered to the mask, 2) The two cloud masks are dried and one has been cut to shape, 3) I've created another mask using the sun mold for use later for testing my colors in the painting stages.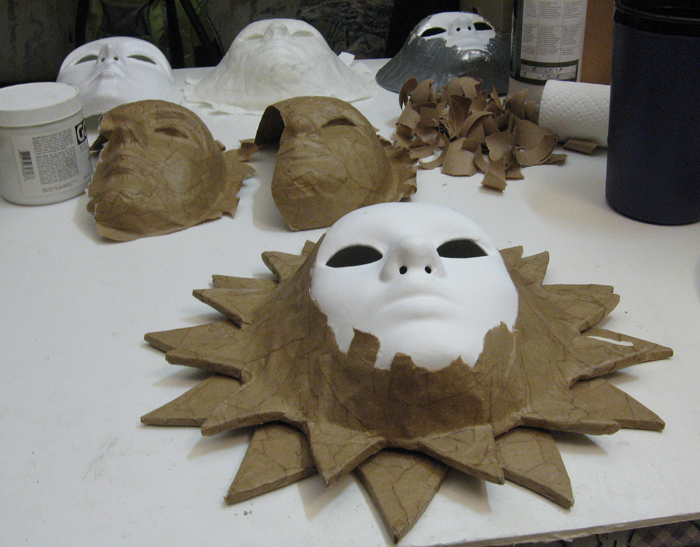 After I'd paper mache'd the sun mask and rings all together it was time to create the cloud. Using discarded packing paper, I created the shapes which I then wrapped with foil. To balance the composition, I decided I'd need a small cloud opposite the 'face' cloud. I also felt it would create a cool illusion of the sun 'peaking' through the clouds.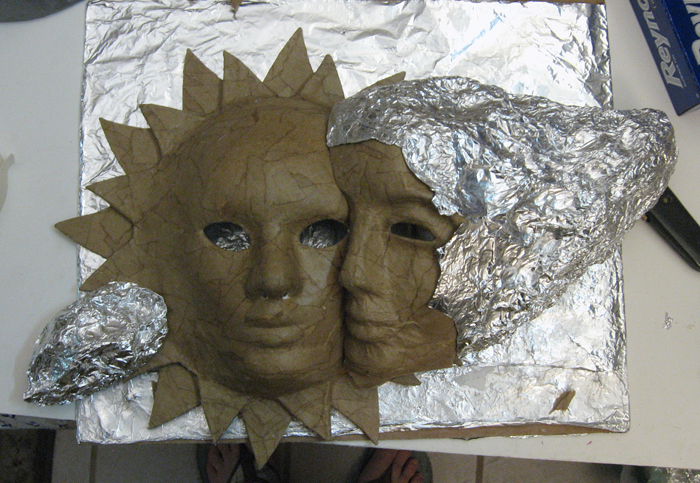 Here the cloud parts are paper mache'd and drying…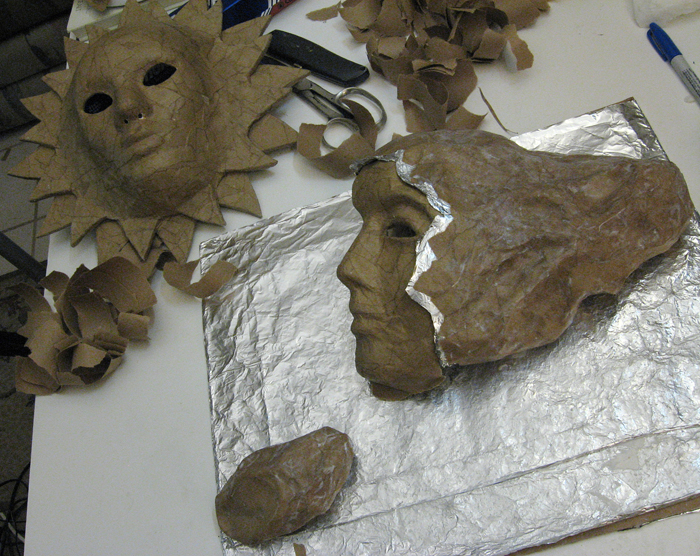 While they were drying, I started experimenting with my color choices for the sun using the test pieces I created for that very purpose.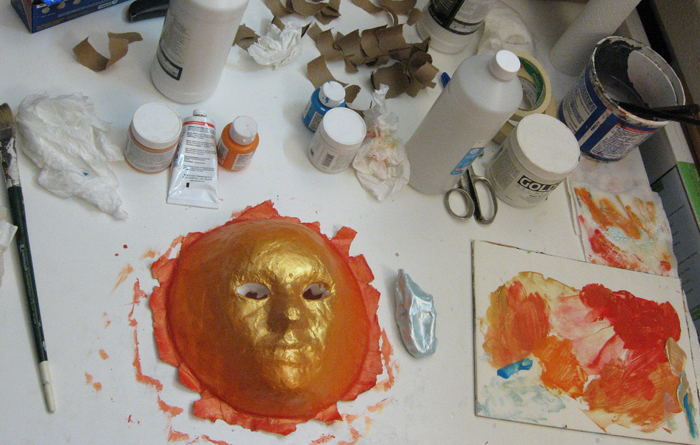 At this point, I'd attached the big cloud to its face and placed all the pieces together to make sure everything would fit the way I want. The sun and the two pieces of the cloud are still separate entities at this point to make painting them a little less challenging.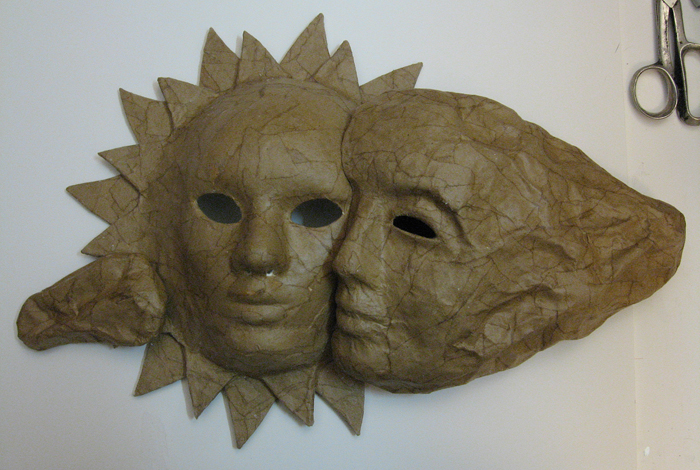 To make sure the colors would be bright I used white gesso on all the pieces…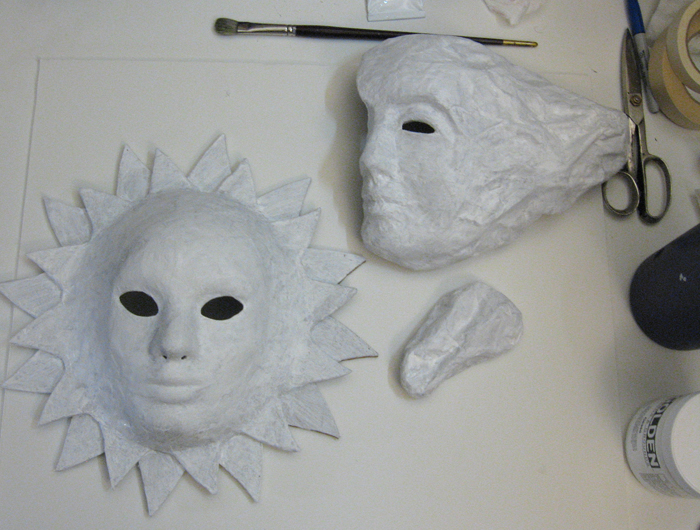 …and while the gesso dried, I took time out to paint Language of Love. When I was going through these photos I had to laugh out loud, because I hadn't payed attention to what was going on in the background. I guess Lucy has just become part of the furniture to me… figuratively and literally.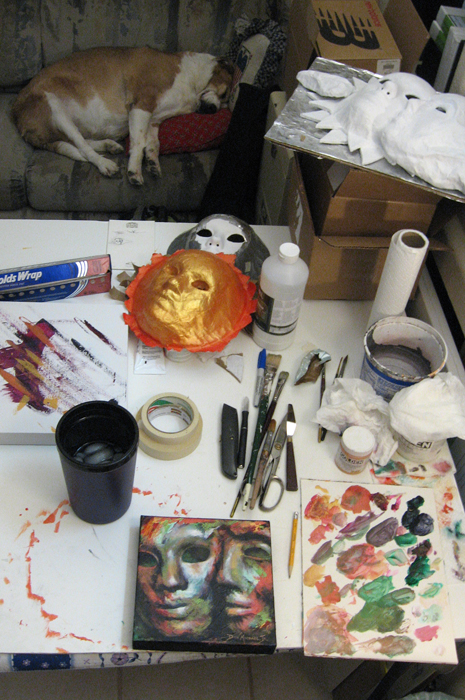 Here I've finished the sun and placed the clouds up to it. I realized at this point that I needed to do some more work on the clouds since they were too bright and there wasn't enough variation in the color.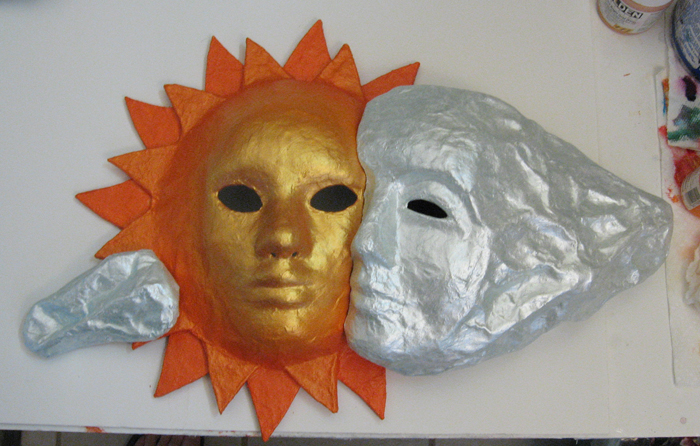 As soon as the paint dried it was time to start adhering all the pieces together. You can see that I had to cut off one of the 'rays' from each of the rings. My hand was too big to fit down in there otherwise.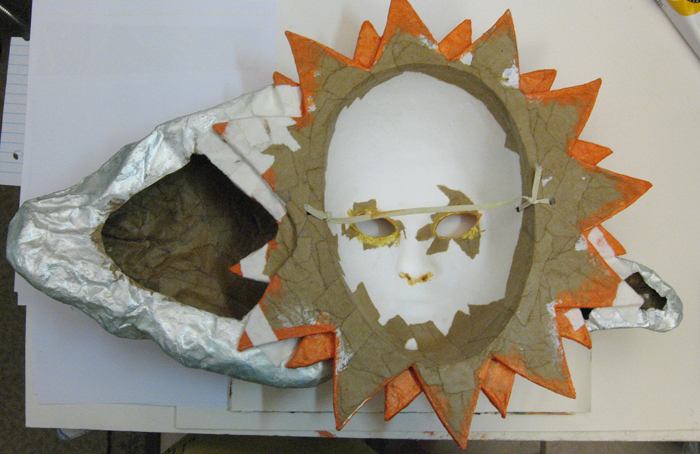 To finish it up I chose to paint the entire inside with white gesso. The little black rectangle you see on the table is the beginnings of what was to become Interlude.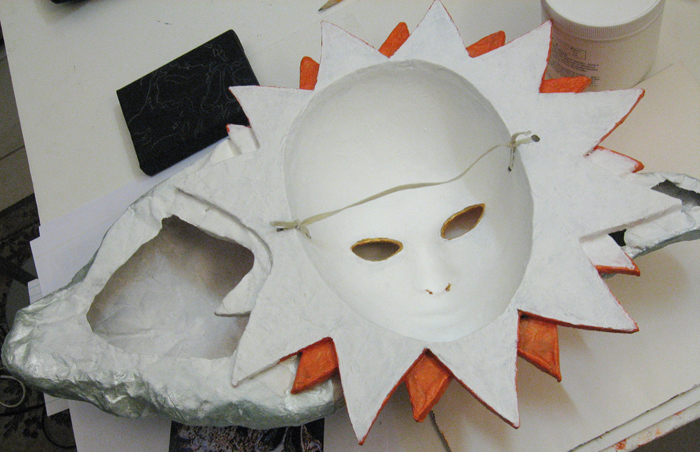 All I need now is a couple of signatures…
The whole time I was working on this project my friend CJ and I were putting it to tape. So, be watching for the video to appear sometime in the next few weeks. Meanwhile, my fingers are typed out for one night…
Happy Creating!
A short (small), often humorous, piece which is played (created) between two major pieces is considered an interlude. Hence, the title of this piece.
I never tire of the textures of this mask and how the light plays across them. In order to focus on these textures I decided to crop in pretty tight, which created an interesting, almost abstract, composition. Using only my palette knife I was able to complete this little project in less than an hour, eliciting a "Whoa, DAD!" from my daughter, and a "Sweet!" from my son. (It's wonderful to have a cheering section – and I don't even have to use the applause sign.)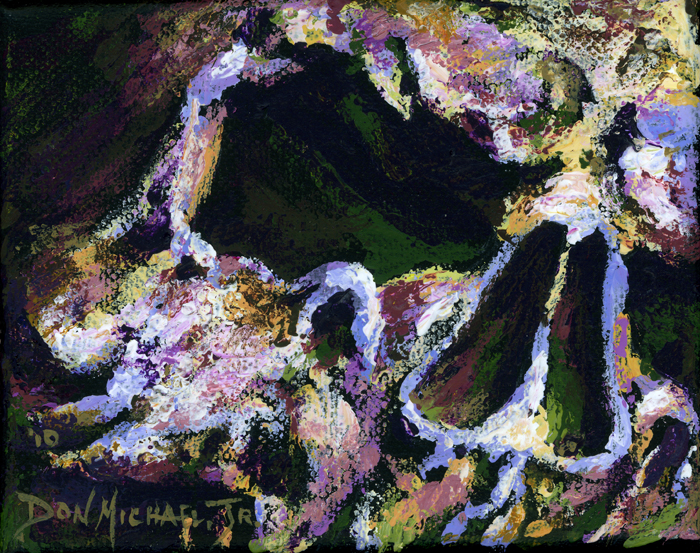 Interlude – 4″x5″ – Acrylic on canvas – Completed 6-16-10
©2010, Don Michael, Jr.
I would have had this posted earlier today, but the video card on my trusty Mac went kaput, sending me into a flurry of activity to get it into the shop. (For those PC purists who are laughing right now, please know that the video card and Mac are both 7 years old and have been work-horses for me during those years.) For now I'm relegated to posting on the familial PC, which will impede my daily visits to the web since I have to share this one with two kids and my wife. It's all good, though… This will give me more time in the studio.
Happy Creating!
I'm in the last stages of creating another mask to be auctioned off for charity in October. This one will be autographed by a husband and wife team who anchor the morning newscast on one of the local affiliates here in Las Vegas. What has made this mask especially challenging is that I chose to make it a 'double' mask in that there will be two faces for this one mask. I'm really excited with how it's coming along, but will not be posting the results until I've gotten it signed. While creating this mask my friend CJ and I have been recording the process and will be creating a video about it. So, needless to say, I've allowed this dual project to monopolize my time for the last several days.
Last night the many days of not painting got the best of me and I decided to squeeze one in between stages in the mask creation. I decided to tease this mask project by using one of the photos from its early stages to create my composition from. I then chose to place the composition into the "Underschmeered" canvas generated during the creation of the mask Persephone Returns.
The finished result has such an intimate feeling to it that my wife, Laura, felt the title should reflect the shared whispers of lovers. As soon as my buddy, CJ, saw it this morning she started humming the Eurythmic's song "Here Comes the Rain Again" with the line "…talk to me like lovers do…" resonating with her. With these thoughts in mind, Laura and I listened to the aforementioned song on the Eurythmics Greatest Hits album, but could think of no title from any of the lines. The next song, "Who's that Girl?" came on while we were talking and the words "The Language of Love…" caused us to look at each other and say at the same time, "That's the title!" And, so it is…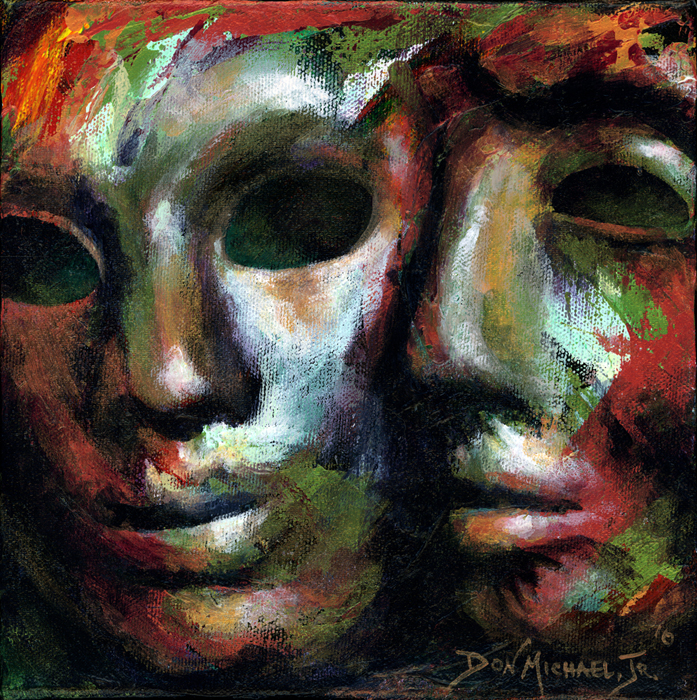 Language of Love – 8″x8″ – Acrylic on canvas – Completed 6-13-10
©2010, Don Michael, Jr.
In case you're interested, here is the before/after of this "Over the Under-Schmeerings" piece…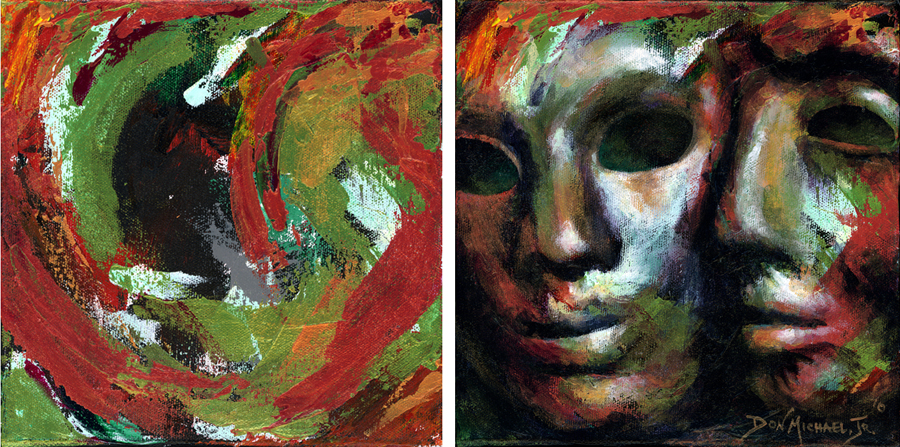 ©2010, Don Michael, Jr.
I don't think any song has ever been written that better epitomizes the eternal optimist as well as Eric Idle's Always Look on the Bright Side of Life which was featured in the last scene of Monty Python's Life of Brian. The first time I heard/saw it I laughed so hard I about wet myself. So, to go with my latest mini palette knife painting, I thought I'd share my favorite verse to this catchy little ditty…
If life seems jolly rotten
There's something you've forgotten
And that's to laugh and smile and dance and sing.
When you're feeling in the dumps
Don't be silly chumps
Just purse your lips and whistle – that's the thing.
And…always look on the bright side of life…
Always look on the light side of life…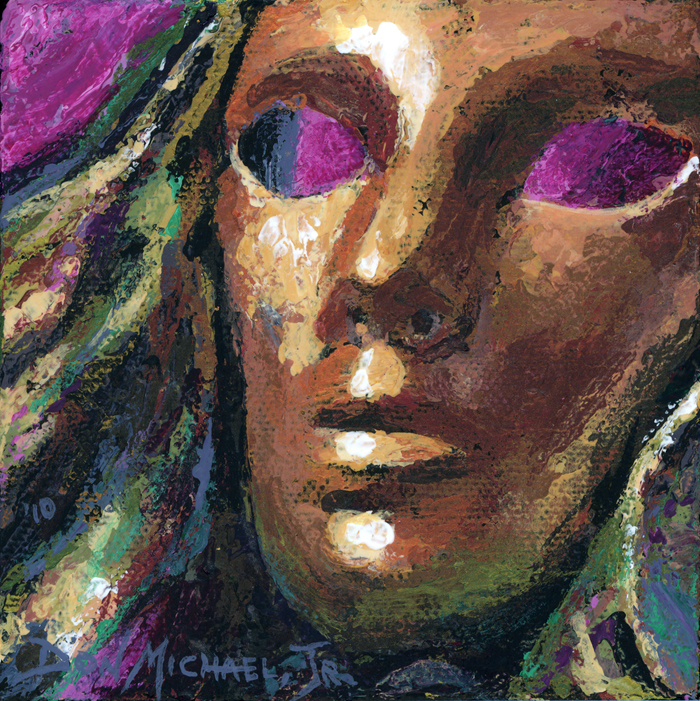 Pollyanna – 4″x4″ – Acrylic on canvas – Completed 6-6-10
©2010, Don Michael, Jr.
It's a tremendously busy time right now with a couple of graphic design projects going on as well as two more masks in the works to be autographed by local celebrities and auctioned off for charity. This has seriously interfered with my usual blogging schedule and I hope my blogging friends will understand my frequent absences. On a wonderfully positive note, this past Friday saw two of my mini-paintings finding their way to new homes. They are the first paintings from this series to sell, and as I type this, I realize they were actually the first two in the series – Sage and Keeping Secrets – and, interestingly enough, they sold in that order. As goes one of my favorite quotes from the movie Almost Famous, "It's all happening!"…
Happy Creating!
Well, my friend CJ is still up to no good. She just snuck in two more videos with me running my mouth. I figure since she did all this work, the least I could do is share it. Click on the images below to see what I'm talking about.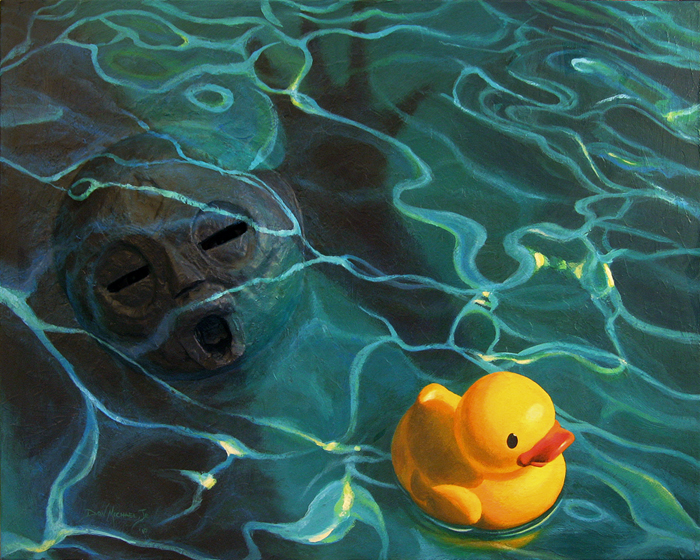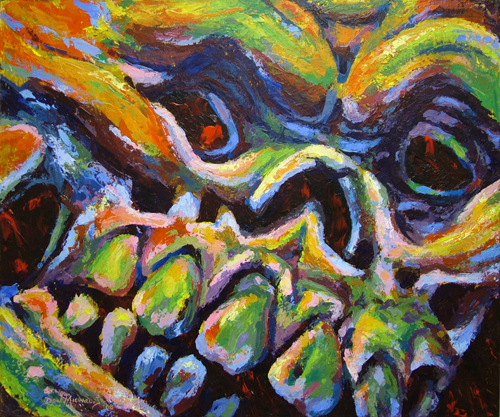 While you're watching these, I'll be setting up for First Friday which will be occurring in Downtown Las Vegas tomorrow night (6-4-10) from 6pm-10pm. My work will be on display in the Arts Factory, downstairs in the Blue Sky Yoga gallery. If you're in Vegas, be sure to stop by and say "Hi!".