Tonight I painted in a public forum for the first time ever. As part of my deal with Michaels and Grumbacher to teach acrylic painting workshops I have to do at least quarterly demonstrations at Michaels. I used tonight's demo as an opportunity to use the materials Chartpak (who owns Grumbacher) sent me for the class – some for the first time. I had used a few of Grumbacher's acrylics in the past, but not their paintbrushes or palette knife. The final first for me on this adventure was using artist canvas board when painting with acrylics.
My first lesson, next Saturday (8-7-10), will be about painting landscapes, so I decided to paint one for this demo. Since I love living on the edge, I waited until the last minute to find my subject matter. Literally five minutes before I headed out I opened up an old magazine, found a photo I liked, tore it out, used masking tape to indicate my cropping and headed out the door with it and my materials. After a two hour painting session here's what I came up with.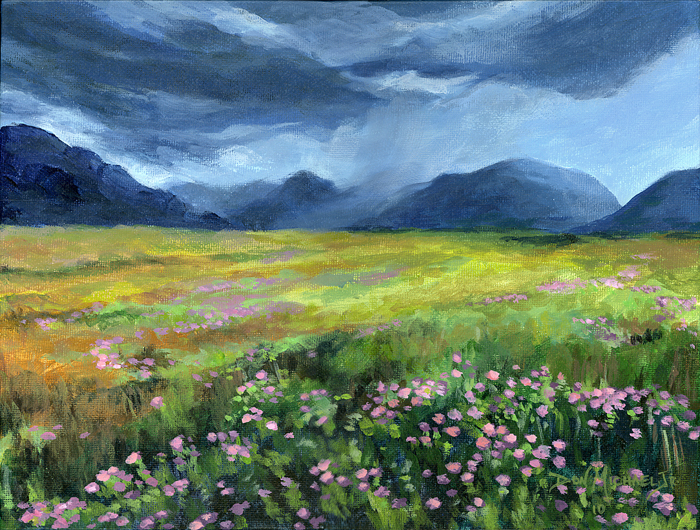 Liquid Sunshine – 9″x12″ – Acrylic on canvas board – Completed 7-30-10
©2010, Don Michael, Jr.
You might think I'm a bit crazy, but I actually enjoyed getting outside my comfort zone. The people coming and going at Michaels were great – especially the kids. As for the materials, it took a few minutes to get used to the different palette knife and brushes, but I was soon chugging along at full speed. The biggest adjustment for me was the way the canvas accepted the paint. I usually use my fingers to smear/feather the paint as I layer on top of dried paint, but either the low tooth of the canvas or the paints (or both) caused the dried paint to start coming up when I tried it. The final thing I'd like to mention is how different it is to paint under fluorescent lights. Wow, is it a challenge to get your colors the way you want – especially the blues!
Well, now I'm all geared up and ready to start the class next Saturday. Any of my local friends are welcome to come out to the Michaels, at Craig and Martin Luther King, and let's have some fun together. Here is the class schedule so far:
Saturday, August 7, 1-3pm – Landscape
Friday, August 13, 6-8pm – Floral
Saturday, August 21, 1-3pm – Landscape 2
Happy Creating!
July started out kinda' slow but has escalated into quite the busy month. Currently, I am in the middle of a large painting, which I hope to finish by the weekend, that will be featured on a book cover – which I'll also be designing. I'm also in the middle of two freelance branding/graphic design projects – one for an audiologist and the other for a realtor. Meanwhile, I'm preparing to teach acrylic painting classes at Michaels Arts and Crafts store starting next weekend, with a demo to promote the class scheduled for this Friday.
With all that going on, I find it challenging to find time to create for me. But, I continue to follow my self-prescribed regimen of painting every night, even if it's only for a few minutes. I find that no matter how tired or distracted I am, if I give myself at least 15 minutes of painting time I'll usually take at least 30. Well, after spending 30+ minutes on my latest palette knife painting last night I found myself waking up early so I could get back at it. And, here is the result…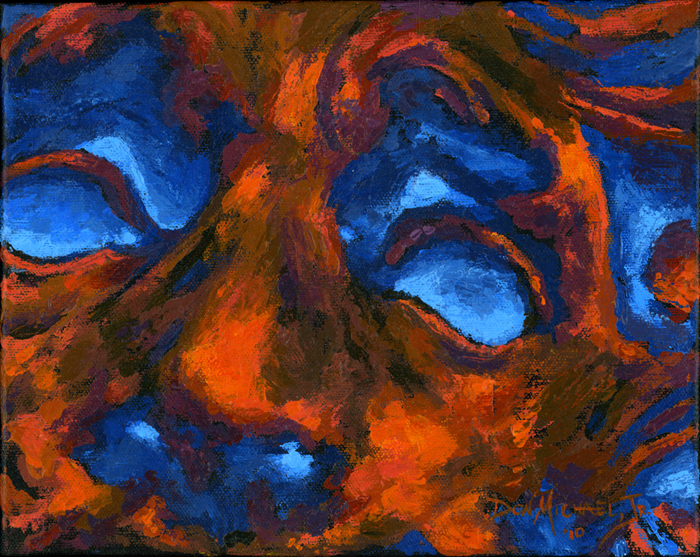 Balderdash! – 8″x10″ – Acrylic on canvas – Completed 7-28-10
©2010, Don Michael, Jr.
As I was creating this piece I realized that this is probably the expression I have on my face when I watch the local news and they decide the most important story of the day revolves around some spoiled actress being sent to jail or some idiot spewing hate to his ex-wife which is captured on tape. Meanwhile, proverbial Rome is burning. Is that a violin I hear? Balderdash!
Well, my brother, David, is at it again. He's written another short story based on one of my paintings. This one takes the works of Shakespeare to a place I imagine they've never been before.
This story was inspired by my painting Curtain Call. Click on the image below to read David's story… then, be sure to let us know what you think.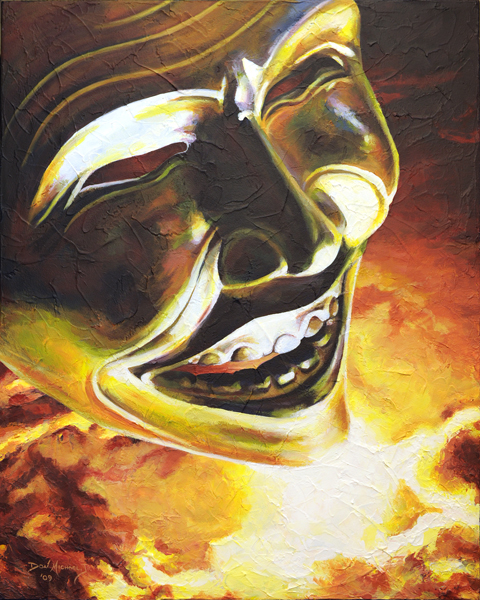 Curtain Call – 30″x24″ – Acrylic on canvas – 6-13-09
©2009, Don Michael, Jr.
In case you're interested, I originally blogged about Curtain Call here upon its completion last summer.
Here is a video that CJ and I put together about the creation of my mixed-media painting Petroleum By-Product. It saddens me that a fear I illustrated in early March became a reality just 45 days later. Click on the image below to see the video.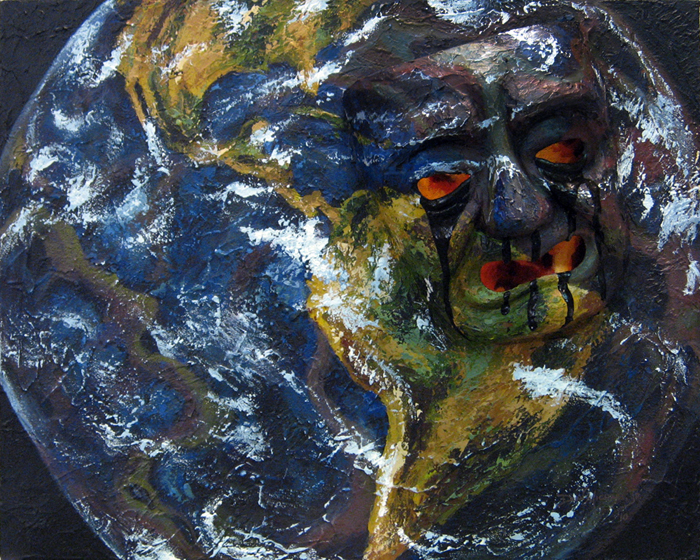 Petroleum By-Product – 12″x16″ – Acrylic and paper mache' on canvas
Completed 3-2-10 – ©2010, Don Michael, Jr.
Here is another little distraction I allowed myself as I procrastinate with the larger canvas I started Friday. Once again I used only a palette knife to apply the paint until I got to my signature – I haven't gotten that brave yet.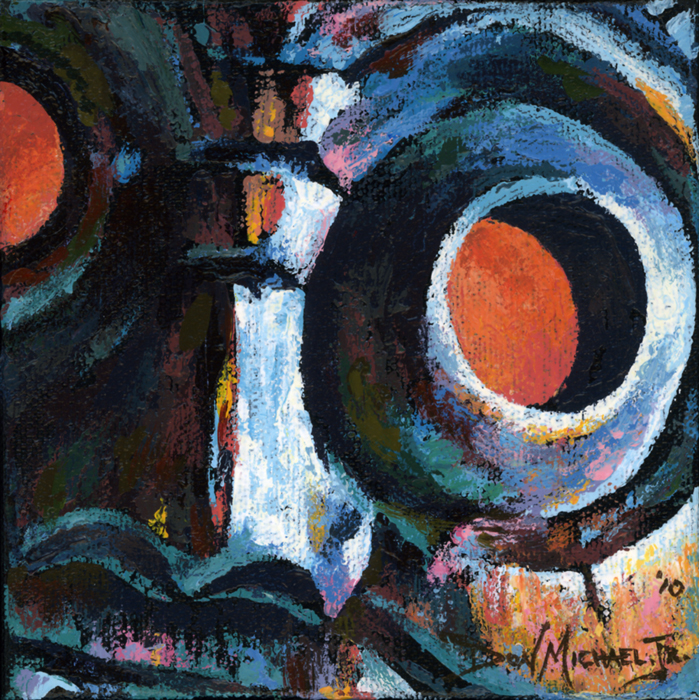 Encounter – 5″x5″ – Acrylic on canvas – Completed 7-20-10
©2010, Don Michael, Jr.
An interesting point of interest (to me, anyway) is that the exact same palette was used for this one as for Sentinel which I finished two days ago. I used Phthalocyanine Blue (Green Shade), Naphthol Crimson, Cadmium Yellow Light and Titanium White in both. Isn't it interesting how you can get such totally different color schemes from the same four colors? For your viewing convenience I have placed them side-by-side below.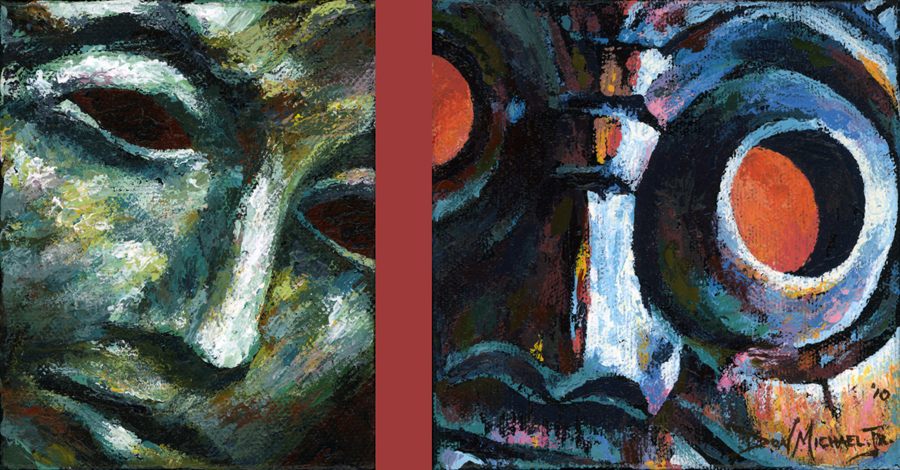 ©2010, Don Michael, Jr.
I think I'll use the same palette again for the next mini-painting just to see how it relates to these two…
Happy Creating!
I've started a large canvas which is coming along pretty nicely, but is moving a lot slower than I like. So, to make myself feel like I'm getting something done around here, I got out a little canvas and started slapping paint all over it with my palette knife. After a couple of fruitful hours I was able to go to bed with a feeling of accomplishment…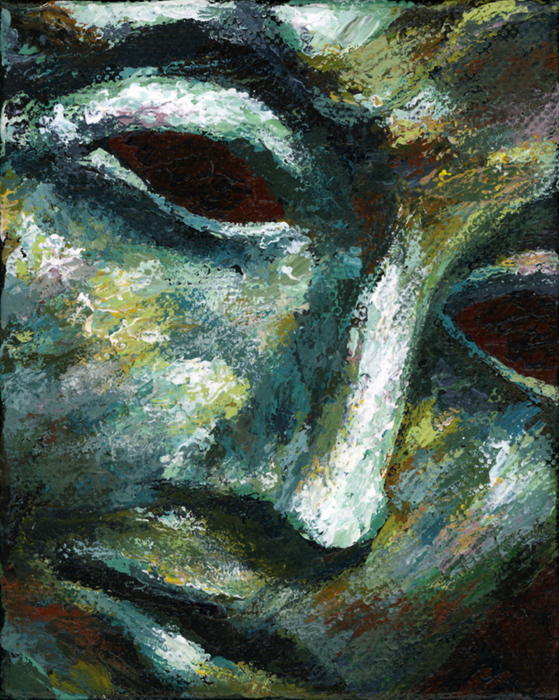 Sentinel – 5″x4″ – Acrylic on canvas – Completed 7-18-10
©2010, Don Michael, Jr.
…however, I still wasn't able to sleep as soundly as I would have liked. But, that's my own fault. After our son's cat had kittens several weeks ago I told him that I would love to have one of them, much to the delight of my daughter. My logic was that everyone else in the family has a pet, so why can't I? What was I thinking!?! I think I must have been bewitched by that sweet little face.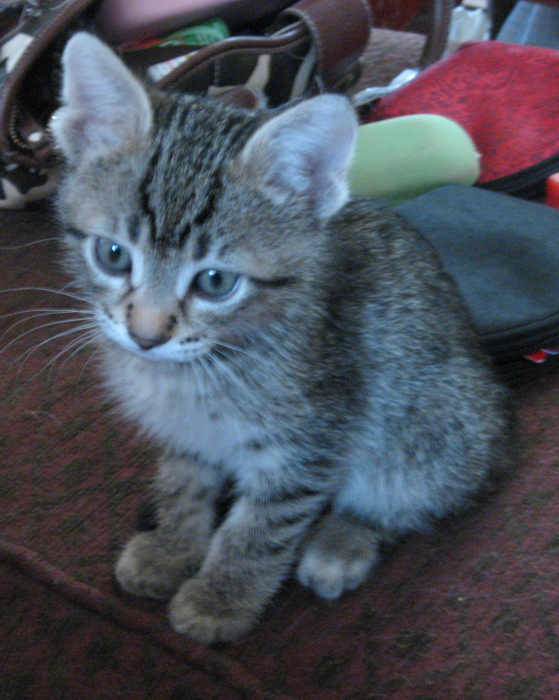 This past Monday my new little buddy, Franz Marc, joined the family. (Franz is named after my favorite painter of all time.) As much fun as it is to have a baby in the house again, it sure does cut into one's sleep time. Right now he thinks I'm mama and sleeps curled up next to my head – until he wakes up hungry, that is. Then he's looking right into my face while he tells me how empty his poor little tummy is. He also makes studio time a fun challenge. He loves to sit right behind me in my "painting chair" while wrestling anything that dares to move…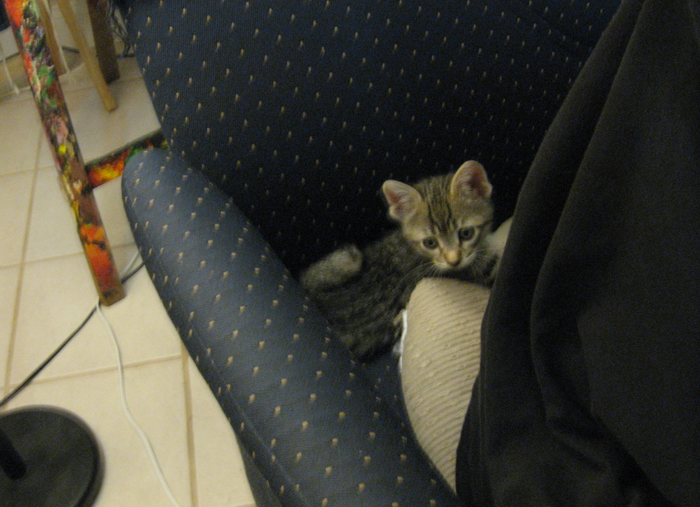 …until he suddenly decides I need help with my palette knife, a brush, a pencil or any paper that may happen to have rustled.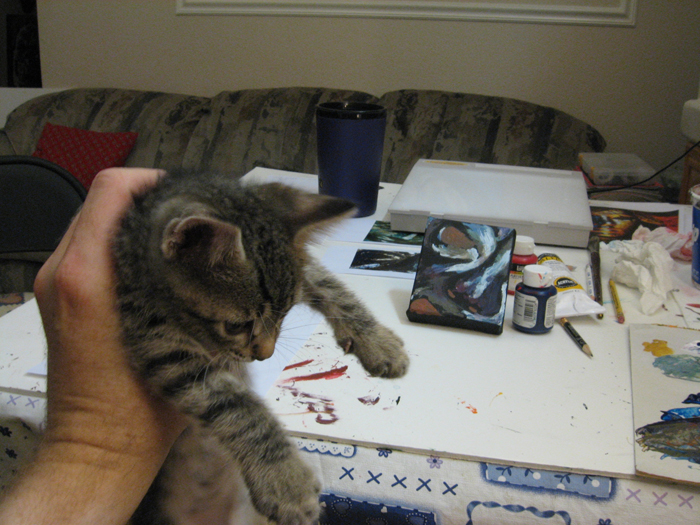 Here I am removing him from the table for the b-jillionth time the night I painted Day 85. So far, we've avoided the inevitable kitten-walk across the palette. But I know it's coming, and have tried to keep everything put away that I don't want paw prints painted upon (say that 3 times fast). Anyway, we'll see how long that lasts…
Meanwhile, I'll just keep enjoying this little guy and the laughter he brings to our lives.
Today, as I was painting this mini-palette knife piece I realized that we were marking the 85th day of the tragedy which is continuing to unfold in the Gulf of Mexico. On April 20th of this year 11 families were torn apart as their loved ones paid the ultimate price while trying to do their jobs. To top it off, now thousands of other families have been severely affected by the resulting rupture which continues to pump black death into our Gulf's fragile ecosystem. The ramifications generated by this untethered corporate greed will be felt for the rest of my life, and possibly the lives of my children. The fact that this tragedy could have been avoided and the overwhelming helplessness with which it has blanketed my psyche saddens me deeply… and REALLY PISSES ME OFF!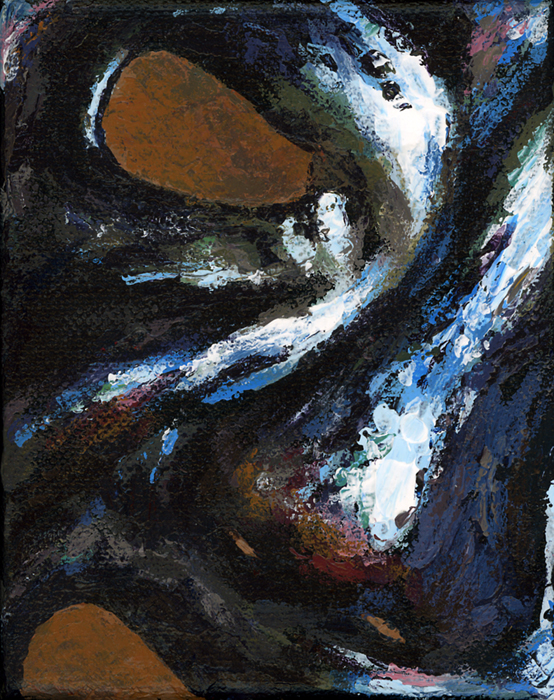 Day 85 – 5″x4″ – Acrylic on canvas – Completed 7-14-10
©2010, Don Michael, Jr.
Sometimes the currents of life and necessity try to push us in a direction that may be averse to our goals and desires. We must remember to stay rooted in our commitment to our dreams no matter what. Period.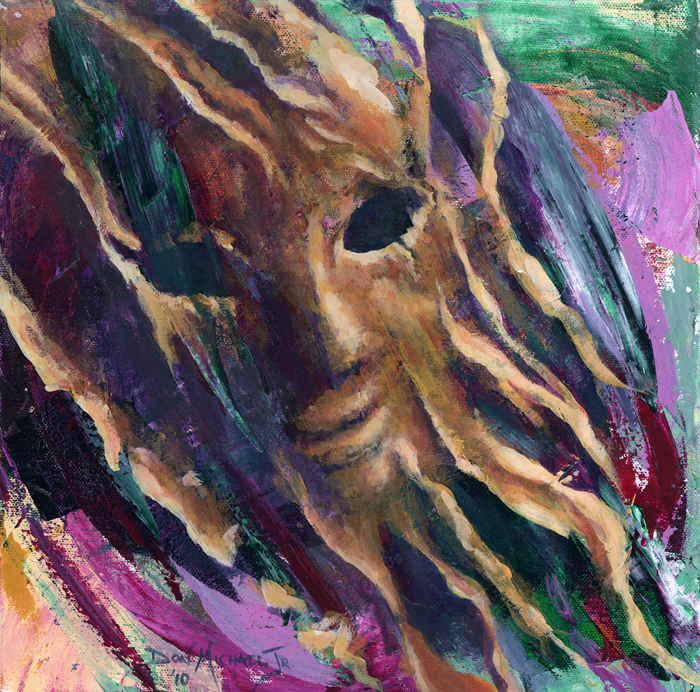 Stay the Course – 12″x12″ – Acrylic on canvas – Completed 7-7-10
©2010, Don Michael, Jr.
The Under-Schmeering for this piece comes from the leftover paint from the paintings Language of Love and Pollyanna. I liked the strong vertical elements in the background and wanted my foreground image to continue that flow. If you want to know the origin of this Over the Under-Schmeerings series you can find it here.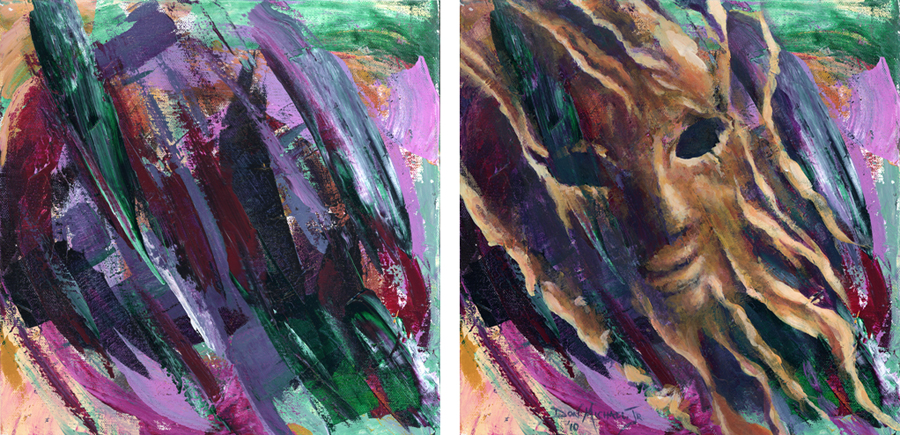 ©2010, Don Michael, Jr.
I mentioned a couple of days ago that I had created 4 masks for the charity auction called Un-masking the Mind. At that time I had only blogged about 3 of them since I was saving this last one as a surprise for my friend who would be autographing it.
Last night I had dinner with this lovely lady who happens to be one of the news anchors for the 11pm newscast at a local TV affiliate here in Las Vegas. We had worked together a few years ago and it was a nice treat to spend time together after a few years of traveling separate paths.
One of the things about this lady that has always impressed me is she competes in triathlons. So, I decided that the mask we were donating together should reflect this impressive fete of endurance which has been a major part of her life. Thankfully, she fell in love with the mask right away and immediately recognized it for what it represented. She also really liked the title I had chosen for it. (Be sure to click on the image to get a larger view.)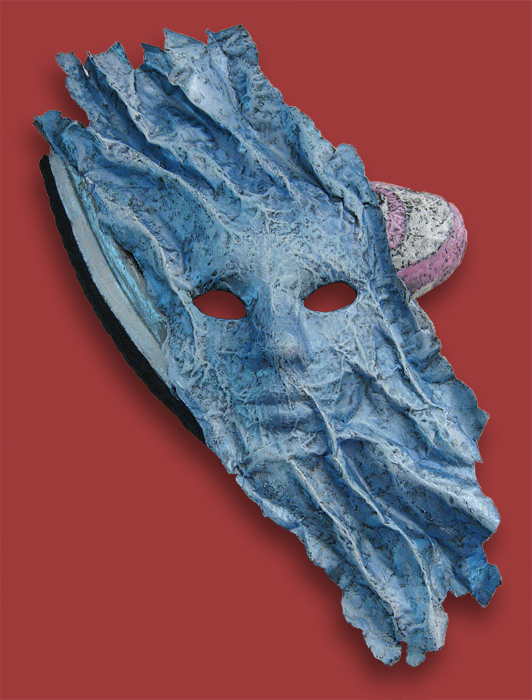 Endure – 19″x12.5″x4″ – Paper mache' – Completed 6-23-10
©2010, Don Michael, Jr.
Now, a little something about this mask's creation. I didn't take very many photos during the process, but was able to piece something together from the few I have.
A conversation with my friend, CJ, triggered a tangent for which I am eternally grateful. She mentioned that maybe I could include textures relating to some of the elements from the triathlon. (A triathlon is a sporting event which consists of bicycling, swimming and running.) Well, that got me started on a few experiments which started feeling "right" to me. Below, you can see that I've created quite a mess on my table which seems to happen when I'm experimenting. I've got a paper mache'd piece of a bike tire, a running shoe tread, and now the mask…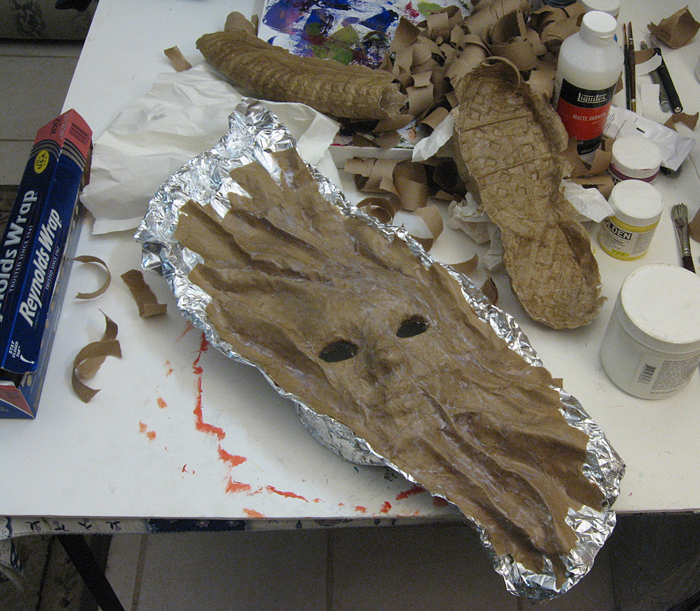 Well, I decided that the running shoe tread was not going to work for me, so I back-tracked a bit (pun intended) and paper mache'd the front part of a ladies running shoe instead. Below you can see the pieces laying together awaiting their final compositional placement…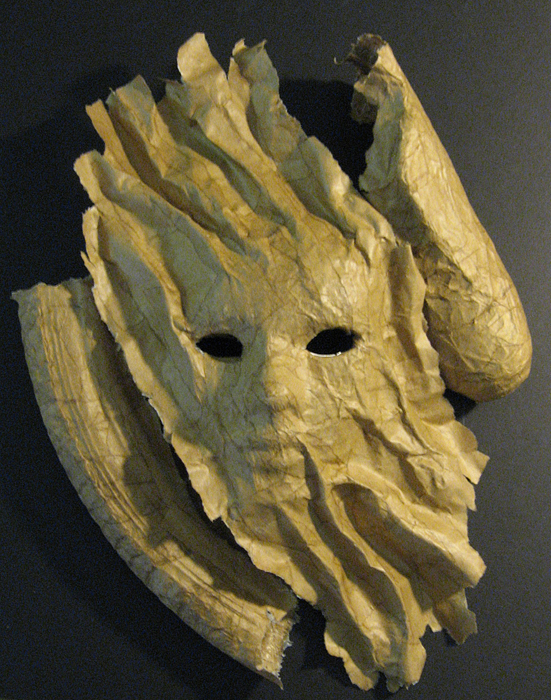 ..and, here they are linked together awaiting some color.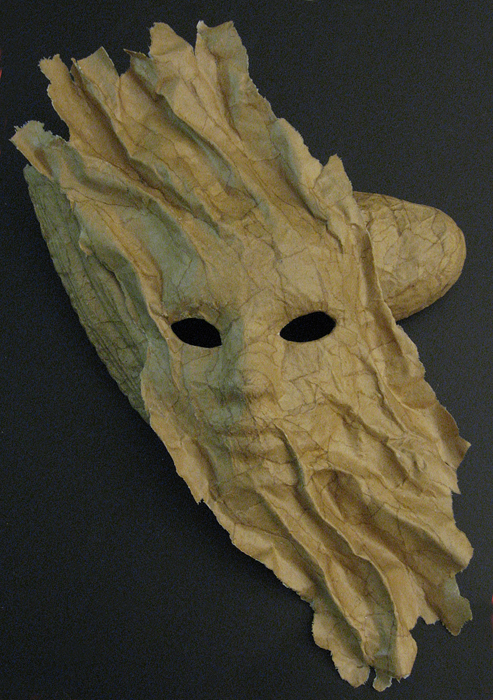 I started by painting the entire thing with a coat of black gesso. I then lightly brushed on color to emphasize the textures of all the elements. At this point I was adding the final touches to the shoe element.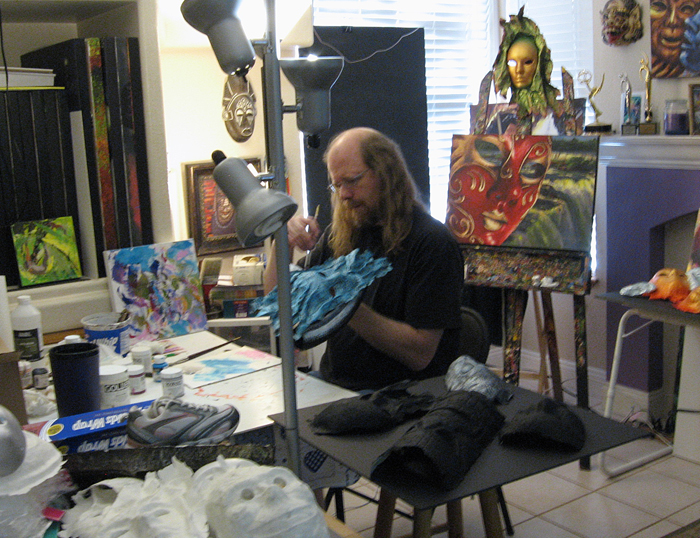 Here I am with the lovely Ms. Nina Radetich after a wonderful dinner during which she autographed the mask. If you look really close, you can see that we decided to have her sign it on the white wall of the tire.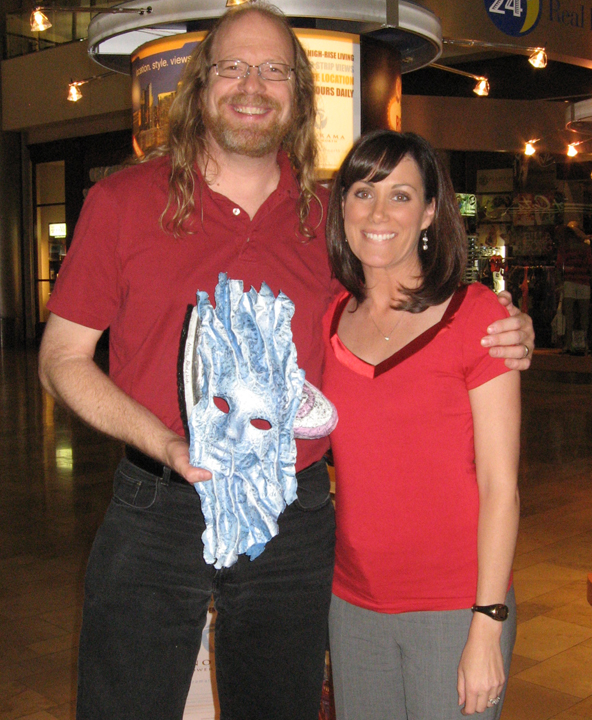 I anticipate that this will be the last mask I create for this year's Un-masking the Mind event which will occur in late October. As fun and rewarding as it has been, I'm ready to focus entirely on my work for a while. I leave you now with the 4 masks that I created for this event…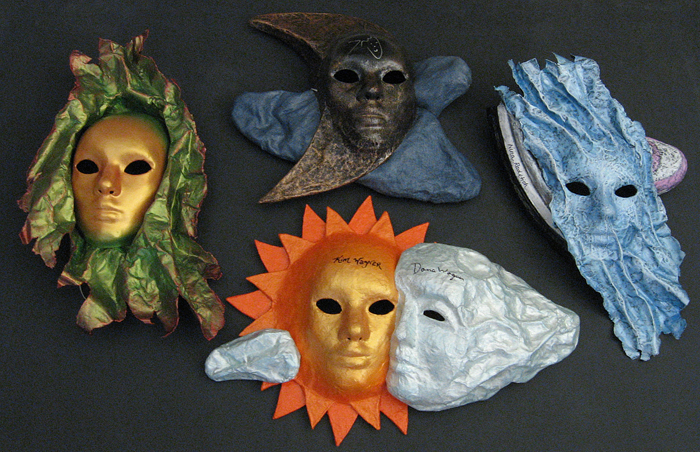 Clockwise from left: Persephone Returns – autographed by the artist, Lunar Leno – autographed by Jay Leno, Endure – autographed by Nina Radetich, Wake Up – autographed by Kim and Dana Wagner
Happy Creating!
My latest Over the Under-Schmeerings piece is a bit different for me. Because this background came from the palette refuse of the painting Interlude and a mask I have yet to post, titled Endure, it ended up having a different color scheme than is usual for me. I honestly don't think I would have consciously  chosen to use pinks and light blues together in a piece. It's not that I dislike them together, it's just they're nowhere near the top of my list of color combinations.
As for the title, I think you can agree with me that this one pretty much named itself…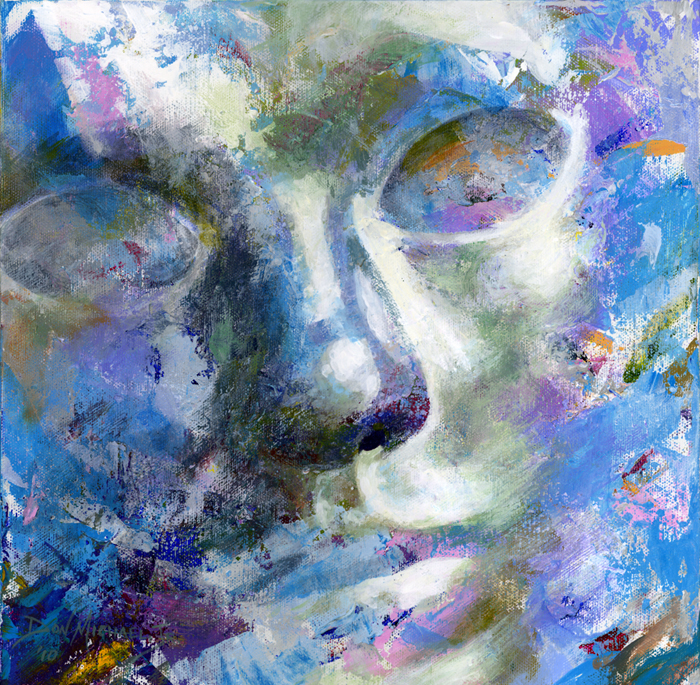 Evanescent – 12″x12″ – Acrylic on canvas – Completed 7-6-10
©2010, Don Michael, Jr.
Below is the before and after. You can see that I had intentionally altered my strokes on the Under-Schmeering from what I've done in the past. Instead of just swiping my palette knife across the canvas to clean it, I wiggled it across. This made for some interesting cloud-like texturing.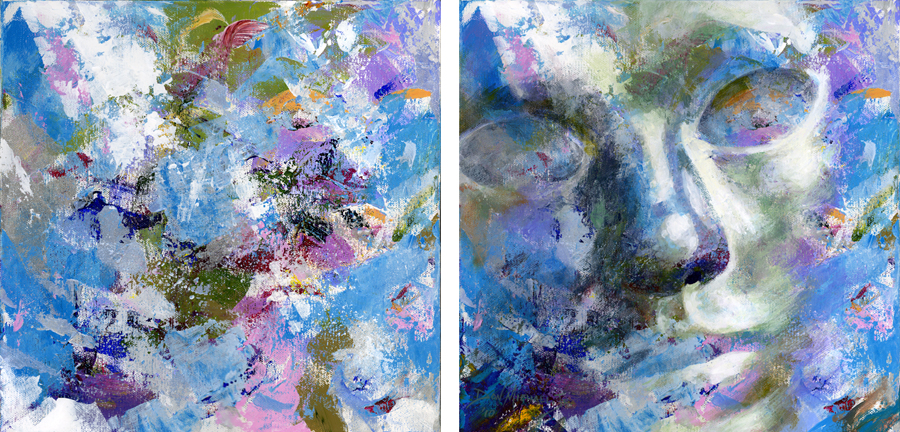 ©2010, Don Michael, Jr.
Next Page >>