I keep trying to type out some clever conglomeration of words to go along with my latest itty-bitty palette knife painting – but I got nothin'. So, I guess the painting will have to do all the work for me today. I hope you enjoy…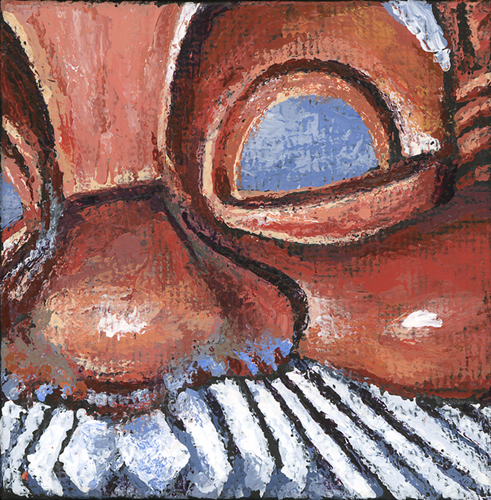 Clarity – 3″x3″ – Acrylic on canvas – Completed 8-30-10
©2010, Don Michael, Jr.
We've all heard these words before, "Your call is important to us. Please hold until you can be assisted by the next available associate." And there it is… you're trapped. Your life is now on indefinite hold. I sure hope you took a potty break before you made that call…
This past Friday I finally got through to an overwhelmed phone system only to hear the above message, followed by these encouraging words, "You are caller number 183. Your call will be answered in the order it was received." One hour and 38 minutes later I finally had a human on the other end.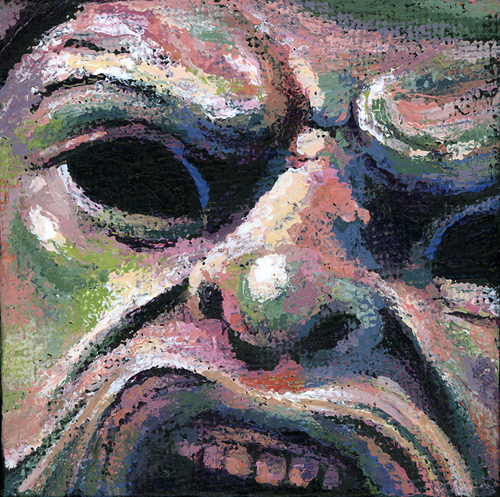 On Hold – 3″x3″ – Acrylic on canvas – Completed 8-29-10
©2010, Don Michael, Jr.
Interestingly enough, I had "pressed one for English" only to have this 'associate' answer with a barely discernible ability to speak and understand the English language. By the end of this ordeal I realized how "important" my call really was to this organization. I'm really excited that I'll probably be back on the phone with them again later this week.
No worries, though. After exorcising all over this poor little canvas I feel much better now… and I can honestly say once again,
Happy Creating!
I had just finished painting my latest little canvas when I decided I wanted to hear some Fleetwood Mac. I reached into my CD cabinet and pulled out their Rumours album because I wanted to hear those beautiful bluesy guitar licks that Lindsey Buckingham juxtaposed gently and sweetly against Stevie Nicks' voice in the song Dreams. As I was putting the CD into the player I couldn't help but read the title of the album, and that word, "Rumours", just looked like it belonged with this painting. I can't explain it, it just feels right…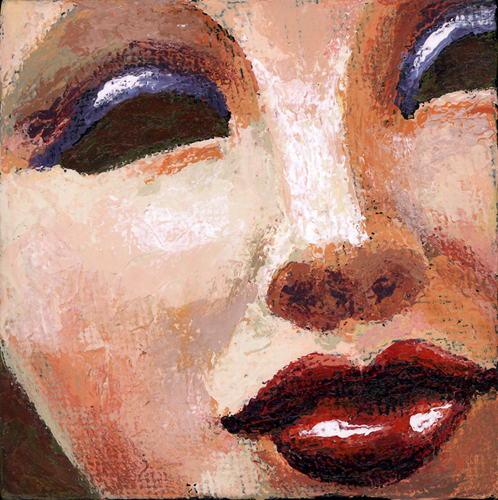 Rumours – 3″x3″ – Acrylic on canvas – Completed 8-27-10
©2010, Don Michael, Jr.
Once again, my overworked palette knife was the only tool used to apply the paint to the canvas. I'm having so much fun with this technique that I don't know if I'll be giving that poor blade a rest any time soon…
Last December I started experimenting with using only a palette knife to paint on the smallest stretched canvasses I could find. You can read about that first one here. Since then, I have used the palette knife to create a couple dozen of these little mini's in varying sizes, including the following piece finished earlier this week.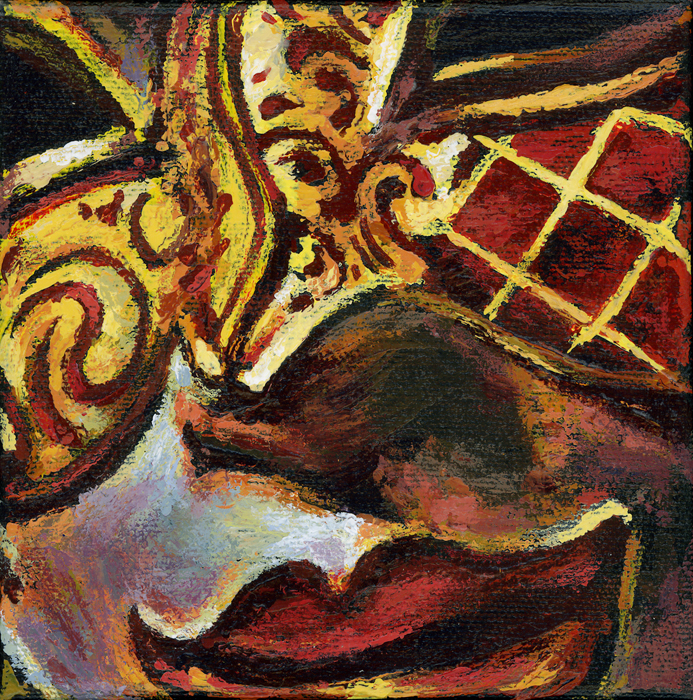 Paisley Plaid – 5″x5″ – Acrylic on canvas – Completed 8-24-10
©2010, Don Michael, Jr.
I then I decided to finally brave the smallest stretched canvas I have found, so far, which is only 3″x3″. I had found a 5-pack of these last week at Aaron Brothers' Art Store and couldn't wait to give them a try. Below is the result.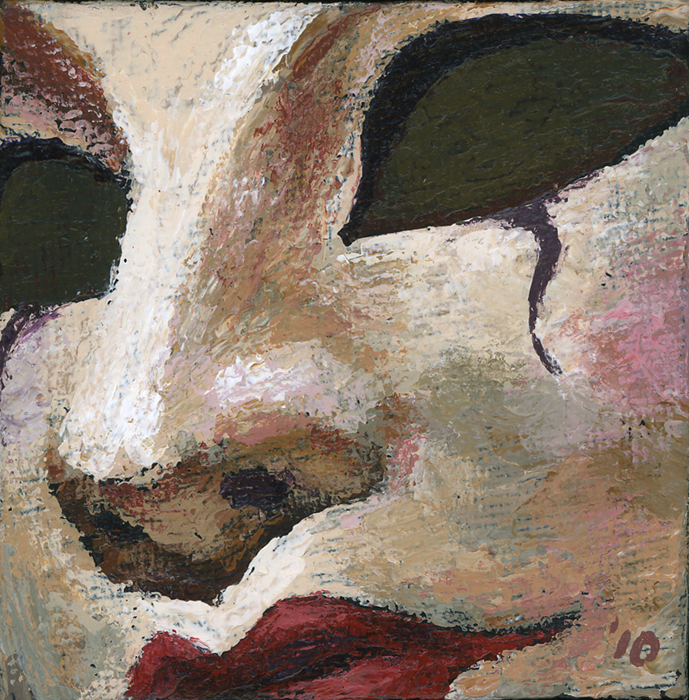 Fare Thee Well – 3″x3″ – Acrylic on canvas – Completed 8-25-10
©2010, Don Michael, Jr.
To get a sense of how small this little 3″x3″ canvas really is I have placed it beside the 5″x5″ and my trusty palette knife. FYI, this knife is the ONLY one I've used in ALL of my palette knife paintings. I'm surprised the handle hasn't conformed to my grip…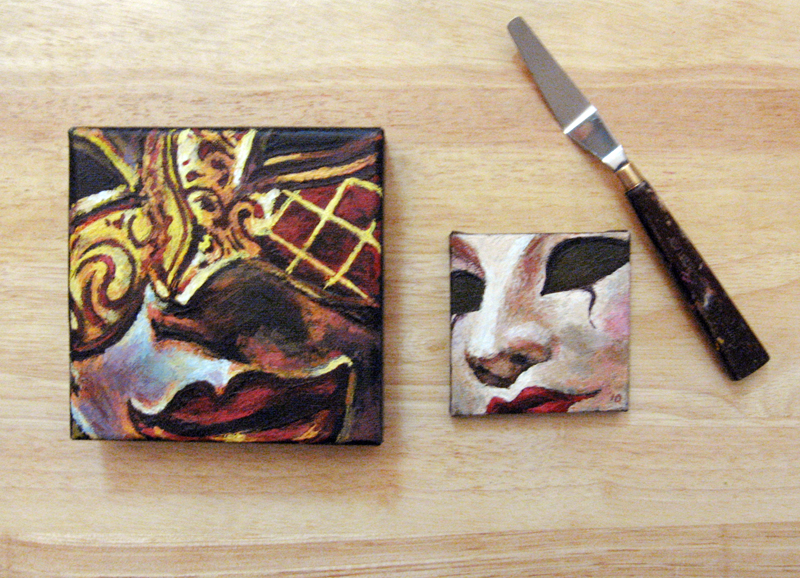 ©2010, Don Michael, Jr.
One last thing… I cropped so tight on the imagery in these two that I had nowhere left to sign them without disrupting their compositions. Because of this, they are both signed on the right edge of the canvas. I always finish out the edges anyway, so I figured that would be as good a place as any.
Last week ended up being one of those challenging ones that life likes to throw our way sometimes. The video card for my Mac is still down, which has seriously hampered my online time – and, even more importantly, my graphic work time. There were other hurdles that threw themselves into my path, but I'll not bore you with them…
On a different note – or maybe quite similar – today, August 24, 2010, is my one year un-anniversary from my job as Art Director at one of the Las Vegas television stations. It was on this day last year that right after lunch I was told I was no longer needed due to the "economic downturn". I gave a little rant and painted a little picture about my feelings on that subject not long after. You can see it and read it here.
Now, some good news. My good friend, Peggy Copeland – of Image Brokers LV, and I have been helping a local audiologist come up with a branding strategy and graphics package. Using the logo they already have, we are helping them come up with a color palette, a font palette and a style for their collateral elements. I am proud to announce that the website I designed for them is up and running. I must mention that I am only responsible for the look and layout of the website. The actual coding was hired out by Peggy. If you click on the image below you will find yourself on Advanced Audiology Institute's new website. Be sure to click through a few pages and check out my design work…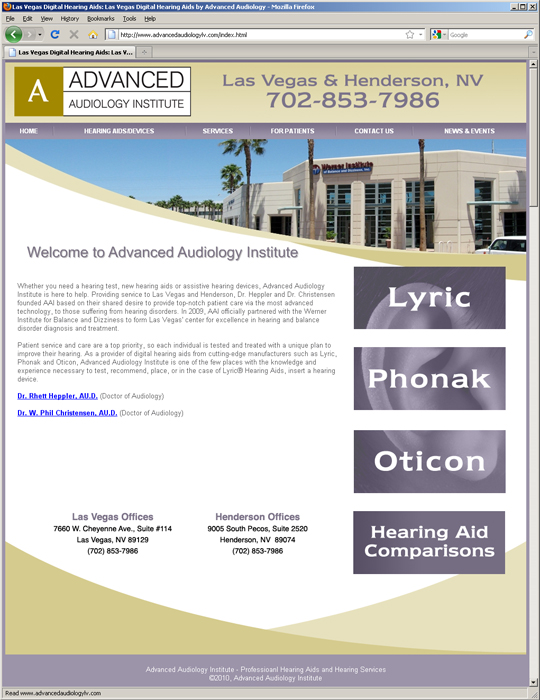 AAI Website Design – Photoshop and Illustrator – August 2010
©2010, Advanced Audiology Institute
Now it's time to go get my fingers in some paint.
Happy Creating!
As my children get older I am SO GLAD we have photos of them from when they were younger. The progression of their growth occurs in such a way that it's hard to realize how much they have changed – sometimes in just a short period of time. As I was painting my latest "Over the Under-Schmeerings" piece those thoughts were going through my mind as I also contemplated what it must have been like to have lived in a time before the advent of the camera. If I didn't have those old photos of my children, what would my mind's eye really remember? Would it be just a foggy notion? Could I have described their beautiful little faces in detail? Thank goodness I don't have to know the answer to those questions. I'll just go leaf through one of the family photo albums and wax nostalgic…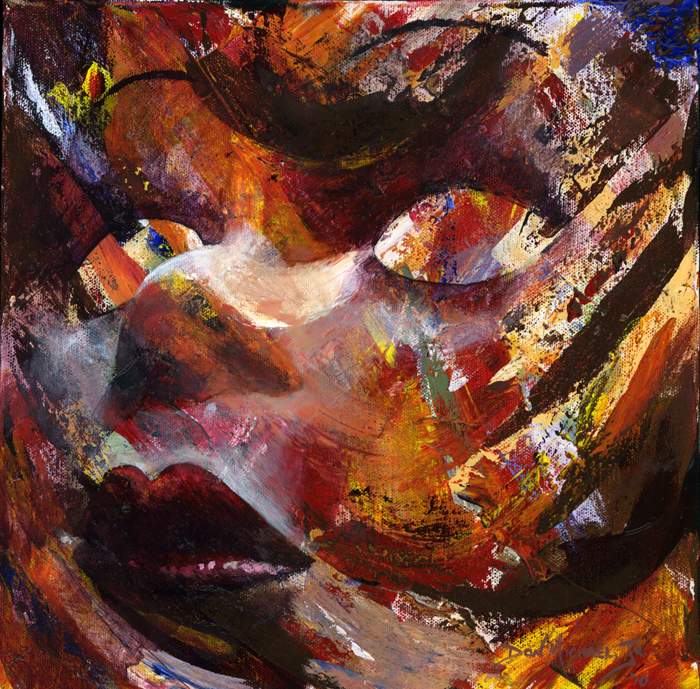 Afterimage – 12″x12″ – Acrylic on canvas – Completed 8-16-10
©2010, Don Michael, Jr.
The "Under-schmeering" for this painting was generated during the painting process of Apatheia. It's hard to imagine that I had enough leftover paint while creating that little 4″x4″ painting to cover a 12″x12″ canvas – but I did. It sure would have been a waste had I not schmeered the leftovers all over this canvas. It's just like my Granny used to say, "Waste not, want not."
In case you're interested, below is the before and after…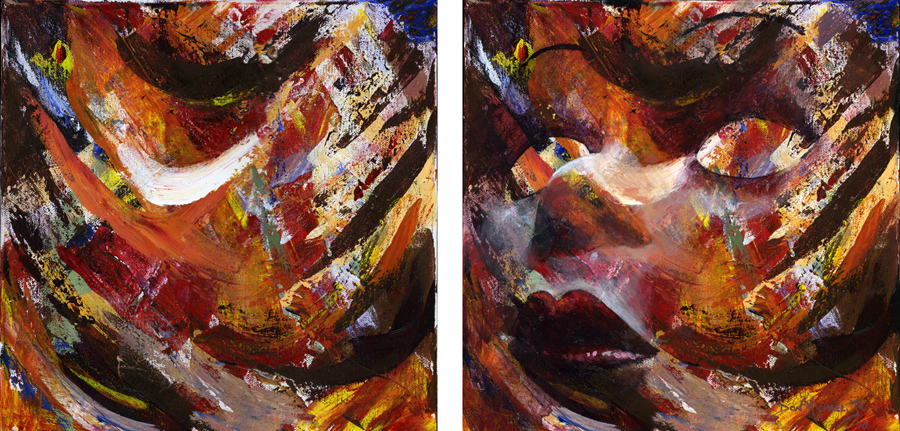 ©2010, Don Michael, Jr.
These two little guys were both created using only my palette knife and the same color palette. As I finished the first one, it titled itself and told me how I should title the second. I think you'll agree he was right…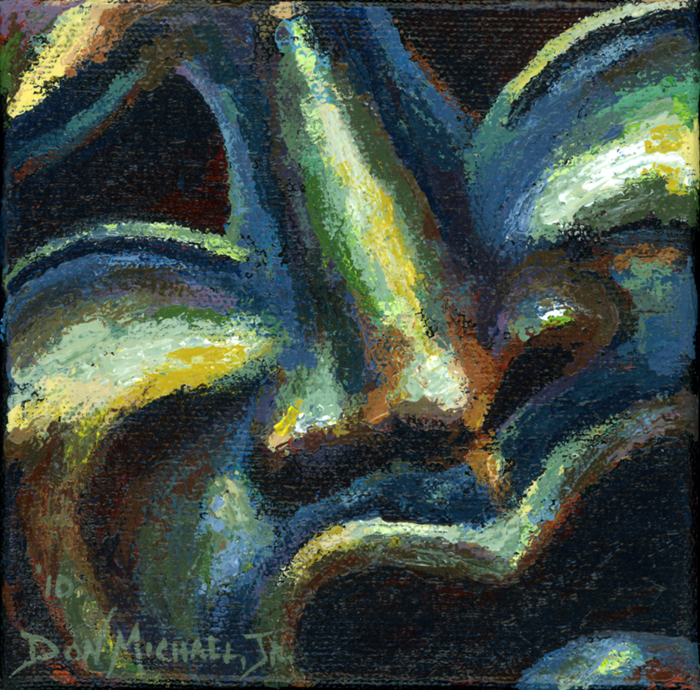 Monday – 5″x5″ – Acrylic on canvas – Completed 8-13-10
©2010, Don Michael, Jr.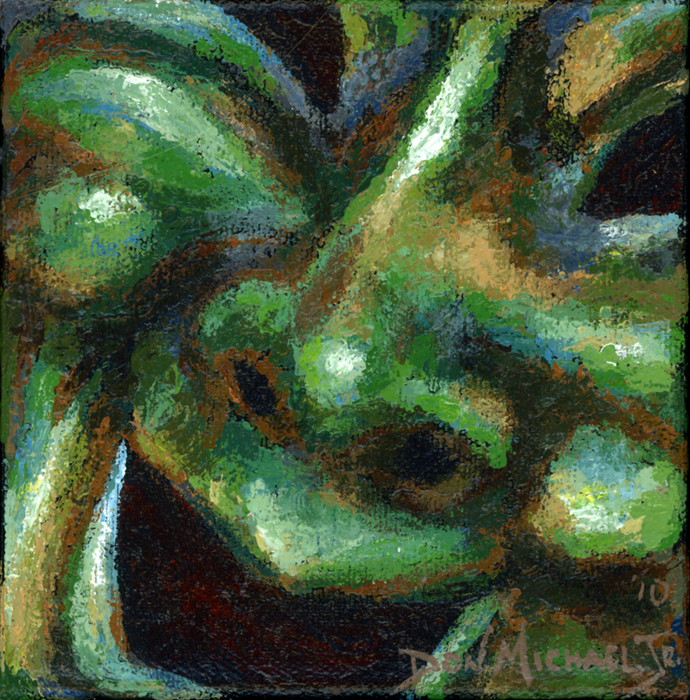 Friday – 5″x5″ – Acrylic on canvas – Completed 8-16-10
©2010, Don Michael, Jr.
I just realized as I was posting these that Monday was created on a Friday and Friday was created on a Monday. How's that for a head-scratcher?
Happy Creating!
First of all I want to send out a big hello to all my blogging friends. With my computer troubles I have not been able to swing by anyone's blog since late last week and I'm going through withdrawals. Hopefully things will be back to normal soon.
A couple months ago my brother, David, approached me about doing the cover artwork for a book he has written. I told him I'd be honored to do it, and once I read the book I became really excited about the project. After much discussion David and I came up with a concept and I proceeded to the canvas. Many weeks of arduous labor later I can finally call this stage of the process complete.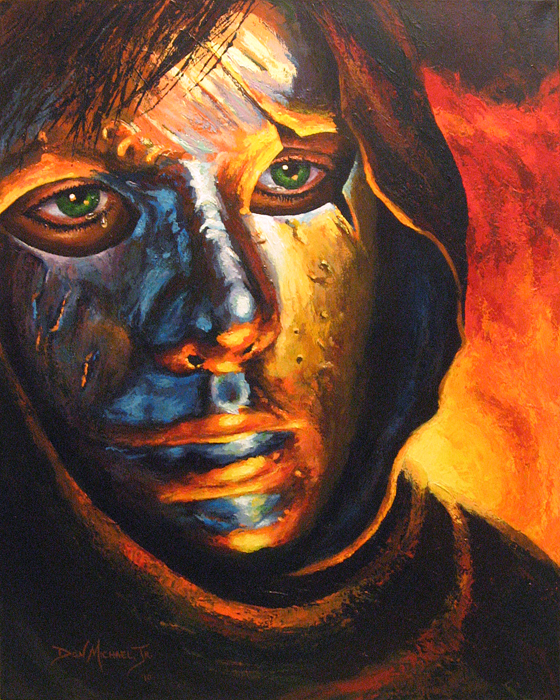 End of Days – 30″x24″ – Acrylic on canvas – Completed 8-15-10
©2010, Don Michael, Jr.
For this painting I chose to use my palette knife to apply the paint which lent itself to the rough, organic nature of the entire piece that I was going for. It became quite a challenge as I moved into the details of the eyes, until I finally broke down and used a brush in one small area. I can honestly say that I put in more than double the amount of time creating this piece than I have put towards any of my mask paintings… and, come to think of it, more time than I have put towards any single piece – EVER. (Only for you, brother.)
My next step will be to incorporate this photo of the painting into the layout of the cover – which I have yet to design. As soon as I'm done and the book  is ready to release I will be sure to post about it. (BTW, as you'll find out soon, the title I chose for the painting has absolutely nothing to do with the title of the book – it just felt right to me for this piece.)
Happy Creating!
Well, once again my Mac is on the fritz. I knew its video card was on its last leg after my recent troubles, but put off getting a new one since finances are a little tight. Today that decision bit me in the butt. I guess I'll get to learn how to share the family computer again while practicing patience as I await the arrival of the video card through the trusty mail service. Yikes!
Meanwhile, let me introduce you to the latest addition to my mini-palette knife series. She includes a new mix of colors for me. All of the colors in her palette are ones I had used before, but never together. The colors are Cerulean Blue (Chromium), Quinacridone Magenta, Cadmium Yellow Light and Titanium White.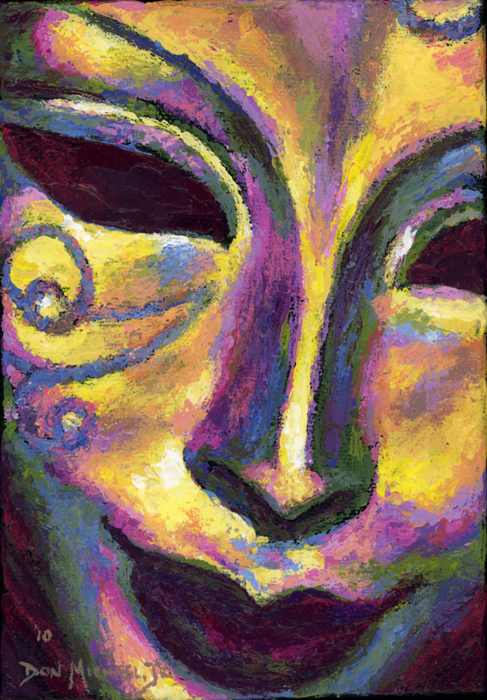 Retrospect – 7″x5″ – Acrylic on canvas – Completed 8-10-10
©2010, Don Michael, Jr.
Today was the first of the Acrylic Workshops I'll be instructing at the local Michaels Arts and Crafts store here in North Las Vegas. I want to thank Rachel, Kim and CJ for being my first guinea pigs. Since nobody demanded their money back, and one of them is already committed to reliving the agony in next Friday's class, I think I can safely call it a success…
Here the ladies are, ready to get started. We'll see how long those smiles stay on their faces…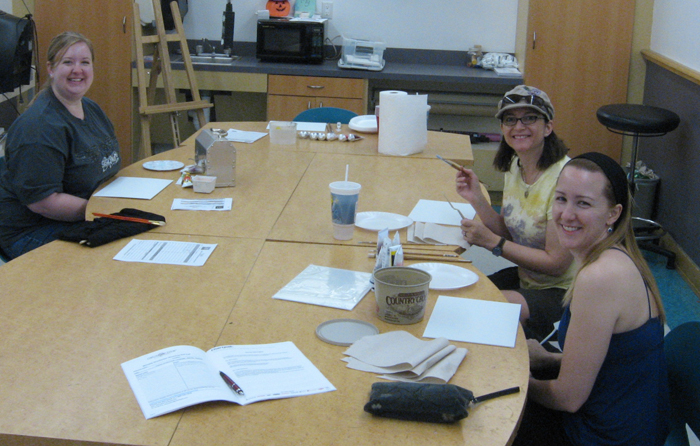 After an hour of hard work, they're not smiling so big now, are they?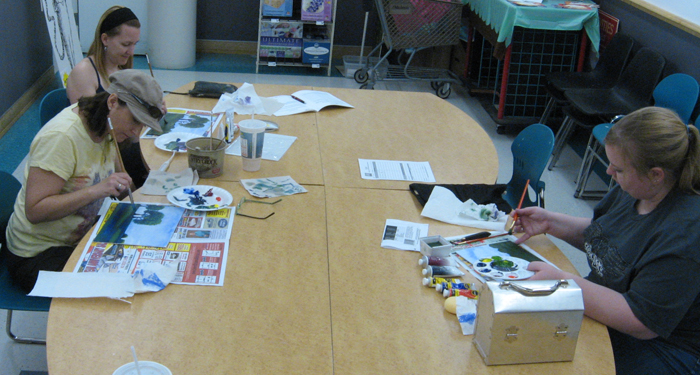 Hold on a minute… I guess I couldn't wipe those grins completely off their faces after all. Oh well, if you can't beat 'em, join 'em…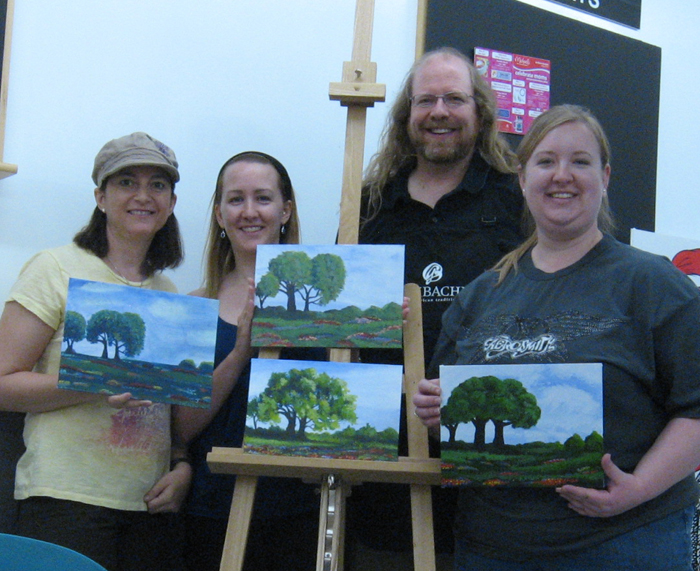 These workshops are a joint venture of Chartpak, who manufacture the Grumbacher line of artists materials, and Michaels. Each workshop costs $27. The students may bring their own paints and supplies or they can purchase what they need at Michaels, who will supply a syllabus upon enrollment in the class which also includes a 10% discount coupon. The next scheduled classes are Friday, August 13, from 6-8pm; and Saturday, August 21, from 1-3pm. If we continue to grow we will be scheduling even more. OK, I know, I know… enough with the shameless self-promotion…
…for now…
Happy Creating!
Next Page >>