The last few weeks I've been doing a bunch of experimenting in preparation for my next assemblage '3D' mask painting. There's been a lot of hit or miss, leading to some pent up frustration. So, the last couple days I took time off from that and just focussed on manageable, smaller pieces that I could finish fairly quickly while giving myself a sense of accomplishment. Needless to say, as I've been working on these smaller paintings my mind has still been trying to work out the 3D project.
Tonight as I was painting my latest Over the Under-Schmeering piece I was dwelling on the problems I've created for myself with the 3D project as well as some other issues that I'm in the midst of. At the same time I was beginning to think about the title for the piece I was working on. Then my i-Tunes randomly selected the song I needed to hear. It's titled Fearless and is on the Neville Brothers' Brother's Keeper album. The lines that resonated for me go:
…Dangerous thoughts of what could go wrong
Against the odds we must carry on
Must be strong and fearless
We must be fearless
Ooh, counting on help from above
Trusting the power of love
We must be fearless, fearless, fearless.
Once I heard these lines, beautifully sung by Aaron Neville, I felt very encouraged and knew that the title for this latest piece was set…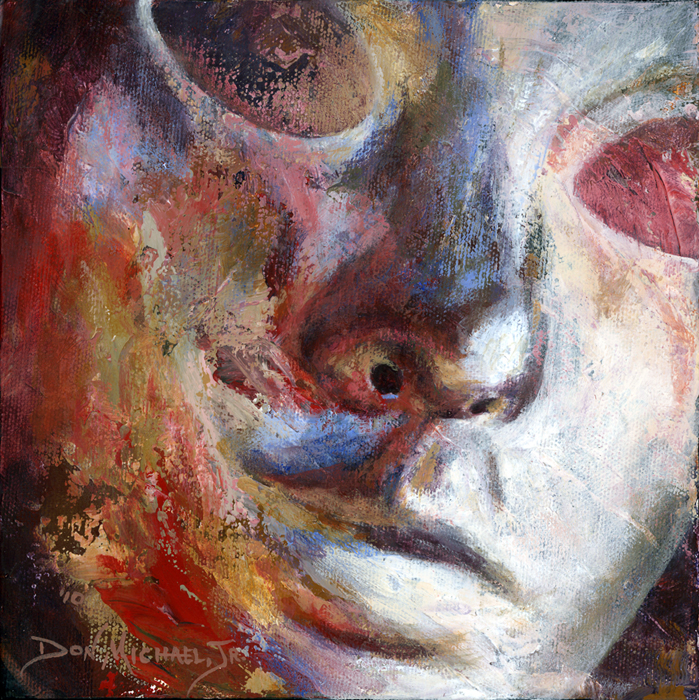 Fearless – 8″x8″ – Acrylic on canvas – Completed 9-29-10
©2010, Don Michael, Jr.
The Under-Schmeering for this one was created during the painting of my mega-mini canvas, Fare Thee Well. It amazes me to consider how much paint I would be wasting if I were not wiping it on these extra canvasses. Anyway, below is the before-and-after. I hope you enjoy.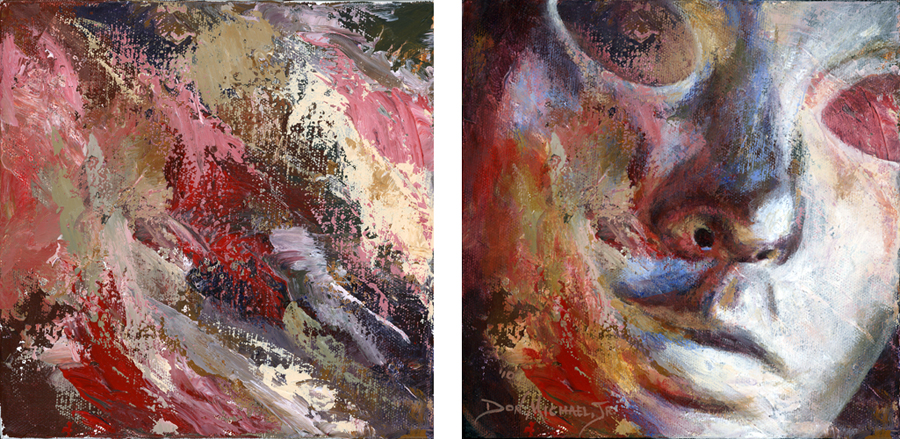 ©2010, Don Michael, Jr.
To assuage any major concerns, my family is healthy, my marriage is healthy, and we're all relatively happy. Life just throws us curve-balls sometimes – and sometimes it puts too much heat on the fast-balls.
Happy Creating!
Just over two years ago I finally got up the nerve to dive into the blogging waters. In the ensuing time I have developed many new friends and have grown as both an artist and a communicator. I planned to do a post on the two year anniversary – which would have been August 22nd – but when I realized how close I was to my 200th blog decided to go for a two-fer instead. Interestingly enough, after today's painting I'm only 7 away from having 200 paintings finished in my mask series. I think that fete should enjoy its own recognition, though. Plus, a three-fer would have thrown off my theme of 2's for Tuesday for today.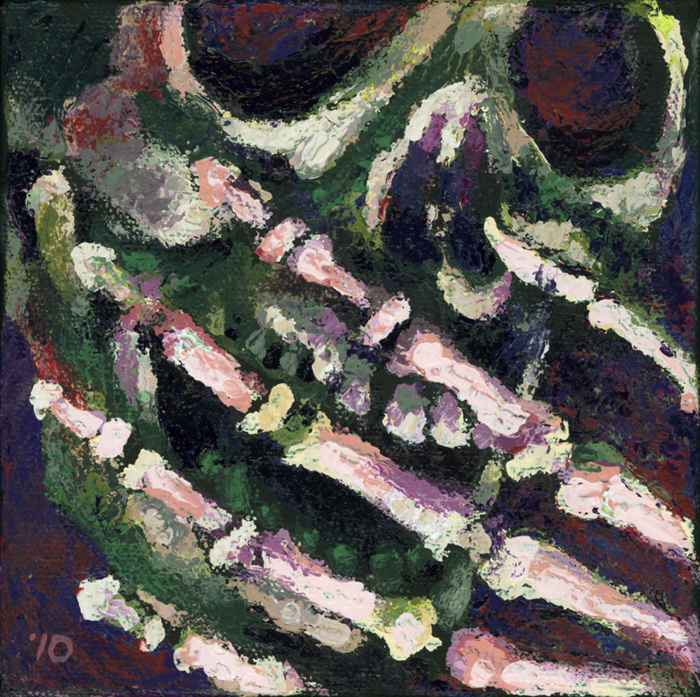 Shiver Me Timbers – 5″x5″ – Acrylic on canvas – Completed 9-28-10
©2010, Don Michael, Jr.
The Halloween season brings me much joy since every store under the sun features masks for sale. I try to buy at least one new mask each year to add to my collection and this year has been no exception. While looking for the perfect new mask last week I found a "bag of bones" which included a skull, a hand, two feet, two ribs, a femur and a section of spine. These 'bones' are almost life sized and a lot of fun to work with in coming up with ideas for future paintings. Today's palette knife painting is the first to include one of those elements… It's not one of my best efforts, but it sure makes me smile.
Happy Creating!
Many of you may remember that a little over a month ago I posted the painting End of Days which I had created to be used as the cover of a novel written by my brother, David. Well, I am proud to announce that The Summoning Fire has been released and is now available online at Amazon.com. Specifically, you can find it here.
I was excited to find my copy in the mailbox today and could not wait to share it with all my friends. Here it is on the dining room table waiting for me to give it another read. (Yes, I think it's good enough to read more than once. Good books are like good friends to me – It's nice to pay them a visit periodically…)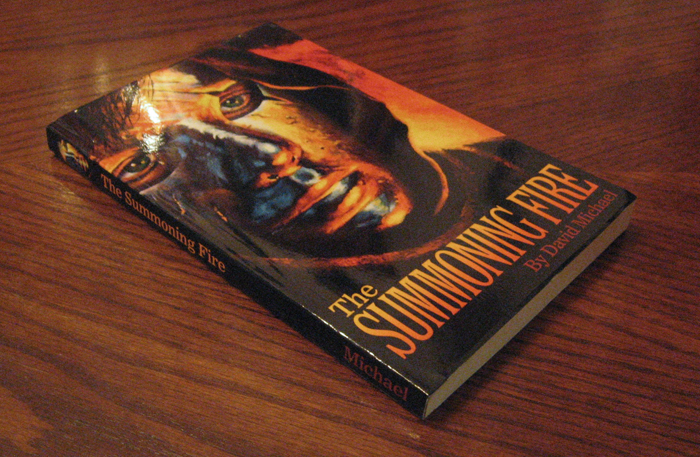 The Summoning Fire – Novel by David Michael – Released September 2010
To give you a better sense of the artwork, and to give you the opportunity to read the synopsis on the back, I am enclosing a jpeg of the artwork I created for David.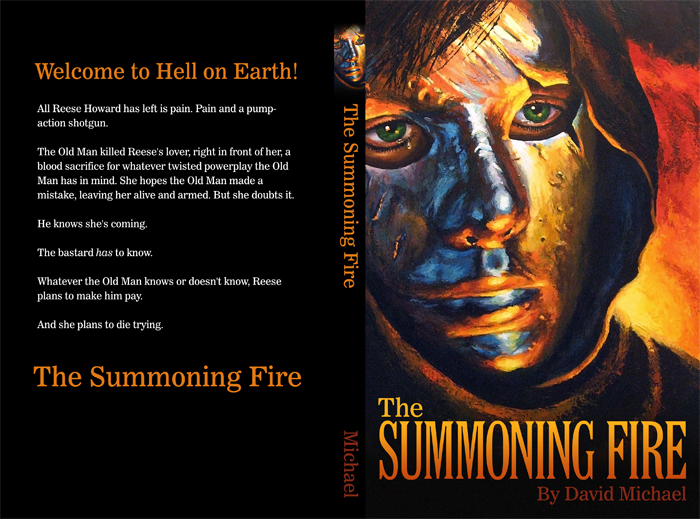 The Summoning Fire – Cover artwork – Acrylic painting and Photoshop
David classifies this novel as fantasy/horror and that fits it perfectly. As a word of caution I feel I must warn my blogging friends that I would give The Summoning Fire an R rating. If this hasn't scared you away I hope you'll give it a read. I'm pretty sure you'll be glad you did…
Happy Creating!
OK, it's time for me to reveal one of the distracting projects I alluded to in my previous post…
As many of my blog friends know, I have a brother who is an excellent writer. Last year he started writing short stories inspired by some of my mask paintings. I have been blown away by his writing and have even shared several of his stories with my blogging and Facebook friends over the past several months.
I'm proud to announce that David Michael has released the e-book Nostalgia. This is an independent venture which he anticipates will be released "to a resounding chorus of crickets". I plan to do everything I can to prove him wrong (isn't that what brothers are for?).
I'm just as proud to mention that I created the e-cover, which you can see below. If you click on it you will be taken to his blog where you can read the first part of the story and find out more about purchasing it. I hope you enjoy. If you do, be sure to tell your friends.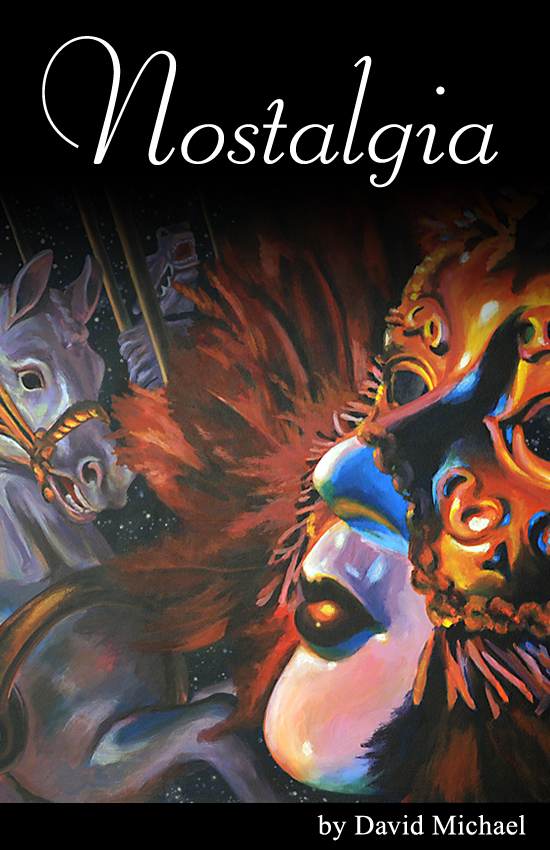 Nostalgia eBook Cover – Photoshop – Created September 2010
©2010, Don Michael, Jr.
The original painting which inspired this short story can be seen below.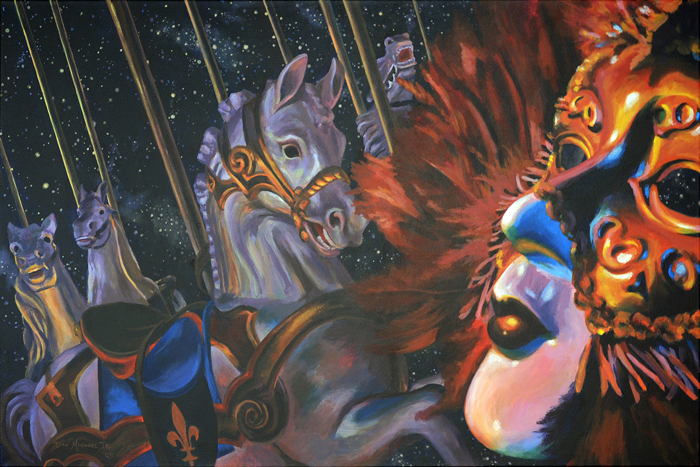 Nostalgia – 24″x36″ – Acrylic on canvas – Completed 8-05-09
©2009, Don Michael, Jr.
Stay tuned. There's more to come. Meanwhile…
Happy Creating!
This past week has been the least productive with regards to painting that I've had all year. I've gotten a lot done, except painting – until tonight, that is. Someday I'll be able to share some of the other things going on, but for now I'll just share my latest Over the Under-Schmeerings painting. I hope you enjoy.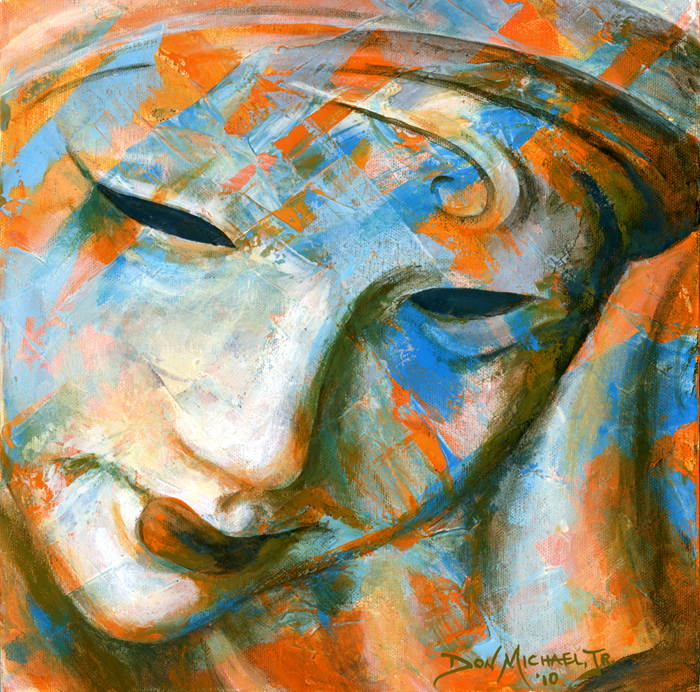 Grace – 12″x12″ – Acrylic on canvas – Completed 9-18-10
©2010, Don Michael, Jr.
The Under-Schmeerings for this one came from the painting stages of creating the mask Wake Up a few months ago. I'll admit that the intensity of the colors and the strong contrasts in the values gave me pause – about 3 months worth. Finally, I sucked it up and decided to go after it, no matter what. I'm really glad I did…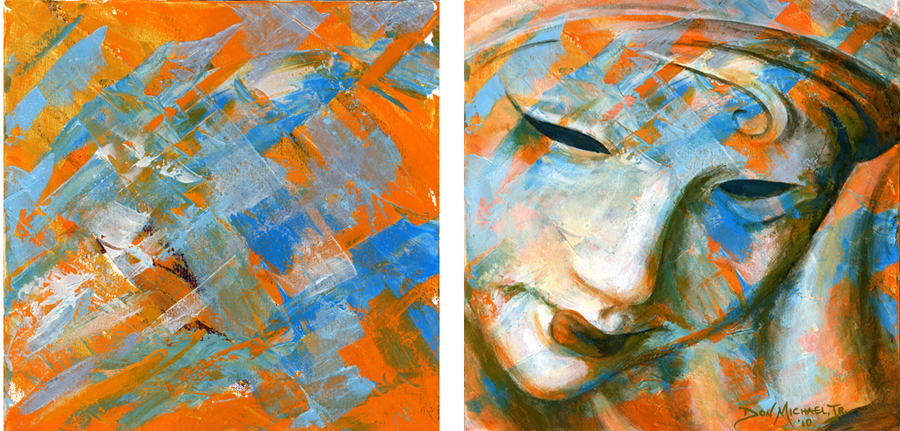 ©2010, Don Michael, Jr.
My blogging friend, Celeste, just sidetracked me from my easel for the past two hours. She posted a cool self-portrait she did using an online program called The Scribbler by Zefrank and I had no choice but go try it out for myself. Wow, did I have some fun. Below is the 'self-portrait' I created per Celeste's suggestion.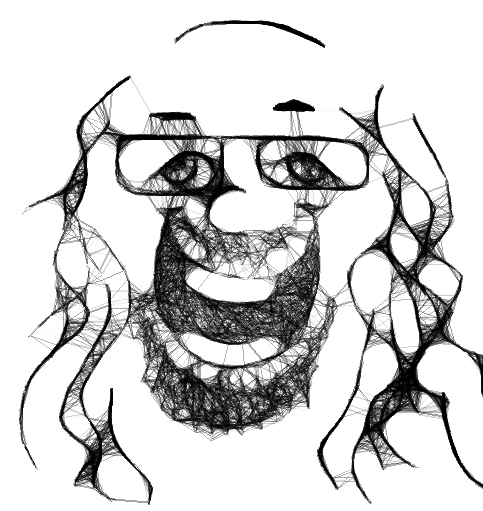 A Happily Distracted Don – Electronic sketch collaboration with The Scribbler – Created 9-13-10
Thanks for the distraction Celeste. I think I'll go paint now…
…with a smile on my face.
Happy Creating!
As I mentioned in my previous post, I have been working on a piece that will be auctioned off for charity. The event is called Three Square's DISH Las Vegas. It is touted as a "culinary event" which includes a live and silent auction called "Signature Dish". Chefs from all across the Vegas area will be preparing a feast for those who have bought tickets to the event. At the end of the evening they will be auctioning off artwork which has been created on and with plastic cafeteria-style serving trays by local artists and celebrities. 100% of proceeds will go to support Three Square's mission of "providing wholesome food to those in need while passionately pursuing a hunger-free community". Below is my contribution.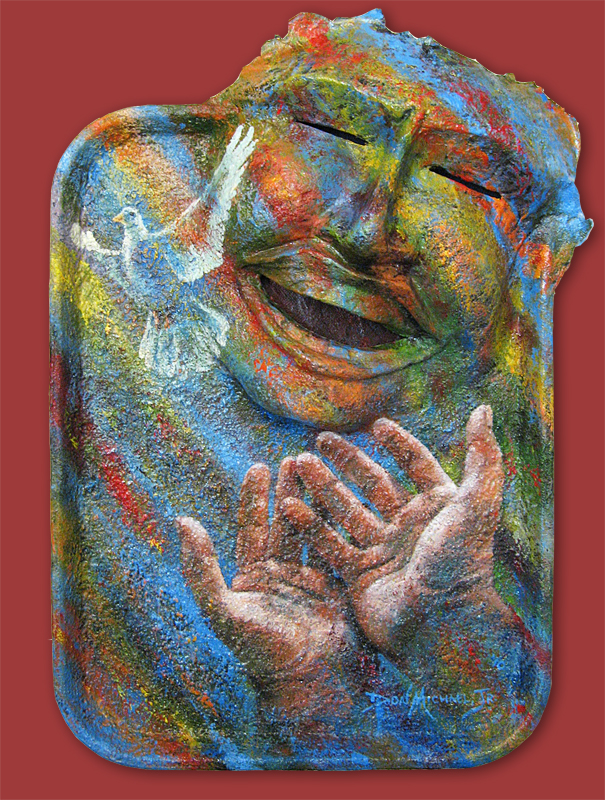 The Joy of Giving – 18.5″x12.5″ – Acrylic and Paper Mache' on Plastic Tray
Completed 9-9-10 ©2010, Don Michael, Jr.
Below you can see the tray that I started with as it awaits my ministrations…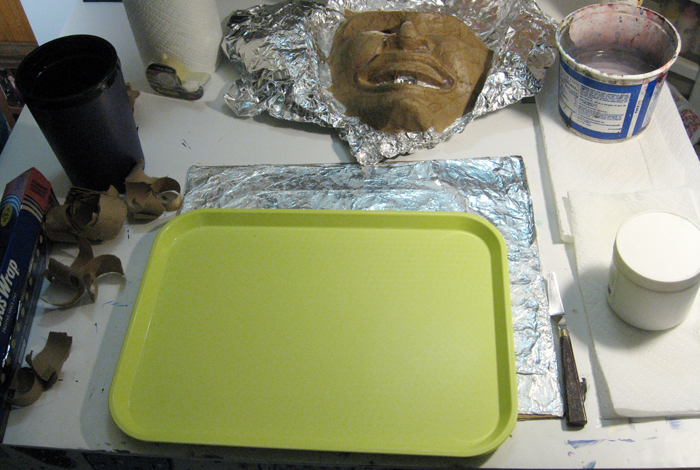 To make sure that the paper mache' mask I created was going to adhere permanently to the plastic tray I decided to wrap the tray entirely in paper mache'. Below the tray and mask are ready for the next step…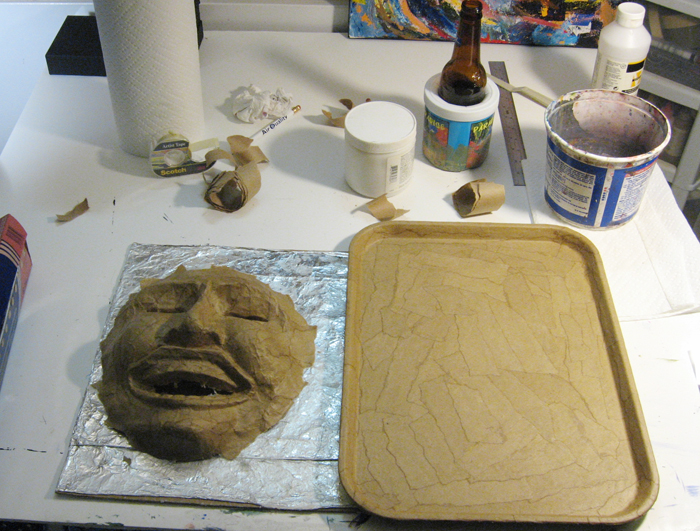 …which involved me applying a dark reddish-purple gesso mixture to the tray for the background which would appear behind the mask's mouth and eyes, followed by the adhesion of the mask to the tray.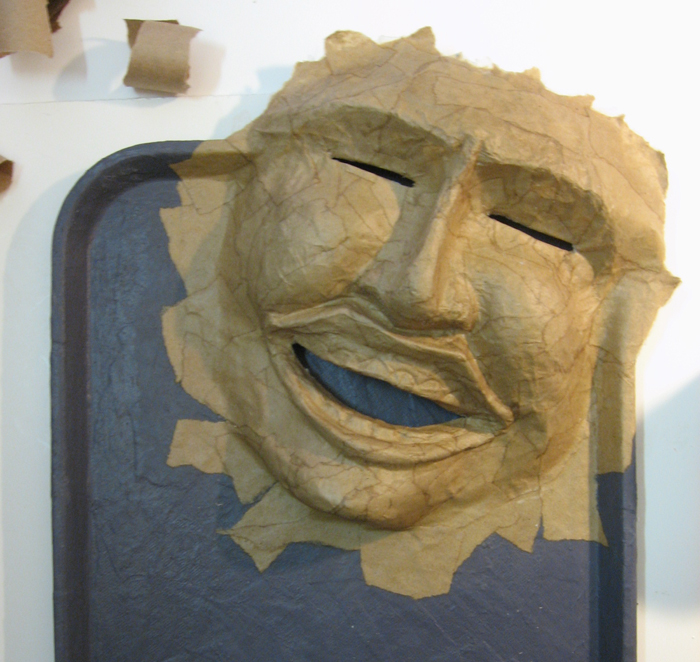 I then applied Light Molding Paste to the entire piece while texturing it with a natural sponge.
I found the white snowy mess a little too distracting and evened everything out nicely with a good coat of black gesso. (BTW, you can see the bottom of the painting from my last posting, Halcyon Parade, which was a work in progress at the time.)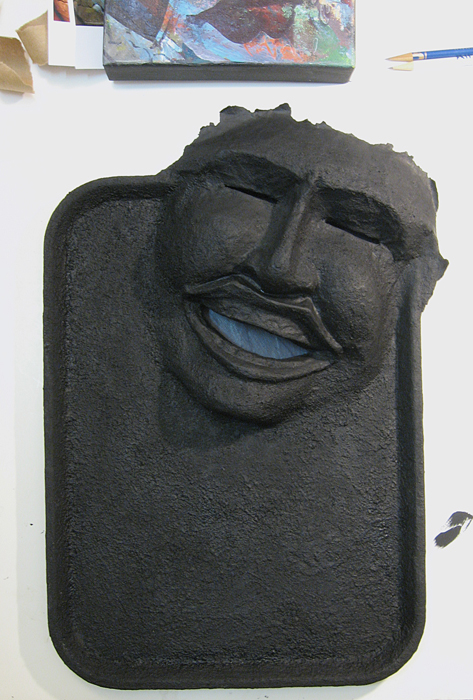 As cool as the black looked, I decided it was time for some color and I laid in my base coat – which also served as my background.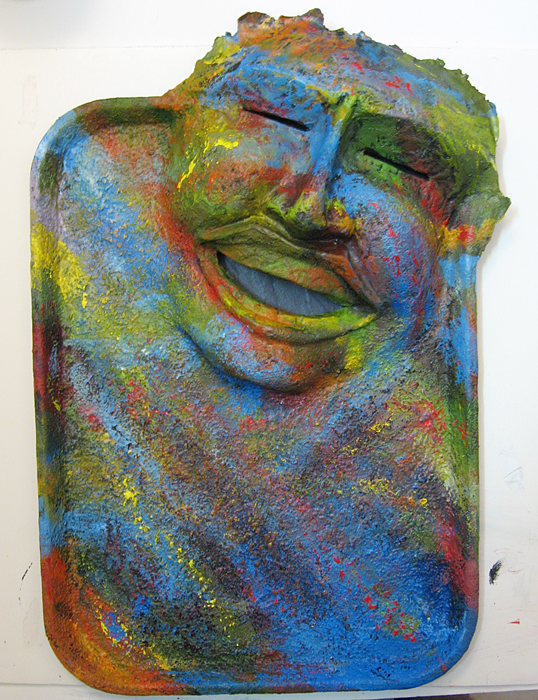 From here I proceeded to paint the hands and dove. I have no shots of that part of the process. I got too caught up in the painting and forgot to document it… Oh well, at least I got most of the steps…
Happy Creating!
I've been working on another piece for charity the past few days and hope to have it finished by this upcoming weekend. Meanwhile, I have a pretty good backlog of schmeered canvasses awaiting my attention and decided to finish out one of them this past weekend during some downtime on the charity project.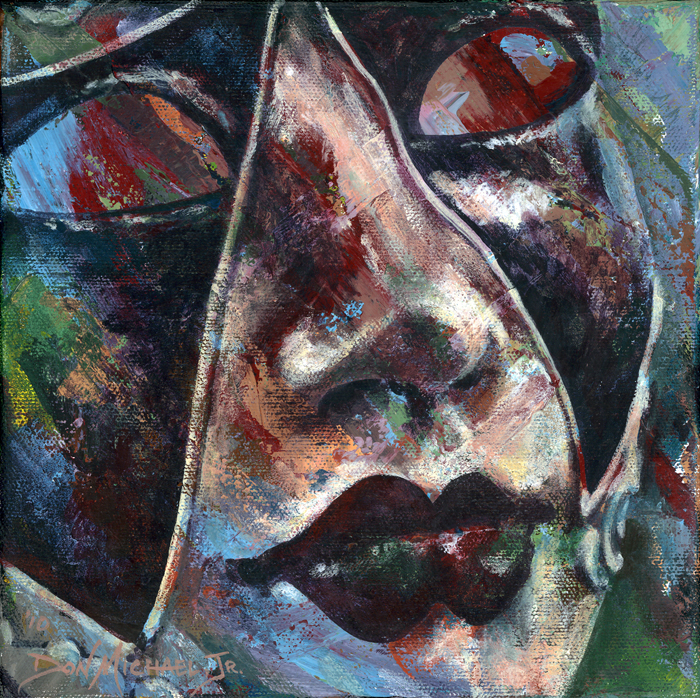 Halcyon Parade – 8″x8″ – Acrylic on canvas – Completed 9-5-10
©2010, Don Michael, Jr.
The mask for this one came from a photo that my brother, David, sent me after his recent visit to a mask shop in New Orleans while on vacation with his family. Below you can see the photo he took of his lovely daughter trying it on. It's good to know that I'm not the only parent who conscripts his children into modeling duties…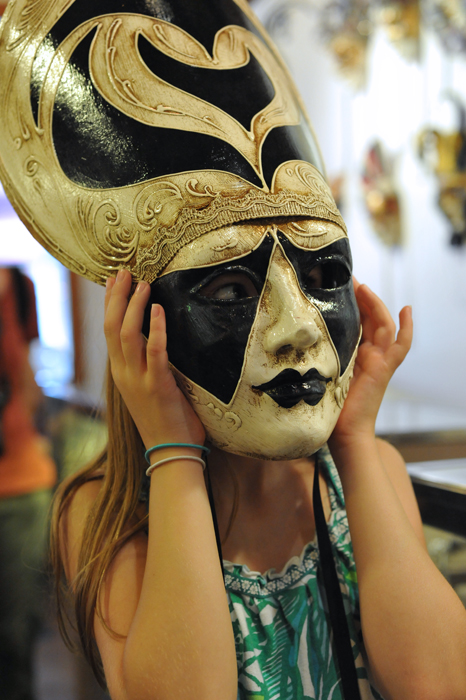 ©2010, David R. Michael
The Under-Schmeering background for this one was created during the painting process of my two recent miniature palette knife pieces, Monday and Friday. For your viewing pleasure I am including the original abstract Under-Schmeering beside this latest attempt at creating order from chaos. I hope you enjoy…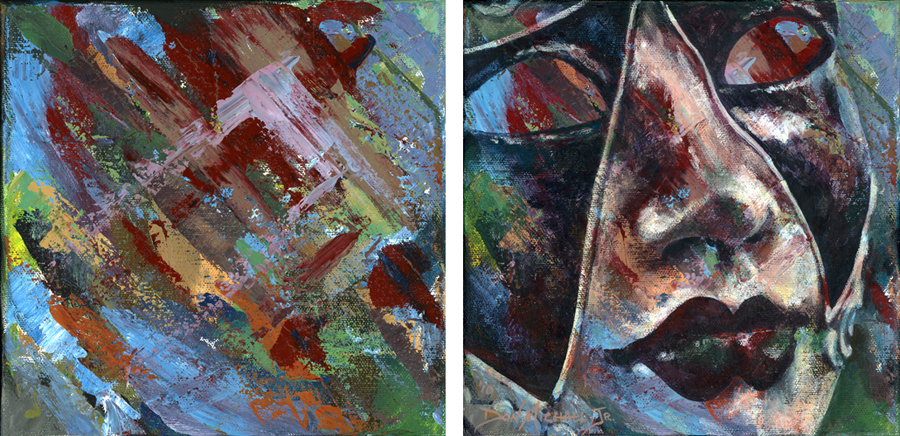 ©2010, Don Michael, Jr.
Since tonight is First Friday, a downtown art show here in Las Vegas, my week has been spent in preparation. There were wires to be strung; prints to be made,  bagged and tagged; signs to be made; and finally, paintings to be hung. Last night I took in 9 of my 10 new paintings from August and switched them out on the wall of the gallery I share with 7 others in the Arts Factory. Everything is now ready for 6pm to roll around, at which time First Friday will begin.
As you can see below, I have hung my work salon style so I can get more "bang for my buck" in regards to the gallery space. The blue and red paintings on the right side of this photo are by my friend Areeya. (I would link to Areeya's website, but regrettably she must be having server troubles.)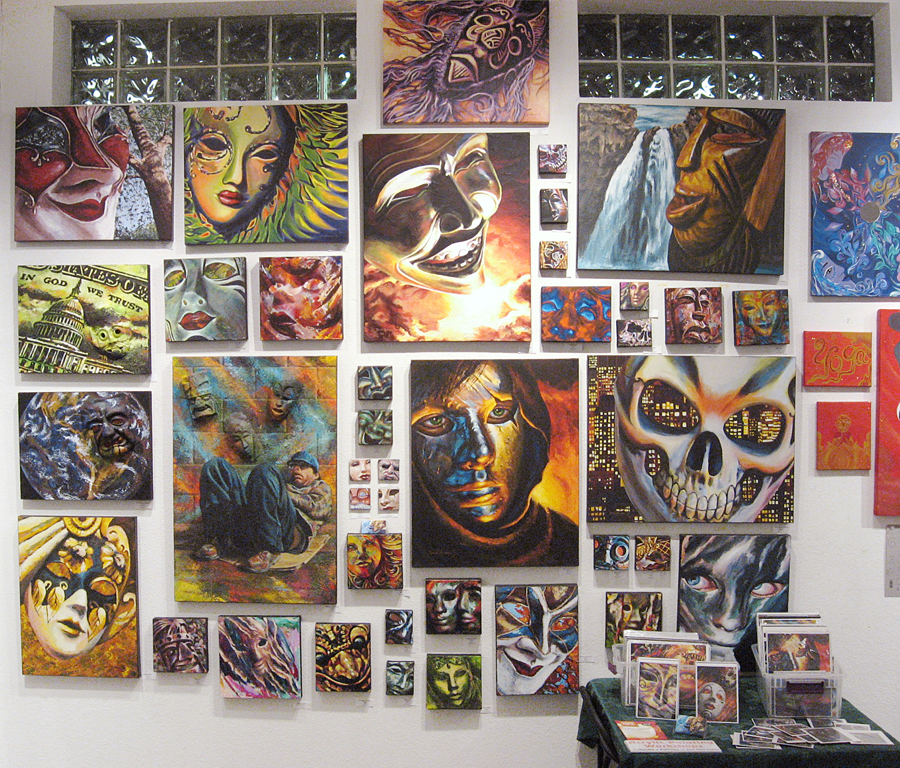 All paintings ©2008, 2009, 2010, Don Michael, Jr.
My brother, David, who has not had a chance to see in person the painting, End of Days, which I created for his book cover, asked that when I put it on display I take a photo of it to give a sense of its scale and impact. Being a frugal guy, I thought I'd use this as an opportunity to also showcase the scale of the little, itty-bitty canvasses  I was painting on with my palette knife all last week. Seven of the ten paintings I finished in August are shown below in this closeup of the wall. (End of Days is the large one with the eyes behind the mask.)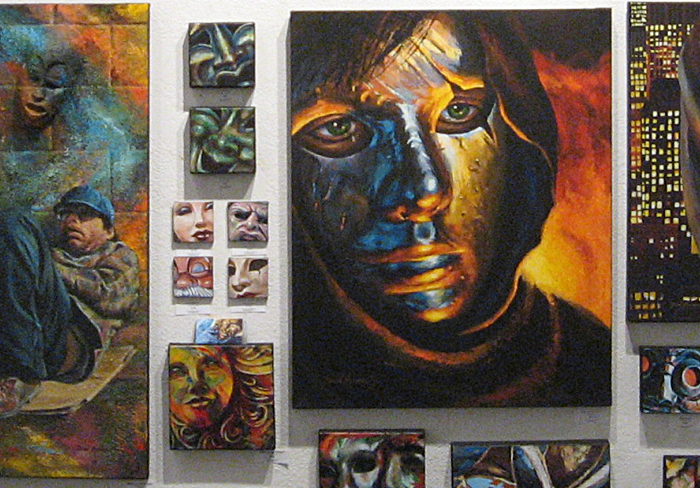 All paintings ©2008, 2009, 2010, Don Michael, Jr.
If you live in or near Las Vegas, be sure to stop by and see me tonight. I'll be hanging out with my artwork from 6pm until 10pm. Hit me up for a beer. I'll have a few stashed in my ice chest.
Happy Creating!