Recently when I finished my self-portrait titled Prove It my friend CJ Boisvert told me that the blue in the face made her think of the blue light reflected from a computer monitor. I could immediately relate to what she was talking about. For several years we worked together in a Las Vegas television station. Almost daily she would stop by my office and this was the view she would usually walk into.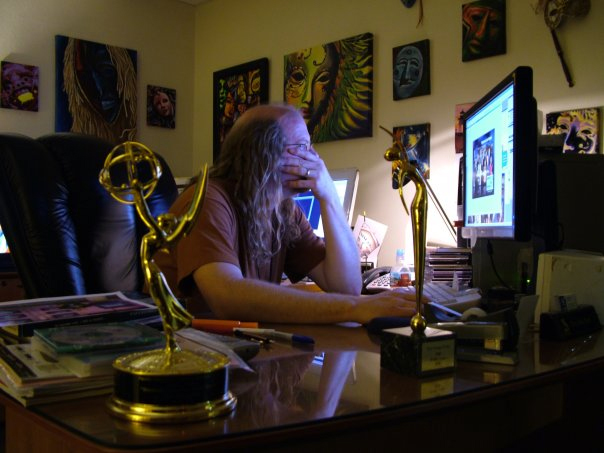 In fact, CJ took this photo. (That little statue on the corner of the desk is an award we earned together and share with our good friend and former boss, Dale Wyman.) CJ was the Promotions Manager and I was the Art Director. As such, we were equals – each under Creative Services, but each managers of our own departments. As the years went by we became not only co-workers, but great friends. (My wife Laura even called CJ my 'Work Wife' – which really fits since no one knows me better -except Laura).
Like me, CJ no longer works for the TV station we spent so many years – and so much blood, sweat and tears – with. Like me, CJ is now pursuing her dream. She has started up a production company called AlleyZoom Productions. Below you can see the logo we created together.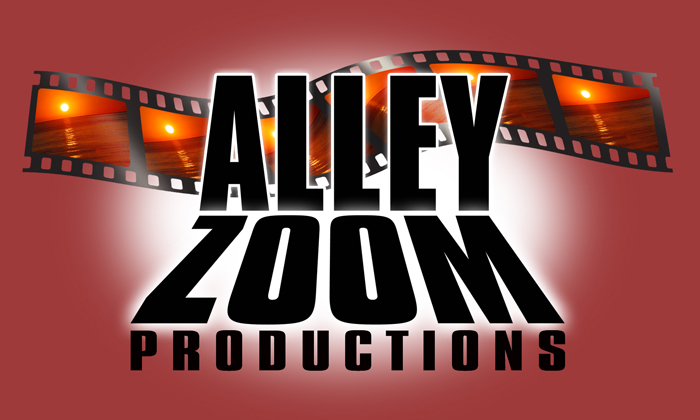 I've always called CJ a Renaissance Woman because she can do about anything she sets her mind to – and do it well. She can shoot (video), she can edit, she can write, she can produce, she designed her own webpage, and she does her own dishes. You can find out more about the work CJ can do on her new website: www.AlleyZoomProductions.com. Below is a snapshot of her homepage. Click on it and it will take you there…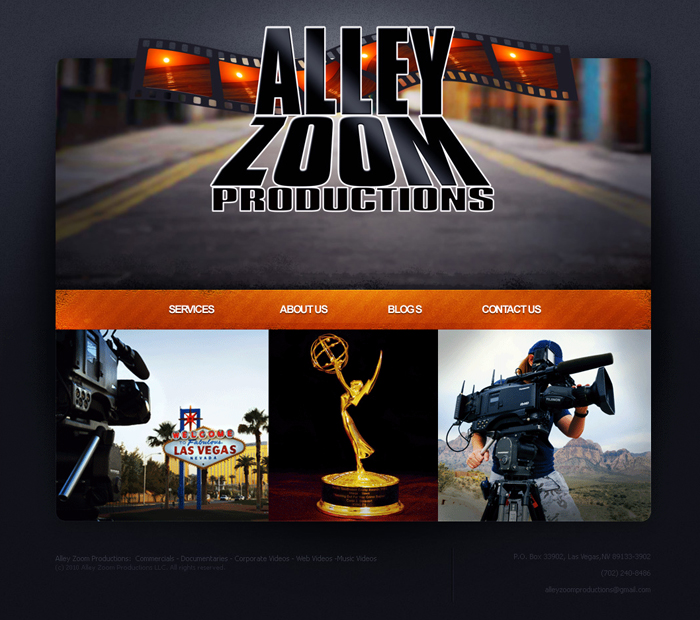 Many of my readers may remember the videos I did earlier this year. CJ was the one responsible for them. You can see them and other videos she's done on her YouTube page. Now I'm going to sneak her out from behind the camera – at least until she slaps me upside my head and tells me to cut it out…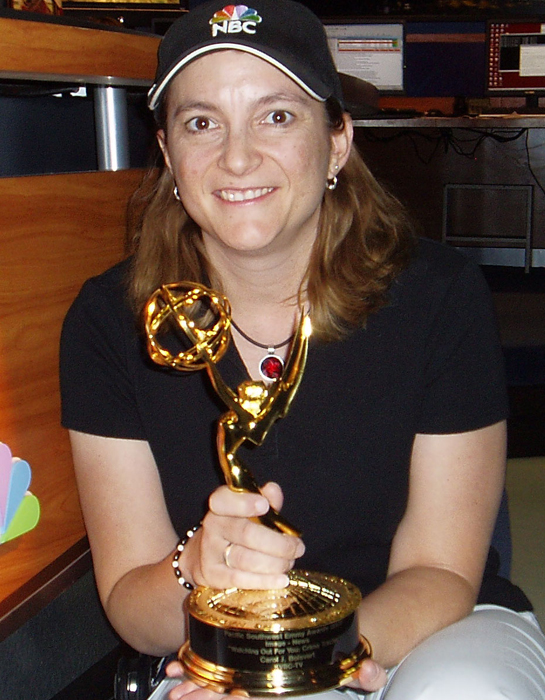 CJ Boisvert – Promo Goddess
After many months of preparation the big night finally arrived. Un-Masking the Mind was held last night in the Stan Fulton building on UNLV's campus. Masks created by several different artists – with many having been autographed by celebrities – were auctioned off to benefit the Innovations International Charter School of Nevada. Here you can see all the masks lined up waiting for their turns on the auction block.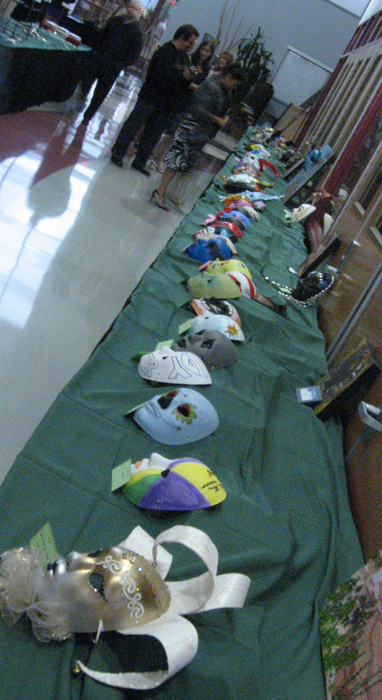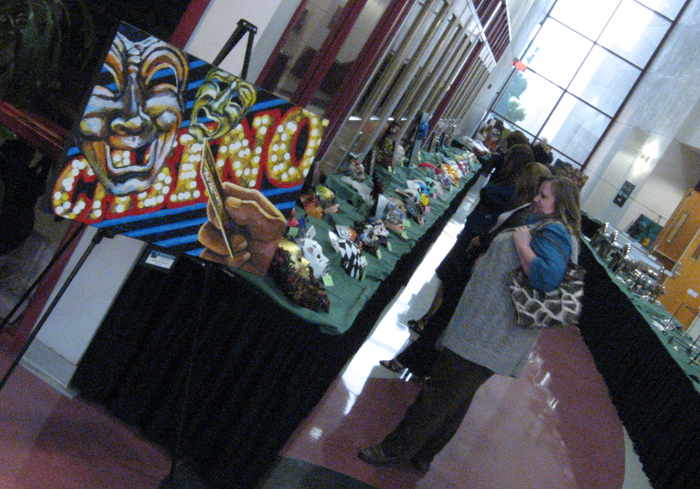 Below is a closer view showing three of the four I created for the event. Gathered around mine are some of the masks created by local artist friends of mine, including Niki J. Sands, Alex Huerta, Maria VanderMolen, and Eric Belanger.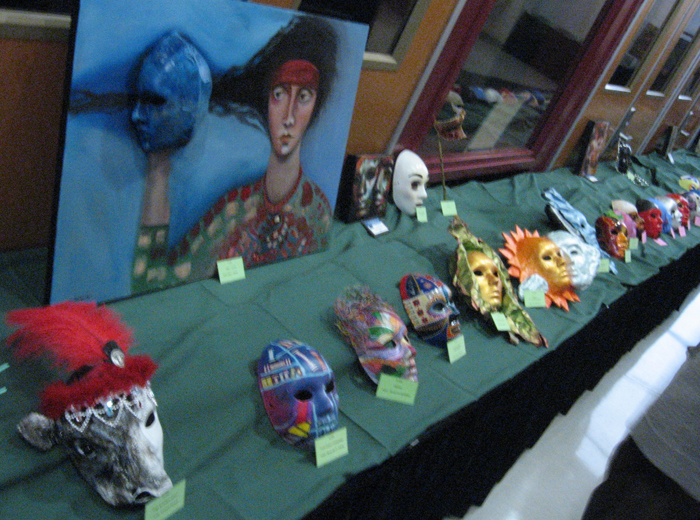 Interspersed throughout the venue you could see mask paintings created by yours truly. Here are a few of them near the entry area…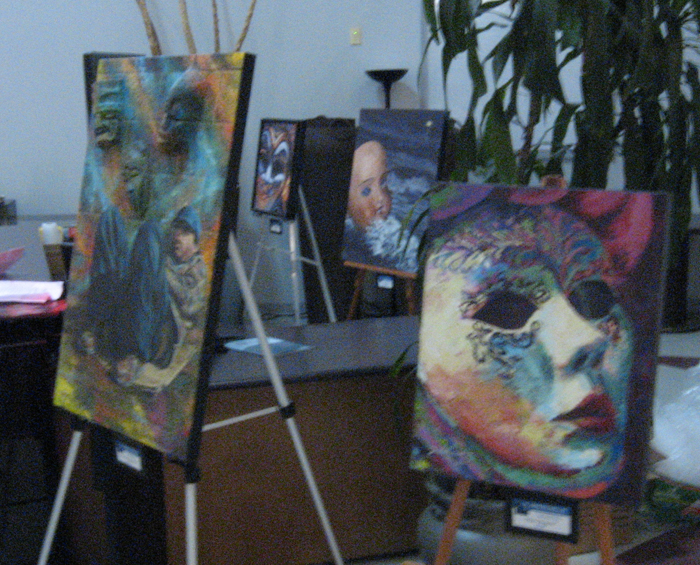 …and here are a few further back in the hall.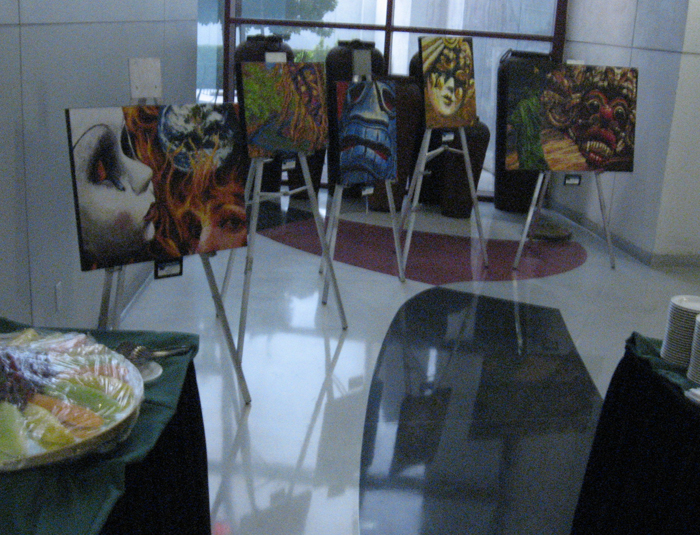 A nice surprise was sprung upon us at the last minute. Antonio Fargas volunteered to MC the event for us. Most people of my generation will remember him as Huggy Bear on the TV series "Starsky & Hutch". Younger folks will know him as Doc from the TV series "Everybody Hates Chris". Mr. Fargas added a lot of fun to the event and even donated a few items of memorabilia which were auctioned off, as well. Below you can see us having a moment together after the event was over.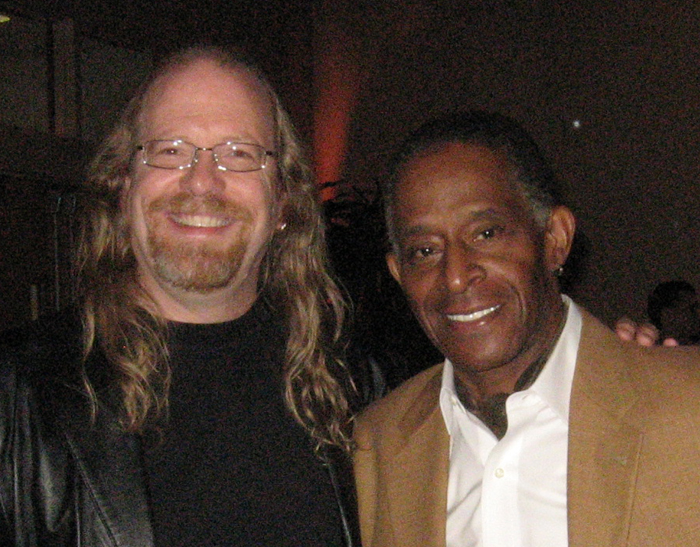 If I look pretty proud, it was for a good reason. Mr. Fargas was actually congratulating me on the success of the mask I created which was autographed by Jay Leno. It garnered the largest sum of money for the school after a long and entertaining bidding war. Below you can see it awaiting its turn earlier in the evening.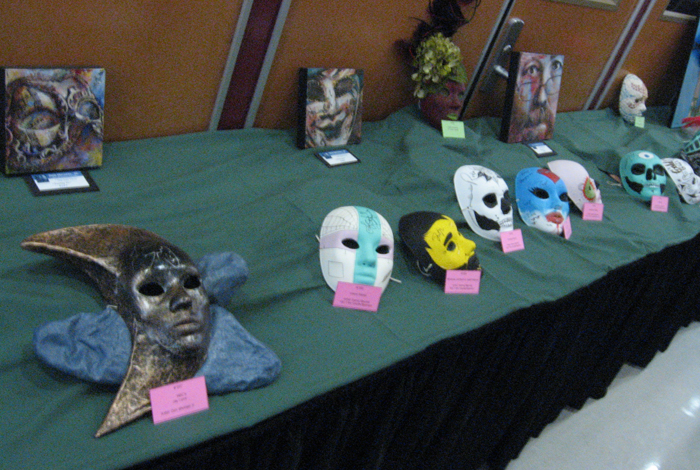 I'm proud to say that the four masks I created garnered a total of $955 for the school. It's a good feeling to know that this money will be helping to buy books and supplies to be used in teaching the inner-city youth of Las Vegas.
Now it's time for me to get my studio back in order and get busy painting.
Happy Creating!
One of the most independent minded, free spirited young ladies I know is my 12 year old daughter. She has one of the coolest senses of humor and a heart that is much bigger than her cute little body. She's also one of the most tenacious people you'll ever meet. Once she resolves to do something there is no persuading her otherwise – sometimes much to the chagrin of her mother and me. Her young eyes never miss a thing. Ever since she was a toddler we could always count on her knowing where EVERYTHING was – even things in drawers and cabinets out of her reach. So, I guess there's a little magic in her as well…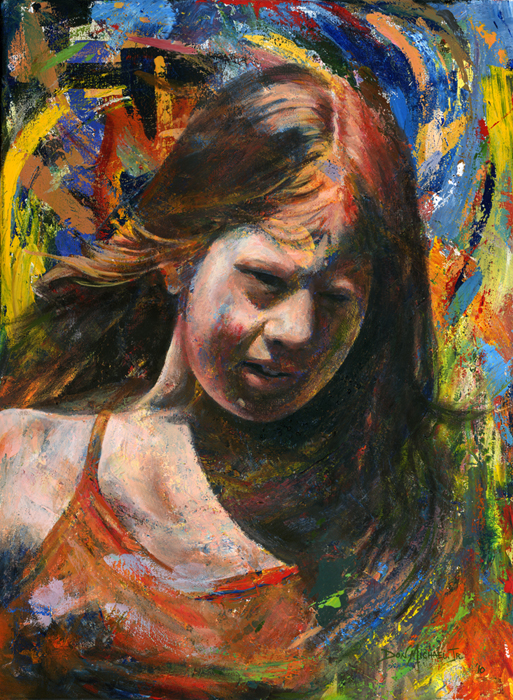 Independent Spirit – 24″x18″ – Acrylic on canvas – Completed 10-16-10
©2010, Don Michael, Jr.
I decided that the chaotic energy and brilliant colors in the abstract background generated while painting End of Days would be the perfect challenge into which to place this independent spirit. There are a few firsts in this latest from my Over the Under-Schmeerings series. It's the largest I've done – by far. It is the first one which does not have a square aspect ratio. And, it is the first to include some over-schmeerings to finish out the composition. Below is the before/after…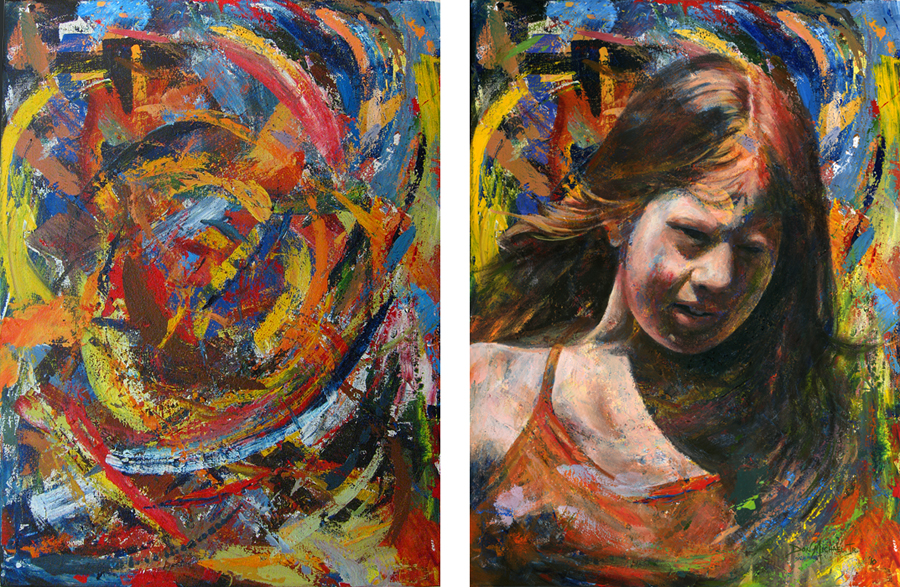 ©2010, Don Michael, Jr.
I don't know if I should admit this or not, but the fun I'm having with this series probably borders on illegal…
Happy Creating!
It was time for a change of pace, so I decided that the mask I would use in today's Over the Under-Schmeerings piece would be the one I wear every day. I think the painting ended up revealing a little of the skeptic that lives beneath my skin, so I titled it accordingly…
Prove It – 12″x12″ – Acrylic on canvas – Completed 10-11-10
©2010, Don Michael, Jr.
This ended up being a fun challenge. I wanted the final product to be similar in nature to the ethereal pieces I've created lately where the subject seems to be 'inside' the chaotic background instead of in front of it. I think I pulled it off…
Below, you can see the before – which was created during the painting of Fearless – and the after. I hope you enjoy…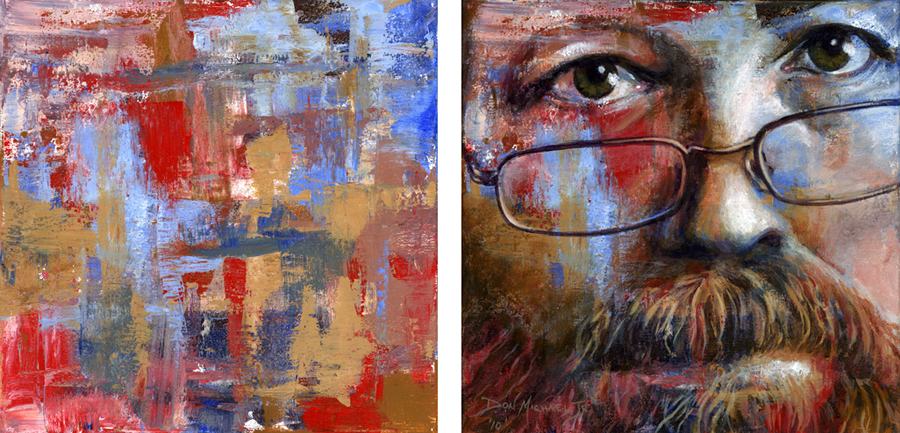 ©2010, Don Michael, Jr.
I figured that since we're well into October I should have some 'Halloweeny' fun. So I did…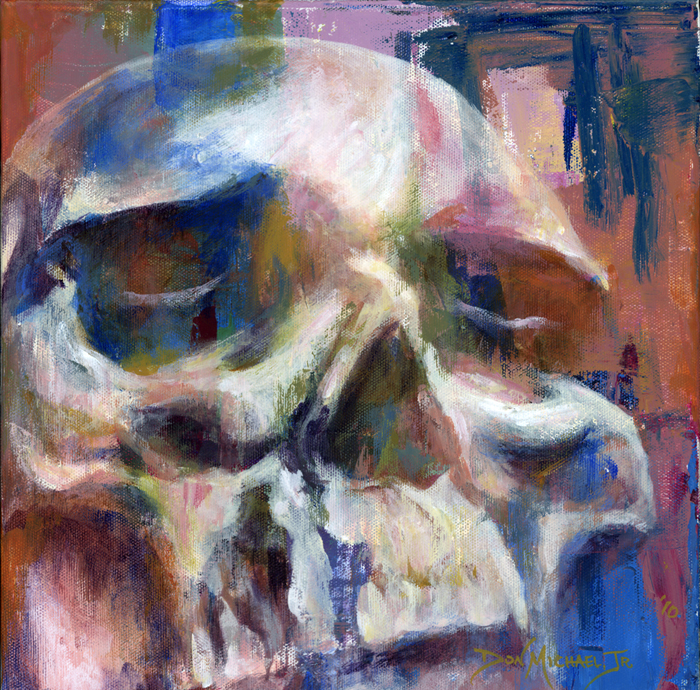 Hindsight – 12″x12″ – Acrylic on canvas – Completed 10-10-10
©2010, Don Michael, Jr.
My latest Over the Under-Schmeerings painting started out as the abstract mess created by wiping the leftover paints onto a spare canvas during the painting of Shiver Me Timbers. You can see the abstract mess and my attempt at creating order from the chaos below…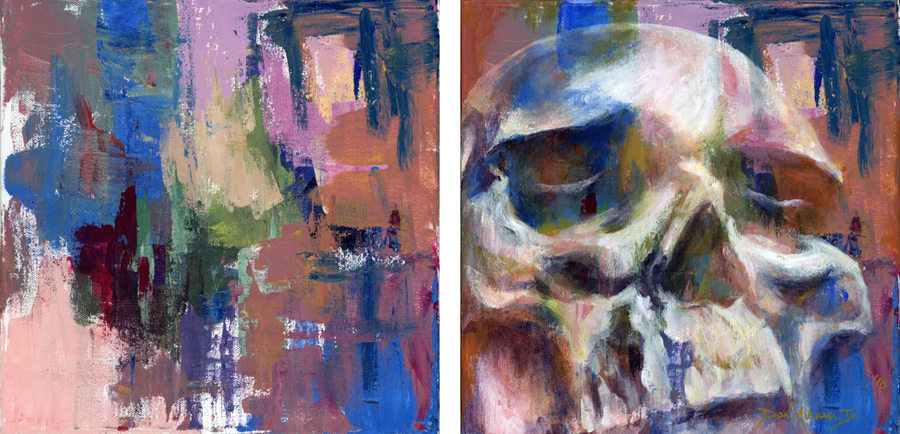 ©2010, Don Michael, Jr.
As I have alluded to in a couple of previous posts, I find myself bogged down in the planning stages of my next 3D/mixed-media creation. To give you little tease of what I'm up to, I thought I'd stay within today's skull theme and let you see a little piece of the puzzle…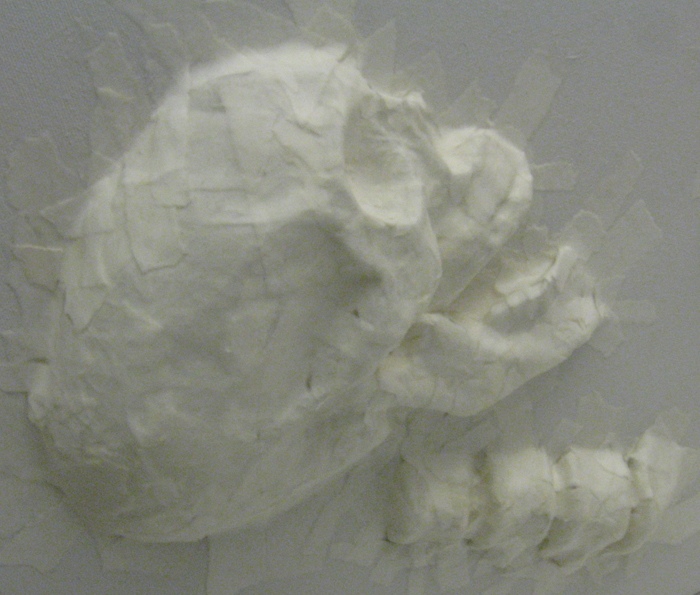 ©2010, Don Michael, Jr.
Now, if I could only figure out what I'm going to do next…
Meanwhile…
Happy Creating!
The online auction is now available for the Un-Masking the Mind Art Auction and Fundraiser. All proceeds will be used to buy books and supplies for Innovations International Charter School of Nevada. Nearly 50 masks were created by several talented individuals and autographed by celebrities such as Lady Antebellum, Jay Leno, NASCAR's Kurt Busch, PGA's Ricky Fowler, ESPN's Kenny Mayne – to name a few. Click on the banner below to go check them out – and even bid on them if you choose…

As many of you know, I created 4 of the masks which will be auctioned off – One was autographed by Jay Leno, one was autographed by Las Vegas news anchor Nina Radetich, and one was signed by Las Vegas news anchors Kim & Dana Wagner. The fourth was my personal donation. My four entries can be seen below.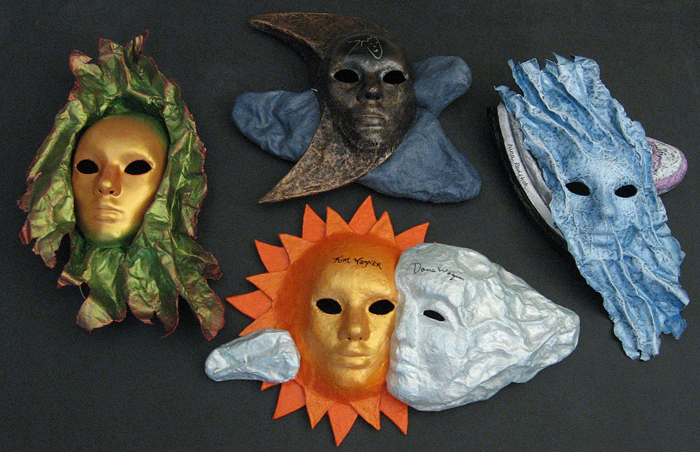 Clockwise from left: Persephone Returns, Lunar Leno (autographed by Jay Leno), Endure (autographed by Nina Radetich), Wake Up (autographed by Kim & Dana Wagner)
The online auction will close on October 20th as we prepare for the Live Auction and Gala which will be October 23rd. For more information about the live event click here. You can also follow them on Facebook here.
I love listening to music. Not only when I create, but ALL the time. (In fact, as I type this my foot is tapping along to Miles Davis playing All Blues from his Kind of Blue album.) I have about 9 days worth of music uploaded into my i-Tunes which gets turned on when I get up, and off when I go to bed. With the option to shuffle-play I end up with a wonderfully eclectic and totally random mix of music constantly flowing by.  I don't know how I used to get by back in the old days when I had to put albums on the turntable every 30-40 minutes – think of all the time I was wasting.
Anyway, as you can imagine, there were some good tunes playing while I was working on my latest Over the Under-Schmeerings painting. The notes on this mask and the dreamy nature of the composition made me think that this portrait of a Venetian half-mask was tuning in with me…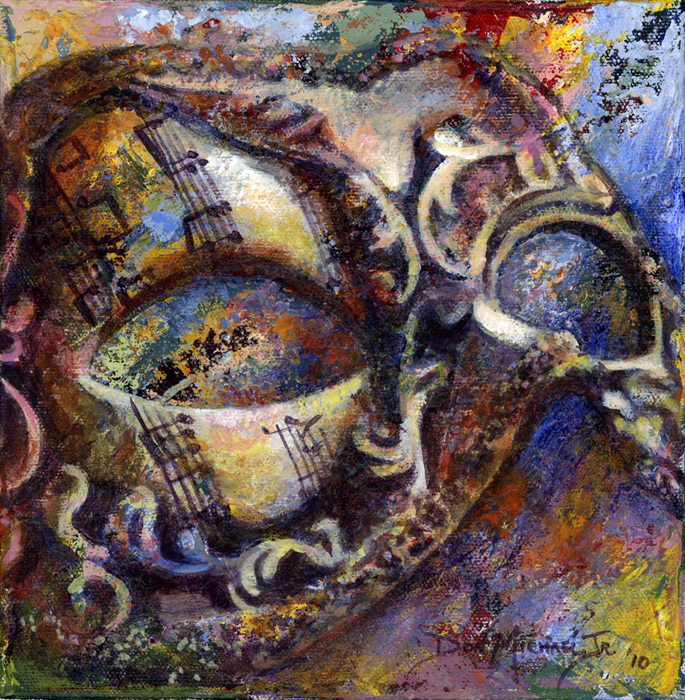 Tuning In – 8″x8″ – Acrylic on canvas – Completed 10-3-10
©2010, Don Michael, Jr.
The Under-Schmeering for this one was created during the painting of the mega-mini canvasses Clarity, Rumours and On Hold. Below is the before/after.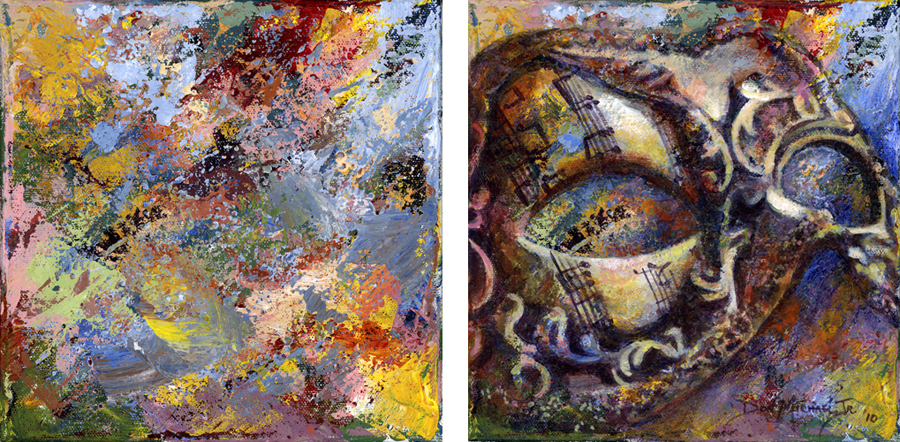 ©2010, Don Michael, Jr.
As I finish typing this, the song Time by the Alan Parsons Project is now playing, which reminds me – it's time for bed…
Happy Creating!
I'm excited to announce that my first attempt at getting some of my Over the Under-Schmeerings paintings juried into a show has met with success! Five of the series have been accepted into the 12th Annual Abstraction Juried Online International Art Exhibition and are now featured in the Upstream People Gallery online. Click on the image below to take you to the exhibition site.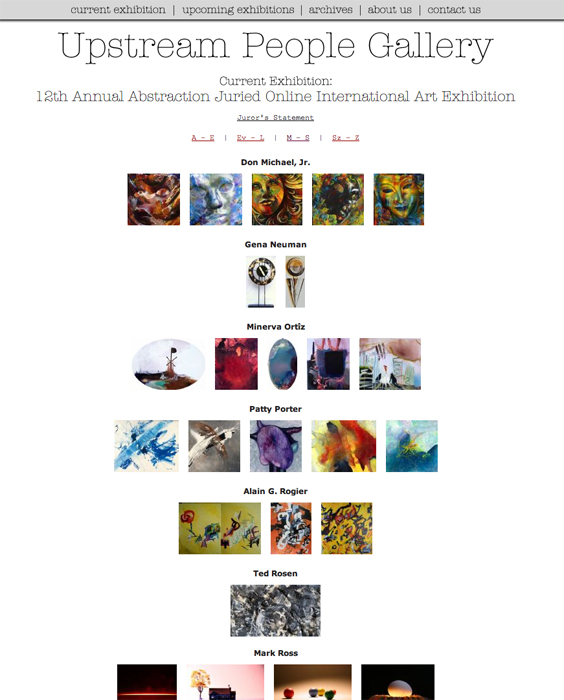 I would like to thank the juror, Mr. Laurence Bradshaw, for including my work in this show and for the special recognition he gave a couple of the paintings. In his Juror's Statement he commented, "DON MICHAEL, JR. of North Las Vegas, Nevada has some striking works with the facial images as seen in "After Image" wherein the texture is overall, yet the face emerges. Also the more cool palette of "Evanescent" works much in the same manner."
On another note, last night the Signature DISH event for which I donated the painted tray, The Joy of Giving, took place at Rain in the Palms Resort and Casino. The event featured culinary delights created by all the major chefs in Las Vegas. It was attended by many leading citizens and celebrities in the community. (At one point I heard a very distinctive voice and looked up to see Robin Leach speaking with one of the chefs.) There were several wonderful trays auctioned off to help feed the hungry here in Las Vegas created by some very talented and creative local artists. I'm excited to announce that my tray received the highest auction price – selling for $700! It makes me proud to know that ALL of that money, and the other moneys generated during the auction, will be used by the folks at Three Square to provide meals for those in need. Below are a few photos from the event.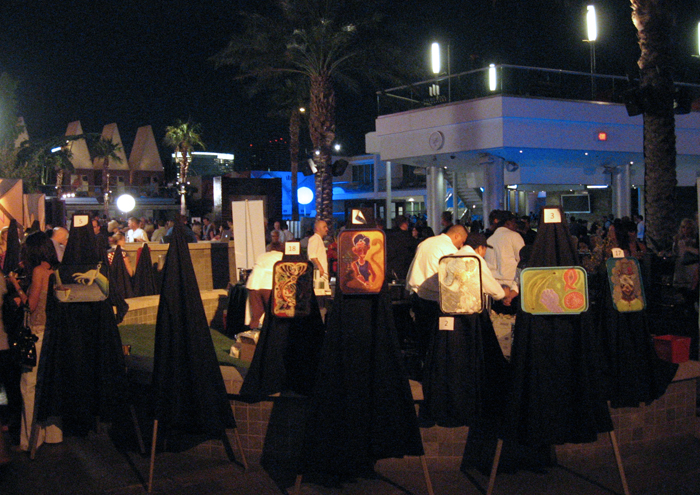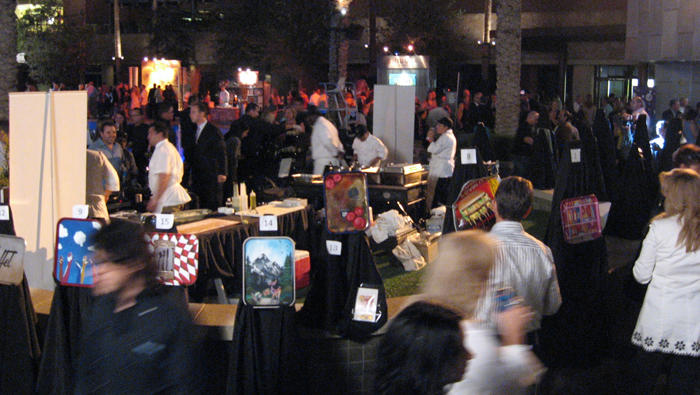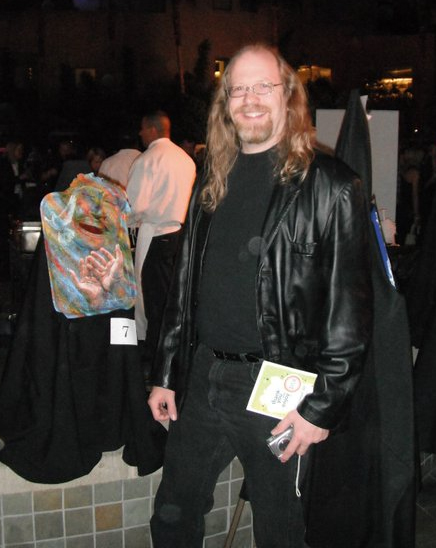 I'd like to thank my good friend and fellow artist, Niki Sands, for the decent photo of me. My camera must not have liked my countenance last night…
Well, there's no rest for the wicked… I'm now off to finish setting up for our First Friday downtown art festival where I will have 41 of my mask paintings on display and will have a few copies of David Michael's new book The Summoning Fire available for sale.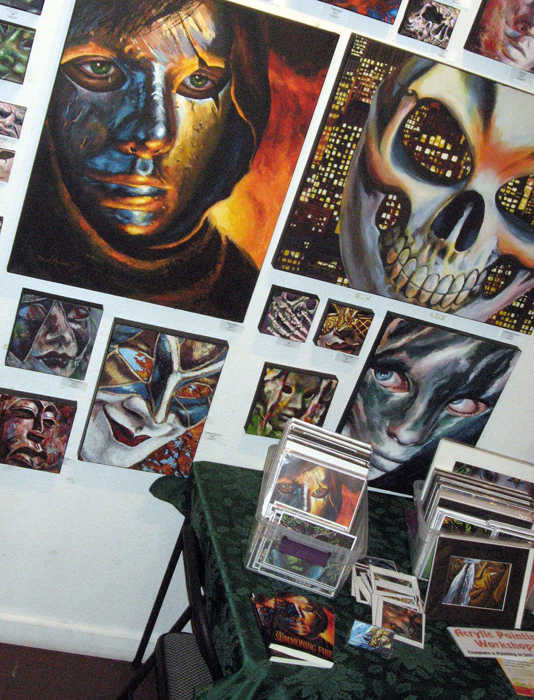 Happy Creating!