This Friday marks the beginning of the first weekend in December and the last First Friday of 2010. I'll be in downtown Las Vegas in the Arts Factory with a couple dozen of my paintings from 6 – 10 p.m. If you're in Vegas that night swing on by, see some great artwork by several area artists, and say hello.
Meanwhile, 1,673 miles away, the 41st Annual River Road Show will be going on at the Louisiana State Archives Gallery in Baton Rouge, Louisiana. I am proud to announce that the following two of my paintings were juried into this exhibition.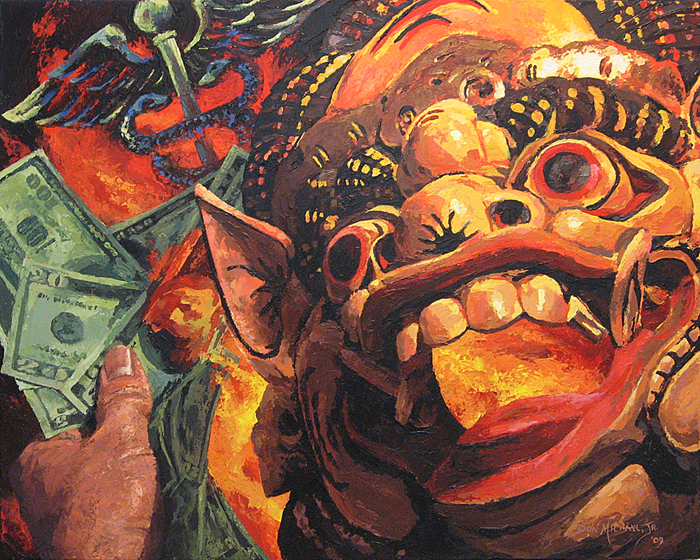 Health Care Reform – 24″x30″ – Acrylic on canvas – ©2009, Don Michael, Jr.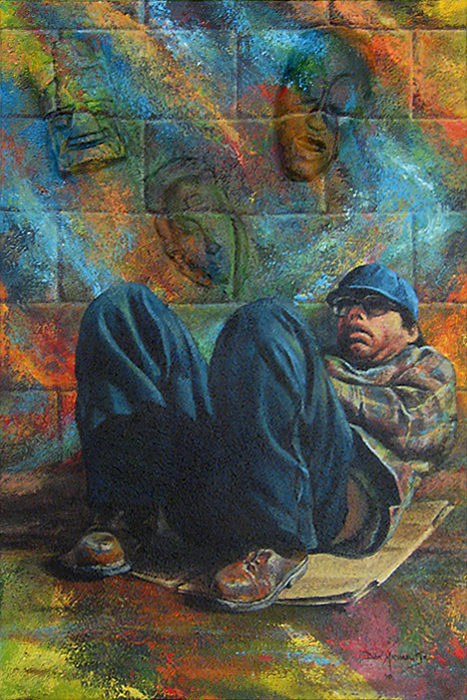 Hidden in Plain Sight – 36″x24″ – Acrylic on canvas – ©2010, Don Michael, Jr.
This will be the second juried show that Health Care Reform has been a part of this year. As for Hidden in Plain Sight, this is the first of my 3D pieces to be accepted into a juried event.
I wish I could be there to see them in the show, but alas… If any of my friends or family are in the Baton Rouge area between December 2nd and January 30th please swing by to see my work and the 80 other works of art that comprise this exhibition. The address is:
Louisiana State Archives Gallery
3851 Essen Lane
Baton Rouge, LA 70809
The reception for the exhibition will be held on December 12th from 2:00-4:00 p.m.
Happy Creating!
Recently, my brother David asked me to do another book cover for him. He had a specific photo he wanted me to reference of our niece with her horse. He knew that this was different for me and really wasn't sure if I'd go for it or not. After reading this beautiful story I knew I wanted to be a part of it. (In a nutshell, David has written a fascinating story of a young girl who finds she can communicate with horses even as she finds herself growing further apart from her dad and brother in the wake of some familial tragedies.) Because of this connection she has with the horses I suggested we use my Over the Under-Schmeerings style for this cover. I felt that it would give a magical touch to the image which could reflect the essence of the story. I was in the middle of painting Independent Spirit at the time and knew this would be doable, but since David had not seen that one yet he was justifiably a little skeptical. Being a brave sort, though, he agreed to give it a shot. His only demands were that the colors be 'summery' and that the girl be wearing a 'summery' top. Here's what I came up with for the painting…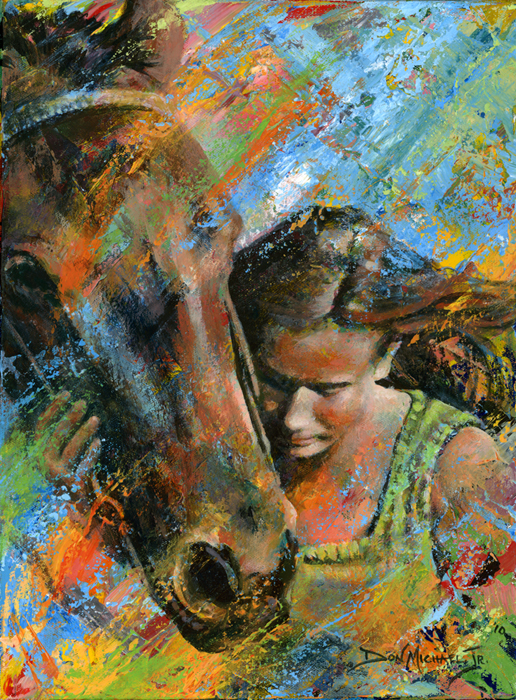 Communion – 16″x12″ – Acrylic on canvas – Completed 10-28-10
©2010, Don Michael, Jr.
…and, here's the photo David sent me to work from…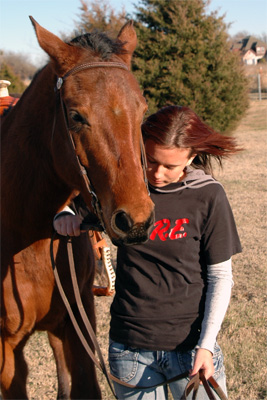 ©2007, David Michael
For the first time in one of my Over the Under-Schmeerings the background was created specifically for the project. In the past every 'Schmeerings' background had been created when I cleaned my palette knife and palette while painting other works. (For a better understanding of this process click here.) I still tried to be random with my strokes, but found myself controlling direction a little more than I usually do. I was also mixing the colors to 'schmeer' instead of just randomly using whatever happened to be on the knife. Below you can see the before/after.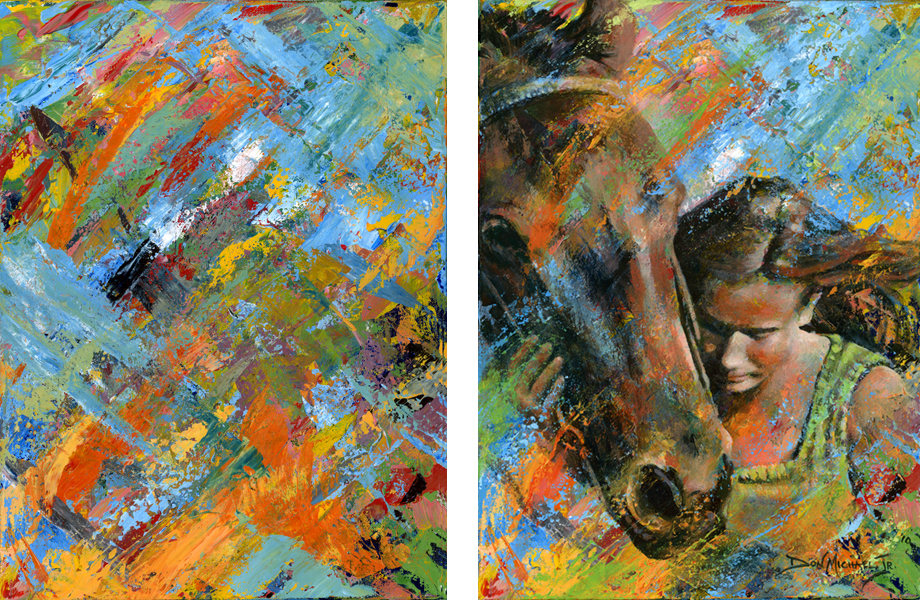 ©2010, Don Michael, Jr.
When David saw the finished painting he started coming around to my vision, but after his daughter gave her overwhelming vote of approval he was totally on board from that moment on. Whew!
Below is the cover that I created for the book. If you click on either it or the title below it you will be taken to its Amazon.com page. This is a wonderful book for all ages. I HIGHLY recommend it. I will even admit that there is one scene in the book that caused a lump to rise up in my throat. I rarely have that experience when reading – and I read a lot. Good job David!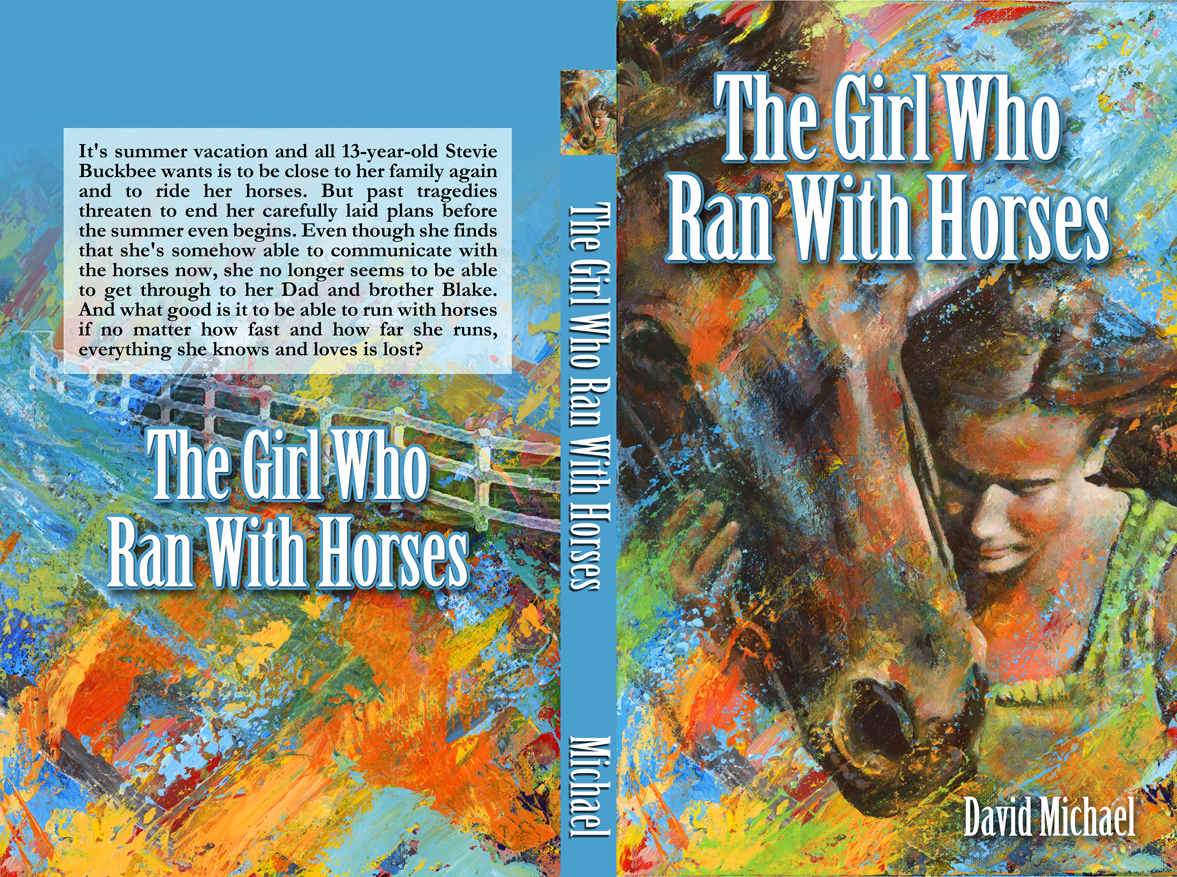 The Girl Who Ran With Horses – By David Michael – Cover by Don Michael, Jr.
©2010, David Michael
Yesterday, Katherine Cartwright asked me a question that really made me think. I've been showing little teases of the current piece on my easel which includes some 3D skull imagery. I've also been known to paint some skull masks – including a couple recently. Her question to me was, "…what is your fascination with skulls?", followed by, what was the "deeper meaning" with me using them? I decided the response to this question must be seriously considered and then expressed with clarity and transparency. So, if you would indulge me, I will take you through the 12 paintings I have done of skull masks and what they mean to me.
In mid-2008, I was really concerned with the decisions that were being made in Washington and on Wall Street and decided I would express my angst on canvas. I decided to use a mask that had been photographed by a friend of mine, known as "Fearless Artist" on ArtScuttleButt.com, that was of a leather "skull" mask worn by knights under their helmets for intimidation purposes. To me this skull mask represented dire circumstances caused by arrogance, intimidation, and oppression. I placed this skull mask over a cityscape to represent millions of people and titled the piece Silence Gives Consent. This was my first painting to include a skull mask – and interestingly enough, was part of my very first blog post. (You can read it here.)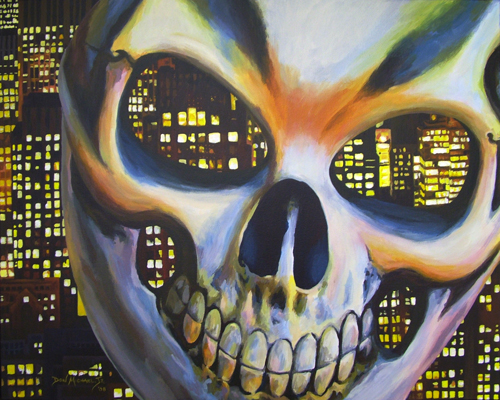 Silence Gives Consent – 24″x30″ – Acrylic on canvas – 7/27/08
©2008, Don Michael, Jr.
A couple months later I was getting out our Halloween costumes and decorations and realized I had not painted one of my rubber masks yet. At the same time I was dealing with the impending budget crunches at the TV station I worked for. So, I took an ironic approach with this one and its title.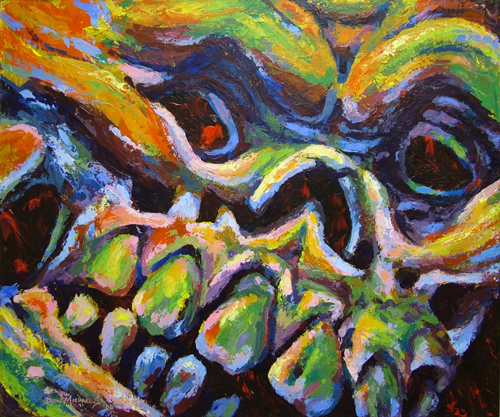 Cost of Living – 20″x24″ – Acrylic on canvas – 9-30-08
©2008, Don Michael, Jr.
Cost of Living was also one of my earliest palette knife paintings. I had so much fun with it that I decided to approach the same mask with a palette knife, but with an entirely different composition and palette. I started this one on Halloween night 2008 and finished it 4 days later. Being an eternal optimist caused me to title this one accordingly.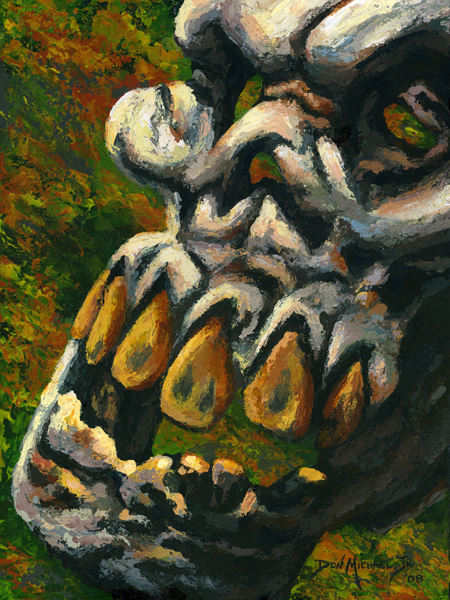 Glass Half Full – 20″x16″ – Acrylic on canvas – 11-4-08
©2008, Don Michael, Jr.
For Halloween 2008 my son, Eric, got a really cool "Predator" style mask with some pretty wicked fangs. I really liked the texture of this mask and decided to attempt to duplicate it on canvas. This was one of my first times to use molding paste to texture my canvas before painting it. I attempted to use a palette knife atop the texture but ended up resorting to a brush as well. As I was painting this one I was thinking about people with addictions which have taken over their lives. I didn't want the title to be a turn-off, though, so I decided to use an addiction that is construed as not being a very decimating one. Interestingly enough, this painting has sold the most prints when I have them available at the First Friday Art Exhibit here in Vegas.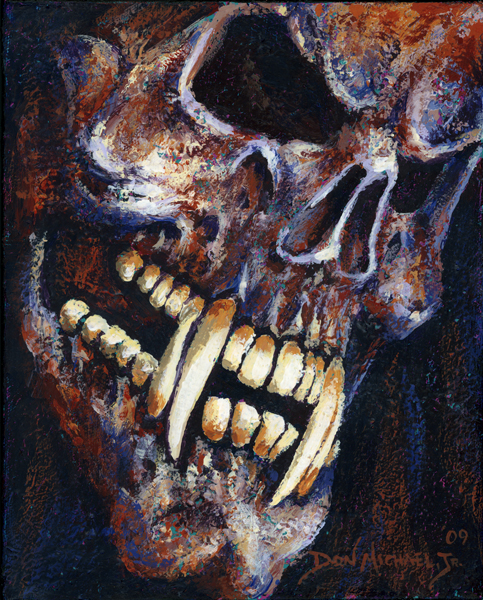 Sweet Tooth – 10″x8″ – Acrylic on canvas – 1-24-09
©2009, Don Michael, Jr.
The next skull mask I used is a Halloween mask called an Alien Skull Mask. I really liked the translucent quality of the mask and wanted to include it in a composition that could show this off. I also wanted to make a statement about our water supply – both its quality and its quantity. I've found this one to have received the coldest reception of all the skull mask paintings I've done. I'm not sure why – Oh well, I like it…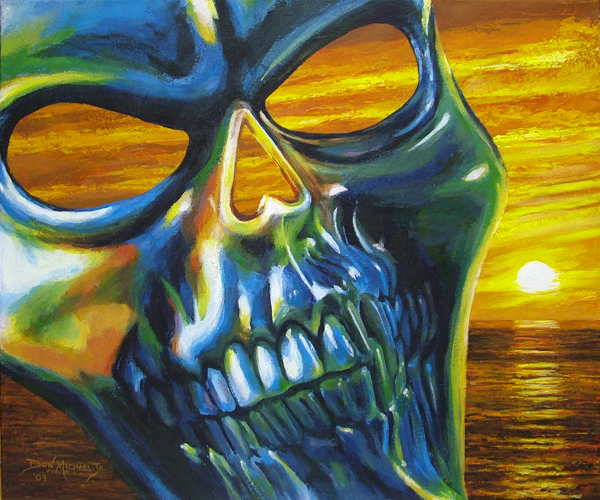 So, How's the Water? – 18″x24″ – Acrylic on canvas – 2-8-09
©2009, Don Michael, Jr.
As we moved into summertime 2009 the temperature was rising outside, and the heat was definitely on at my TV station. Several people had already lost their jobs and there seemed to be no end in sight – which caught up with me just two months later. I could see the writing on the wall, but was still pushing through – even as I felt the symbolic flesh being melted from my being. So, using the same mask I had used for Sweet Tooth I created a new composition with a different color palette. Not wanting people to clue in on my inner angst at the time, I decided to have a little fun with the title…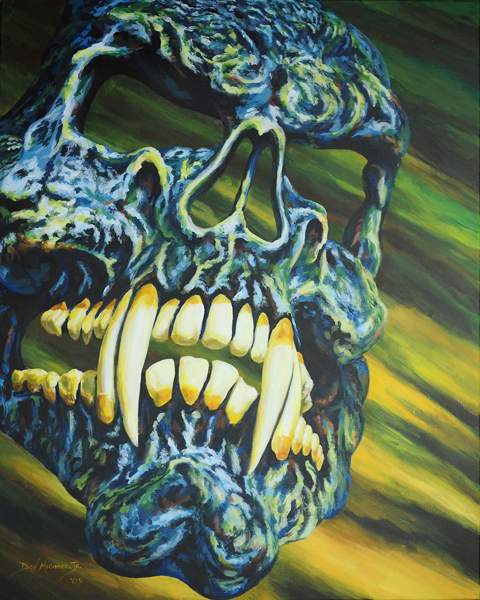 Summer Breeze – 30″x24″ – Acrylic on canvas – 6-27-09
©2009, Don Michael, Jr.
As Halloween 2009 approached I decided it was time to invest in a new rubber mask, which has become a custom the last few years. Placing it with the mask I had used for Cost of Living and Glass Half Full I realized I had me a fun couple to paint. This one includes the same molding paste texturing that I had used with Sweet Tooth, but this time I used the palette knife all the way through. As I was painting it, my son walked by and told me it made him think of an old married couple. After a good laugh, I titled the painting accordingly.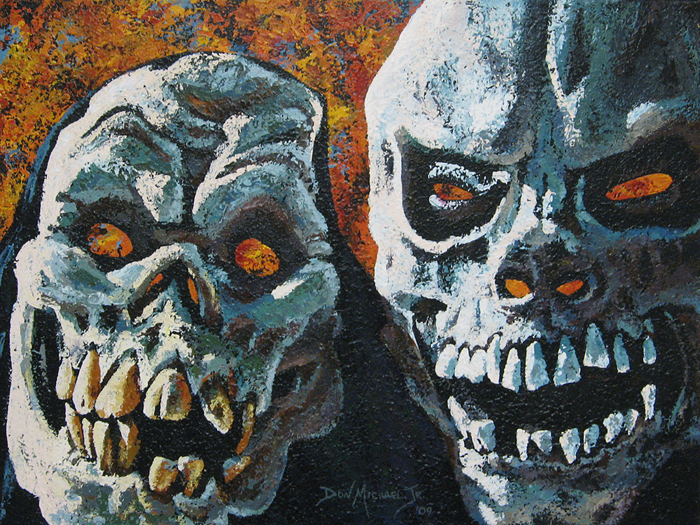 Until Death Do Us Part – 18″x24″ – Acrylic on canvas – 10/31/09
©2009, Don Michael, Jr.
As we entered into 2010, I challenged myself to continue pushing the limits with my use of the palette knife. I started painting on smaller and smaller canvases using only my palette knife. Needless to say, I needed subject matter to keep this challenge interesting, so I revisited many of the masks I had used in the past – including a couple of my skull ones. Cropping in tight on their faces made for some interesting shadow patterns and compositions as you can see in the next three paintings…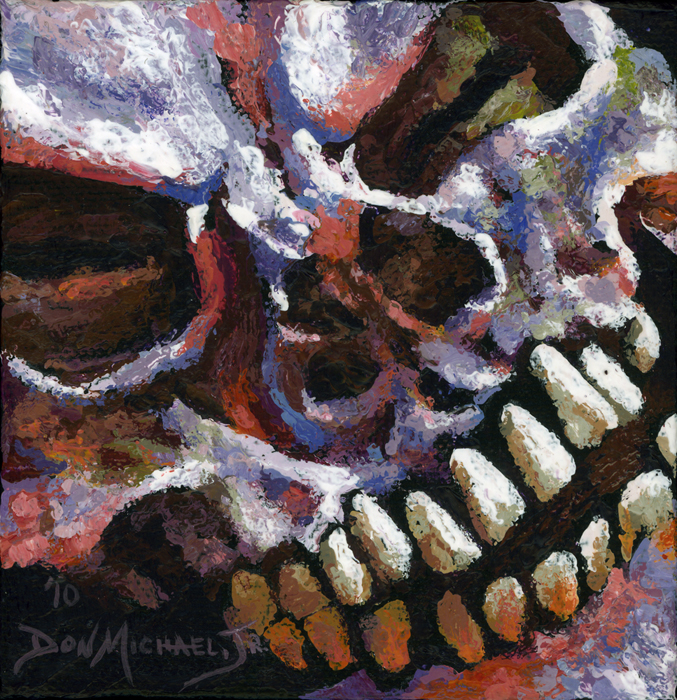 Easily Amused – 4″x4″ – Acrylic on canvas – 1-26-10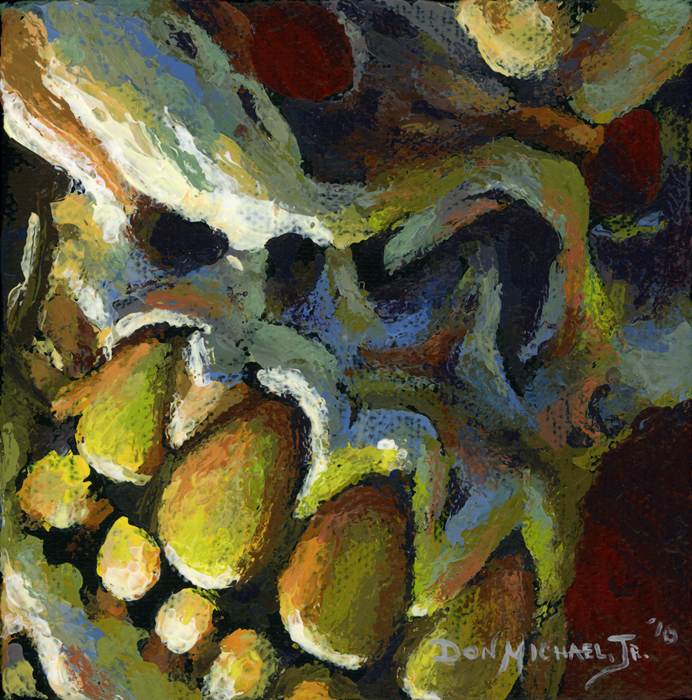 Ornery Streak – 4″x4″ – Acrylic on canvas – 1-28-10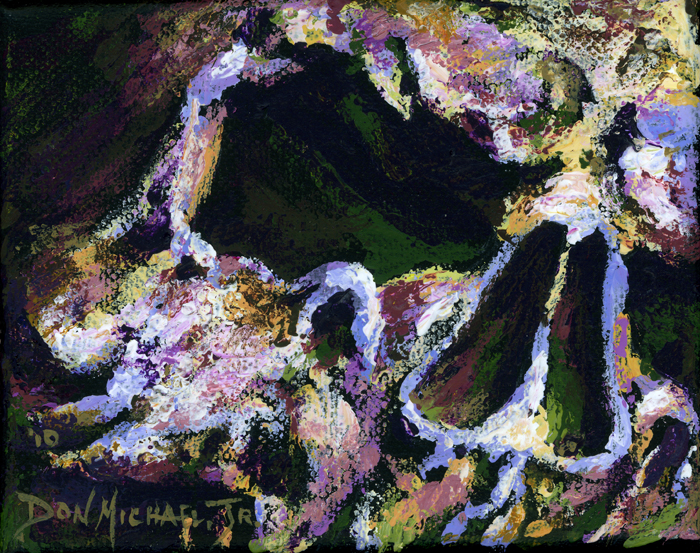 Interlude – 4″x5″ – Acrylic on canvas – 6-16-10
©2010, Don Michael, Jr.
As we entered into the Halloween 2010 season, I went looking for this year's mask to add to the collection. In the process of shopping around I found a "bag of bones" which became an inspiration to me on several levels. First of all I created a composition using the skeletal hand out of this 'bag of bones' and one of my skull masks. It wasn't one of my most successful experiments, but it was still quite useful in preparing me for future projects. And it was fun…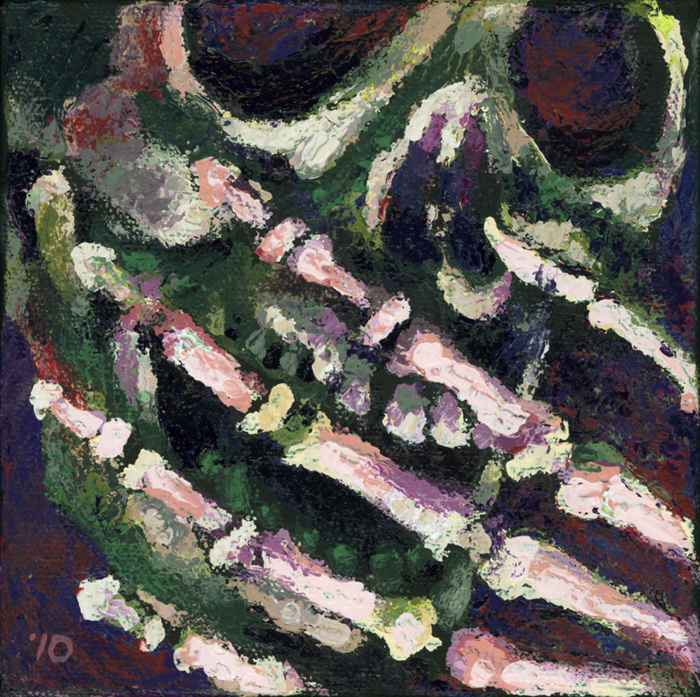 Shiver Me Timbers – 5″x5″ – Acrylic on canvas – 9-28-10
©2010, Don Michael, Jr.
I then used the 'bag of bone's to create some paper mache' pieces to be used in a 3D composition that had been stewing in the back of my mind for several months. Once I placed those assembled pieces on my canvas I realized I wanted to attempt to paint one of them as one of my Over the Under-Schmeering paintings. You can see by its eyes that I still wanted it to be perceived as a mask…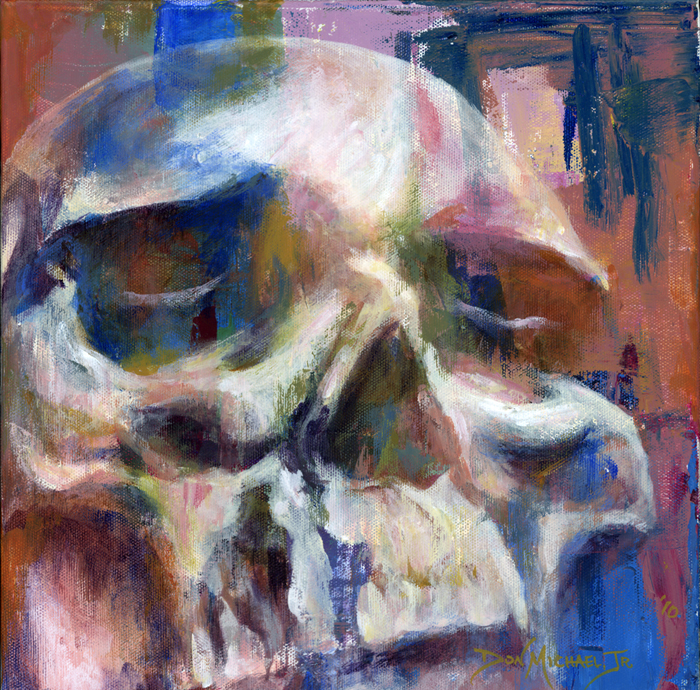 Hindsight – 12″x12″ – Acrylic on canvas – 10-10-10
©2010, Don Michael, Jr.
This all leads me to my current project which is still in the works. Yes, it has several skulls paper mache'd into the composition. Although I've been a little flippant with my posts regarding this piece, it is probably the most difficult piece I have ever done from an emotional standpoint. And the fact that it is my largest 3D piece to date makes it the most difficult technically. I hope everyone will be able to understand my use of those skulls upon completion – which is still probably several days off.
Until then, I leave you with another tease.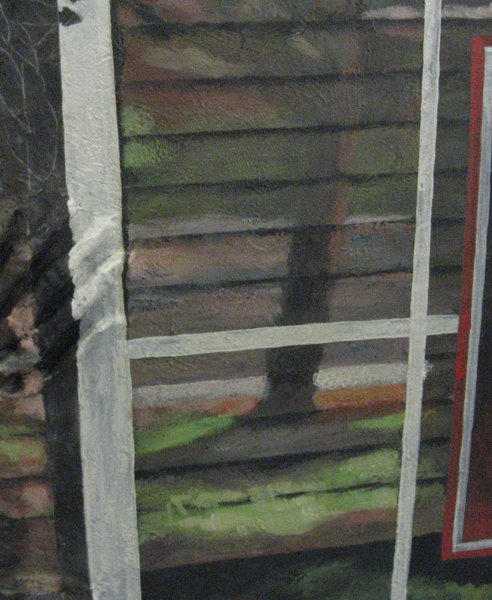 ©2010, Don Michael, Jr.
Kathy, thank you for your question. I'm not sure that I necessarily have a fascination with skulls, but I sure have enjoyed using them to tell a few stories and to explore new techniques. I'd say that my fascination has been more with the textures and shadow patterns that comprise these masks. As for deeper meanings, much of my work is quasi-autobiographical, so I'm often intentionally vague with some of the meanings since I do continue to hover slightly behind the mask.
Happy Creating!
I've finally started adding paint to the 3D piece that I began way back in September and teased here. It's slow going, though, so I decided to take a little time out to have some fun with a mini-canvas and a palette knife.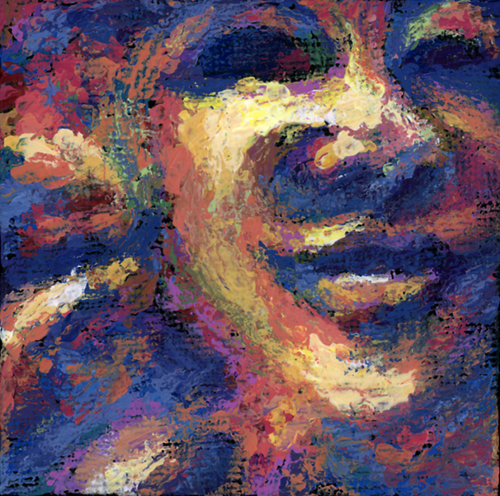 Bright Side – 3″x3″ – Acrylic on canvas – Completed 11-20-10
©2010, Don Michael, Jr.
I realized as I was documenting this little guy that he's the 200th in my mask series. It took me 6 1/2 years to do the first 100 – which I wrote about here – but only a year-and-a-half for the 2nd hundred. Who knows if there will be a 3rd hundred since I feel myself starting to drift towards other subject matter? We'll see… There is still a lot to explore out there and my masks have been quite useful in helping me laugh, make statements, ask questions, express my angst and purge my psyche. So, I don't know that they'll ever depart completely from my explorations…
As many of my regular blog friends will recall, my brother, David, is quite the author. He has released several books and short-stories – both paperback and electronic – over the past few months. Below are three of the recent releases and the covers created by yours truly. If you click on the images you'll see a larger version. If you click on the title below each you will be taken to its corresponding Amazon.com page.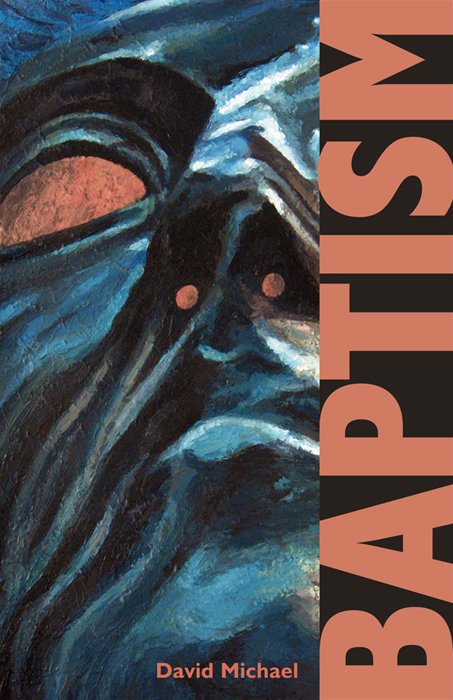 Baptism – by David Michael – Cover Art by Don Michael, Jr.
©2010, David Michael
Baptism is an e-book short-story that David wrote which was inspired by an acrylic painting I created earlier this year with the same name. David had the vision for the layout of this cover – it was my job to make his vision a reality…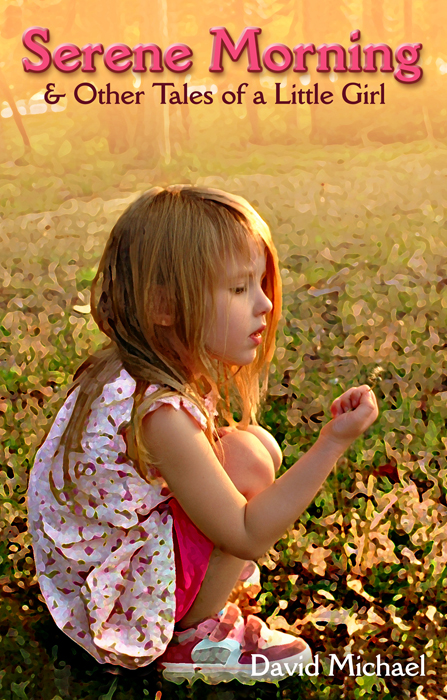 Serene Morning – by David Michael – Cover Art by Don Michael, Jr.
©2010, David Michael
The image on the cover of Serene Morning comes from a photo that David took a couple years ago. (In case I haven't mentioned before, David is a pretty dang good photographer as well. Check out his photo blog sometime.) I manipulated the heck out of that photo, but couldn't find it in myself to touch that beautiful little face.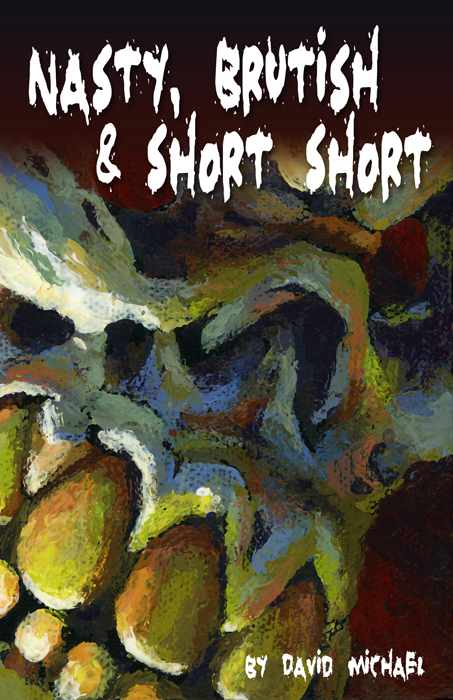 Nasty, Brutish & Short Short – by David Michael – Cover Art by Don Michael, Jr.
©2010, David Michael
Nasty, Brutish & Short Short is a collection of just that sort of short stories that David has written over the years. He asked that we use my painting Ornery Streak for this cover and I was more than glad to accommodate.
There are more of these in the works, including one I created a painting expressly for based on another of David's photos. I will continue to show them off as they are released.
David, you rock! Thanks for taking me along on this ride…
During our recent trip to the Getty I took eleventy-kazillion photos of several works of art – including many of the sculptures. As I was contemplating my next Over the Under-Schmeerings piece I thought about a specific sculpture that I had enjoyed and decided to incorporate elements of it. The sculpture I chose is John the Baptist, by Jean-Baptiste Chatigny, which is a very expressive bit of sculpturing showing the plight of the fallen evangelist. As I was painting I realized that my composition made me think of representations of Christ I'd seen over the years. And then, I noticed that the cheekbones reminded me of photos I'd seen of Abraham Lincoln. I think all three of these men could be fairly assessed as having been Tried and True.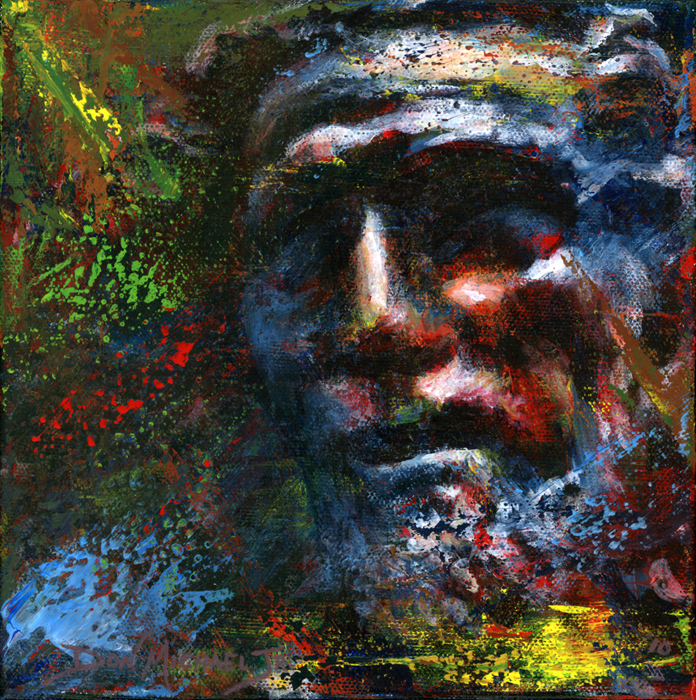 Tried and True – 8″x8″ – Acrylic on canvas – Completed 11/16/10
©2010, Don Michael, Jr.
When my daughter noticed my progress on the painting this morning she asked me, "Is this a painting of the sculpture we saw of John the Baptist?" I'm so proud that my 12 year old not only recognized the referring image, but also remembered the name. (If she'd have spouted off the name of the sculptor I would have probably fallen over.)
The Under-Schmeering for this piece comes from a painting I have not revealed yet – but hope to soon. You can see in the before/after below that I made some radical changes in it as the painting progressed – as is my prerogative.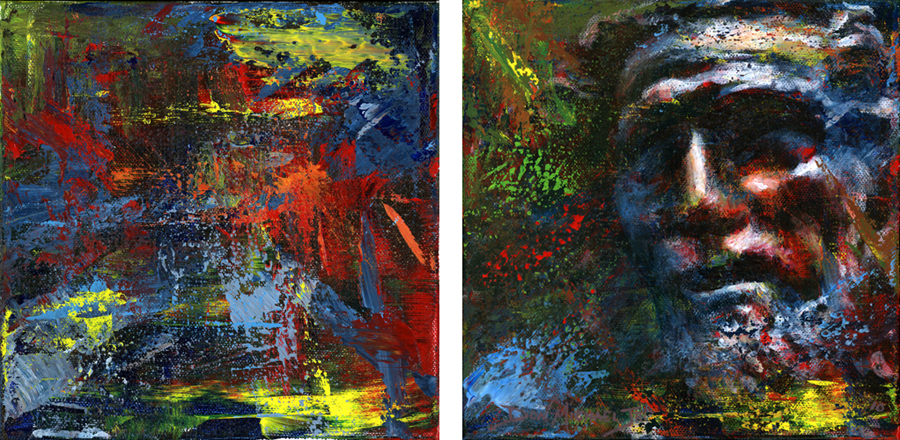 ©2010, Don Michael, Jr.
I realized as I was preparing to post this that it is the 30th piece in my Over the Under-Schmeering Series. It's hard to believe that I've done that many already – especially when I take into consideration that the first one was created just this past February. I guess I've been busier than I've given myself credit for. I think I'll take a break…
…
…
…OK, break's over.
Happy Creating!
My family and I decided it was time for a little road-trip and headed to Los Angeles for a couple of days.  I'd been wanting to  make it out to the Getty Center to check out their collection of art for years. Thankfully, I was able to convince the family that this would be worth it – and it was. The facility is gorgeous and houses a collection that extends from the Middle Ages to the Present. There was so much to take in that we had to come up with a game plan. Here we have Laura and Christina charting our course…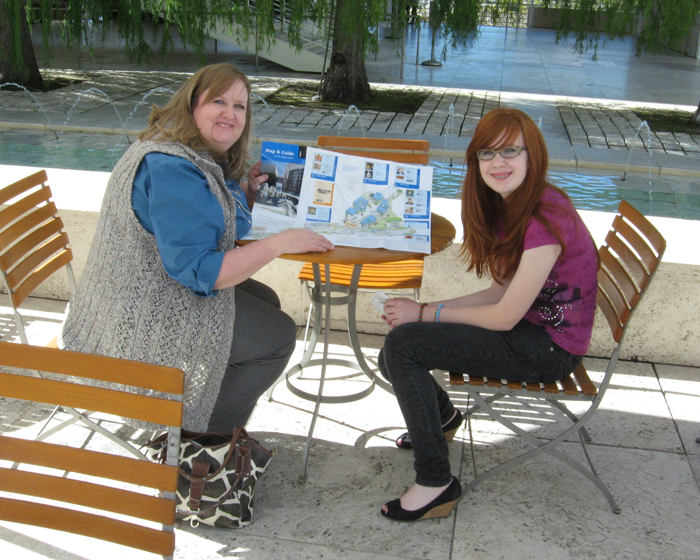 Laura and Christina in the Central Plaza
The facility is up on a hill with a great view no matter which direction you choose to look. To give a sense of the beauty of the place and its surroundings I placed my lovely model in front of a couple of the views from the balconies: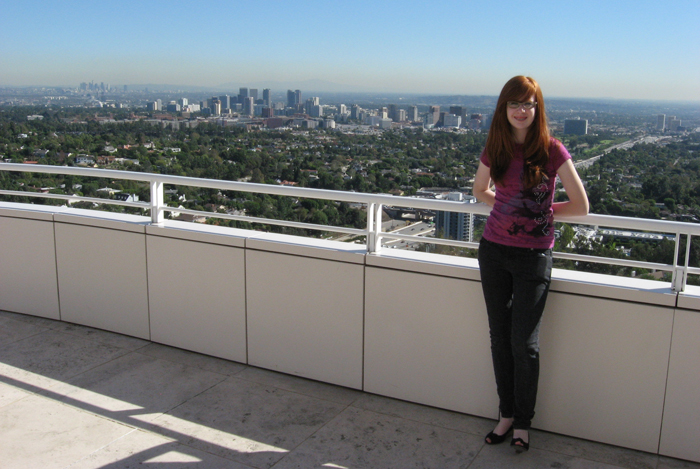 Christina with Los Angeles behind her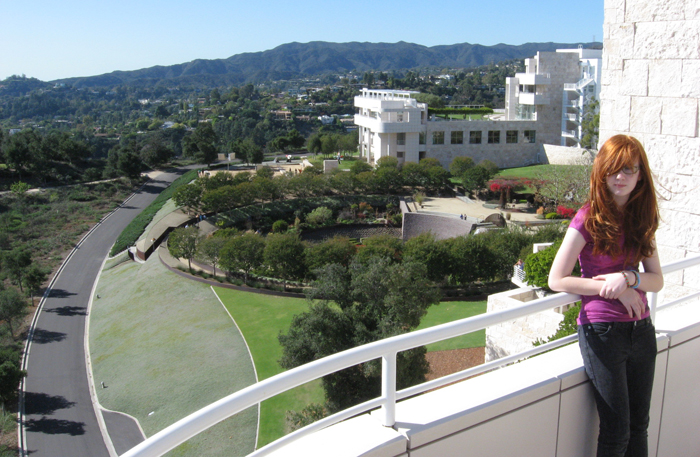 Christina over the Getty's Central Garden
This was the first time that Christina had been to an art museum with me since she was around 6-years-old. It was really a joy to watch her take it all in. We had some great conversations throughout the day about art, history and religion. She's really into the Renaissance period right now and was a bit disappointed that there was nothing at the Getty by da Vinci or Michelangelo, but I was able to at least show her a piece from one of da Vinci's students which seemed to appease her.
As for me, as soon as I walked into the first gallery and saw that they had an El Greco in the collection I knew it was going to be a great day. (They were gracious enough to allow me to take photos of most of the work I was interested in, but I'm not sure they would be happy if they knew I posted any of it here, so I'll err on the side of caution and just link to a few of the images on their site.) Although it was difficult to do, I've chosen just a few of Laura's and my favorites to share…
The Return From War: Venus Disarms Mars – by Peter Paul Rubens.
St. Bartholomew – by Rembrandt Harmensz van Rijn
Van Tromp, Going About to Please His Masters – by Joseph Mallord William Turner
The Eternal Feminine – by Paul Cezanne
The Wounded Foot – by Joaquin Sorolla y Bastida
Belisarius – by Jean-Baptiste Stouf
Mischief and Repose – by John William Godward
At lunchtime an old college friend of mine showed up to spend the rest of the day with us. We had not seen each other in 25 years and really enjoyed getting caught up as we exposed our families to the wonderful art that was before us. She and I were fairly inseparable back in those glory days of college and it felt like we just picked up where we left off all those years ago. Thank you Rhonda for coming out to meet us and for introducing us to your beautiful family.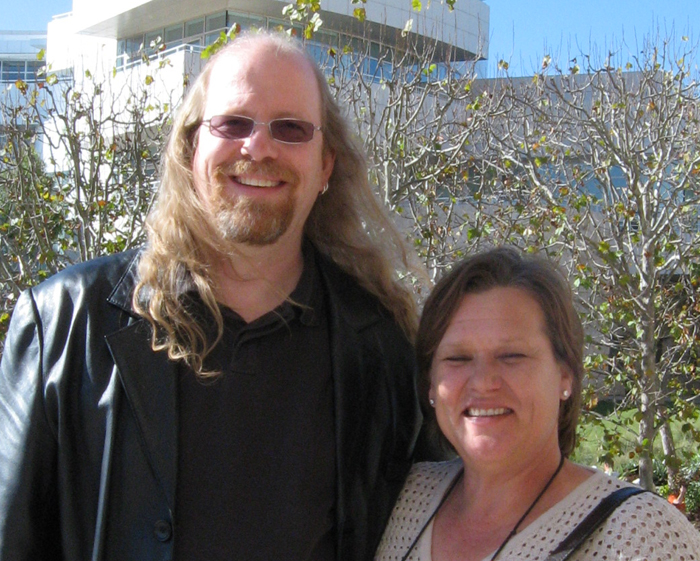 Don and Rhonda catching up on old times
As we were getting ready to leave we stopped off at the Gift Shop to see about souvenirs and I saw a postcard that really excited me. It was of a detail of a painting by James Ensor that I had always wanted to see. I asked the clerk if the painting was in the collection and was told that it was. I asked if it was out on loan since I had not seen it and was told no, but that it was in a room a little removed from some of the others. Needless to say, I turned my butt around and went looking for it. I have wanted to see this piece in person since the first time I saw it in my Art History book my sophomore year of college – and there it was! It was even bigger and more amazing than I had ever imagined!
My perfect day was complete.
When I used to deal with a time-clock it didn't matter how long my workday had been, I always clocked out at Beer-Thirty.
Every football game I watch starts at Beer-Thirty.
I've noticed that I always seem to finish a painting right at Beer-Thirty.
Hence, the smile on my face…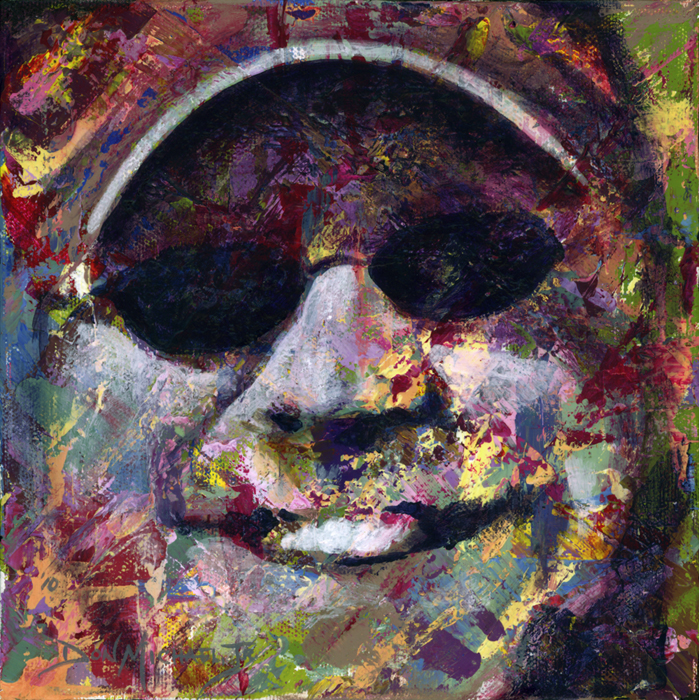 Beer-Thirty – 8″x8″ – Acrylic on canvas – Completed 11-10-10
©2010, Don Michael, Jr.
The Under-Schmeering for this painting was created while I was painting Retrospect. Below is the before and after.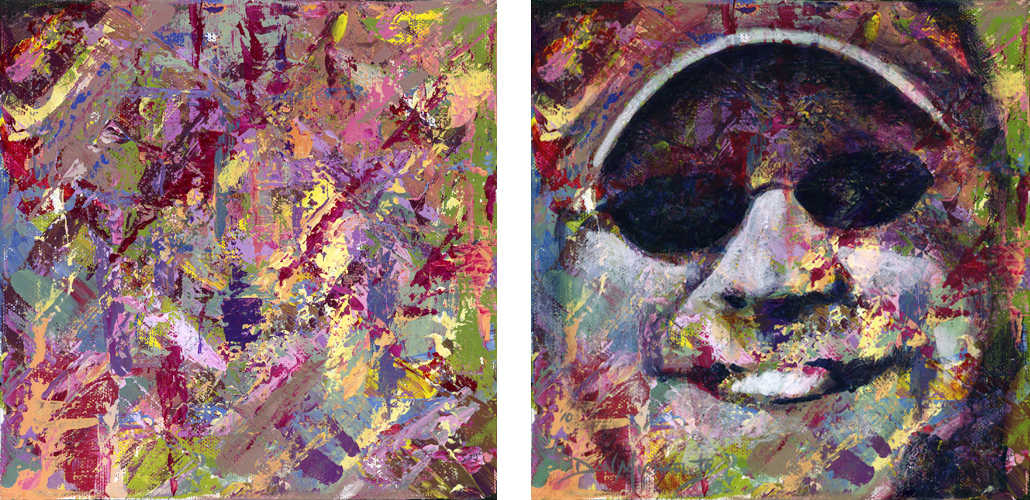 ©2010, Don Michael, Jr.
My family and I will be enjoying the weekend in Los Angeles so I will be out of the blogging loop more than usual over the next few days. We plan to visit the Getty Museum of Art while there, so I hope to return all jacked up on inspiration. We'll see…
I now tip my beer to all the men and women who have sacrificed in winning my freedom and protecting my country. I can never thank our Veterans enough. My Dad served. My Father-in-Law served. Two of my Brothers served. One of my Grandfathers served. Six of my Uncles served. Several of my cousins have served and are serving. I am so proud of each and every one of them. Thank you!!!
Happy Veterans Day!
It was time for a new composition and I was totally at a loss for subject matter. So, being the procrastinating sort, I proceeded to go blogging for a while. Upon returning to my blog to respond to everyone's wonderful comments on Only In Vegas… I was once again delighted by the engaging smile of the Showgirl on the right side of the photo. Then it struck me, here's my next painting…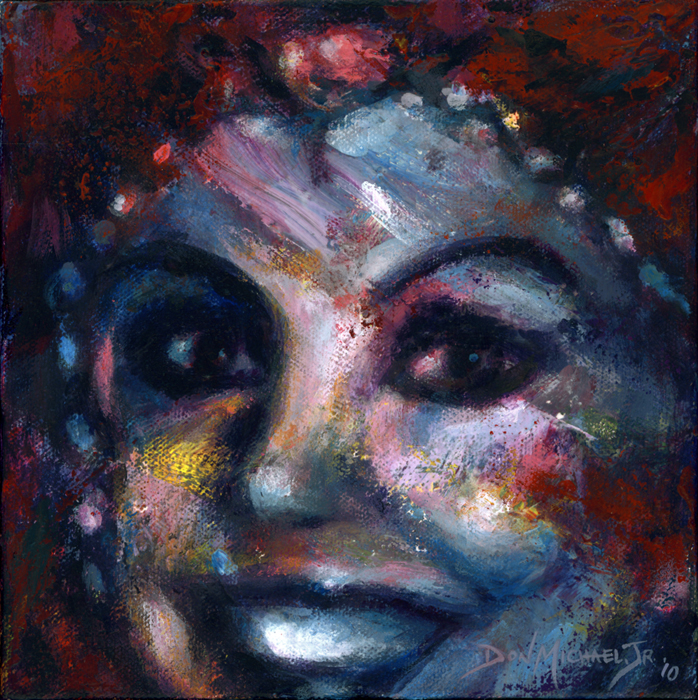 Delight – 8″x8″ – Acrylic on canvas – Completed 11-9-10
©2010, Don Michael, Jr.
I proceeded to swipe that poor lady's countenance and schmeer it all over the abstract mess I had created while painting Shiver Me Timbers last month. Below is the before and after.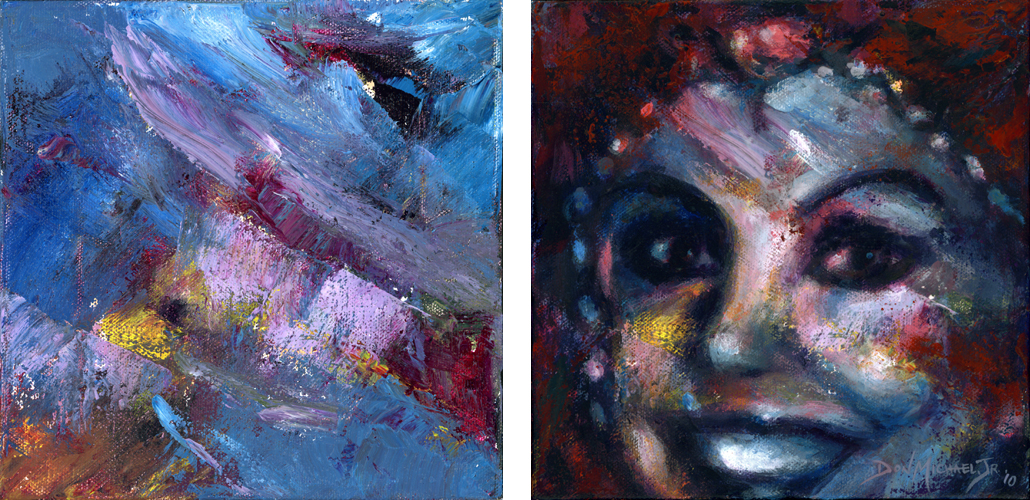 ©2010, Don Michael, Jr.
Now the search for my next subject matter has begun. You have all been warned…
Happy Creating!
The Arts District in Downtown Las Vegas was inundated with Art, Music, Entertainment and people of all walks of life as we celebrated First Friday. I had the greatest time all night answering questions about my work, meeting some interesting people, networking, and swapping a few lies. About halfway through the evening I caught a glimpse of bright red out of the corner of my eye and turned just in time to see two beautiful ladies have to stoop at least a foot to get through the doorway. What's a red-blooded American boy artist supposed to do when confronted with such a sight except to ask these visions of loveliness to pose in front of his artwork? As I was getting ready to take the photo they told me that I should be in it with them. Without further ado, I handed my camera off to a friend and soon found myself surrounded by enough feathers to start my own pillow factory. For the only time all night long I actually felt short…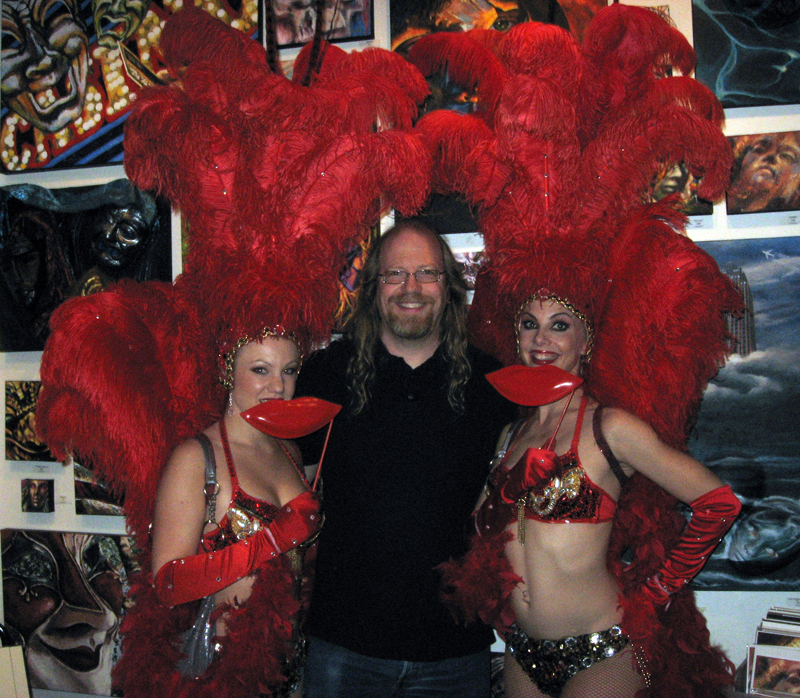 Don with two lovely ladies of Las Vegas Starlettes
Imagine my delight when I got home and discovered that my painting Flirting With Disaster happened to be quite prominent in the background of the photo. How fitting…
Now it's time for this tired but happy artist to retire for the night – with visions of plumage dancing in his head…
Next Page >>