The Year of the Don comes to a close with this painting…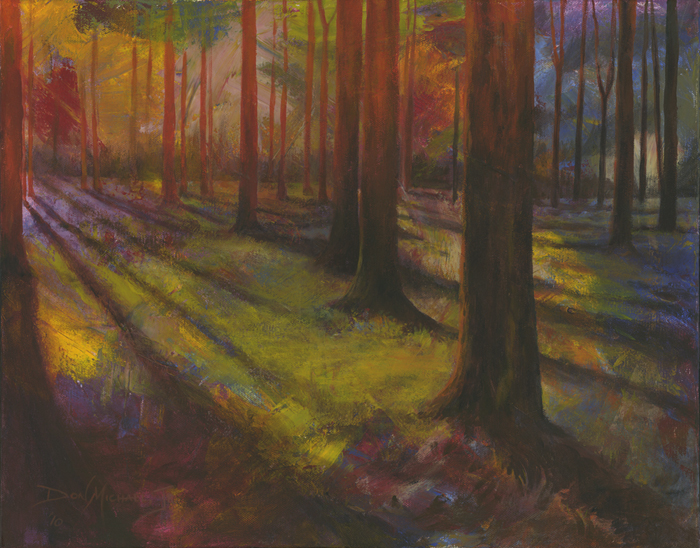 Morning Glory – 16″x20″ – Acrylic on canvas – Completed 12-31-10
©2010, Don Michael, Jr.
This Over the Under-Schmeerings painting is my latest attempt to use images of nature to control the chaos generated in my schmeering process. The Under-Schmeerings for this one was created while painting Passion a couple weeks ago. Below is the before/after…

©2010, Don Michael, Jr.
I wish everyone a wonderful and fun-filled New Year's Eve. If you go out, be careful. If you stay in, well, you're following my lead. I lift my glass to you all…
I hope that 2011 is a watermark year for all who read this.
As I type this we are crossing into the very last day of the Year of the Don. Before I start preparing my goals for what will begin year two of the Decade of the Don I thought I'd evaluate the past 364 days. I established two goals for 2010. Goal 1 was to complete 100 paintings, and Goal 2 was to receive more Acceptance Letters than Rejection Letters from juried exhibitions. Anything else that occurred for the year was to be considered icing…
As I looked at my records for the year I first thought, "Oh crap, I'm 17 paintings shy of my goal!". Then I realized that I had completed a few more creative projects that can be fit into this goal. Here's what I accomplished:
68 Mask Paintings (2D & 3D)
15 Paintings with other subject matter
7 Masks
12 Paintings for lesson plans for workshops
Add to this the Graphic Design work which included 6 Book Covers, a Webpage, Postcards, Business Cards, Invitations – among other projects – I can safely say that I achieved Goal 1.
I knew that Goal 2 was going to be a huge hurdle since jury-ing is so subjective. And I'm sad to report that it was a hurdle I did not clear. This past year I received 11 Rejection letters and 9 Acceptance letters. I almost got 50% – which is much better than I achieved last year. So, even though I did not achieve Goal 2, I can still call it a win. Thankfully, several of the works that made it into shows received special recognition – which is a really nice icing for the cake.
Now it's time for me to come up with my goals for 2011. Yikes! Right now, though, I want to get back to the easel and finish my last painting for 2010…
I'll leave you with a watercolor I painted back in 1991. The title seems to fit my current train of thought…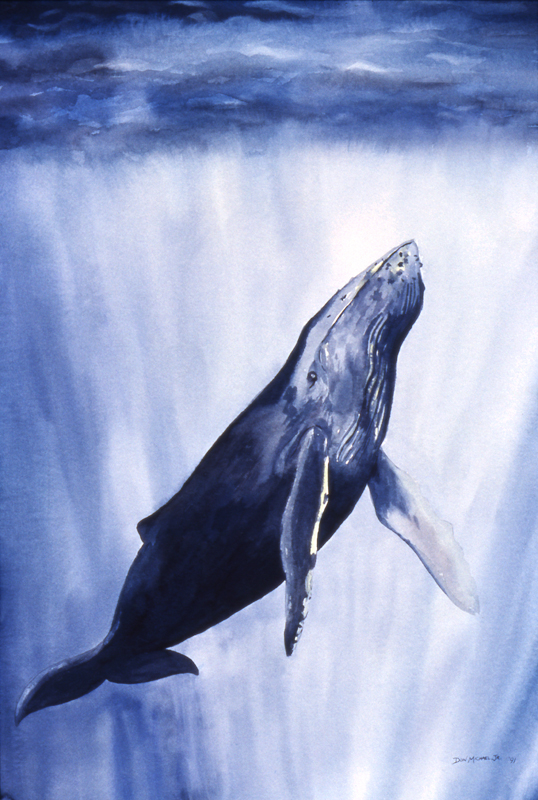 What Will the Future Bring? – 29″x21.5″ – Watercolor on Hotpress Paper – Completed Dec. 1991
©1991, Don Michael, Jr.
Happy Creating!
I trust everyone is having a wonderful holiday. I'm enjoying the respite between Christmas and New Years and am hoping this week can last at least two.
The Under-Schmeerings for this latest addition to the series made me think of a maelstrom. So, my mindset in designing this was to find a 'port in the storm'. This little bee on a flower seemed to fit that criteria perfectly. The next challenge was to make it work. I'm still deciding if it does since this one is quite different for me.
One way or the other, it's finished…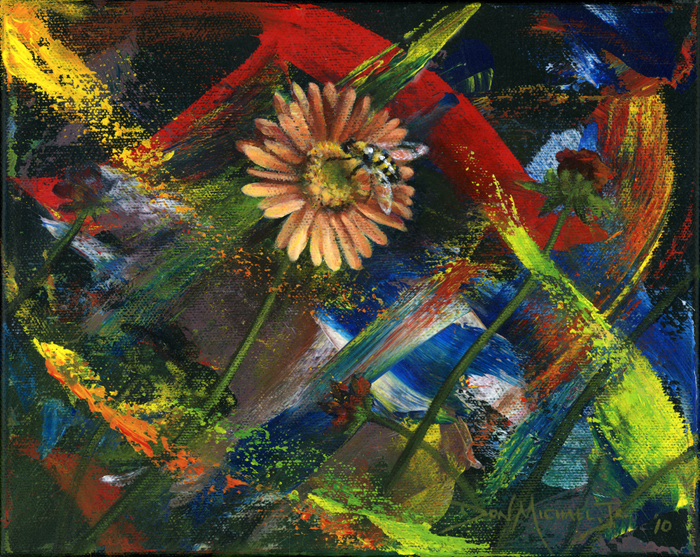 Respite – 8″x10″ – Acrylic on canvas – Completed 12-24-10
©2010, Don Michael, Jr.
Below is the before/after. The schmeerings for this one were created while I was painting Tried and True. For the first time with one of my Over the Under-Schmeerings I used black gesso as the ground. You can see that a lot of it was left showing, making it the darkest one that I've worked with so far.

©2010, Don Michael, Jr.
My search continues for the next great painting adventure. Until I find the perfect itinerary I will continue to enjoy these little side trips.
Happy Creating!
Well, Mama is nestled all snug in her bed, so I think I'll go ahead and show everyone else what she's going to wake up to this Christmas morning…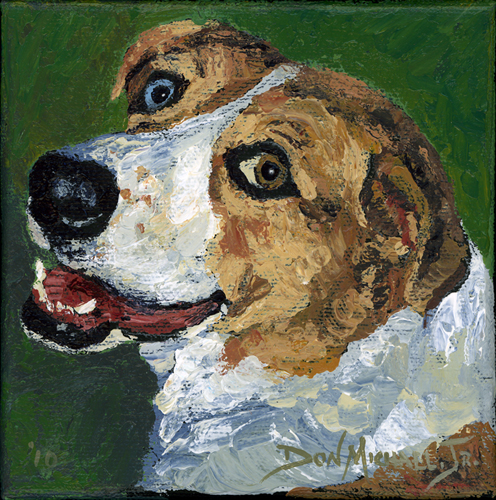 Lupti-Lu – 5″x5″ – Acrylic on canvas – Completed 12-20-10
This is a portrait of the family dog, Lucy. Well, I should clarify that. This is a portrait of Laura's dog… Neither can do wrong in the other's sight – often to my chagrin, but what say do I really have in the matter? If I did some of the things or emitted any of the smells that dog does I would be relegated to the doghouse – but, Lucy gets by with them because, "she's so cute". And everyone wonders why I'm a cat person…
Merry Christmas!
-Don
In my ongoing quest for answers in my Over the Under-Schmeerings series I came upon an old photo of a crucifix that I'd forgotten I even had. After 'donifying' the image a bit I came up with the following…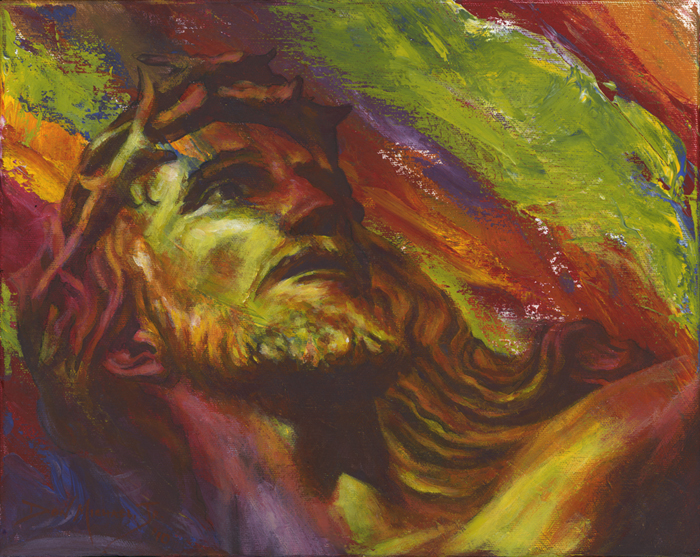 Passion – 11″x14″ – Acrylic on canvas – Completed 12-21-10
©2010, Don Michael, Jr.
As you can see in the 'before' image below, the schmeerings for this one run in a strong diagonal direction. I knew that the subject matter should somehow counter that direction. By turning the eyes upward I was able to attain the exact composition I was looking for. The intensity of color, the composition and the subject matter all work together nicely for what I consider to be a pretty dramatic piece.

©2010, Don Michael, Jr.
In my last blog posting I mentioned how the Golden's Clear Gesso that I was using had been leaving a milky finish on my under-schmeerings which caused the colors to be washed out. Well, after a little experimenting I came up with a solution to this dilemma. By mixing one part of the Clear Gesso to an equal part of Golden's Matte Medium I came up with just what I needed. I got the freshly gessoed surface to sketch and paint upon without affecting the colors of my under-schmeerings. Sweet!
Happy Creating!
The exploration of different subjects to be used in my Over the Under-Schmeerings series continues with a clump of trees. I've been wanting to experiment with a landscape and decided there was no time like the present.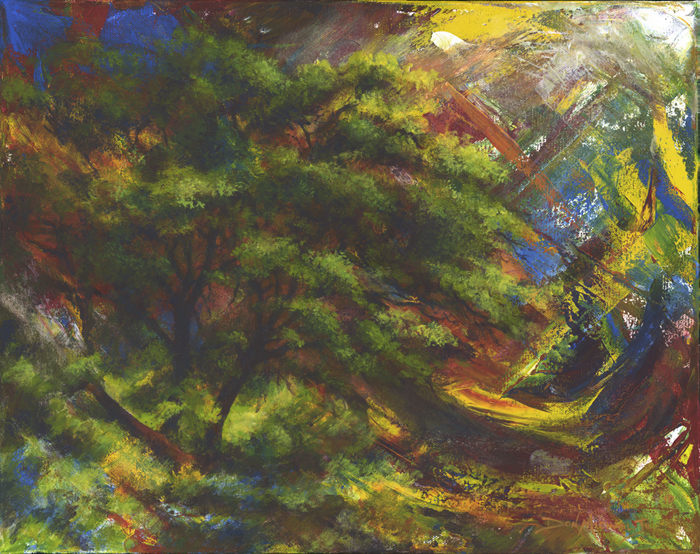 Awakening – 16″x20″ – Acrylic on canvas – Completed 12-18-10
©2010, Don Michael, Jr.
My son, Eric, says that the trees look like "spirit trees" to him. The expressionistic look to it, coupled with Eric's comment gave me the idea for the title.
I created the 'schmeerings' for Awakening late one night when I decided I wanted to experiment with some different color combinations. The palette consists of Cerulean Blue, Cadmium Yellow Deep, Cadmium Red Deep Hue and Titanium White. I was able to maintain a randomness to the background by not considering any of my strokes. I ended up with such a strong abstract piece that I thought about leaving it as it was – but, that's just not my style. Below you can see what it started as and how it finished…

©2010, Don Michael, Jr.
Where do I go from here? Well, stay tuned and we'll find out together…
Happy Creating!
I'm adding a little addendum to this posting because I think it's important. I recently started using Golden's Clear Gesso on my 'schmeered' backgrounds before I painted the 'over' part. I did this because I wanted a more porous surface to sketch and then paint on. However, after a few paintings with the Clear Gesso, I realized the paintings were not looking as vibrant as I was used to – and even seemed a bit washed out. A couple nights ago I did an experiment by applying one swipe of the Clear Gesso on two spots of a recently 'schmeered' canvas. As you can see below, I have reason to not use the Clear Gesso on my Under-Schmeerings anymore.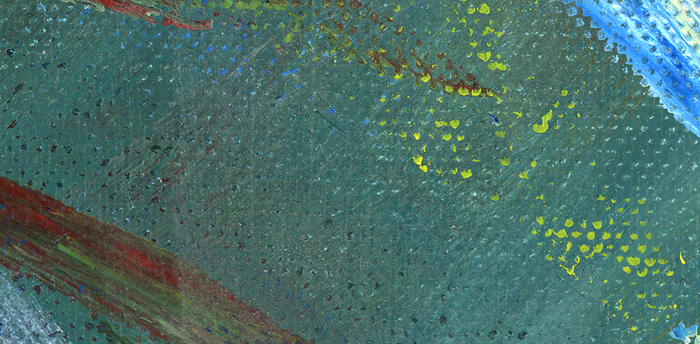 Notice the milky vertical swipe above, and the horizontal one (in the red area) below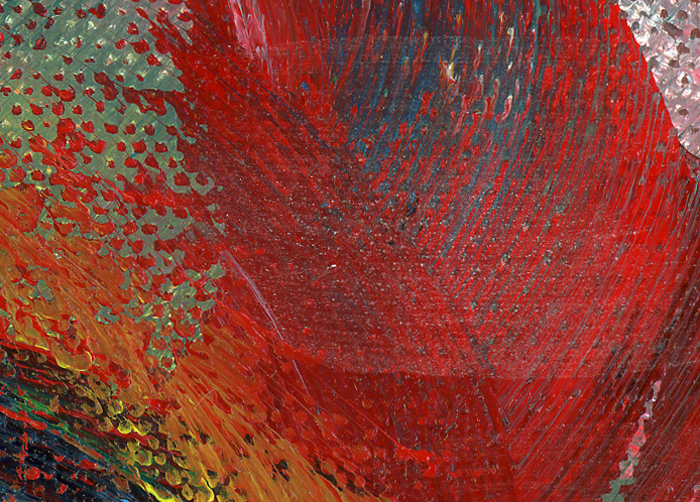 After I finished Adrift earlier this week I decided I should do at least one more Over the Under-Schmeerings painting with flowers as the subject matter. Almost immediately I thought of dogwood, which is the state flower of both Virginia (where I was born) and North Carolina (where I spent several years of my youth). Whenever I would go back to North Carolina to visit my Grandmother (who lived her entire life there) she would talk about the dogwood trees and blossoms, whether it be the ones growing on the old homestead, or the ones growing along the drive to my Aunt's house (where she lived her final years). She loved them. Needless to say, I cannot think of dogwood without thinking about her. It always brings a smile to my face and a tug at my heartstrings…
Since the dogwoods in the South grow beneath the protection of the taller trees like pine and oak, I thought I'd title this appropriately…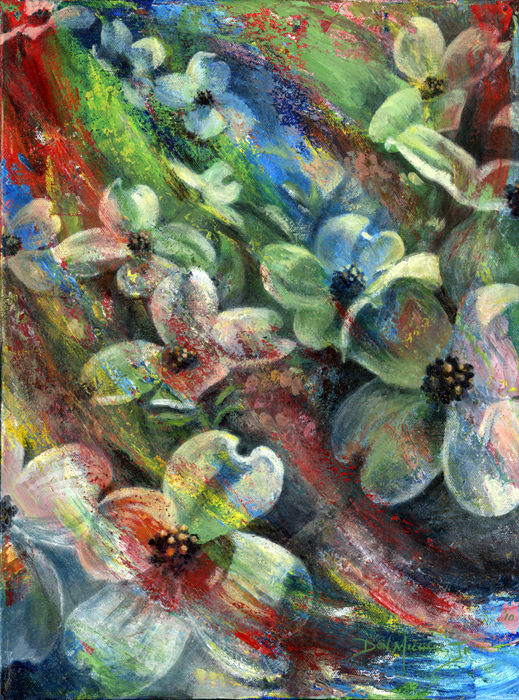 Made in the Shade – 16″x12″ – Acrylic on canvas – Completed 12/16/10
©2010, Don Michael, Jr.
The Schmeerings for Made in the Shade came about while I was painting American Dream. Below you can see the before and the after.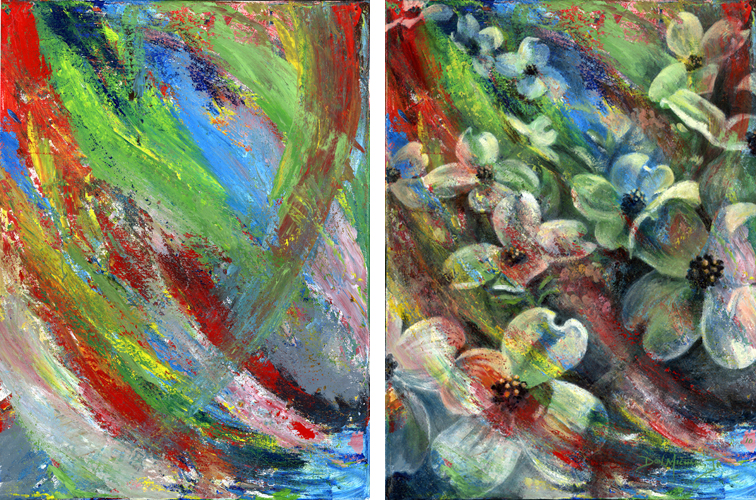 ©2010, Don Michael, Jr.
Now it's on to the next one…
Happy Creating!
Ever since I painted Perennial this past Spring I'd been knocking around the idea of integrating flowers into another of my Over the Under-Schmeering pieces. But instead of them being a supplemental element, I wanted the flowers to be the main subject matter. Yesterday I decided it was time to quit contemplating and get to creating. Here's what I came up with…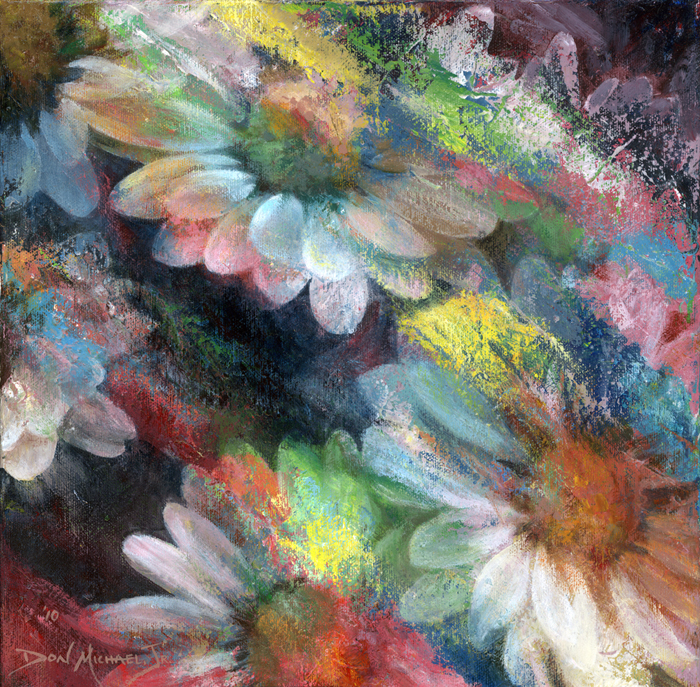 Adrift – 12″x12″ – Acrylic on canvas – Completed 12/12/10
©2010, Don Michael, Jr.
The title not only reflects the imagery of the piece, but also how I feel right now as I continue to cast about for what's to come next as far as a direction for my work. As I've mentioned before, I'm not sure that I'll ever completely stop painting and using masks, but for now I feel it's time to explore other avenues.
The 'Schmeerings' for Adrift was created during the painting of Faith, Hope, Charity – making it a second-generation 'Schmeering'. The lineage ends there, though, since I was able to use all the paint I squeezed out onto my palette on the painting and I never used my palette knife. Don't worry, though. I have plenty of other 'schmeered' canvases ready for action. Now I just have to figure out what I'm going to attempt next. Until then please enjoy the before-and-after below.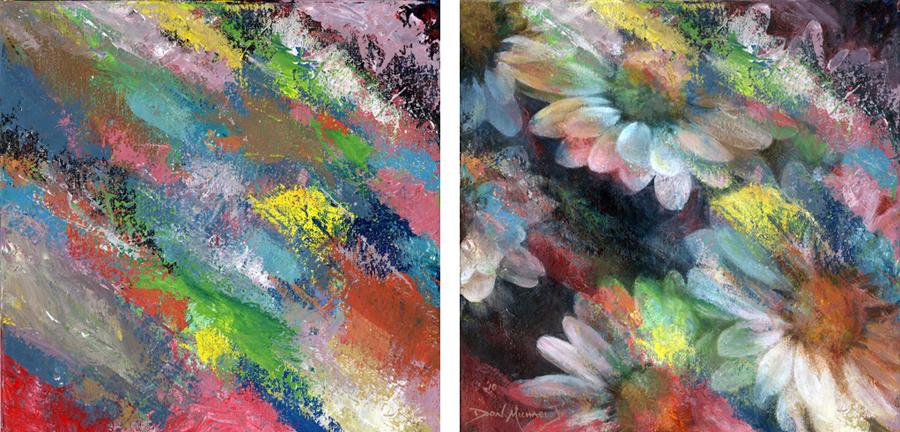 ©2010, Don Michael, Jr.
At long last I have completed the 3D piece that I've been working on since early September. For now, I will not water this creation down with words. I feel it can speak for itself quite loudly.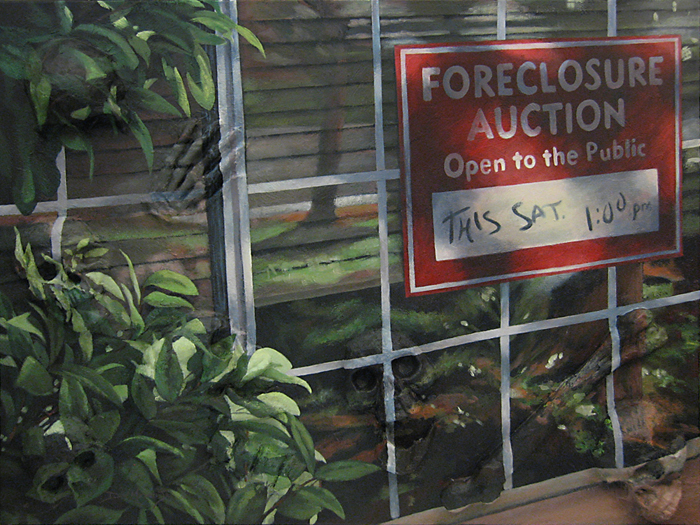 American Dream – 30″x40″x3.25″ – Acrylic and Paper Mache' on canvas   Completed 12/10/10
Here are a few detail shots of the 3D elements.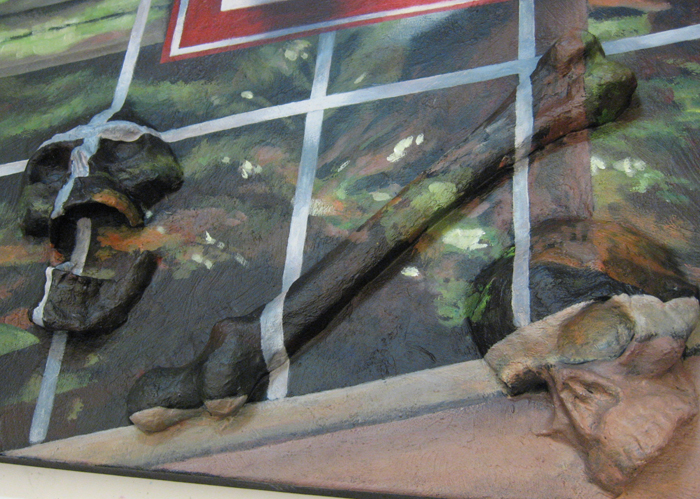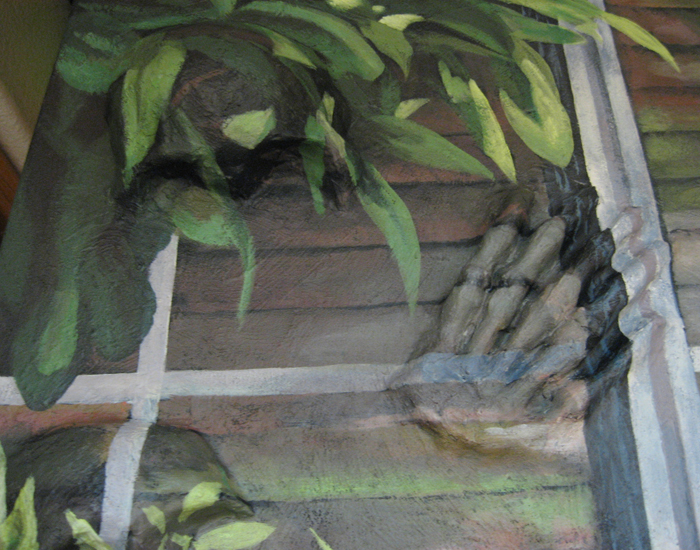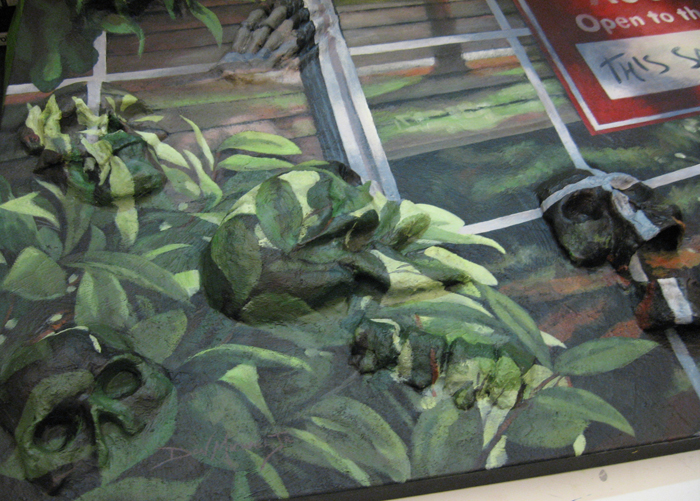 To give you a better sense of the 3D elements I thought I'd show you what lies beneath the paint.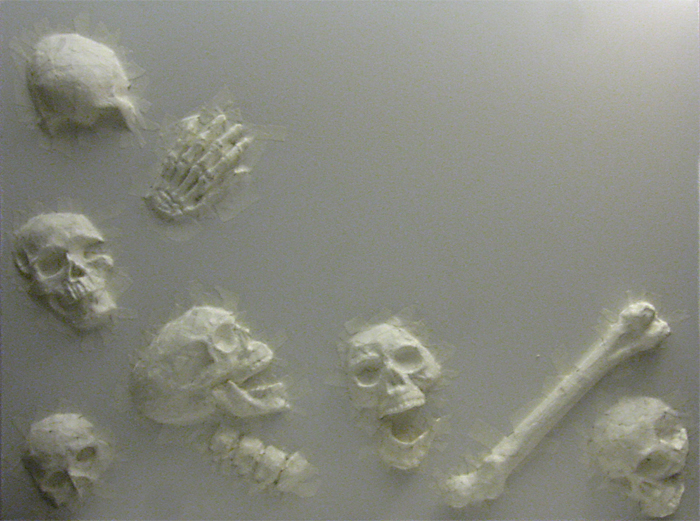 All Images ©2010, Don Michael, Jr.
It's now time to take a long winter's nap and get ready for the next one…
Happy Creating!
Last Saturday, my wife and I took our 2 younger children to see Trans-Siberian Orchestra in concert. If you ever have the opportunity to see these guys I highly recommend it. They put on an outstanding show with excellent music, theatrics, lighting and pyrotechnics. They performed their album Christmas Eve and Other Stories in its entirety, as well as several other seasonal and unseasonal arrangements. One of the songs from the Christmas Eve… album is titled The Old Bar, which tells my favorite part of this story of hope and redemption. This song, which I have heard several times in the past, suddenly spoke to me in a new way. The following lines resonated strongly with me:
If you want to arrange it
This world you can change it
If we could somehow make this
Christmas thing last
By helping a neighbor
Or even a stranger
And to know who needs help
You need only just ask
Those last two words really struck a chord with me. "Just ask". I started thinking how that can go both ways. Often there is a disconnect. A person needing help may not ask because of pride, fear or despair. A person who could help may not know of the need even though they may sense something isn't right. In both cases a simple conversation or question could lead to a simple solution. Just ask.

Faith, Hope, Charity – 10″x30″ – Acrylic on canvas – Completed 12-6-10
©2010, Don Michael, Jr.
When I originally worked the hands into this composition I was picturing it as a vertical image. But, as I started painting and meditating on the message I was trying to convey I realized I wanted both hands on a nearly horizontal plane. To me this represents how close we all are to being the ones on either side of this exchange. The old phrase, "There, but for the grace of God, go I" comes to mind…
The Under-Schmeering for this one comes from the still unfinished 3D piece which I have intentionally been avoiding the last several days. It's one that I'll finish – but only when I'm ready. This is a new experience for me. I'm not used to waiting on a nearly finished piece, but I know it's the right thing to do in this case. Meanwhile, please enjoy the before/after of Faith, Hope, Charity…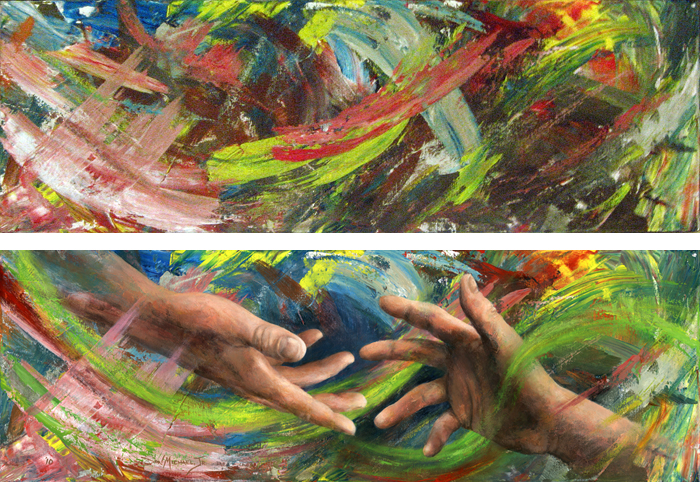 ©2010, Don Michael, Jr.
The title for this painting comes from the last verse of the thirteenth chapter of the first letter Paul wrote to the Corinthians. "And now abideth faith, hope, charity, these three; but the greatest of these is charity." The word charity is also interpreted from the original manuscripts as love. Charity = Love. Perfect!
Happy Creating!