The creative juices have been flowing quite freely the past few days. Am I really supposed to be having this much fun? I sure hope it's not illegal…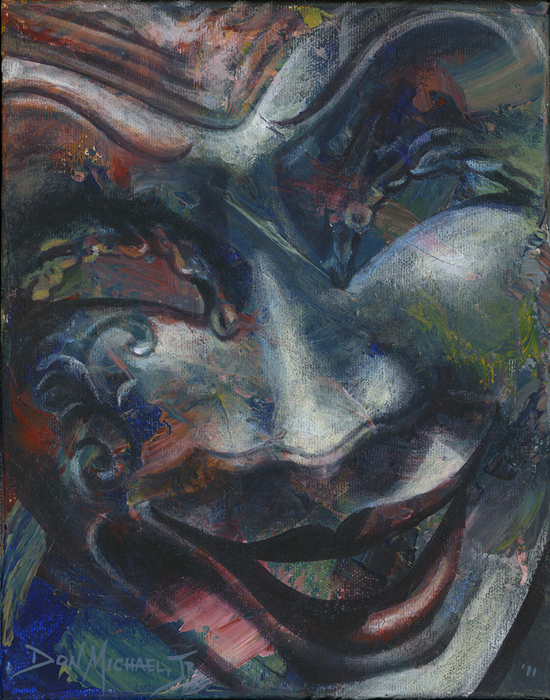 Reverie – 10″x8″ – Acrylic on canvas – Completed 1-30-11
©2011, Don Michael, Jr.
I've always thought of reverie as living inside a daydream. When I'm painting, that's where I exist – and I LOVE IT!
The Under-Schmeerings for Reverie were created during the painting of Lupti-Lu this past December. Below is the before/after.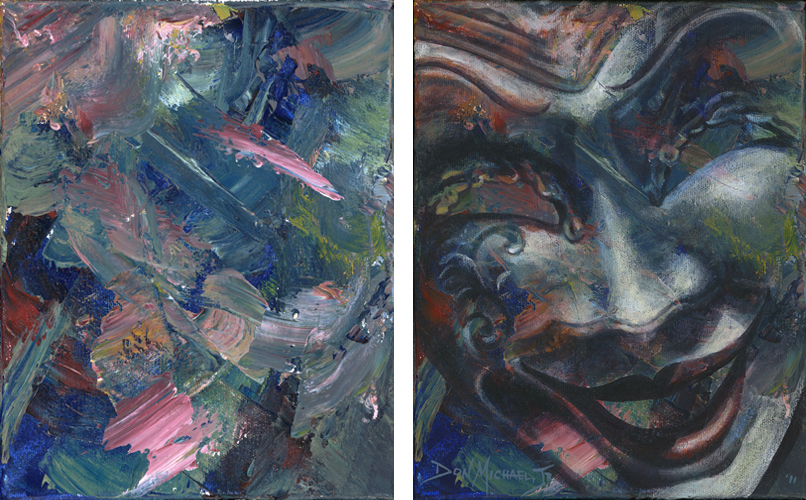 ©2011, Don Michael, Jr.
I find it fascinating how the exact same palette can look so different between paintings. As you can see below, Lupti-Lu's colors look nothing like what you see above. If you're interested the palette for both consists of Phthalocyanine Blue (Green Shade), Yellow Oxide, Cadmium Red Deep Hue, and Titanium White – all from Liquitex.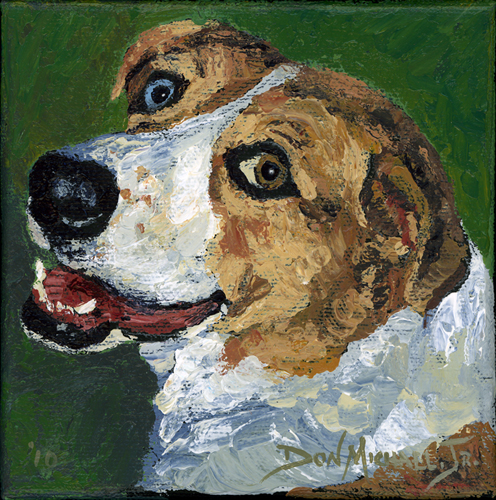 Lupti-Lu – 5″x5″ – Acrylic on canvas – ©2010, Don Michael, Jr.
See what I mean about fun? I can't get enough of this stuff…
Happy Creating!
I really enjoy the way my Over the Under-Schmeerings paintings seem to add an atmosphere of mystery to the subject matter. They give an object that is interesting in its own right an added sense of mystique.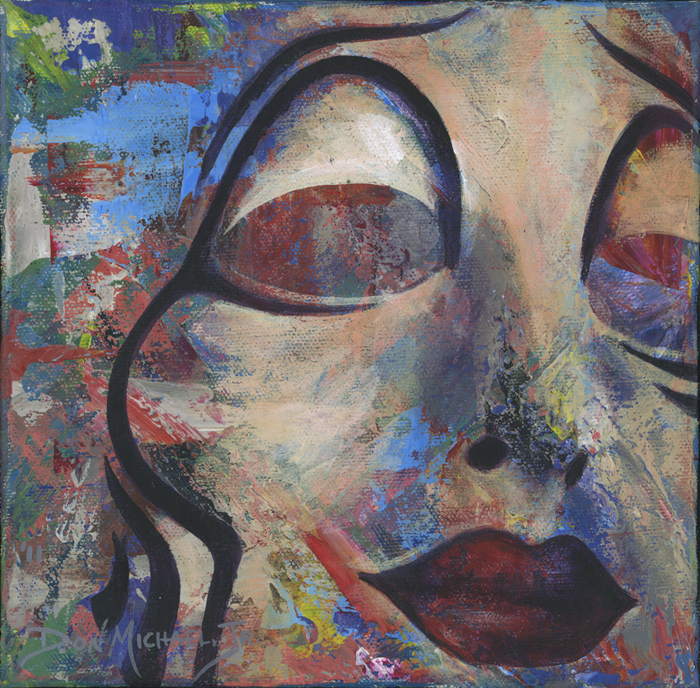 Mystique – 8″x8″ – Acrylic on canvas – Completed 1-29-11
©2011, Don Michael, Jr.
This mask from the Cirque show "O" has become one of my favorites, with this being the 5th time she's shown up on canvas. This time she shows up atop the schmeerings that were created during the painting of both Delight and Beer-Thirty.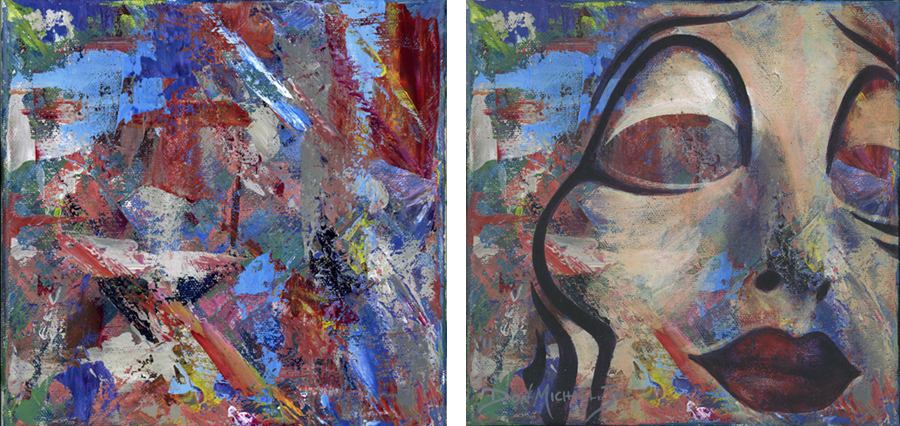 ©2011, Don Michael, Jr.
Well, the creative juices are really stirred up and flowing freely right now, so I'd better get back to the easel while the getting is good…
Happy Creating!
Flux: 1. A flowing or flow,  2. a coming in of the tide, 3. a continuous movement or continual change. (Simon & Schuster New World Dictionary)
Earlier this week I posted about my little foray into an artistic existential crisis. Sometimes just getting something off your chest is the best medicine – and this proved to be true once again. It was even a bigger help to receive all your wonderful comments. As Robin wrote, "…this is a wonderful, supportive place for all of us to share and grow…". I concur. Thank you all.
So, I just nosed my boat back into the current, put the oars away, and started going with the flow that was always there. Change will occur naturally. I don't need to think so hard about it.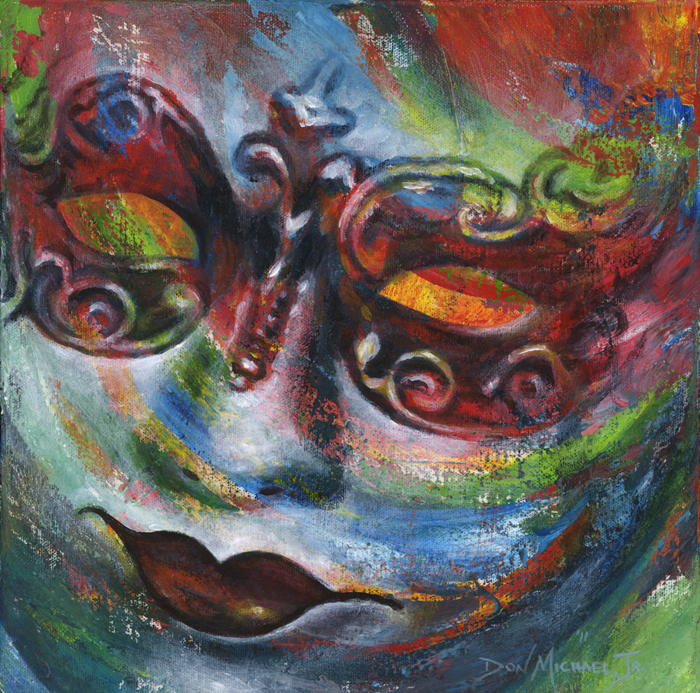 Flux – 12″x12″ – Acrylic on canvas – Completed 1-28-11
©2011, Don Michael, Jr.
The Under-Schmeerings for Flux were created during the painting of Determined. (Does that seem pretty ironic to anyone else, or is it just me?) Below is the before/after.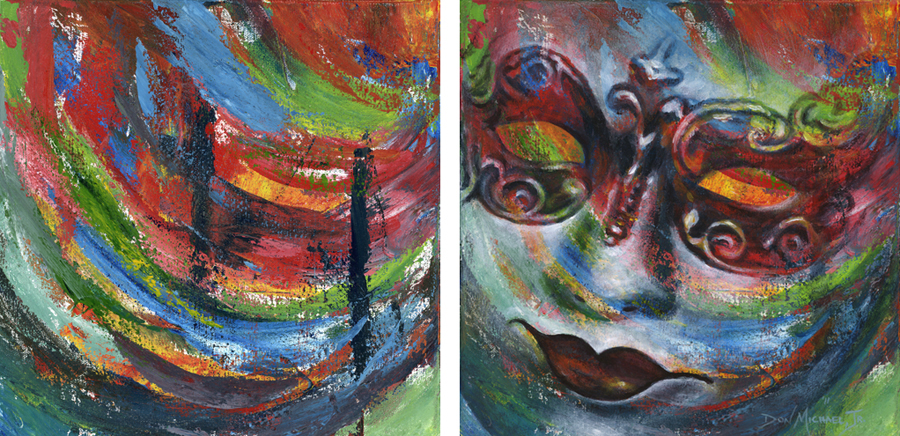 ©2011, Don Michael, Jr.
This was a hard Under-Schmeering to paint over because it had such a great composition as it was. However, that is not a new direction that I'm ready to follow… yet. Remember, never say never.
Now that I've got my head back on straight it's time for me to go teach this weekend's Acrylic Workshop.
Happy Creating!
My brother, David, has written several short stories that were inspired by my mask paintings. He has just released the book Demon Candy which includes four of these stories. His brief description of the book states, "Four linked stories of Hell, and Life, and Life in Hell". If you click on either of the next two images you'll be taken to his blog which has a brief write-up about each of the stories as well as links to the book/e-book in its various incarnations.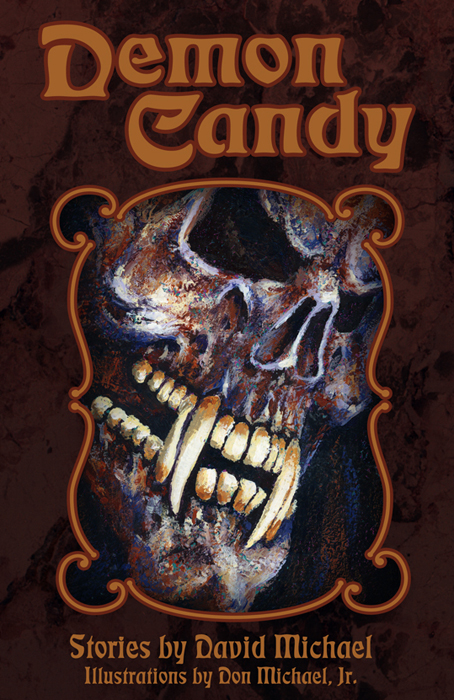 Demon Candy – Written by David Michael – Illustrated by Don Michael, Jr.
©2011, David Michael – ©2011, Don Michael, Jr.
For this book we included images of all four paintings in both the back cover and as image plates at the front of each story. The internal image plates are black & white in the print version and full-color in the electronic versions. For the front cover David wanted to use Sweet Tooth. With that in mind, and the title of the book being Demon Candy, I decided to create a cover that reflects the style of some vintage candy posters I'd seen over the years. David gave me free rein on both the images and the text, so I took advantage…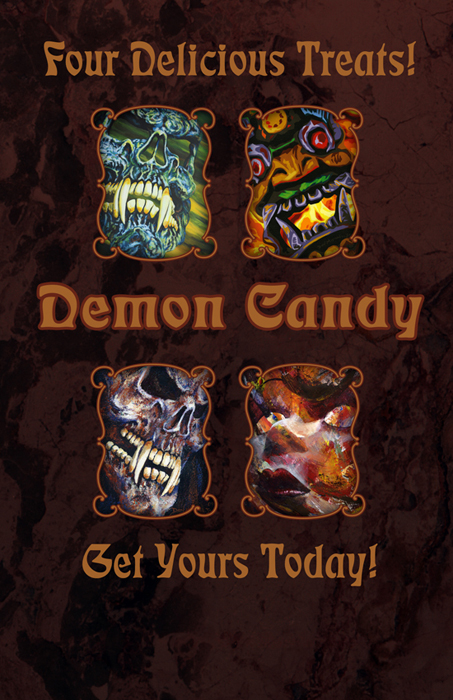 ©2011, Don Michael, Jr.
The four paintings used are clockwise from top: Summer Breeze, Inferno, Afterimage and Sweet Tooth.
These stories are all great, but they are also pretty dark – so approach with caution. For those interested, my favorite story of the book is Afterimage.
The best part of doing a project like this is receiving the final product. I just had to take photos to share…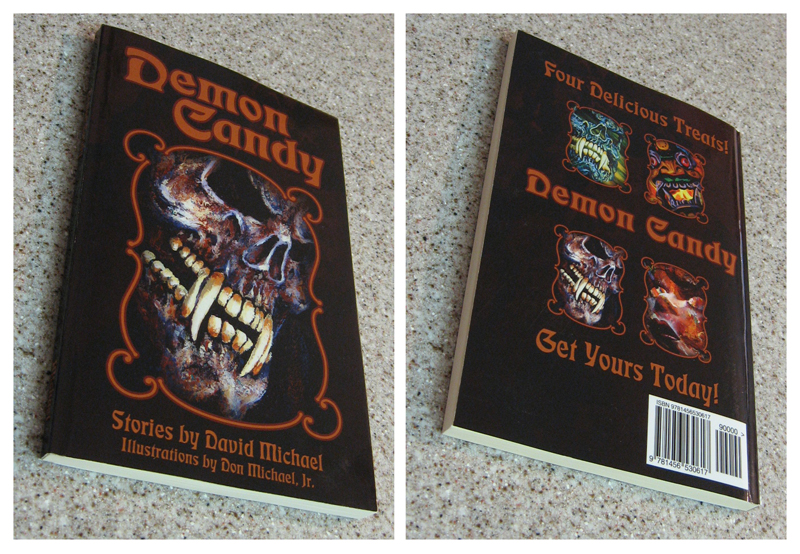 Happy Creating!
Last week my friend, Katharine Cartwright, wrote a great post titled Chasing rabbits and losing direction. In a nutshell, it's about the artistic process of creating a cohesive series and her process of – and concers with – changing from one series to the next. This really got me to thinking about where I am right now in my artistic pursuit and I left the following comment:
For years I painted masks just because I loved them. I painted them for me with no thought of them being a series. I was just trolling along with no thought of direction or specific style. Then a couple of years ago I accelerated into uncharted waters and now I find several series are lying in my wake. They weren't planned as series, they were just experiments that arose from 'what ifs'. Recently I slowed the boat down to survey what's floating behind me as I try to chart my next course. Then I suddenly found myself dead-in-the-water with my motor flooded with too many thoughts. Now I think it's time for me to get out the oars and just start paddling…
In the past year alone I started 3 totally different series of works which had been unified by the subject matter of masks. Specifically, I created my 3D series, my Over the Under-Schmeerings series, and my Palette Knife on Mini Canvasses series. Late last year I decided it was time to start exploring subject matter other than just masks. That was when my motor became flooded with too many thoughts. Before, if I had something specific that I wanted to say, I'd say it with a mask. If I didn't have something specific to say, I'd just paint a mask. It was easy. I realize now that I was hiding behind these masks on more levels than I should probably admit. So, what did I do when I suddenly found myself dead-in-the-water? I picked up something familiar and started paddling. And, guess what? I'm back behind the masks…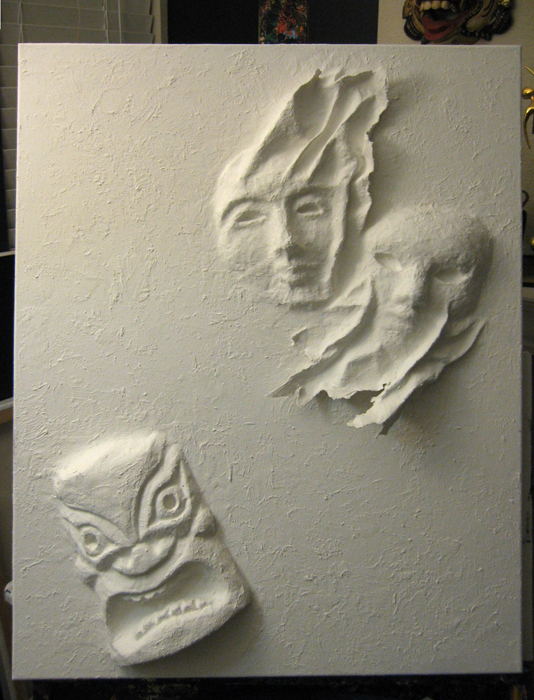 ©2011, Don Michael, Jr.
If you think looking at a blank canvas is scary, you should try looking at a blank canvas that's looking back at you. I'm still deciding what my next step will be on this, but it feels good to at least be creating again. You may recognize a couple of these masks from my experiments from last spring that I wrote about here. Below is a closeup showing them attached, textured, and ready for some color…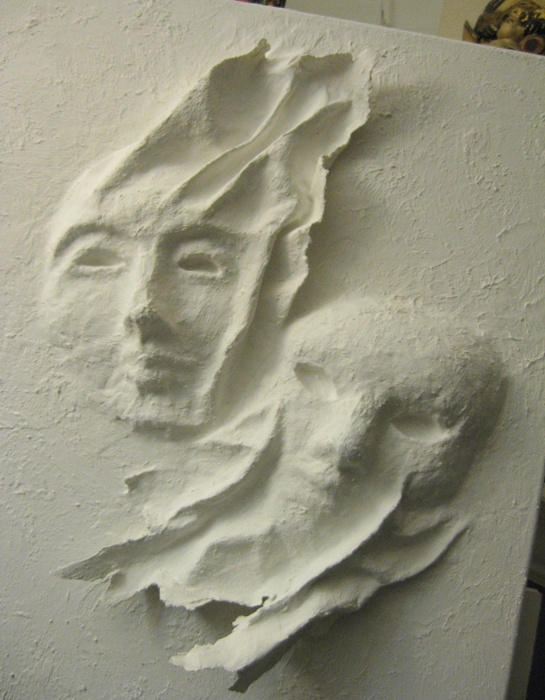 ©2011, Don Michael, Jr.
As these were drying I grabbed another of my experiments from last spring and attached it to a smaller canvas. I decided to center this one on a square canvas, which is much more bi-symmetrical than I am usually ready to deal with.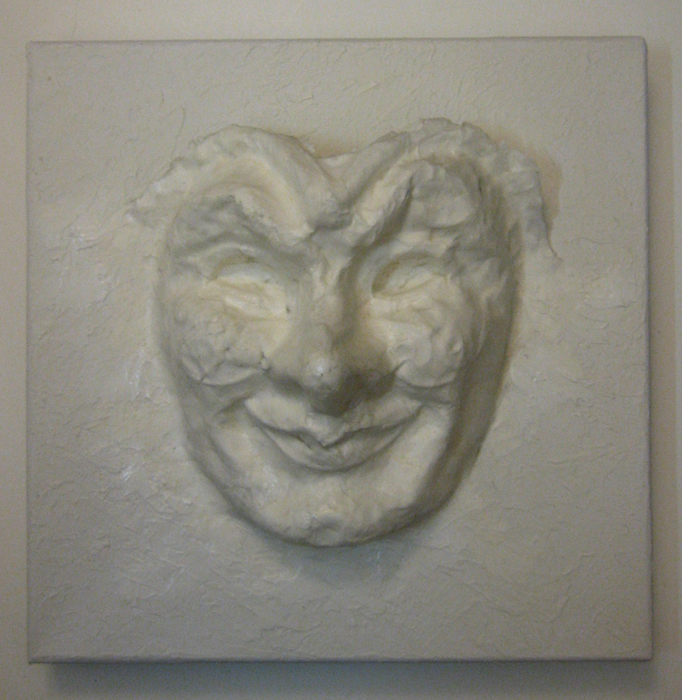 ©2011, Don Michael, Jr.
To give an idea of his depth, I also shot him from a higher angle.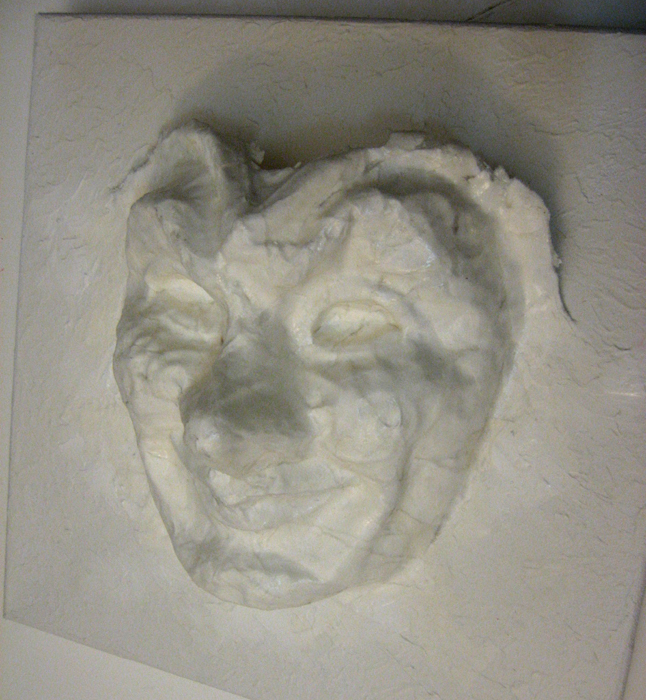 ©2011, Don Michael, Jr.
For this one I decided to explore the idea of incorporating my Over the Under-Schmeerings style into it. Here's what I have now…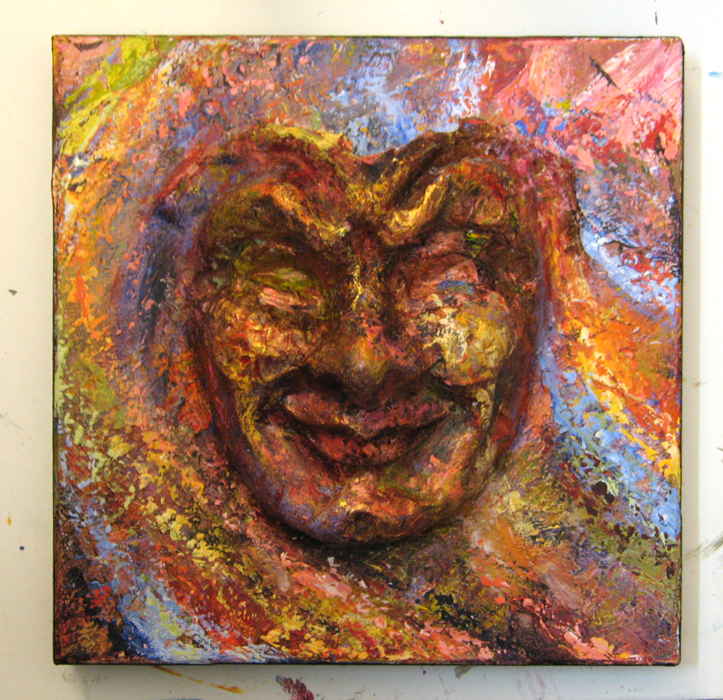 ©2011, Don Michael, Jr.
I have no idea what I'm going to do next to either of these canvasses. They are both very much works-in-progress.
But, at least I'm paddling again… maybe a sympathetic current will grab me soon.
Happy Creating!
As I was painting this latest Over the Under-Schmeerings piece the composition brought to my mind the ambitions of the young as they prepare to leave their elders behind. I then started to think of the ambitions that the elders have for their offspring. All of these ambitions are immediately put to the test as the young move away from the protection of their youth and into the unknown possibilities and challenges life has to offer. I guess that's the kind of thinking that occurs when the artist is the co-parent of 3 young adults…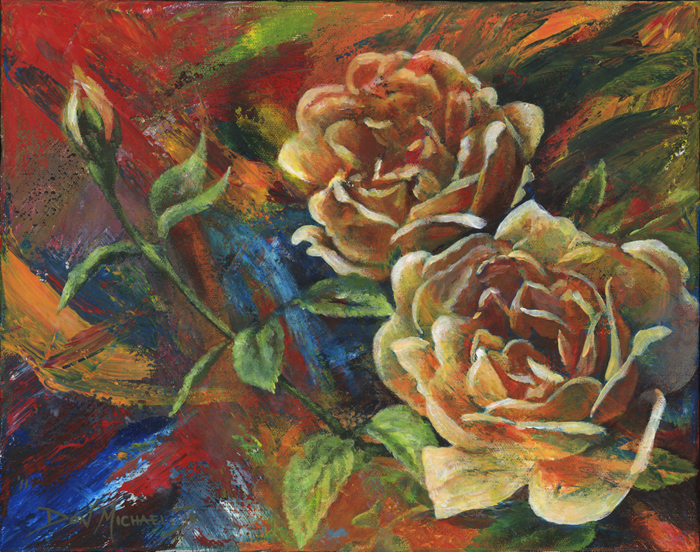 Ambition – 11″x14″ – Acrylic on canvas – Completed 1-19-11
©2011, Don Michael, Jr.
This makes the fourth time I've used flowers as the subject in trying to tame these Under-Schmeered canvases. I think these roses ended up being the biggest challenge of the four. The background chaos was created during the painting process of Respite. Below you can see the before-and-after…

©2011, Don Michael, Jr.
I must now figure out what's next. Meanwhile…
…Happy Creating!
Today it was time for my first painting workshop of 2011. Since I had already run the gamut of the curriculum provided for me for these classes I decided to create my own lesson plan. The criteria I have to follow are as follows: 1) the image has to have clear rights, 2) the project must be simple enough for the beginning painter, 3) the project must be completed in the alloted two hours, 4) the painting must be 9″x12″, and 5) there are 6 specific colors that must be used. So, last night this is what I came up with…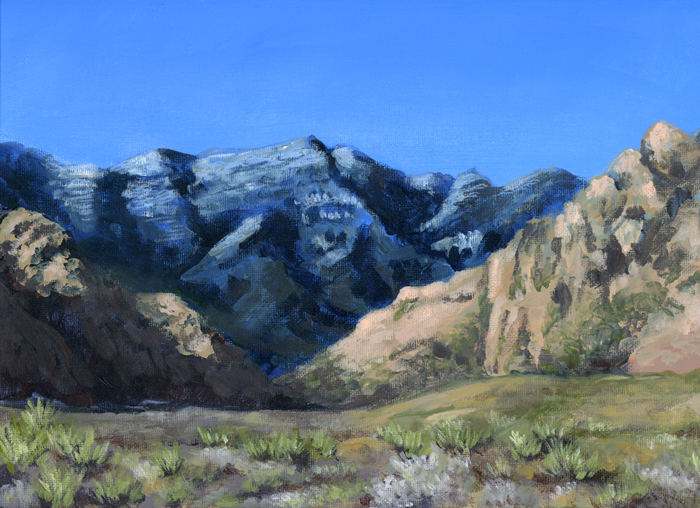 Clear Skies – 9″x12″ – Acrylic on canvas board – Completed 1/14/11
The image was provided by my friend, CJ, from some shots she took with her new camera (a Christmas gift to herself) at Red Rock Canyon a couple weeks ago. Thank you, CJ.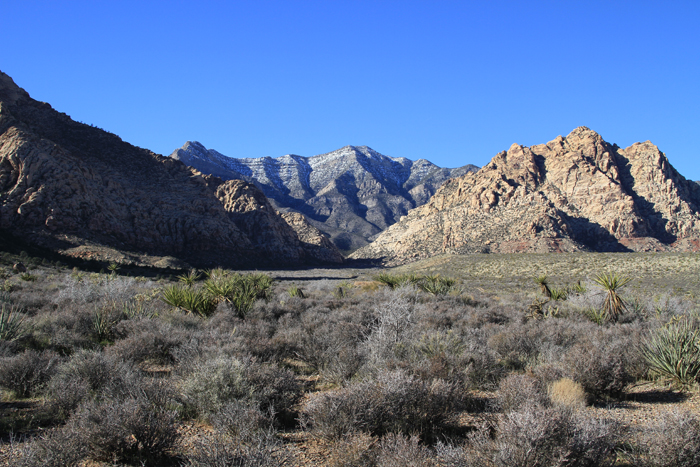 I had two students in my class today, and we were able to work our way through the entire project quickly and in its entirety. I'm proud to say that both ladies did a GREAT job. I wish I had taken my camera so I could share their new masterpieces. What I love about this process is that even though we are painting from the same image with the same colors, and even though they are following along with me as we work through the project, each of our paintings come out so different and show a little of the personality of each of the students. Great job Elaine and Rachel!
Now, I'm going to shift gears and share a little observation I made this week. While driving my daughter to school one morning the song "Sailing", written and sung by Christopher Cross, was playing and I had a sudden revelation. If I replace the word "sailing" with "painting", and the word, "wind" with "mood" it would be the perfect song about what my studio time means to me. Check out my revised version of this masterpiece below:
Well it's not far down to paradise,
At least it's not for me.
If the mood is right you can paint away
And find tranquility.
Oh, the canvas can do miracles,
Just you wait and see.
Believe me.
It's not far to never, never land
No reason to pretend.
And if the mood is right you can find the joy
Of innocence again.
Oh the canvas can do miracles
Just you wait and see.
Believe me.
Painting, takes me away
To where I've always heard it could be.
Just a dream and the mood to carry me,
Soon I will be free.
Fantasy, it gets the best of me
When I'm painting.
All caught up in the reverie,
Every word is a symphony.
Won't you believe me?
It's not far back to sanity,
At least it's not for me.
And when the mood is right you can paint away
And find serenity.
The canvas can do miracles
Just you wait and see.
Believe me
Painting, takes me away
To where I've always heard it could be.
Just a dream and the mood to carry me,
Soon I will be free.
—
Happy Creating!
I decided yesterday that I've been thinking too much about painting which has stifled my production. I'm in the middle of an artistic transitory period and I had allowed it to debilitate me for a few days. So, what does one do when one doesn't know what to do? They go back to what they are familiar with. What makes them happy. At least, that's what I do…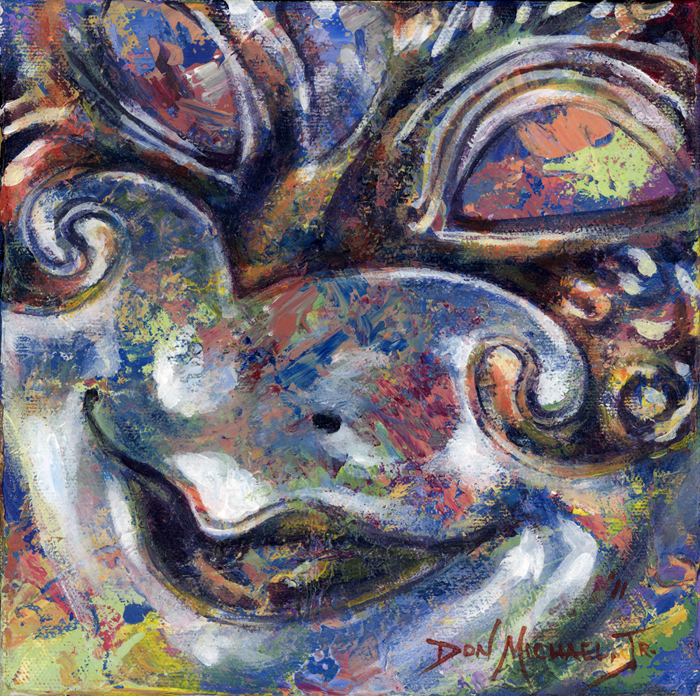 Happy Thoughts – 8″x8″ – Acrylic on canvas – Completed 1-11-11
©2011, Don Michael, Jr.
I must admit that emotionally I needed a bit of happy time. This past weekend I was deeply saddened, as was the rest of our nation, at the horrific event that occurred in Arizona. Now I am dealing with an intense anger as I watch idiots from all sides of the political spectrum use this as an opportunity to push forward their views and agendas while attacking each other. As is par for the course, the media is perpetuating this ad nauseam. The rhetoric is out of control and is very harmful. The issue here is not political, it's humanity. A cold-blooded, cowardly killer plotted and carried out an attack on unarmed victims. Is he a product of out current political mess. Possibly. Is this an excuse. NO.  I believe that the culpability and accountability in the act of an individual belong to that individual. I wish everyone would take a chill pill, join together to lift up these grieving families, and stop slinging mud at each other.
Sorry, but I had to get that off my chest.
For Happy Thoughts I used the Under-Schmeerings created during the painting of Bright Side. I had to smile at the irony.
Below is the before/after…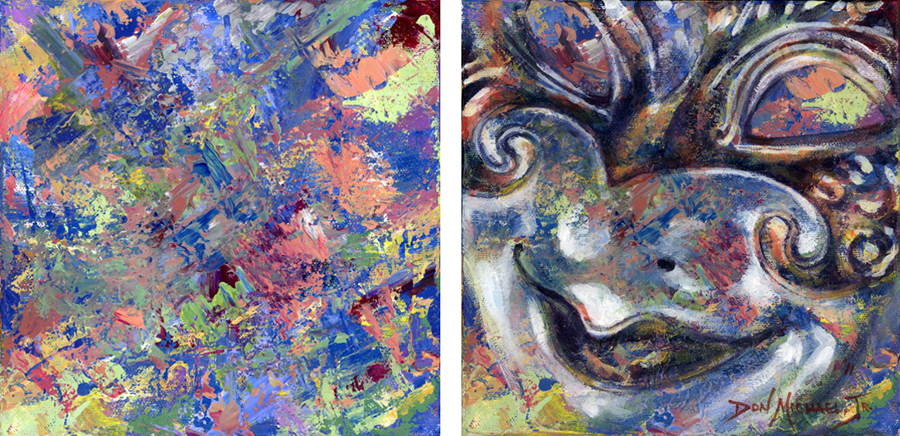 ©2011, Don Michael, Jr.
Wow! 2011 has started with a bang here at Don Michael, Jr. Studio. There's been so much going on this week that I feel the need to share…
Wednesday I had an interview with a former colleague of mine over lunch. Her name is Jochabel Reese and she is a freelance writer for AOL's City Best. We met at Luca's Cafe & Deli, where several of my paintings reside, and had a wonderful visit – mixed in with the business of the interview. If you would like to see the results of the interview, click here. I must admit that it's a bit of a shock to see the rambling words that tumble out of my mouth transcribed directly. Thank goodness she had to keep the article under 500 words. I think I need to work on my interviewee skills… In all seriousness, thank you, Jochi!
Meanwhile, I've been getting ready for the first First Friday of 2011, which will be going on tonight. I decided to completely redo my wall in the Blue Sky Yoga Gallery, which required taking everything down on Wednesday and hanging an entirely different set of paintings on Thursday. Cheryl & Corey Slader – who run the gallery/yoga studio – were generous enough to repaint the wall for me during the interim.  Below you can see how my wall looks now. I love how Montana Black's painting seems to be reaching out to my work, so I kept it in the photo. (I wish I had taken note of the title, so I could refer to it. Sorry Montana.) I notice that I need to straighten up the paintings in the upper right corner. That's what I get for being in such a hurry. The gap in the lower right corner is where I put my table of prints which is only up for First Friday. Nine of these paintings will be seen for the first time outside of my studio. I look forward to any conversations they may inspire.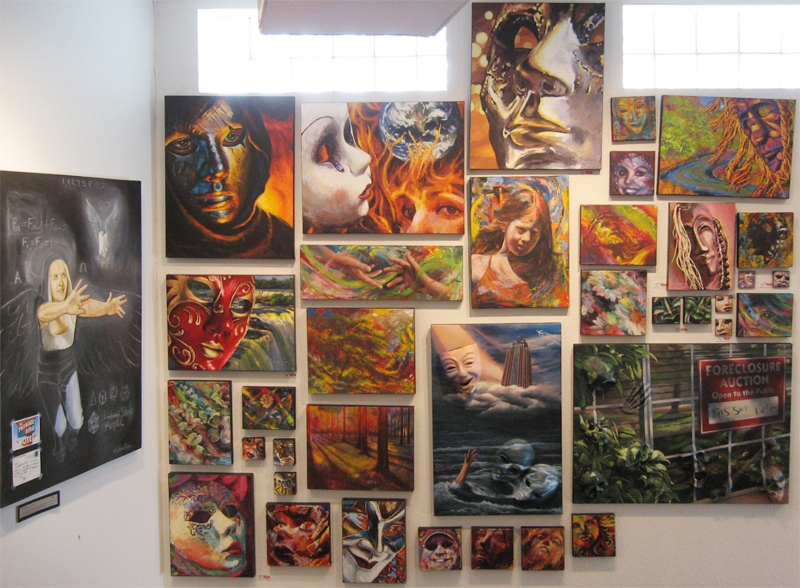 While preparing for First Friday I am also preparing two paintings for shipping to two separate juried shows. My painting Adolescence will be going to Elk River, Minnesota to hang in the Arts in Harmony 2011 International Juried Art Show at the Sherburne County Government Center. The show will run from February 7th thru March 24th…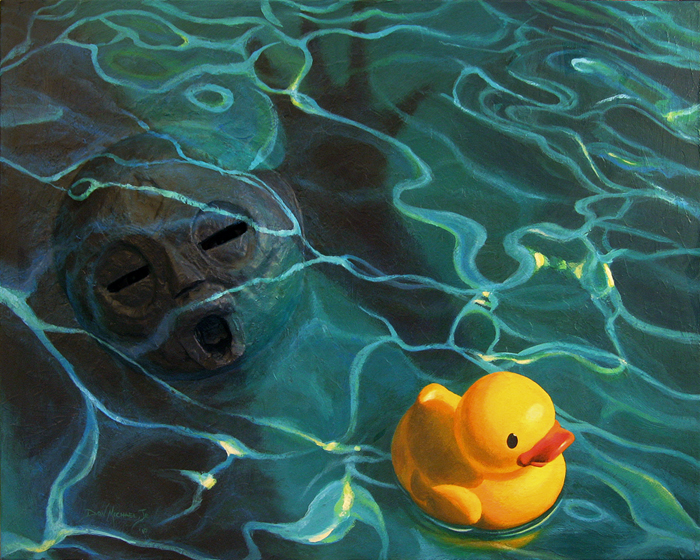 Adolescence – 24″x30″ – Acrylic and Paper Mache' on canvas
©2010, Don Michael, Jr.
…and my painting Sanctuary will be going to Wormleysburg, Pennsylvania to hang in the Susquehanna International Fine Art Competition at the West Shore Gallery. The theme of this show is "River Art" and will run from February 11th thru March 10th.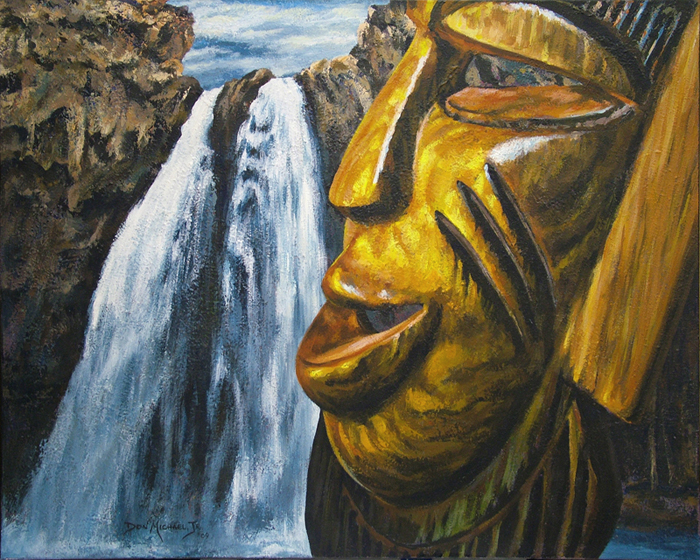 Sanctuary – 24″x30″ – Acrylic on canvas – ©2009, Don Michael, Jr.
I've also been working on a new book cover for my brother, David. I'm really excited about how it's coming along and cannot wait to see it in print. It's a book of some of the short stories he wrote based on mask paintings I have done – with one of them being featured on the front cover. As I'm sure you fear, I will be blogging about it when it is released.
While all this is going on, I am in the final stages of one freelance project and preparing to start two more – all three with short turnarounds, of course…
Well, I guess I'd better quit blathering on about myself and get back to work. There's still some painting that must occur… My boss insists.
Happy Creating!
A few years ago a friend of mine asked me to scan some photos of her from her college days. One of the photos had her giving her professor a look that I thought was quite intriguing. Recently, as I was searching for subject matter for my Over the Under-Schmeerings series, that photo came to mind. It only took  me a few minutes of digging around in my hard drive to come up with it. After cropping in tight on just her face I knew I had my composition.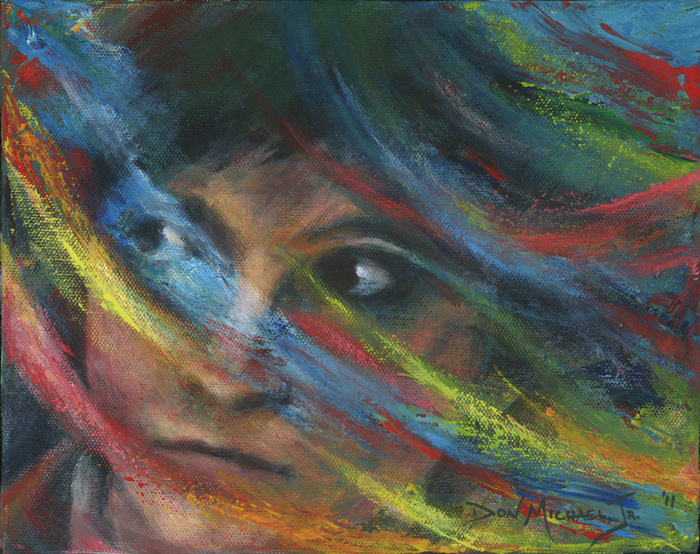 Determined – 8″x10″ – Acrylic on canvas – Completed 1-4-11
©2011, Don Michael, Jr.
The original photo was black & white and I thought about just using the values to place the image into the schmeered background. But, I decided I needed the warm flesh tones to keep the image from looking corpselike, since the original schmeering was predominantly blue and blue-green – as you can see below.

©2011, Don Michael, Jr.
The original schmeered background for this one was created while painting Made in the Shade a couple weeks ago. It sure was a fun challenge trying to weave the face into the schmeerings. There are a few things I would do differently if I had this one to do over, but that's a big part of the fun – learning through experimentation. Overall, though, I'm quite happy with the results. The final challenge with this painting was remembering to label it '11. It still doesn't seem like it should be such…
In case your wondering, yes, I did let my friend know that I was about to post a painting that included her image. I guess you could call it an after-the-fact request for permission to use her visage. Thankfully she was game for it, and will probably see it sometime today – right here where you're seeing it.
Happy Creating!