Here's a new Over the Under-Schmeerings painting which uses yet another of my recently created masks as its subject matter. When I first started on this one I wasn't sure if it was going to work the way I wanted, but once I started painting I became more and more excited with how it was coming along. It's always fun to paint, but it's REALLY fun when everything goes better than planned.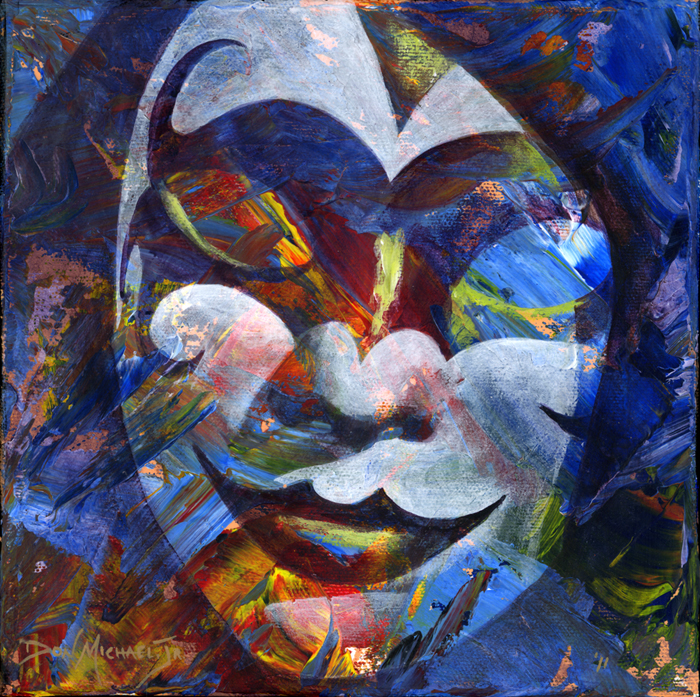 Nocturne – 8″x8″ – Acrylic on canvas – Completed 2-27-11
©2011, Don Michael, Jr.
The mask used in Nocturne was one of the first that I painted earlier this month. I had originally planned on adding some more color to it, but as time went by I realized it was done. It's name comes from my own abbreviation for Harlequin.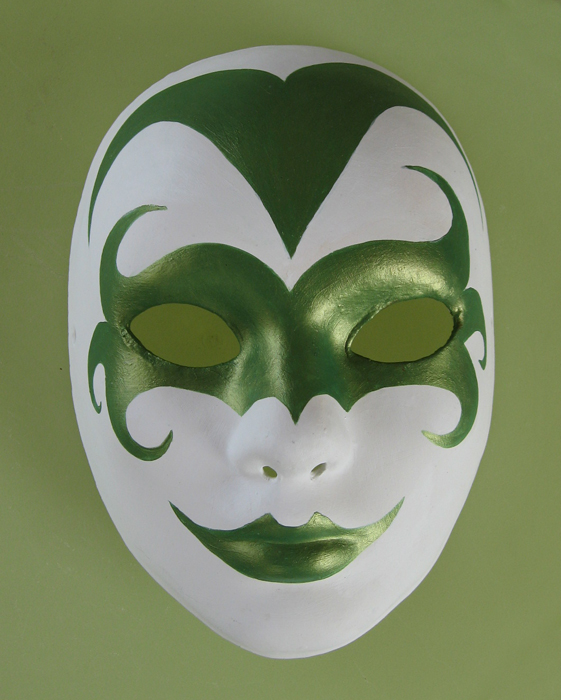 Harlie
The Under-Schmeered canvas for Nocturne was created while painting Illume and the as yet unrevealed painting that I teased about a few days ago. Below is the before/after: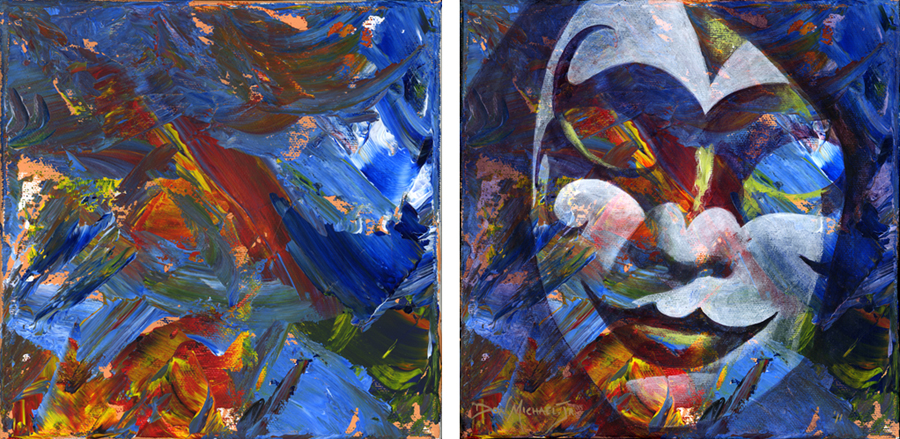 ©2011, Don Michael, Jr.
So far this year I've finished 11 paintings, which is quite a bit behind where I was at this time last year (21). I was a little down on myself for a minute, but then remembered that I have also created 6 masks, 2 book covers and 4 acrylic lesson plans; all while sending off 6 paintings to 4 different shows around the country and appearing in 3 books. So, I think I'm still on track to continue calling this "Year Two of the Decade of the Don". Now that my little pity-party is over and I've gotten my self-affirmation taken care of I think I'll take a big gulp of my Pepsi, turn on some pounding Rock-n-Roll and head over to the easel.
Happy Creating!
Here's a little composition I came up with centered around one of the masks I created recently.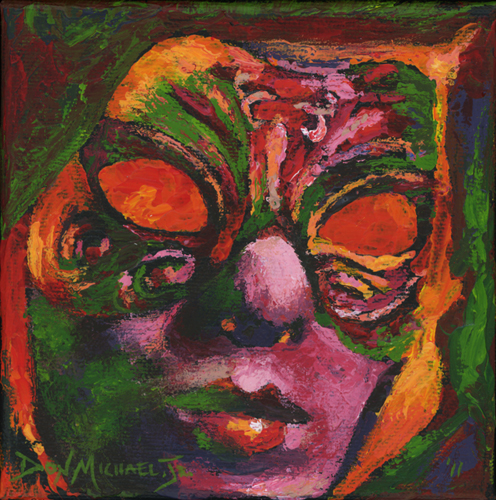 Moxie – 5″x5″ – Acrylic on canvas – Completed 2-26-11
©2011, Don Michael, Jr.
As you can see in the photo of her model below, I took a few liberties with her coloring. That's one of the things that makes this thing I do so much fun.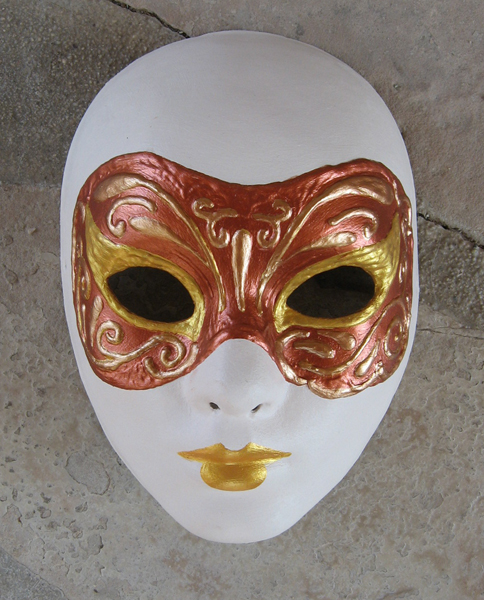 Coquette
Both the painting, Moxie, and the mask, Coquette, will be on display at the Arts Factory next week for First Friday. Come on out to see them and swap a few lies with their artist.
Speaking of First Friday, I've got a lot of work to do between now and then to get ready, so I guess I'd better get started…
Happy Creating!
I'm in the final stages of a painting I've been working on for over a week. It's a work that will be put to further use at a later date, but for now I thought I'd tease just a little of it to whet your appetite.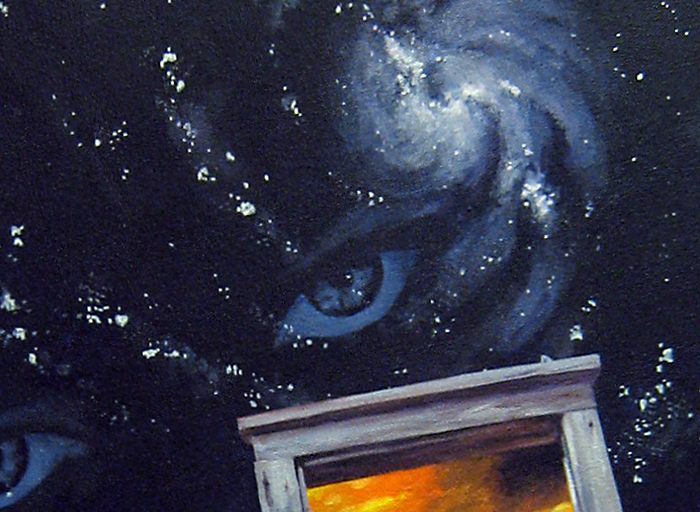 ©2011, Don Michael, Jr.
This is about 8.5″x11″ of  what will be a 24″x18″ painting. There's still a little work to go before calling it finished, but I'm really pleased with how it's coming along. This will be the last you'll hear of this piece until sometime in March…
I should finish sometime tonight, after which I'll need to start focussing on my lesson plan for this Saturday's Acrylic Workshop. I'll be teaching how to paint a seascape. Last week my class and I painted a sunset over Red Rock together. In two hours each member of my class was able to leave with a finished painting they could call their own. Below, you can see them hard at work on their masterpieces.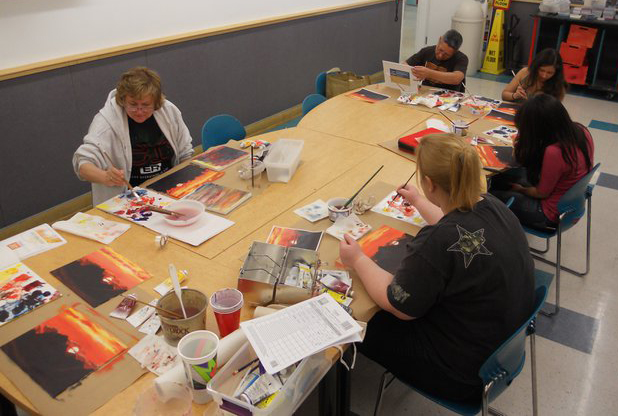 ©2011, Don Michael, Jr.
And, then it will be time to start prepping for next week's First Friday art show in downtown Las Vegas. I'm hoping to catch a few winks of sleep somewhere in the midst of all this, but we'll have to see…
Happy Creating!
Here's a little exercise I did yesterday with my palette knife.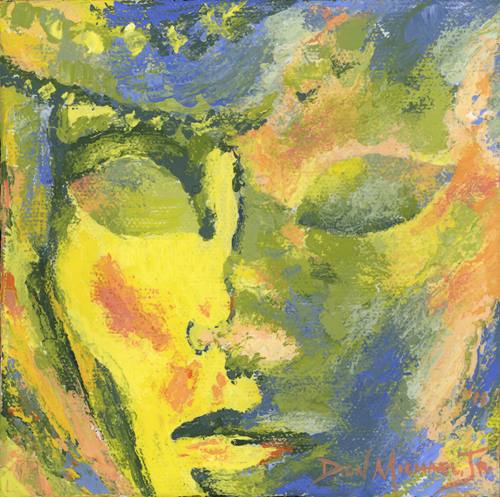 Illume – 5″x5″ – Acrylic on canvas – Completed 2-15-11
©2010, Don Michael, Jr.
Even though I originally considered Illume a departure from what I usually do, once I stepped away I realized that she actually comes across as an amalgam of my earlier palette knife paintings and my current Over the Under-Schmeerings series. Oh well, she was still a fun distraction from a couple of larger projects I'm currently in the middle of…
Speaking of which, I guess it's time to get back to work.
Happy Creating!
My mask experiments continue with the following two additions…
I started the first one by once again using the 3D paint I had experimented with on an earlier mask. I wanted to 'take it up a notch', so I really included a lot of swirls and spirals all tightly woven together. It took 3 sessions of using the 3D paint to get to the depth I desired. Over the 3D sections I used two different shades of metallic copper paint and one of metallic gold. The rest of the mask is painted a light pinkish-orange – which is a mix of one of the coppers, the gold, and titanium white.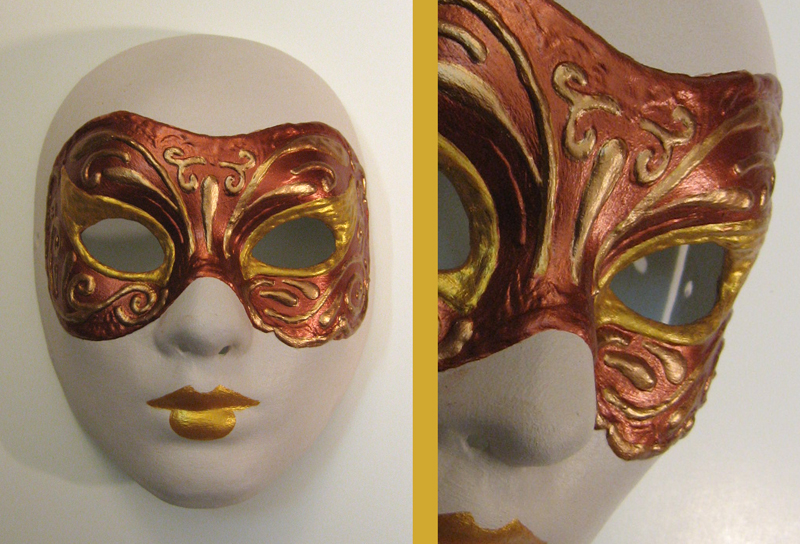 Coquette – Acrylic on paper mache mask – ©2011, Don Michael, Jr.
The following mask was one I created as a model when I painted End of Days to be used as the book cover for The Summoning Fire, by David Michael. I had hacked at the mask with a serrated knife to give it a gritty texture and to create the scar across the eye. I had then forced an antique copper paint mixture down into the texture followed by lightly brushing silver across the top. That worked perfectly for my model. Yesterday I got it back out and decided to smudge Carbon Black paint all around the edges. I then gently brushed some Naphthol Crimson down into the scar. The name of this mask is the name of the protagonist in The Summoning Fire.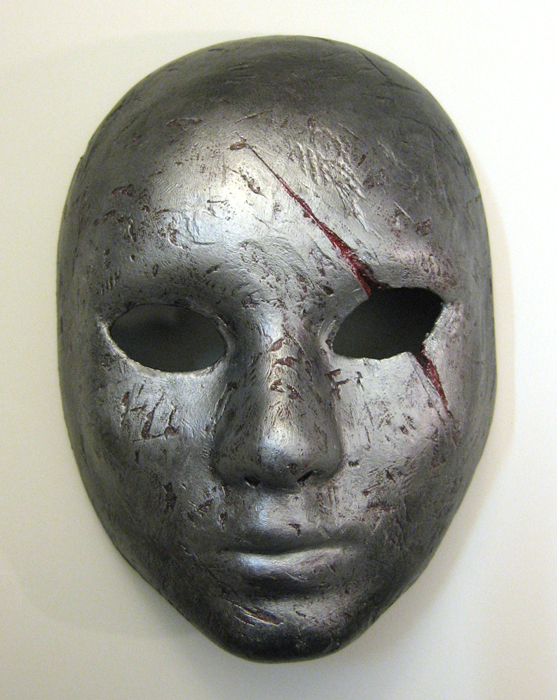 Reese – Acrylic on paper mache mask – ©2011, Don Michael, Jr.
I have now completed 6 masks that I will be using as subject matter in future paintings. I am in the process of photographing them ad nauseam and will probably have over 100 shots of each before I'm done. Since I won't need them after photographing them I have decided to offer them for sale at March's First Friday Art Festival here in Las Vegas. I thought I'd give my blogging friends an opportunity to acquire them beforehand if they so desire. Below is a photo of the collection with their respective prices listed below them. (For this project I will cover shipping.)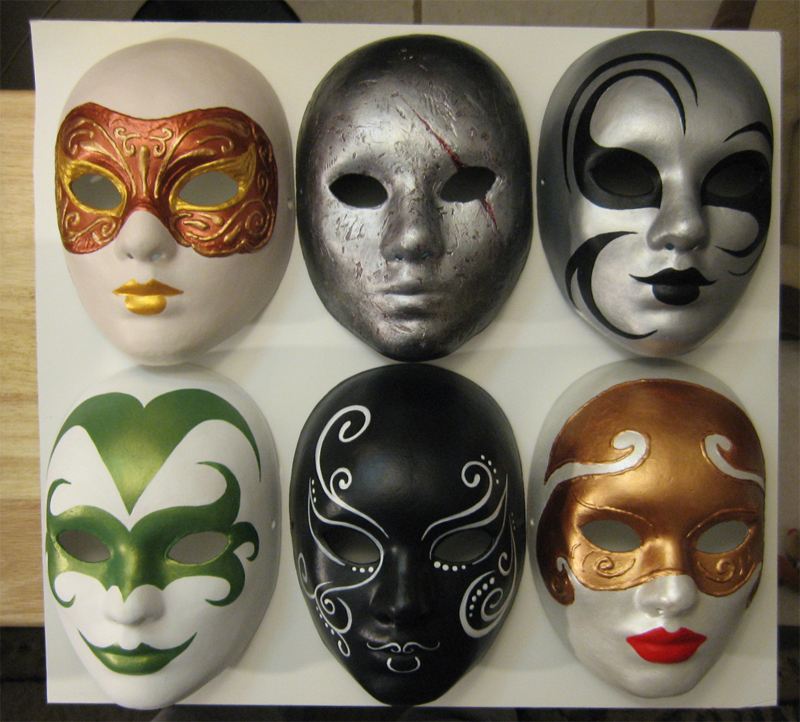 Clockwise from top left: Coquette – $45; Reese – SOLD; Swoops – $40;
Chary – $30; Swirls – SOLD; Harlie – $30
If anyone is interested in any of these feel free to email me at: don@donmichaeljr.com.
Now it's time to get back to the easel.
Happy Creating!
Addendum:
Since two of the masks sold today I thought I'd reshoot those that remain: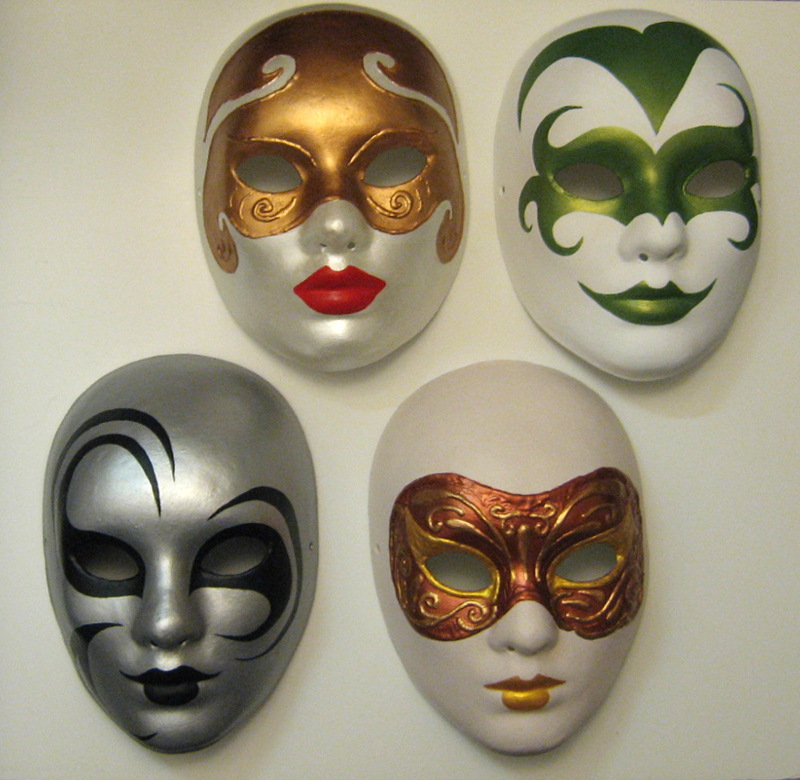 Top L-R: Chary – $30; Harlie – $30
Bottom L-R: Swoops – $40; Coquette – $45
I sincerely appreciate everyone's wonderful feedback. There will be more of these coming in the future. Regrettably, I've run through my inventory of blank masks and with Mardi Gras nearing all of my vendors have sold out of this particular style. I guess that's a sign that it's time to experiment with other styles. Stay tuned…
As I continue experimenting with painting and decorating my own masks to be used for future subject matter I decided it was time to go totally black and white with one of them. There is still a little more work that I'll put into this one, but I'm really excited about how it's coming along.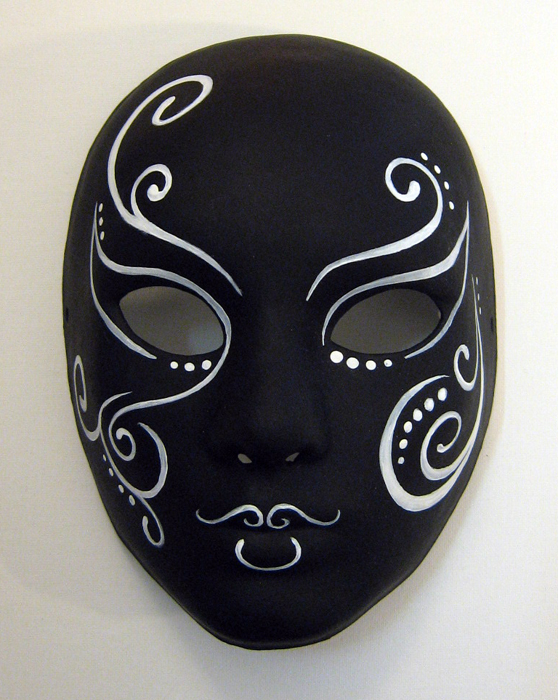 ©2011, Don Michael, Jr.
As I was working on this mask, I started thinking about how much I've always enjoyed working with strong black & white designs. This was really evident back in my college days when I worked with relief printing. I created several editions over the years, but they are all in storage right now. Thankfully, I have some old slides of one series I did. Even though the slides clip a little of their compositions, I thought I'd share them anyway…
In the Fall of 1993 I decided to create a series of editions inspired from the Bible. I wanted the imagery to be as intense as the contrast between the black & white. I started with the scripture from I Peter 5:8 which reads, "Be wary, be vigilant; because your adversary the devil, as a roaring lion, walketh about, seeking whom he may devour." (KJV)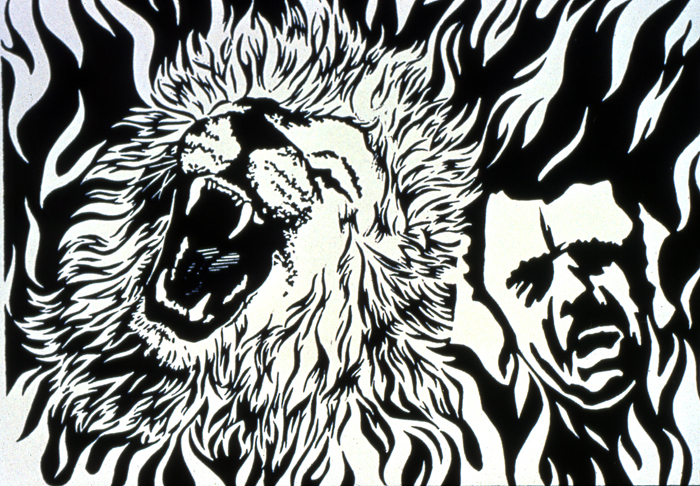 Your Adversary As a Roaring Lion – Relief Print Edition on Paper
©1993, Don Michael, Jr.
I liked the intensity of the final product, but was a bit disappointed with my transitions from the mane to flames and how they related to the man. I addressed those issues in the next edition which also was based on that same scripture.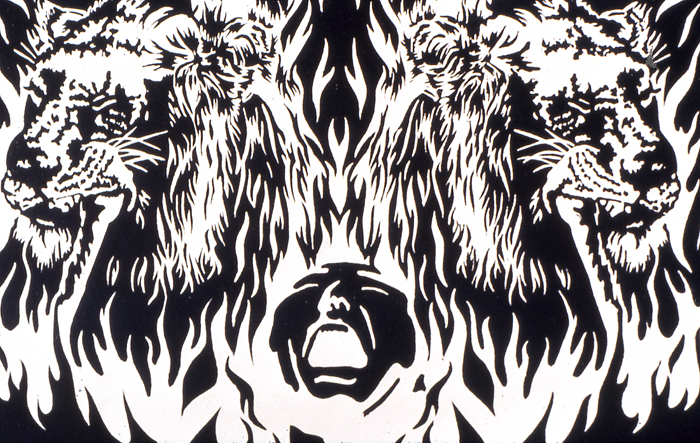 Your Adversary Seeking to Devour – Relief Print Edition on Paper
©1993, Don Michael,  Jr.
Being an eternal optimist, and a strong believer in grace, I decided I wanted to end the series on a positive note. For this one I went to Daniel 6:22 which reads in part, "My God hath sent His angel, and hath shut the lions' mouths that they may not hurt me…'". (KJV)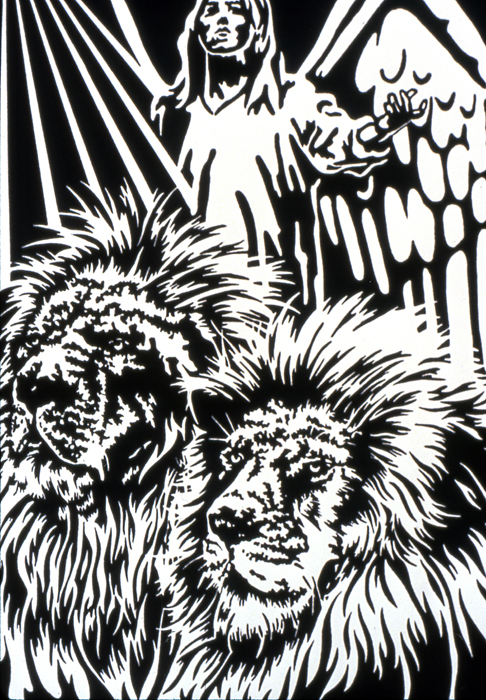 The Lord Sent His Angel to Shut the Lions' Mouths – Relief Edition on Paper
©1993, Don Michael, Jr.
(This print suffers the most from the cropping of the slide. There is almost 1/4″ of composition missing on the top and left side.)
During my years as a graphic designer and art director in television I continued to use this strong visual element in everything I did. Every single logo that I created started out in black & white. Every time I started working on a new graphics package I would create the basic elements in black & white first. I always felt that if it could work as a black & white design it would work once color was added. Sometimes it was difficult to add color once my design was ready but people paid good money for their color TV's…
OK, my little tangent is over now. It's time for me to get some colors squeezed out onto a palette and start globbing and schmeering them onto a canvas. But, first I'm going to have to step over this mess…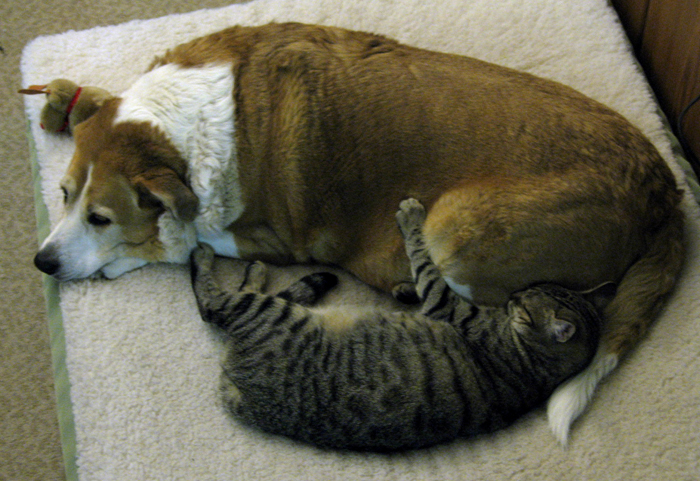 Lucy (9 years old) & Franz Marc (8 months old) in Don's studio
Happy Creating!
Yesterday was a great day to head to the mailbox. First of all, my copy of Art Buzz: The 2011 Collection arrived and I couldn't wait to check it out. I knew that at least one of my paintings was going to be featured in it, but was pleasantly surprised to turn to page 53 and find two of them…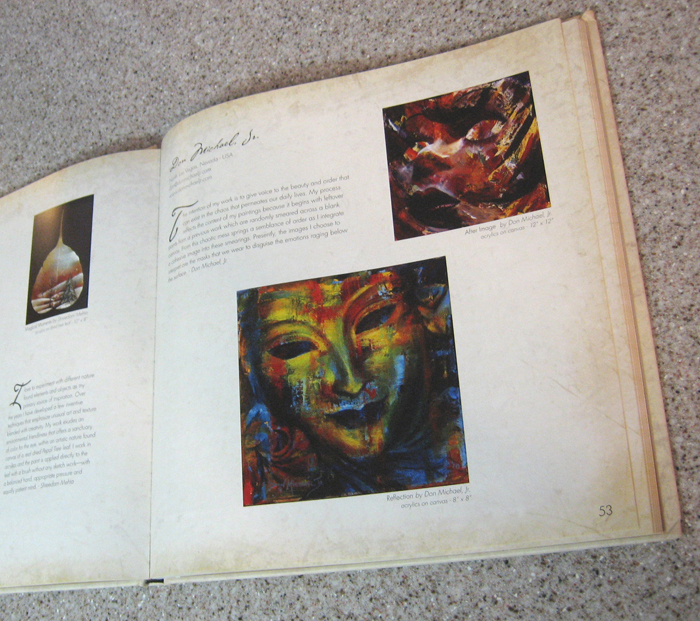 Page 53: Featuring Reflection and Afterimage
…and then surprise turned to outright excitement when I turned the page and found another of my paintings!
Page 54: Featuring Perennial
For my artist's statement I wrote, "The intention of my work is to give voice to the beauty and order that can exist in the chaos that permeates our daily lives. My process reflects the content of my paintings because it begins with leftover paints from a previous work which are randomly smeared across a blank canvas. From this chaotic mess springs a semblance of order as I integrate a cohesive image into these smearings. Presently, the images I choose to interpret are the masks that we wear to disguise the emotions raging below the surface." (A good friend of mine helped me fine tune this verbiage. She knows who she is and I thank her.)
The 2nd bit of good news that arrived in the mail yesterday was an acceptance notice from The Coos Museum in Coos Bay, Oregon. My painting Cult of Personality was accepted into their show Expressions West 2011 which will run from April 8 through May 28 of this year. If any of my friends in Oregon are in the area, be sure to stop by and check it out.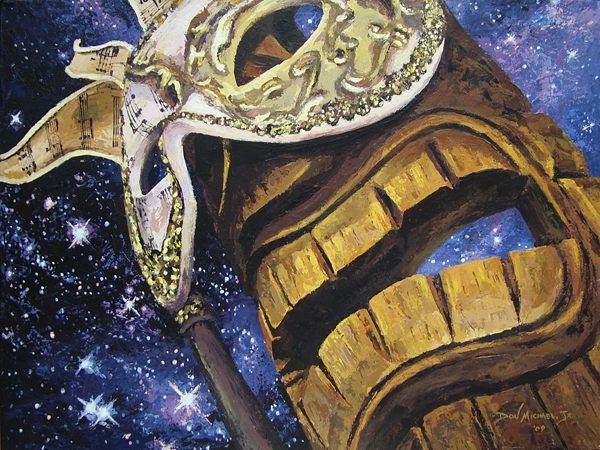 Cult of Personality – ©2009, Don Michael, Jr.
(Interestingly enough, this painting has now been accepted into two different shows and both of them were in Oregon.)
And, lastly I found out that my painting Loan Modification Request, which had been on the wait list for the juried exhibition Wide Open 2 in Brooklyn, NY, will not be making the trip east. It is rewarding to know that the piece was so well received by the juror that it was earmarked for the show should room permit – but alas, it was not meant to be. I actually breathed a little sigh of relief because it would have cost me an arm-and-a-leg to ship it with such a short turnaround. Oh well, maybe next time…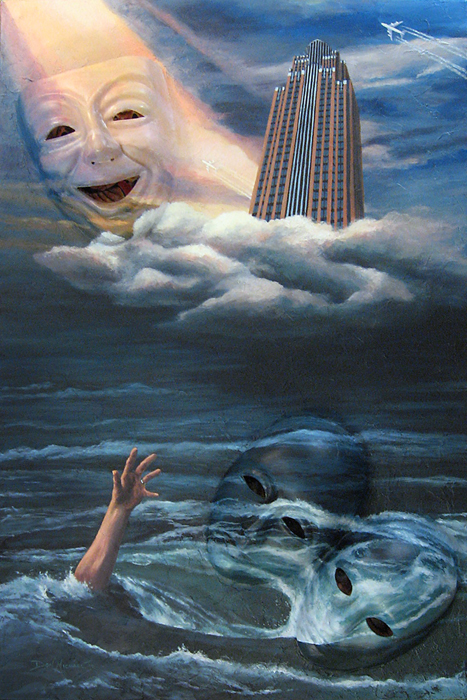 Loan Modification Request – ©2010, Don Michael, Jr.
All this excitement has me ready to do some creating. Watch out studio, because here I come…
Happy Creating!
You may remember that a couple days ago I created two new masks to possibly use as subject matter in future paintings. I didn't realize I'd get around to using one of them so quickly, but the following painting is the culmination of this latest experiment…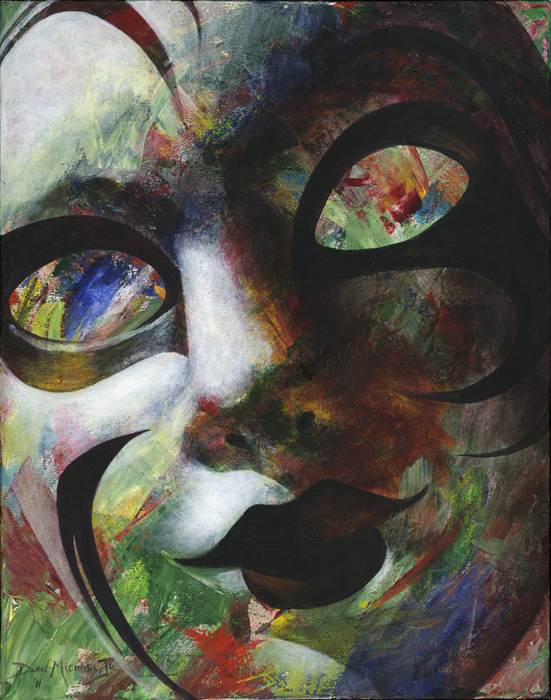 Shine On – 20″x16″ – Acrylic on canvas – Completed 2-5-11
©2011, Don Michael, Jr.
At 16″x20″ this is the largest of my mask Over the Under-Schmeerings pieces, to date. One of the challenges of creating a 'schmeered' canvas of this size or larger is that it takes a while and several paintings to get a completed one. The 'schmeered' background for Shine On was created during the painting of Ambition, Flux, and one of my Acrylic Workshop class projects. Below you can see the mess that had been made of this poor canvas during that stint placed beside its final incarnation. (FYI, the one I consider the mess is on the left.)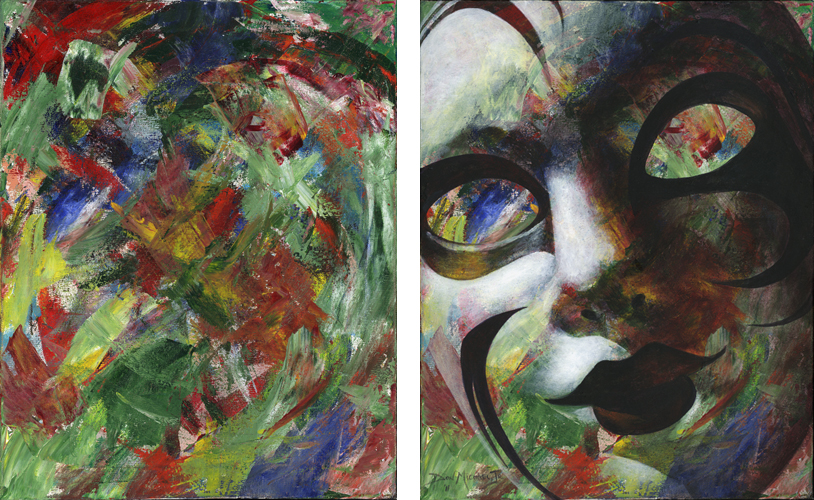 ©2011, Don Michael, Jr.
The title for Shine On occurred to me when the song "Shine on You Crazy Diamond" by Pink Floyd showed up during the rotation on my i-Tunes. That song is a dedication to their close friend and former bandmate who's use of psychedelic drugs caused him to spiral into dementia. It's a hauntingly beautiful song which seemed to fit this painting with its shiny surface and the way the patterns on its face seem to spiral around the composition.
During a pause while working on this painting I decided to experiment on another mask. For this one I wanted to give the illusion of hammered metal for the pattern. To achieve this I bought a bottle of 3D paint – which is used for painting/decorating t-shirts and other garments – and applied it to the mask, creating an outline around the shapes I wanted. After that dried I applied a coat of white gesso to the whole thing, followed by Golden's Iridescent Pearl acrylic paint. I then used Golden's Iridescent Copper on just the 'mask' area and Golden's Pyrrole Red for the lips.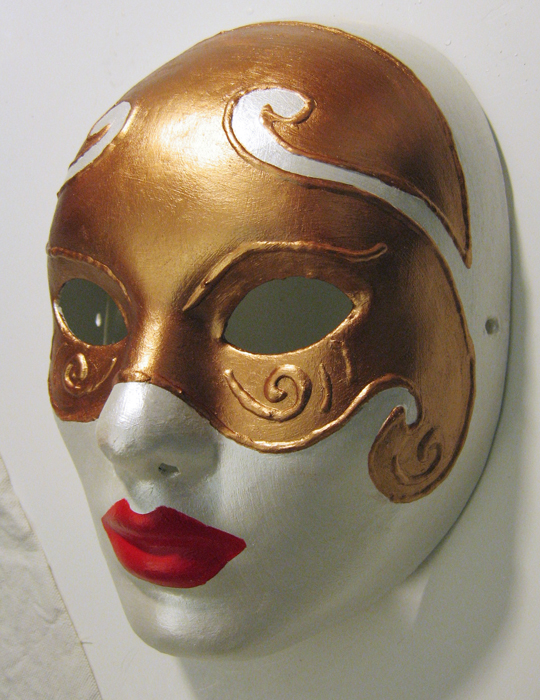 ©2011, Don Michael, Jr.
It was a great learning experiment. I see several things I'll do differently in the future, but overall I'm pretty happy with the final results. Just talking about all this fun has me itching to get back to the studio and play some more – so, I think I will.
Happy Creating!
Last night was the 2nd First Friday of 2011 – ALREADY! (Where did January go?) Anyway, it was time to set up some artwork and enjoy a night of exhibiting and visiting. My son, Eric, went with me and even took a little time out from texting his girlfriend to help me set up. Of course, that time-out only lasted until the instant we were finished…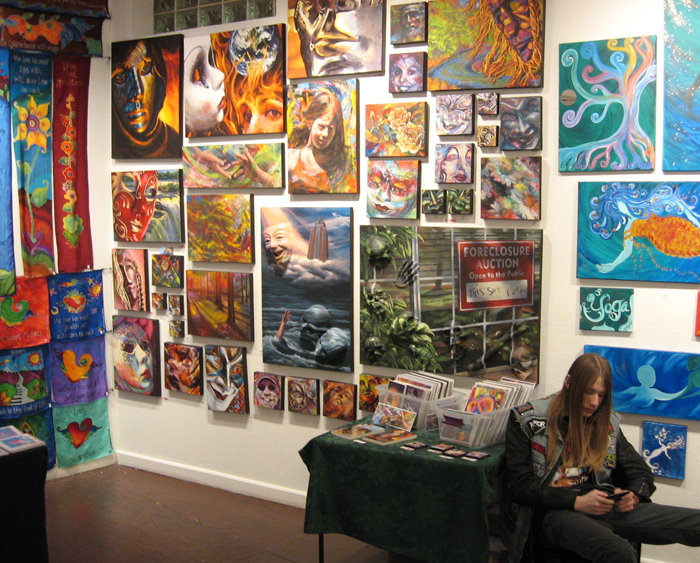 Eric totally enthralled by Summer's, Don's and Areeya's artwork
It ended up being a pretty good night. One of my itty-bitty paintings, Rumours, was bought by a cute young lady who thought it looked a lot like her. (It kinda' did.) It was fun watching her talk her dad into loaning her the money. I think it was the fluttery blinking eyes that won the day for her. We dad's and our daughters…
You may remember that I painted the visage of one of the showgirls that had come to visit First Friday a few months ago… Well, last month she saw the painting for the first time and has since become one of my best First Friday Friends. She actually calls me "FABULOUS!" and has said it often enough that I'm starting to believe her…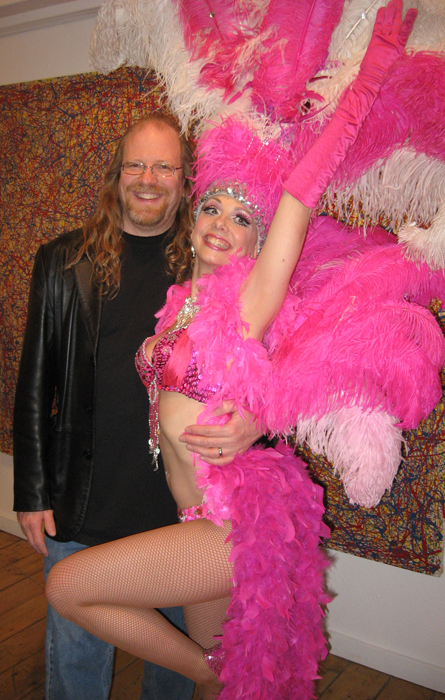 Don & Julie at First Friday – 2/4/11
Well, the party is over and now it's time for this FABULOUS artist to get back to work…
Happy Creating!
Yesterday I decided it was time to create some new masks to paint from. I thought about some of my favorite masks and what it was about them that I enjoyed. Then, with no real plan I just started painting some swoops and swirls on a couple of blank paper mache' masks I had laying around.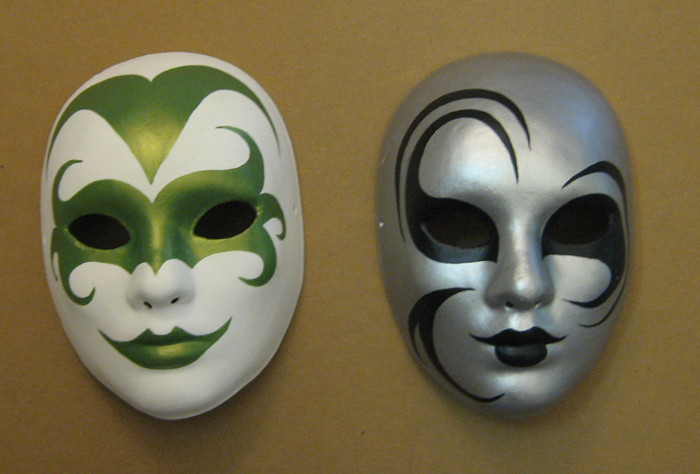 ©2011, Don Michael, Jr.
I had painted the one on the right silver a while back and then used it to work from when painting End of Days and Fearless. I thought just black for its swoops and swirls would work well and I'm happy with the results.
The one on the left is still a work-in-progress. I like the metallic green against the white mask, but think that adding some deep red elements to it would take it to a much better place. Now I've just got to get the nerve up to go for it…
Meanwhile, I took them outside to enjoy a little mid-morning sun. I think they really enjoyed the fresh air. I know I did…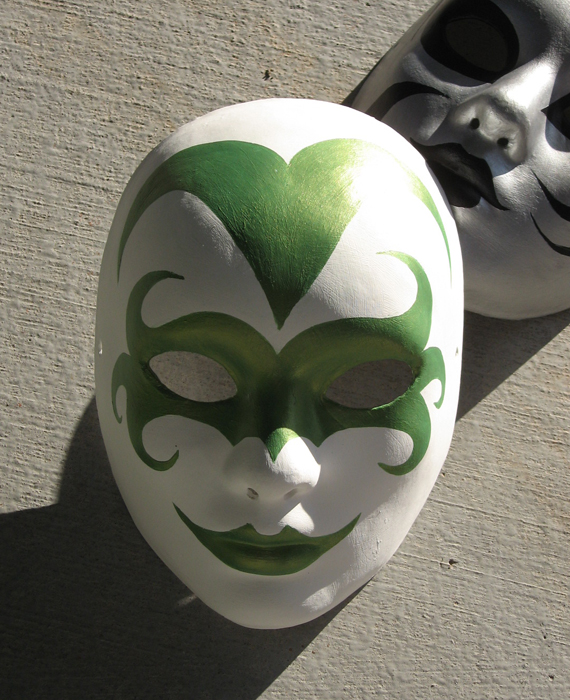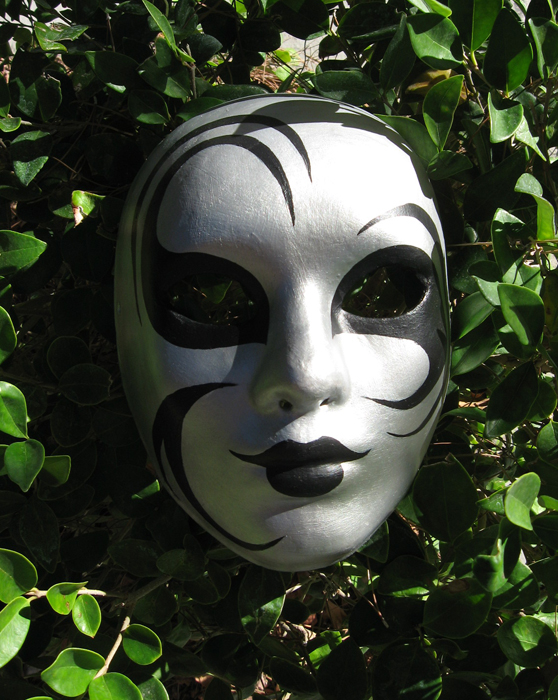 ©2011, Don Michael, Jr.
While ideas stew for how I'll end up using these in future works it's time for me to get back to the easel. Break's over…
Happy Creating!