At 1:10 this morning (March 31) my supervisor gave my ginormous heart one last inspection and called it complete.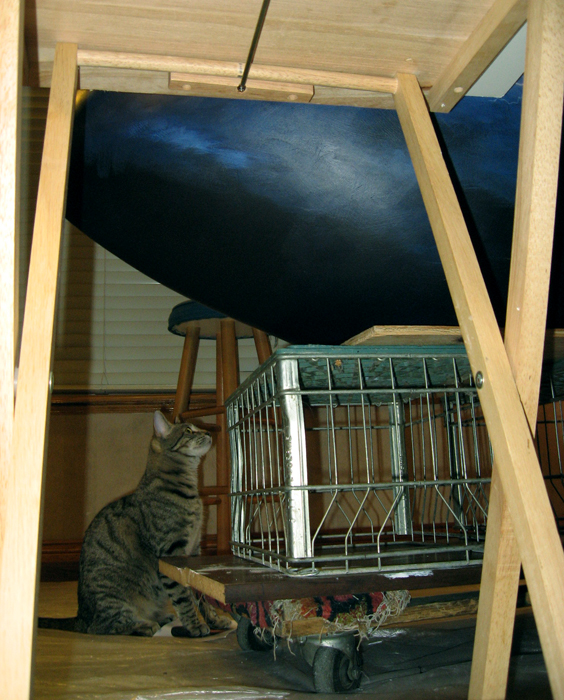 Final Inspection 3-31-11
Whew! I could have not been any more relieved. In just 12 days I had taken this ginormous heart from a blank fiberglass form to a completed work of art (at least that's what I'm calling it). All that was left to do was apply the UV protective clear coat, which I did this morning after dropping my daughter off at school. Then this afternoon a large delivery truck came by my house and absconded with the completed ginormity. I'll admit to being a bit sad to see it go…
Tomorrow at 1pm we will be seeing all of the completed ginormous hearts in one place for the first, and possibly last, time. I'm really excited to see what the other artists have done with their hearts. I hope to have lots of photos to share…
As I was typing this update the title for my heart finally came to mind. It will hereby be known as Heartstrings, which according to my New World Dictionary means deepest feelings or affections. I think it fits and I look forward to sharing the completed piece in its entirety soon. Until then I'll leave you with one last tease: (Sorry, but the color isn't quite right.)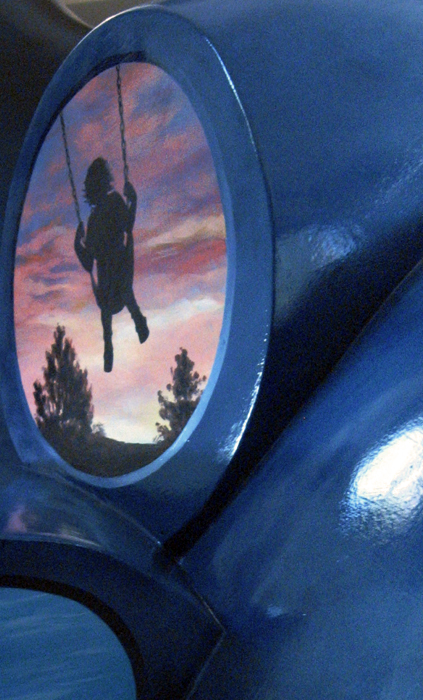 Heartstrings – Detail – Completed 3-31-11
©2011, Don Michael, Jr.
Have a great weekend.
Happy Creating!
My friend, PAMO, told me that she thought the heart I'm working on for the St. Jude's Charity event is "Ginormous". I'm inclined to agree with her. I'm already halfway through my second 90ml tubes of Ultramarine Blue, Phthalocyanine Blue and Cadmium Red Light. I'm also using Napthol Crimson, Cadmium Yellow Medium and Titanium White, but they're holding up pretty well, so far.
I still have quite a way to go to get it finished, but have very little time left. The truck will be by on Thursday afternoon to take it away. I'm confident that I'll finish in time, but know that there will be little else going on in my life until the moment it leaves through my front door. Then, Friday will be spent at the "Preview of the Hearts" kickoff event which will feature celebrities, local media and supporters. After that I will be heading downtown to take part in this month's First Friday Art Exhibit…
Needless to say, I have been spending very little time in our blogging community since the 'ginormous' heart arrived in my driveway early last week. I'm still around, and I'm still following along. I just haven't taken the time to comment much. Hopefully, my schedule will get back to normal sometime soon.
Until then, I leave you with this little tease from my 'ginormous' heart…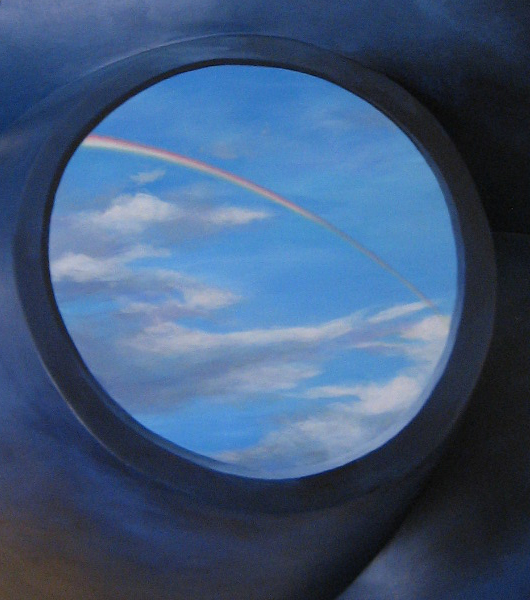 Ginormous Heart Detail – ©2011, Don  Michael, Jr.
Happy Creating!
With so much going on around me the past few days it's been a challenge to get to my easel. Thankfully, I've been able to sneak in a few minutes each day, though, and have finally completed my latest Over the Under-Schmeerings piece.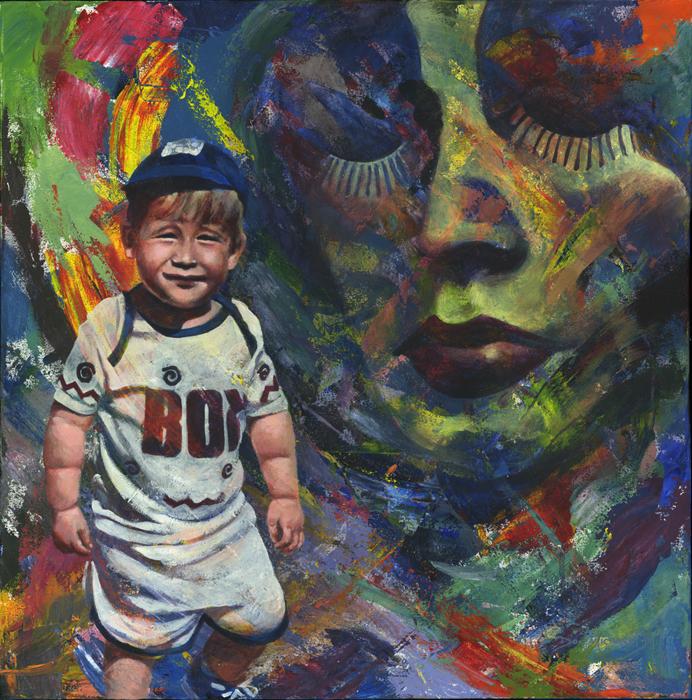 Formative – 24″x24″ – Acrylic on canvas – Completed 3-25-11
©2011, Don Michael, Jr.
This one involves a couple of firsts. 1) it's the largest OTUS (hey, cool acronym!) that I've done so far, and 2) It's the first OTUS with both a mask and other imagery. The Under-Schmeered canvas for this one was created during the painting of Door to the Sky, Lenny, and one of my Acrylic Workshop projects. Below is the before/after…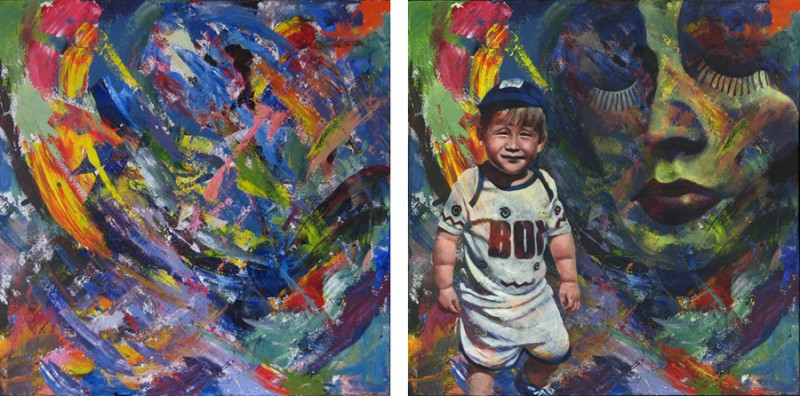 ©2011, Don Michael, Jr.
The mask featured in Formative is Nelli, which I created specifically for the purpose of painting someday. I've got a feeling we'll be seeing more of her in future works…
Speaking of formative projects, I am finally able to start adding paint to my HUGE heart for the St. Jude's charity project that I mentioned in my previous two posts. I had it out in my garage to work on and had the first coat of gesso on it when the temperatures decided to drop and hover around the mid 60's (F) by day and into the 40's at night. I love the temps, but was concerned about the adhesive qualities of the gesso and paint to such a cool surface. So, my wife was kind enough to allow me to move the project into our living room (with a drop cloth, of course). After 3 coats of gesso, my son and I flipped it over and I started painting my base color.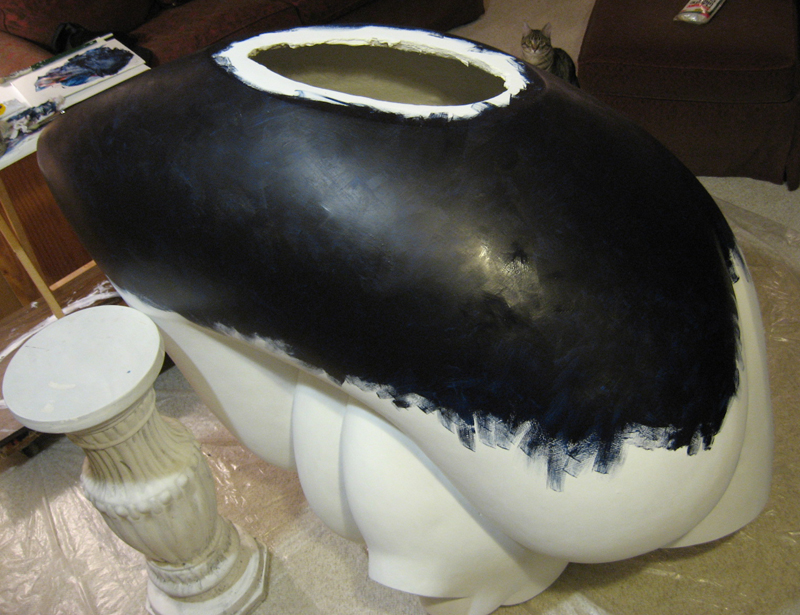 (You may notice that my supervisor is keeping an eye on things.)
That day after my son got home from school it was time to flip it back over and get ready to move forward with the rest of my concept for it. As you can see, it looks like I've barely painted any of it, but I've already used more than half of four different 90ml tubes of paint. Thank goodness a sponsor is helping with supplies.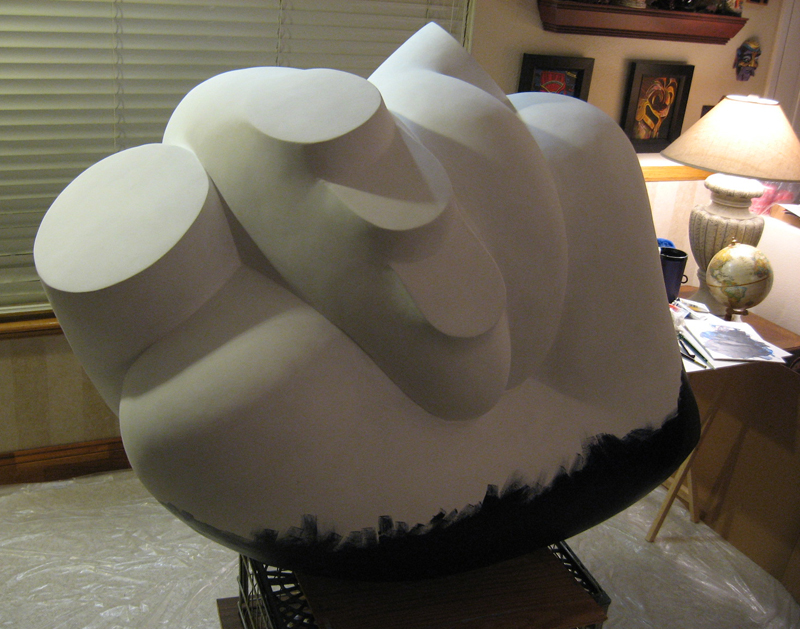 Just look at all of that surface I have to cover! This is when the rush of excitement and trepidation kicks in…
Happy Creating!
Well, the animation that I alluded to in my previous post is finally completed. In all fairness, I should probably call it more of a fete of editing than animating, but either way, I'm extremely excited with how it turned out. Click on the image below and you'll be able to see it on YouTube.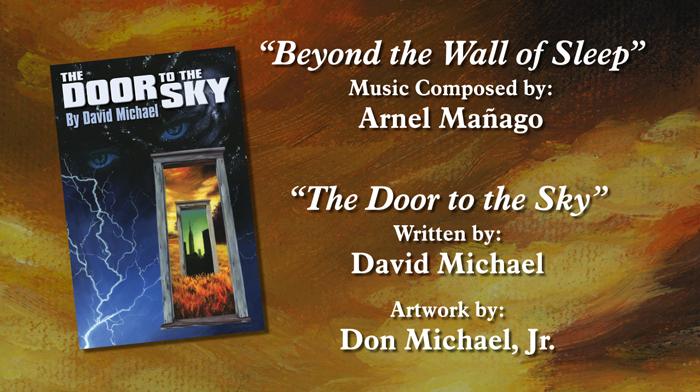 ©2011, Don Michael, Jr.
I would like to thank Arnel Mañago for providing his music, and my brother David for providing his words. They and the artwork for the  book cover all fit together perfectly. As for the artwork, I'd like to point out that every element in the video came from the painting and the book cover that I created for The Door to the Sky – except the words which I quoted from the book…
On a completely different note, the giant heart that I mentioned in my previous post is now sitting in my garage with its first coat of gesso drying. I was very pleased to find that it was a bit smaller than I had been led to believe – but it still ain't little, as you can see below.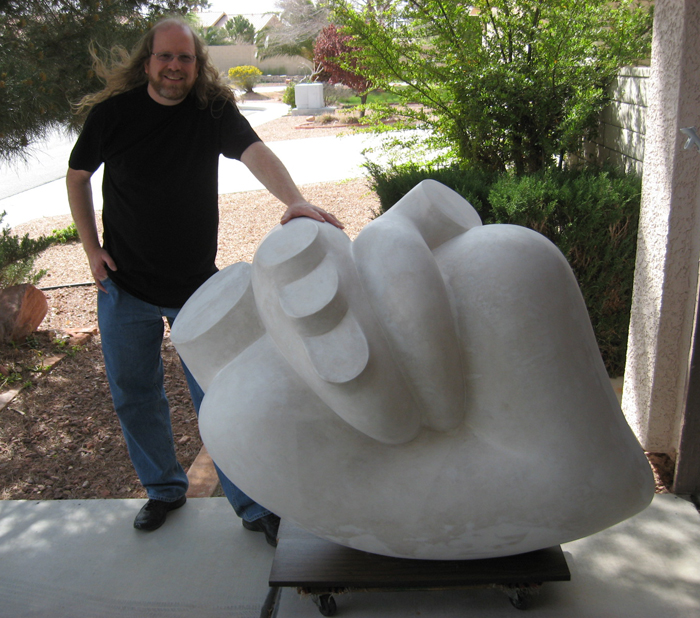 ©2011, Don Michael, Jr.
Now I just gotta' figure out what I'm going to paint on it…
Happy Creating!
For over a decade I used the animation software Adobe After Effects almost daily in my capacity as an Art Director in television. I loved it. However, after being summarily dismissed from this capacity in August of '09 I had no reason to open the program or have anything to do with animating – until this week, that is… I'm not doing anything spectacular, but it's a lot of fun to once again be weaving the dimension of time into my creative process. As soon as the project is done I intend to share it with all my friends.
One of the things I did not miss about animating is the amount of downtime I have as I wait for renders and effects to be generated. Thankfully, my easel is not 10 paces from my computer so I can work on something during the downtime. Below is a photo of the mess that is my studio right now. You can see I'm in the middle of my largest Over the Under-Schmeering paintings, to date. There's much more to come with this piece, but I'm really excited about its progress so far.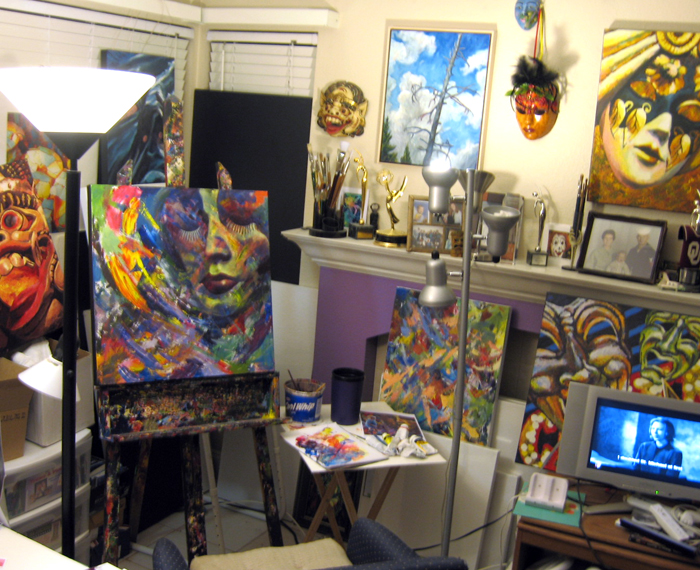 Don's Studio after 2am on a typical night.
I also used some of the downtime to work on the following mask. I decided to try something totally different from my earlier masks in painting this one. While finishing it up, the instrumental, "Lenny", by Stevie Ray Vaughan was playing on my i-Tunes and seemed as good a name as any other.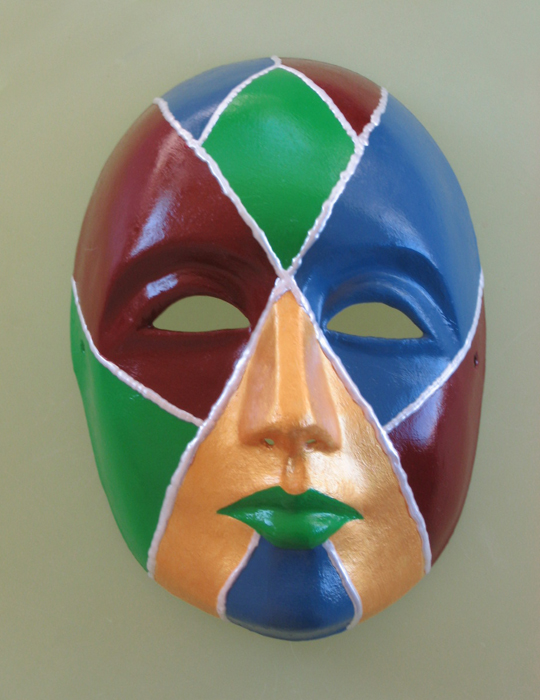 Lenny – Acrylic on Paper Mache' Mask – Completed 3-13-11
Last, but certainly not least, in this hodge-podge of ramblings… I have the wonderful opportunity to "give life" to a 5'x5'x5′ sculpture of a heart for a public project that will benefit St. Jude Children's Hospital. It is a part of a gala event called "An Affair of the Heart" and will be on public display here in the streets of Las Vegas, along with several others done by local artists. I'm really excited about the opportunity to be able to take part in this project which will benefit the Children of St. Jude. My giant heart arrives on Friday and will probably consume every waking hour of my creative time until I can call it complete. Because of the size of the heart I will be converting my garage into a temporary studio for the next few weeks. Thank God it's not summertime yet. Temperatures are already moving into the 80's around here and that garage could get hot quickly. All the more reason to jump on this project and get it done ASAP.
I guess I've rambled enough for now…
Happy Creating!
Today I can finally reveal a painting that I've been excited about ever since I finished it late last month. It's been on hold since then for reasons explained shortly…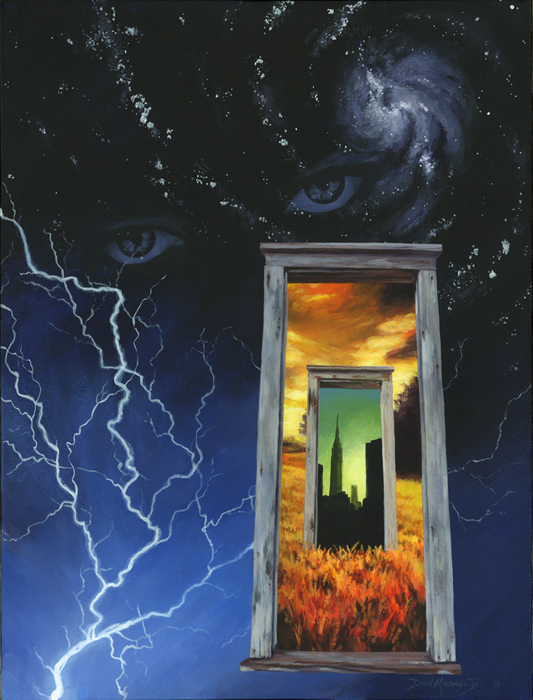 Door to the Sky – 24″x18″ – Acrylic on canvas – Completed 2-26-11
©2011, Don Michael, Jr.
The Door to the Sky is the title of a novella that my brother, David, wrote and asked me to do the cover for. Knowing that it was outside of my usual subject matter, David wasn't sure that I'd want to take it on. But, once I'd read the story I really wanted to take a stab at it – and did. I must admit to being really proud of how it turned out.
(I'm adding this paragraph as filler since I don't want the next image visible until you scroll down a little further. Please forgive me the inconvenience. I could have put in a few more returns, but didn't want to have all that blank space.)
Today, David released The Door to the Sky as an ebook. You can find more information here, or click on the book cover I created for him below. The reason I added the filler paragraph is that I wanted you to get a sense of the painting by itself before seeing it in the book cover layout. Once you see the book cover, the painting looks like it's missing something. But, if you see the painting first it feels totally complete.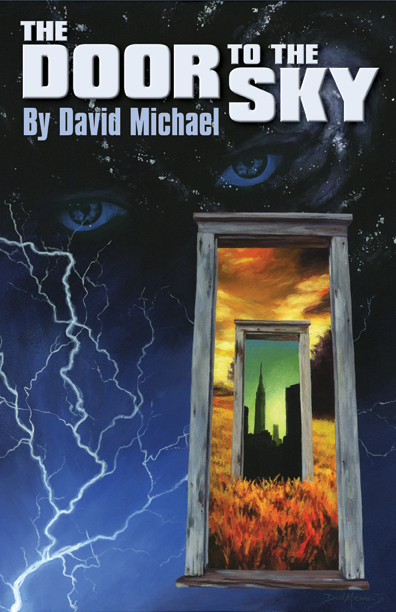 The Door to the Sky – Novella written by David Michael – Cover Art by Don Michael, Jr.
©2011, David Michael
It's fun to stretch. In fact, it's inspiring to stretch – especially when it works. I am in the midst now of creating some more works along a similar vein. We'll see how it goes…
Happy Creating!
As many of you know, my brother David has written several short-stories which were inspired by my mask paintings. He has just released one of them in ebook form with the cover designed by yours truly. If you click on the image it will take you to David's blog where it is available for sale.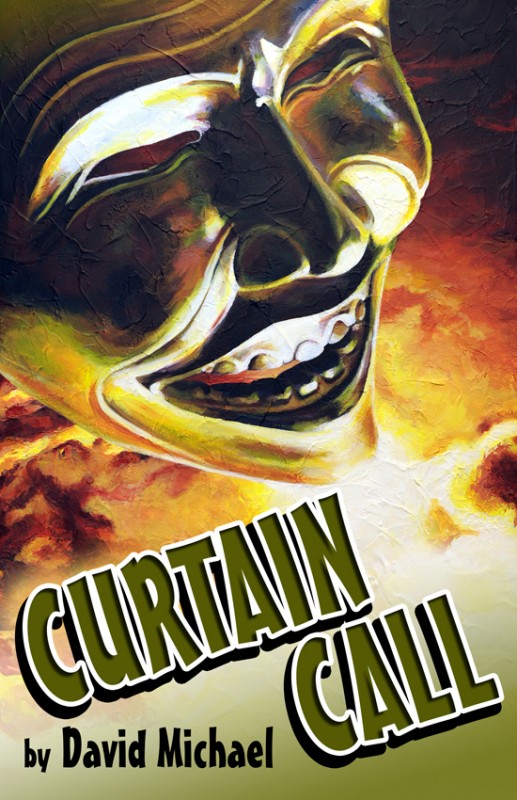 Curtain Call – Written by David Michael – Cover Design by Don Michael, Jr.
©2011, David Michael
Curtain Call is one of my favorites of David's short stories. It's a really fun read with a surprise ending. Shakespeare will never be the same…
As for the artwork, it's almost as much fun to design these book covers as it was to create the original paintings. You'll see several more passing by in the near future.
What's that? Oh, I hear my easel calling. I'd better answer that…
Happy Creating!
I finally was able to finish a painting that I could share. It's a new addition to my Over the Under-Schmeerings series and includes another of the masks I created last month for subject matter.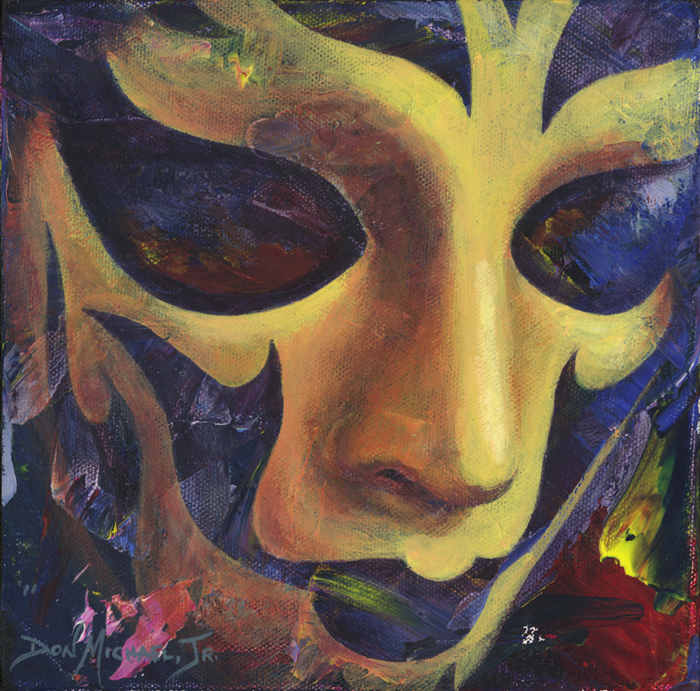 Edge of Mind – 8″x8″ – Acrylic on Canvas – Completed 3-9-11
©2011, Don Michael, Jr.
The title came to me as I was listening to one of my favorite albums of the 1980's titled Reconciled by the band The Call. The name of the song it comes from is The Morning – which almost became the title of the painting. However, the line, "I am standing at the edge of my mind", kept rattling around in my brain until I was on the edge of my own mind…
The background for Edge of Mind was created while I was painting Mystique back in January. Below you can see the before/after.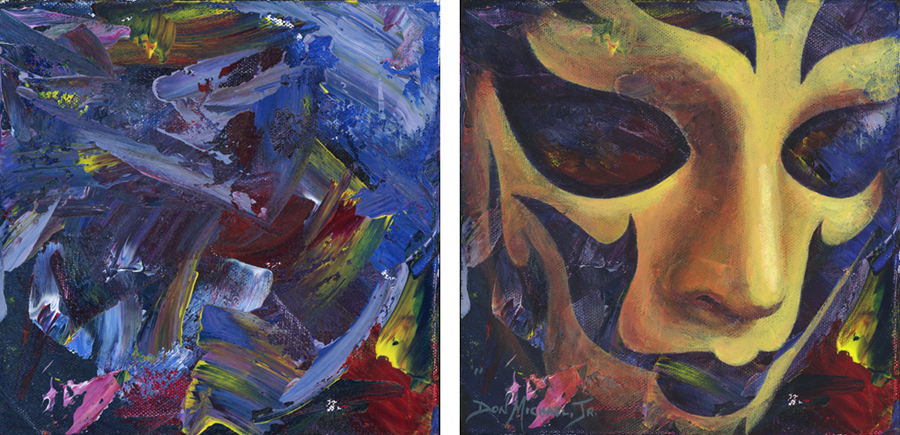 ©2011, Don Michael, Jr.
The mask used as the subject is Fenix which I created last week. I'm really excited with how she worked out for me as a model. She seems to radiate out from the chaos of the Under-Schmeerings. I anticipate using her visage again in the future.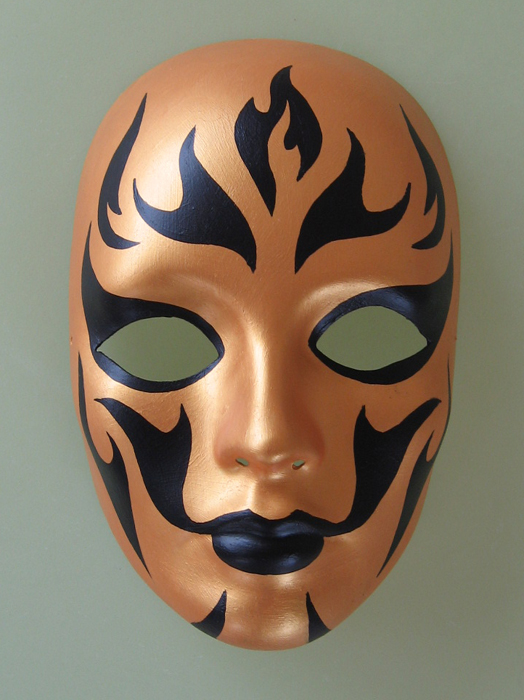 Fenix – Acrylic on Primed Plastic Mask – ©2011, Don Michael, Jr.
Tomorrow's another big day, so I'd better sign off for now and get a little shut-eye.
Happy Creating!
I'm excited to announce that 5 of my Over the Under-Schmeering paintings were accepted into the Upstream People Gallery's "13th Annual Faces Juried Online International Art Exhibition"! They will be featured in the exhibit for the entire month of March. Since this calls for a celebration I decided it must be Beer-Thirty, so that's the image I'm featuring to illustrate this auspicious occasion. If you click on Beer-Thirty below you will find yourself in the middle of the exhibition…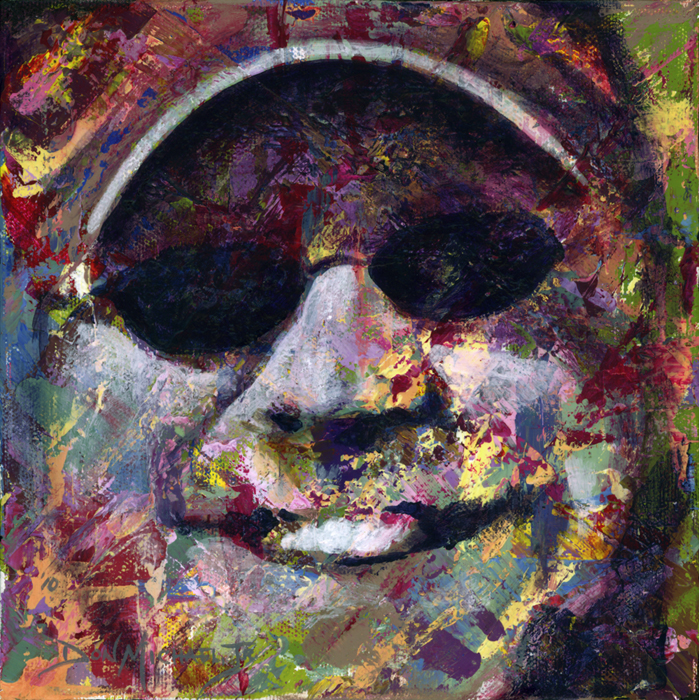 Beer-Thirty – Acrylic on canvas – ©2010, Don Michael, Jr.
I would like to thank the juror, Laurence Bradshaw, for including my work in the show and for offering Special Recognition to 3 of my entries. Be sure to check out the Juror's Statement while your checking out the artwork.
Many of my blogging friends may have noticed my frequent absences of late here in our community. I'm still around, but have been quite occupied with several projects, some of which I hope to be able to share with you soon. One of my paintings is just itching for me to get it 'out there', but I'm stuck waiting on somebody. (You know who you are.) I've warned this somebody that I can only wait so long… Meanwhile, I have blocked out the rest of tonight to paint. So that's where I'm heading as soon as I click 'Publish'.
Happy Creating!
A couple weeks ago I got in my shipment of new blank masks to paint. This time around I had to go with a different style of mask since the one I prefer was sold out no matter which vendor I tried. (I think it had to do with this being the Mardi Gras season.) This new style of mask has a totally different surface to work with that brings its own unique challenges to the process. They are made of hard plastic instead of the paper mache' that I'm used to. Even though they are prepped to receive any type of media you want to apply to them, they receive the media differently. After a few starts-and-stops I finally began making some good headway with them and now have 3 new additions to the family.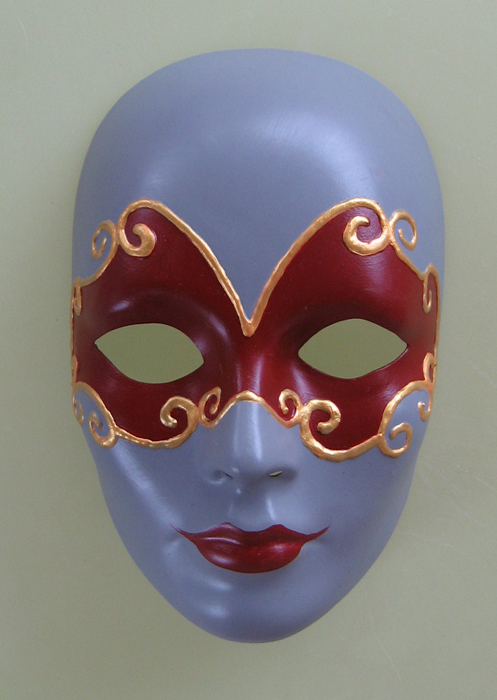 Fia – Acrylic on Primed Plastic Mask – Completed 3-1-11
The design around Fia's eyes was drawn in using the 3D paint I've used on a few other masks now. I then used neutral gray gesso over the entire image after which I painted the burgundy areas. I finished by using Iridescent Brilliant Gold on the lines. I won't be doing that again. My eyes are still buggy from trying to keep my edges clean – and it took two coats. Next time I'll experiment with adding gold to the 3D paint and using it as the last element. We'll see how that goes. Fia's name occurred to me as I was painting and looked up to see Sofia Loren on my TV screen. Even though this looks nothing like her, it just seemed right.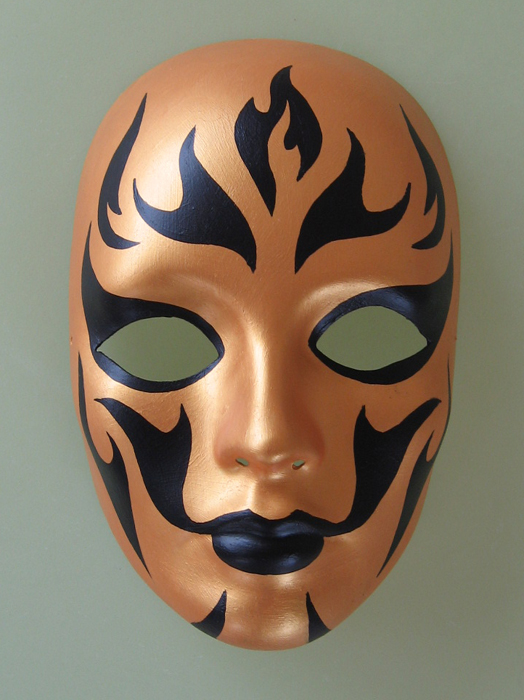 Fenix – Acrylic on Primed Plastic Mask – Completed 3-1-11
After painting Fenix with two coats of Iridescent Brilliant Gold I let her sit for several days before I touched her again. The gold was beautiful by itself, but I wanted to bring in some type of imagery to make it uniquely mine. Last night the idea of flames came to me and I realized I had my answer. The intentionally misspelled title Fenix is my tip-of-the-hat to that mythological bird which rose from the ashes of its own conflagration.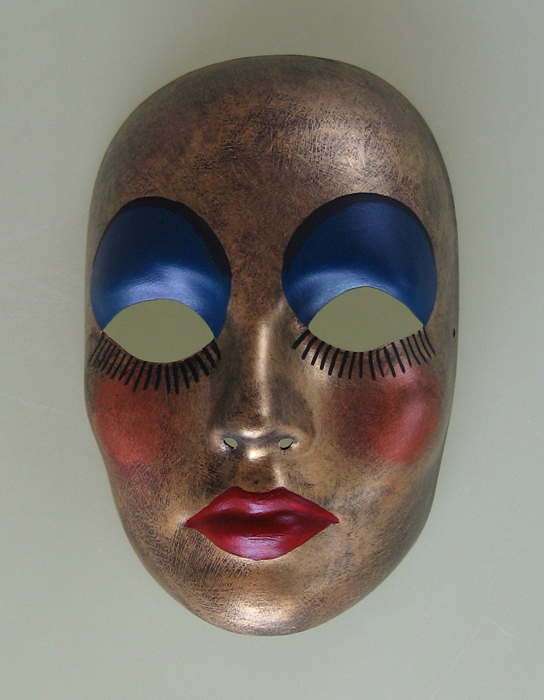 Nelli – Acrylic on Primed Plastic Mask – Completed 3-2-11
I first painted Nelli with black gesso. I then lightly brushed Iridescent Copper over her entire surface, allowing the black gesso to show through in many areas. As I had done with Fenix, I had to let Nelli sit a few days before I came up with an idea for her imagery. The inspiration finally came in a roundabout way. When working in my studio I have my music playing and my TV turned to Turner Classic Movies with the volume down. The artistry of those old movies is a good place for me to rest my eyes when I look up from what I'm working on. Last night while creating the other two masks I looked up to see Liza Minelli in "Cabaret". Her eye make-up in one of the scenes inspired me to get started on this one. As a tip-of-the-hat to that inspiration I titled Nelli accordingly. When I finished and stepped back I realized I could have tipped my hat to Geena Davis as well. Those lips look a lot like hers, don't you think?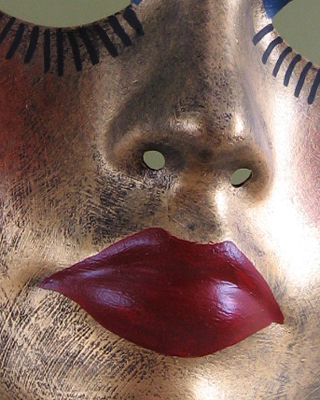 Wow, was this fun! I can't wait to get into the studio for some more.
FYI, all three of these will be with me at First Friday this week and will be for sale. If any of my online friends are interested in purchasing one of them please let me know before Friday evening.
Fia – $45
Fenix – $40
Nelli – $55
Happy Creating!