After many weeks of diligent work, I can finally call my little heart finished. I do not think I have EVER had a more difficult time finding resolution for a piece that I was working on. I basically painted myself into the proverbial corner early on in the project and then had to spend the next several weeks painting myself out of it.
For those not familiar with this project, this heart is cast from a sculpture created by Las Vegas artist, Miguel Rodreguez for our local chapter of St. Jude Children's Hospital. Several local artists, including yours truly, painted our interpretations of "Inside the Heart of a Child" to be displayed throughout Las Vegas to generate interest in the wonderful work being done by St. Jude. You can see the ginormous heart I painted here.
Being a sucker for punishment, and – more importantly – strongly supporting what St. Jude is doing, I agreed to paint another heart which will be autographed by celebrities and then auctioned at the upcoming fund-raising gala. Thankfully, this heart was much smaller than the first one I did, but as I was to soon find out, smaller isn't necessarily easier. When I was asked to paint this one, they requested that I include a version of the comedy/drama masks on one side and some type of musical imagery for the other since they are planning to have actors and musicians autographing the finished heart. Thus began my odyssey. Here's what I finally came up with, which I titled Repertory…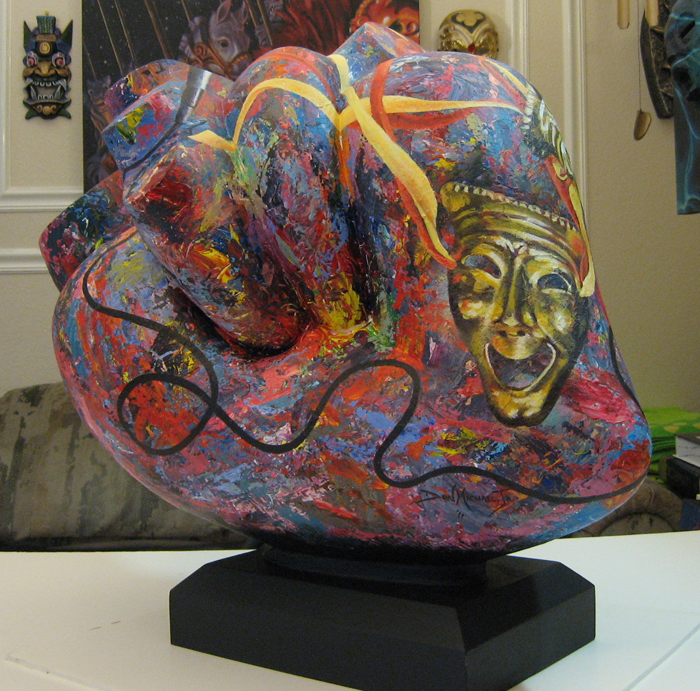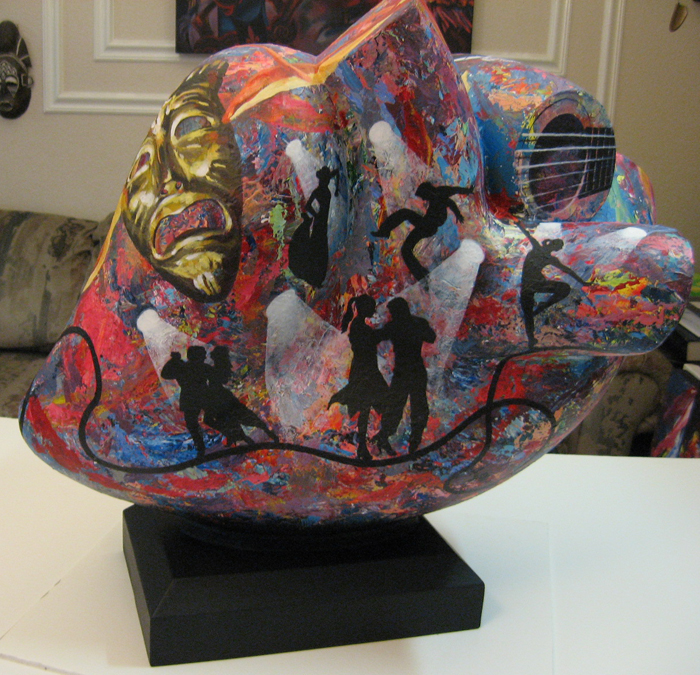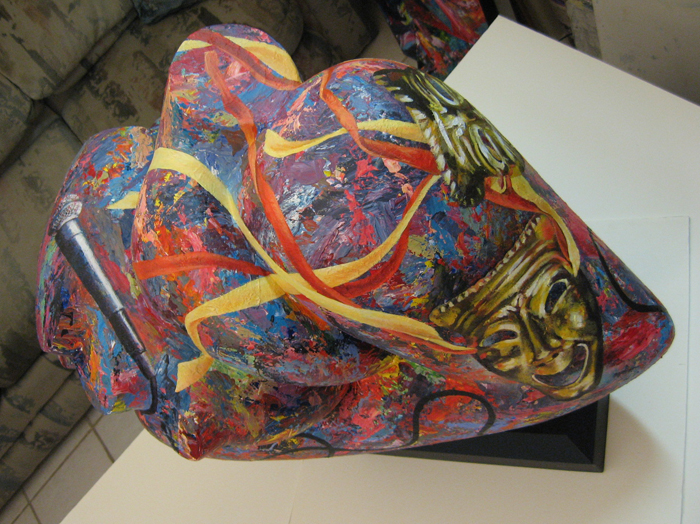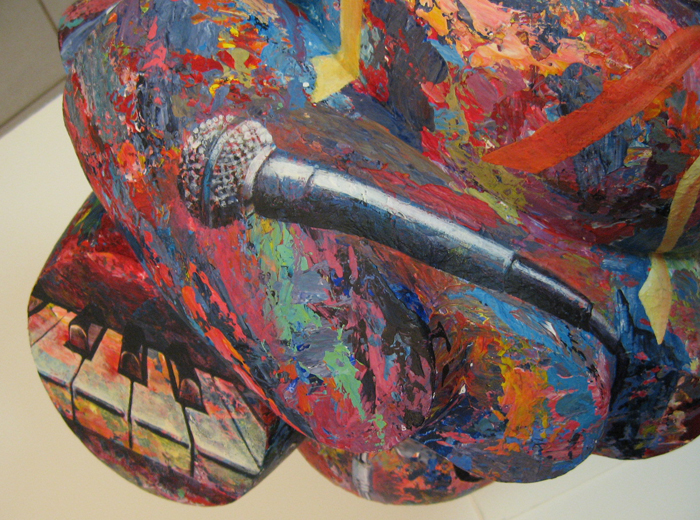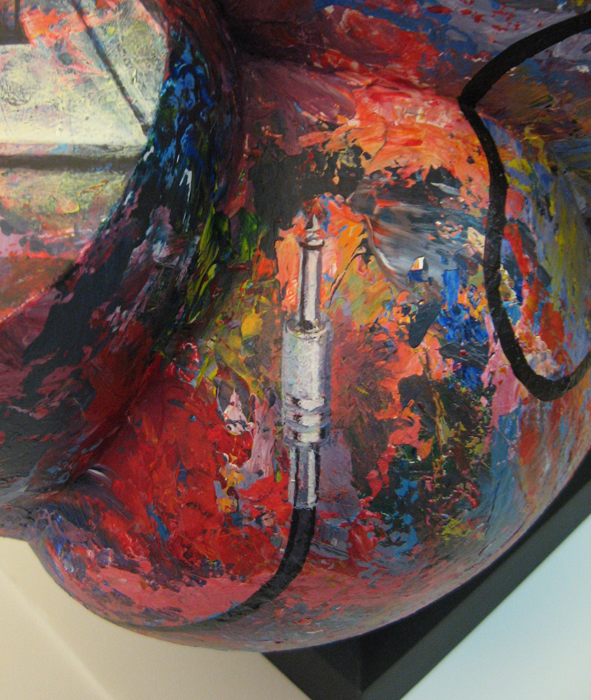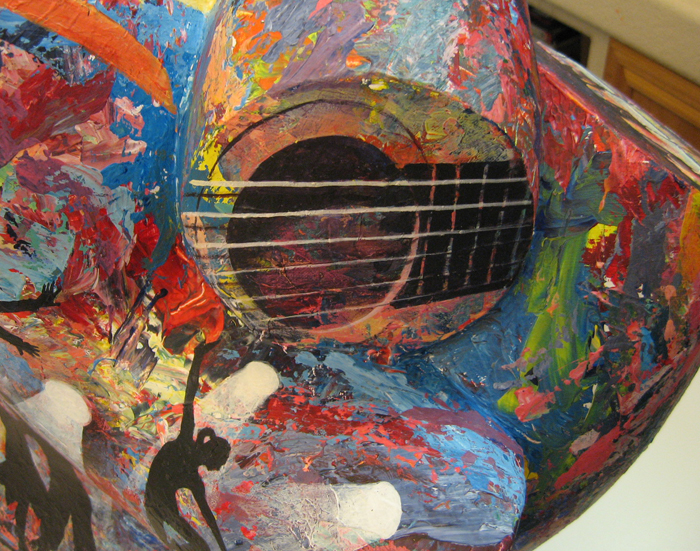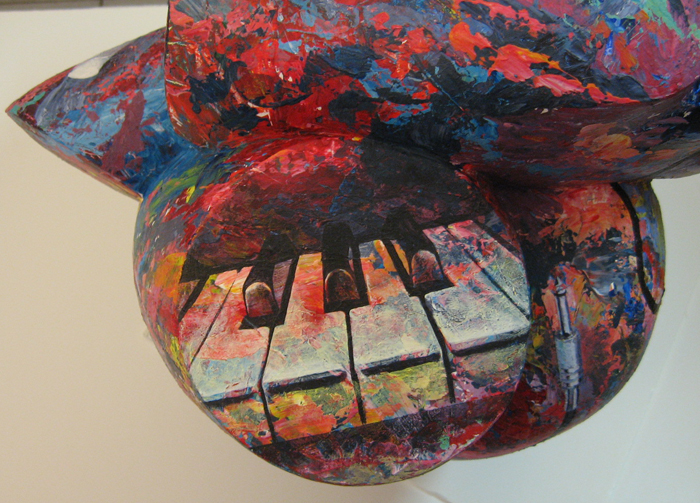 All images ©2011, Don Michael, Jr.
Now I'm going to open a beer…
…or two.
Happy Creating!
As many of my fellow bloggers know, my brother, David, is an excellent and amazingly prolific writer. Since September of last year he has released over a dozen books in both paperback and eBook format. He has now taken what I think is a perfectly natural next step and started a publishing company. He is calling it Four Crows Landing, which I think is an AMAZING brand name. My first question to him was, "Do you think you'll want a logo?", followed quite closely by, "Can I do it?". Thankfully, he was gracious enough to hire me for the job. Below is what we came up with…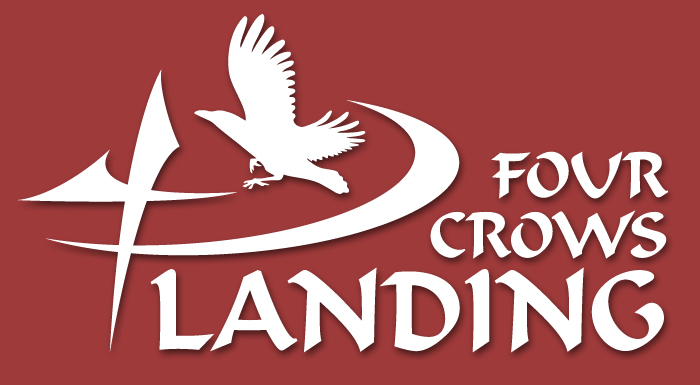 Four Crows Landing – logo by Don Michael, Jr. – ©2011, David Michael
If you click on the logo above you will see both the version with text and the version without. If you want to see what David has to say about his new logos be sure to click here. You can find more about the publishing company, Four Crows Landing, and see the books that are already being published under its banner by clicking here.
Other news from my studio has been a little less exciting or productive this week. I spent all day Monday at the NAB (National Association of Broadcasters) convention at the Las Vegas Convention Center with my good buddy, CJ. We saw and drooled over all sorts of great new equipment, software and production solutions as we wandered through the hundreds of booths. We also ran into friends from all over the country, one of which I had not seen or spoken with in nearly a decade. All-in-all it was a great day, but at the end of it I was so tired that little work got done in my studio that night.
The rest of the week has been spent struggling with the smaller heart I'm working on for the St. Jude's charity gala. I've made very little headway and am a bit befuddled right now. Thankfully, I have a few more days to work on it and I know I'll find the answers… It's just a matter of sticking with it. Work leads to solutions. Sitting around worrying about it only leads to despair and failure. I choose solutions – and look forward to sharing the results when I figure them out. Until then…
…Happy Creating!
My brother David continues to churn out some great short stories and I continue to create some book covers for him. In the month of March he released 6 new ebooks – two of which I've already spoken of – Curtain Call and Door to the Sky. These other four were once again inspired by paintings I had done of masks. David asked me to use their respective images in the designs for the covers and I was more than glad to oblige. The fun challenge is to create a viable and attractive cover around paintings that were not designed with a book cover in mind. I'm fairly pleased with how they all turned out.
Below are the covers for this latest batch. If you click on the images you will see larger versions of the covers. If you click on the title below their images you will be taken to their respective sales sights where David has written a brief blurb about them.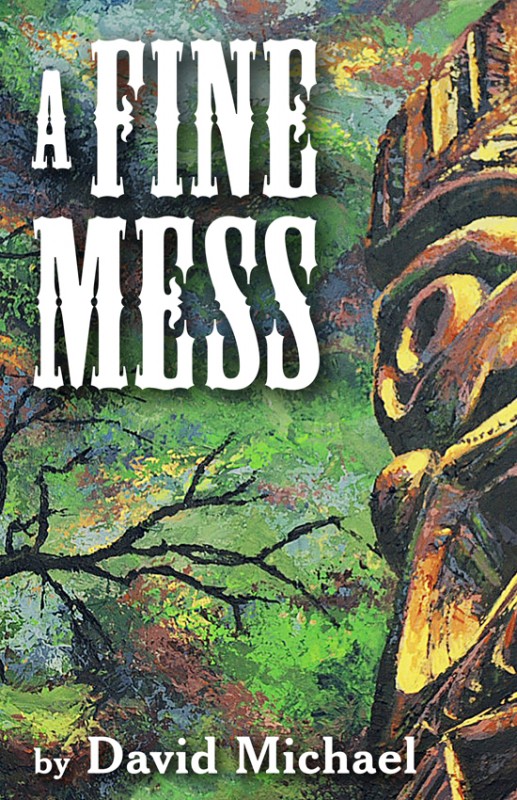 A Fine Mess – ©2011, David Michael and Don Michael, Jr.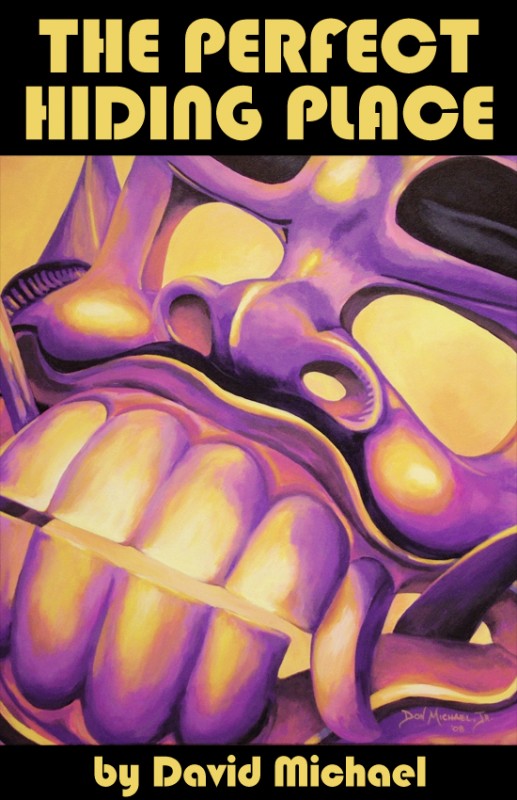 The Perfect Hiding Place – ©2011, David Michael and Don Michael, Jr.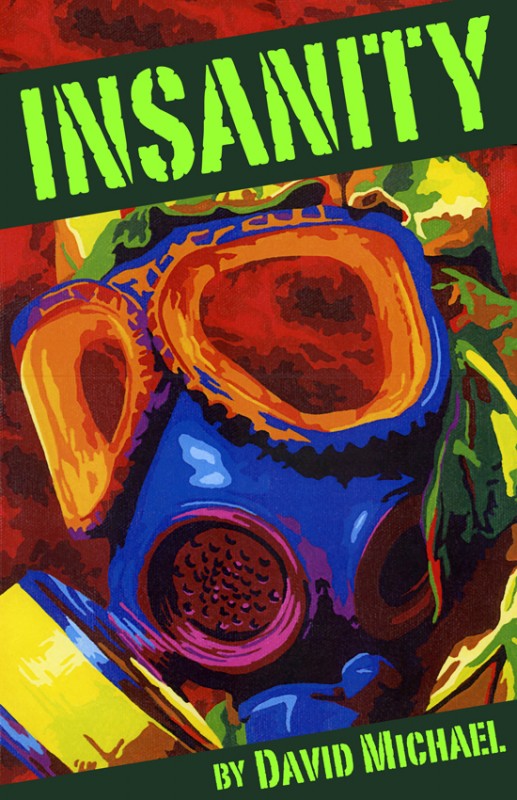 Insanity – ©2011, David Michael and Don Michael, Jr.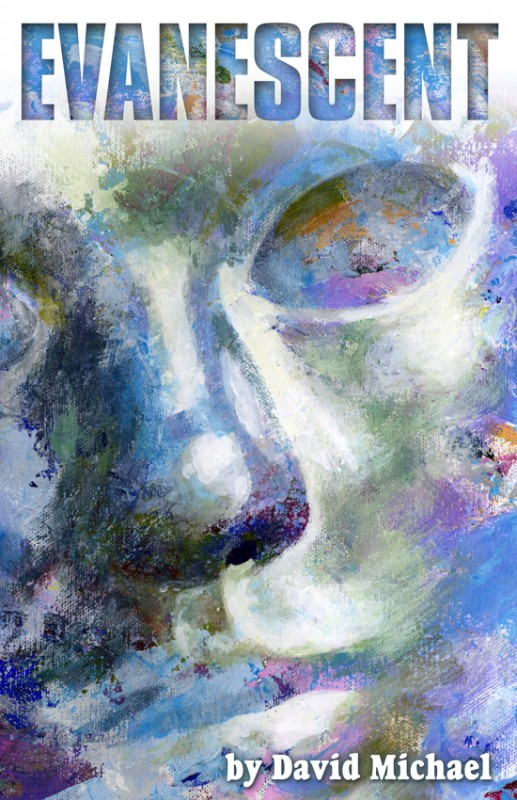 Evanescent – ©2011, David Michael and Don Michael, Jr.
I just found out that there will be two more coming in April, so I guess there is no rest for the weary…
But, first I've got another heart to paint. I agreed to paint a smaller one which will be autographed by celebrities and auctioned at the St. Jude Affair of the Heart Charity Gala in late May. Thankfully, it's much smaller than the ginormity I finished last week. Here it is in its formative stage. You can see I'm taking a very different approach with this one. Or am I?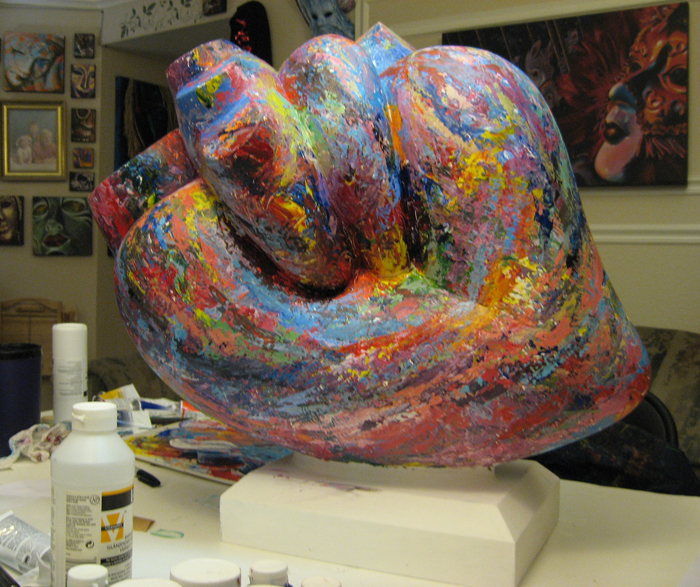 St. Jude's Little Heart
Happy Creating!
Today was the Preview of the Hearts, which was a media event to begin the promotion of the St. Jude – An Affair of the Heart Gala which will be held on May 21st. Several ginormous hearts painted by local artists were on display for the first time. It was a great chance for us all to mingle and get to know each other while admiring each others' work. I finally got to meet the sculptor, Miguel Rodreguez, who created this ginormous heart, and had the opportunity to congratulate him on a job well done. There was a little presentation given and the MC for the May event was introduced. Imagine my delight when the guy standing beside me walked to the front to take the mic and I realized it was Rich Little. Needless to say, he had us all in stitches with a couple of fun impersonations.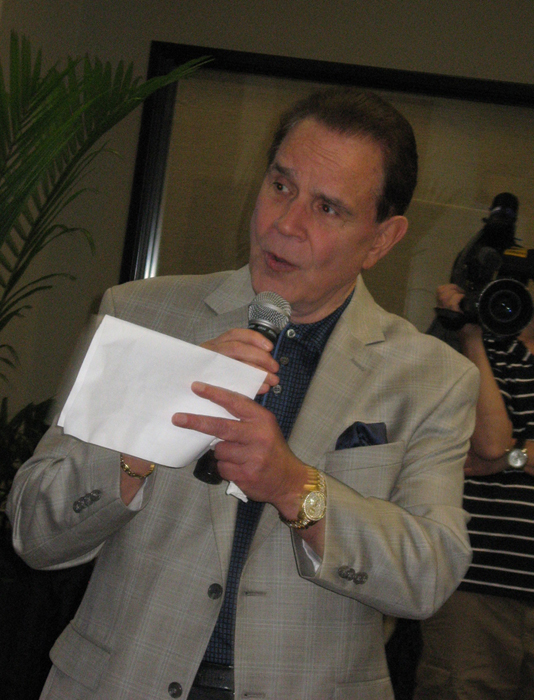 While we were enjoying the festivities, my good friend, CJ Boisvert, of AlleyZoom Productions was out in the lobby taking some photos of my ginormous heart, which I've titled Heartstrings. (Thank you, CJ!)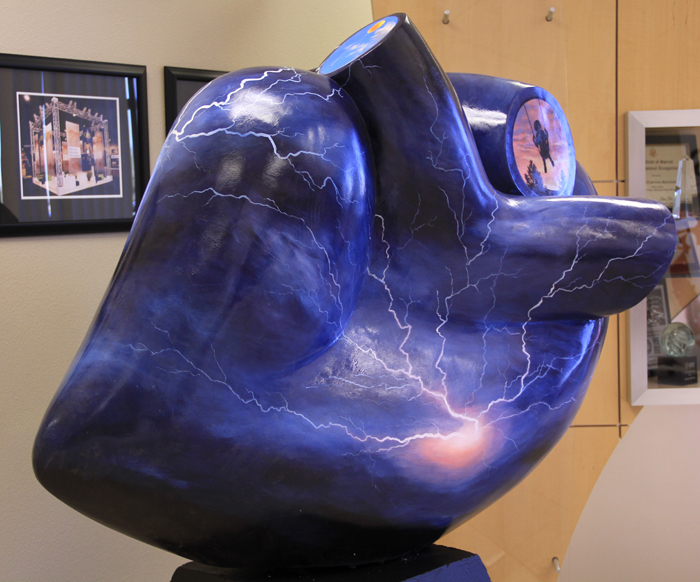 HeartStrings – Front View
CJ wasn't able to get a good back view of the sculpture because of its placement by the wall. So, here is a shot I took before I put the clear coat on it while it was still sitting in my living room. (You can see how different the color is between these photos. The one above is under fluorescent lights, the one below was shot under incandescent lights.)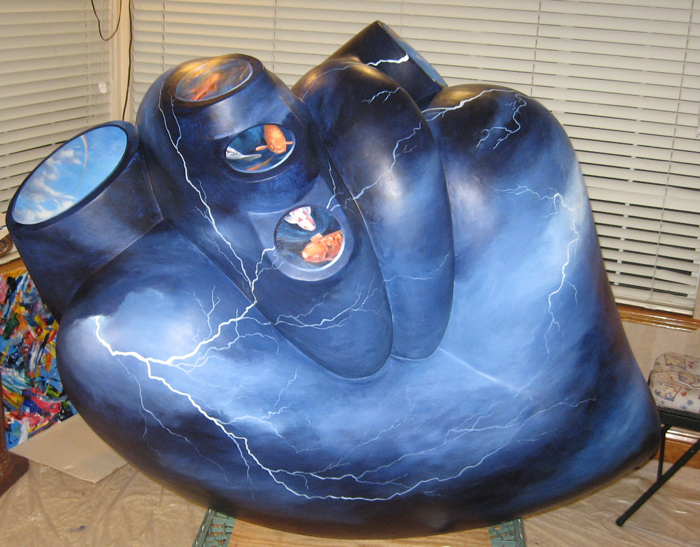 Heartstrings – Back View
As you can see, I wrapped this heart in lightning. To me, this storm represents the hardships life can throw our way. Obviously, if a child is dealing with St. Jude Children's Research Hospital they are going through some difficult times. One thing I've observed with children is that no matter how dire their situation, there are certain qualities that they continue to exude. Below are the symbols I chose to illustrate these qualities: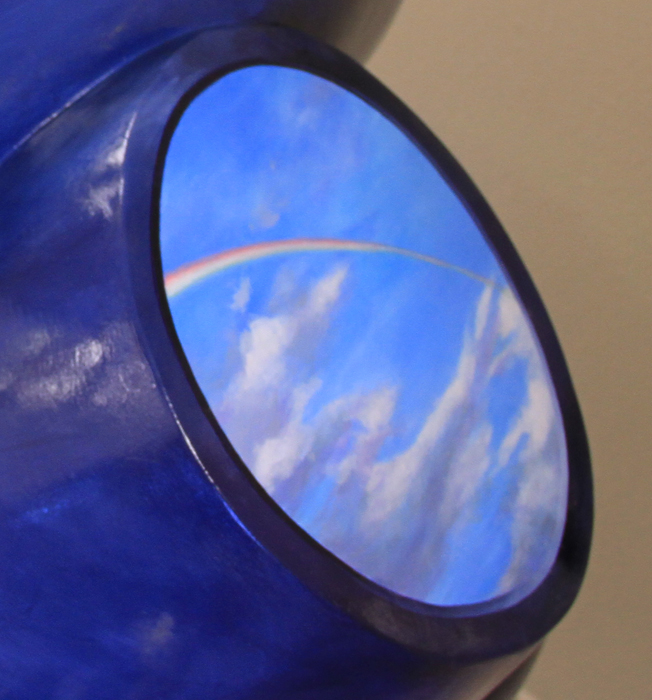 Rainbow = Hope
Rubber Duck = Innocence
Koi = Love and Friendship
Swing = Joy, Exhilaration, Full of Life
Balloon = Infinite Potential
After the presentation I was asked by one of the photographers if I would be willing to talk about my interpretation. CJ made sure to document this as well…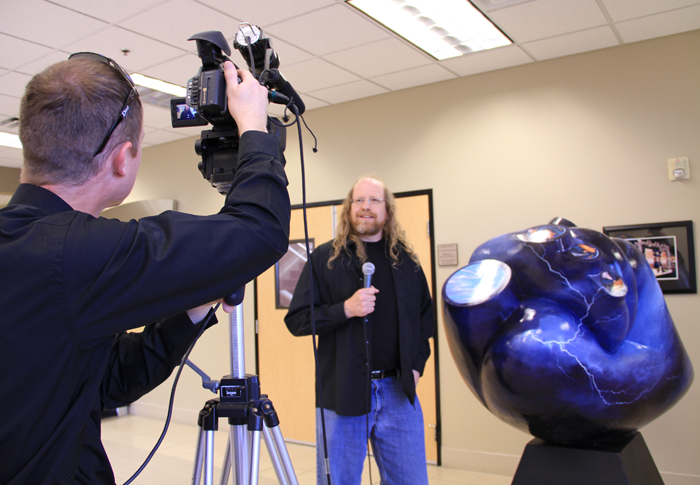 Don Yammering On…
On a final note, one of the local TV stations sent out a photographer to document the event. I'm not sure if my work made it onto the 6pm newscast or not, but it's cool to know that it could have…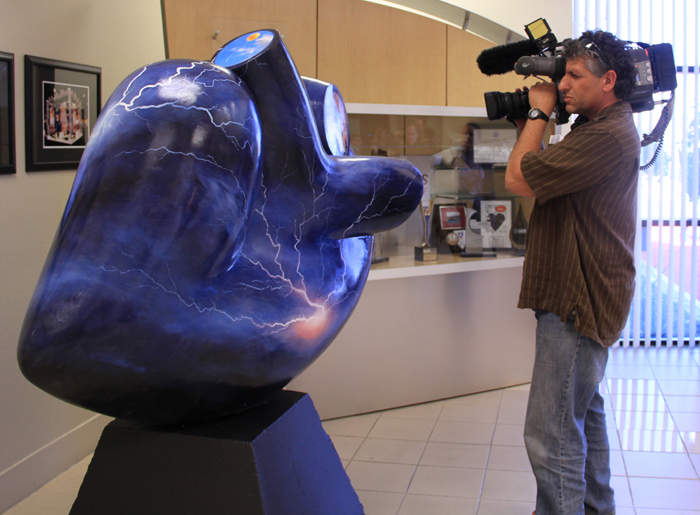 Now I'm exhausted. I think I'll sleep in today…
Happy Creating!