This latest palette knife painting in my Eye Candy series was a required piece in that the candy it represents is my wife's favorite. Needless to say, there was much scrutiny and a bit of input in the creative process. Thankfully, she gave it a smile and a nod upon completion. Whew! Mission accomplished…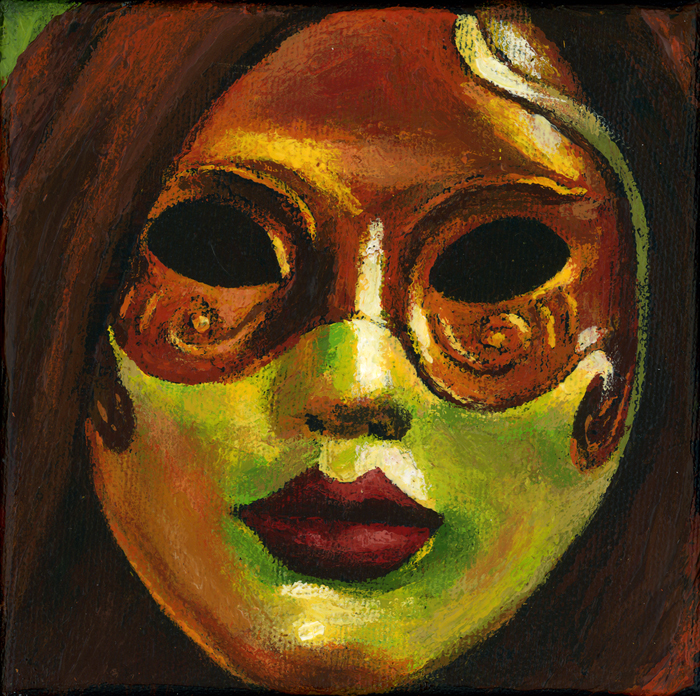 Root Beer Barrel – 5″x5″ – Acrylic on canvas – Completed 5-30-11
Alas, more sweets await…
Happy Creating!
I recently started a series of small palette knife paintings which are named after some of my favorite confectionary treats. Thanks to my great online friend and artist extraordinaire, Celeste Bergin, I now have a title for this series – Eye Candy.
Now, what would a series about candy be without a tip-of-the-hat to the mother of all jawbreakers, the gobstopper? And how can one in good conscience not use the name we all learned from Charlie and the Chocolate Factory, which was later marketed by the Nestle company?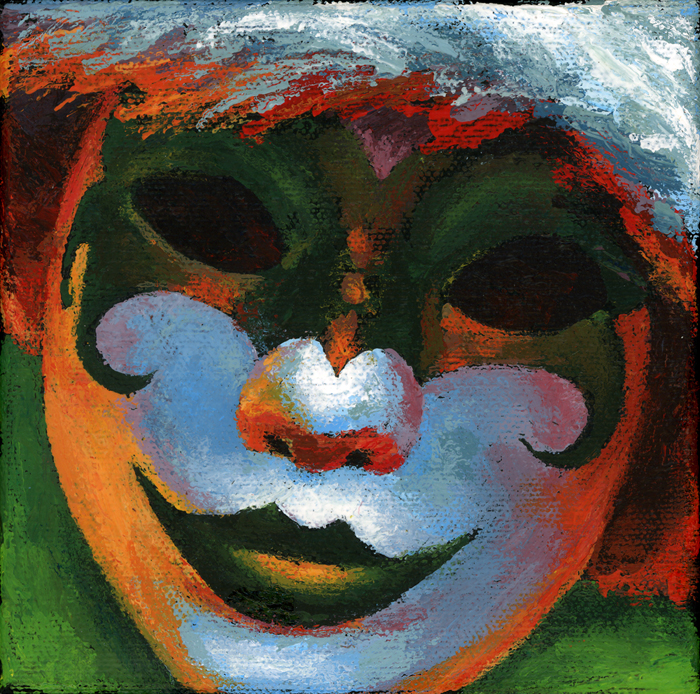 Everlasting Gobstopper – 5″x5″ – Acrylic on canvas – Completed 5-25-11
©2011, Don Michael, Jr.
Now it's time to take off my artist hat and put on my Proud Papa hat.
My 12-year-old daughter, Christina, came home today with a beautiful painting that she did earlier this month and its Honorable Mention ribbon from a school-wide art exhibit. I was greatly surprised when she got into the car after school today and was carrying this beauty with her. I knew she had been doing some great artwork of late, but was totally floored when I saw this…

Ducks at Sunset – 6″x18″ – Acrylic on canvas – Artist: Christina Michael
Just look at that sky!
I told her that what took this from being a good painting to being a great painting was the addition of the ducks on the ground. She told me that they represent the babies who haven't learned to fly yet, and that the smaller ducks flying are the ones who are just now learning… I had to smile. My baby is learning to fly.
I'm still smiling.
Now it's back to the studio…
Happy Creating!
Many of my blogging friends will remember that last year I had the opportunity to be a part of the charity event Circus Couture 2010. I blogged about it here. Last year's Circus Couture brought in over $100,000 which went to the Children's Specialty Center of Nevada via The St. Baldrick's foundation to help children in our community in their fight with cancer and other blood born diseases. (Now there is a video on youtube which shows the highlights of last year's event which you can watch here.)
Well, I'm exited to once again be invited to take part in this wonderful event. Circus Couture 2011 will be held on June 26th at The Joint in the Hard Rock Hotel & Casino here in Las Vegas. This year I wanted to make sure that the piece I created would honor the men and women who are working so hard to put this wonderful event together. I must admit great pride in the final result…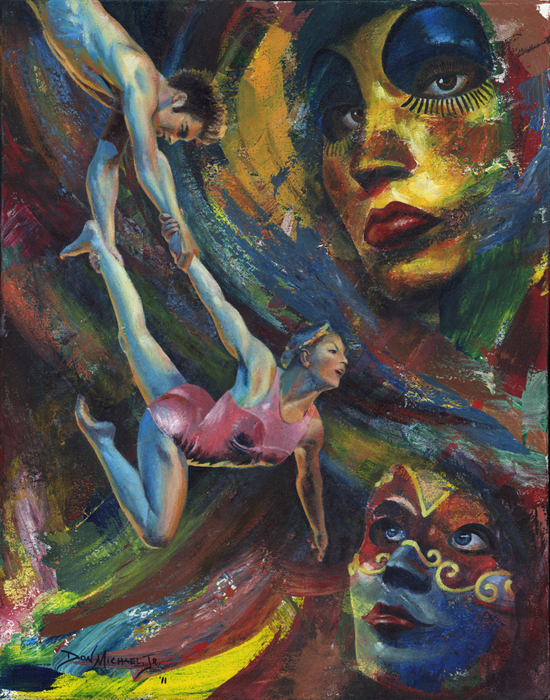 Dare to Believe – 20″x16″ – Acrylic on canvas – Completed 5-25-11
©2011, Don Michael, Jr.
As you can see this is a new addition to my Over the Under-Schmeerings (OTUS) series. The 'Schmeerings' for this one was created while I was painting Look at Us Now, Butterscotch, Lemon Drop and Strawberry. Below you can see the before/after.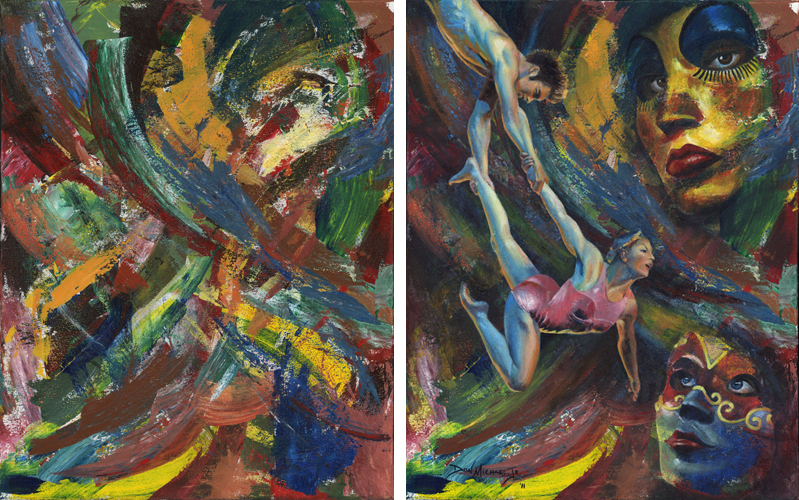 ©2011, Don Michael, Jr.
Thankfully, this is the last of the charity events that I have committed to for a few months. Even though these have been a lot of work I have found them all to be wonderful learning experiences which have stretched me as both an artist and as a person. It will be nice, though, to get back to the studio with no looming deadlines other than my own self-imposed ones…
Happy Creating!
The long awaited "Affair of the Heart" St. Jude Charity Gala came and went this past Saturday night. It was a beautiful event which raised many ten's of thousands of dollars to help their worthy cause in the fight against childhood cancers. On their invitation they promised an "evening of gourmet dining, unique live and silent auctions, breath-taking art, entertainment, performances, and so much more". I'd say they more than lived up to that billing.
The evening began with a wonderful little 'festival' with live music being performed by students from one of the local high schools, with several of my artist friends painting live, with hors d'oevres and wine, with the silent auction, and with much fellowship. Below you can see my good friend, Niki Sands, painting while one of our local students is setting the beat…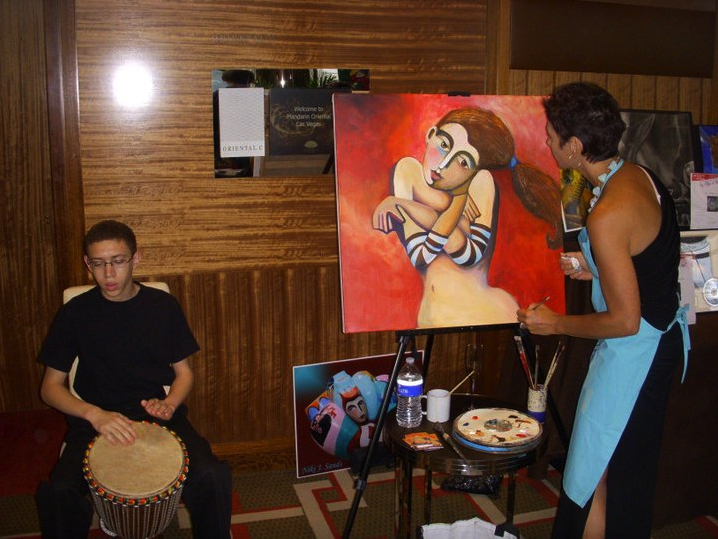 Here you can see a view of the hallway from the heart I painted titled Repertory. This was early in the evening, as there is still room to walk around at this point…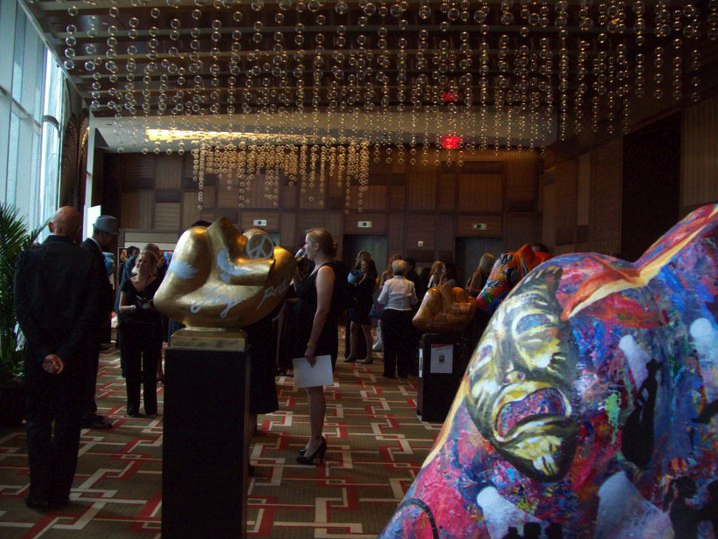 For the next hour-and-a-half there was much mingling and fellowship. Here are a couple photos to prove it…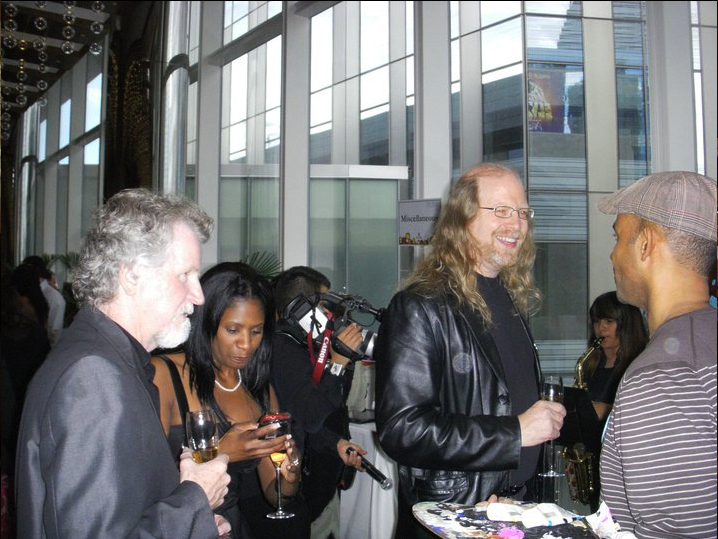 Artists KD Matheson, Don Michael, Jr., and Joseph Watson, with Joe's lovely wife Tamara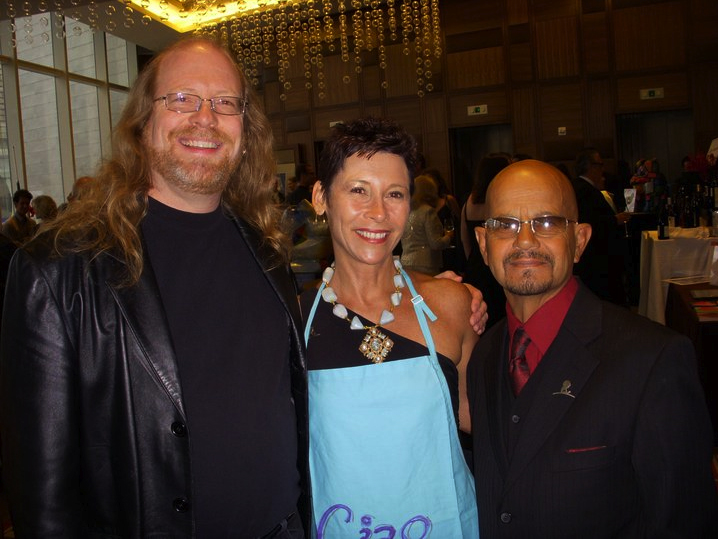 Artists Don Michael, Jr., Niki J. Sands, and Alex P. Huerta
Then it was time to go into the banquet hall for the main event. While we were being fed we also enjoyed two hours of entertainment mixed in with many of the success stories of children and their families who have been impacted by St. Jude's mission. I have no good photos from this part of the event, but at least here is one of the artist's table as we were first sitting down to eat. (Thank you, Niki and Alex, for all of these photos from the event.)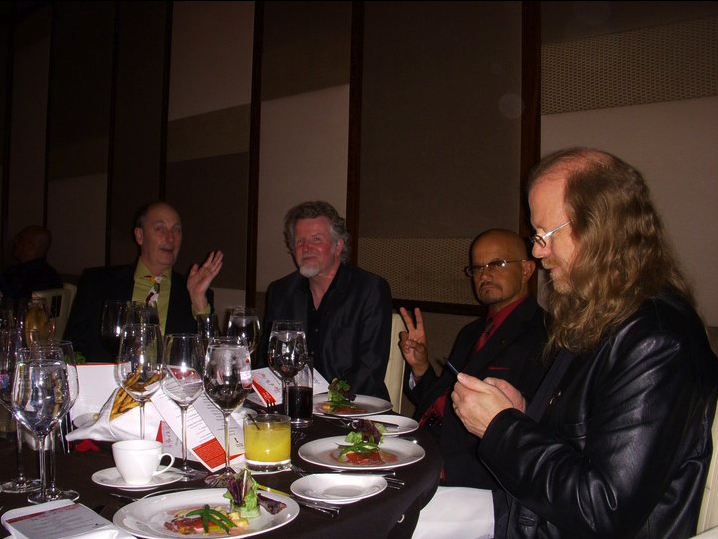 Artists Brian Swanson, KD Matheson, Alex P. Huerta and Don Michael, Jr.
At the end of the evening there was a live auction which was very exciting in that it generated nearly $100,000. Two of the Ginormous Hearts painted by my artist friends were purchased for $20,000 each and another for $12,000! Due to time constraints those were the only three of the large hearts made available for the event. Among many other items they also auctioned off two of the smaller hearts, including Repertory, which garnered $1,500 for the charity. I could not be prouder.
I feel so honored to have been a part of this wonderful event and look forward to taking part again. It's wonderful to see a community so dedicated to helping improve the quality of our children's lives.
On an entirely different note, my little studio buddy, Franz Marc, turns one year old today.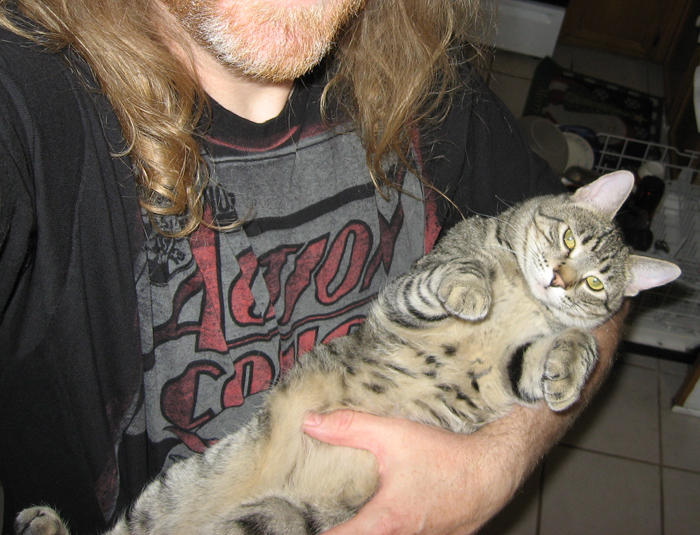 Franz Marc on his birthday
Some of you may remember his arrival via this photo which I posted last July. I think he may have grown a bit…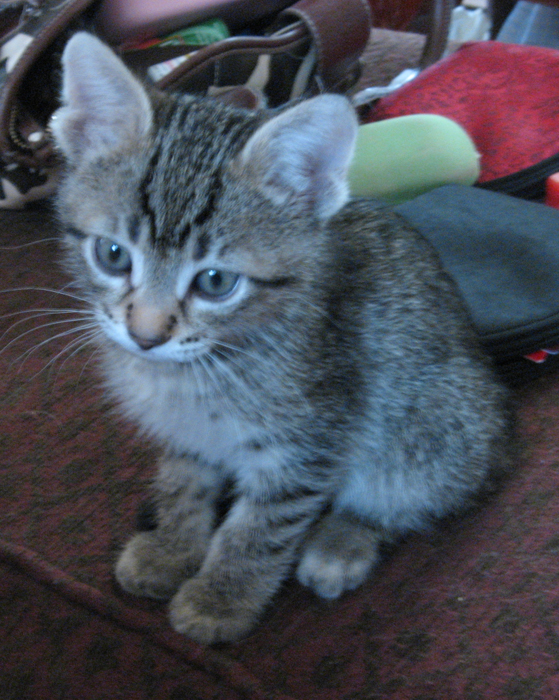 Franz Marc at 6 weeks old
Well, I have more projects in the works which I look forward to sharing in the future. But for now I'd better get back into the studio…
Happy Creating!
Late Wednesday evening I got a call from a friend asking if I would like to paint live for charity the following night. There was a huge event planned called Taste of the Nation which had chefs from many of the high-end restaurants around Las Vegas preparing culinary delights, bartenders preparing delicious beverages, local and national celebrities, live music, a silent auction and a live auction. Having never done an event like this (painting live) and not being prepared I asked to be able to sleep on it. When I woke up Thursday morning, I knew I had to 'suck it up' and do it. I'm glad I did.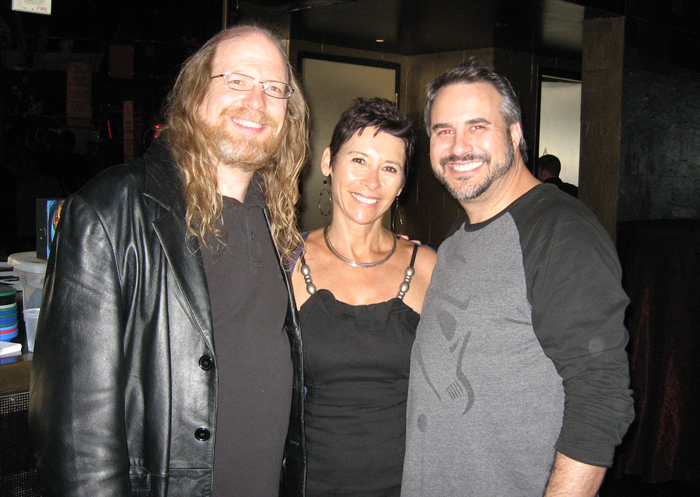 Don Michael, Jr., Niki J. Sands and Jerry Misko
There were three artists there painting live: Niki Sands, Jerry Misko and yours truly. Between the three of us we were able to bring in $1,200 to help feed local children in need, with the potential to generate future monies from a website they are putting together.
I had a lot of fun painting live, although I would have sure enjoyed more lighting – but, what can one expect when painting in a nightclub? Below you can see Niki and I hard at work. The serious looks on our faces are us trying to see the trays we were painting on…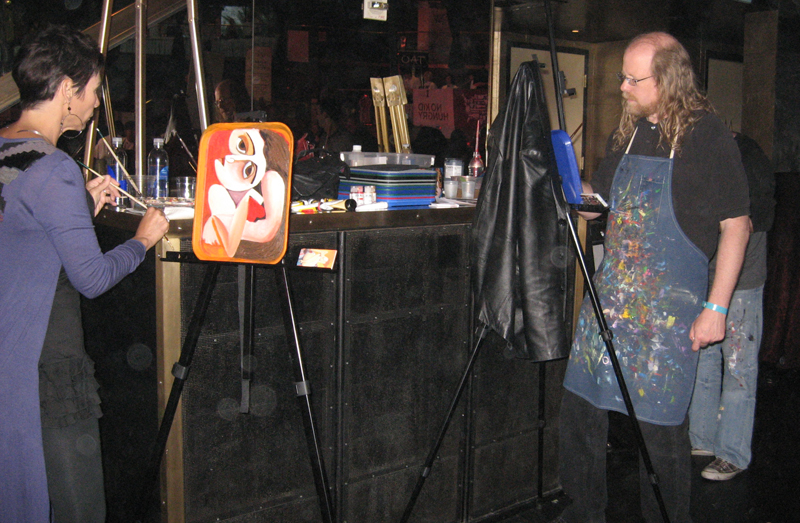 Niki and Don hard at work
My baby sister, Anita, happened to be in town for a conference and was able to come out to support this worthy event. She took a lot of photos for me, made sure I stayed fed and just totally made my night even more special. Here we are celebrating the completion of my painting…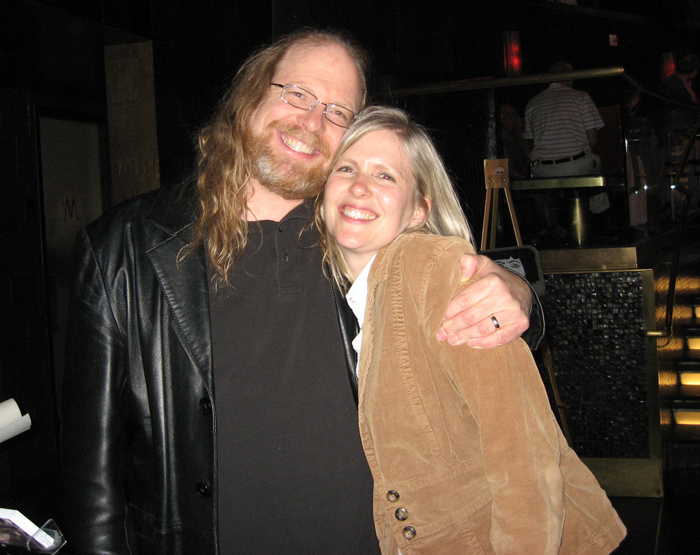 Don and Anita
Our paintings were then offered up during the live auction. Below you can see mine being sold…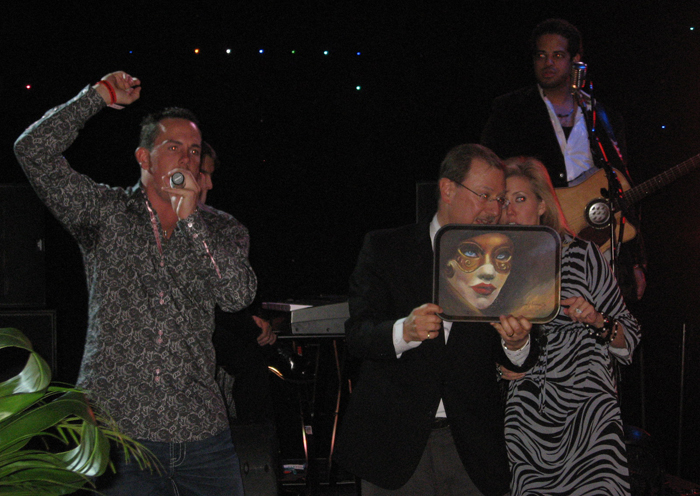 Live Auction
…and here is a shot of my finished painting…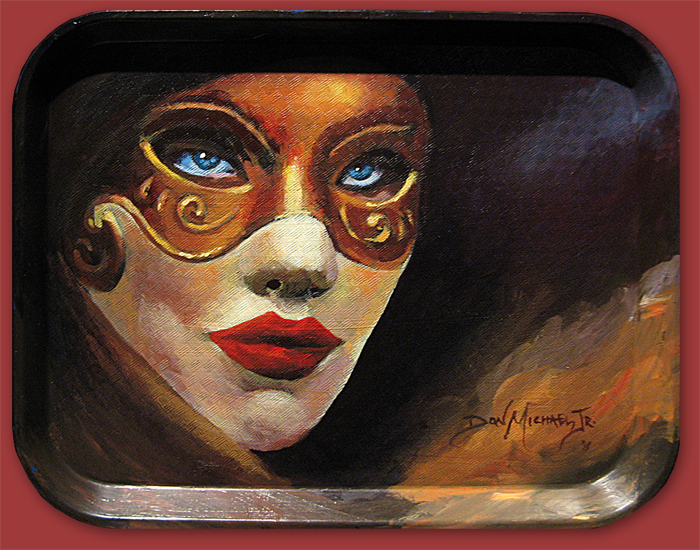 I Pray Blessings – 10.5″x13.5″ – Acrylic on Plastic Serving Tray – 5-19-11
©2011, Don Michael, Jr.
The shot isn't the best, since I had to make do with the lighting that was available at the event, but you can get a pretty good idea of the finished piece.
I had a blast and will gladly do this type of thing again in the future.
Happy Creating!
This painting that I finished last night is the 50th in my Over the Under-Schmeerings (OTUS) series. It's really hard to believe that I've already done such a significant number of them, especially when you consider that the first one in the series was completed just 15 months ago.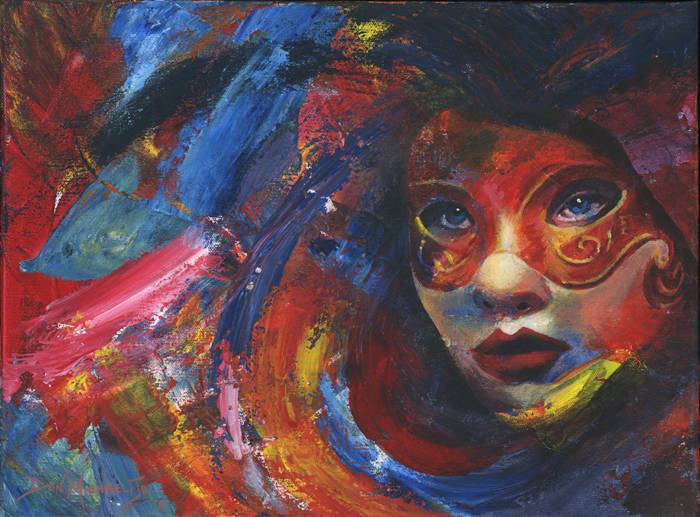 Hoping to Find – 12″x16″ – Acrylic on canvas – Completed 5-17-11
©2011, Don Michael, Jr.
The background for this OTUS was created while painting Formative, which makes this a second generation OTUS. It's rare that I get consecutive OTUS's since I put very little paint on my palette while painting these, so there is very little excess to schmeer onto another canvas. In fact, this family tree ends with Hoping to Find. Below is the before/after…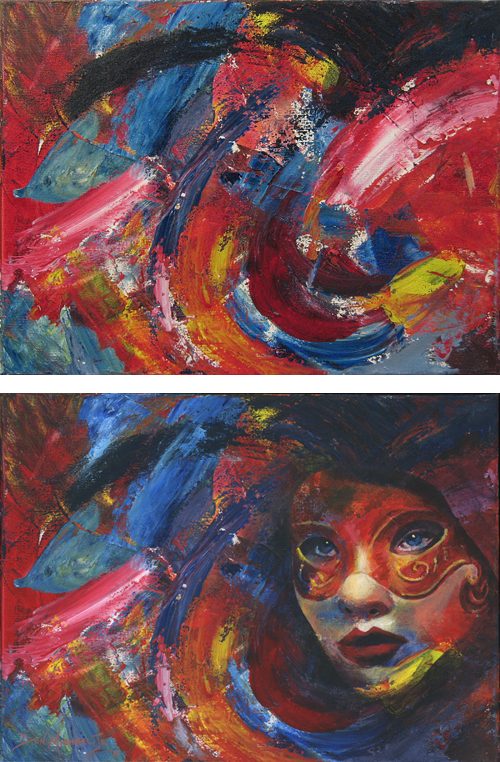 ©2011, Don Michael, Jr.
On an entirely different note, my wife Laura and I celebrated our 26th year together last night. I cannot believe it's been 26 years. I guess time DOES fly when you're having fun. My three greatest works of art have come from this union. Their names are Donald, Eric and Christina…
Speaking of our children, it's time for me to go pick up our daughter from school…
Happy Creating!
I am having such a blast with these little palette knife paintings. It won't be long and I'll have to come up with some clever name for the series. Until then please enjoy this latest tasty treat…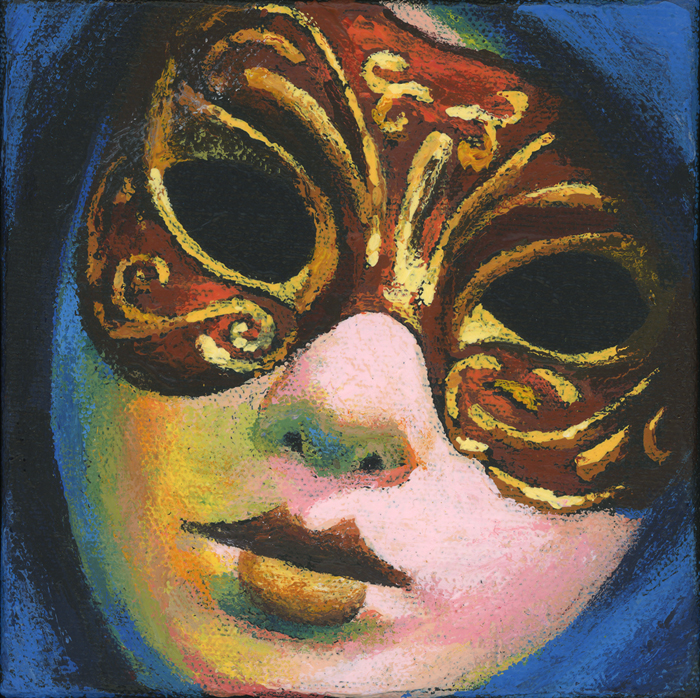 Tootsie Pop – 5″x5″ – Acrylic on canvas – Completed 5-16-11
©2011, Don Michael, Jr.
Happy Creating!
As I was finishing this painting my son Eric came into my studio and we started going over which candy it most reminded us of. We tossed around several ideas and he even went to the computer to look up some names based on cinnamon and cherry. As he was surfing the net I asked him, "What are those strawberry candies called?". His immediate response was, "Oh, that's perfect! I love those things !". We've always just called them 'those strawberry candies', and upon further investigation discovered that's exactly what they're named. A few minutes later when my daughter Christina entered the studio I told her what we were thinking about and her response was pretty much the same as her brother's. At that point there was no doubt what this painting's name would become…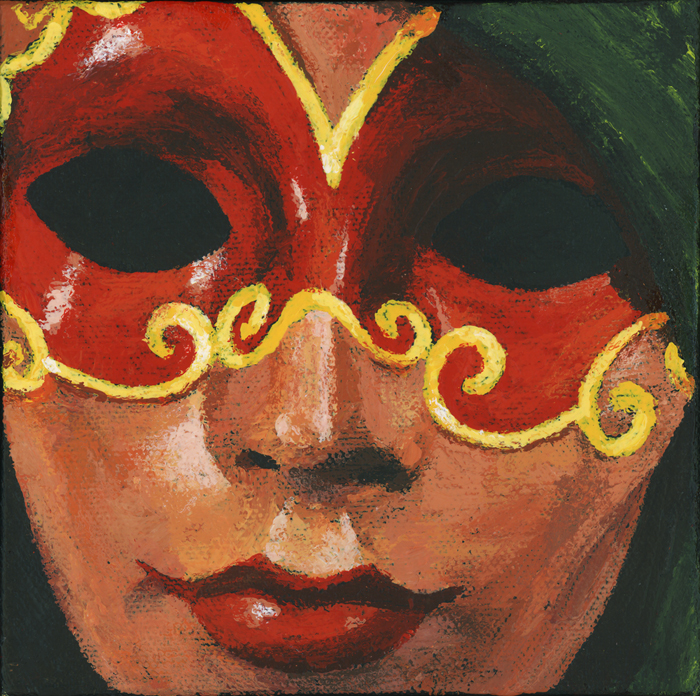 Strawberry – 5″x5″ – Acrylic on canvas – Completed 5-13-11
©2011, Don Michael, Jr.
Uh oh… My sweet tooth has been whetted. I'd better get back to the studio for some more delectable treats.
Happy Creating!
The David Michael Production Mill continues to churn out stories – which means I continue to churn out covers for them. Here is our latest collaborative effort…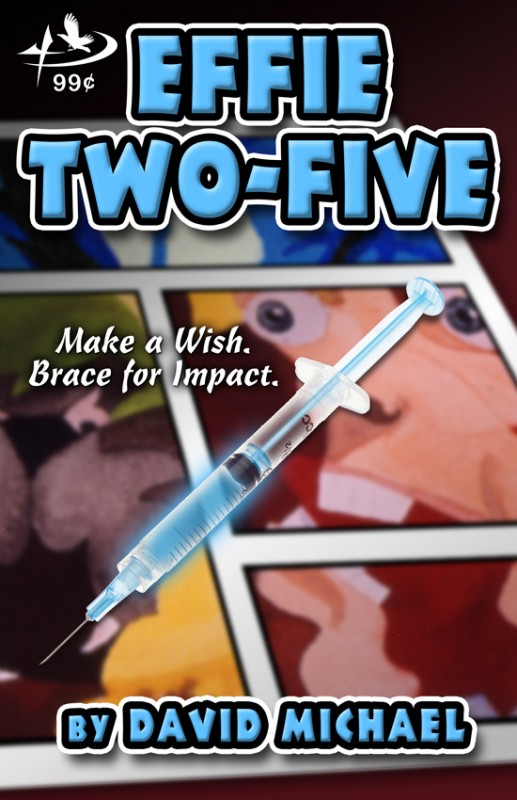 Effie Two-Five – Written by David Michael – Cover Art by Don Michael, Jr.
©2011, David Michael
Here's what David wrote about this one: "Make a wish. Brace for impact. Find a vein and take a hit of the new–and highly illegal–wonder drug with the street name "Effie Two-Five", and your dreams will come true. You can be faster. Stronger. Anything you want to be–even a porno superhero. But be careful. Effie two-five has a serious learning curve. And you should have a lot of munchies handy. (8300 word short story)."
This was a fun cover to come up with. David wanted a comic book background, and since we have no rights to any comic book images I had to come up with something of my own. So, after banging my head against the wall for a while I had the epiphany to use one of my old works. I started going through my files and once I saw this one from 1986 I knew I had my 'comic book'…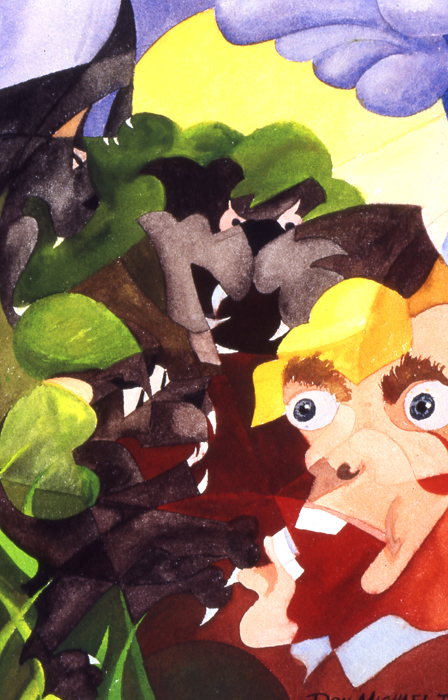 Bad Moon Rising – 14″x10.5″ – Watercolor – ©1986, Don Michael, Jr.
I just can't keep my paintings out of his covers…
Speaking of paintings, I got one calling my name… So, it's back to the studio.
Happy Creating!
After titling my last palette knife painting a couple days ago I decided I was on the way to a new series. Here is number two in that series…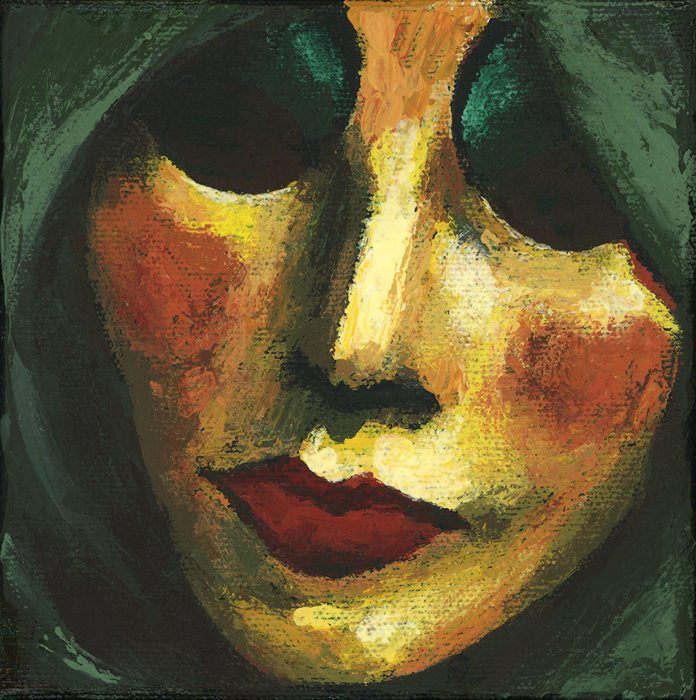 Lemon Drop – 5″x5″ – Acrylic on canvas – Completed 5-12-11
©2011, Don Michael, Jr.
I've made a list of some of my favorite hard candies to be used as future titles. I'd love to add any favorites you may have to that list…
Meanwhile…
Happy Creating…
Next Page >>