The family and I started this weekend with a BANG, and it never let up from there. On Friday night, my sons and I took their Mom to see her favorite rock band of all time – RUSH. I must say that Laura's enthusiasm for this band has rubbed off on all three of us guys and we are prone to concur with her assessment of them being the best rock band, EVER. This marks the 8th time I've seen RUSH with Laura, and the 3rd with our boys. After 37 years of touring together, you wouldn't blame RUSH if they took it a little easy when they hit the stage. But, alas, they are not ones to rest on their laurels. These 3 men are still some of the best musicians in Rock-n-Roll and can still put on a show that will blow your mind.
Here we are on our way out to the car. I inserted a little press photo of RUSH for your viewing pleasure…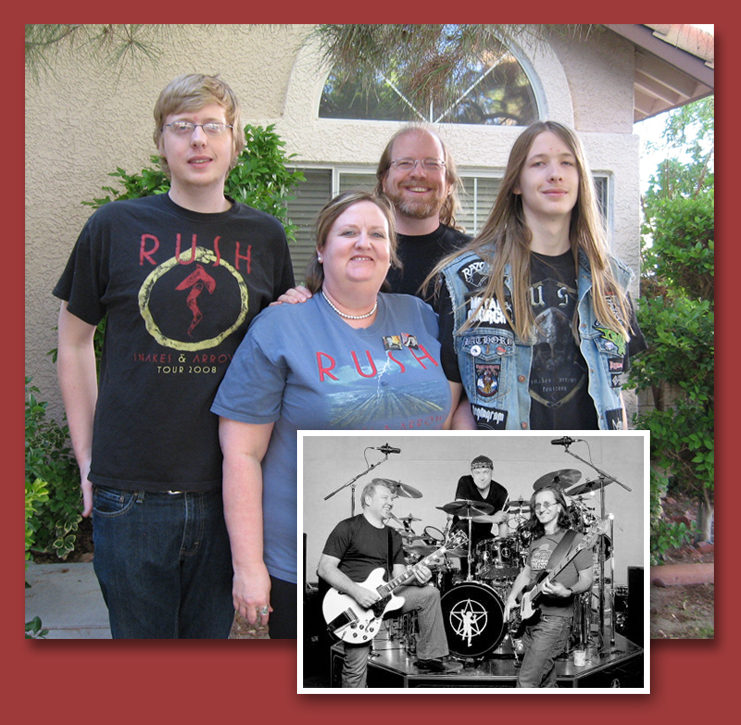 Laura and her 6 Favorite Men
Saturday I was a little slow getting around. I think it had something to do with jumping up and down for almost 3 straight hours the night before, but I can't be sure. Anyway, I got myself together enough to head over to the new Michael's store to teach my first Acrylic Workshop there from 1-3pm. We had a great class with 4 new students and one who has been to a few of my other workshops. Everyone did a wonderful job and left with finished works of art. Regrettably, my camera was still sitting on my desk at home, so I have no visual proof of this, so you're just going to have to trust me this time.
Sunday morning I remembered to take my camera to the demo I was doing at the Grand Opening of this same Michael's. However, it sat right in the tub with my supplies and didn't do me a dang bit of good since I forgot to put it to use. For this demo I was placed in the classroom with all the other Workshop instructors doing their demos. Although we all had a great time visiting together, most of the customers didn't make it in to see us. I think they were either a) a little intimidated to walk into a busy classroom, or b) too worried about putting all their great coupons to use. Maybe it was both…
Sunday evening I took my lovely daughter to the Circus Couture event to which I had donated one of my paintings. I had told her ahead of time that I would need her to remind me to grab the camera. Thankfully, she did not let me down. In fact, she even took the first photo of the night…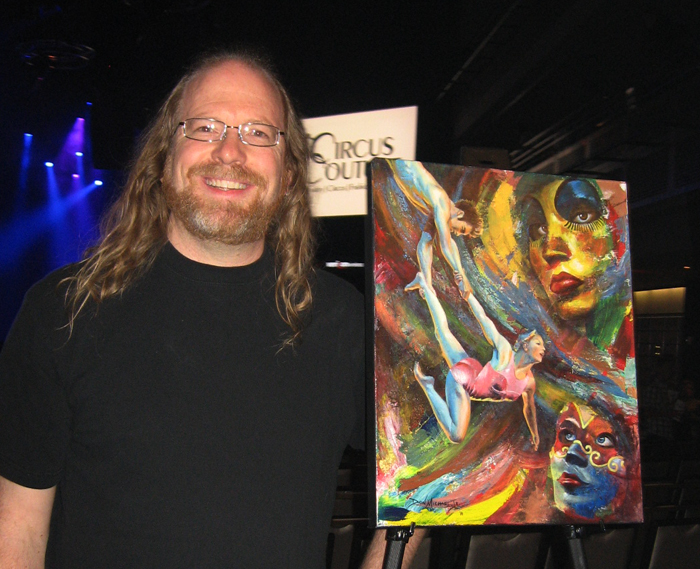 Don with his donated painting Dare to Believe
… and then co-starred in the second photo of the night.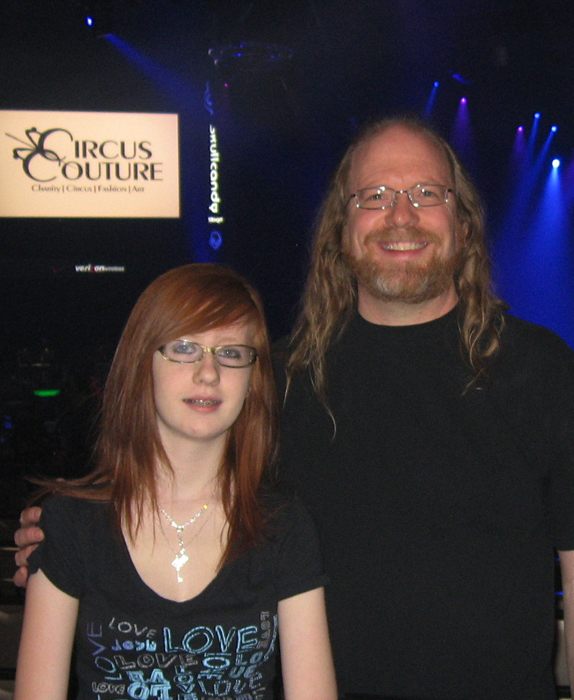 Christina and Don at Circus Couture
You can see the lights and large monitor on the stage behind us. Upon that stage there was a live auction of 6 works of art, with mine included. If my math was correct, those 6 works generated nearly $4,000. That's money that will go directly to help sponsor children receiving treatment for cancer in our local hospitals, as will all of the proceeds from this wonderful event.
Also, upon that stage, several performers wowed us with amazing feats of strength and agility mixed with outstanding fashion. My shots of the event are mostly fuzzy, but here is one of the whole group on stage making their final bow.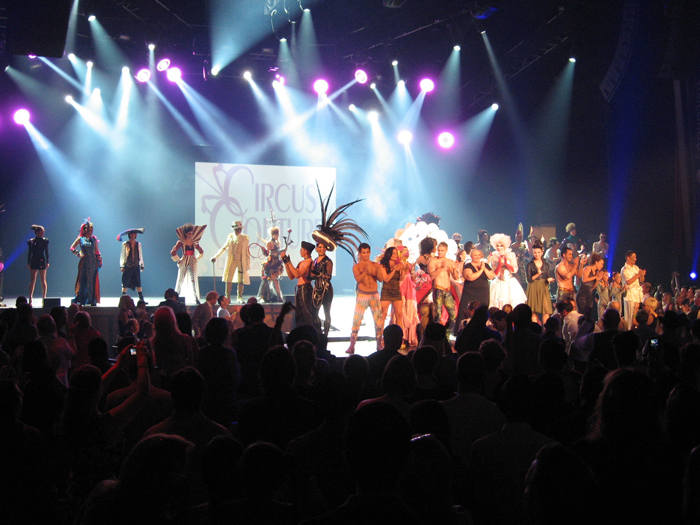 Circus Couture Performers
I wanted to include a couple of the less-fuzzy shots of the performers in action and asked Christina which were her favorite acts. She chose these two.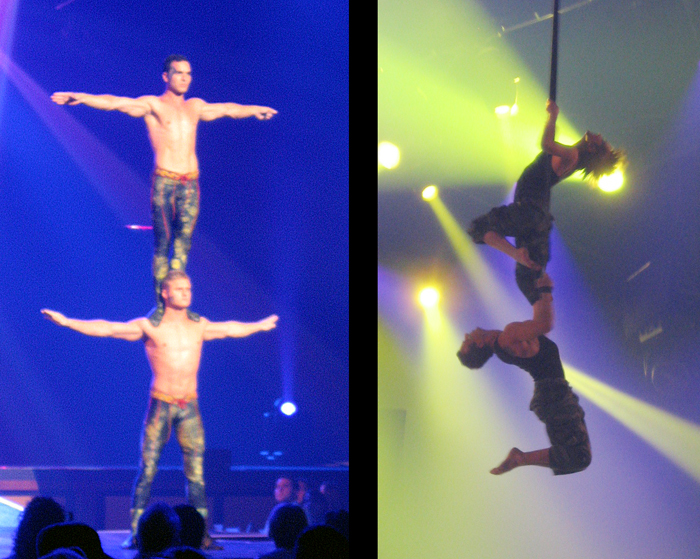 Circus Couture Performers in Action
To paraphrase our conversation, Christina told me she was amazed at the strength of the two men and awed by the grace and beauty of the aerial couple. I am in total agreement with her assessment.
Another cool thing about the Circus Couture event is the fact that there are so many of the performers in attendance from the different acrobatic, aerobatic and aqua-batic shows around town. I struck up a conversation with a couple of lovely ladies who were sitting by Christina and me and found out that they were performers for the show Le Reve. As we were talking I also found out that these ladies had represented the Netherlands in the past two Olympics as a duet team in synchronized swimming. Only in Vegas…
Thankfully, Monday will be a day for Don. I plan to sleep in, followed by a return to the studio. It's time to get some work/play done for me…
Happy Creating!
For today's demo at Michael's I decided to paint something totally unrelated to one of the lesson plans. I chose instead to do a study of lightning in preparation for a major project I am about to embark upon.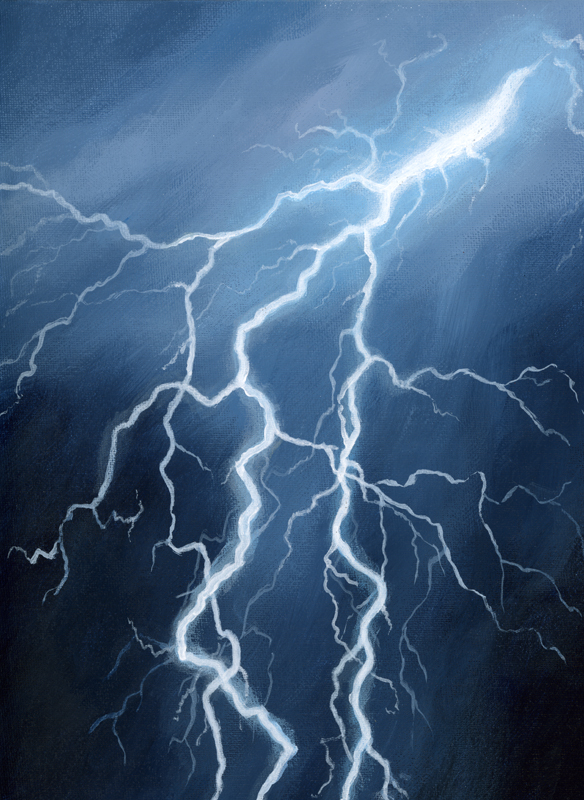 Lightning Study Demo – 12″x9″ – Acrylic on canvas board – 6-22-11
I've painted a lot of lightning lately. And, it's hard to imagine, but the painting I'm preparing to undertake will have more electricity running through it than anything I've done to date, even more than my ginormous Heartstrings.
My demo was quite well received and I ended up with at least one, and maybe three, new students for upcoming workshops. I also ended up with two new acrylic enthusiasts, one of which can be seen taking a break from working on our collaborative 'schmeerings' piece.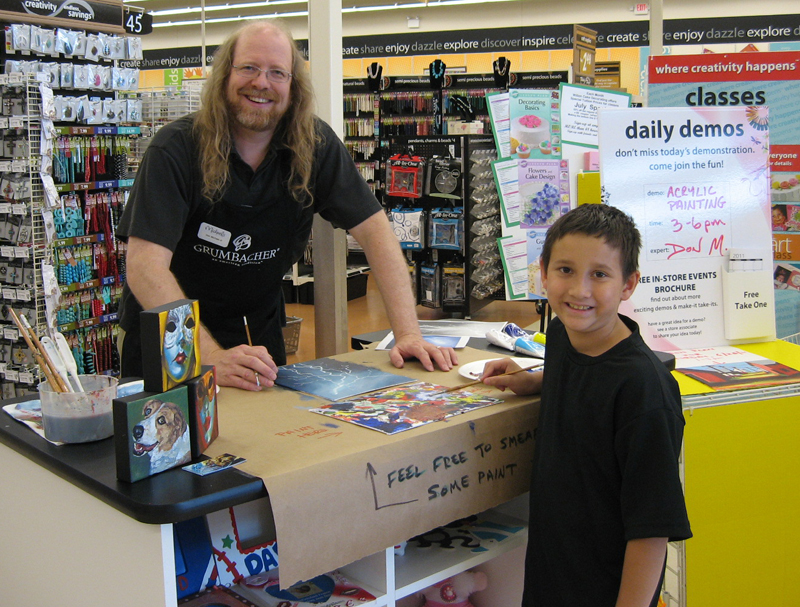 Don and Wendell having fun with acrylics
While Wendell was busy painting, his parents were buying him a nice new beginner's set of Grumbacher paints and some canvas panels. He could hardly wait to get home to try them out.
The next time I step into Michael's it will be to teach this Saturday's Acrylic Workshop from 1-3pm. If you live anywhere near Las Vegas and have the time, come on out. It's only $25 plus supplies. For that $25 you will get two hours of instruction and will walk out with a finished painting that you did all yourself.
Until then, I'll be spending a lot of time in my studio, especially since the alternative puts me outside into 100+ temps. Summer in Vegas is upon us…
Happy Creating!
I've never been much of a taffy fan. I don't like the way it sticks to my teeth. And, in most cases I don't like the flavors. However, there is one flavor that is the exception, Banana Laffy Taffy. I don't get it very often, and when I do, it only takes one or two to satisfy me for quite a while. Its blast of flavor sends my saliva glands into overdrive, filling my mouth with delicious banana juice, making it worth the effort to gnaw, chomp and smack through that sticky goo.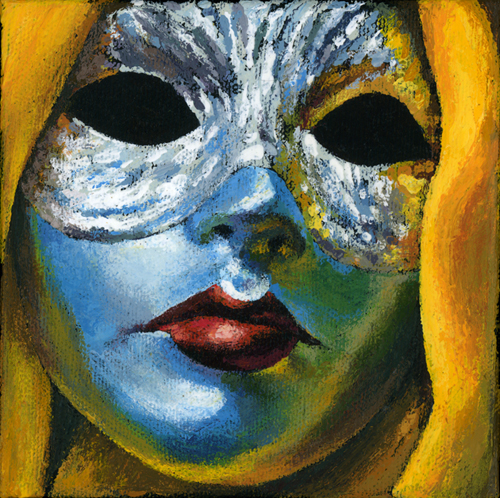 Laffy Taffy – 5″x5″ – Acrylic on canvas – Completed 6-21-11
©2011, Don Michael, Jr.
Hmmmm, as I'm typing this I realize that I haven't had to buy any Banana Laffy Taffy in years. I'm a little ashamed to admit that I've swiped a few of these chewy morsels out of my children's Halloween stashes over the years, and that's been plenty to keep the monkey off my back. (Bananas, Monkeys… Get it?) Regrettably, my free ride will be ending soon since my youngest will be 13 when this Halloween rolls around. Maybe I can get one or two more Halloweens out of her. We'll have to see…
Anyway… It's time for me to quit thinking about candy and go figure out what my demo for tomorrow at Michael's will be of. If you live in the Vegas area, be sure to swing by the new Michael's on North Fifth at the 215 between 3 and 6pm to say "hi".
Happy Creating!
Today I did my second of three demos for the week at the new Michael's Arts and Crafts store in North Las Vegas. Here I am taking a small break to pose for the camera…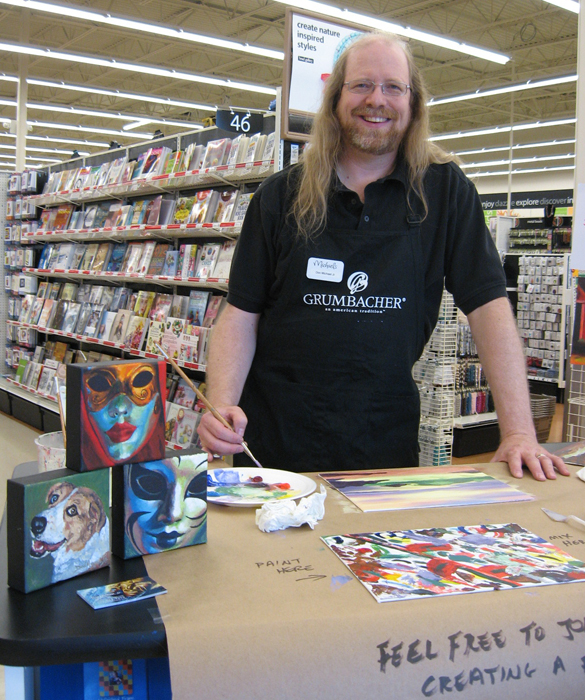 Don Takes a Photo Break
… and here I am chatting with a couple of aspiring artists.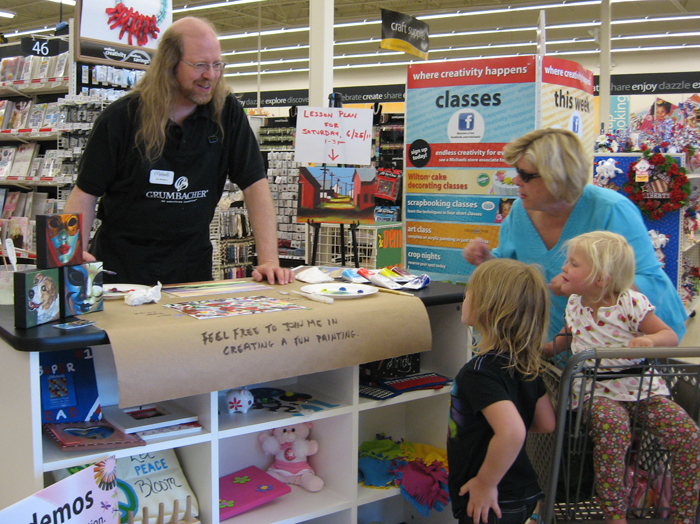 Don is Such a Hit with the Ladies
For today's demo I recreated one of the Grumbacher Lesson Plans for a Seascape. This lesson plan was put together by Chris Cozine, a Michael's Instructor in Washington. Here's what I came up with based on Chris' instructions…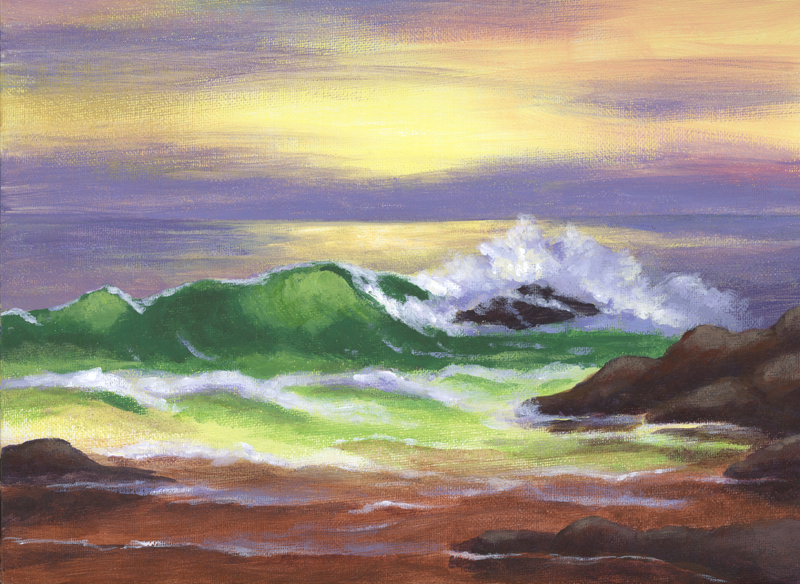 "Classic Wave" Seascape Demo – 9″x12″ – 6-20-11
As for what's going on in my studio, there's plenty – but very little to share right now. I'm in the middle of a painting which will become a book cover in the near future. I also have a few "Eye Candy" pieces in the works, but nothing close to finished yet. The only thing I've finished of late is another mask to be used for reference material for future paintings.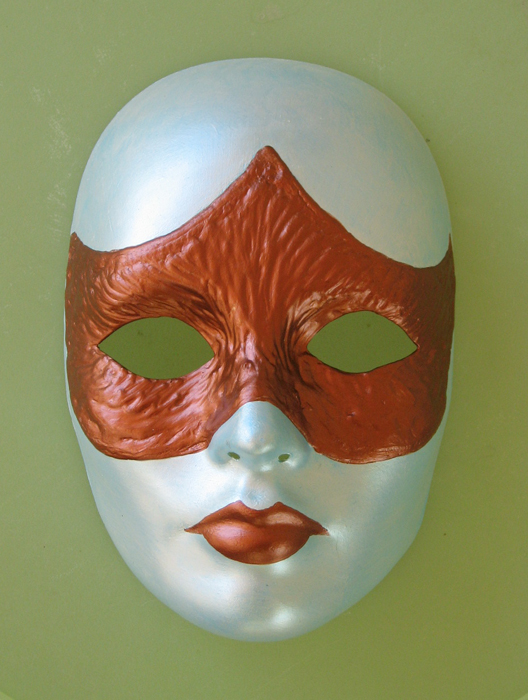 Kerri – Acrylic on Primed Plastic Mask – Completed 6-18-11
©2011, Don Michael, Jr.
There's a story behind her name, as is usually the case. While I was putting the finishing touches on her I was also watching the Semi-Finals of the Ladies Beach Volleyball World Championships which were going on in Rome. My favorite team, consisting of Misty May-Treanor and Kerri Walsh, happened to be playing. The hard part was choosing whose name would grace my latest creation. I went with the tall blonde…
Now it's time to get back into the studio and see if I can't get some work done.
Happy Creating!
Today was the 'Soft' Opening of a new Michael's Arts and Crafts store in North Las Vegas. It's actually the same Michael's that I've been teaching Acrylic Workshops for, but it's moved to a new location and a brand new facility – and, oh is it nice! The classroom is much larger with a lot more table space. I look forward to putting it to use soon.
Anyway, my Father's Day afternoon was spent at this new Michael's demonstrating one of the  Grumbacher Acrylic Workshop lesson plans in an attempt to drum up some new students. One of the cool things I've discovered with this program is that I get the opportunity to work within styles that I may not have tried otherwise. For example, the lesson plan that I worked from today was created by artist Russell Black, who is one of the instructors for a Michael's store in Utah. Based on his instructions, this is what I came up with today…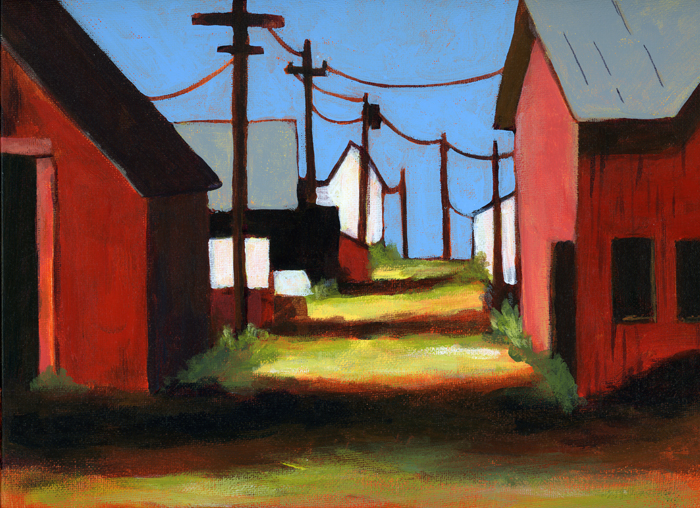 Grumbacher Landscape Lesson Plan Demo – 9″x12″ – 6-19-11
As I was painting, several customers expressed interest in the classes and I even had one new student sign up for this Saturday's Acrylic Workshop (6/25 from 1-3pm). She was excited to hear that the lesson plan for Saturday's class will be the one that I was demoing.
When I set up to paint today I also laid out some extra paint on a separate palette and an extra canvas. I invited customers to "help me create a fun painting". I only had a couple of young takers today, but oh were they fun. One young lady painted with me for about 15 minutes while her dad and sister were shopping. She's going to be a 6th grader in the fall. She really likes to draw, but doesn't "know how to paint too good yet". (Her words.) I think she did GREAT. It was fun to watch her 'freestyle' her strokes and colors around my 'schmeerings'. Here's our collaborative effort…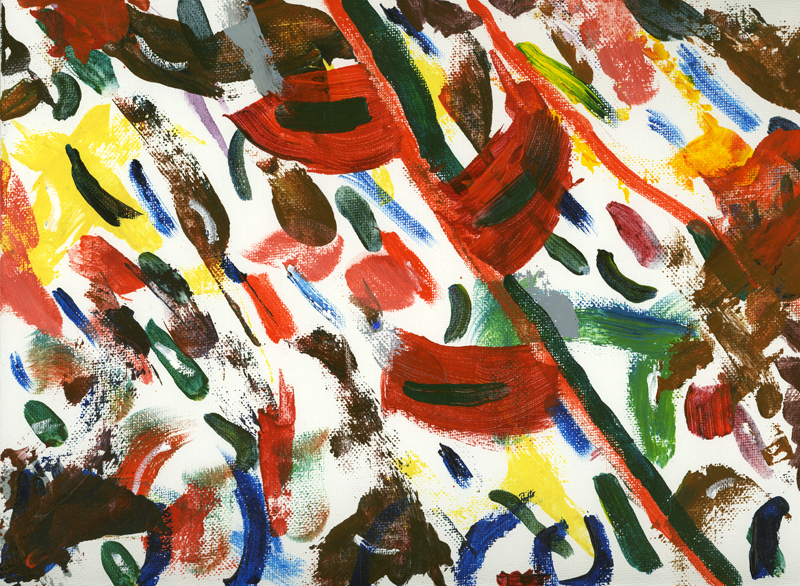 Demo Schmeerings – 9″x12″ – 6-19-11
Being a glutton for punishment, I'll be back at Michael's tomorrow (6/20) demoing from 3-6pm and Wednesday (6/22) from 3-6pm. Then I will be back next Sunday (6/26) to demo at the official Grand Opening from 10am- 1pm.
Now I've just got to figure out what I'll be painting on those days. The only thing I'm sure of is I'll be using Grumbacher paints and brushes. Other than that, the sky's the limit…
Happy Creating…
Does anyone remember those 'books' of Life Savers that were available at Christmas 'back in the day'? I haven't seen them around in years, so I don't know if they are still a part of Christmas tradition, or not. What I do know is how in years past I enjoyed opening up that little box knowing that I would get several days, and possibly even weeks, of enjoyment from this one little gift. Once I opened that little treasure I would immediately start planning out how I would work my way through those assorted rolls of delectability. My plan almost always consisted of me saving my favorite flavors until last. Below is my tribute to one of those favorites…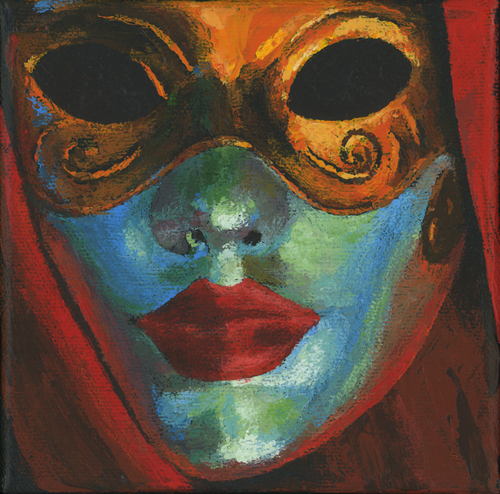 Wild Cherry – 5″x5″ – Acrylic on canvas – Completed 6-17-11
©2011, Don Michael, Jr.
That little red-colored ring of candy had a tangy sweetness to it that would cause my saliva glands to go into hyperdrive for a few minutes. I even remember feeling a 'wang' that would cause the joints of my jaws to tighten up for a moment. Mmmmmm….mmmmmm…
There was one other flavor in that little Life Savers 'book' that was a co-favorite. I have a feeling that it will find itself represented on canvas in the future.
Until then…
Happy Creating!
This little piece of "Eye Candy" is my tip-of-the-hat to what was once my favorite of the mint candy flavors created by Life Savers. In my late teens you could always count on me having one of those little green and foil wrapped rolls somewhere nearby. Although my taste palette has changed over the years, I still enjoy them as a treat from time to time. Times and packaging have changed, but that little white disk of candy with a hole in the middle can still cool my mouth in the most wonderfully fresh way.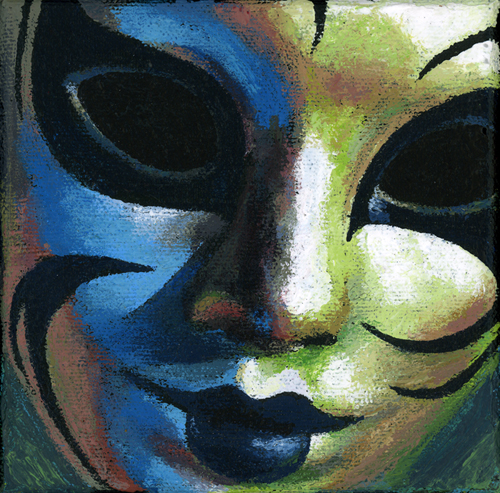 Wint-O-Green – 5″x5″ – Acrylic on canvas – Completed 6-12-11
©2011, Don Michael, Jr.
Once again this new addition to the Eye Candy series was created entirely with my trusty palette knife. I love pushing myself with this tool and am enjoying the opportunity to continue practicing with it. I was excited to see that my online friend, Dean, completed his first painting rendered entirely with his palette knife. He's been threatening to do it for a while now and the right opportunity finally arrived. You can check it out here. Great job, Dean!
Happy Creating!
I'm really excited with what's been happening with my OTUS series lately. This is the one I just finished…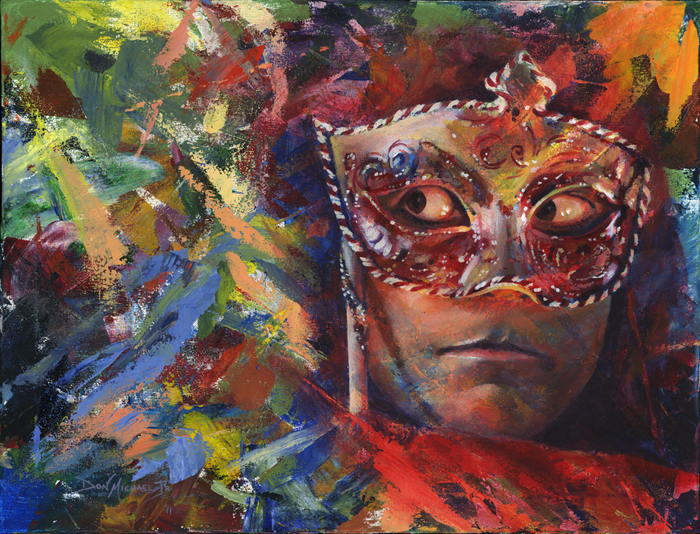 Alone In A Crowd – 18″x24″ – Acrylic on canvas – Completed 6-11-11
©2011, Don Michael, Jr.
I hope you don't mind that I decided to let the painting speak for itself this time. I didn't want my words to get in the way of its impact.
–
As for the Under-Schmeerings background, it was created during the process of painting Reverie, Shine On, Illume, and the masks Lenny and Nelli. So far this is the OTUS painting with the largest number of 'parents' in its lineage. Below is the before/after…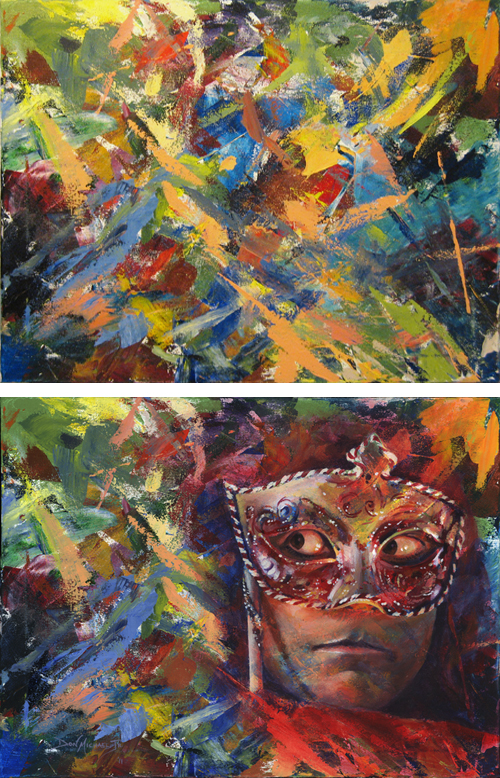 ©2011, Don Michael, Jr.
I think it's time to go indulge my sweet tooth. I expect there will be a new addition to the Eye Candy series in the next day-or-so.
Happy Creating!
I mentioned in my previous post that my friend, CJ Boisvert, and I have a few collaborative efforts in the works. Well, this time it does not involve a finished painting, but instead involves a video of finished paintings. Allow me to elaborate…
This past Friday morning CJ came with me as I reworked my wall of paintings at the Arts Factory for the First Friday festivities. She set up her trusty camera to create a time-lapse of me at work. A lot of editing and a little music later CJ had compacted my 2 hours of hard physical labor into 48 seconds of fun. Click on the photo below and you'll see what I mean. I hope you enjoy…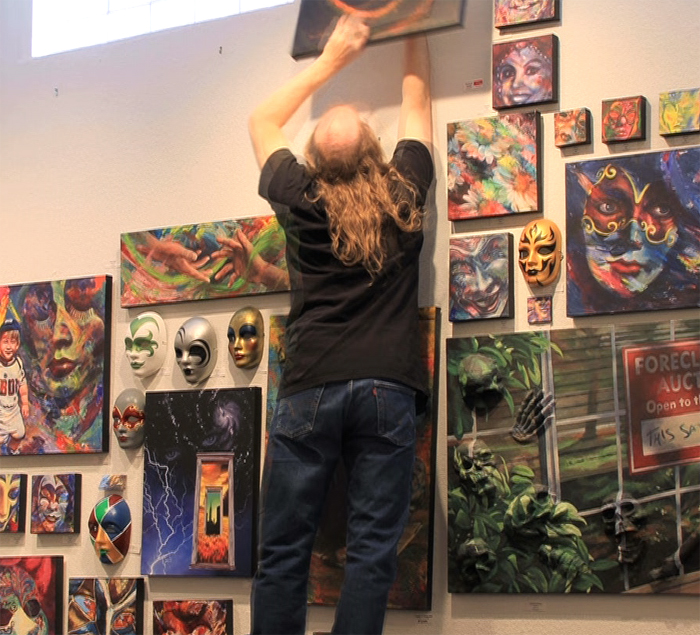 Hanging the Show – Arts Factory – 6-3-11
OK, fun time is over. It's time to get back to the easel…
Oh, wait, that's fun, too!
Happy Creating!
My good friend, CJ Boisvert, has a fairly new camera that she has been 'dialing in' and was looking for something to practice on. I mentioned to her that I would love to have some action shots to work from – basically anything with people working or playing or exercising. A few days later she shows up to our weekly lunch with her laptop and proceeded to show me several photos she had shot the previous weekend. I could not have been more ecstatic! The photos she took were far and above anything I had imagined or expected. In fact, some of those shots immediately had me planning future paintings. Thankfully, CJ was generous enough to share several of those photos with me to work from.
Below is the first piece to come from this collaborative effort…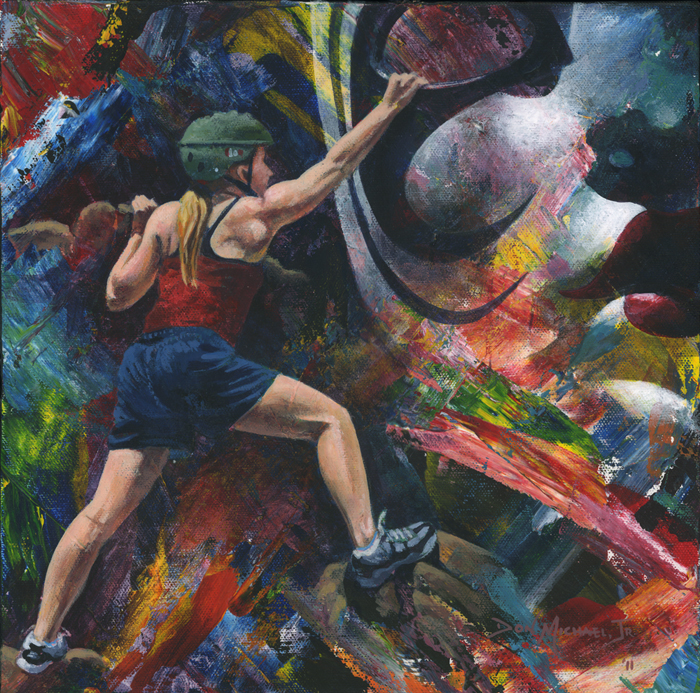 Self-Control – 12″x12″ – Acrylic on canvas – Completed 6-6-11
©2011, Don Michael, Jr.
It's wonderful to have a great photographer as a good friend. Thank you, CJ!!!!!
This painting is a part of my Over the Under-Schmeerings (OTUS) series. The background schmeerings were created while I was painting Repertory, the small heart I painted for the St. Jude charity. Below you can see the before/after…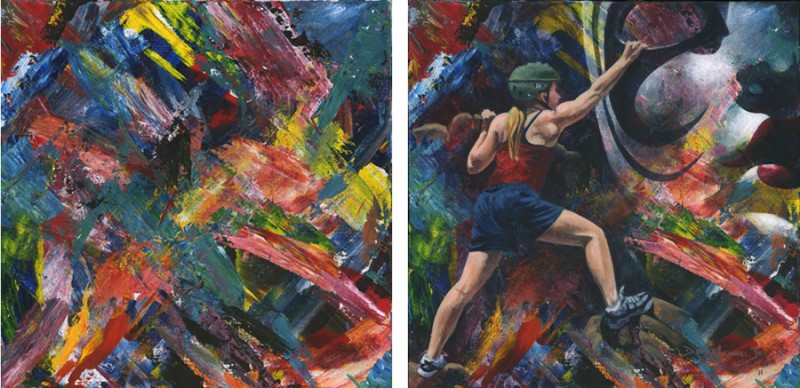 ©2011, Don Michael, Jr.
There are several more collaborative pieces in the works. Some will be similar to Self-Control, but others will be Oh-So-Different. I look forward to sharing them soon.
Oh boy, this thing we do is fun!!!
Happy Creating!
Next Page >>