Whirlwind Weekend
June 27th, 2011
The family and I started this weekend with a BANG, and it never let up from there. On Friday night, my sons and I took their Mom to see her favorite rock band of all time – RUSH. I must say that Laura's enthusiasm for this band has rubbed off on all three of us guys and we are prone to concur with her assessment of them being the best rock band, EVER. This marks the 8th time I've seen RUSH with Laura, and the 3rd with our boys. After 37 years of touring together, you wouldn't blame RUSH if they took it a little easy when they hit the stage. But, alas, they are not ones to rest on their laurels. These 3 men are still some of the best musicians in Rock-n-Roll and can still put on a show that will blow your mind.
Here we are on our way out to the car. I inserted a little press photo of RUSH for your viewing pleasure…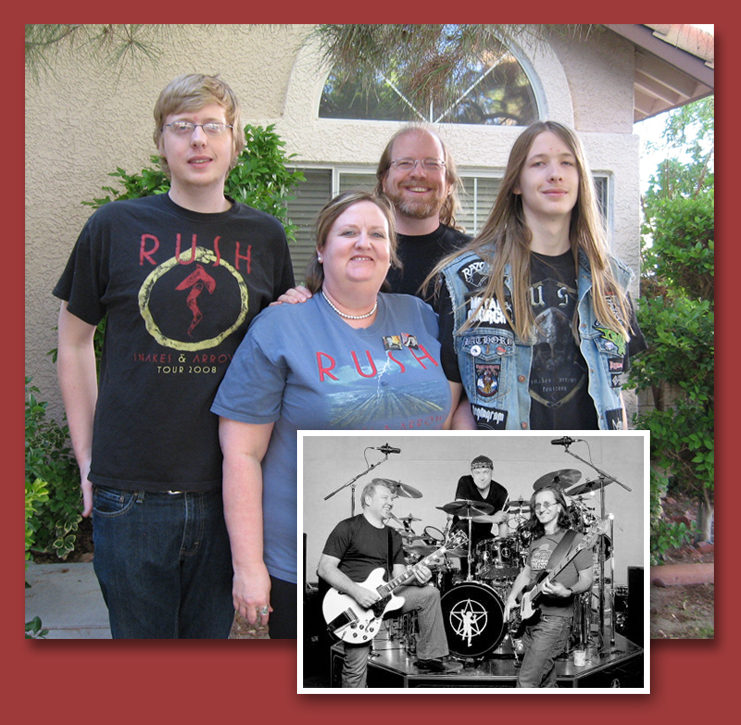 Laura and her 6 Favorite Men
Saturday I was a little slow getting around. I think it had something to do with jumping up and down for almost 3 straight hours the night before, but I can't be sure. Anyway, I got myself together enough to head over to the new Michael's store to teach my first Acrylic Workshop there from 1-3pm. We had a great class with 4 new students and one who has been to a few of my other workshops. Everyone did a wonderful job and left with finished works of art. Regrettably, my camera was still sitting on my desk at home, so I have no visual proof of this, so you're just going to have to trust me this time.
Sunday morning I remembered to take my camera to the demo I was doing at the Grand Opening of this same Michael's. However, it sat right in the tub with my supplies and didn't do me a dang bit of good since I forgot to put it to use. For this demo I was placed in the classroom with all the other Workshop instructors doing their demos. Although we all had a great time visiting together, most of the customers didn't make it in to see us. I think they were either a) a little intimidated to walk into a busy classroom, or b) too worried about putting all their great coupons to use. Maybe it was both…
Sunday evening I took my lovely daughter to the Circus Couture event to which I had donated one of my paintings. I had told her ahead of time that I would need her to remind me to grab the camera. Thankfully, she did not let me down. In fact, she even took the first photo of the night…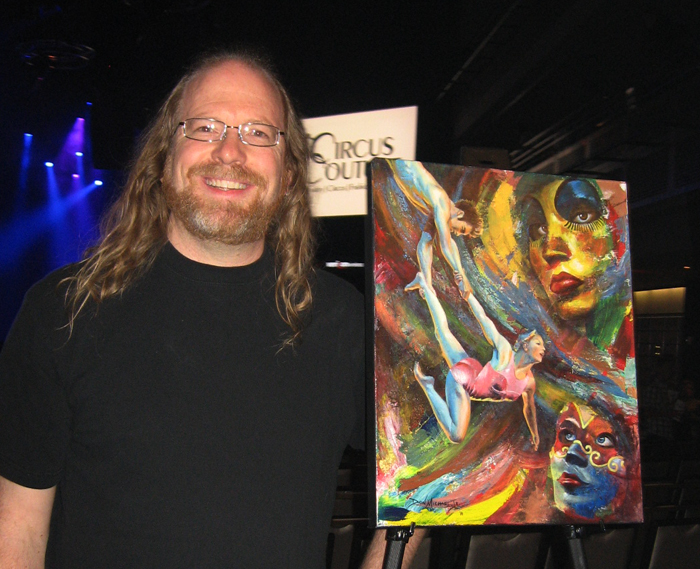 Don with his donated painting Dare to Believe
… and then co-starred in the second photo of the night.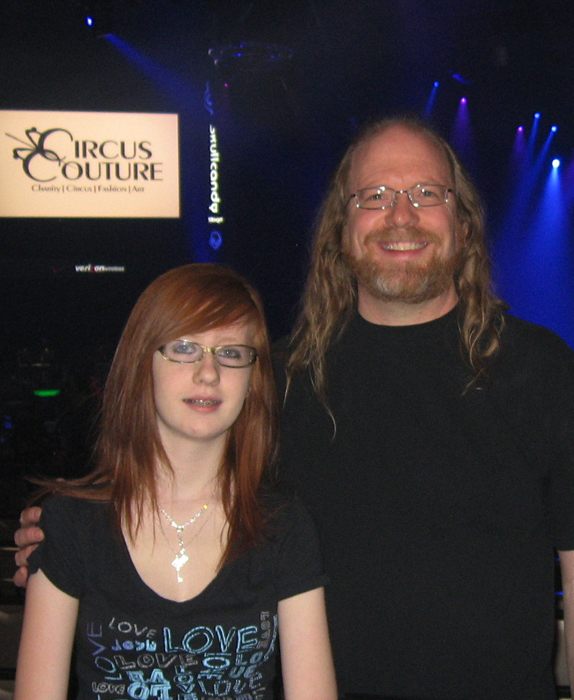 Christina and Don at Circus Couture
You can see the lights and large monitor on the stage behind us. Upon that stage there was a live auction of 6 works of art, with mine included. If my math was correct, those 6 works generated nearly $4,000. That's money that will go directly to help sponsor children receiving treatment for cancer in our local hospitals, as will all of the proceeds from this wonderful event.
Also, upon that stage, several performers wowed us with amazing feats of strength and agility mixed with outstanding fashion. My shots of the event are mostly fuzzy, but here is one of the whole group on stage making their final bow.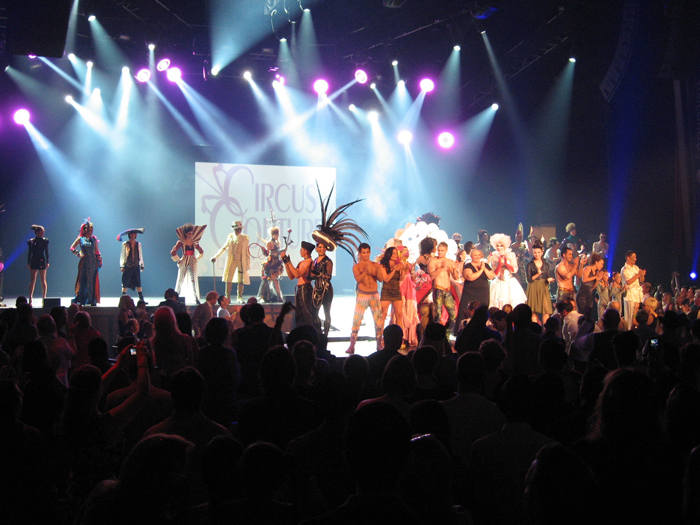 Circus Couture Performers
I wanted to include a couple of the less-fuzzy shots of the performers in action and asked Christina which were her favorite acts. She chose these two.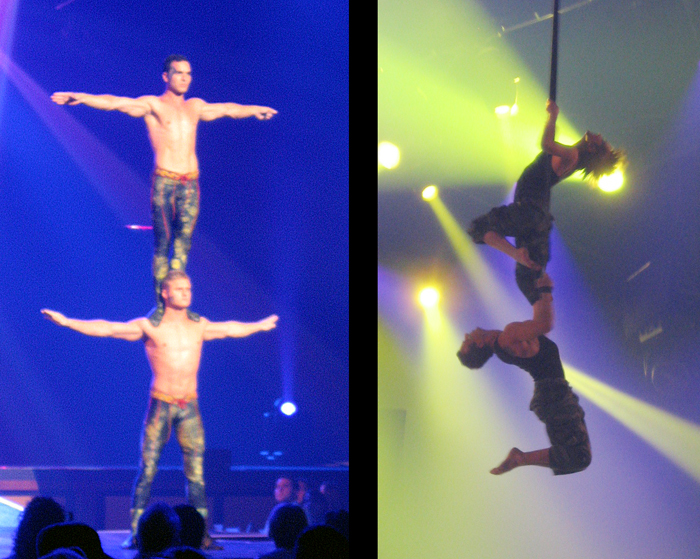 Circus Couture Performers in Action
To paraphrase our conversation, Christina told me she was amazed at the strength of the two men and awed by the grace and beauty of the aerial couple. I am in total agreement with her assessment.
Another cool thing about the Circus Couture event is the fact that there are so many of the performers in attendance from the different acrobatic, aerobatic and aqua-batic shows around town. I struck up a conversation with a couple of lovely ladies who were sitting by Christina and me and found out that they were performers for the show Le Reve. As we were talking I also found out that these ladies had represented the Netherlands in the past two Olympics as a duet team in synchronized swimming. Only in Vegas…
Thankfully, Monday will be a day for Don. I plan to sleep in, followed by a return to the studio. It's time to get some work/play done for me…
Happy Creating!
11 Comments for 'Whirlwind Weekend'
Robin Samiljan Said:

Don, what a wild, exciting, non stop weekend. It's wonderful to see photos but you are such an entertaining writer that you create the visuals with words. Best line – "only in Vegas"! Hope you were able to catch up on rest before studio time.

hallie Said:

After a weekend like that, I'd need at least a week of rest.

Dan Kent Said:

So much in one post, and in one weekend! Firstly, Rush is indisputably great. You obviously have a wonderful family that you are so proud of – that is evident. Christina seems level-headed and perceptive. And of course you were perceptive enough to notice the La Reve gals! "Dare to Believe" is perfect for this troupe, and it's a wonderful thing that your art is being utilized for such a wonderful cause. There. That's my comment. I'm exhausted.

Don Michael, Jr. Said:

Robin… It definitely felt "non-stop". After sleeping in today it still took a little while to get any momentum going in the studio, but I finally got going. As for my writing, thank you so much for the kind words. I'm really glad you enjoyed them.

Hallie… I hope to be back to 100% by tomorrow, but I was sure feeling it today.

Dan… You're right, I am SO proud of my family and your description of Christina is right on. It was funny how I first noticed the Le Reve girls. One of them stumbled and spilt her drink into her seat before she could sit down. After we all had a good laugh together and made sure she was alright we made our introductions. As for "Dare to Believe", I created it with the Circus Couture performers in mind. They all seemed to really enjoy it, and I'm really proud that it made some nice money for the cause. Thanks for your exhaustive comment… 🙂

-Don

Suzanne Berry Said:

don, you are a lucky man! what a wonderful family and what a rockin wife you have!!! we concur…rush is among the very best. we saw a documentary on them this past week and i got totally hijacked! who knew? tim was very happy! and the circus with your daughter looks like so much fun. enjoying your children is such a gift to both parent and offspring! and Dare to Believe is amazing, your generosity and kindness are equal to your talent. well done on all fronts most especially your wonderful family!

sandy byers Said:

Don, it's so fun to "meet" your family. You share so much. Thank you for that. I thoroughly enjoyed this post!

PAMO Said:

Ah Don! I loved this post! Your family is incredible. You guys just fill my heart with JOY!
It sounds like your teaching at Micheal's is going well and I really wish I could take one of your classes.
I'm so glad your glorious art work is helping such a worthy cause. WOW!
Thank you so much for sharing Don. I loved every moment of it.

-Don Said:

Suz… That documentary, "Beyond the Lighted Stage" is one of the best rock documentaries ever. The footage of them as boys was too cool. Thanks for the great comment! I definitely love my family.

Sandy… It's a pleasure sharing my family. I'm glad you enjoyed it.

PAMO… Thank you. They fill my heart with joy, as well. The class went well, and I wish I could get you into one of them. We'd have a blast. This thing I do is fun, and sharing is a big part of it. I'm glad you enjoyed…

-Don

Elizabeth Seaver Said:

You live kind of a rock star life, there in Vegas, Don. What a cool event to go to and to get to help other people with your art is just gravy. I love your circus performer piece, too.

How cool to be doing some teaching. Those are some lucky students!

Thanks for visiting my blog, Don. I appreciate your comments.

Don Michael, Jr. Said:

Elizabeth… Viva Las Vegas, Baby! 🙂 It WAS a cool event and I'm glad I could be a small part of its success. Thank you!

-Don

Celeste Said:

Beautiful family!!! (Your finest creation!) Wonderful post…you live a very exciting life and your art is like a mirror of all the glamour!