My Eye Candy series has been one of the funnest distractions I've ever allowed into my studio. I have so many other projects that could use my attention, but they continue to find themselves having to wait patiently for me. Even though I've not gotten a lot of 'big' or 'important' pieces done of late, I find myself not caring. This sweet little respite has been 'just what the doctor ordered'.
Last night as I was finishing this latest addition to the series I knew that I was going to title it after some candy with assorted flavors. (How could I not?) The challenge then became deciding which one since there are so many to choose from. Being a fan of irony and abstraction, I like that the title I chose seems diametrically opposed to the 'mood' of the painting. It's all part of the fun…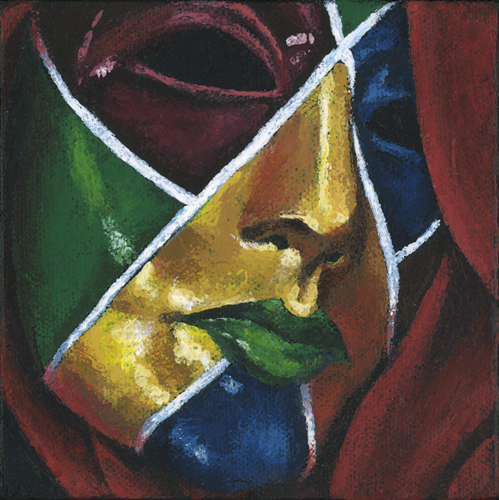 Jolly Rancher – 5″x5″ – Acrylic on canvas – Completed 7-28-11
©2011, Don Michael, Jr.
Tomorrow I'll be teaching my next Acrylic Painting Workshop at Michael's. If you live in the North Las Vegas area I invite you to come by and have some fun with paint.
Happy Creating!
When I finished this latest addition to my Eye Candy series I didn't have a name in mind yet. As I read down my list of possible titles the name Caramello jumped out at me. Even though nothing about this painting reminded me of the candy bar, the 'mello' part of its name is what struck home for me, so I went with it…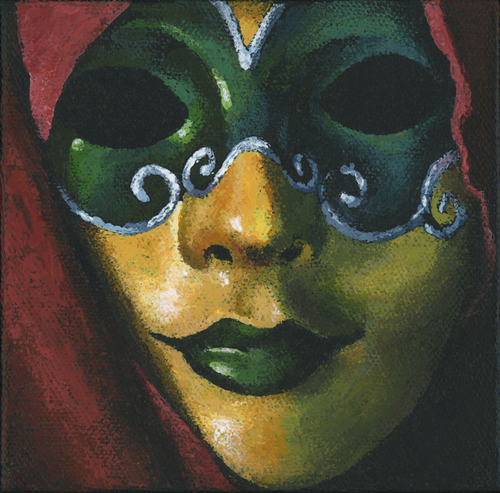 Caramello – 5″x5″ – Acrylic on canvas – Completed 7-25-11
©2011, Don Michael, Jr.
Caramello has long been one of my favorite chocolate bars. Today, I discovered that this delectable treat was originally invented in Canada and is still sold there by its original name Cadbury Caramilk. Thankfully, Cadbury was generous enough to license a similar bar to The Hershey Company who repackaged it as Cadbury Caramello. MMMmmmm…. Tasty!
Happy Creating!
Yesterday I showed up for my demo at Michael's only to find that I had left my trusty palette knife behind in my studio. After a suffering a few moments of panic I decided it was time to add a new palette knife to my collection of tools. I figured I was in the right place to do it, so, I broke down and bought me one (using my employee discount, of course). With that new blade in hand I began slathering paint on what would eventually become the latest addition to my Eye Candy series.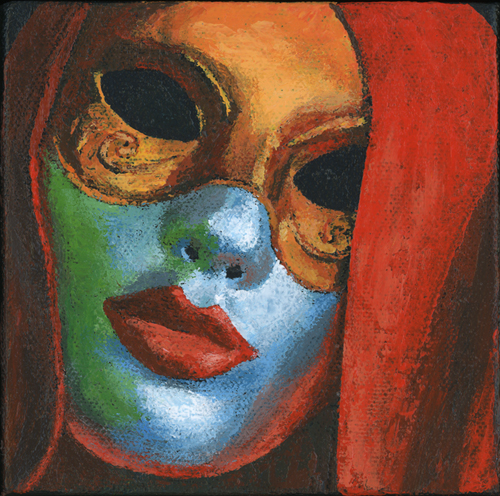 Gummi Bear – 5″x5″ – Acrylic on canvas – Completed 7-19-11
©2011, Don Michael, Jr.
Ever since I created my first palette knife painting almost three years ago I have only used ONE blade – my trusty and (using my friend PAMO's word) "magical" palette knife. As I'm sure you can imagine, I have grown quite comfortable with that blade. It's practically become an extension of my hand.
When I started painting with the new palette knife at my demo yesterday I immediately realized that I was in for a challenging time. First, the bow/arch of the blade is quite different, which totally changes how the paint addresses the canvas from the blade. Secondly, the tip of the blade is much rounder than my older knife's. And, finally, the new blade is almost an inch longer, which makes it quite 'springier' than what I'm used to dealing with. It took almost 30 minutes of experimenting and adjusting before I was finally able to start feeling at least a little comfortable with this new tool. What really added to the 'fun factor' of this challenge was that I was having to figure all of this out in a public forum.
Thankfully, no one that came to see my demo seemed any the wiser to my dilemma. I had several great conversations about both my upcoming acrylic workshops and my palette knife paintings. I must admit, though, that when I got home I could not wait to get ahold of my trusty 'magical' palette knife to apply the finishing touches. Once that little handle was firmly planted in the palm of my hand I knew that, once again, all was right with the world.
I will finish today by adding that Gummi Bear candies cannot be listed among my favored confectionary treats. However, they HAVE been a favorite at one time or another to each of my children over the years. In fact, when I told my daughter that I was naming this painting Gummi Bear, she admonished me for making her mouth water for some real Gummi Bears. She even had the audacity to tell me that she needed me to take her to the store so she could satisfy her craving for these chewy treats. This was no surprise to me since she IS my little candy-crazed kid. However, being a really hard-nosed ogre, I refused to oblige her demands… for now…
Happy Creating!
This week I gave two demos at Michael's to promote my Acrylic Workshop coming up this Saturday. For Tuesday's demo I painted the landscape which will be the class project for Saturday. On Thursday I wanted to change things up, so I demoed using only my palette knife. (It's a lot of fun to watch people's reactions when they realize I'm painting something recognizable without using a brush. This almost always leads to some great conversations.) I count both demos a success in that I may have at least one new student for this weekend, with four more people showing a distinct interest in later classes. We'll see how it goes…
Below is the sticky sweet confection which arose from the palette knife demo: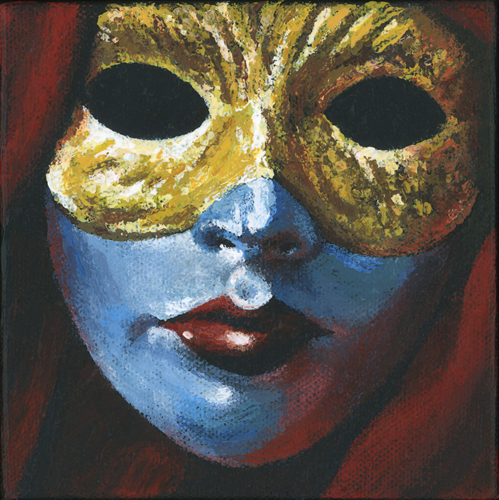 Pixy Stix – 5″x5″ – Acrylic on canvas – Completed 7-14-11
©2011, Don Michael, Jr.
This Eye Candy series sure is a lot of fun. Pixy Stix is already the fourteenth installation in the series and I feel I've just scratched the surface of the possibilities. It's cool how such a simple idea can become such a consuming passion.
The large project that I have alluded to over the past few weeks continues to be a work in progress. I took a couple weeks off from it as other issues arose, but it's time for me to get back to it. Tonight, my focus will be entirely on this bewitching piece, which I'm sure will delight at least one person out there in blogland… (You know who you are. :-))
Happy Creating!
Wikipedia defines Blue Raspberry as a flavor that "differs from the more common "Red Raspberry" flavor by being more intense, and having a more distinct sourness." After the week we've had around here all I can say is "how relative!".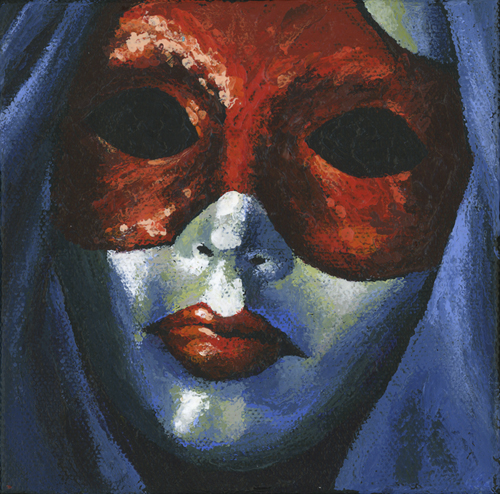 Blue Raspberry – 5″x5″ – Acrylic on canvas – Completed 7-13-11
©2011, Don Michael, Jr.
This latest addition to my Eye Candy series was a therapeutic piece for me. I regret that I'm not up to sharing any details at this time, but suffice it to say that some weeks differ from others "by being more intense, and having a more distinct sourness." Being a man of faith, I know that "this too shall pass", and I will soon be able to share a joyful testimony. Until that day, I will continue to do this thing I love.
Happy Creating!
Yesterday I had a demo scheduled at Michael's to promote my Acrylic Workshop for this upcoming Saturday. I usually paint one of my lesson plans at these demos, but this time I decided to demonstrate the art of painting with only a palette knife instead. Even though I don't teach this in my Michael's workshops, I thought it would be fun to share. (I had never painted using only a palette knife in public before and I always enjoy a new challenge.) Thankfully, the demo ended up being a lot of fun and what I was doing generated some intrigued looks and some great conversations. I may have even recruited a new student.
All-in-all, I'd call the demo a success, especially since at the end of the 3 hours I was almost finished with the next installment in my Eye Candy series. It only took a little fine-tuning after I got home to call it done. Here's what I came up with…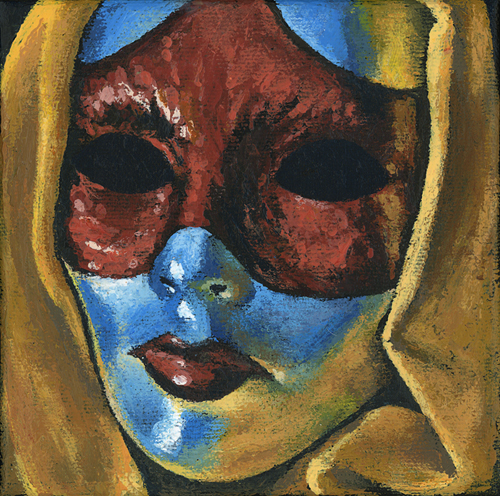 Bit-O-Honey – 5″x5″ – Acrylic on canvas – Completed 7-5-11
©2011, Don Michael, Jr.
Bit-O-Honey is a confectionary treat that has been tantalizing and delighting taste buds since the mid-1920's. I know I've eaten my share of them over the years. Uh, oh, as I sit here writing about them my mouth is starting to water. Honey-flavored chews sprinkled with almonds… Mmmmm, mmmmm… How can you go wrong?
As for MY Bit-O-Honey, this painting brings the series to an even dozen. Since my list of possible candy names continues to grow almost daily there could be many more dozen coming. One never knows… (at least I don't.)
Now, for those living near enough to commute, my aforementioned Acrylic Workshop will be this Saturday, July 9th, from 2-4pm at the new Michael's on North Fifth near The 215 in North Las Vegas. You'll be amazed at the work of art you will be able to create in just two hours. Your friends and family will be in awe of your artistic prowess. Don't believe me? Come on out and let me prove it… It's only $25, plus materials. If nothing else, it will keep you out of the desert heat for a couple hours and you'll have some fun, to boot…
OK, enough with the self-promotion. I think I'll go play in my studio for a while…
Happy Creating!
I have never been a fan of any candy that is labeled as either 'green apple' or 'sour apple'. In fact, the only time I've ever enjoyed any candy with the word 'apple' in its name was when I tried a Caramel Apple Pop back in the early '90's. Somehow the caramel flavoring mellowed the apple flavoring enough to allow me to actually enjoy it. I've probably only eaten four or five of them since then, but I can no longer state emphatically that I don't like apple flavored candy.
With that in mind, I ask you to please welcome my latest addition to the Eye Candy series…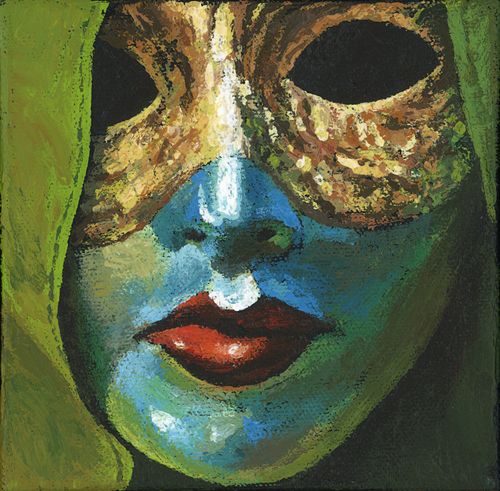 Caramel Apple Pop – 5″x5″ – Acrylic on canvas – Completed 7-5-11
©2011, Don Michael, Jr.
This is the first painting I have completed (except demos, which I don't count) in almost two weeks. I could list off a big line of excuses like: my family's on vacation from school, or it's really hot right now, or I've been really busy with demos, workshops, exhibits and other stuff (which are all true); but the real reason is I've allowed a larger project to distract me and even intimidate me a bit. So, this weekend I decided to quit being such a big baby and start painting. Now I can proudly say that the big project is once again on track, I painted today's Caramel Apple Pop, I did another painting demo at Michael's today, and I'm almost finished with another painting. Oh yeah, and Laffy Taffy has found a new home!
OK, that big project won't paint itself, so I'm heading back over to the easel now… Wish me luck.
Happy Creating!