I'm in a computer hating mood right about now. For the second time in just over a year the hard drive in my Mac has died. So, I've snuck into my son's room and logged onto his computer to let all my blogging friends know that I'm not avoiding you, I'm just totally incommunicado right now do to circumstances beyond my control.
Since it's impossible to access any of my files, I think I'll share a painting I did over 2 decades ago of a humpback calf with a title that is quite relevant on several levels for me right now…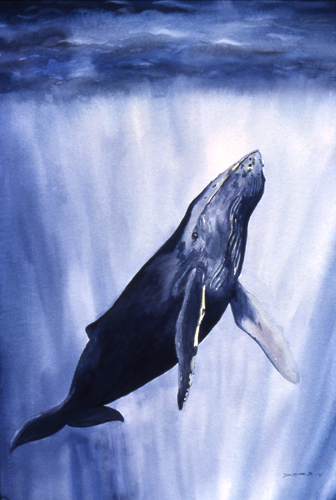 What Will the Future Bring – 29″x22″ – Watercolor on hot press paper
As for what's going on in my studio, I'll have a few images to share once my Mac is running again and I can scan them. So far, I've finished two more Eye Candy: Skittles pieces and I'm about 80% finished with a large Over the Under-Schmeerings piece. I'm also about to start painting on a large 3D piece that has been sitting patiently awaiting my attention for months.
Tomorrow I'll be teaching an acrylic workshop at Michael's from 2-4pm. If you're in the Las Vegas area, feel free to stop by and have some painting fun with me and the rest of the class.
That's it for now. I have no idea how long it will be before I can log back on, but know that I'll be thinking of you all.
Happy Creating!
Last night I finished another Eye Candy palette knife painting. I had a couple candy names in mind that I thought might fit it, but first I wanted to get a little input from my kids. Christina told me it made her think of "something Christmassy". Eric told me that the words that came to his mind were "cool and refreshing". Both of their comments corroborated for me which name I was going to use…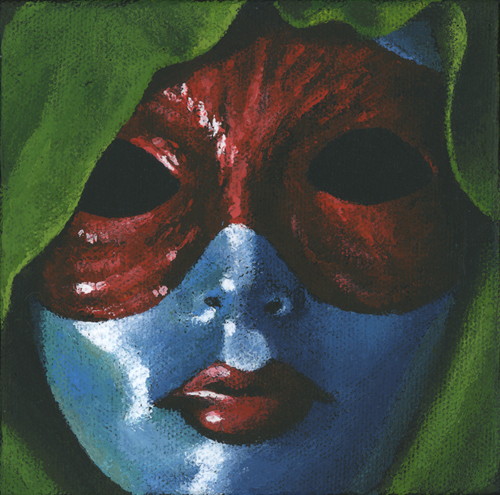 Andes Mint – 5″x5″ – Acrylic on canvas – Completed 8-18-11
©2011, Don Michael, Jr.
Tonight I finished the larger project that I teased in my last post. Whew! It only took me about two-and-a-half months from start to finish…
Tomorrow I start on a large OTUS painting. This one has a short turn-around since it will be in a major exhibition that will run most of the month of September. I'll share more on this as soon as I can, which obviously isn't too far in the future. Nothing like a little pressure to get the old blood pumping!
Happy Creating!
Some of my regular readers may recall that I've alluded to a large project that I've been working on for the past several weeks. It's a hot little number that is coming along quite nicely. I hope to have the painting finished by the end of the week, but I won't be able to reveal it for quite a while after. So, for now, I leave you with a little tease…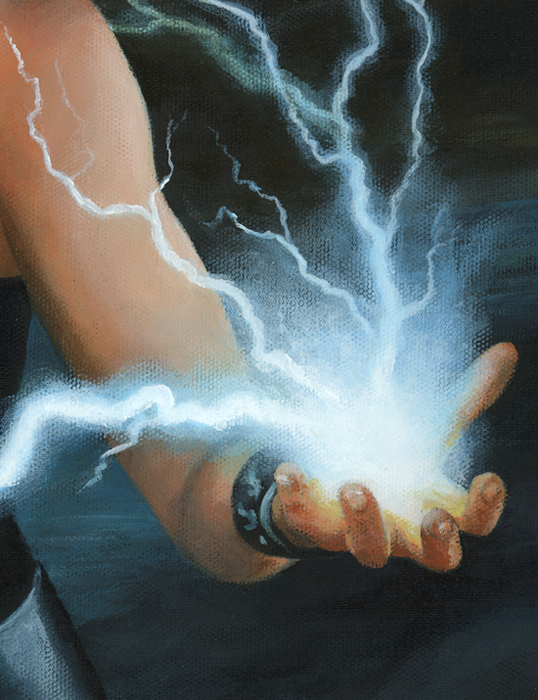 Detail of work in progress. ©2011, Don Michael, Jr.
While I'm wrapping up this project I'm preparing to start on an even larger one that has landed on my plate. It's a really exciting opportunity that I look forward to sharing about in the very near future. For now, I'll just say that it will be the largest Over the Under-Schmeerings painting I've done to date.
I know, I'm just a big tease, but that's all I can share for now…
Happy Creating!
I did a demo at Michael's today and decided to do another itty-bitty palette knife painting. It's amazing how quickly those 3 hour demos go when you're doing something you enjoy. I find that it's getting easier and easier with each demo to paint AND talk to the customers who stop by to see what I'm doing. Hopefully, a couple of the customers I spoke with today will be taking one of my upcoming workshops. After all, that's why I'm there. Anyway, here's the painting I did today…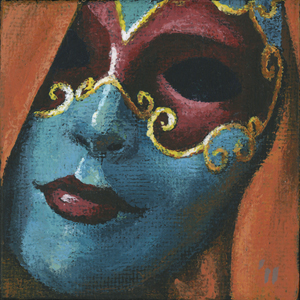 Orange Skittle – 3″x3″ – Acrylic on canvas – Completed 8-16-11
©2011, Don Michael, Jr.
I am 3/5's of the way through the Eye Candy: Skittles Series – that is if I only do the regular flavored ones. My kids told me that there are other "exotic" flavors out there, so I went looking. Sure enough, there are also Tropical, Wild Berry, Crazy Cores, Sour, Fizzl'd Fruits, and Blenders flavors – to name a few. We'll just have to see about all those other flavors. For now I'll stick to what I know.
Happy Creating!
I had never heard of Mint Julep candies until I started doing some research for my Eye Candy series. They are mint flavored taffee chews made by Necco, which sound mighty tasty. Since they have such a cool name, I put them on my list of possible titles…
Today I can scratch that name off my list.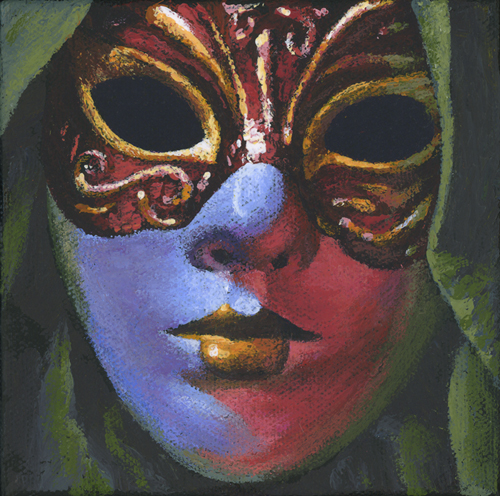 Mint Julep – 5″x5″ – Acrylic on canvas – Completed 8-14-11
©2011, Don Michael, Jr.
OK, I should really get some other work done. But these Eye Candy pieces are just too much fun…
Happy Creating!
My sub-series, Eye Candy: Skittles, has a new itty-bitty member…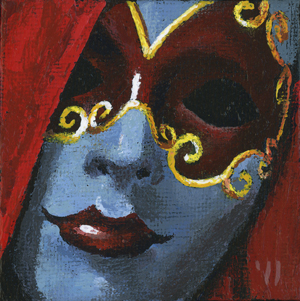 Strawberry Skittle – 3″x3″ – Acrylic on canvas – Completed 8-11-11
©2011, Don Michael, Jr.
Once again I used only a palette knife to create this painting.
Yes, it was fun.
Yes, my eyes are a little buggy now.
I think I'll go work on something a little larger now.
Happy Creating!
Many of my blogging friends may have noticed my absence during most of the month of July. Even though I continued checking out what everyone was up to in the art world, I was unable to socialize. I was still creating, but it was only work that allowed me to go to a 'happy' place during the creative process. I thank God that I had started on my Eye Candy series during the month of May, for I would not have known what to do with myself in July. I also thank God that I had demos and classes to teach at Michael's which gave me blocks of time for total distraction.
On July 7th our oldest son, Donald (23), was diagnosed with malignant melanoma. For the first time as a dad I was faced with a situation for which I felt completely helpless. My boy had the "C" word! That same little boy I had immortalized in a serigraphy edition 21 years before was suddenly having to face his own mortality.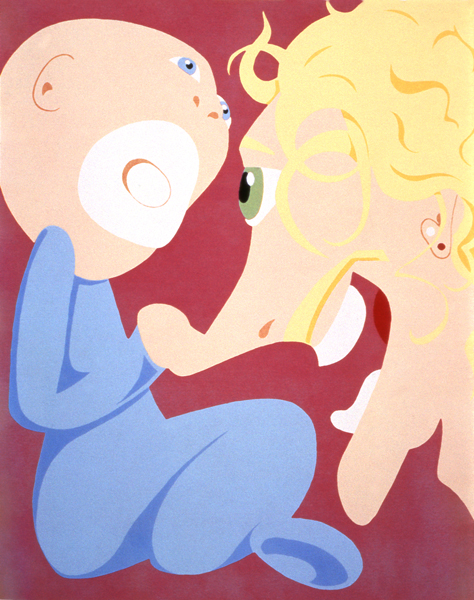 Daddy Bonding – 14″x12″ – Serigraphy edition on paper – Completed Jan. 1990
©1990, Don Michael, Jr.
After my wife and I had a good cry together we got busy. The first thing we did was pray. Then we asked others to pray with us. We believe those prayers started the healing process in our son. Those prayers also found us favor with the right resources. Even though our son has no insurance he found himself under the care of the perfect surgeon. With a little juggling of finances Donald was getting a PET Scan just 8 days after his diagnosis. Our prayers were once again answered in that the PET Scan results came back negative.
Even though the PET Scan results were negative, there was still the need for surgery to remove the area around the original biopsy area and the draining lymph node(s). With more creative juggling of finances, and my wife's diligent work on the phones, we were able to get Donald into surgery less than 3 weeks after his diagnosis.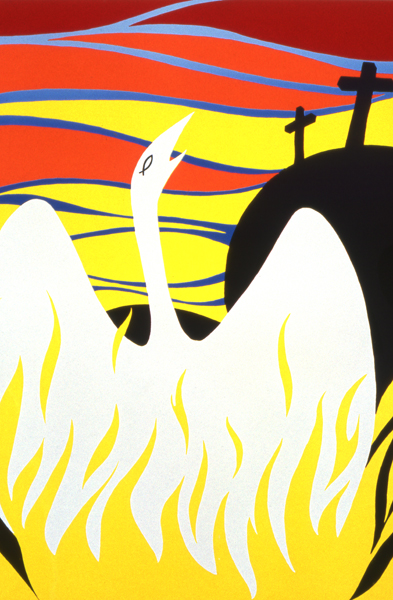 Resurrection – 16″x13″ – Serigraphy edition on paper – Completed Nov. 1992
©1992, Don Michael, Jr.
Today Donald went in to have his stitches removed and to get the lab results back from the surgery. We thank God that we can report that the melanoma is gone and the lymph nodes checked out clean!!! The relief that Donald, my wife, and I felt upon hearing this news was a palpable presence in the room. You could see the tension draining out of our bodies. I anticipate some deep sleeping going on tonight.
God is good!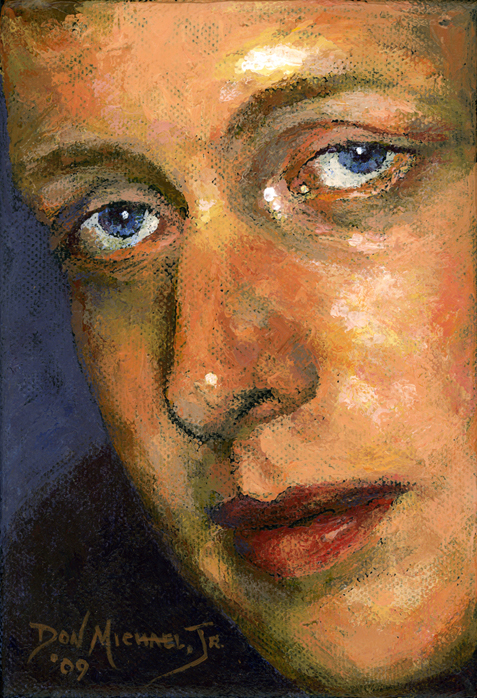 D3 – 7″x5″ – Acrylic on canvas – Completed Dec. 2009
Now I need to go blow my nose and then it's time to head back to the studio.
Happy Creating!
As I was finishing this latest addition to my Eye Candy Series the name Licorice Twist came to my mind – and stuck there. So, I went with it…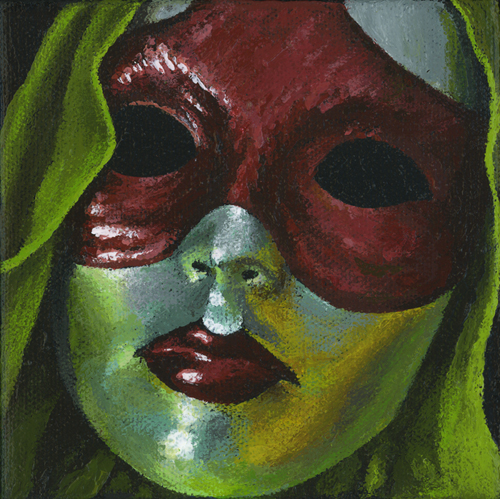 Licorice Twist – 5″x5″ – Acrylic on canvas – Completed 8-8-11
I did not use the color blue in this painting at all. I challenged myself to use only Phthalo Green (Yellow Shade), Diarylide Yellow, Burgundy (a Liquitex color blend of Burnt Umber and Napthol Red), and Titanium White. Any blue that your eye is tricking you into seeing is actually a blend of the green, red and white. After that, it's all about the juxtaposition of the 'blue' mix with the other colors. Fun stuff, huh?
Happy Creating!
This weekend started with the ever-enjoyable First Friday Arts Festival in downtown Las Vegas. Once again I was set up inside the Arts Factory with several of my paintings on display. We had a pretty good turnout, considering the heat, and it was a lot of fun to fellowship about art with so many enthusiasts and fellow artists.
I've always enjoyed watching people's reaction when they first take in my work, and this month was no exception. I had more than doubled my Eye Candy Series in the past month and I was a little nervous that hanging them all together in one grouping might be too overwhelming. Thankfully, my fears were allayed early in the evening as people seemed to be drawn to them as soon as they walked into the room, leading to some great conversations. Here's what they saw when they got close…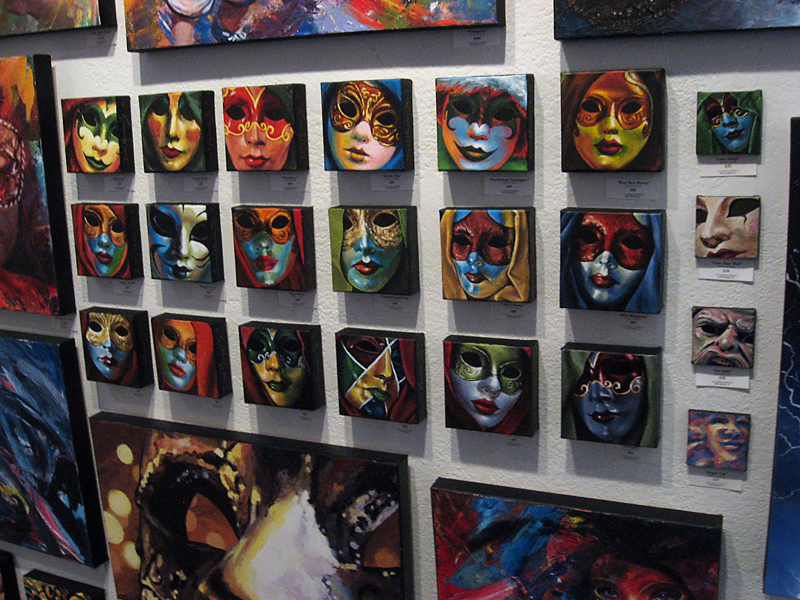 Eye Candy Series – 8-6-11
My artwork sure had some pretty stiff competition in the room wherein we resided. There was a lady promoting her beautiful feather creations with the use of a lovely young model. Here's what I had to tolerate for most of the night, but I suffered through… 😉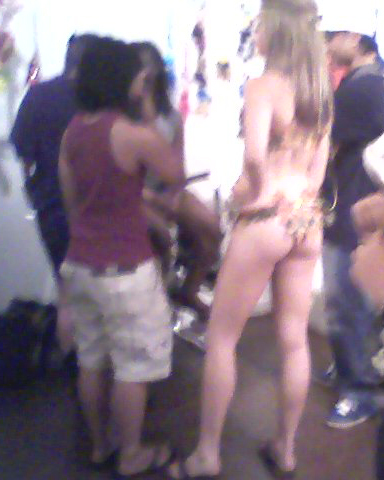 Only in Vegas
In spite of this traumatic experience I was still able to make it to the Acrylic Workshop I was scheduled to teach Saturday afternoon. I'm glad I did, because the three students that attended did EXCELLENT jobs with their paintings. (Hey! Maybe I'm starting to figure out this teaching thing!) Regrettably, I left my camera at home, so I'm sad to say that I didn't get shots of their wonderful work. It's funny, though, that I have the wherewithal to remember I have a camera in my cell phone when presented with a lovely hind end, but I forget I have it when I have some great artwork to show off. Oh well, live and learn…
Sunday afternoon will be spent in my studio. I'll see if I can keep distractions to a minimum and maybe I can get some work done…
Happy Creating!
Yesterday I alluded to a possible 'sub-series' in my ongoing Eye Candy Series of palette knife paintings. Today I took the idea from concept to fruition.
My daughter has been trying to get me to use the name Skittles for quite a while, but I had resisted since it never seemed to fit with any of my paintings. During one late night painting session earlier this week I suddenly knew what to do with the name Skittles. I would create a sub-series using my itty-bitty 3″x3″ canvasses and title them with each of the Skittles flavors. So, here is the first…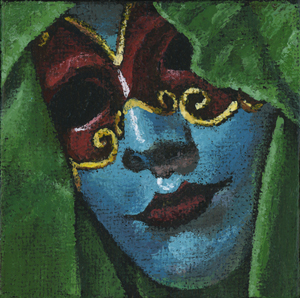 Lime Skittle – 3″x3″ – Acrylic on canvas – Completed 8-4-11
©2011, Don Michael, Jr.
Prior to Lime Skittle all of the Eye Candy paintings had been on 5″x5″ canvasses. I'd been wanting to try painting one of them on an itty-bitty canvas, but felt I needed a 'reason' before moving forward. Now I have it…
Yes, this entire painting was done with my trusty palette knife. Yes, I'm a glutton for punishment. Most importantly, yes, it was fun.
Happy Creating!
Next Page >>