For the third year in a row I created a mask to be auctioned off for charity which had been autographed by a celebrity. For the second year in a row the celebrity autograph was that of Jay Leno, host of The Tonight Show on NBC. (You can see last year's mask here.) On October 29th, the following mask, and many others, will be available for live auction at the Un-Masking the Mind Charity Auction. All proceeds will go towards books and supplies for Innovations International Charter School of Nevada.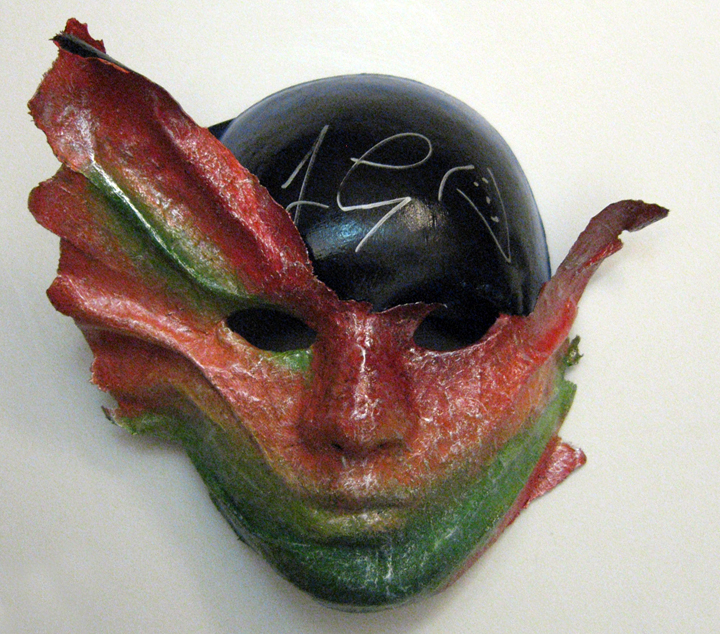 Autumn Spirit – Acrylic and Paper mache' – Completed 9-26-11
This year I decided that the mask did not need to have any direct relevance to Mr. Leno or his show.. I wanted it to have a more organic flow and to fit more within the style of painting that I've been up to lately. To get there, though, I had to work around Mr. Leno's autograph, which was done in silver Sharpie on a black gessoed paper mache' mask.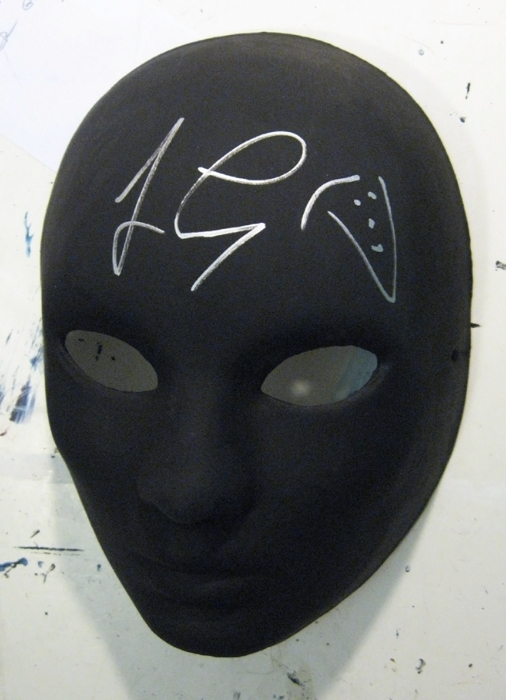 Mask with Jay Leno autograph
To protect the autographed mask I used a stand-in mask for all molding and experimenting. Below you can see the stand-in ready for some paper mache' fun…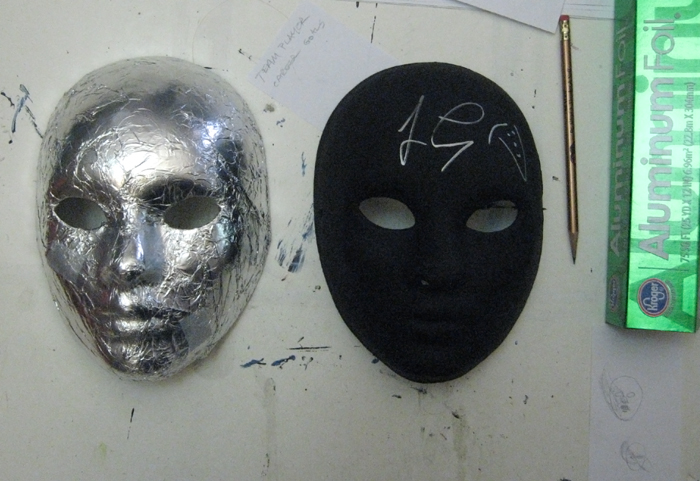 Foiled Again!
You can see below that this mask project was not the only one 'in the works' in my studio…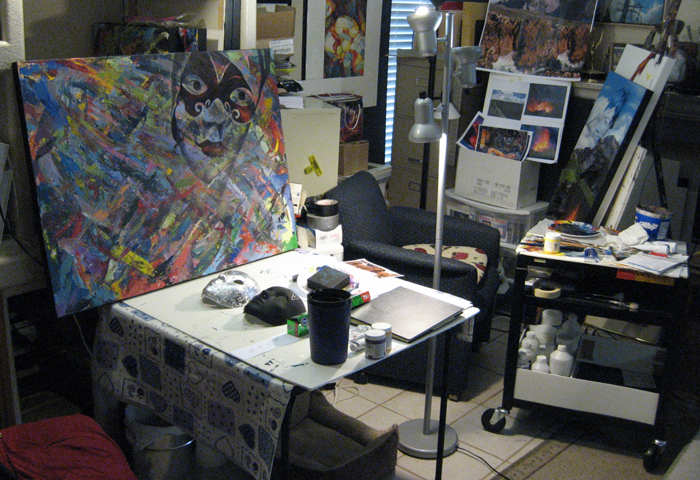 Organized Chaos
Once I finished agonizing over all the projects demanding my attention I decided to start gooping some paper mache' onto the stand-in. The red oval you see drawn on the foiled mask references the area of the autograph on the final mask.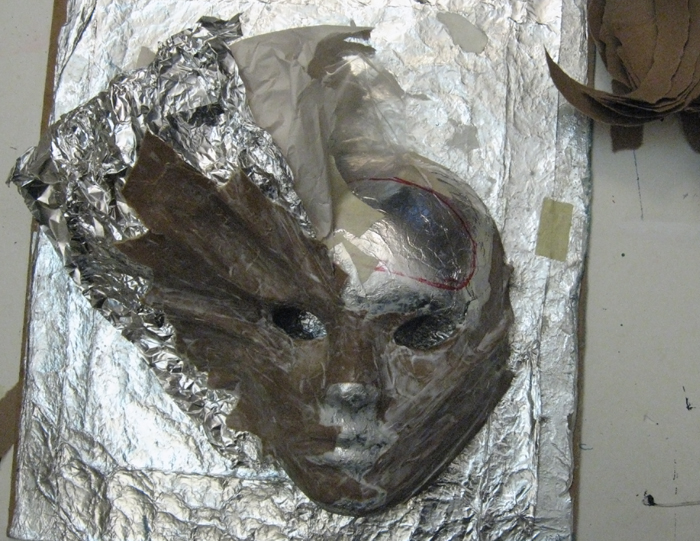 Do I have something on my face?
Once the paper mache' dried I removed all the foil and then placed it back on the stand-in to help it keep its form…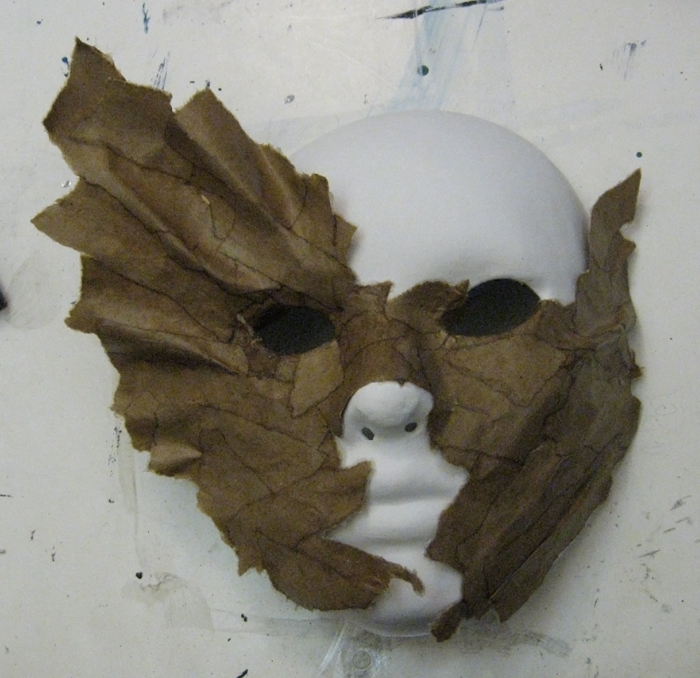 Winged Victory
…then I started doing color experiments on some other masks I had laying around.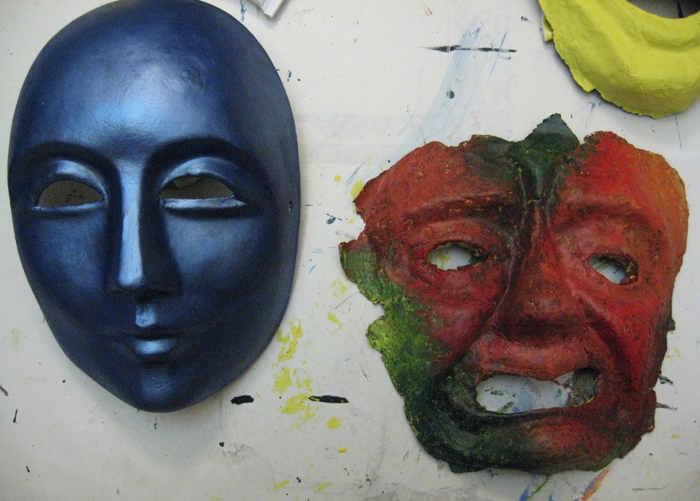 Cold and Hot
My color experiments helped me decide how I wanted to bring color into the black gessoed mask without affecting the autograph area. Here's what I came up with…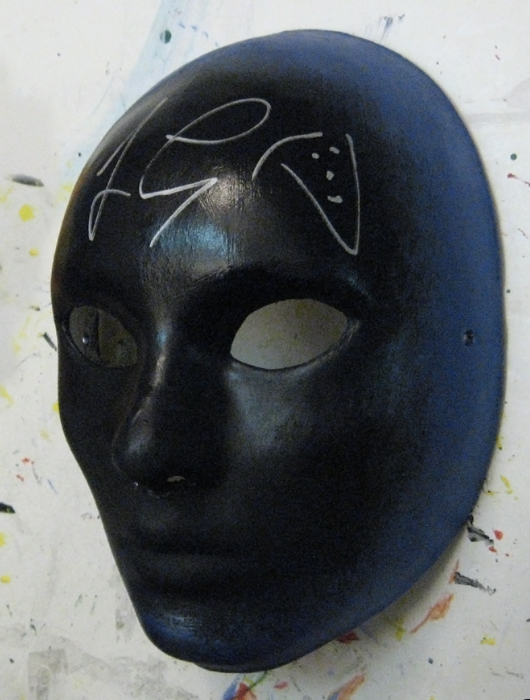 A Touch of Blue
…which was then ready for me to attach to the previously created 'wings'. This is always the most nerve-wracking of all the steps. Thankfully, I made it through relatively unscathed.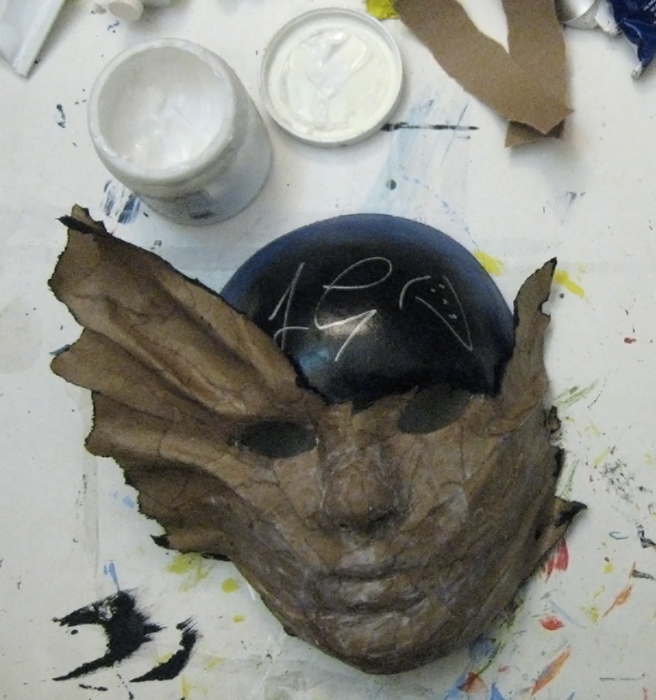 No Guts, No Glory
After the paper mache' dried, I painted black gesso over the raw areas, covered the finished areas with foil, and then started adding some color. Since I was going for a 'fall foliage' look, I chose to start off with green…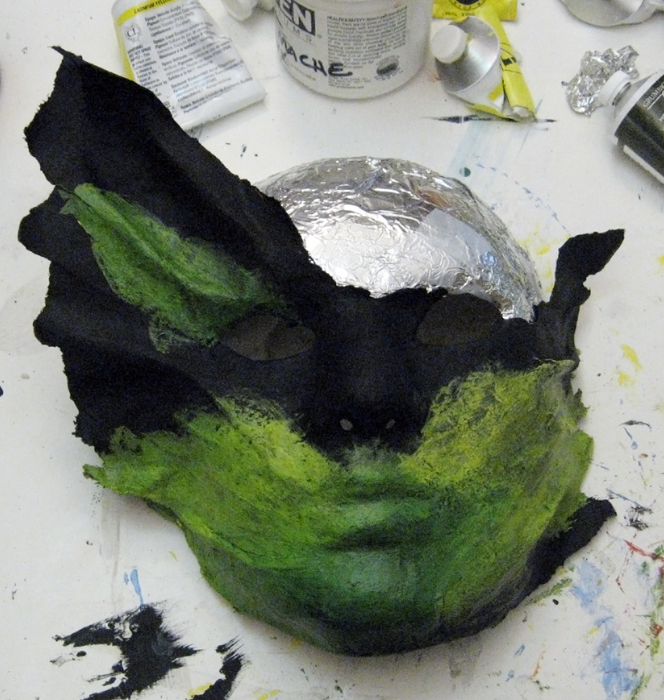 Untainted Chlorophyll
…which could then transition into the fall colors.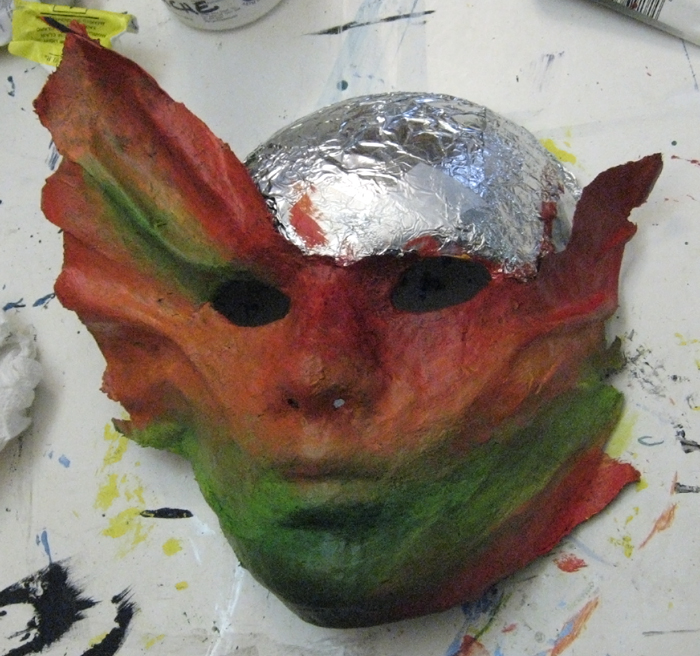 Autumn Splendor
As much as I liked the colors, they were still too flat…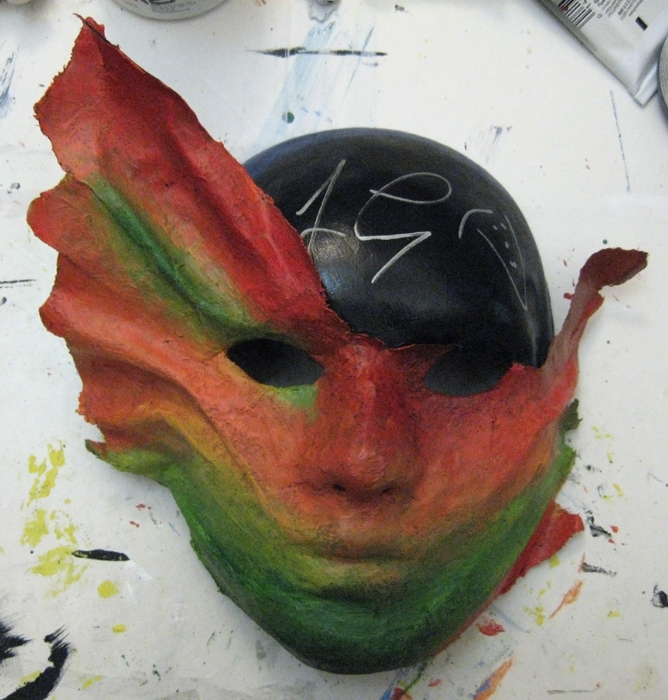 Nearly There
…so, a little iridescent paint was lightly whisked across the whole 'foliage' area.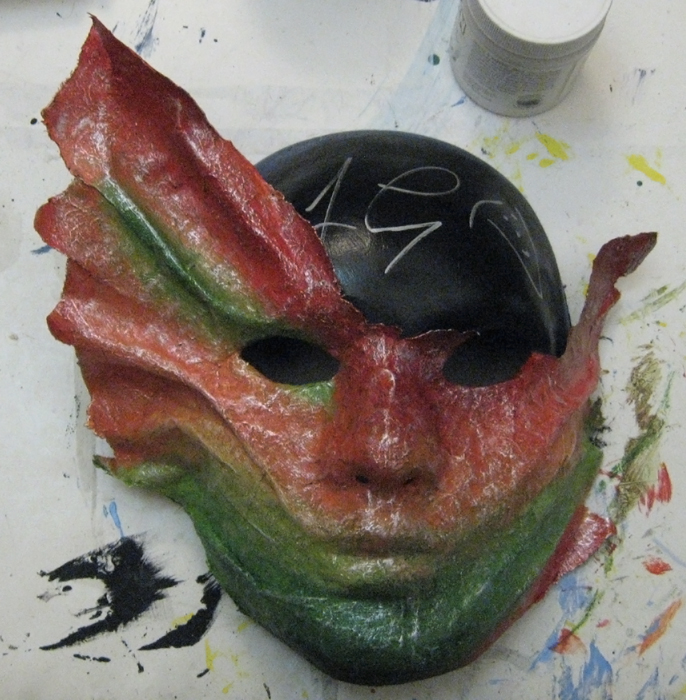 Done
All that was needed at this point was a protective coating of gloss finish, the attachment of the strings, and then delivery. Check, check, and check!
Now I can get back to work on some of those other projects.
Happy Creating!
Last night my wife, Laura, and I dressed up and headed downtown to the Marriott SpringHill Suites for the Black White and Night art reception put together by ThinkArt and Marriott International. One of the first things to greet us when we walked into the lobby was a grouping of portraits done by five local artists of Marriott Int'l CEO and Chairman, Mr. JW "Bill" Marriott, including one by yours truly…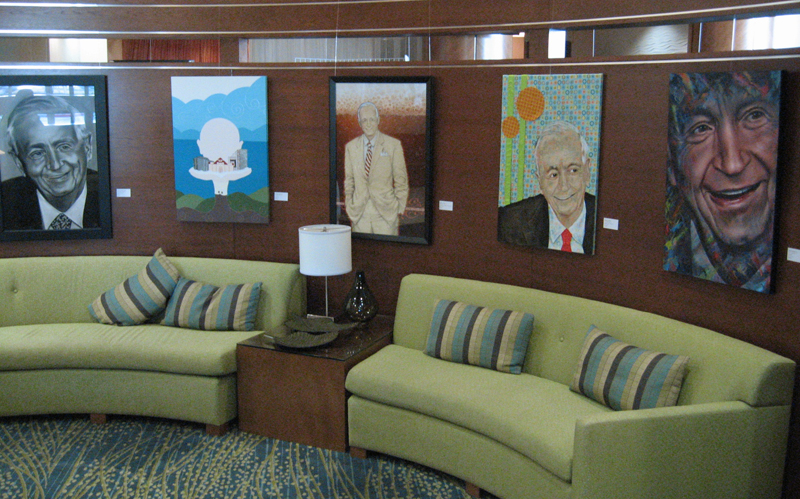 Five Portraits, Five Visions, Five Works of Art
It was really exciting to see all five of these portraits hanging together. Everyone commented on how diverse a sampling of work they were, and I agree.
Laura and I barely had time to get our drinks and hors d'oeuvres when I was grabbed to go do an interview about the portrait I created, which I titled Warm Regards. Thankfully, they let me swallow my food and rinse it down before turning on the camera. My good friend, CJ, was lurking nearby with her camera and she caught me between questions in a relaxed moment.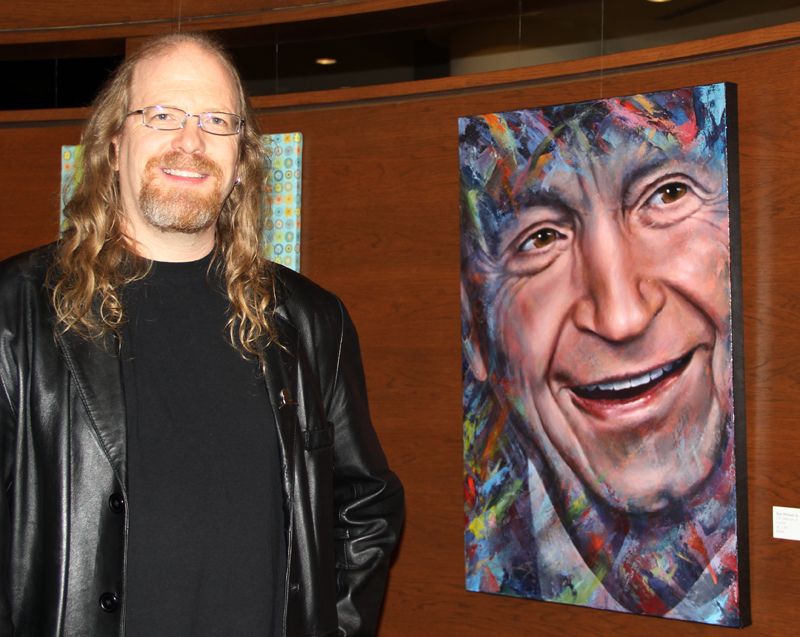 Don with Warm Regards
I met several people who worked for Marriott, both locally and corporately, and everyone was so nice. I can tell that working within their organization is something they all enjoy. Several of them who have worked directly with Mr. Marriott told me that I captured his eyes perfectly, that he is really as warm and engaging as I had represented him to be. One lady even told me that she could almost hear his laugh just looking at the painting. I actually got chills. A gentleman who had retired from Marriott pulled Laura aside to tell her that he had worked with Mr. Marriott for 41 years and that I had captured him perfectly. How cool is that! I don't know that I have ever had more meaningful and expressive compliments about a piece that I created and I actually feel a little bit humbled by it.
As if it couldn't get any better, I actually had an even greater compliment come later in the evening when I was told that the painting was being purchased by the local Marriott SpringHill Suites to be hung in their lobby. This was immediately followed by someone from corporate saying that they wanted to buy it for the the corporate offices in Washington, DC. Wow! I must admit that I was walking on a cloud.
Below, I was talking to the owner of the local Marriott SpringHill Suites, his General Manager, and one of the VP's from the corporate offices about the creation of the painting and my intent.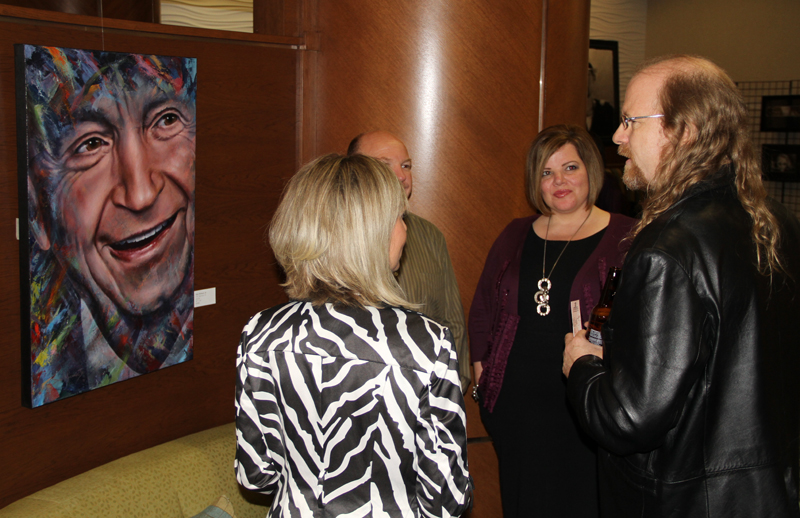 Telling the Story of Warm Regards
There was a lot more going on all around me, and a lot of great work on display, but I must admit that a lot of it passed me by. I hope you don't mind, but I was just a bit distracted. I want to thank all my friends who came out to support me and my work. Judy, Gary, Mary, Maggie, CJ, and especially, Laura, you all made a wonderful night even more memorable. I would also like to thank Dinh Chau-Kieckhafer, the driving force behind this event, for inviting me to take part. Bless you, Dinh!
I must add that I was so excited after the event that I ended up going into my studio and finishing two projects while starting on another. There's nothing like a little boost to your ego to help stir up the creative juices. Now that I've been talking about it I'm starting to get juiced up again, so I'd better head over to the easel.
Happy Creating!
Ugh! Even though I have two kids attending public school and my wife working for the local elementary school, I am the one to catch the first bad cold of the season. Thankfully, I had already finished my latest Eye Candy: Razzles painting, because now I can go back to bed and try to sleep off this cold.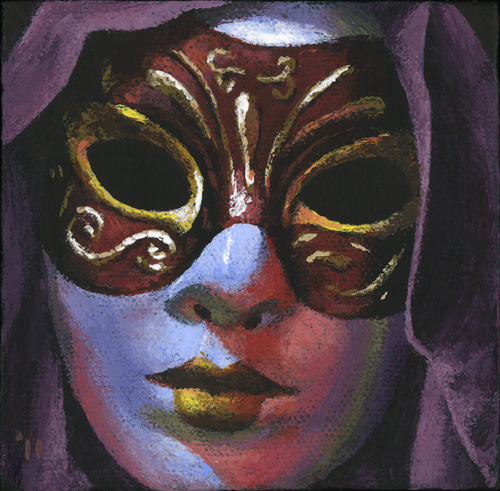 Grape Razzle – 4″x4″ – Acrylic on canvas – Completed 9-20-11
Hopefully, I'll feel a lot better by the time I pick the kids up from school this afternoon since I have some work I want to get done in my studio.
Happy Creating!
On September 27th Marriott SpringHill Suites and ThinkArt! will host a one-night Art Reception event to be held at Marriott SpringHill Suites Las Vegas Convention Center: 2989 Paradise Road · Las Vegas, Nevada 89109 – from 4:30 pm to 8:00 pm.  Live music, Food, and Cocktails will be provided.
I will have a painting on display that night. It was not juried into the exhibition, but it has a special status anyway. I was one of five local artists who were each invited to paint a portrait of J.W. "Bill" Marriott, Jr., the Chairman and CEO of Marriott International. It's really fun to see all five portraits hanging together. You can see not only the likeness of Mr. Marriott, but you can get a sense of the personality and style of each of the artists. The only criteria we had been assigned was to 1) create the image at 36″x24″, and 2) use the same photo of Mr. Marriott as our reference. The photo was a nearly full view of a seated Mr. Marriott in a relaxed moment during a television interview.
The first thing I noticed about the photo of Mr. Marriott was his eyes. There was a warmth to them that went beyond the pleasant smile on his face. Upon further research I discovered that Mr. Marriott is a very 'hands-on' CEO with the willingness to listen to, respect, and reward his employees. He even wrote a book titled "The Spirit to Serve" about this very thing. (I was especially thrilled to see that there was a chapter titled, "Give to Your Employees, and They'll Give Back to You".) I felt this warmth and intimacy needed to be the focus of my painting and thought that a super tight cropping of his face was in order. To further enhance these characteristics, I decided to bring out Mr. Marriott's portrait in my Over the Under-Schmeerings (OTUS) style from a canvas chaotically 'schmeered' with primarily dark and cool colors. Below is what I came up with…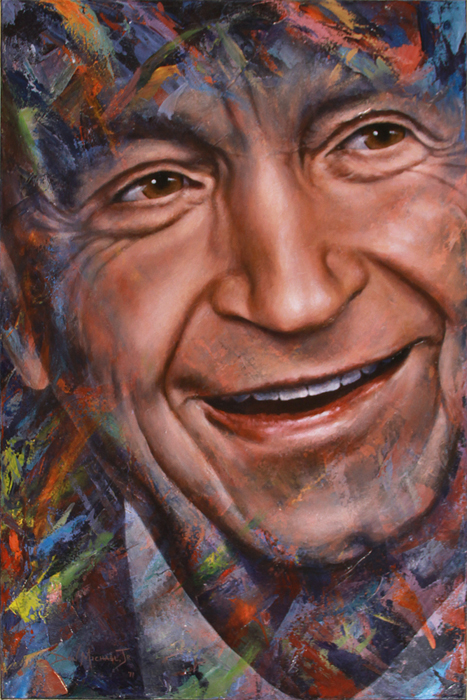 Warm Regards – 36″x24″ – Acrylic on canvas – Completed 8-31-11
This is by far the largest OTUS that I've painted to date. It was a fun challenge and I really look forward to hearing what the input from the Marriott corporate people will be. Something that makes this extra exciting is I just found out that Mr. Marriott will be flying in to view the five portraits, as well as the rest of the exhibition. He even plans to blog about the portrait series, which I look forward to reading.
If you happen to be in Las Vegas next Tuesday evening, please come by and check out all the wonderful artwork on display. I'll be there the whole evening and I would love to spend some time chatting with you.
Now, the 'big' bug has bit me and I'm in the middle of an even larger OTUS! I guess I'd better go get some work done on it.
Happy Creating!
This little palette knife painting includes a couple of colors I had not used together in a painting before, Diarylide Yellow and Quinacridone Magenta. I really like how well those colors worked together and I think I'll be using them together again soon. As is usually the case, I only used 4 colors in my palette. In this one's case the other two colors were Ultramarine Blue and Titanium White.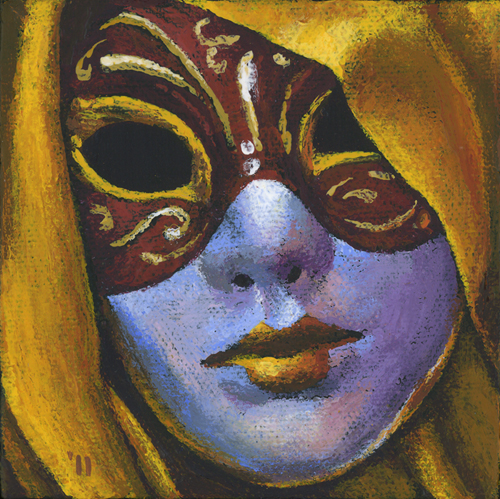 Lemon Razzle – 4″x4″ – Acrylic on canvas – Completed 9-18-11
Lemon Razzle is the third in my Eye Candy: Razzles series and I think she's my favorite, so far. Now, this could be because she's my most current painting – I do have a tendency to think of my most recent works as "some of my best, ever". I guess I'll let time decide… For now I'll just revel in the joy of completion.
These little Eye Candy paintings are really a lot of fun to create. I find them to be a wonderful respite from the larger, more intense paintings that I'm working on at the same time. I'm guaranteed 3-4 hours of 'escape' when I'm working on thes little treats, and I love it.
Happy Creating!
As I mentioned in my last post, I was a little concerned with how well I'd be able to teach the lesson plan I'd created for today's acrylic painting workshop. I was worried that the mountain scene I'd chosen could possibly be too complex to simplify into a 2 hour painting class with beginner painters. To add to my anxiety today, three of my students were first-timers and two of those had never even painted before.
Before the class started I asked all of them if they'd mind if I took before and after photos. I even warned them that I'd be blogging about the class. Thankfully, they were all fine with this and as you can see below, they were still all smiles. Oh, if they'd only known…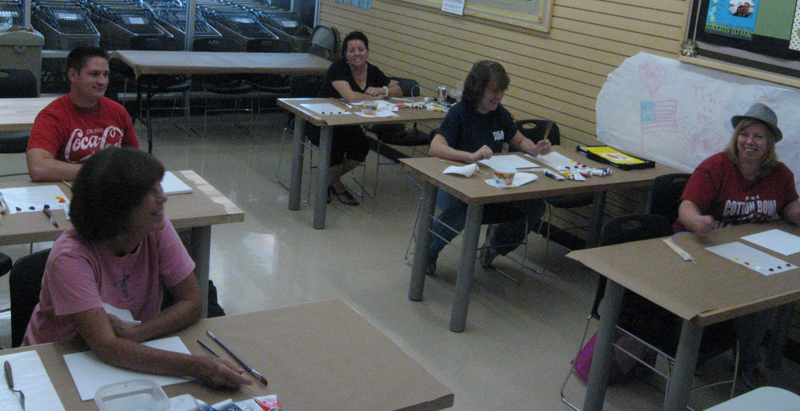 Ready to begin
About halfway through the class I realized that we were all stressing a bit about our paintings. I let them all know that EVERY painting I've ever done has a period of time that I absolutely hate it. (I've heard other artists call this the "awkward period" of the painting, but I think they're being too nice.) I think that helped to relax everyone a bit and we were able to push forward – and a few of them were even still smiling!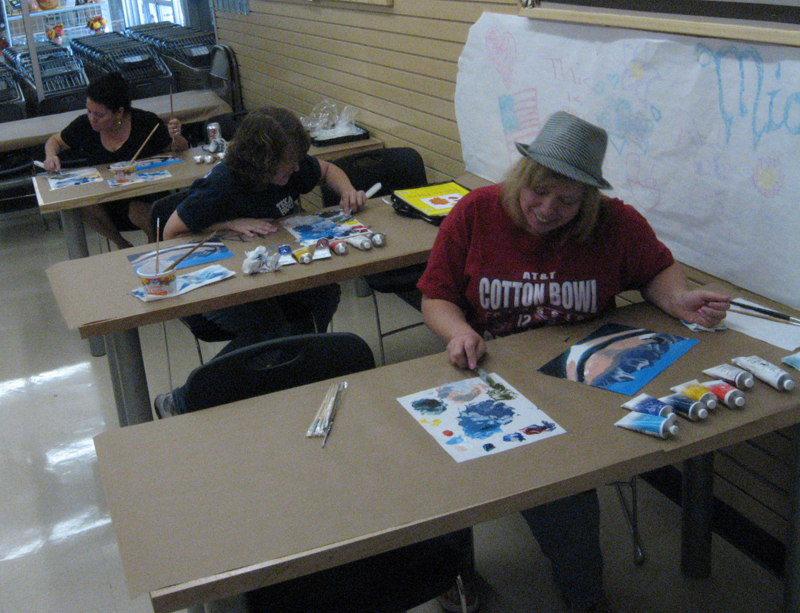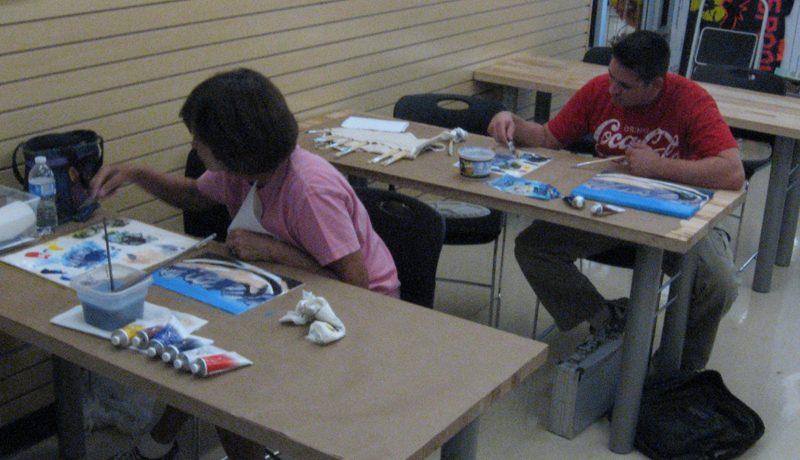 Halfway
I've noticed that near the end of each class everyone seems to hate their own paintings, but love everyone else's. So, I'll walk around and pick up each person's painting to show to the rest of the class. Invariably, everyone let's that person know how much better they think their painting is compared to their own. It seems to encourage everyone to realize that maybe they were still just too close to the painting they just finished. In today's case, this little exercise helped everyone relax enough to let me take a photo of them with their finished paintings…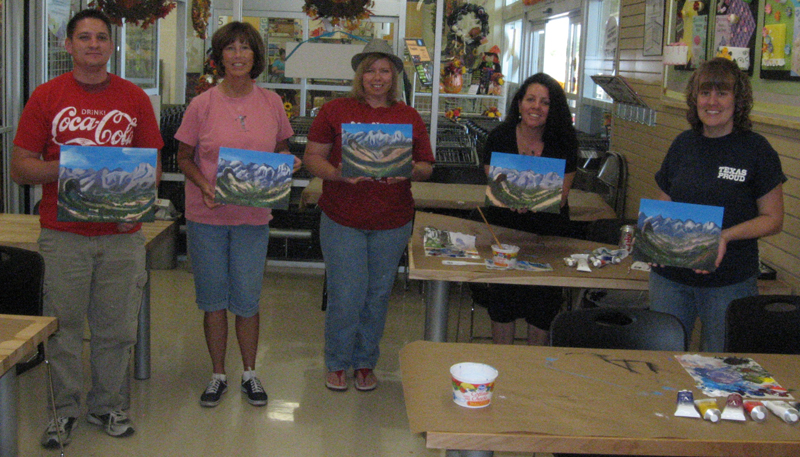 Finished
…and I think they ALL did an EXCELLENT job. (Being their proud instructor, I could possibly be a little biased, but I don't think so.)
Apparently, I must not have done too bad a job today, because all of them plan to come to future classes – and one of them has already signed up for next week.
Now I think I'll head to my studio and see if I can't create something I absolutely hate for a few minutes…
Happy Creating!
Today was a very busy and productive day in the Don Michael, Jr. studio. I started the day packing up and shipping out my painting Look at Us Now which has been juried into the Mask exhibition at the Target Gallery in Alexandria, VA. (If you're in the Alexandria area during the month of October be sure to go by and see my painting and the other 26 works that were juried into this event. I wish I could go see it myself, but alas I must live vicariously through any of my friends who may be able to make it…)
Then, after a delightful lunch with my good buddy, CJ, I headed down to the Donna Beam Fine Arts Gallery on the UNLV campus to take part in a critique which involved one of my paintings. I'm not able to reveal the painting yet because it is going to be a part of a major event coming up in just a couple weeks. (I'll be sure to share more info on it as soon as I can.) The critique went very well and it was quite inspiring to see everyone else's work. I just LOVE art!
This evening I got everything ready for the Acrylic Workshop I'll be teaching at Michael's tomorrow. This week's lesson plan is a landscape I created featuring one of our local mountains. I originally painted it over a year ago (you can see it below with it's messy palette) but had hesitated to teach it until I experimented with simplifying it a bit more. We'll see how it goes tomorrow…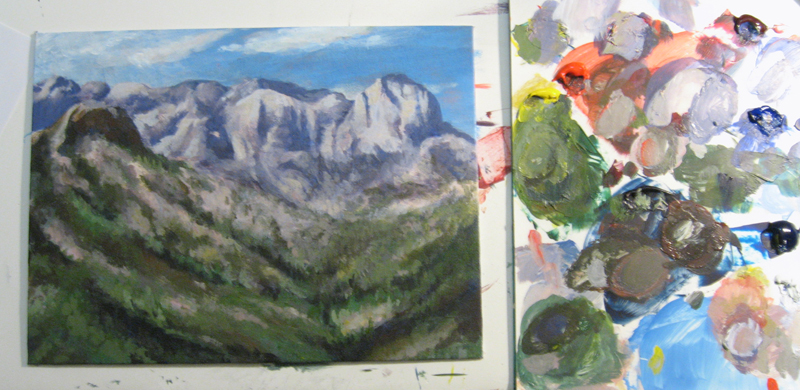 Mt. Charleston – 9″x12″ – Acrylic on canvas board – Completed 8-21-10
You might think that after all that I'd have been ready to call it a good art day. But, being a glutton for punishment, I decided to get in front of my easel for a while. (After all, that's where all the real fun is.) I'm excited to say that tonight I worked on three totally different pieces, and even finished one of them, which you can see below.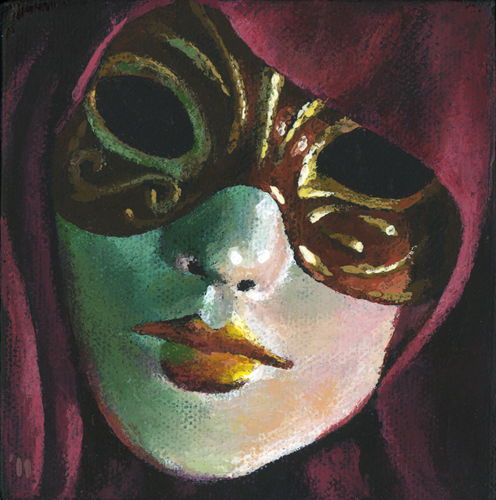 Raspberry Razzle – 4″x4″ – Acrylic on canvas – Completed 9-16-11
Now I can call it a GREAT ART DAY! I think it's time for a little beauty sleep, so I'd better go turn in for the night. I bet my class will appreciate that tomorrow.
Happy Creating!
A new sub-series has arisen from my Eye Candy series of mask paintings. Please welcome the first member…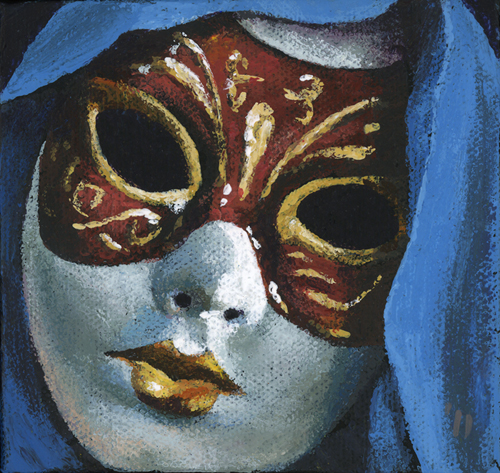 Blueberry Razzle – 4″x4″ – Acrylic on canvas – Completed 9-10-11
For this sub-series, titled Eye Candy: Razzles, I am once again using only my palette knife to create the images. This time, however, I am using small 4″x4″ canvasses instead of the itty-bitty 3″ canvasses I used for the Eye Candy: Skittles series. I hope you enjoy…
Happy Creating!
Just when you thought you were finally rid of me, voila!, I'm back. After a two week odyssey (that seemed more like two months) I was finally able to get my trusty old Mac up and running again. I want to thank all my online friends for their kind words of encouragement and for their continued support during this most unusual of summers.
It's amazing how much has gone on since last I logged on… My kids started back to school, I've done a half-dozen painting demos, I've had two acrylic workshops, First Friday has come and gone, Labor Day Weekend has come and gone, I got a painting accepted into a juried show in Alexandria, VA (more on that at a later date), I sold a couple small paintings, I rearranged my studio a bit… oh yeah, and I painted… a lot.
Paintings I finished during my forced hiatus include: a large Over the Under-Schmeerings portrait that will be revealed at a later date, a new lesson plan for this week's acrylic workshop, two Eye Candy: Skittles paintings that I'll share once I can get them scanned, and the following two Eye Candy paintings…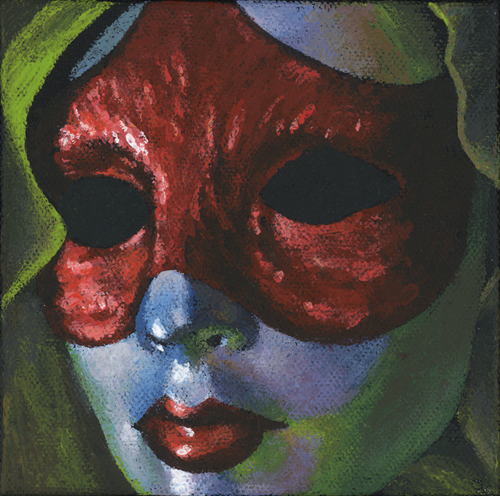 Jelly Bean – 5″x5″ – Acrylic on canvas – Completed 9-1-11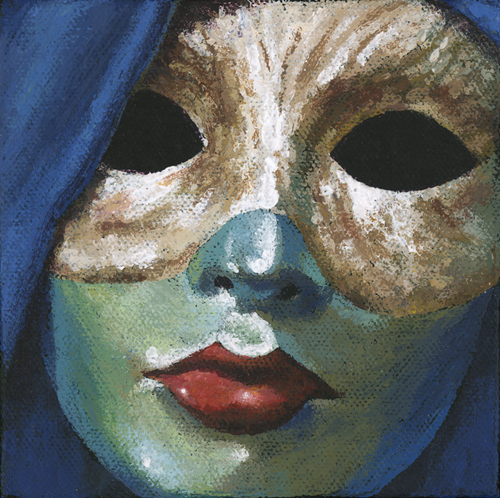 Salt Water Taffy – 5″x5″- Acrylic on canvas – Completed 9-6-11
©2011, Don Michael, Jr.
I also have a couple other paintings in progress and hope to be able to share them soon. For now though, I think I'll go explore a few of my favorite blogs. I feel SO out of the loop right now…
Happy Creating!