My Eye Candy: Starbursts sub-series is now complete…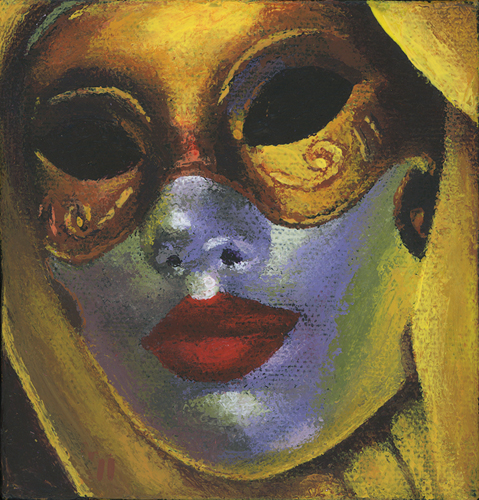 Lemon Starburst – 4″x4″ – Acrylic on canvas – Completed 10/27/11
©2011, Don Michael, Jr.
It's funny how each painting experience can be SO different. Last week when I painted Orange Starburst it was too easy. It almost seemed to paint itself. This week when I painted Lemon Starburst I had to fight it every stroke of the way. It was like it didn't want to be painted. Because it was such a fight I was pretty hard on myself as to whether I even liked the final results. Thankfully, once I put it into context with the other 3 in the series I started feeling better about it. You can see the four of them lined up together here…
Ok, I think I'll go get some rest now so I can start tomorrow fresh.
Happy Creating!
Tonight I was finally able to work with some paint for the first time this week. Thank goodness I had to do a demo at Michael's tonight which forced me to get my paints out. Here's what I came up with…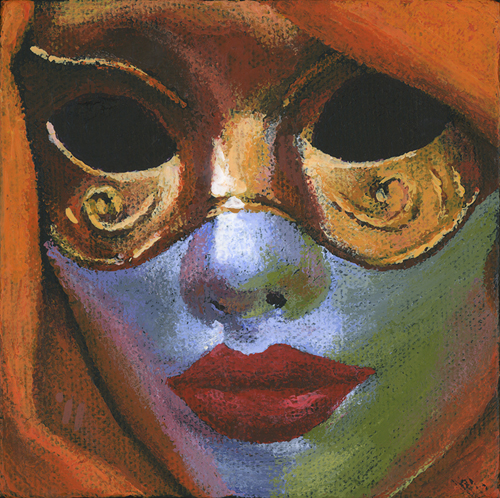 Orange Starburst – 4″x4″ – Acrylic on canvas – Completed 10/20/11
©2011, Don Michael, Jr.
It's not that I haven't been creative, it's just that I haven't taken the chance to slow down and paint. A big part of my focus this week has been on the creation of a logo for a local business. This local business is a part of a large international corporation and they are conducting a logo design contest. So, even though I'm not getting paid for the design outright, there's a chance at a pretty good prize, and it could bring some new eyeballs to my graphic design abilities. Plus, it gave me a chance to flex my design muscles… Like the old saying goes, "If you don't use it, you'll lose it." (Hopefully, I'll be able to share my design with you in the very near future.)
Tuesday night I had the opportunity to hang out with several artists and other creative sorts as we prepared to kick off the next St. Jude's "Affair of the Heart". You may remember the two hearts I did last year which helped to bring attention and money to the St. Jude's cause. One was GINORMOUS and the other was a more manageable tabletop size. (Here are their two links: Heartstrings & Repertory.) Along with 13 other artists I was invited to do another ginormous heart – and I can hardly wait to get started. Over the next few months I'll be keeping everyone updated as we artists start putting paint to these wonderful sculptures. For now, here's a photo of several of the artists committed to taking part this year… (Photo courtesy of Niki J Sands.)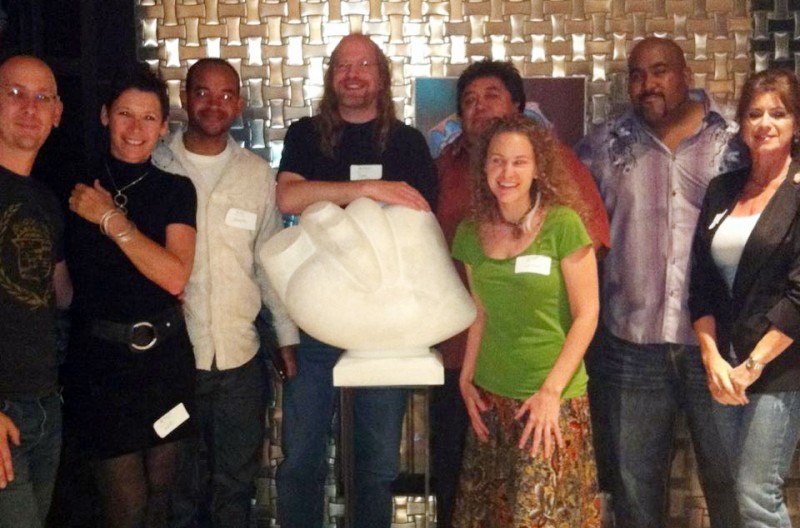 Las Vegas Artists – Ryan Reason, Niki J Sands, Joseph Watson, Don Michael, Jr., Roberto Rico, Ragen Mendenhall, Dale Mathis & Beti Kristof
Wednesday morning was spent switching some of my paintings out at Luca's Cafe & Deli. Needless to say, I had to stay and enjoy some of Alberto's cooking and was blessed to have 3 old friends join me. Art, food and friends… can't beat it!
Now that I've finally gotten my hands into some paint I feel the need to keep on. So, I'm heading back to the studio for another blast of fun.
Happy Creating!
Yay! I can finally call this big Over the Under-Schmeerings (OTUS) painting complete. It's only been in the works for weeks and weeks…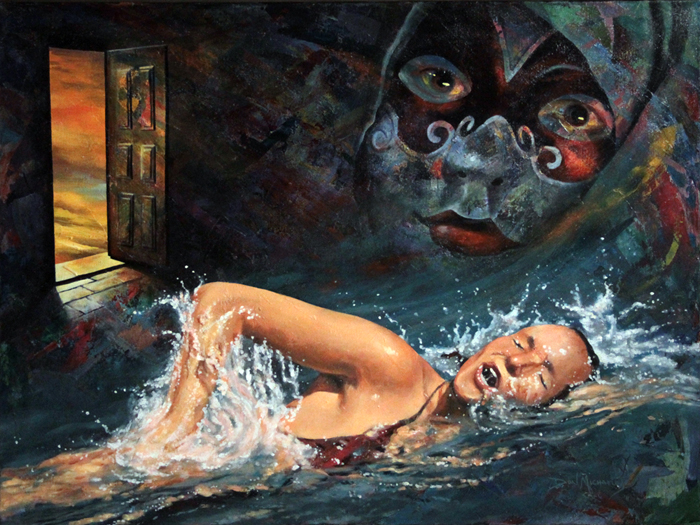 Aspire and Endure – 30″x40″ – Acrylic on canvas – Completed 10-13-11
©2011, Don Michael, Jr.
I'd like to thank my good buddy, Melissa, for being such a good sport and a great model. I'd also like to thank my favorite photographer, CJ, for both the original photo of Melissa and for the photo of the finished painting.
Now I'm off to a busy weekend. But first I'll leave you with a detail from Aspire and Endure. I hope you enjoy…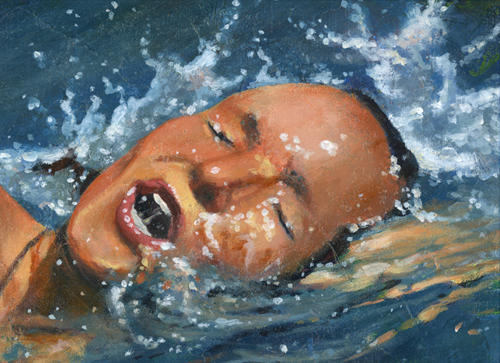 Aspire and Endure – Detail of 8.5″x11.5″ area
©2011, Don Michael, Jr.
Happy Creating!
It seems that the 3 hour demos that I do at Michael's are just enough time for me to complete an entire Eye Candy painting. At least that has been true for the last two…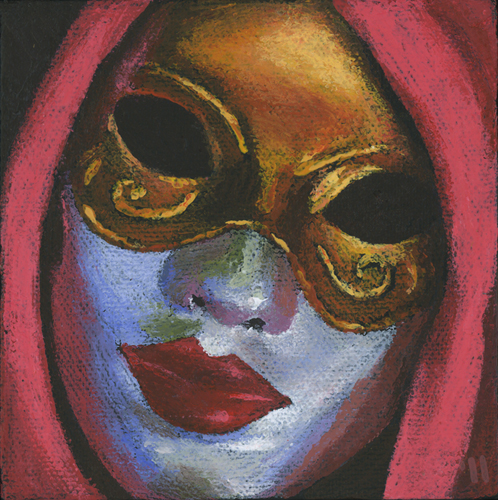 Strawberry Starburst – 4″x4″ – Acrylic on canvas – 10-13-11
All I had to do to complete Strawberry Starburst tonight when I got home was to sign the side, date it, and then apply the varnish.
Now I can get back to the biggie on the easel. I'm really getting excited about it and hope to be able to reveal it in the next 48 hours. Until then…
…Happy Creating!
Yesterday evening it was time for another of my bi-weekly demos at Michael's to promote my Acrylic Workshops. Since I've noticed that my palette knife work seems to draw more people over to talk to me, I decided to work on a new Eye Candy painting. Here's what I came up with…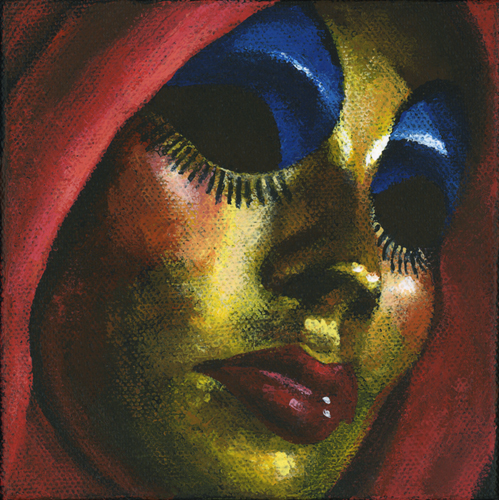 Kit Kat – 5″x5″ – Acrylic on canvas – Completed 10/11/11
©2011, Don Michael, Jr.
I haven't done a scientific study on this, but I'm pretty certain that I've ended up with more students in my acrylic workshops because of my palette knife demos than I have when demoing the class projects. Either way, I know that I have some of the best conversations while I'm painting with that trusty blade of mine.
I had no title in mind for this one until I had finished it, but while reading down my list of unused candy names the one that immediately stood out was Kit Kat. I'm not sure why, but it feels right…
For those keeping score, this is number 25 in the core Eye Candy series. If you add the 5 Eye Candy: Skittles, the 5 Eye Candy: Razzles, and the 1 Eye Candy: Starburst that total jumps to 36. It's amazing how quickly this series has grown in just 5 months. In the photo below you can see the entire series hanging together, less Kit Kat and the few that have sold.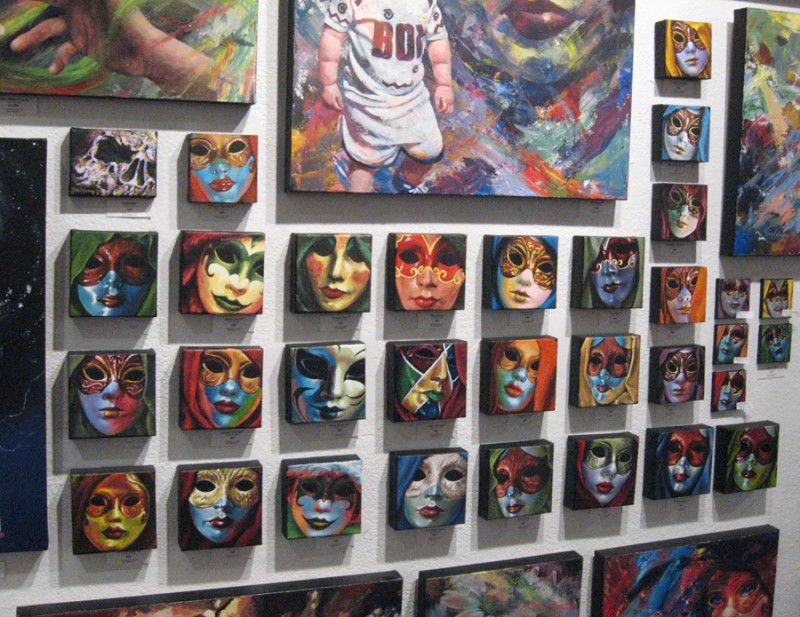 The Eye Candy Series & Friends
I noticed last night while updating my paperwork that I have now done over 250 mask paintings. I was planning to post about that auspicious occasion upon the date it occurred, but alas, it was not meant to be. Kit Kat makes number 252.
As a tip-of-the-hat to where my whole mask series started, here is the first created 9 years ago… (I originally wrote about it here in 2008)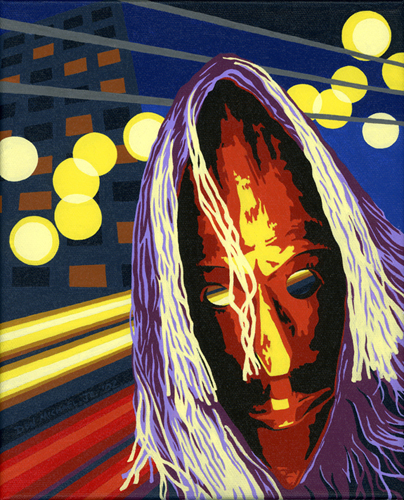 Incongruous – 10″x8″ – Acrylic on canvas – Completed 9/29/02
©2002, Don Michael, Jr.
As you can see, my style has changed a bit over the years, but my love of masks still endures. In fact, I'm already in the middle of painting number 253…
Happy Creating!
If you are looking for an excellent book to read or give as a gift I would like to recommend Gunwitch: A Tale of the King's Coven, by David Michael. David has a wonderful write-up about it here. (Be sure to click on the image below so you can see the full cover – front, back & spine.)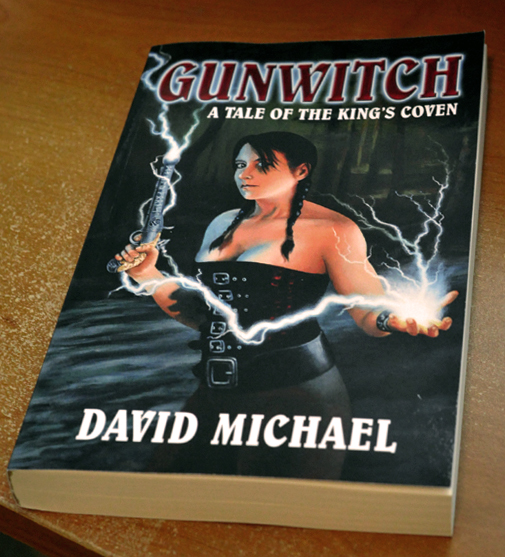 Gunwitch – Book Cover Artwork – Acrylic Painting & Photoshop
©2011, David Michael & Don Michael, Jr.
I'm really proud to admit that yours truly is the one guilty of creating the artwork for the cover. It was a fun and challenging project – just the way I like 'em. One of the perks of working with David on these book covers is that I find myself painting images I might not have attempted otherwise – which often informs later works of my own.
Some of my friends may recognize the hand holding the ball of lightning from when I teased about it back in August. Now that David has released the book, I can finally unveil the rest of the painting.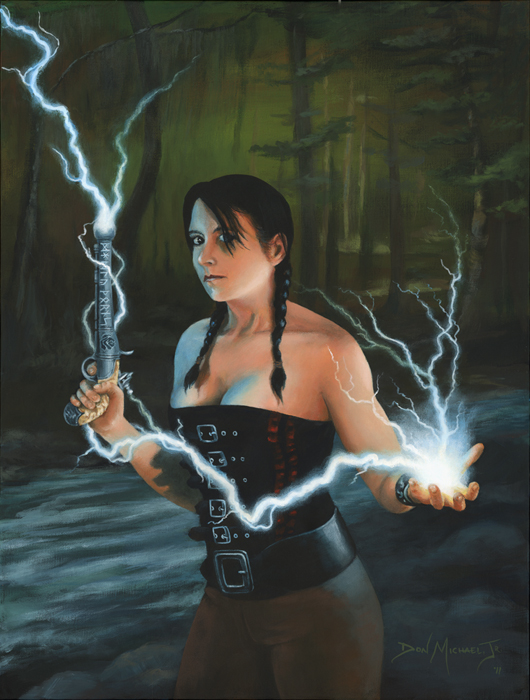 Deadly Thorns – 24″x18″ – Acrylic on canvas – Completed 8/19/11
©2011, Don Michael,  Jr.
To make this project work I needed a great model, and I found one. She's a little shy, so I'll not reveal who she is, but I would be remiss not to thank her publicly anyway. Bless you, my friend!
Now I've got a painting in the works which involves a different friend as a model. I'd better head to the studio and get busy because I want to have it finished by the end of the week.
Happy Creating!
Well, my friends, at the risk of burning everyone out on my Eye Candy series of palette knife paintings, I present to you the first in the next sub-series – Eye Candy: Starbursts…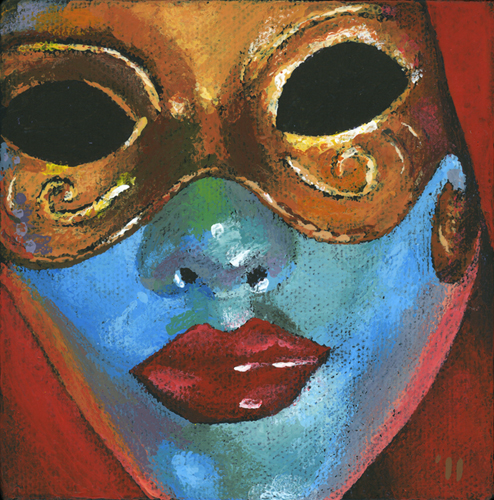 Cherry Starburst – 4″x4″ – Acrylic on canvas – Completed 10-4-11
©2011, Don Michael, Jr.
In case you were wondering, these aren't the only things getting my attention in the studio. While I'm having fun with these little confectionary treats I'm also working on some larger canvasses. In fact, I am currently working on what will be my largest Over the Under-Schmeerings painting to date. Below you can see it in progress. To give a sense of scale I also included both Cherry Starburst and my trusty palette knife…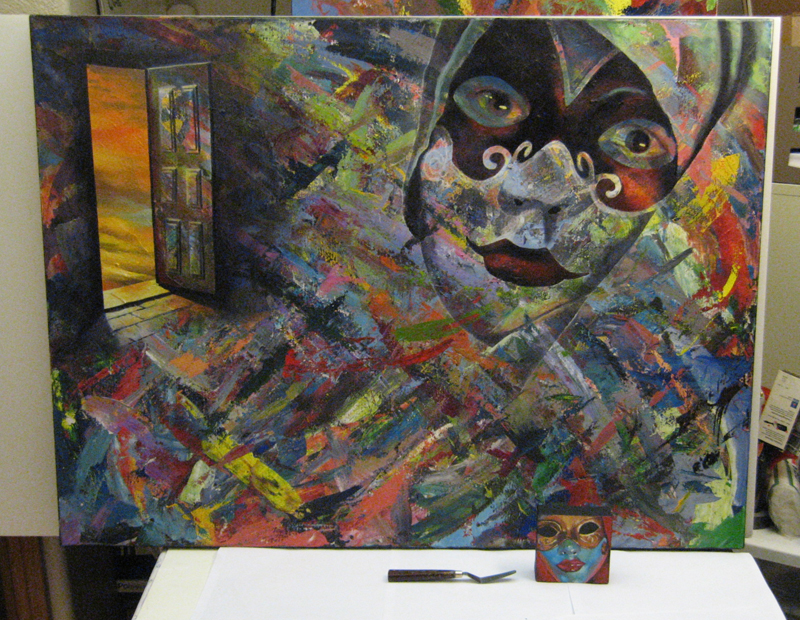 Work in Progress
Oh yeah, if you ever wondered whether or not my studio was a relaxing place to hang out, just look below. I don't know that I've ever seen a cat sleeping any more deeply than Franzie is here. It was funny to watch him wake up a little while later. He had been so sound asleep that he looked over at me with the most confused look on his face and gave a 'what the heck is going on' "Meow".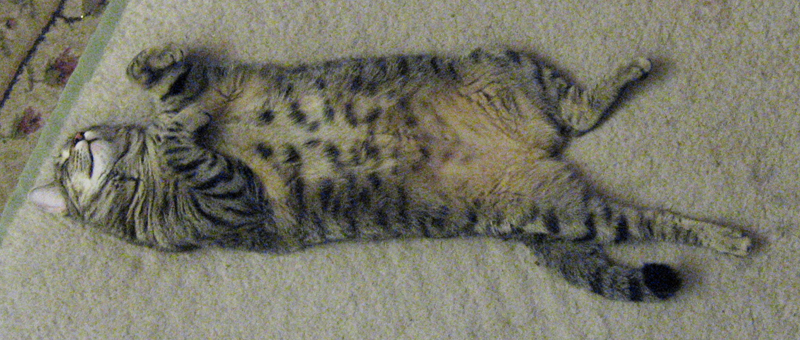 Franz Marc catching some winks
Speaking of hanging out in my studio, I'd better get back in there…
Happy Creating!
With the completion of this latest palette knife painting I bring my Eye Candy: Razzles series to a close. All five flavors of Razzles are now represented, so it's time to either move forward with more regular Eye Candy paintings, or come up with a new sub-series. For now, though, I think I'll just bask in the joy of having finished another painting.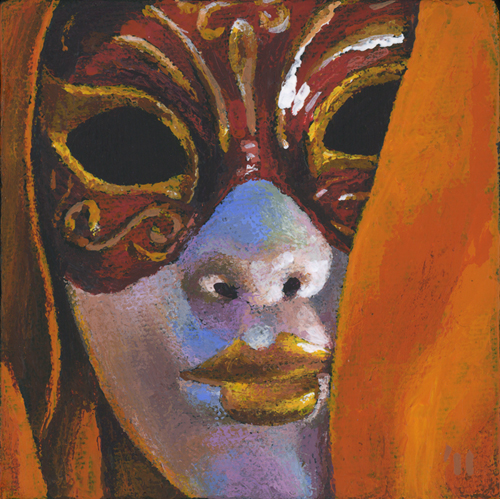 Orange Razzle – 4″x4″ – Acrylic on canvas – Completed 10-2-11
©2011, Don Michael, Jr.
On an entirely different note, my wife and I spent this past Friday night in our new capacity as roadies for the thrash metal band Arsenik, which happens to feature our son, Eric, as bassist. Thankfully, my favorite photographer was on hand and she did a great job documenting this event…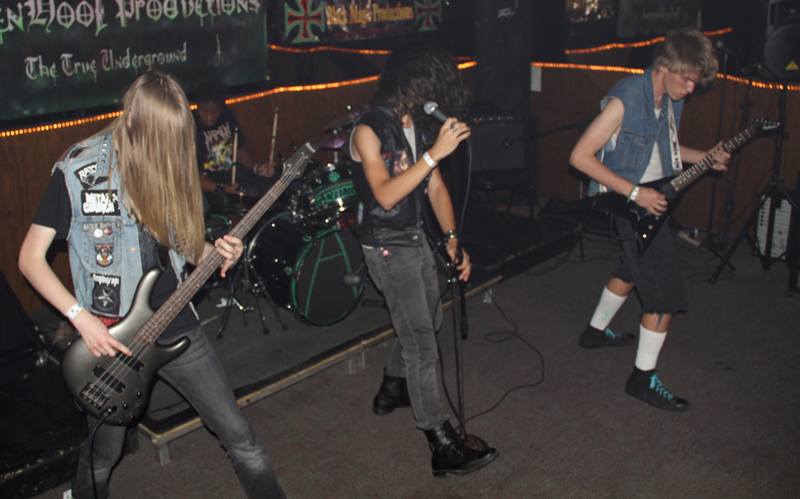 Arsenik in concert – 9-30-11
Of course, proud Papa must also include a close-up of his boy…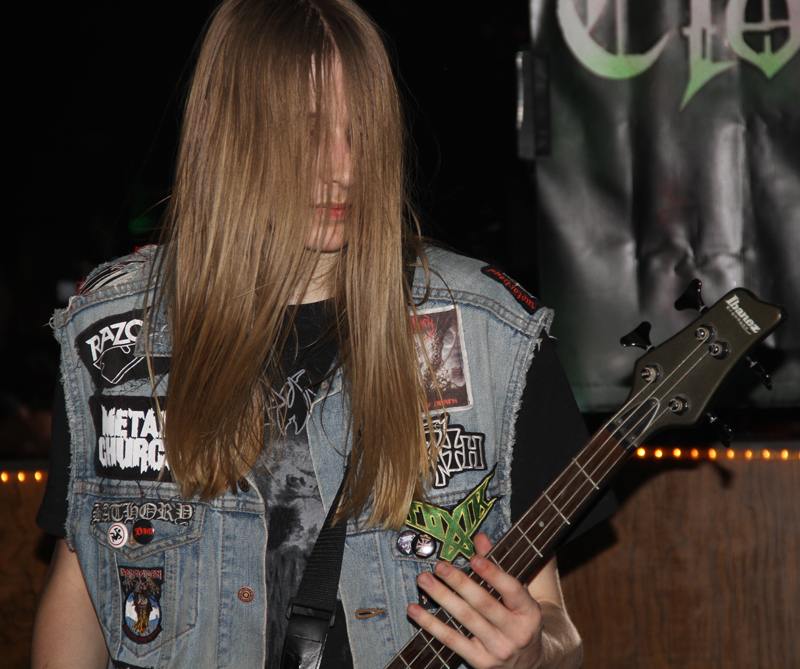 Eric Michael, bassist for Arsenik
Photos courtesy of Alley Zoom Productions
It was only Arsenik's 2nd gig but you'd have never known it. They really blew the roof off. Great job, guys!
I think I've bragged long enough. It's time to get back to the studio…
Happy Creating!