When I was in 7th grade I found out about a delicious candy treat known as Now & Laters, which are individually wrapped taffy squares that come in several flavors. We were living in a rural part of North Carolina at the time and the only place I knew to get them was at a little store called Creech's Grocery which was across the street from our junior high. Of course, we were not allowed to go off campus during the school hours, but with such delectable treats just a few quick steps away rules were broken by yours truly and a few of his buddies. We would pool our moneys and rotate who was going to sneak across. I don't remember if anyone else got caught, but luckily I never was – especially since sure retribution would have been awaiting me at home should my malfeasance have ever been discovered. Ah, the risks we'll take for a few moments of gustatory bliss…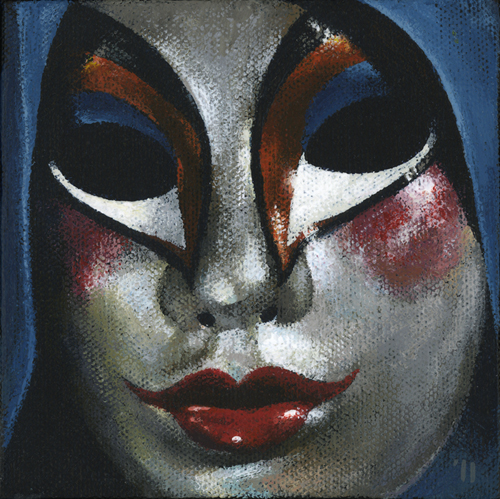 Now & Later – 5″x5″ – Acrylic on canvas – Completed 11/29/11
©2011, Don Michael, Jr.
This little palette knife painting is the 42nd in my Eye Candy series and once again features my mask Rika as the model. I started on this one during my demo at Michael's Arts and Crafts store last night and completed it once I got home.
Meanwhile, I am in the middle of my next Over the Under-Schmeerings (OTUS) painting which can be seen in its infancy below. You can also see the beginnings of another schmeered canvas standing behind it.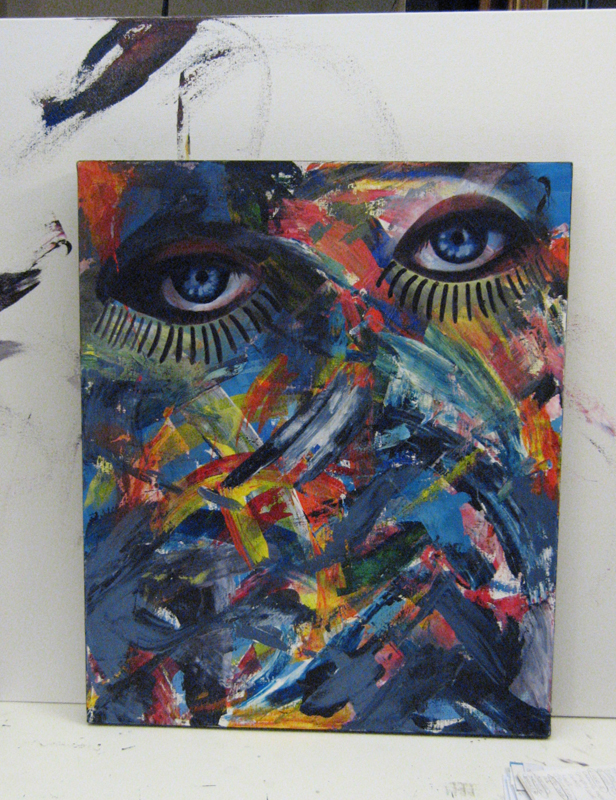 Currently in Don's Studio
I'm excited with how those eyes seem to be looking from behind all the schmeerings. There's a long way to go with the painting, but it's always a good feeling to start off on the right foot.
In other Don Studio news, the Ginormous Heart still remains a frightening white. As much as I look forward to starting on it, I am still resolving my concept and am having a little trouble doing so. Oh, the fear of the unknown can be so petrifying! Meanwhile, my Studio Supervisor has found a way to keep me from forgetting it's waiting for my attention…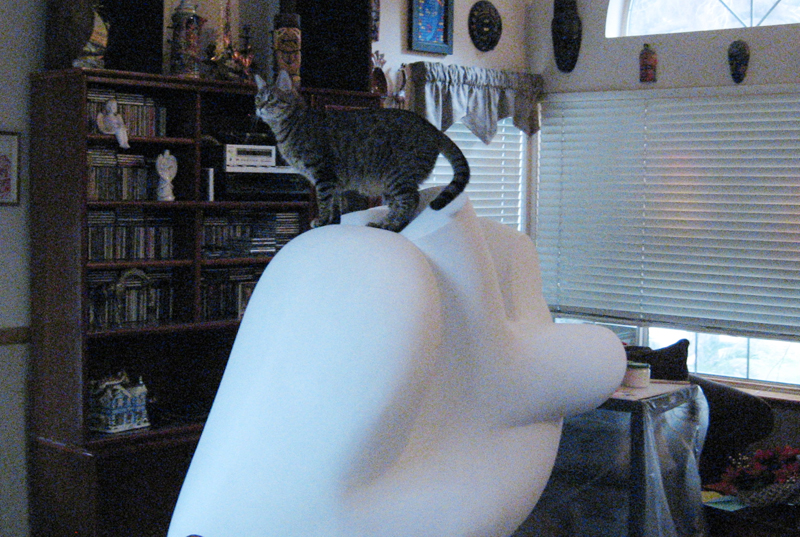 Franz Marc thinks that he is King of the Heart
I expect to have some color on the heart by the end of the upcoming weekend. But, before then it's already time to prepare for First Friday again. (What happened to November?!?!?!) So, the next two days will be spent primarily in preparation, with Friday being all about set-up, exhibit, and break-down. Then, Saturday I'll be teaching my next painting class at Michael's from 2-4pm, followed closely with watching my beloved Oklahoma Sooners playing our in-state rivals Oklahoma State for the Big XII football crown.
I need just a few more hours in my days…
Happy Creating!
My latest Eye Candy palette knife painting is a bit of a departure from the previous paintings in the series. It's the first time that I've not used a square canvas. Another first for this one is that my new mask Rika is featured for the first time.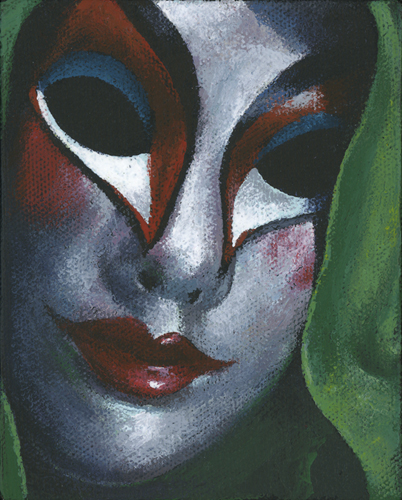 Candy Cane – 5″x4″ – Acrylic on canvas – Completed 11/22/11
©2011, Don Michael, Jr.
As you can see from the colors used and from the title, I'm beginning to get into the holiday spirit. This year our holidays started a little early when I celebrated one of those birthdays that ends in an 'aught' this past Saturday. It was an evening of family, friends, intoxicating beverages and penny-ante-poker. All-in-all a great birthday! Below you can see me preparing to blow out my candles. Beside me is my lovely daughter who treated herself to a new hat for my birthday. She's always so thoughtful…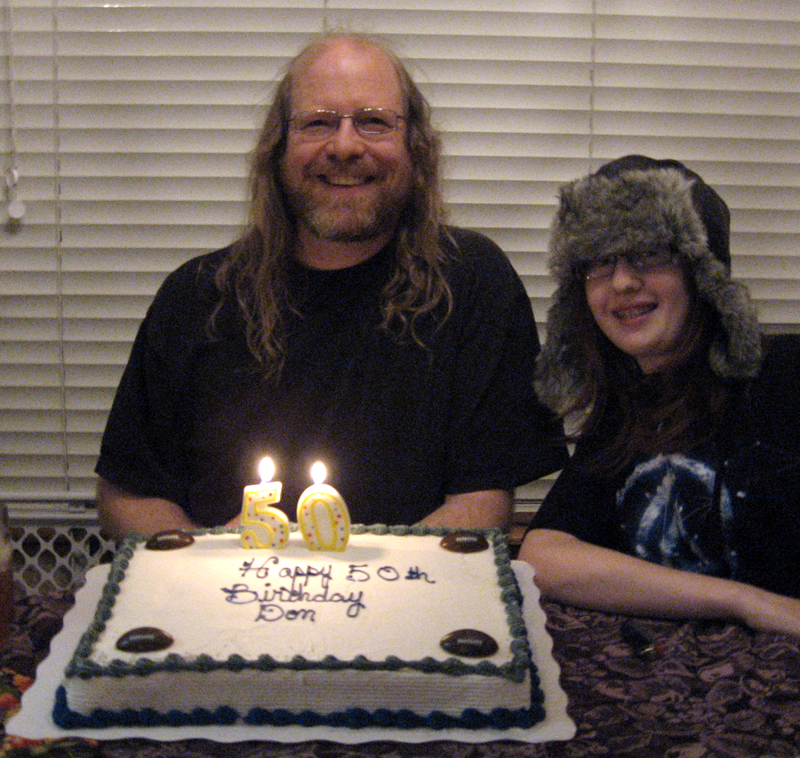 Don and Christina fittingly dressed in black
By the way, what is 50 supposed to feel like? Everyone with a smaller number seems to think this is really old (especially that little brat beside me in the photo above). If it is really old, why do I still have to wait 5 more years before I can get a senior discount anywhere? And, how can someone that feels like they're in their mid-20's really be old no matter what the number of their birthday?
OK, I've got it out of my system now…
On another note, I have started gessoing the Ginormous Heart which is residing in our living room for the duration. I must thank my wife and family for being so tolerant of my artistic needs and whims. I found out from my buddy Celeste that this would not be allowed in her living room. She'd make me paint it out in the cold garage. Thanks for nothing, Celeste! 😛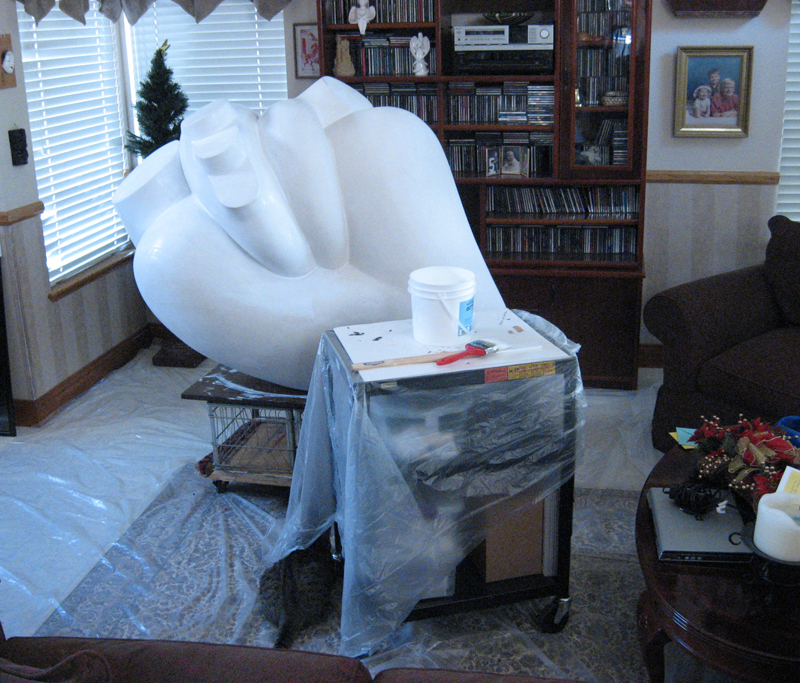 St. Jude Heart awaiting another coat of gesso
I just noticed that my supervisor was lurking beside the cart while I was shooting this photo. He's never far from the action…
Speaking of action, I'd better get back to it.
Happy Creating!
Does anyone remember those 'books' of Life Savers that were available at Christmas 'back in the day'? I haven't seen them around in years, so I don't know if they are still a part of Christmas tradition, or not. What I do know is how in years past I enjoyed opening up that little box knowing that I would get several days, and possibly even weeks, of enjoyment from this one little gift. Once I opened that little treasure I would immediately start planning out how I would work my way through those assorted rolls of delectability. My plan almost always consisted of me saving my favorite flavors until last. Below is my tribute to one of those favorites…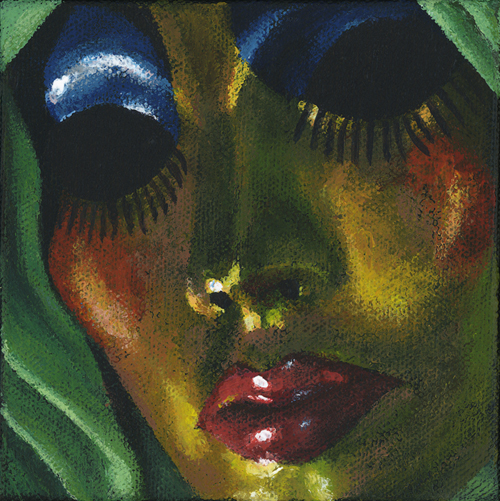 Butter Rum – 5″x5″ – Acrylic on canvas – Completed 11/17/11
©2011, Don Michael, Jr.
If the words above seem familiar to some of my long-time blogging friends, it's for a very good reason. I quoted them verbatim from my June 28, 2011 post about Wild Cherry. In that post I mentioned having a co-favorite candy in that Christmas box of delights that would someday be "represented on canvas". Someday has arrived.
Some of you may have noticed that this Eye Candy series of palette knife paintings has included only masks of my own creation as models. For example, the model for Butter Rum is Nelli. who has now been featured in 4 paintings in the series. Having completed 41 paintings in this series now using only 9 different masks, I decided this past week that it's time to have another option from which to work and came up with this…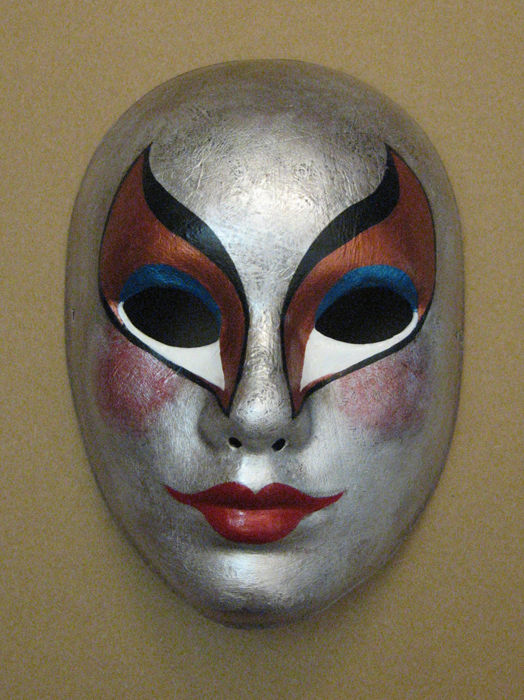 Rika – Acrylic on paper mache mask – Completed 11/17/11
©2011, Don Michael, Jr.
The decor on this mask was inspired by makeup I have seen on a few of my Cirque Du Soleil friends over the past few years. I chose not to copy any of them directly, but instead just used them for inspiration. The title of the mask is a very abstract 'tip-of-the-hat' to one of these wonderful performers who is quite diminutive in size, but has a heart as large as the one I am preparing to paint in my living room.
Speaking of which, I guess I'd better get busy…
Happy Creating!
During life's journey it's wise to pause at intervals and take note of your surroundings. While reflecting on where you'd like to go, it's a good idea to reference it against where you've been. It helps to keep everything in Perspective…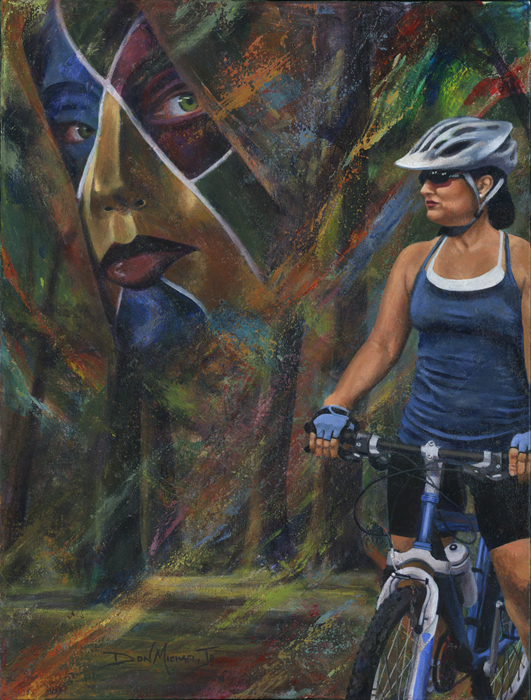 Perspective – 24″x18″ – Acrylic on canvas – Completed 11/14/11
©2011, Don Michael, Jr.
I have sure been having some fun with this Over the Under-Schmeerings (OTUS) series. Each one of these is an entirely new challenge which I find a little intimidating at first – at least until I get started. Then, once I see the images start to 'arise' from the chaos of the schmeerings there is an excitement that rises within my psyche that completely consumes me until I reach the point at which I finally feel free to sign my name to the finished piece. Once I sign the piece and apply the final varnish I am FINISHED with it and I no longer look at it with the same passion. Instead, I begin to look at it with an eye to how I can do the next one differently – or better. (Uh, oh, I sound like a lascivious prick – pursuing, conquering, and then leaving to look for the next thrill.) How's that for Perspective?
About this specific painting: The mask is one that I created called, Lenny. This is only the second time it has made it to canvas. The lovely lady on the bike is my good friend, Kristine. I can't thank her enough for allowing my favorite photographer, CJ, and me to put her 'through the ringer' one morning early this past summer. I'll bet she put at least five miles on her bike that morning as we kept saying, "Just one more pass". And then, what do I do? I use the shot of her resting for a moment between runs. I know, I'm not very nice…
Thanks, Kristine!
Hey, what's that I hear? I think my next Over the Under-Schmeering (OTUS) is calling. The lascivious prick must return to the studio…
Oh, but wait! First I have a demo to do this evening at the Michael's Arts & Crafts store on North Fifth in North Las Vegas. I'll be there from 4-7pm. Come by and see me if you're in the area. Then it's back to my studio where the Ginormous St. Jude's heart will be delivered tonight. OK, maybe then I can get back to my lascivious activities…
Happy Creating!
I've never been much of a jelly bean eater, but I have been known to pick through a bowl of them to get a handful of the only flavor I like…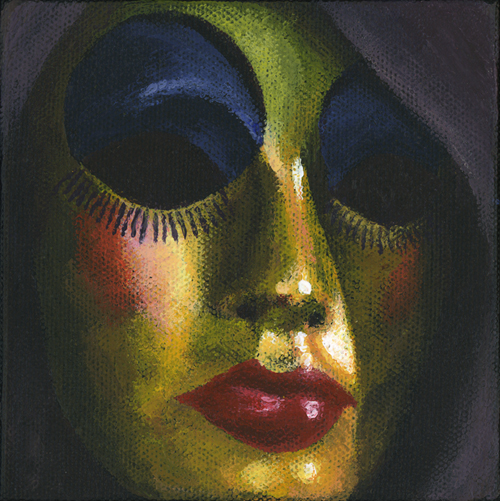 Licorice – 5″x5″ – Acrylic on canvas – Completed 11/11/11
©2011, Don Michael, Jr.
I'm still working on the OTUS painting I teased a couple days ago, but I just had to have a painting finished on 11/11/11, so I took a little time out last night to create Licorice.
Now it's time for me to get my gear together and head over to Michael's to teach today's Acrylic Painting Workshop. I know I have at least 3 students signed up for today and hope that even more show up. I'm really excited about sharing the poinsettia lesson plan I created earlier this week.
Happy Creating!
As the holidays approach – way too quickly – I wanted to create a lesson plan for this Saturday's Acrylic Painting Workshop that would have a seasonal feel to it. Since I had already scheduled the subject matter for Saturday's class as Floral, I thought it would be quite appropriate to paint the flower most commonly associated with the Christmas season, the poinsettia. So, for my painting demo at Michael's tonight I created just such a lesson plan.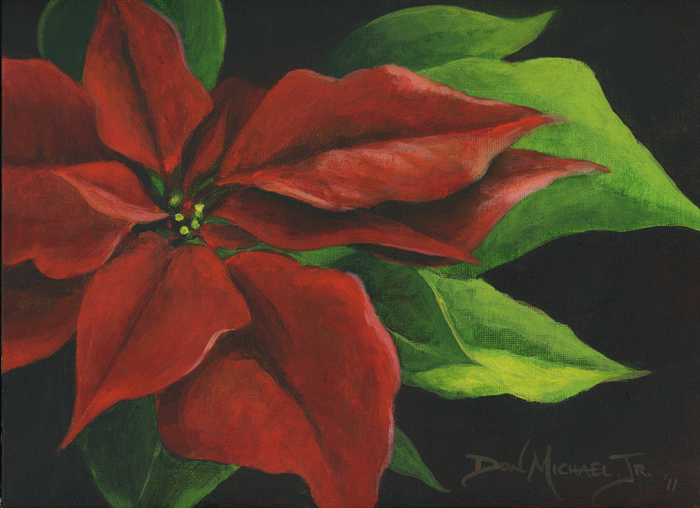 Under the Mistletoe – 9″x12″ – Acrylic on canvas – Created 11-8-11
©2011, Don Michael, Jr.
I think that if you look at the finished painting long enough you will see that it is titled quite appropriately. Once you see why, you'll never not see it. 😛 (I have my wife to thank for being the first to point it out to me. Like I said, now I can't un-see it!)
I look forward to trying this lesson plan out on this Saturday's victims… oops, I mean students. You're welcome to come join us. We'll be painting from 2-4pm at the Michael's on North Fifth in North Las Vegas. It's only $25, plus supplies, and you'll walk out with a finished painting in just two hours!
Back on the home front, I am in the middle of my next major Over the Under-Schmeerings (OTUS) painting. I still have quite a way to go, but I thought I'd share where I'm at so far. It's always exciting when the images start appearing from within the chaos of the Under-Schmeerings…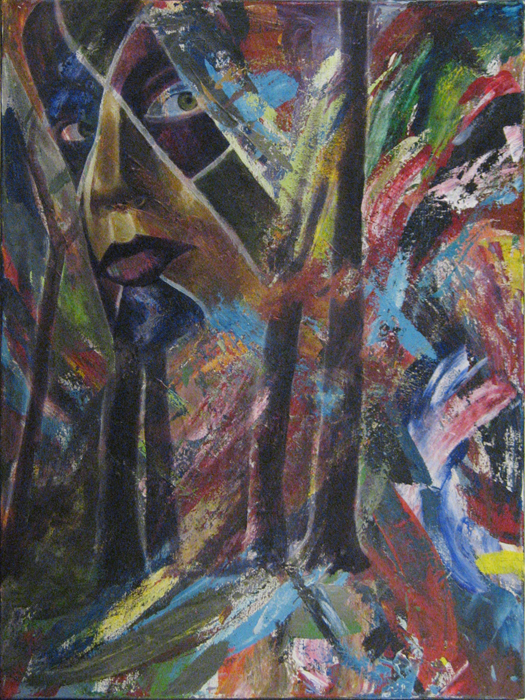 Work in Progress
Now I think I'll go get back at it…
Happy Creating!
After dropping my daughter off at school this morning I loaded up my SUV and headed downtown to the Arts Factory to set up my wall for our First Friday art event. After a couple of hours of unhanging, measuring and rehanging here's what my wall looked like…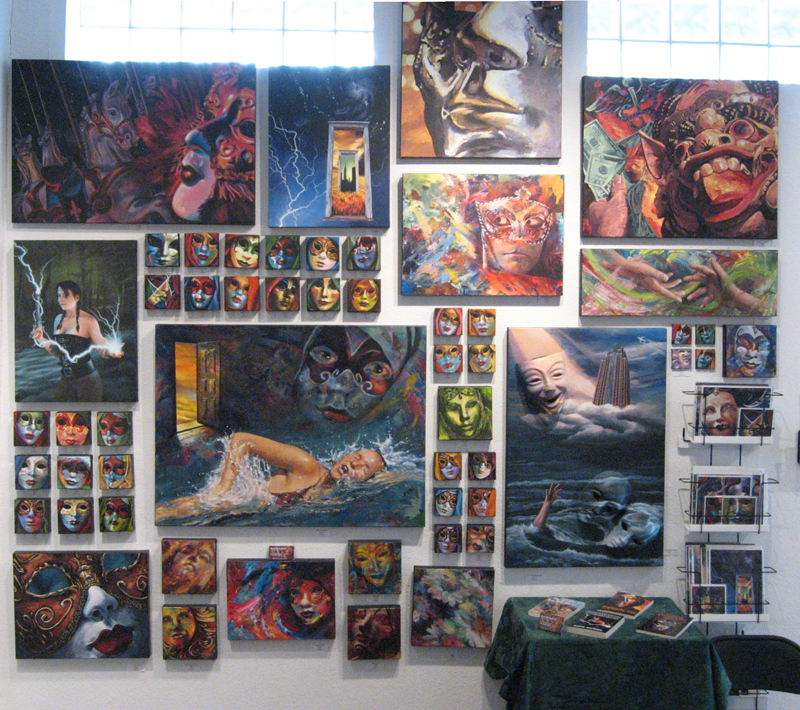 Don's Wall 11-4-11
You'll notice that my recently finished painting Aspire and Endure ended up 'front and center' on the wall. If you look closely, you can also see that my Eye Candy: Starbursts paintings are all hanging together for the first time…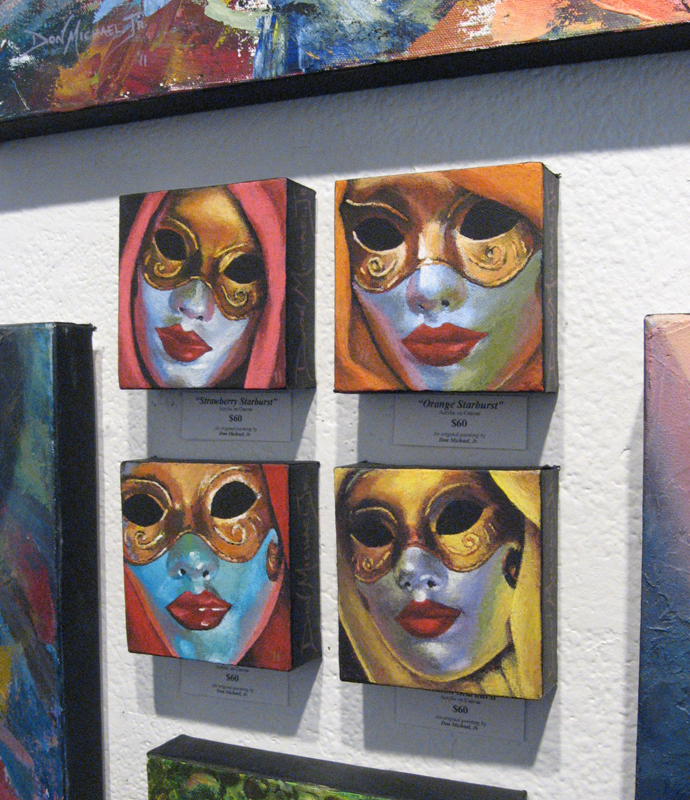 Eye Candy: Starbursts Series
While I was hanging my work I had a lady drop by to purchase my painting Spring Break. She had seen it hanging in the Arts Factory over a year ago and it had been calling her name ever since. She had tried to quiet the voices by buying a couple prints of it several months ago, but I guess that just wasn't enough. This past Wednesday she called to tell me that she had to have it, so we arranged to meet and complete the transaction this morning. Here is the painting that now hangs in her office…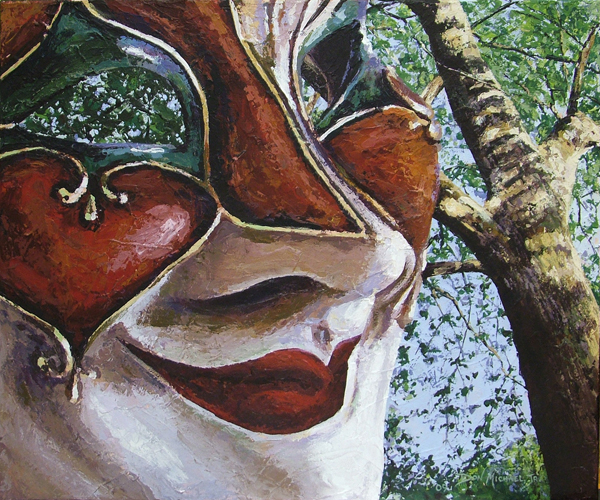 Spring Break – 20″x24″ – Acrylic on canvas – ©2009, Don Michael, Jr.
Thank you, Hazel! I hope you find great enjoyment in this painting for years to come!
After finishing up my wall, I headed a few blocks north to hang a couple paintings at Luca's Cafe & Deli. Of course, while I was there I had to stay for lunch…
After lunch it was time to head back home to pick my daughter up from school and then drive her and her brother around. By the time I got home I barely had time to spend a few minutes with my lovely wife before it was time to head back downtown. I like to get to the Arts Factory a little early on First Friday so I can get a parking spot. Otherwise I end up walking several blocks…
Anyway…
The weather ended up getting quite chilly and wet, which wreaks havoc in this desert town. So, the turnout for First Friday was pretty abysmal. At least my good friend, Melissa, came by to see me – and more importantly – the painting I did that features her quite prominently. She had not had a chance to see the painting in person yet and was really excited to finally get to. Here she is twice – standing in front of, and swimming through, Aspire and Endure…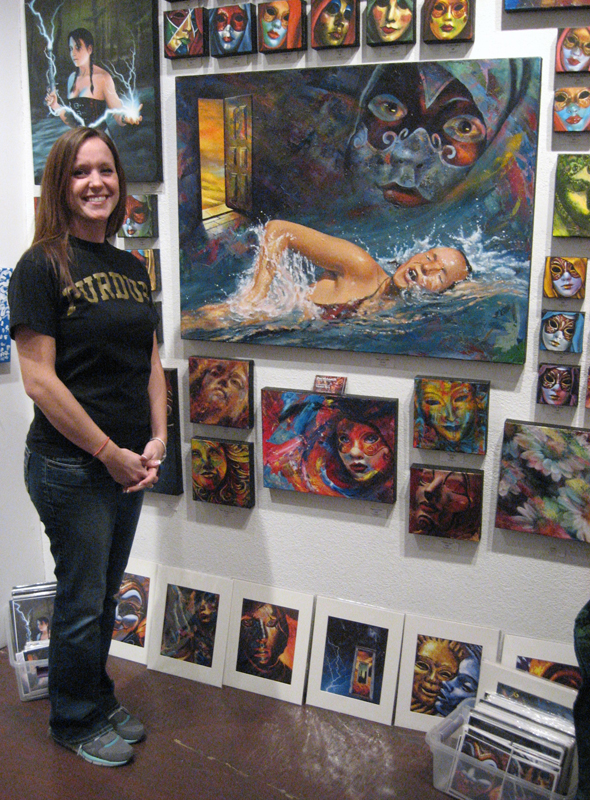 Melissa with Aspire and Endure
Thanks, Melissa, for coming by. You were the highlight of my night.
Now it's time for me to get my stuff together for my Acrylic Painting Workshop tomorrow. Then I think I'll retire for the night…
Happy Creating!
Tonight it was time for a demo at Michaels to advertise the Acrylic Painting Workshop I'll be teaching this Saturday from 2-4pm. I have scheduled a still life for Saturday's lesson, but had yet to create the lesson plan. Since I hadn't thrown myself any curve balls lately I decided I'd create a new lesson plan during the demo. Ah, the thrill of coming up with something new while the public is milling about…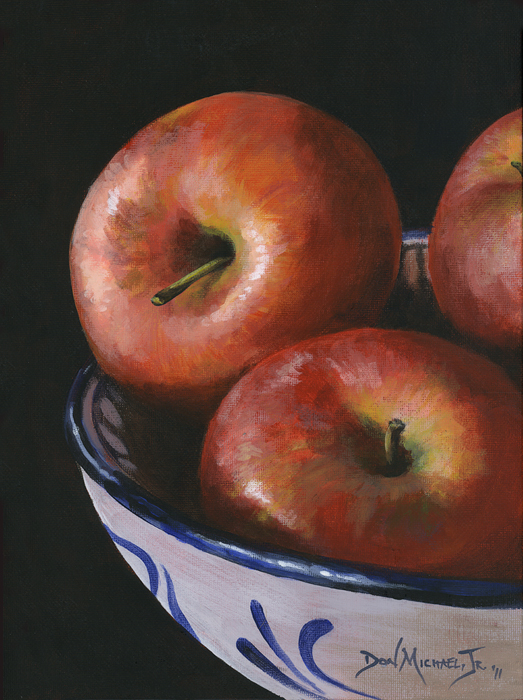 Ripe 'n Ready – 12″x9″ – Acrylic on canvas board – Completed 11-3-11
©2011, Don Michael, Jr.
One exciting part of this challenge was that I was painting apples with no true red in my palette. The Grumbacher guidelines for a Still Life Lesson Plan is to use their colors Ultramarine Blue, Cadmium Red Light, Cadmium Yellow Medium, Burnt Sienna, Raw Umber and Titanium White. To make the 'red' I had to use a mixture of the cadmium red light and the ultramarine blue, creating a muddy red-purple. Then, a few strategically placed blobs of green were introduced to help to convince the eye that there is more red in this painting than there really is. Ooooh, this stuff is fun!!!
Now it's time for me to get geared up for First Friday, which will be going on tomorrow night from 6-10pm. I'm really excited that I'll be displaying Aspire and Endure in public for the first time, and even more excited that my model plans on coming by to see it in person for the first time. I anticipate a fun night…
Happy Creating!
Silk Artist extraordinaire, Deborah Younglao, recently decided to revamp her blog and website. While doing so she decided it was the perfect time to create a new logo as well. During the process of creating her logo she posted what she had done so far and asked for input from her blogging friends. I felt she was well on her way to a good looking logo but had a couple suggestions for her which she accepted graciously. I think she came up with a fantastic logo and am proud for my minor part in its inception. You can see what she had to say about the process of creating her logo, as well as some lovely words about yours truly, by clicking on the finished piece below.

Deborah Younglao Logo – ©2011, Deborah Younglao Silk Art
Thanks, Deborah, this was fun.
Happy Creating!