As another year draws to a close it's impossible not to reflect on where I was at the beginning and where I am at the end.
Personally, it was a roller-coaster ride of emotions with some severe lows balanced by wonderful highs. All-in-all, my family and I know that we are truly blessed as we enter 2012 healthy, whole and still in our home. God is good.
Professionally, I started 2011 as an artistic nomad. I was in the middle of a transitory period that found me floundering around as I searched for relevance in my artistic endeavors. Not being one to sit idle even when at a loss, I continued to experiment and explore – creating many pieces, but few that truly felt 'right'. One of those experiments was to design a few masks using blank pre-made paper mache' masks that I'd found online. I'm really glad that I did, because those home-made masks would become a conduit to something new and exciting for me – my Eye Candy series of palette knife paintings. (more on that shortly…)
I believe that there were three huge game-changers for my work that occurred during the first half of 2011.
The painting I did for my brother, David's, book cover, The Door to the Sky. This was the first major 'non-mask' painting that I had done in several years. It was a fun challenge that ended up informing several works as the year progressed.
Painting the two hearts for St. Judes. Most of March and April were spent painting those two hearts, but all that work ended up being not only a blessing for our local St. Judes hospital, but being a blessing for me and my family. Little did I know at the time that I was 'tithing' forward… (The blessing I refer to was a huge one and can be read about here.)
The painting I did for the event called Circus Couture (which can be read about here) was probably one of the biggest of these game changers. The painting I did for them, Dare to Believe, solidified a direction I was considering for my Over the Under-Schmeerings series.
As 2011 progressed I found that all of the experimenting I had done while in my search for artistic relevance had been laying the groundwork for something bigger and better in my Over the Under-Schmeerings series. I have since done several major pieces in this series and have ideas percolating for several more. I've never been more excited by a series and I cannot wait to see where it all takes me.
In May I did a palette knife painting of one of my own mask creations on a 5″x5″ canvas that would start something that continues to this day. I titled that painting Butterscotch because of her coloring. Later, I realized I had discovered a new naming convention that I could use on a few paintings – titling them after different types of candy. When I posted the fourth of these paintings my friend Celeste left the simple comment, "Eye Candy", and voila! the series was titled. On a personal note, I am so glad that I had started this series because when my family and I went through some dark times in July it was these little treats that helped to keep me painting and sane. (that story is referred to above with "tithing forward".) After happy times returned and as the year has progressed I continue to create these tasty treats and am proud to say that the one posted below is the 50th in the Eye Candy series – and the 3rd in the Eye Candy: Zotz sub-series…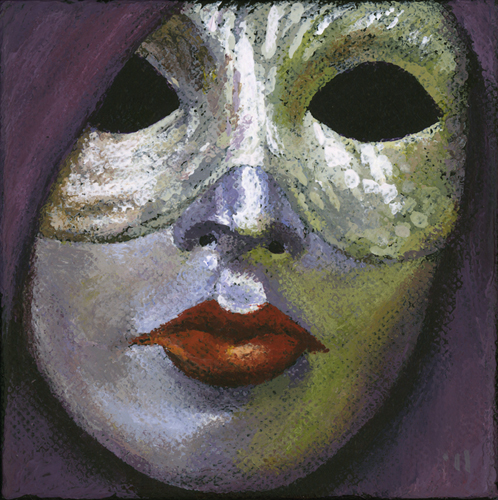 Grape Zotz – 4″x4″ – Acrylic on canvas – Completed 12/30/11
©2011, Don Michael, Jr.
All-in-all I would consider 2011 a successful year as an artist. I painted almost every day. I shared my love of painting in my Michael's/Grumbacher workshops. I created several book covers. I did some design work. I created several masks. I got into some shows. Most importantly, I fellowshipped with art friends all over the world.
I hope everyone has a wonderful New Year's weekend. Party well, but party safe!!! I want you all back for more art chats in 2012…
Happy Creating!
Well, I finally awakened from my Christmas stupor and headed back into the studio for the first time in over a week. I think that's the longest break I've taken in nearly 4 years and I was starting to go through withdrawals…
Part of getting back to work entailed heading out to Michael's Arts and Crafts store to do another demo to promote my upcoming Acrylic Workshops. Happily, I walked out of there with a new addition to my Eye Candy: Zotz series…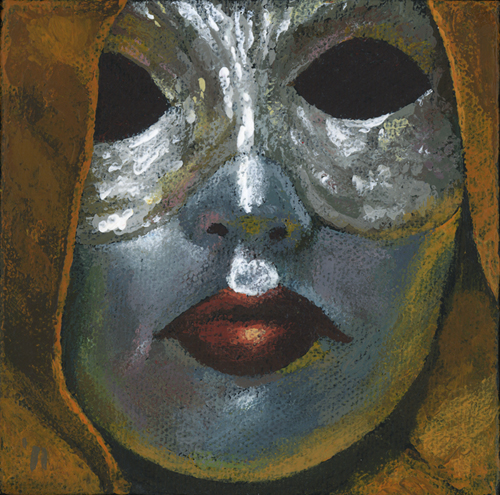 Orange Zotz – 4″x4″ – Acrylic on canvas – Completed 12/27/11
©2011, Don Michael, Jr.
As I was preparing Orange Zotz for posting I realized that I had forgotten to post about another Eye Candy painting I completed last week. I had originally intended to use it in my Christmas greeting post, but completely spaced it out. It probably has something to do with all those holiday spirits… 😛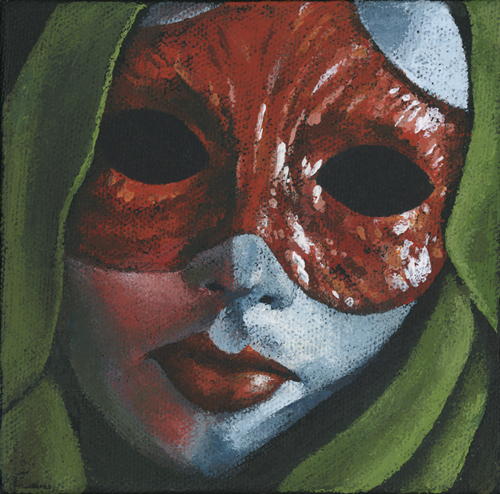 Crimp Ribbon – 5″x5″ – Acrylic on canvas – Completed 12/19/11
©2011, Don Michael, Jr.
Oh yeah… I also realized tonight that a piece I had started on early this year is actually finished. (I originally wrote about it here.) All I needed was the title and it came to me just seconds after I decided the piece was indeed complete. All I had to do then was sign it, date it and add a clear gloss finish…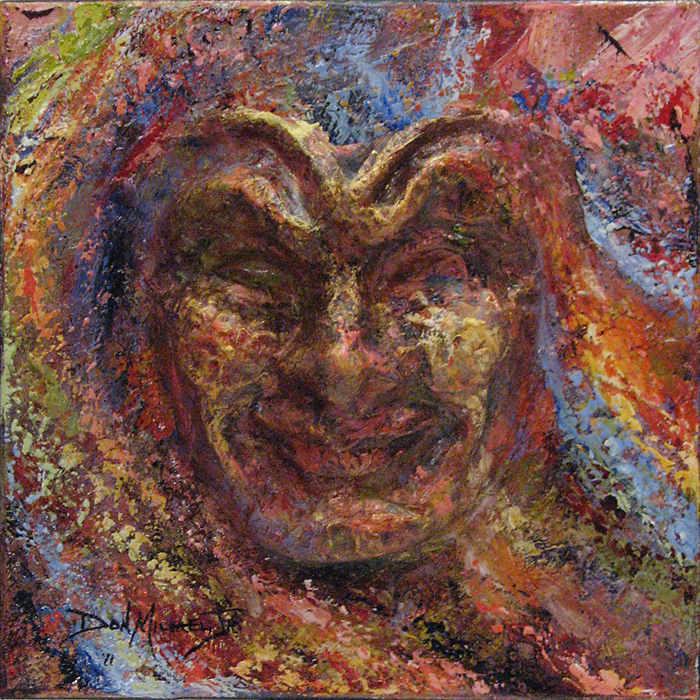 Keeping An Open Mind – 12″x12″x4.5″ – Acrylic and Paper Mache' on canvas – Completed 12/28/11
©2011, Don Michael, Jr.
This was originally an experiment which incorporated both my 3D mask paintings with my Over the Under-Schmeerings paintings. As you can see, the 3D is actually UNDER the Under-Schmeerings and there is nothing OVER the Under-Schmeerings, but who's really keeping score? Since it's really hard to get a sense of the 3D element from a straight on photo, I thought I'd include a sheet of multiple views…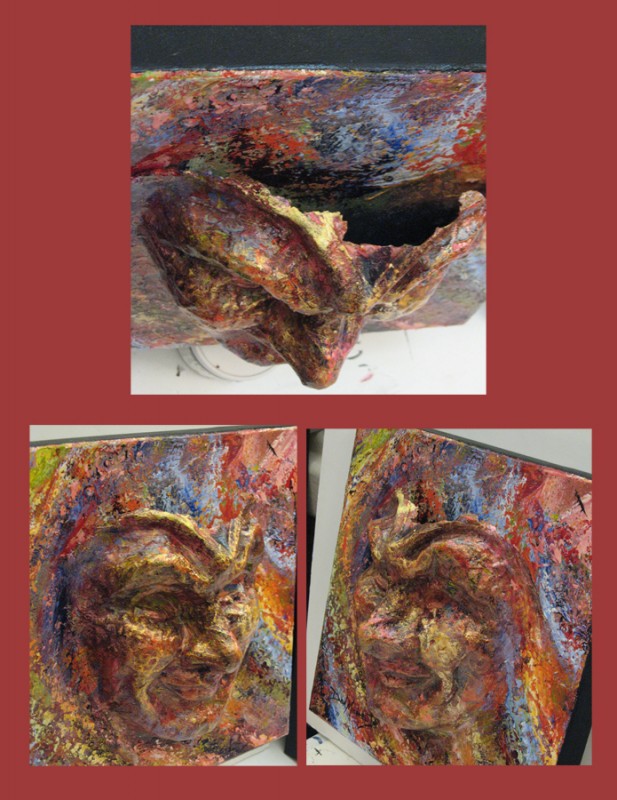 Keeping An Open Mind – alternate views
©2011, Don Michael, Jr.
Now it's time for me to go rest my eyes after a happy, long, and fruitful day of creating. I anticipate even more fun tomorrow – oops, I mean later today…
Happy Creating!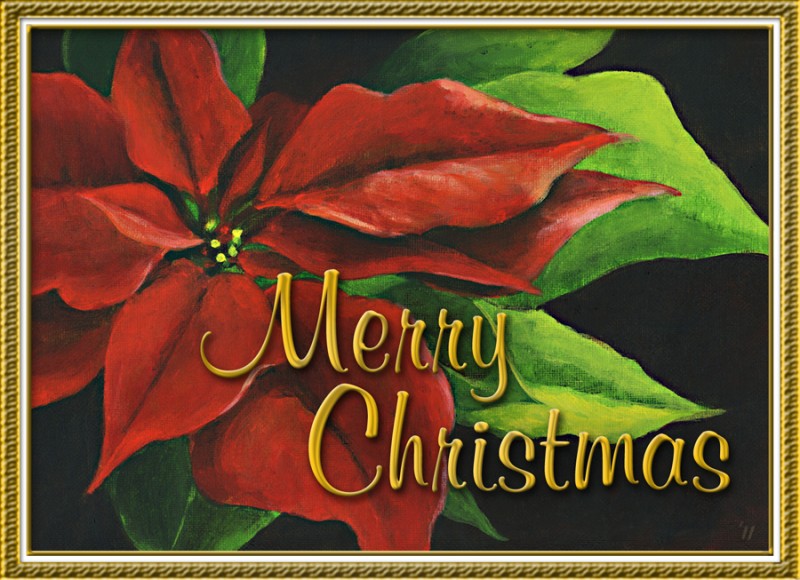 Merry Christmas 2011 – Acrylic on canvas, modified in Adobe Photoshop
©2011, Don Michael, Jr.
I cannot believe that Christmas weekend has already arrived! Here we are at the end of another year and it feels like it just started. Wow!
I want to thank all of my friends out there in our blogosphere for staying with me through the crazy ride of 2011. It's been an interesting year… an exciting year… a scary year… and a year filled with many blessings and miracles. My wife and I have dubbed 2011 our "Year of New Beginnings" and look forward to the blessings that await us in 2012.
We wish you all the Merriest of Christmases and may 2012 be your best year EVER!
Happy Creating!
Last Thursday I started on an Eye Candy painting during my demo at the Michael's in North Las Vegas. I wasn't able to work on it again until Monday because of having so many irons in the fire. One of those irons was the Acrylic Workshop that I had scheduled for this past Saturday at that very same Michael's. Below you can see my class getting ready to get started…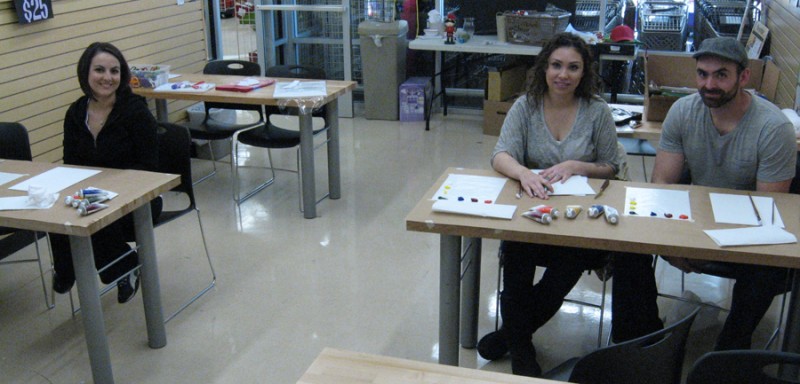 Of course, I forgot to use my camera during most of the stages of painting, but at least I remembered to get a shot towards the end while they're all still hard at work…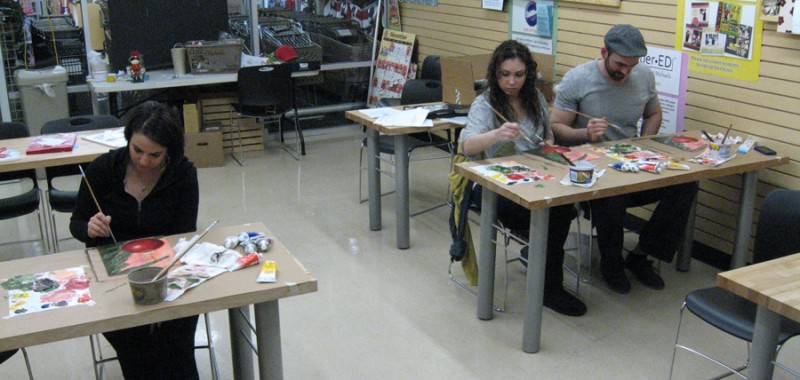 And, thankfully I remembered to get a shot of them with their finished paintings…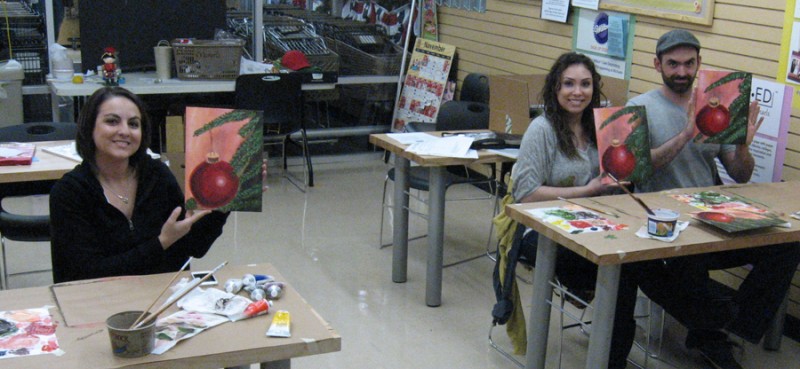 Thanks, Ashley, Elle and Joe for being such good sports. You all did a GREAT job with your paintings!
The rest of my weekend was spent with several non-art type projects that kept me from the studio. However, on Monday, once I got the family all off to school and work, I was finally able to settle back into the studio and get some painting done. I completed the aforementioned Eye Candy painting which you can see below. It is named after one of my favorite candy bars, the Zero bar, which is the only thing that I will allow to pass my lips that has peanuts in it. (In case you haven't figured it out yet, I HATE peanuts – and especially peanut butter. Bleck!!! But in the case of the Zero bar the almond flavoring masks that grotesque peanut flavor pretty well.)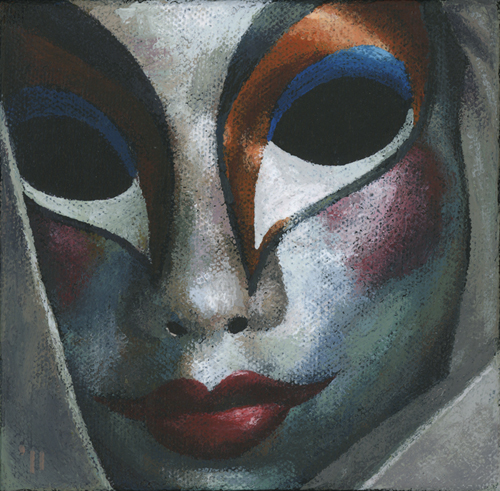 Zero – 5″x5″ – Acrylic on canvas – Completed 12/12/11
©2011, Don Michael, Jr.
Then, tonight (Tuesday) I gave another demo at Michael's and came away with the following almost completely done. I just had a few minutes of work left on it when I got back to my studio…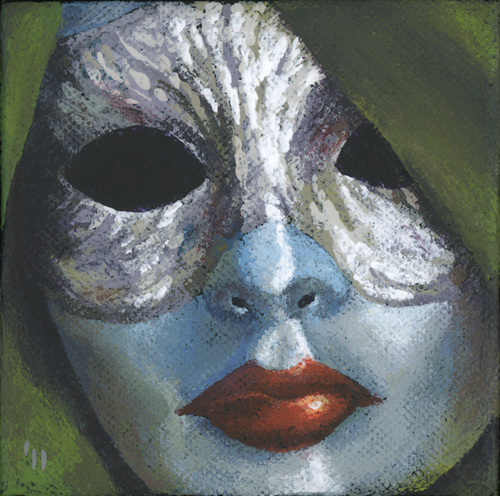 Apple Zotz – 4″x4″ – Acrylic on canvas – Completed 12/13/11
©2011, Don Michael, Jr.
This is the first in what will be my new Eye Candy sub-series, Eye Candy: Zotz. I've never tried Zotz candy, but I do like their name. There will be 6 Zotz paintings before the sub-series is complete.
Tomorrow (Wednesday) I'm going to be working on something totally none-art for most of the day and will probably be wiped out by tomorrow evening. But, I hope to still find a little time to do a bit of painting. We'll see…
Happy Creating!
Sometimes an idea takes a while to develop, and then suddenly, inspiration! It's as if the answers come to you out of the blue…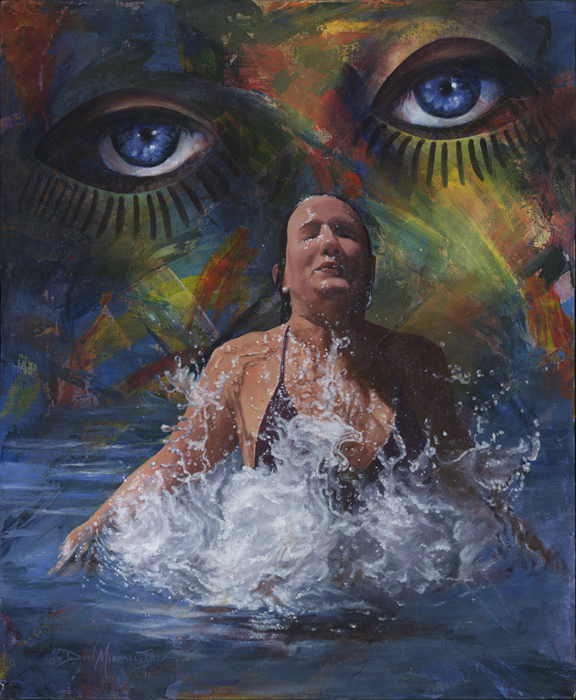 Out of the Blue – 24″x20″ – Acrylic on canvas – Completed 12/8/11
©2011, Don Michael, Jr.
This latest Over the Under-Schmeerings painting was a really fun challenge. I'd been wanting to use the photos that my good friend CJ took of the lovely Melissa jumping out of the water ever since our photo shoot this past summer. I just had to wait for the right moment and the right inspiration. (Thanks, Melissa, for allowing me to use your visage once again. Thanks, CJ, for taking the great photos for me to work from.)
It's been a while since I've taken the time to document the progress of one of my paintings. With Out of the Blue I finally remembered to keep my camera nearby so I could do so. Please indulge me as I share the progression…
Below is the Under-Schmeered canvas that came about while I was painting the Ginormous Heart for St. Jude this past Spring. You can see that it is quite a mess of crazy strokes and colors…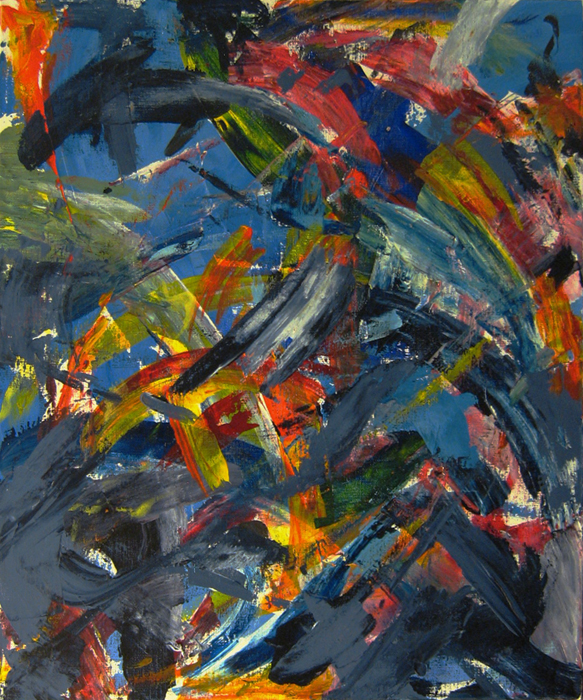 To start the painting I thought it would be best to paint in the eyeholes of the mask and the eyes staring through them first. (It's been fun having these eyes staring out at me in my studio for the past couple weeks.)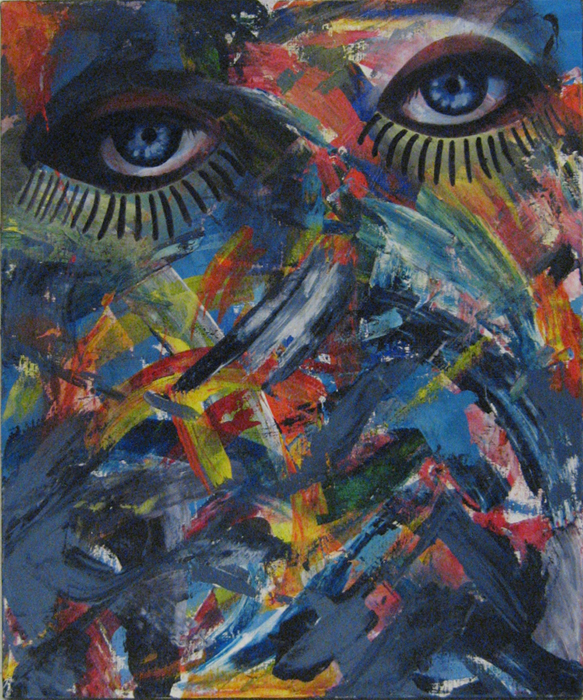 After allowing fear and trepidation to creep into my psyche it took me a few days to get around to it, but I finally started painting in the figure…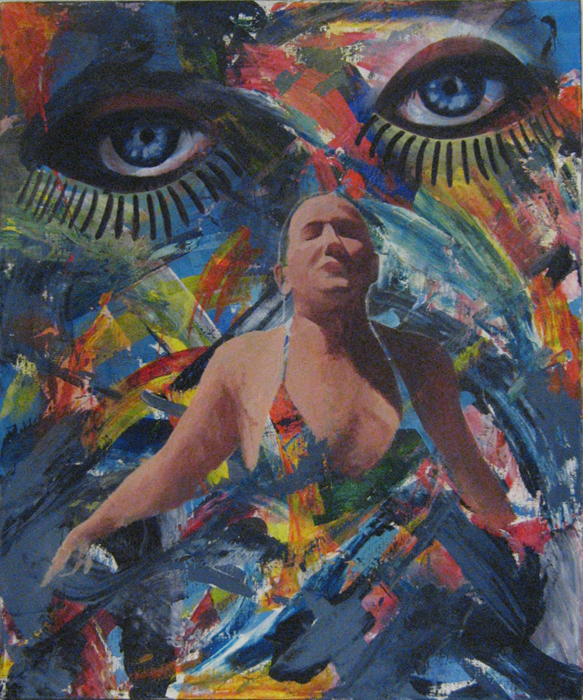 After a good night's rest I looked at what I had done and really started getting excited about where the painting was going. At this point it was time to finish blocking in the figure and then bring in the shapes of the splashes…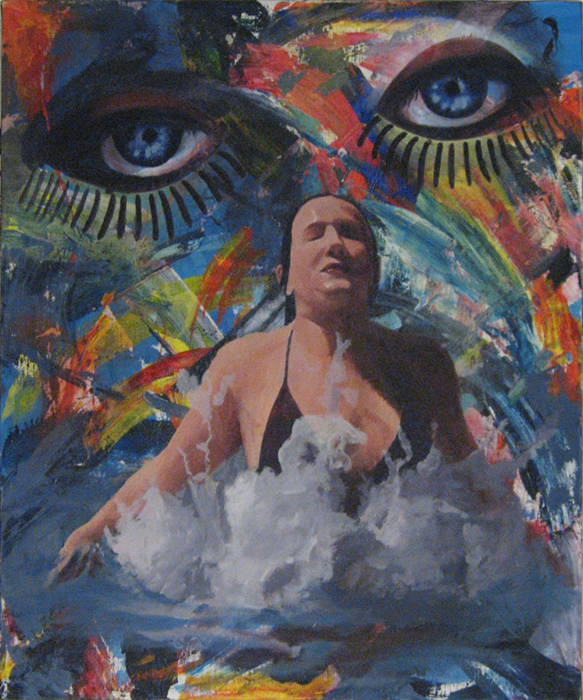 With the shapes of the splashes blocked in, it was then time to layer in the shadows across the figure…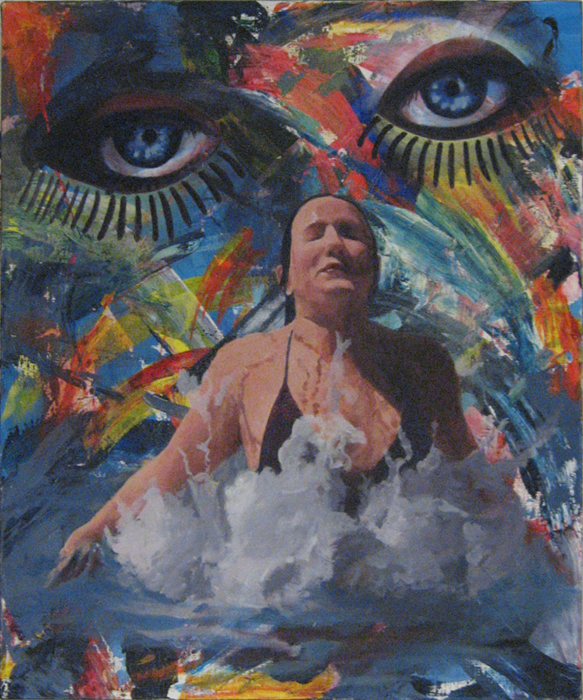 …followed by hours and hours of layering in the gradually brightening splashes.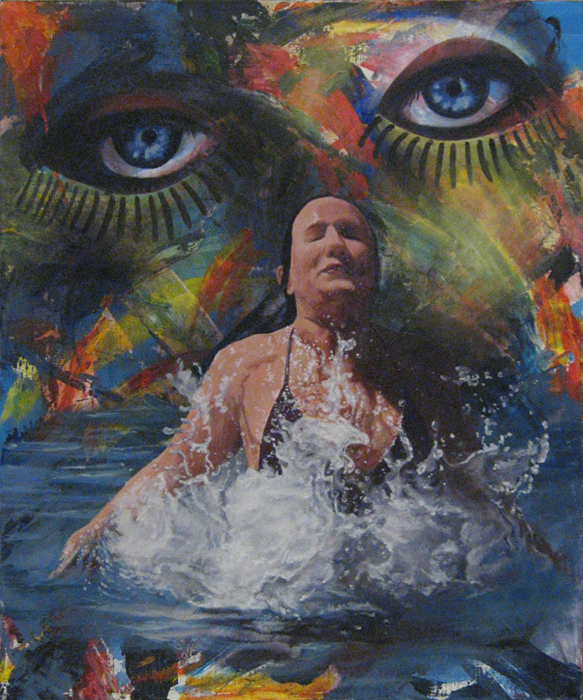 At this point I was fairly satisfied with what was happening with both the figure and the water. Now I just wanted to push the background back a bit to make the emerging figure really stand out. I also did a little fine tuning around the eyes. Here again is the final result…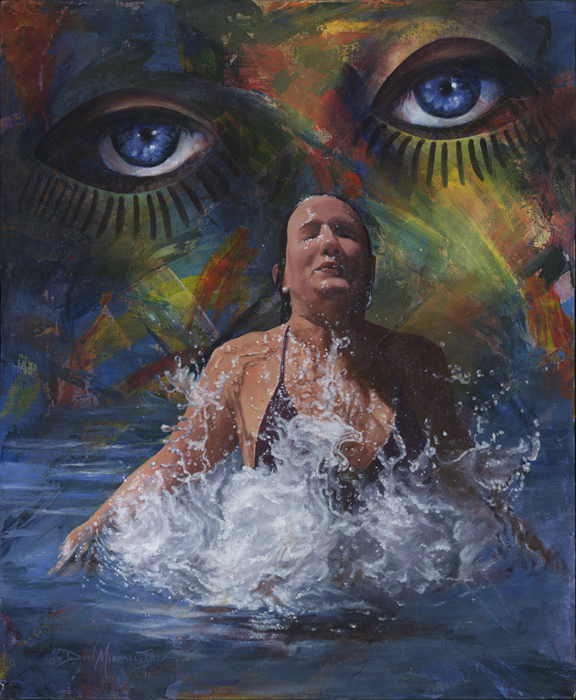 All images ©2011, Don Michael, Jr.
Wow, is this thing I do fun! I'm ready to go do some more…
Happy Creating!
As a high school freshman in White Deer, Texas I discovered the tangy and delicious Spree candies. The first time I ever saw that multi-colored foil-like roll of candies in the vending machine I decided it was worth the risk of a quarter to see just what they were about. Wow, was I glad I tried them. Like their slogan says, "It's a kick in the mouth"! For the rest of that school year there was usually a roll of Sprees in my pocket.
With the memory of these tangy treats in my mind I started on a new sub-series of palette knife paintings that I'm calling my Eye Candy: Sprees. Here is the first in the series…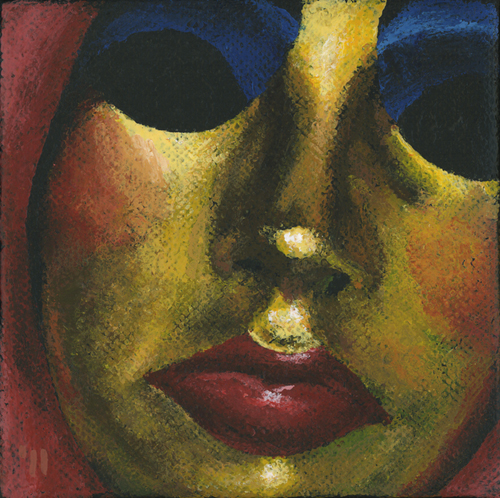 Cherry Spree – 4″x4″ – Acrylic on canvas – Completed 12/6/11
©2011, Don Michael, Jr.
As for other studio news, I'm getting really close to finishing the Over the Under-Schmeerings painting that I teased last week. I can't wait to be able to share it with everyone soon. Also, the concept for my Ginormous heart for St. Jude is starting to come together for me and I hope to be moving forward with it by early next week. Meanwhile, there's plenty going on to keep me out of trouble…
Happy Creating!
As I conclude what was a wonderfully artful weekend I'd like to share my most recent mask creations. As I was finishing the first one earlier this evening a special was running on Turner Classic Movies which showed short silent era movies and clips. The movie snippet that really caught my eye was an early piece by Clara Bow which showed her applying her makeup in front of a mirror. I was intrigued with the similarities between the lips of my new creation and the way she applied her lipstick. So, I felt it only right to name my mask accordingly…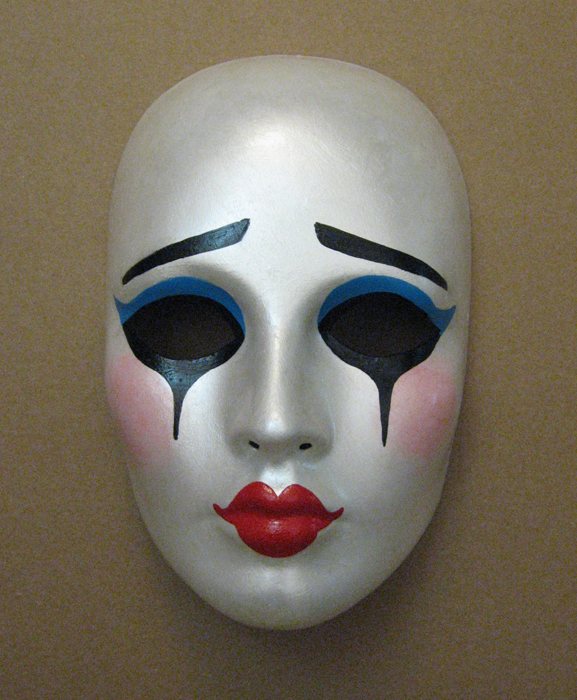 Clara – Acrylic on Primed Plastic Mask – Completed 12/4/11
©2011, Don Michael, Jr.
When it was time to name this next mask I had absolutely no clue. So, I decided to flip through the channels of my TV with the volume off and use the first name that appeared in closed-captioning.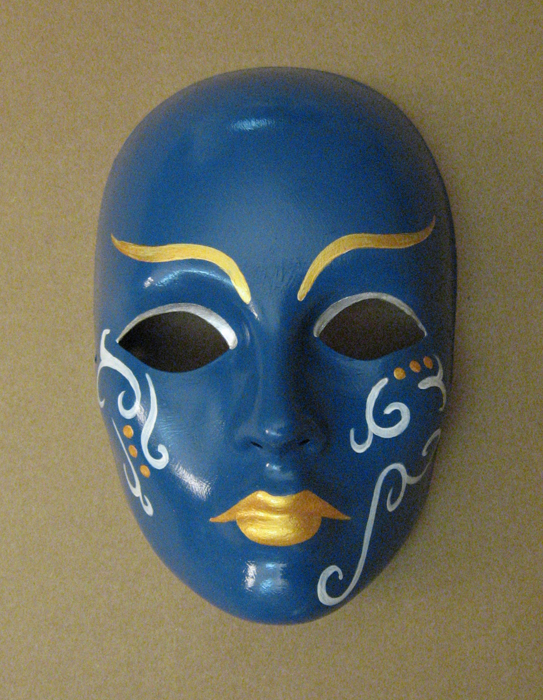 Francis – Acrylic on Primed Plastic Mask – Completed 12/4/11
©2011, Don Michael, Jr.
Both of these masks have been in the works for quite some time but I had not found a resolution for either of them until Saturday night. After having a great First Friday evening and then teaching a rewarding painting class on Saturday afternoon I felt inspired to pull them out and try again. I'm glad I did…
I can't wait to start experimenting with getting both of these into some of my Eye Candy paintings. But, for now, I guess I should probably quit procrastinating and get to work on the big projects that are already on my plate.
Happy Creating!
Last night was my demo for Michael's and I started this new addition for my Eye Candy series, which I finished once I got home.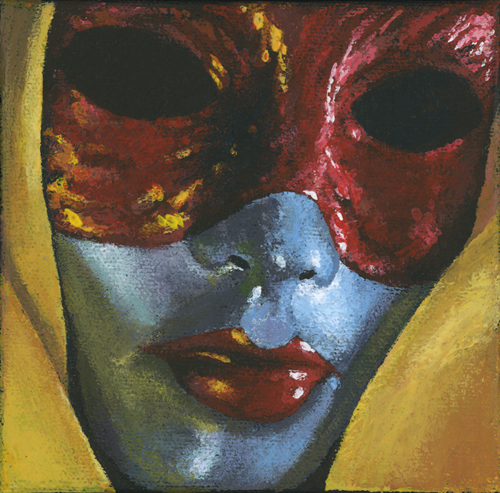 Sugar Baby – 5″x5″ – Acrylic on canvas- Completed 12/1/11
©2011, Don Michael, Jr.
As soon as I finish typing up this little post I will be heading downtown to the Arts Factory to get my area set up for tonight's First Friday event. Then, this evening after I get my kids all home from school and have a quick dinner with the family I will be heading back to be with my work during the event. If you happen to be in the Vegas area, swing by between 6 and 10 tonight and say "hi".
Then, tomorrow afternoon from 2-4 I will be teaching my next Acrylic Workshop at the Michael's Arts and Crafts store in North Las Vegas. Come by and join us for some fun with paint. It's only $25 (plus supplies) for the two hour lesson and you'll walk out with a finished painting.
Now I'm off…
Happy Creating!