Late last year I started a new Eye Candy: Sprees series of palette knife paintings. I don't really think it counts as a series, though, until you have more than one created. So, now I can officially call it a series…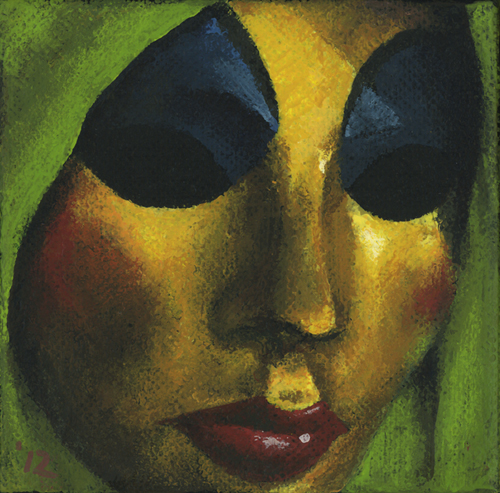 Lime Spree – 4″x4″ – Acrylic on canvas – Completed 1/26/12
©2012, Don Michael, Jr.
Saturday is going to be a crazy-busy-art-day around my household. First I need to switch out a couple paintings at the Arts Factory in Las Vegas (10am). Then, I need to drop off a couple paintings which will be in an upcoming show at the SpringHill Suites in Las Vegas (10:30am). Then, I'll be taking my daughter to the Las Vegas Arts Academy where she will be auditioning to get into their visual arts program (11:30am). That will take a couple hours since she'll be interviewed, show her portfolio and then have to do a 30 minute still-life drawing. As soon as she's finished we'll need to head home quickly where I'll have to grab my stuff and head off to Michael's to teach my Acrylic Painting Workshop (3pm). There's never a dull moment around here, that's for sure…
Happy Creating!
Tuesday evening I had absolutely nothing ready for my demo at Michael's. Since I had no time to prepare, and since I had quite enjoyed the experience of painting the dove on my ginormous heart for St. Jude's, I decided to do it again – except this time I chose to do it as one of my Over the Under-Schmeering (OTUS) paintings. Luckily, I had an 8″x10″ 'pre-schmeered' canvas ready to go, because I had done the unthinkable and waited until the last minute to grab my stuff and run for the door.
This was the first time I worked on one of my OTUS paintings in public. It was a bit of a strange experience, because people didn't seem to 'get' what I was doing until I was almost finished. I think it was too 'abstract', especially in the early stages, for the regular Michael's customers and associates. We'll have to see if I decide to do another publicly in the future.
Anyway, here is what I came up with…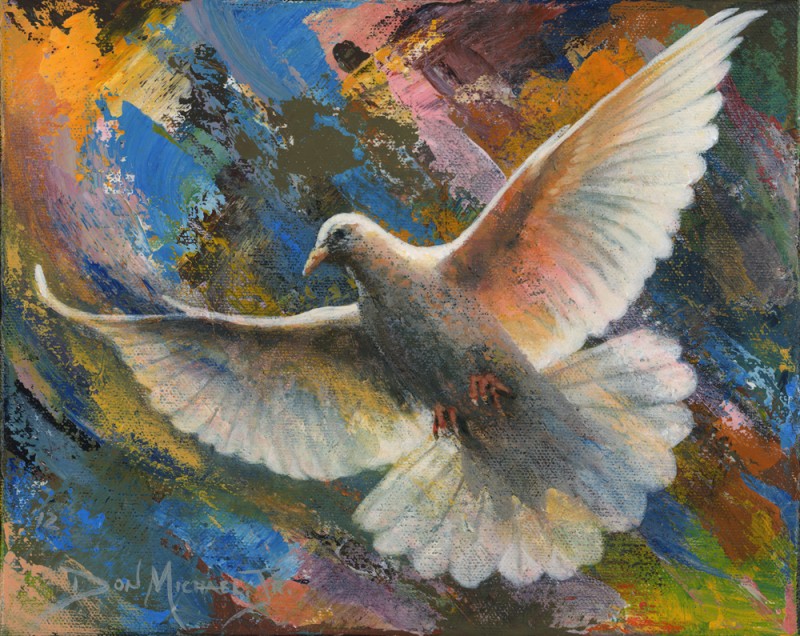 Take Heart – 8″x10″ – Acrylic on canvas – Completed 1/24/12
©2012, Don Michael, Jr.
When I got home from the demo and checked the comments on my blog I found that my friend, Nicki Ault, had asked me to show a closer shot of the dove I painted on Hope, my ginormous heart. So, I thought it would be fun to show both the OTUS version and the heart version in the same post…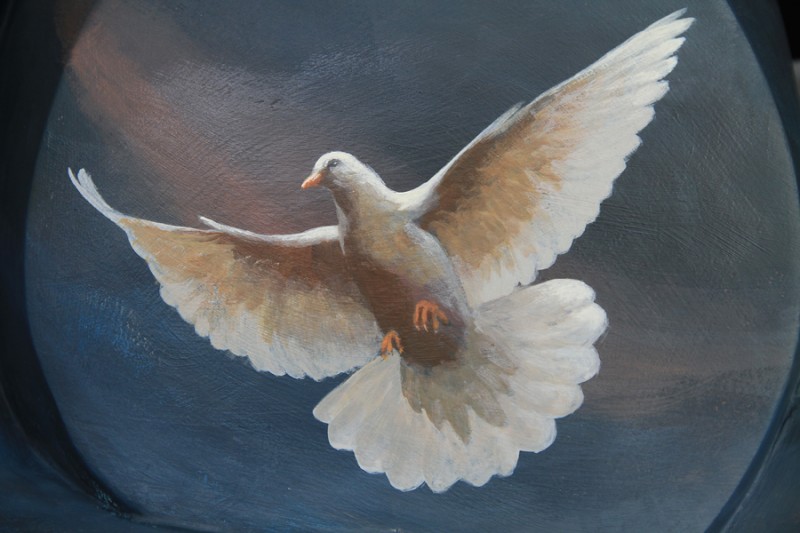 Hope –  dove detail – ©2012, Don Michael, Jr.
Most of my day today was spent with my good friend, CJ Boisvert, taking lots of photos of Hope from several different directions and angles. (The dove detail is one of those photos.) While shooting we decided that we needed to get me in front of the heart for the purposes of documentation and perspective. Now you can get an idea of the size of the heart…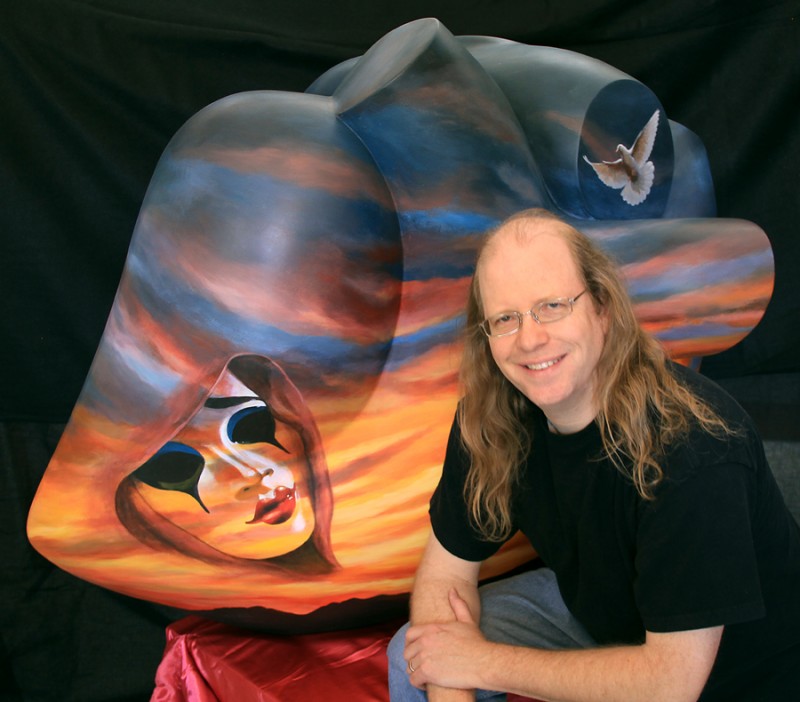 Hope and the artist – ©2012, Don Michael, Jr.
Thanks for the great photos, CJ.
Tomorrow will be spent applying the final varnish. I'm not looking forward to the fumes, but I can't wait to see how the varnish will make this thing 'pop' even more. Oh, this stuff is fun!
Happy Creating!
I have finished the Ginormous Heart for St. Jude! Finally!
I still lack applying the final protective varnish, but I plan to wait until later in the week before I do that. For now I'll show you the completed sides…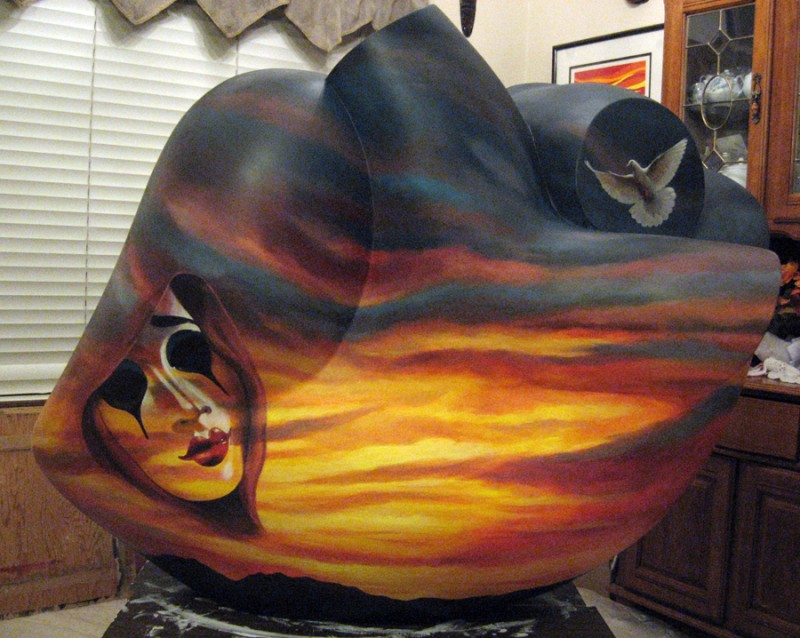 Daylight Dawning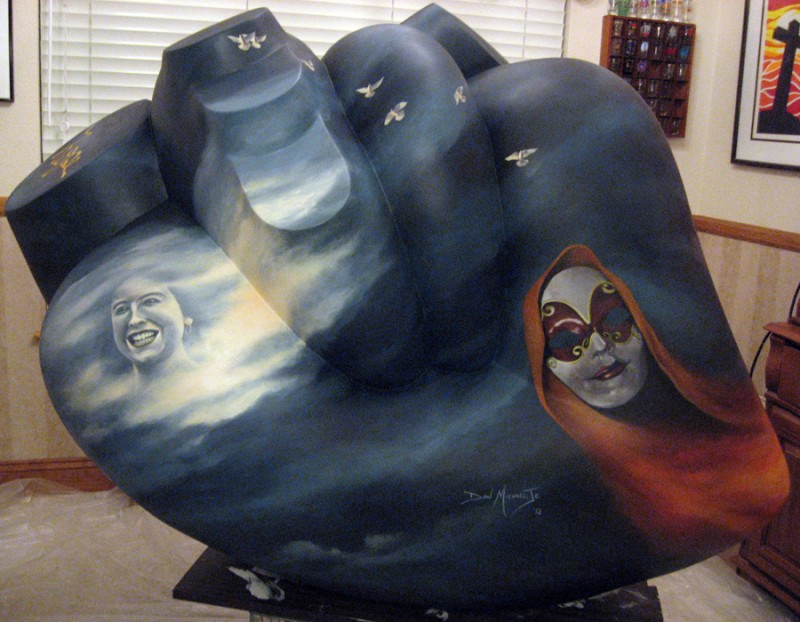 Soaring Spirit
…and the "Hope" title ribbon…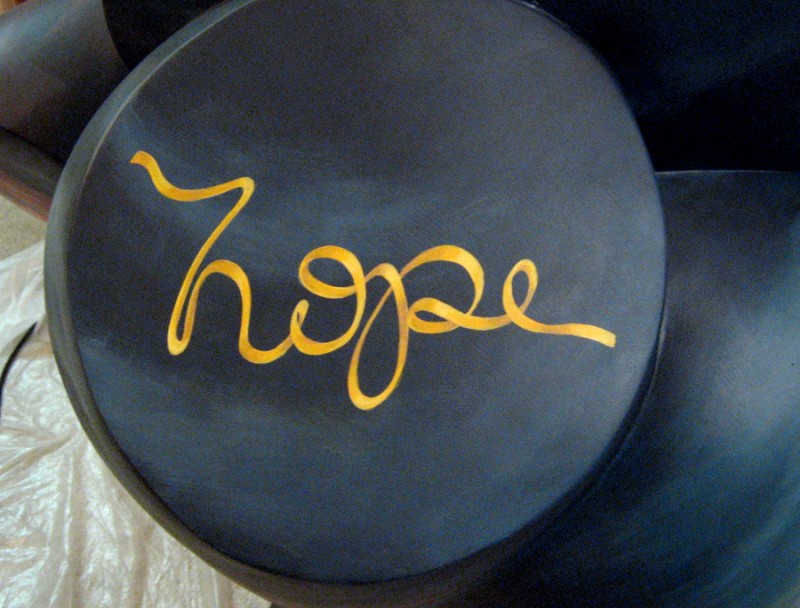 Hope
Another fun creative challenge for this project was coming up with the Artist's Statement for the heart using less than 500 characters. Any of my friends can tell you that I am NOT a man of few words, so that was a really excruciating exercise. Here is what I came up with:
In our darkest hours the hope of a new day sustains us. The rising sun is an affirmation of that hope. We find joy in watching the darkness give up its grasp to the morning light.
Hope is defined as desire with expectation. I hope any who read this will find the desire in their heart to give of their talents, time and treasures to help others.
I dedicate this heart to my son, Donald, who is a cancer survivor, and in memory of my cousin, Melodi Michael Thrift, who lost her battle with cancer as I was painting this heart.
I plan to take the rest of the night off now to decompress. I may even take most of tomorrow off – at least until it's time to go do my Tuesday demo at Michael's. Until then…
…Happy Creating!
I'm in the home stretch of my Ginormous Heart marathon. I hope to have it finished by Monday. We'll see…
Meanwhile, this is where it was yesterday when I called it quits for the day: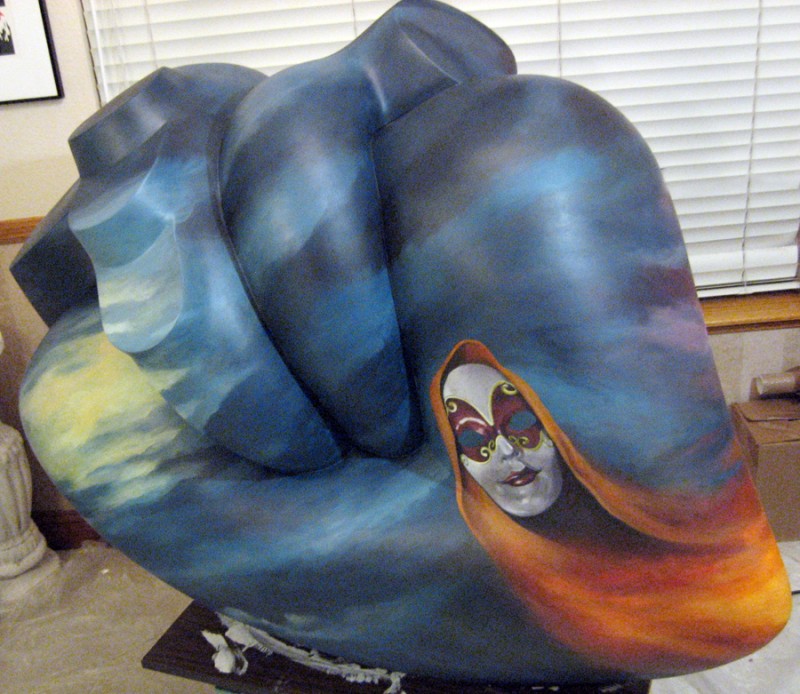 Ginormous Heart is Progress
I did quite a bit more on it today, but I've decided that I will not be showing anymore updates until the final unveiling.
Today was also my demo day at Michael's. I used it as an opportunity to work on the last of my Eye Candy: Zotz mini-series.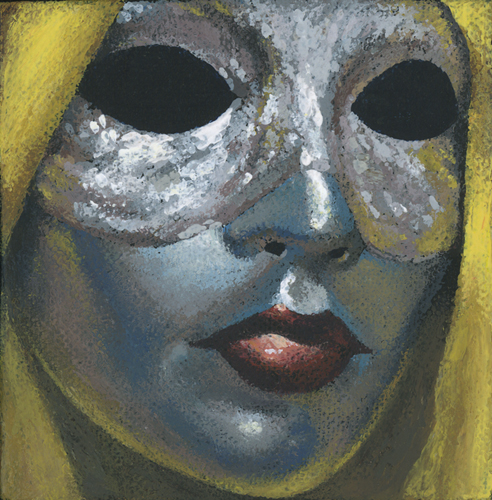 Lemon Zotz – 4″x4″ – Acrylic on canvas – Completed 1/19/12
©2012, Don Michael, Jr.
I really fought this one, and totally hated it while I was working on it. After giving it a few hours and looking at it again I've now decided it is the best one in the series. Go figure…
Now I think I'll call it a day. Tomorrow will be a new day made just for painting. I can't wait…
Happy Creating!
Tonight was demo night for me over at the Michael's Arts and Crafts store where I teach classes. It was a nice respite to get out of the studio for a few hours. Even though I was still painting, a change of scenery is always nice. I just wish the music they have playing over their intercom was as great as the music that blares out of my i-tunes. Oh well, the things we'll suffer for our art…
Anyway, back to the business at hand…
The little palette knife painting below is what I started on during my demo – and then finished once I got home…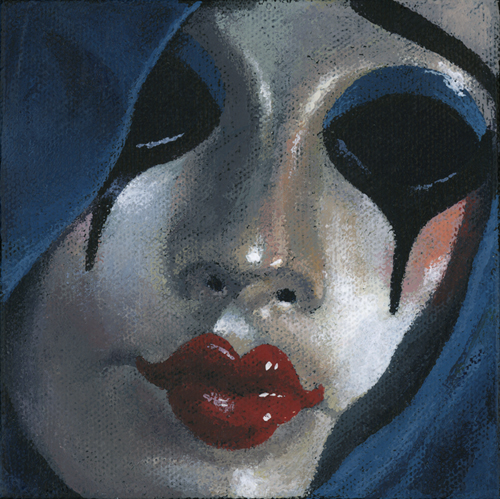 Cherry Sour – 5″x5″ – Acrylic on canvas – Completed 1/17/12
©2012, Don Michael, Jr.
When I sat down at my computer to write this post I checked my email first – as is usual – and found a cool little video had been posted to my facebook page. The video features Niki J. Sands, who is spearheading the collection of Las Vegas artists painting the Ginormous Hearts for our chapter of St. Jude's Medical Research Center. If you click on the heart below (painted by Niki) you'll be able to see the lovely Niki at work and talking about this wonderful event. You'll also see that she snuck yours truly into the video, as well as most of the other participating artists. Great job, Niki!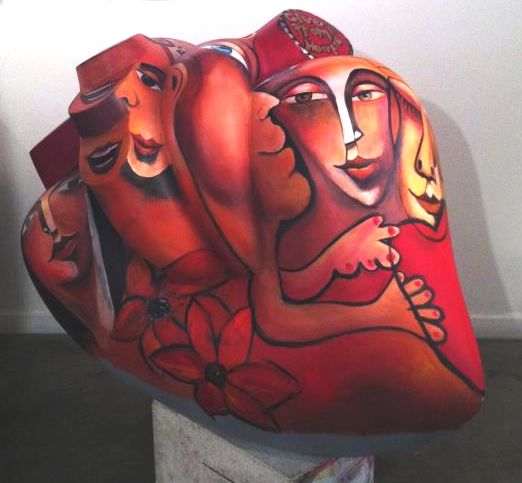 Niki J. Sands' Ginormous Heart for St. Jude
I'm getting really excited about the progress I made today on my heart. I've still got a ways to go, though, so I'd better get back to work…
Happy Creating!
I finally have paint covering the entire Ginormous Heart I've been working on for St. Jude. A couple of days ago I posted where I was at on one side. Today I'm posting the other side…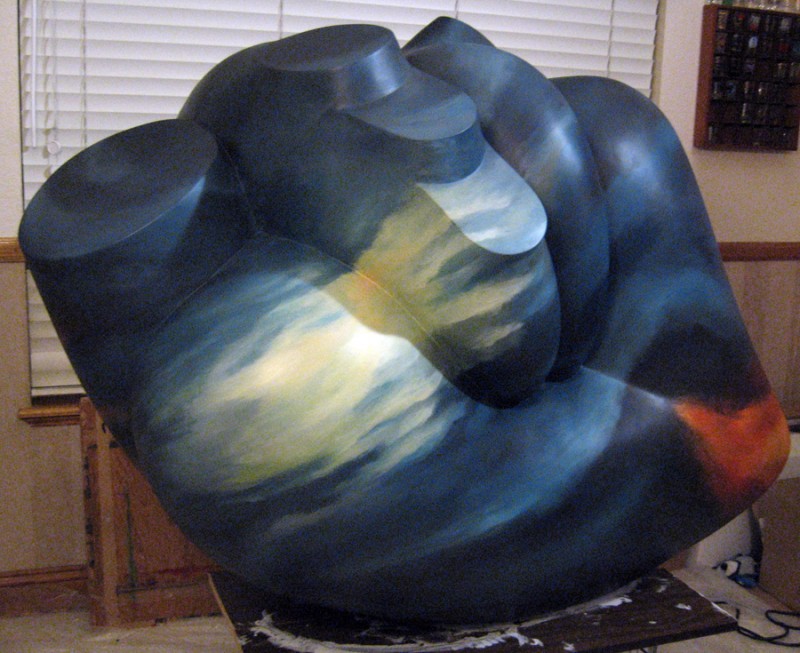 The Other Side – for now
I still have quite a way to go before I can call it finished. But, I will admit that it is very much a relief that there is paint covering the entire heart now. So far, I have gone through 3 full tubes of paint and will probably finish up at least 2 more before I'm done. It's all for a great cause, though.
In between sessions with the Ginormous Heart I am also working on another Over the Under-Schmeerings (OTUS) painting. This is what I've got done so far…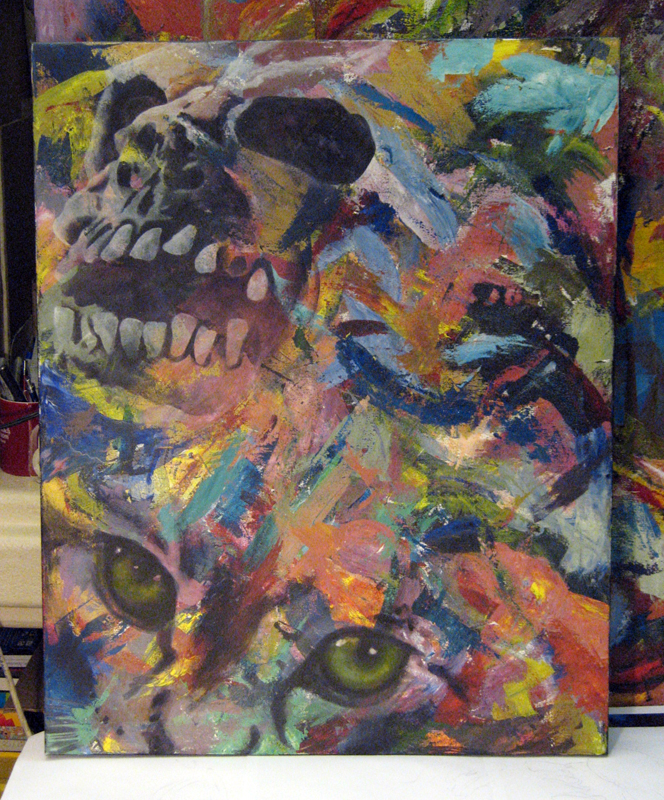 OTUS in the Works
And, now that I've caught everyone up on what I'm up to, I think I'll call it a day. I can't wait to see both of these projects with fresh eyes in the morning.
Happy Creating!
As promised a couple days ago, I added a little something to my Ginormous Heart to give it that "Don Michael, Jr. was here" look…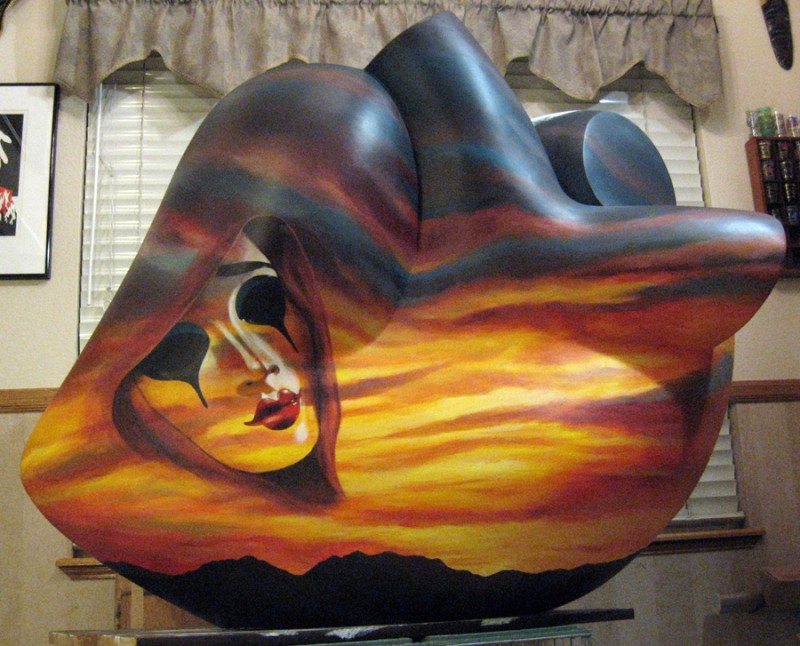 Ginormous Heart for St. Jude
I'm calling this side of the heart 95% done – which basically means that the entire heart is only 47.5% done. So, I still have a long way to go before I can have this ginormity ready for delivery. I have a whole two weeks left to get it done in, so I should probably get busy.
But, first…
In between sessions with the heart I worked on a new piece of Eye Candy. Here's what my trusty palette knife whipped out for me…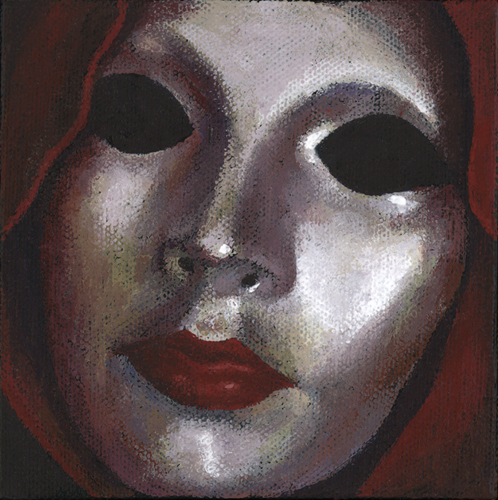 Mounds – 5″x5″ – Acrylic on canvas – Completed 1/12/12
©2012, Don Michael, Jr.
For my first painting of 2012 I completed Almond Joy. As soon as my wife heard the title she said, "Now you're going to need a Mounds as well." I knew right away she was right (there's a first time for everything) and I started planning. Here they are together…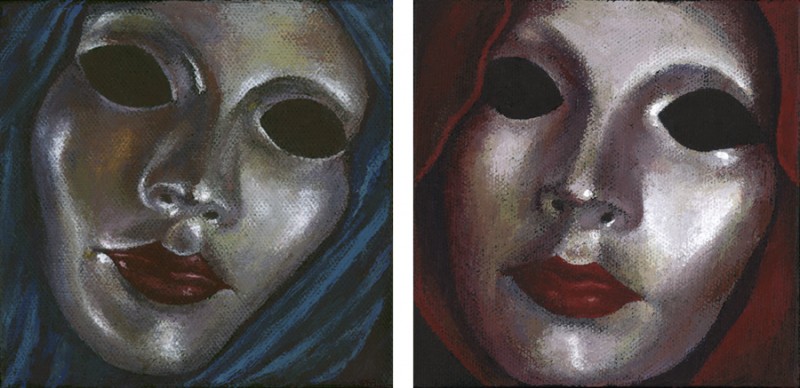 Almond Joy & Mounds
©2012, Don Michael, Jr.
I worked on Mounds while I was doing my demo last night at Michael's. One of the associates came by to watch me for a few minutes and asked me if I had a title ready for the painting yet. When I told her yes, and what it was she said, "You know that Mounds is the female of the pair, right?". I had to smile as I remembered the punchline to that joke from when I was a child. Crass playground humor obviously doesn't go out of style…
Happy Creating!
I made a lot of progress on my Ginormous Heart today, but I'm not quite ready to show its status right now. However, I do have something new that I want to share. I was on such a roll today that during downtime on my heart I started on a new Over the Under-Schmeerings painting – and finished it!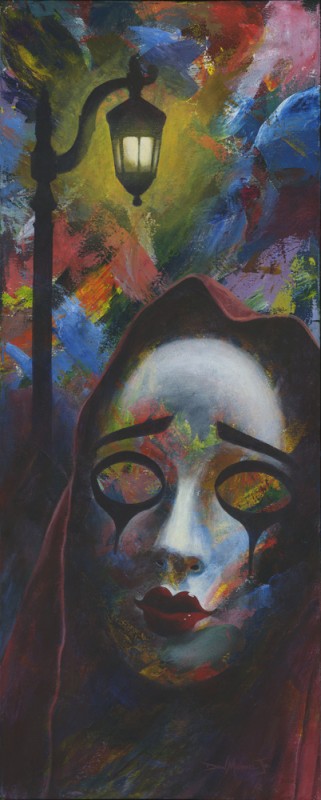 Finding a Way – 40″x16″ – Acrylic on canvas – Completed 1/11/12
©2012, Don Michael, Jr.
I just love days when the creative juices are flowing so freely and the paint is flying so fervently. Today was one of those days.
Now I'm wiped out and in need of some rest, so I think I'll go turn in…
Happy Creating!
As I revealed last week, I have finally been adding paint to the Ginormous Heart that I'm painting to help generate attention and much needed funding for our local chapter of St. Jude's medical research facilities. You can see below that I am past the halfway point on this side of the heart…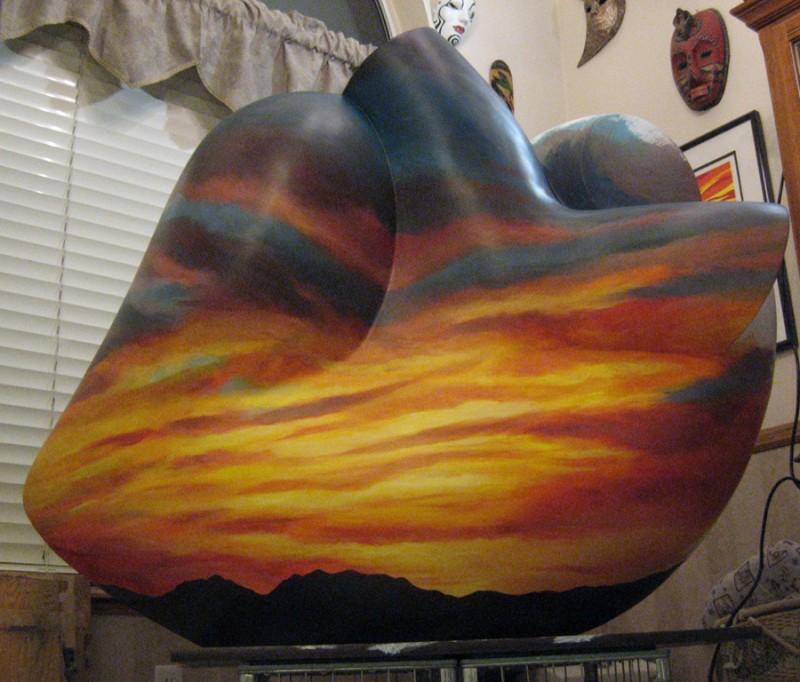 In order to paint the mountains on the bottom of the heart I had to lay it down for a while. There was no way for me to paint that area very comfortably without doing so. You can get a sense of the slope of the heart to its base in the photo below…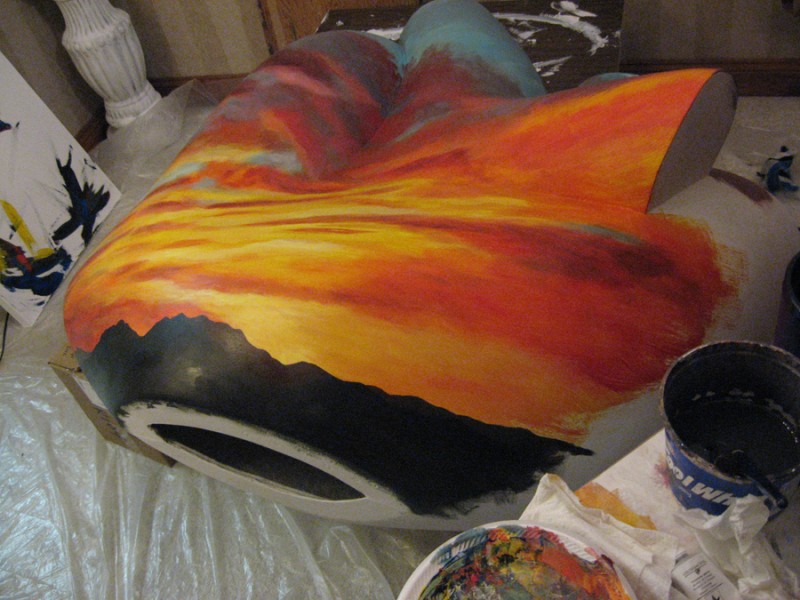 As soon as the heart was turned on its side and the hole in the bottom was revealed, my constant studio companion decided it was time to do some spelunking. Somehow, I was not surprised…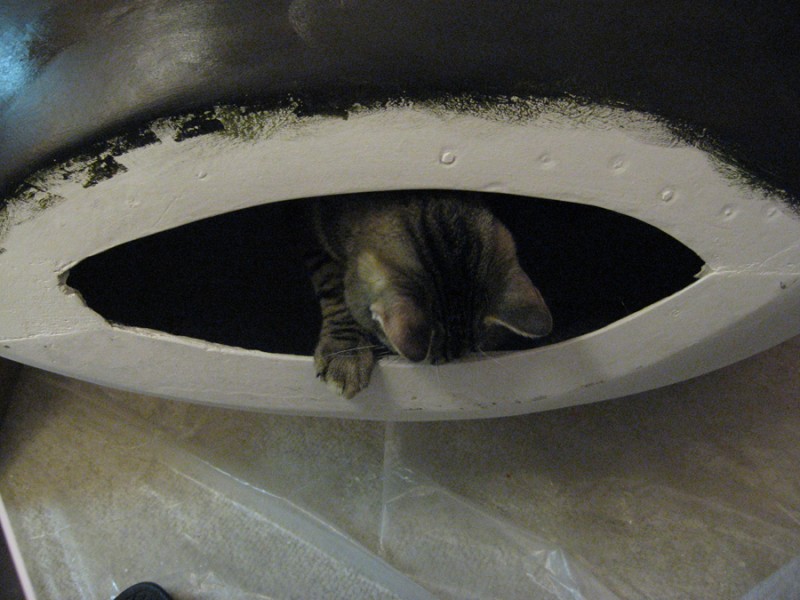 Now that the sunrise is almost finished on this side of the heart, it is time for me to add a little something extra to give it that "Don Michael, Jr. was here" look and feel. I'm really excited, and a bit nervous – but, that's a big part of what makes this thing I do so much fun!
Happy Creating!
Tonight I will be taking part in Las Vegas' downtown monthly art extravaganza called First Friday. In preparation I will be heading downtown this morning to 'tweak' my walls of paintings. This involves setting up, rearranging a bit and – most importantly – hanging all of the paintings I've finished since last month's First Friday. As I was boxing things up to take I realized that even though I felt I'd slacked off a bit because of the holidays I had still finished a total of 12 paintings in the past 5 weeks. Not too shabby, if I do say so myself…
Below are two of them, which are the latest additions to my Eye Candy: Zotz sub-series of palette knife paintings…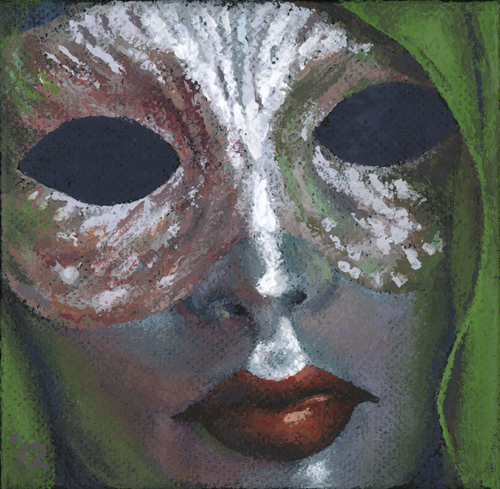 Watermelon Zotz – 4″x4″ – Acrylic on canvas – Completed 1/3/12
©2012, Don Michael, Jr.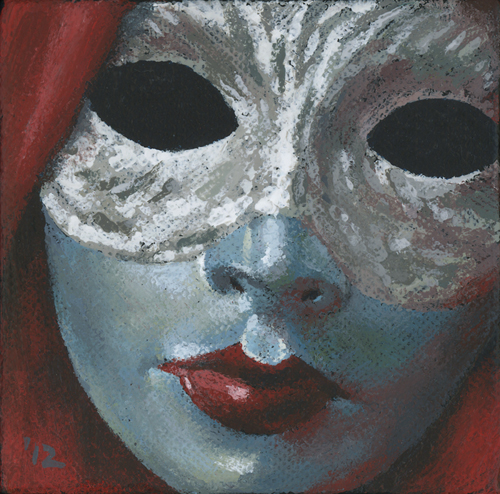 Cherry Zotz – 4″x4″ – Acrylic on canvas – Completed 1/5/12
©2012, Don Michael, Jr.
I am now 5/6's of the way through the series. I only lack Lemon Zotz…
In other news, I will be teaching my first Acrylic Painting Class of the year tomorrow (Saturday, 1/7/12) from 2-4 pm. If you happen to be in North Las Vegas at the time, feel free to stop in and have some fun with paint.
Happy Creating!
Next Page >>