Last night for my Thursday demo at Michael's Arts & Crafts Store I decided to experiment with another Over the Under-Schmeerings (OTUS) painting. The last time I did an OTUS for a demo the reception was less than enthusiastic which made me a little apprehensive about trying again. Interestingly enough,  the reception this time was completely different. I don't know if it had to do with the subject matter, the 'schmeerings' or different customers, but I had several people come by and hang out in wonder as I painted. This usually leads to some great conversations and I ended up having some great ones last night.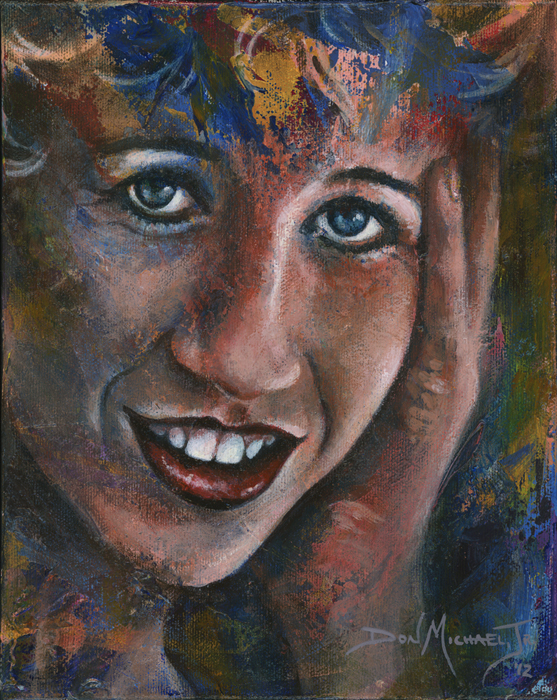 Cheryl – 10″x8″ – Acrylic on canvas – Completed 2/23/12
©2012, Don Michael, Jr.
The subject of this painting is the wonderful lady who runs the Blue Sky Yoga Studio & Gallery inside of the Arts Factory here in Las Vegas. She is a former dancer whose career took her all over the world with gigs in Greece, Aruba, Puerto Rico and Las Vegas. Her dancing career culminated with a long-running stint as one of the dancers in the Stratosphere's "Viva Las Vegas". Cheryl now focusses her energies on Yoga instruction and raising her family. You will never meet a kinder, more generous person. I have never seen her greet anyone without a big smile and a kind word.
Well, I got several irons in the fire and nothing seems to want to do itself. I'd better head back to the studio…
Happy Creating!
About a year ago I started creating some masks to use as 'models' for future paintings. At the time I had no idea where this might lead me, but I knew I needed some new inspiration and thought that it could be fun to create my own. The paint had barely dried on one of these masks when my online artist friend, Robin Samiljan, decided to add it to her collection…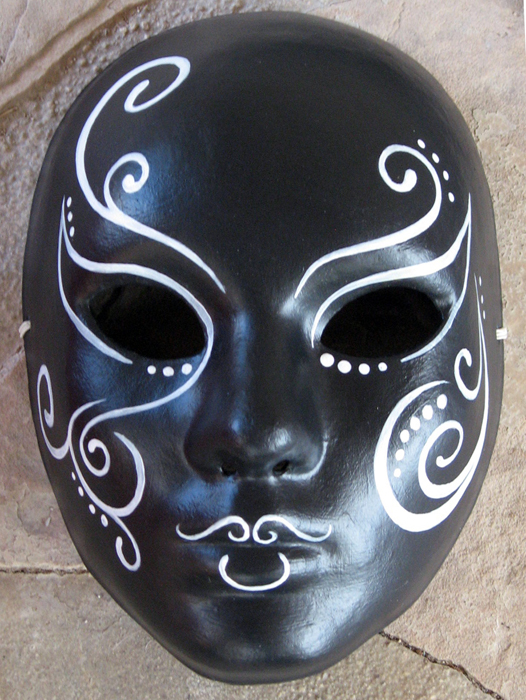 Swirls – Acrylic on paper mache' mask – ©2011, Don Michael, Jr.
As I had done with all of those new masks, I took a bajillion photos of Swirls before I sent it east to its new home. I often looked through the photos I'd taken, but had put off creating a painting from any of them. (Go ahead, you can add chicken sounds here…)
Anyway… a few months later my explorations with these newly created masks led to the beginnings of what was to become my Eye Candy series of palette knife paintings. When I posted about the 60th of these paintings recently, Robin asked me if I had used Swirls in an Eye Candy painting yet. Well, at that point I knew what I had to do. In the infamous words of Barney Stinson from the CBS sitcom How I Met Your Mother, "CHALLENGE ACCEPTED!".
Please welcome number 61 to the series…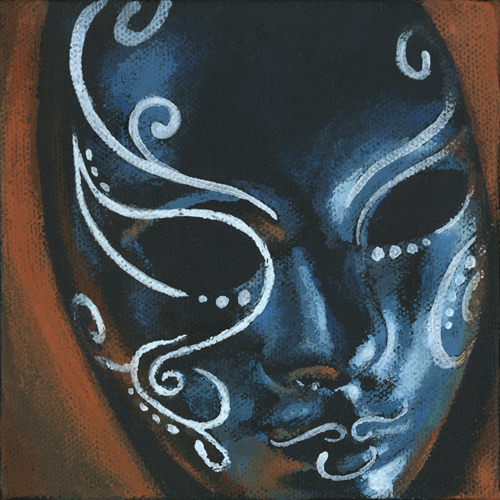 Heath – 5″x5″ – Acrylic on canvas – Completed 2/21/12
©2012, Don Michael, Jr.
FYI, after I had painted almost 1/2 of the swirls in this painting with my palette knife I decided that I had shown off long enough and used a brush to finish. My eyes thanked me…
Happy Creating!
This has been an artfully busy week which has kept me from spending much time online. I'm sure many of my blogging friends have probably noticed my absence and I apologize. I went online for a little while tonight to try to get caught up and realized just how unsociable I've actually been. Oopsy! Needless to say, I am still not caught up.
Art-wise, I am in the midst of two graphic design commissions which I hope to be able to share by the end of March. I also continue to prepare lesson plans for my Acrylic Workshops while doing demos to promote them. For those interested, this Saturday from 2-4pm we will be painting a landscape featuring elements from our local Red Rock Canyon.
Even in the midst of all this busy-ness I still made sure I had plenty of studio time. That is a MUST for me. It keeps me sane – and is so much fun. Here's the result of this "me" time…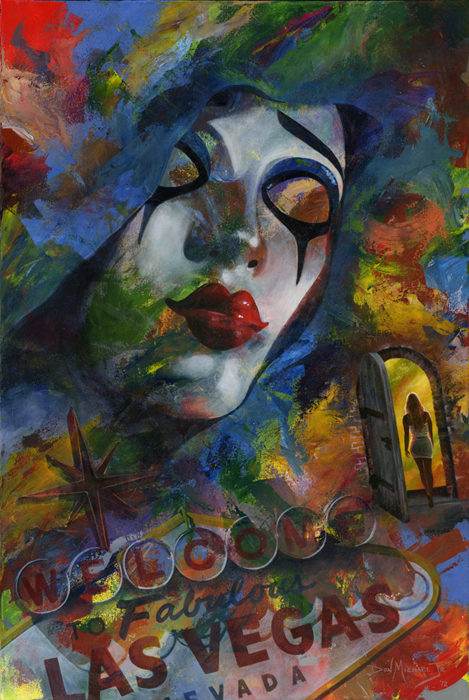 Threshold – 36″x24″ – Acrylic on canvas – Completed 2/16/12
©2012, Don Michael, Jr.
Some paintings happen so effortlessly that it almost seems like magic. The first two-thirds of this Over the Under-Schmeerings (OTUS) painting was like that. But then everything came to a screeching halt when I realized that the remainder of my original concept was just not going to work. It was too safe and too boring. It was nice enough, but it just didn't mean anything to me. So, after a couple days of contemplation I came up with something completely different. Something which tells a story… but a story with a twist… a story that must be finished by the viewer. In other words, my kind of painting…
Here's a closer look at that final element…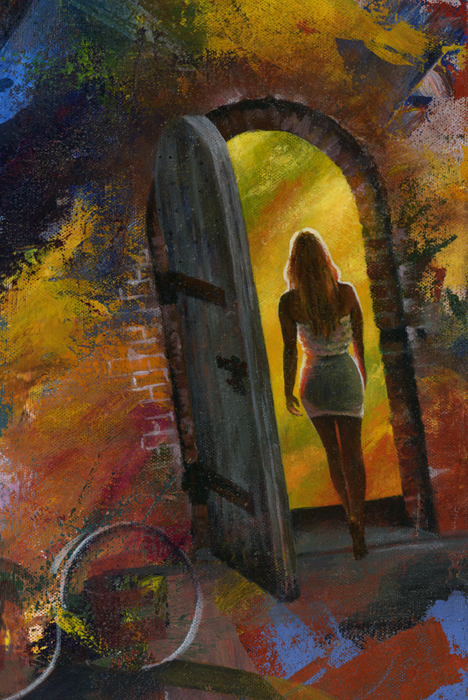 Threshold – detail – approximately 12.25″x8.25″
©2012, Don Michael, Jr.
Now it's time for me to get back to those other projects…
Happy Creating!
With this painting I am now 4/5's of the way through my Eye Candy: Spree sub-series…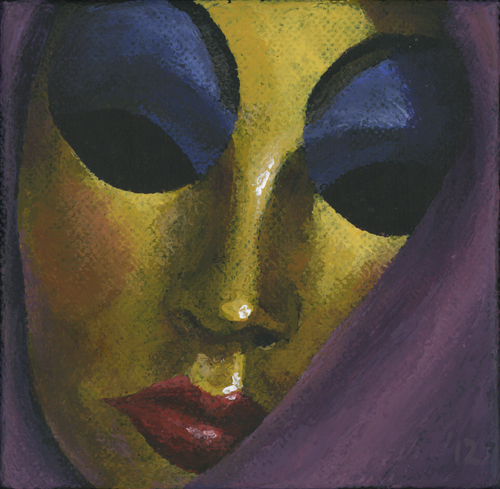 Grape Spree – 4″x4″ – Acrylic on canvas – Completed 2/9/12
©2012, Don Michael, Jr.
Recently, I commented that I was wondering if my Eye Candy series had about run its course. Upon further consideration, I don't necessarily think it's the series that I'm tired of as much as it may be the mask I'm using as the model in this sub-series. Her name is Nelli and I have now used her in a total of 12 paintings with one more on the way. Don't get me wrong, I still love that mask. In fact, it's one of my favorites. (I wrote about creating it here.) I just feel that it may be time to take her out of the 'model' rotation for a while.
Hmmm… Maybe it's time to create a new mask from which to model…
Speaking of creating masks, today I committed to creating 2 masks this year to be auctioned off at the 4th Annual Un-Masking the Mind charity auction. (Here is a post from one of the previous auctions.) My mind is already starting to percolate with ideas. Oh, boy!
Happy Creating!
As I mentioned in my last post, I've been doing some rearranging in my studio. Thankfully, I can now get back to my easel. Goody, goody Gum Drop!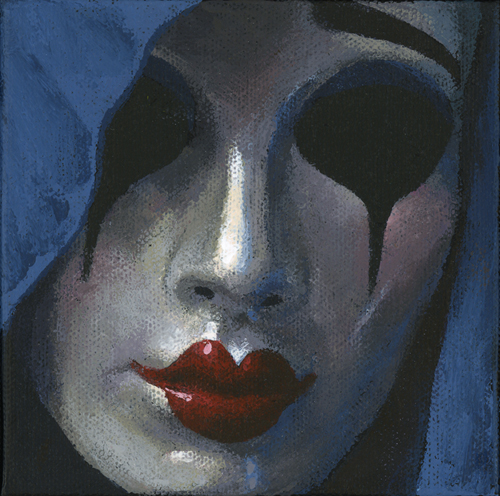 Gum Drop – 5″x5″ – Acrylic on canvas – Completed 2/8/12
©2012, Don Michael, Jr.
Happy Creating!
I've not touched a brush or paint since my Acrylic Painting Class this past Saturday. Instead, I have been reorganizing my studio a bit. Due to a long-running set of circumstances, all of my art books had been relegated to storage for a while. I was missing them tremendously, so I am in the process of getting them out and onto some shelves. Needless to say, there's a lot of perusing going on at the same time, which seems to slow down the process.
So, for today's blog I thought I'd tell of a serendipitous tale from my days as an Art Director in television. It's a circuitous tale that could take days to tell, but I think I can streamline it nicely into just one day. 😉
Many of my long-time blogging friends may remember the photo below that my good friend, CJ, took of me back in 2008.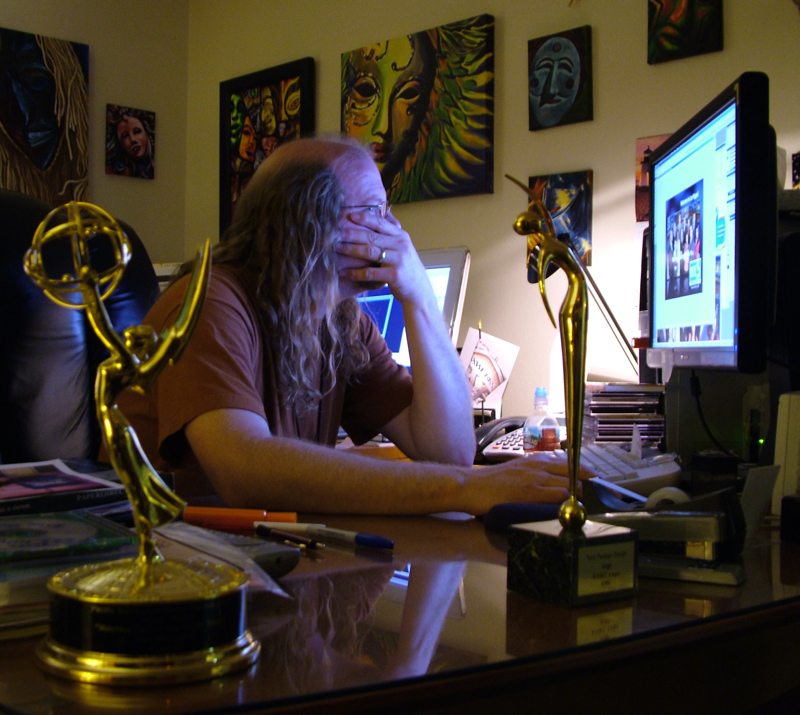 Don with some Statuettes
Most people immediately notice the EMMY trophy, of which I am quite proud. Few notice the slender trophy just a few inches away from it. That is the trophy for which I am most proud from my days in television. What's fun is, it's got a cool story to go along with it. (at least I think so…)
The story begins in a totally different TV station on the opposite side of the country. I was at the tail-end of a 3 year contract with a station that never could get a sense of who they were. I'd already changed the graphics package 4 times and was in the process of creating a 5th package. This time I was also working on a new logo, which I'd been wanting to do from the beginning. During the process, a new Creative Services Director (my direct boss) was hired (the third during my 3 year tenure). Before I had a chance to finish the logo and before I even had a chance to get to know my new boss, she decided that the company would not be renegotiating my contract. Now, this came as a total shock to me – here I was in the middle of creating a new look and brand for the station and it was being RIPPED right out of my hands. Needless to say, all work on that new logo ended for me on that day. The design I started was finished out by someone else. I never claimed any part of it because the final result was nowhere close to what I was going for. I left that company afraid that I'd never get another chance at creating a station logo, which is really a rare opportunity.
Now we'll fast-forward almost 3 years. During that time I had accepted the Art Director position in a TV station over 2000 miles away. Immediately upon starting at this TV station I was given the task of redesigning the graphics package. Thankfully, they also gave me the responsibility of designing a new logo. What makes this a big deal is that rarely is a new station logo created in-house by the local art director. Usually it is 'farmed out' to companies that specialize in creating logos and graphics packages for local affiliates.
Upon rolling out the new logo and graphics package we immediately started implementing it into our promotions projects, as well. Then, the new logo, the accompanying stationery (that I also created), and some of our promotions projects were submitted for award consideration by Promax (Promotions Managers Association) and BDA (Broadcast Designers Association). These are both international organizations that represent pretty much the entire creative side of television. Every year both organizations jointly hold a huge convention where marketing, promotions, graphics and other creative managers from all over the globe spend 3 days together reveling in the love of what they do, which culminates in huge awards ceremonies for both BDA and for Promax.
My logo won BDA gold! My stationery won BDA silver! The promotion (that my boss, and great friend, Dale Wyman, submitted with me) won Promax Gold! Needless to say, we were ecstatic and were walking on clouds at the ensuing post-awards party. Below is a photo of me with 3 of my Promax friends in the midst of the celebrations…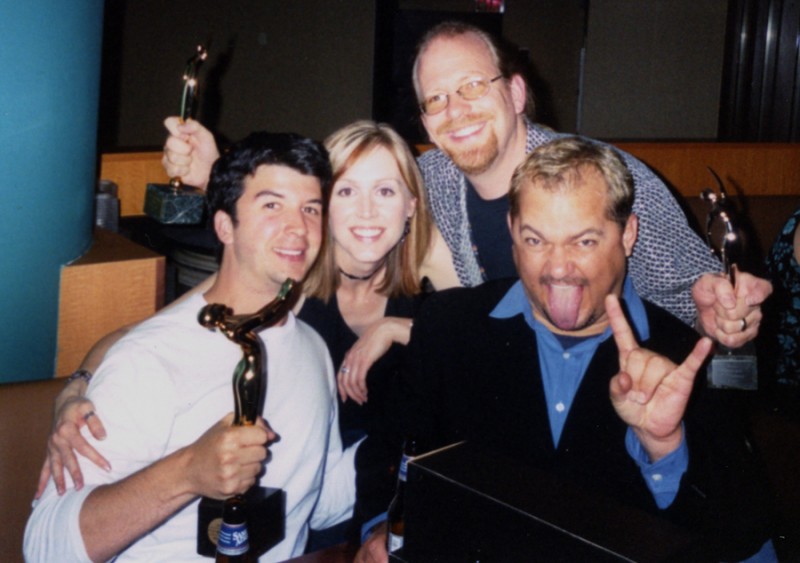 Ben, Peggy, Don and Mike at Promax/BDA post-awards celebration
Ben is holding the trophy that Dale and I won together. (Regrettably, Dale didn't get into this photo, because I think he took it for me.) You may notice a shoulder on the right side of the photo in the background. I had not noticed before the photo was taken, but upon turning around I discovered that my really good friend, Lu – who is also one of my longest-tenured relationships in television – was sitting there. I immediately went over and plopped down with her so we could celebrate my moment together.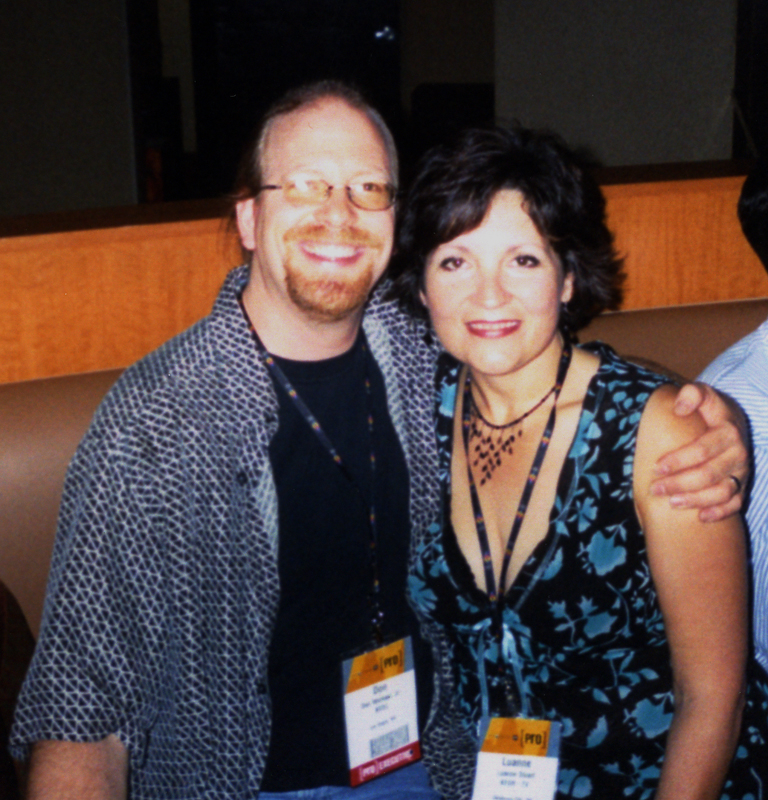 Don and Lu at BDA/Promax post-awards party
Now, it was really dark in the room, so I didn't get to see who the woman sitting beside Lu was. I wasn't really paying too close attention anyway, because I was so happy to see my old friend. After the photo was taken, I turned to this woman sitting by Lu and said, "Excuse me for just barging in. My name is Don." She looked at me funny and said, "You don't remember me, do you?". Immediately I was taken back to 3 years earlier sitting across from this woman as she said, "We will not be renegotiating your contract." I know it's hard to imagine, but my grin got even bigger…
How's that for serendipity?
Oh look, my book on Georgia O'Keeffe is the next one to be put away. I think I'll go peruse it for a minute first…
Happy Creating!
As I mentioned in my previous post, I had a lot going on this weekend. To start with, it was First Friday in Downtown Las Vegas where artists from all around the area would be displaying their wares – including yours truly.
The event starts at 6pm, but I needed to get there a couple hours early so I could set up. With two of my newest paintings being a little large, I decided to redo the wall almost entirely. Here's what it looked like when I finished with 15 minutes to spare…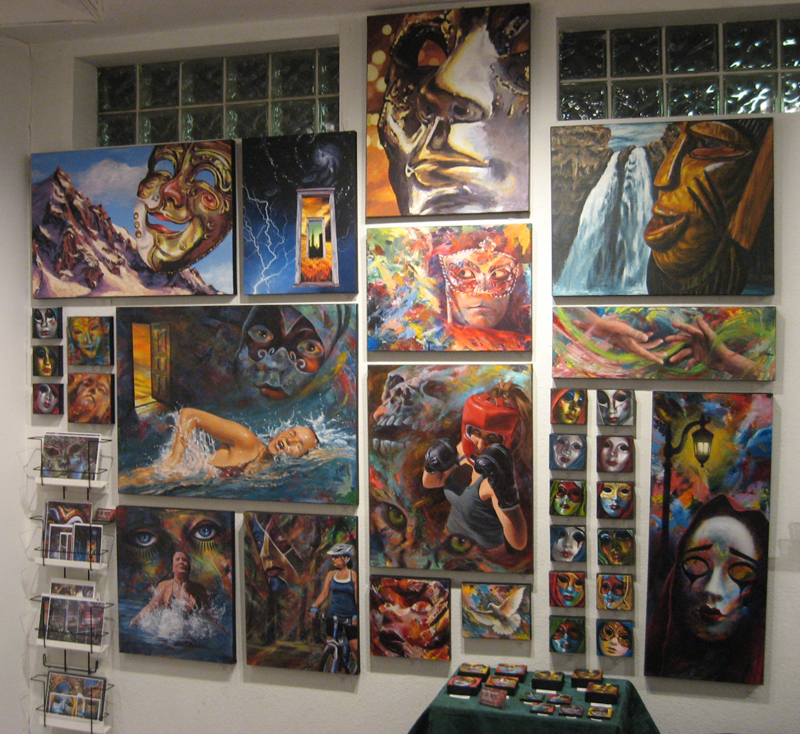 Don's Wall for February's First Friday
Here's a close-up showing that my friend, Melissa, is starting to take over my wall (she's in three of the paintings)…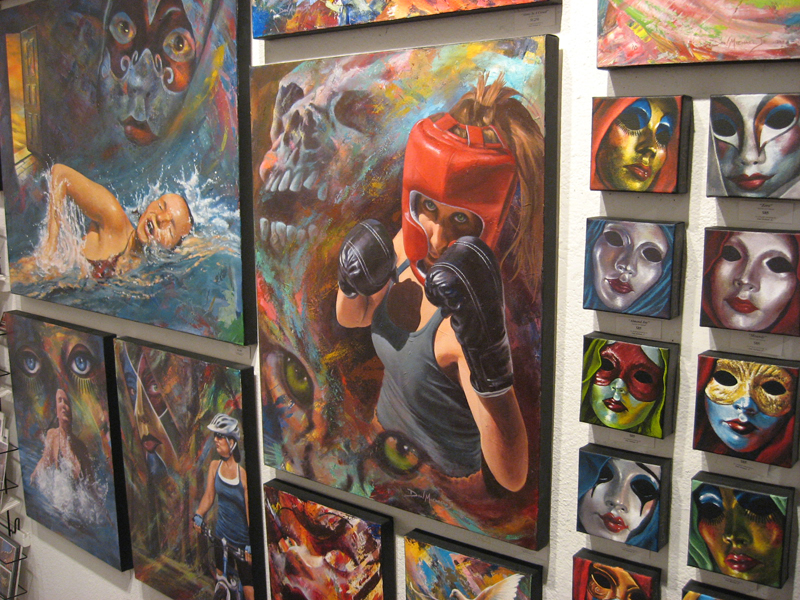 Killer Instinct and friends
The night started out pretty slow but began picking up after 8pm – as seems to be the norm. One of my Eye Candy: Skittle paintings (Strawberry) was purchased by a man visiting from New Orleans. He said it made him think of his wife who was still at home and he wanted to buy it for her. Another of my paintings, Take Heart, was purchased by my friends Tami and Angelo. What's funny is that as soon as I wrote sold on its tag a lady came over and wanted to purchase it. Luckily, I had a print of it on hand and she didn't leave totally disappointed.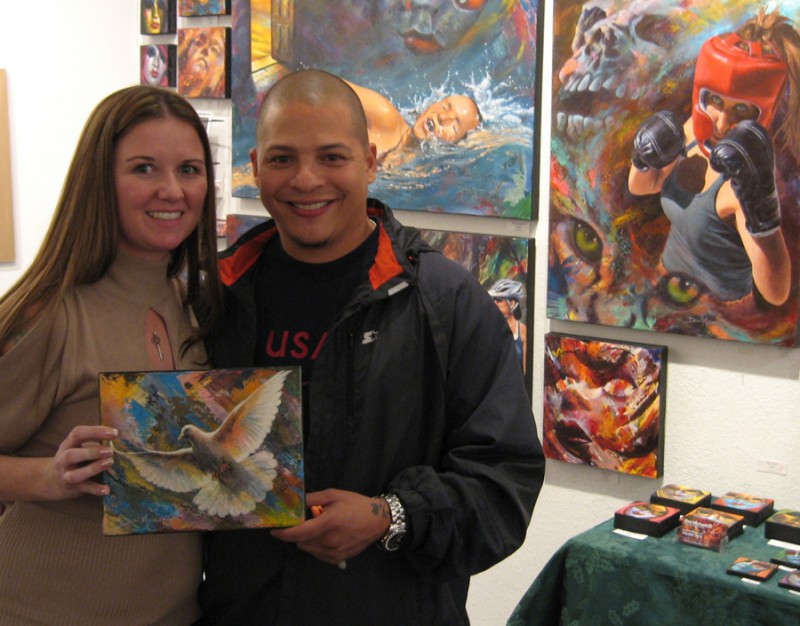 Tami and Angelo with their new painting
All in all, it was a pretty good night…
Then, on Saturday it was time to teach my next Acrylic Painting Workshop at the Michael's store in North Las Vegas. I had two students show up this week, one of which had never painted before. They both did really well, as you will see in the following photos…
Here they are after we had been painting for about 40 minutes. You can see that everything is pretty well blocked in and its time to start adding some color…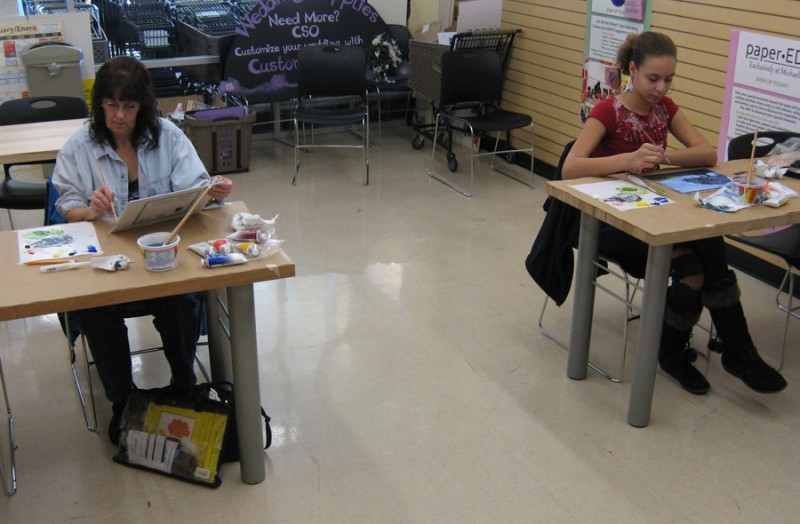 I realized as I was preparing for this class that I had never had a photo taken of me while I was teaching. So, during a pause, I asked one of the students to take a shot of me at work…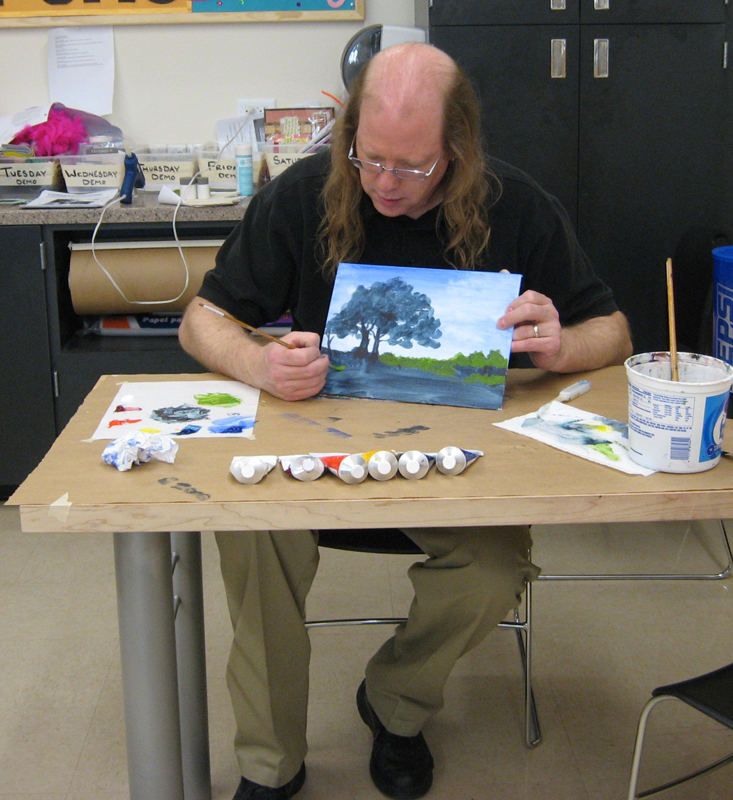 I hate having my back to the class, so I've learned how to paint upside down and backwards to make it easier for the class to follow along. In the photo above you can see that we have started laying in the greens of meadow.
A short time later, one of the Michael's associates came in and interrupted my class – which seems to happen quite often. I told her that if she was going to interrupt my flow, I was going to interrupt hers by making her take a photo of the whole class in action. She kindly obliged…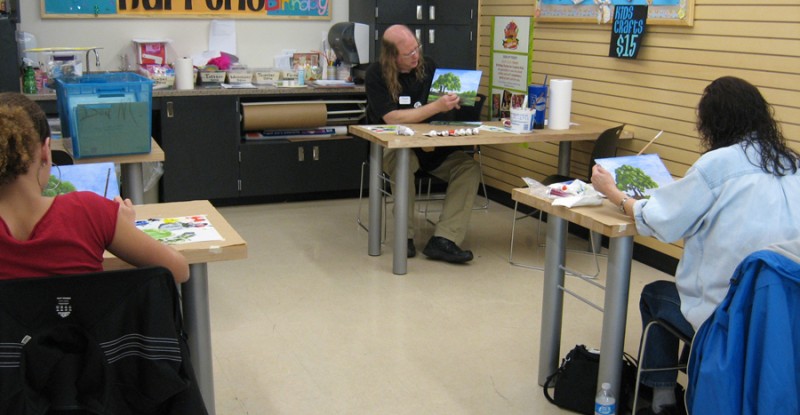 Both ladies did so well today. I couldn't be prouder. Here they are with their finished paintings…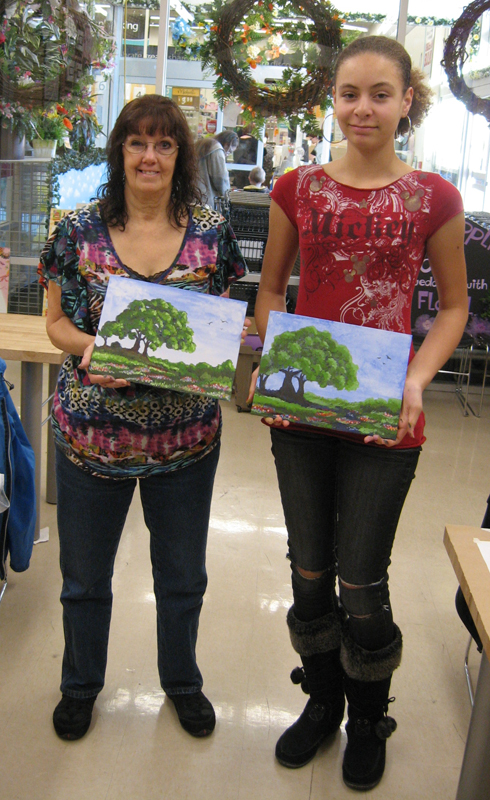 The young lady on the right (who is only 13) had never painted before. Her mother was so excited with how well she did that she plans to join us in a future class. Cool, huh?
Now it's time for me to head back into my studio and get busy. Even though I painted in class today, it's not the same as painting for myself.
Happy Creating!
This little palette knife painting is the 3rd in my Eye Candy: Spree series. It represents what was my 3rd favorite of that candy-from-my-youth. When I would get to the Orange Spree in the pack my internal response was, "Phew, at least it wasn't the lemon or lime ones!", which wasn't quite the same joy I felt when I got to the cherry or the grape ones.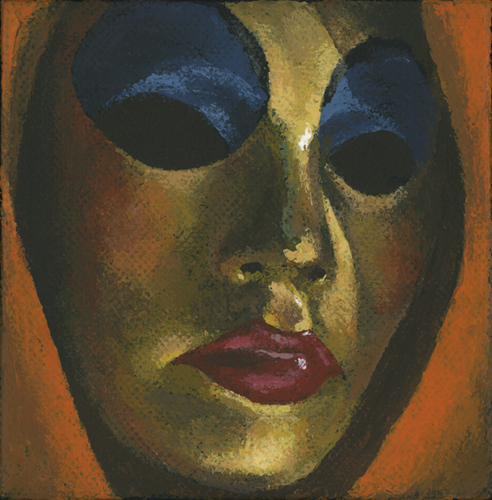 Orange Spree – 4″x4″ – Acrylic on canvas – Completed 2/1/12
©2012, Don Michael, Jr.
Interestingly enough, I had a similar type of feeling upon finishing this painting. I'm happy enough with it, but I don't have the same excitement that I've enjoyed upon completing so many of the other Eye Candies. I wonder if the series has about run its course, or if I'm just being mopey. Only time will tell…
In other news, I am getting everything ready for the upcoming downtown art event, First Friday. I will be switching out over half of the paintings on my wall and will be previewing several of my latest works. If you live in the Vegas area, be sure to come down to the Arts District this Friday from 6-10pm. I'm in Blue Sky Gallery downstairs in the Arts Factory. Swing by and say "Hi".
Saturday I will be teaching a Landscape lesson plan in my Acrylic Painting Class at the Michael's Arts $ Crafts store in North Las Vegas. Come by and spend two hours of fun painting time with me. You'll walk out with a finished painting and the joy of knowing you created it. It only costs $25, plus supplies. I hope to see you there…
Happy Creating!
I love that every one of my Over the Under-Schmeerings (OTUS) paintings is a learning experience. Not a single painting in the series has had the same set of hurdles to overcome. In fact, I was getting a little 'punch-drunk' from this one before it was over…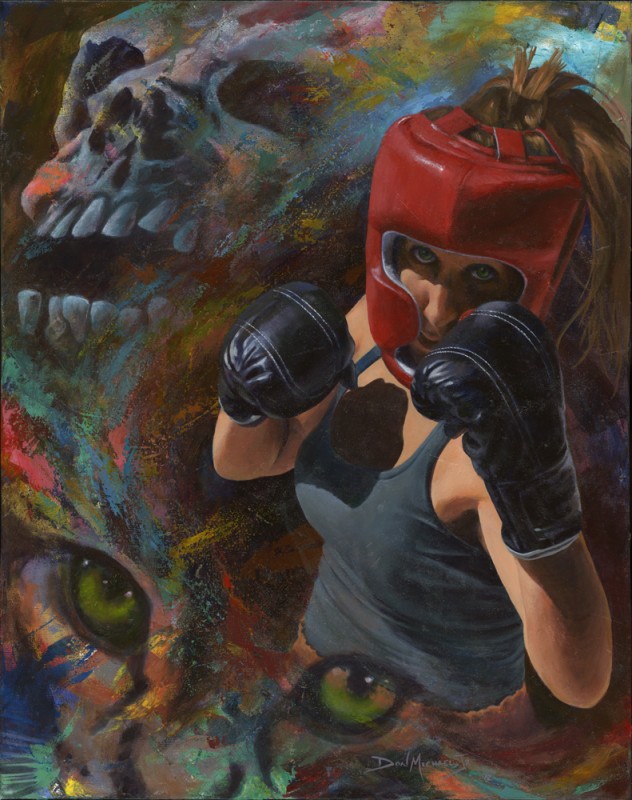 Killer Instinct – 30″x24″ – Acrylic on canvas – Completed 1/30/12
©2012, Don Michael, Jr.
I'm really excited with how the painting turned out. I was planning to create some profound write-up to go with it, but as soon as I sat down to type I realized that this piece needs to stand alone without my superfluous ramblings. So, you're on your own…
I'd like to thank my buddy, Melissa, for letting me use her likeness, yet again, in one of my paintings. I'd like to thank CJ for, yet again, getting some great reference photos for me to work from. I'd like to thank my son, Eric, for posing in the skull mask. And, I'd like to thank my little studio buddy, Franz Marc, for being just too cute to stay off the canvas.
Happy Creating!