Today I went down to our beautiful new performing arts center – simply called The Smith Center – to do some last minute touchups on the ginormous heart I painted for the Las Vegas St. Jude chapter.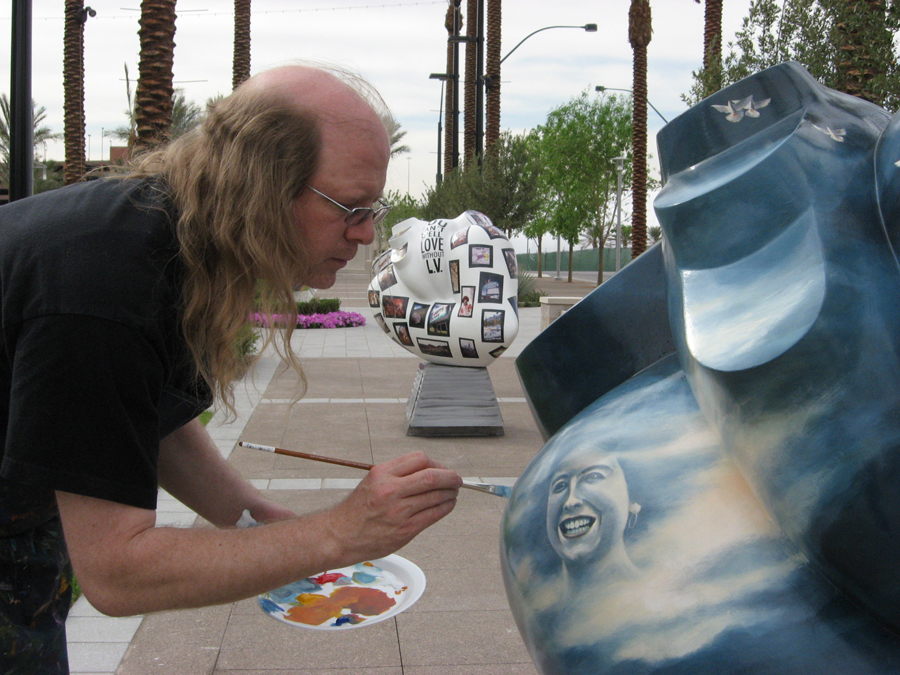 Tomorrow there will be a huge VIP event at The Smith Center to kick off this year's St. Jude "An Affair of the Heart" fund-raising campaign. All of this year's hearts have been gathered together and put on display in the beautiful 'yard'. Here you can see half of the set…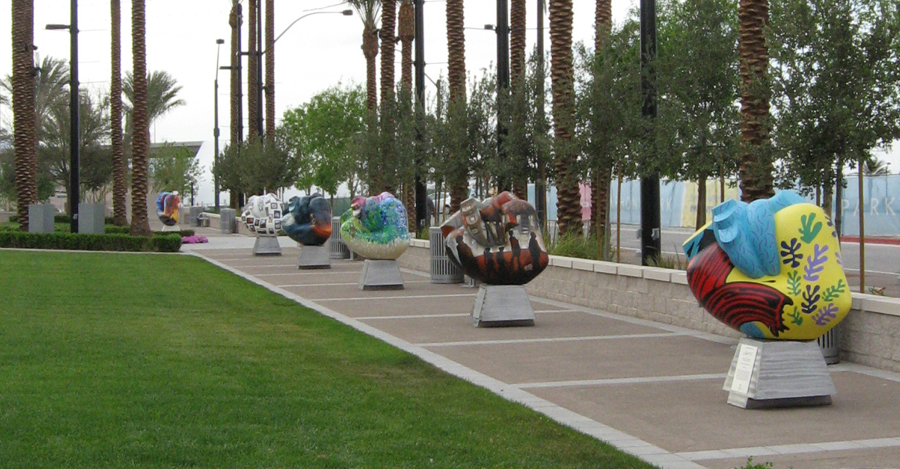 …and here you can see most of the rest.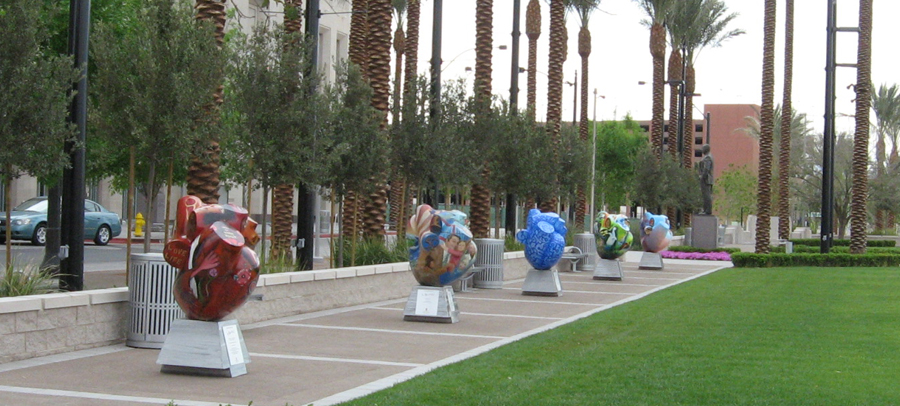 There are a couple more, but they were not quite ready for display. I hope to get more photos tomorrow while at the event.
For now, I'll leave you with this last photo of me posing with Hope in front of the Carillon Bell Tower. While my wife and I were there we got to hear those beautiful bells sound the hour. It had been a while since we'd heard bells like that and both of us probably looked pretty silly with the giant grins that invaded our faces. So be it…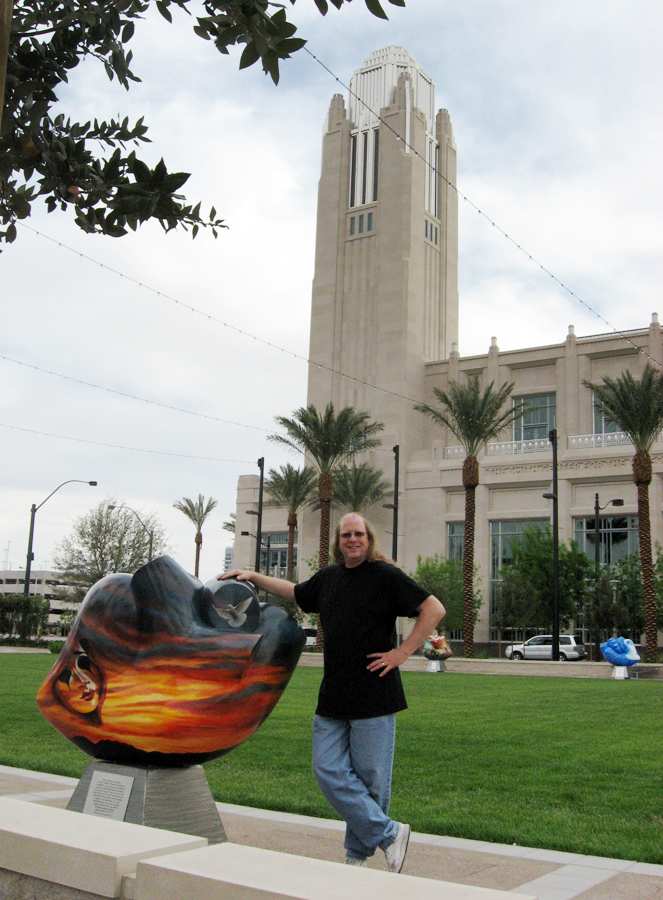 This will probably be my last post for a couple weeks. It's time for me and the family to enjoy a little Spring Break.
Meanwhile…
Happy Creating!
The mountain is high. The climb is arduous. The weather worsens. The doubts arise. The summit is near. The door is open. Your goal is at hand. But, is it what you really wanted?
It's time to choose.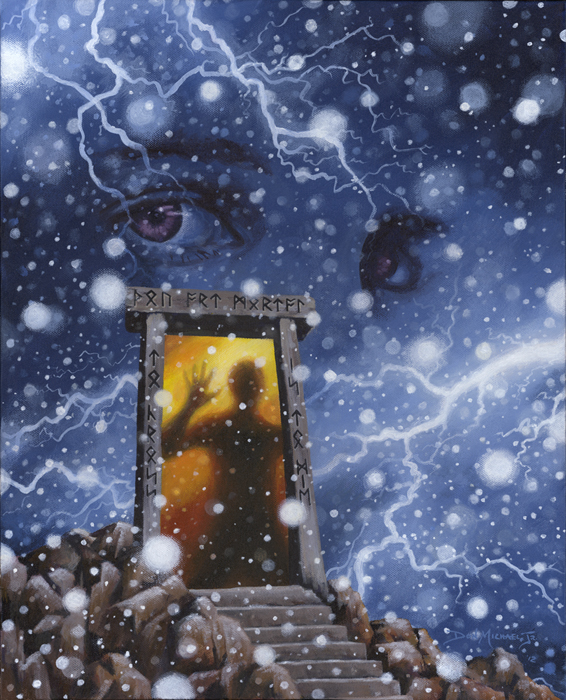 Precipice – 20″x16″ – Acrylic on canvas – Completed 3/21/12
©2012, Don Michael, Jr.
I will be writing more about this piece in the future. For now I can only say that there will be a book bearing this image soon.
As I was painting Precipice the song "The Man on the Silver Mountain" from the band Rainbow started resonating in my head. It goes something like this:
I'm a wheel, I'm a wheel,
I can roll, I can feel.
And you can't stop me turning.
Cause I'm the sun, I'm the sun,
I can move, I can run.
But you'll never stop me burning!
Coming down with fire, to lift my spirit higher.
Someone's screaming my name.
"Come and make me holy again!"
I'm the man on the silver mountain.
I'm the man on the silver mountain.
I'm the day, I'm the day,
I can show you the way.
And look! I'm right beside you!
I'm the night, I'm the night,
I'm the dark and the light.
With eyes that see inside you.
Coming down with fire, to lift my spirit higher.
Someone's screaming my name.
"Come and make me holy again!"
I'm the man on the silver mountain.
I'm the man on the silver mountain.
(Lyrics by Ritchie Blackmore and Ronnie James Dio)
Little of this has anything to do with the book. It just seemed to fit nicely with the imagery. As soon as I'm able I will share more…
Happy Creating!
For the past year I have been treating my mask Fenix (shown below) like a hot potato. Every time I'd prepare to use her as a model for one of my paintings I'd find a reason to work on something else.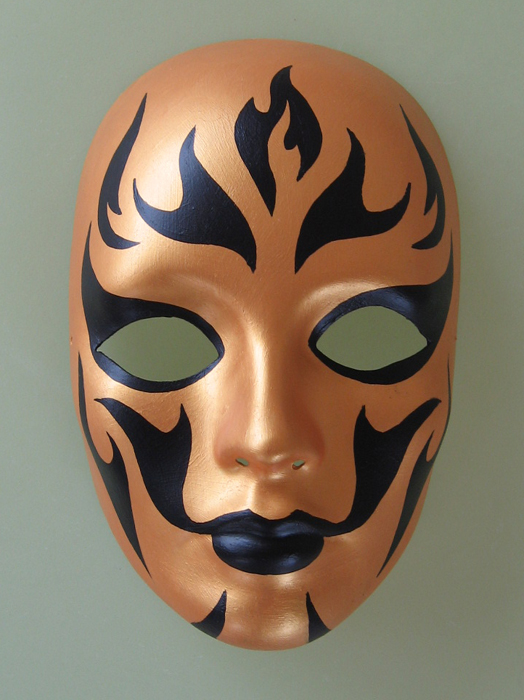 Fenix – ©2011, Don Michael, Jr.
Now, she's a Hot Tamale…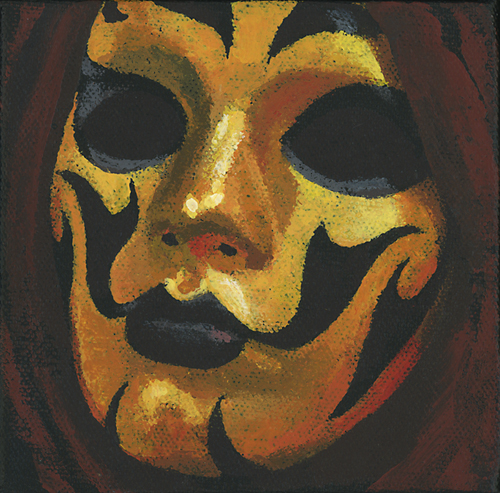 Hot Tamale – 5″x5″ – Acrylic on canvas – Completed 3/15/12
©2012, Don Michael, Jr.
Here we are with March half over and this addition to my Eye Candy series is only the second painting that I've completed this month. For the first time in a long while I took several days off from painting. It wasn't something I planned, it just happened. During that time I also found myself away from most of my social media outlets. As I listen to the birds chirping outside my window and smell the blossoms in the air I come to the conclusion that I must be experiencing a full-blown case of Spring Fever.
Speaking of Spring Fever, here's a painting I did using that name several years ago…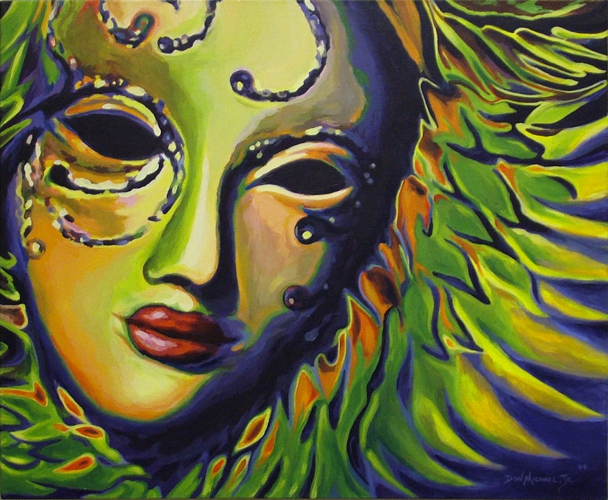 Spring Fever – 20″x24″ – Acrylic on canvas – Created 3/13/08
©2008, Don Michael, Jr.
(Hey! I just realized that I finished this painting 4 years ago this week. Hmmm… it's amazing to me that 4 years can seem like a lifetime ago while seeming like it was just yesterday.)
Anyway…  Spring Fever can be considered a 'stepping off point' in my painting progression. She was one of the first paintings in my mask series that was larger than 8″x10″. She was also a fun color experiment that had me looking at my masks in an entirely different way. I'm glad I pulled her out of the archives to give her another look. I guess a bad case of Spring Fever can sometimes be a good thing…
Happy Creating!
Last night when it was time to head for my Tuesday Night Demo at Michael's I suddenly realized that I was totally unprepared. With several irons in the fire I'd allowed the day get away from me. (I know, that's no excuse…) Anyway, in a fit of panic I reached into a stack of previously rejected designs and pulled out one that I'd come up with about 5 or 6 years ago. I still didn't care too much for the composition so I cut it down to a much smaller size. What was originally an 8″x10″ design was now fitted for a 4″x4″ canvas. I then rushed out of the house with the design, my paints and my trusty palette knife – making it to Michael's just in time. Here's what I did over the next 3 hours…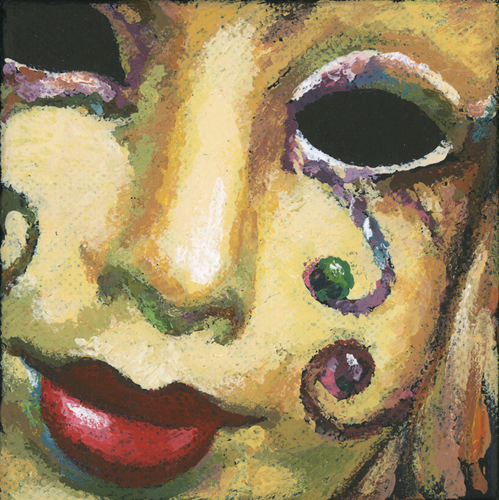 Bo Peep – 4″x4″ – Acrylic on canvas – Completed 3/6/12
©2012, Don Michael, Jr.
I almost named this painting "Peeps" in honor of those squishy, sugary, obnoxious confections that we are inundated with every year about this time. But, then I realized that the painting is too different from the other members of my Eye Candy series in too many ways for me to make it a part of that family. The biggest difference and the deciding factor in this internal argument was that the model for this painting is not of my own creation. As soon as I came to that conclusion the name Bo Peep popped into my head. I stopped right there. It was perfect.
Happy Creating!
In the midst of my many projects I took time out last week to prepare for and then take part in the downtown Las Vegas art event, First Friday. Here is what my wall inside of the Blue Sky Yoga Gallery looked like…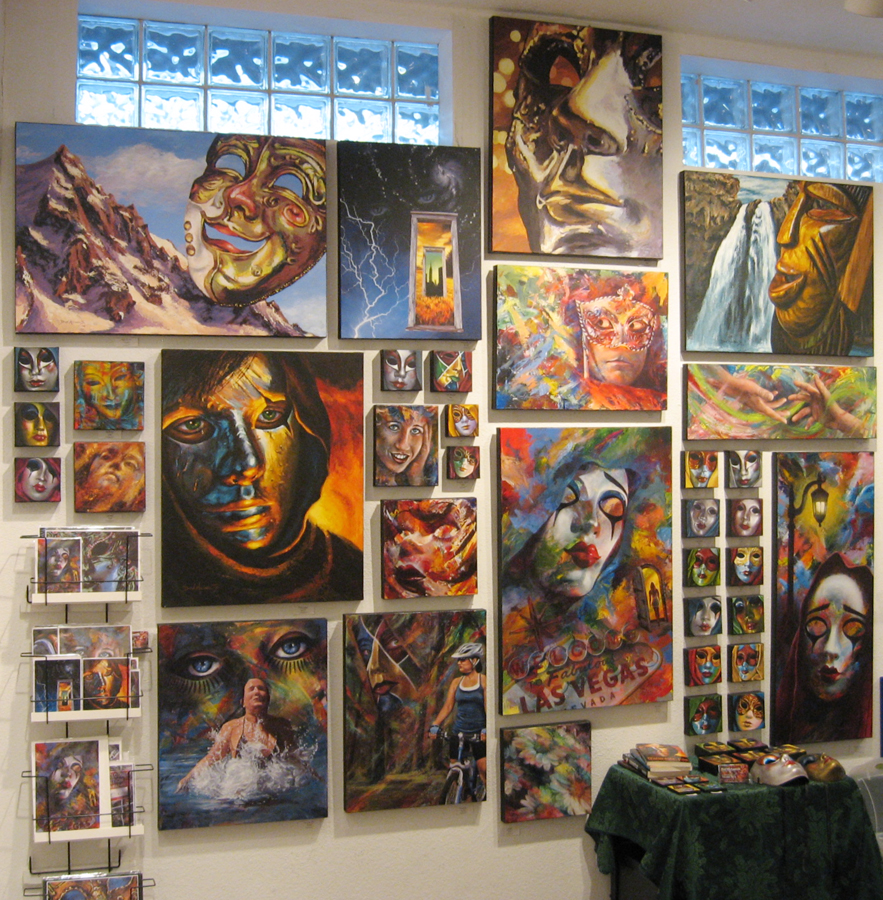 And here's what my wall in the gallery outside of the Blue Sky Yoga Gallery looked like…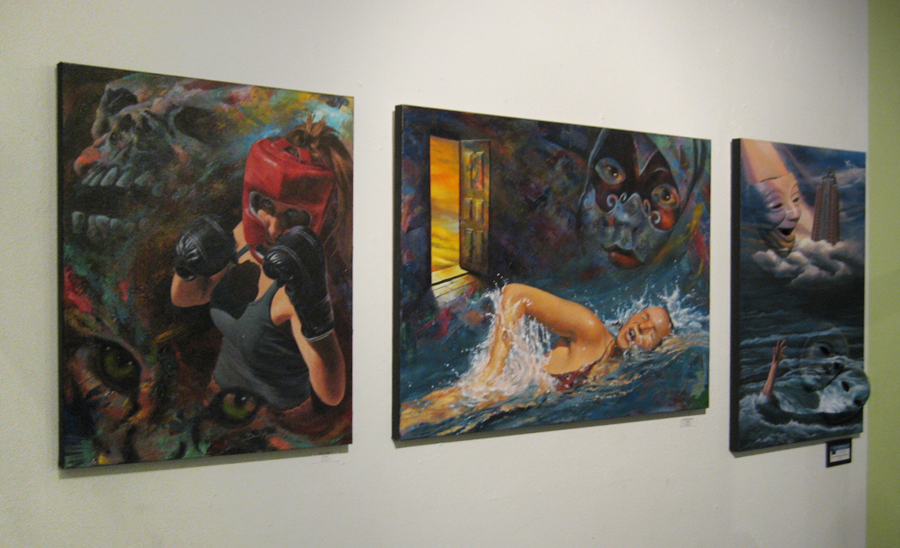 We had a pretty decent turnout this month which always leads to some wonderful conversations on art. I even made a couple of small sales – which almost garnered enough to pay the rent. 🙂 The highlight of my night occurred when my friend, Cheryl, noticed that there was a painting of her hanging on my wall. I think the highlight of her night was when she found out that the painting was in fact hers to do with as she pleased. Here she is with her new painting…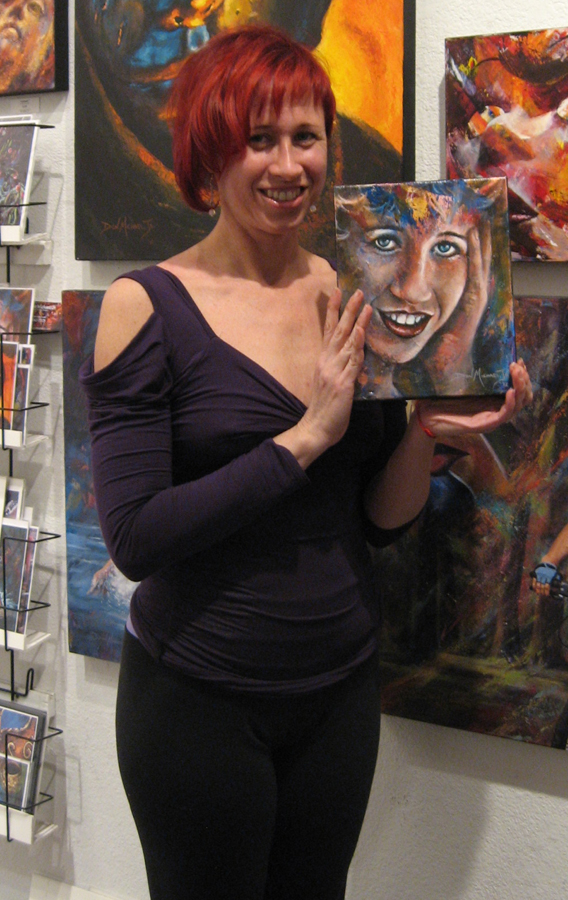 Cheryl with Cheryl
I didn't get home until quite late Friday night, but there would be no sleeping in for me on Saturday. I had to get up and prepare for a 'Meet and Greet' at the Michael's Arts & Crafts store where I teach Acrylic Painting Classes. This was an opportunity for all of the Michael's instructors to spend time with the customers, letting them know about our classes. Happily, I ended up with 3 new students, two of which have already signed up for two classes. So, I'd call that a couple hours well spent.
The rest of the weekend was spent with the family and on freelance projects. One of those projects is approaching the halfway point which is where all the real fun begins. I'll share more when I can…
Happy Creating!
This little palette knife painting is the last installation in my Eye Candy: Spree series…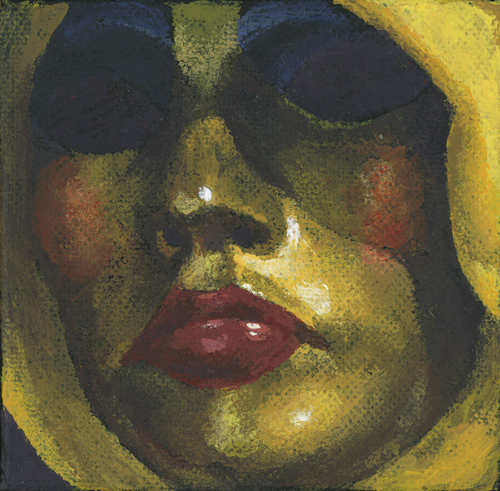 Lemon Spree – 4″x4″ – Acrylic on canvas – Completed 2/28/12
©2012, Don Michael, Jr.
I thought that it would be a fun exercise to look at all five paintings in the series together in one grouping. Even though the same mask was used as the model in each, it's really interesting to me how the differences in color, shadow pattern and angle seem to give each painting a unique personality.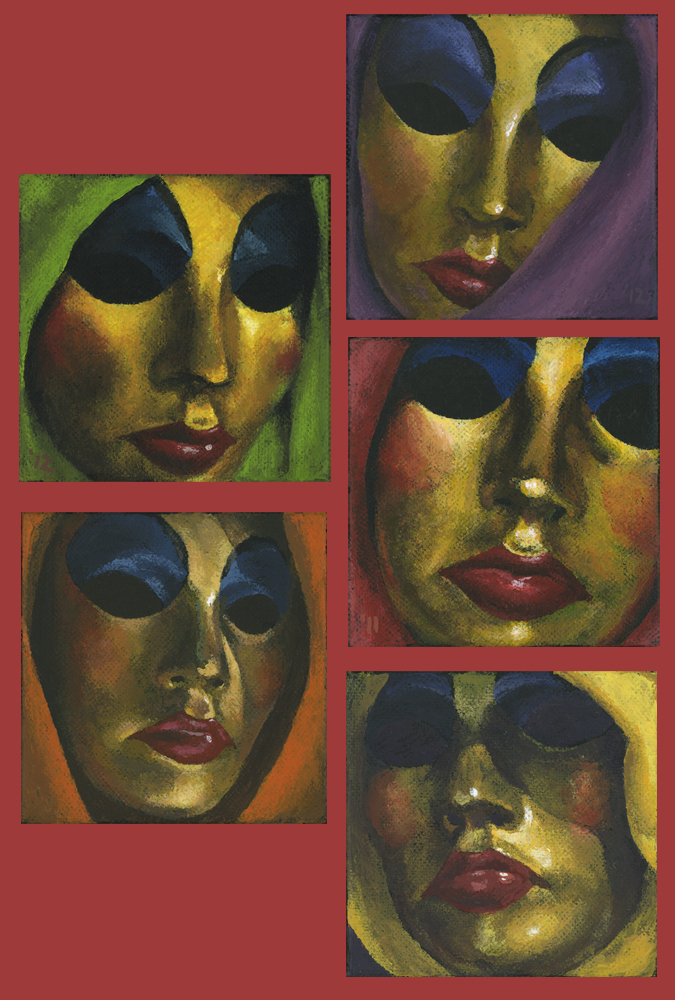 The Eye Candy: Spree Family Photo – Clockwise from upper left: Lime, Grape, Cherry, Lemon, Orange
If anyone is interested, all the paintings in this series are available at $60 each. Each is painted on 4″x4″ gallery-wrapped canvas with the edges painted black. All are signed on the right edge. Should someone wish to purchase the entire series I'm willing to offer a special discount. Just drop me an email at: don@donmichaeljr.com.
Speaking of painting sales, I'd like to share a photo sent to me by my online artist friend Robin Samiljan. Last year she added my mask Swirls to her collection. Now she has added Heath. (Thanks, Robin!) I think they go quite well together on her wall. Don't you?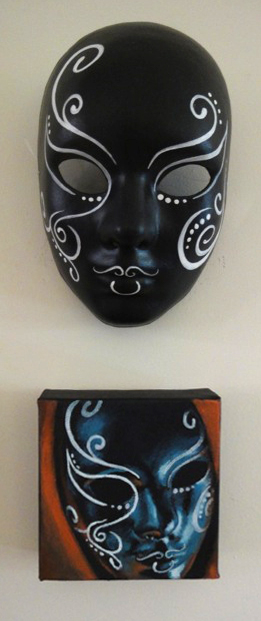 Swirls & Heath hanging out together in New England
As I've mentioned before, I'm in the middle of a couple freelance graphic projects. They are coming along nicely, but since I still have a lot to do I'd better get back to it…
Happy Creating!