Here's the latest addition to my Eye Candy series of palette knife paintings.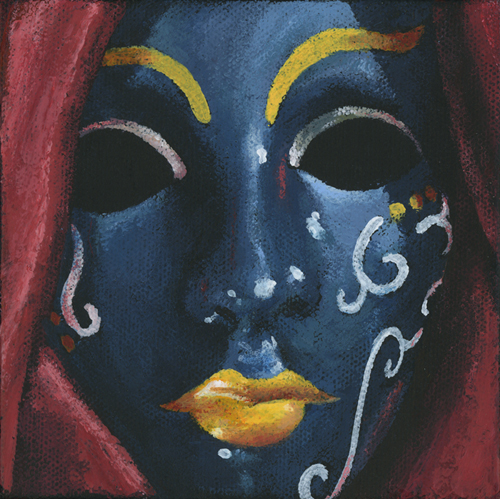 Cracker Jack – 5″x5″ – Acrylic on canvas – Completed 4/24/12
©2012, Don Michael, Jr.
Having this much fun is probably illegal, but I just can't stop myself!
Happy Creating!
Wow, time can sure get away from you in a hurry! One minute I decide to take a little time off to enjoy Spring Break with my family and the next it's almost a month later. Ah, but it's mostly been a good month. We travelled to Oklahoma to visit family and friends – putting over 2,600 miles on my Tahoe in 8 days. We had perfect weather and even better visits. Those 8 days went by way to quickly, but we got a lot done in them.
The only negative to our trip was that I came home with a horrible cold that ended up lasting a full two weeks. To add insult to injury, a couple days after we got home I tweaked my back, effectively slowing me down considerably for a while. As you may imagine, that was no fun at all – (cough, ouch, sneeze, ouch…). Well, I can finally move around without groaning and breathe without sniffing. Thank God!
As I've implied on recent postings, I've still been quite busy during this time. There are two book covers coming out in the next couple of months. There have been several video shoots that will result in commercials in the near future. There have been demos. There have been gallery negotiations. And, there was even a convention thrown into the mix…
Now that I'm finally back to something similar to a normal schedule I decided it was time for a new piece of Eye Candy. Here's what my palette knife and I came up with…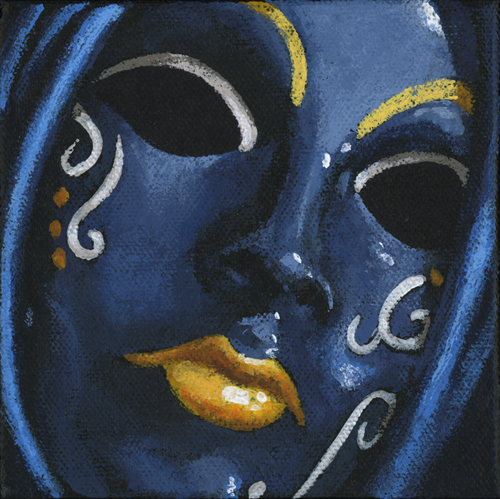 Pez – 5″x5″ – Acrylic on canvas – Completed 4/22/12
©2012, Don Michael, Jr.
The mask in Pez is one that I created about a year ago, but have avoided painting for fear of all the blue. Her name is Francis and I think she's a beauty – just a difficult beauty.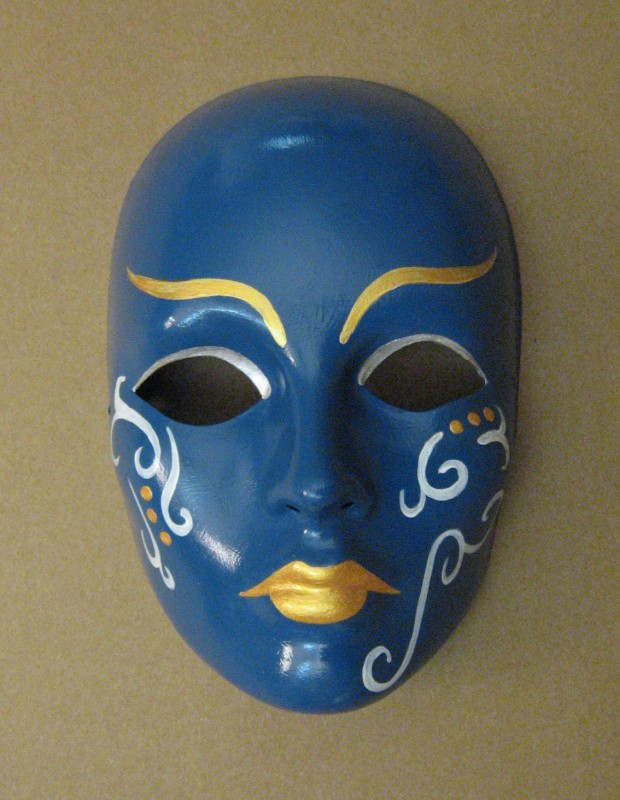 Francis – ©2011, Don Michael, Jr.
One last thing. If any of my blog readers happen to have Facebook accounts I would sure appreciate it if they would click on the photo below and then click "Like" on it in Facebook. There were 12 ginormous hearts painted for the St. Jude's Affair of the Heart Gala. The 5 hearts with the most "Likes" will be featured at the Gala. It would be cool if mine were one of those five…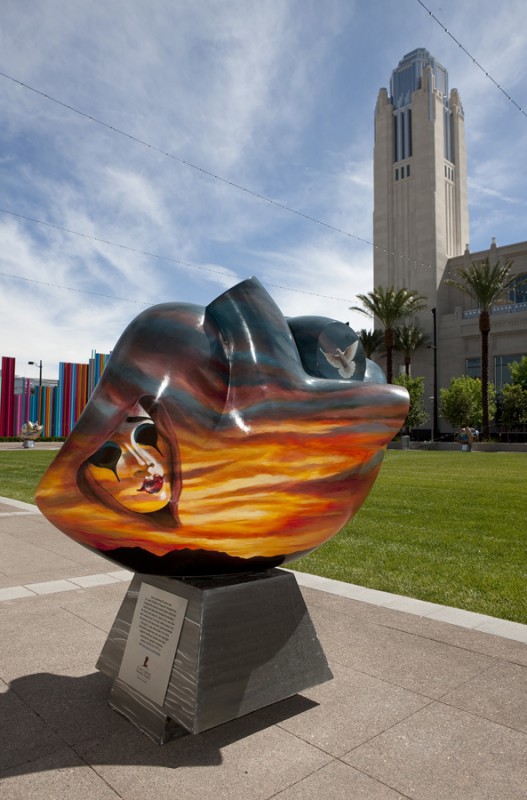 Hope – Photo Credit: Geri Kodey
OK, I've bored everyone enough for now. I should probably get back to work…
Happy Creating!
As promised in my last posting, here is the finished painting that I demoed this past Thursday night at Art Night…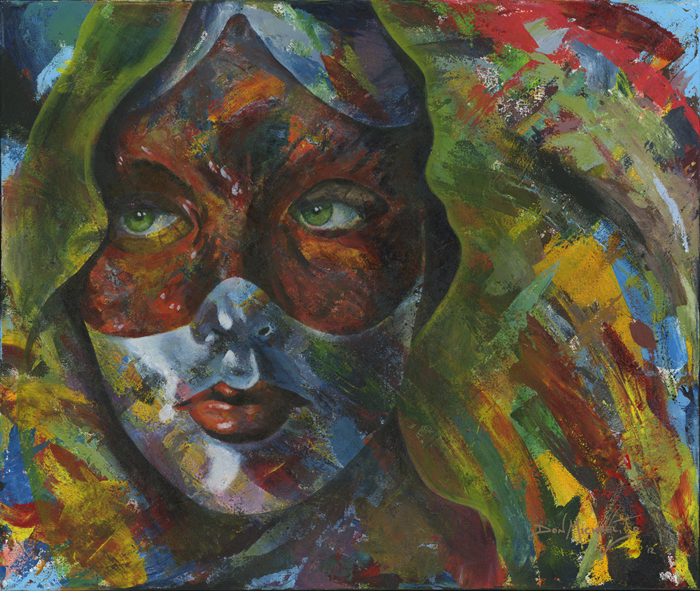 Turning Point – 20″x24″ – Acrylic on canvas – Completed 4/15/12
©2012, Don Michael, Jr.
I apologize to all my online friends that I have been VERY remiss in keeping up with everyone. It's been a very busy Spring. With that said, I'd better go get a little shut-eye. Tomorrow is another busy day…
Happy Creating!
Fine art, design, music, food, drink and demonstrations all came together this past Thursday night here in Las Vegas. ThinkArt! put together a great event for the Marriott SpringHill Suites which included a juried art exhibit, a logo contest and a couple of demonstrations. And, guess what… yours truly was involved in all three!
When we first got to the event my wife and I had to go check out the painting I did last year of Mr. Bill Marriott that was purchased by the SpringHill Suites. It was our first time to get to see it in its permanent location…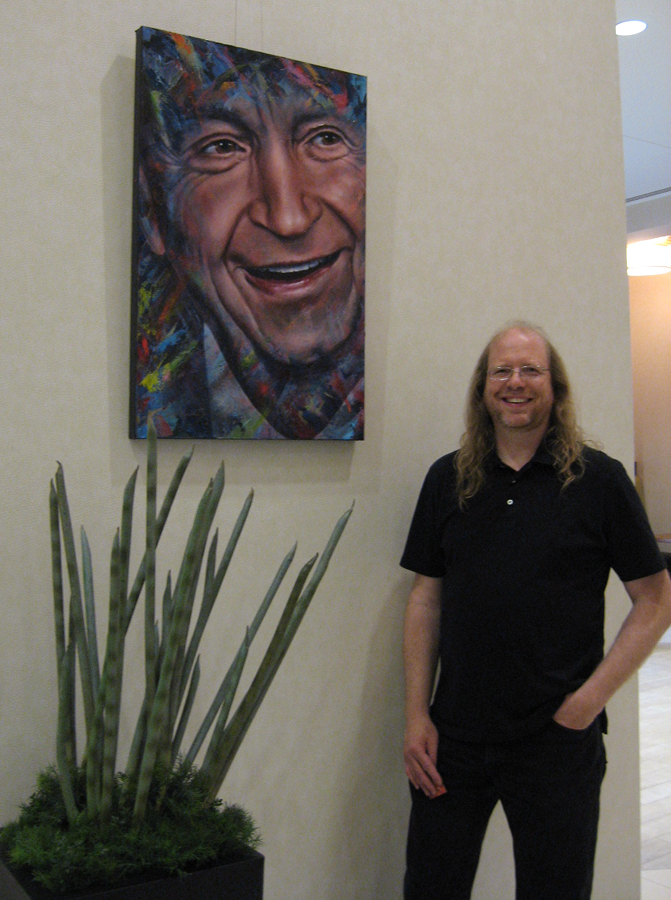 Don with Warm Regards in the lobby of the SpringHill Suites
The night kicked off with some great music provided by youngsters from the Las Vegas Academy high school. They did a wonderful job and kept a beautiful sound flowing all evening…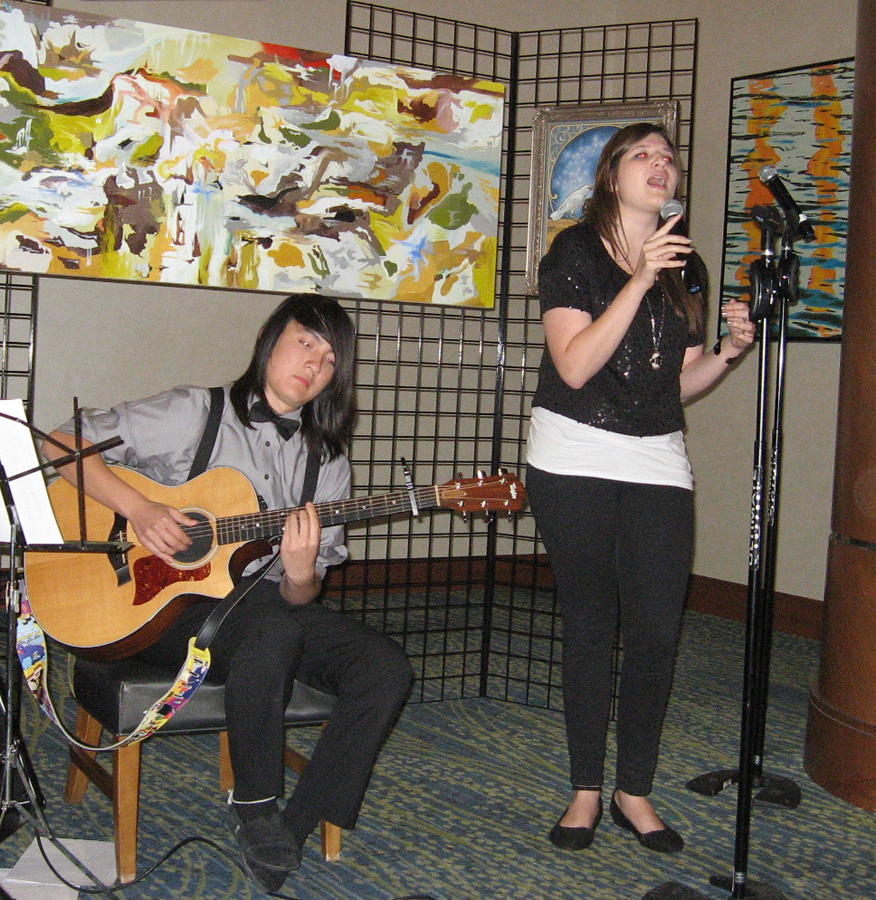 Teenagers with Amazing Talent
Then it was time for the first demo. Las Vegas artist, Steve Talbott, demonstrated how he created his stained glass masterpieces. Here he is showing the pattern he created and was working from for one of the pieces in his Humpty Dumpty series…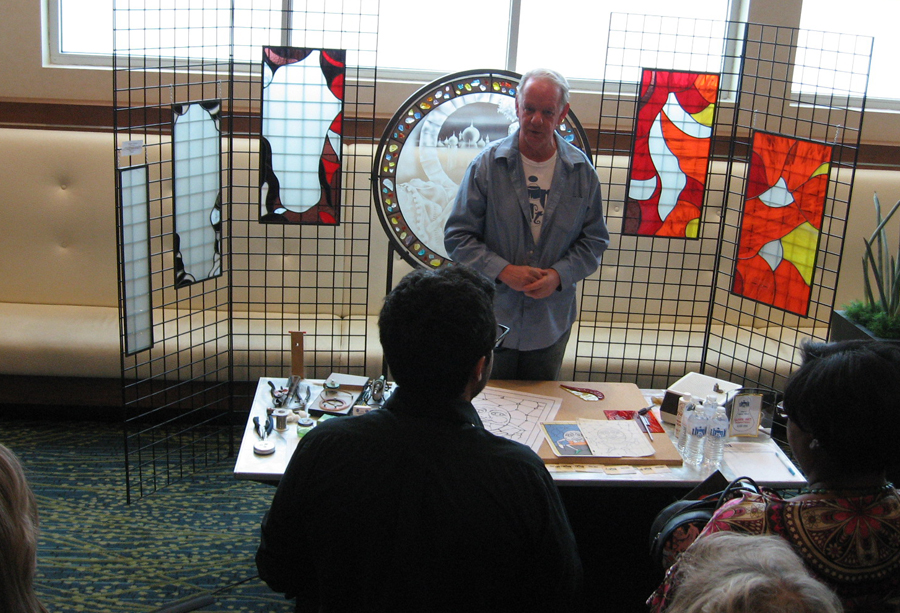 Steve Talbott with work and designs
Steve then showed us how he cut, ground and soldered his glass pieces together.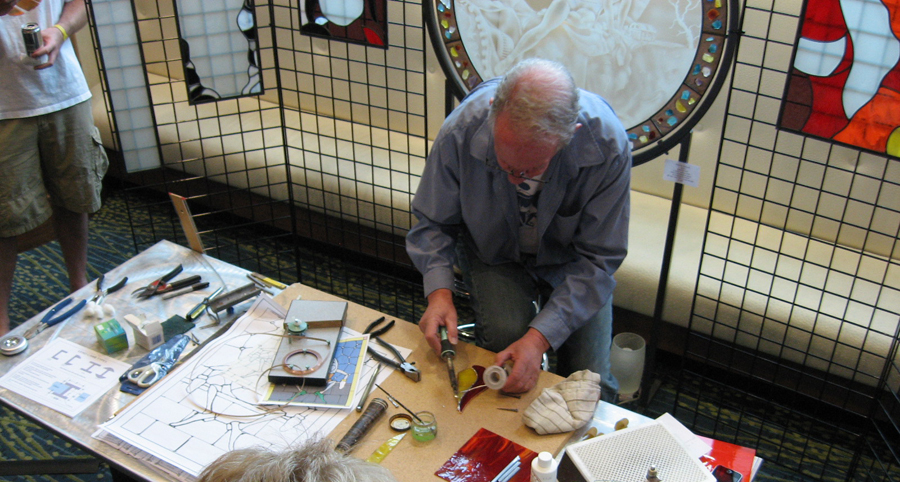 Steve soldering
Here are a few of the pieces in his Humpty Dumpty series which were on display…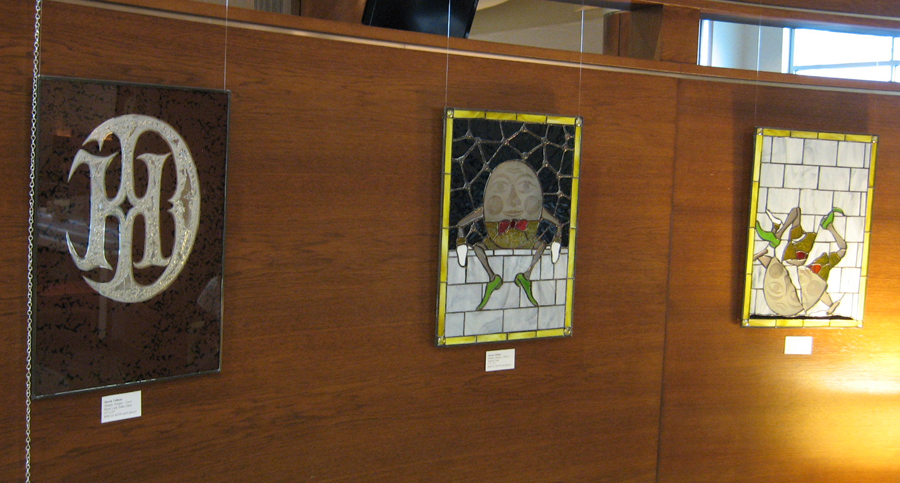 Humpty Dumpty series by Steve Talbott
Then it was time for the unveiling of the new logo for Palette's Gallery and Bistro.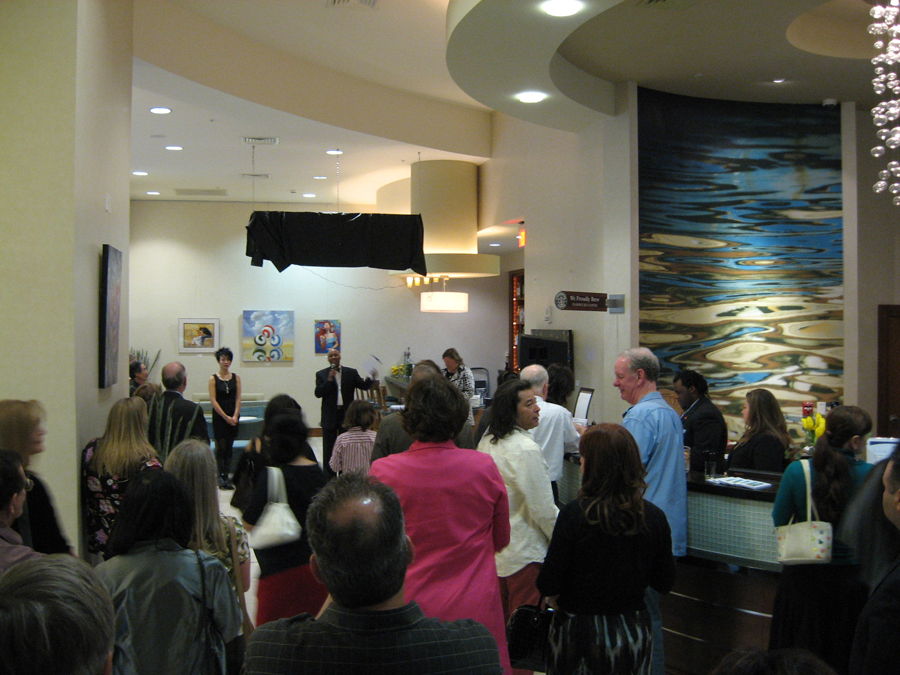 Unveiling Ceremony
Several local artists had contributed designs for this, including me. None of us knew who's design had been chosen until this moment. Here's the one they chose…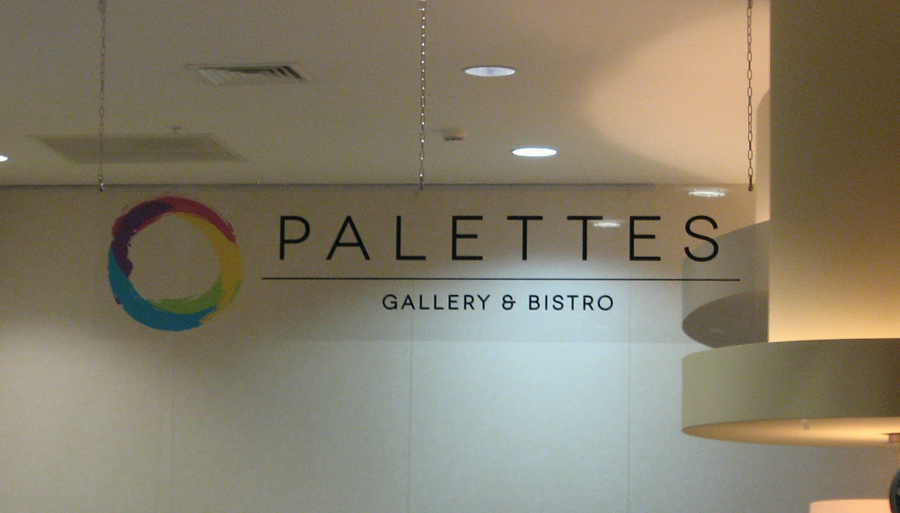 Palettes Gallery & Bistro logo – created by Daniel Rhees
Congratulations to Daniel Rhees for his wonderful design! (To see the other entries click here. Mine is #17)
Once the design was revealed it was time for the next demo to begin. That demo happened to be featuring me! Here I am ready to begin…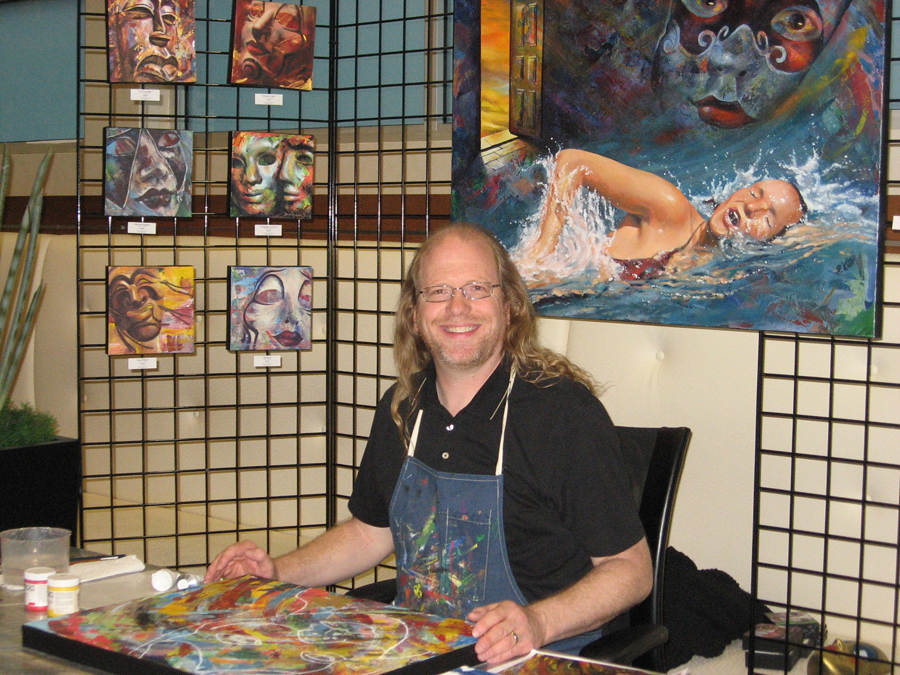 Prepped, Ready and a Bit Nervous
I had been asked to demo my Over the Under-Schmeerings style of painting. As you can see I had several of the pieces in this series arranged behind me to reference as I was working. Below I am hard at work with both my brush and my mouth…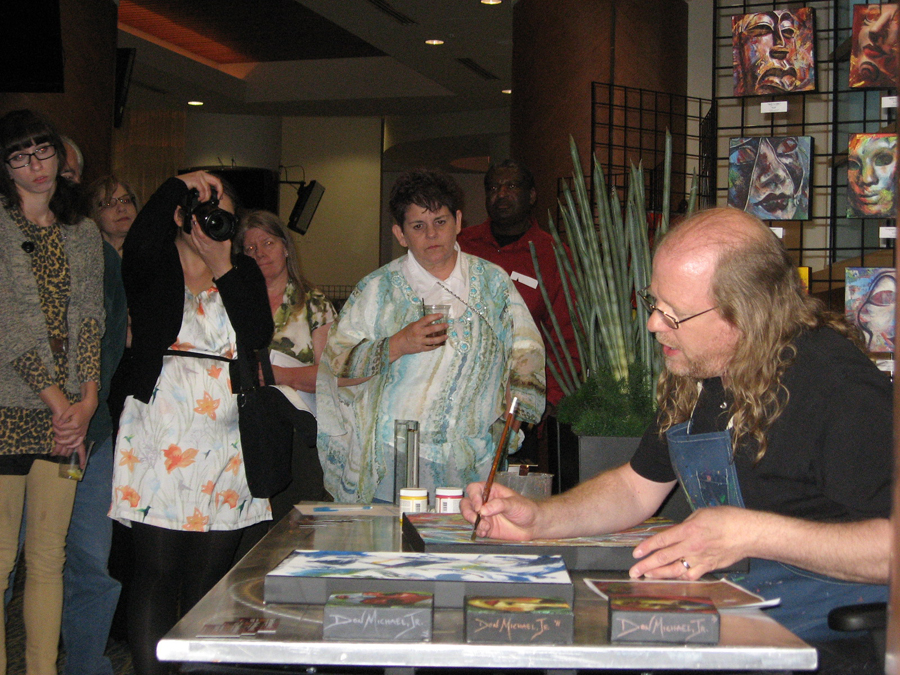 Artist at Work
Here's another shot as I was finishing up my 20 minutes (they actually encouraged me to go long, so I took 30). You can see my mouth still hasn't stop, but neither had my brush…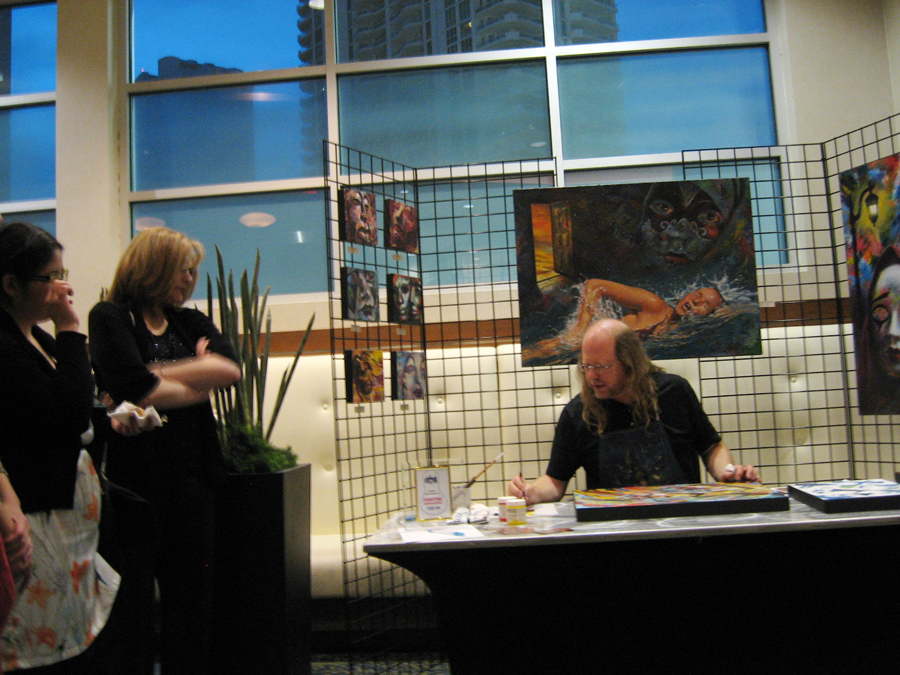 Time's Almost Up
At this point the evening was coming to a close. All-in-all it was a wonderful night of art. Thank you ThinkArt! for making it happen.
I still have a little ways to go before I can call the painting finished, but I hope to be able to show you the final results in the next couple of days. For now, I think I'll go to my easel and get busy on a totally different project I have in the works.
Happy Creating!
Tomorrow night, April 12th, will be a very artfully busy night for me…
The Palettes Gallery and Bistro is hosting an event to unveil their new logo. Several Las Vegas artists, including yours truly, submitted logo designs for consideration. We will find out at the event who's logo was chosen.
To go along with the event there is a juried art exhibition. I have the honor of having two paintings juried in.
Finally, as an added bonus, I have the wonderful opportunity to demonstrate my Over the Under-Schmeerings style of painting at this event.
Below is the program…
This event is at the Marriott SpringHill Suites on Paradise Road in Las Vegas.
For those wondering, yes, I had a WONDERFUL Spring Break. It's hard to believe it's over already. Now it's time for me to get back to work…
Happy Creating!