During my senior year of high school I fell in love with the Life Savers flavor called Cinn-O-Mon. For the next couple of years there was always a roll to be found in my pocket, my car, or my dorm room. Then, in 1981 this wonderful love affair came to an abrupt end. I couldn't find them anymore. No store was carrying them. With a sadness in my heart I moved on with life even though I couldn't understand why this wonderful little treat had deserted me. Now I know that the Life Savers brand had been bought out at the time by Nabisco and they eliminated several of the old flavors to make the company more profitable. Bastards!
Well, now at least the name will live on…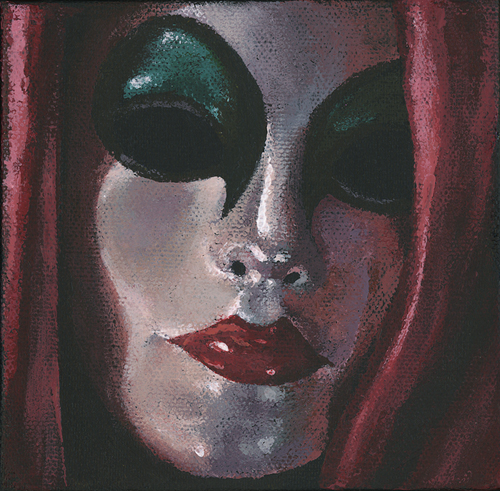 Cinn-O-Mon – 5″x5″ – Acrylic on canvas – Completed 6-21-12
In other news, this past week has been quite busy. We had family in town to help us celebrate the graduation of our son, Eric. On Wednesday, nearly 600 students and their families gathered to honor their achievement.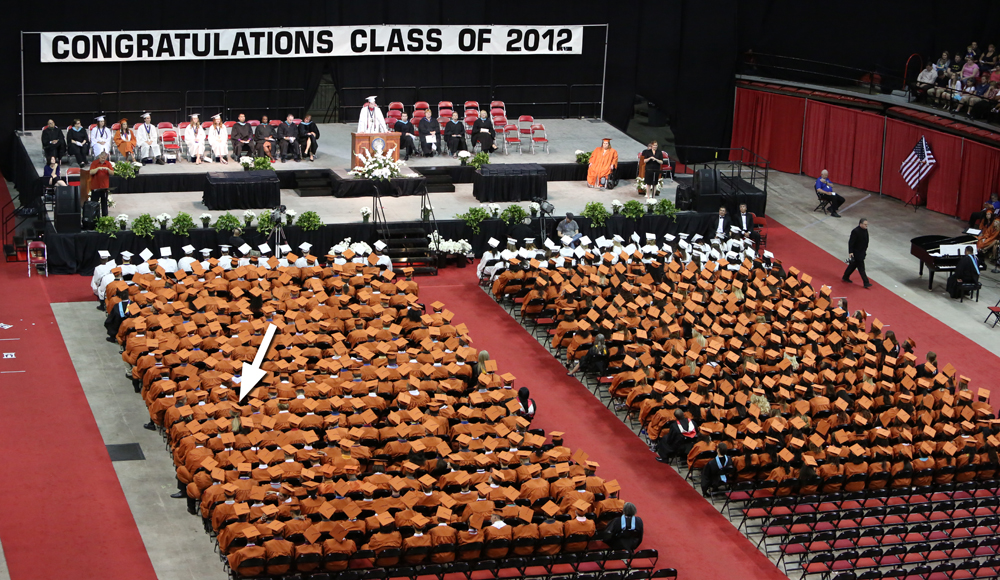 The 2012 graduating class from Legacy High School (arrow points to our son)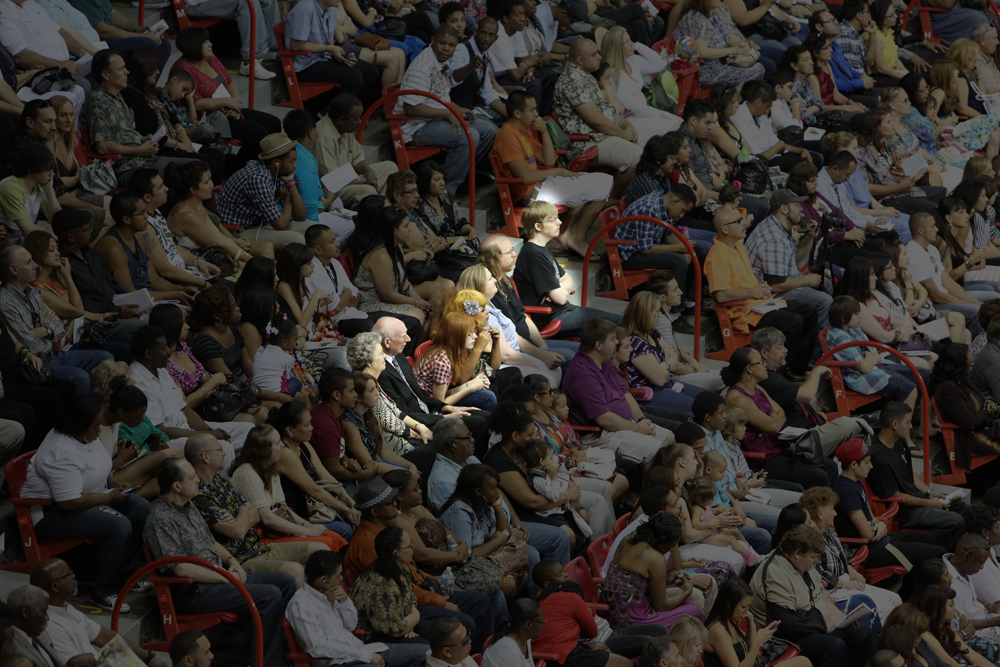 The family of graduate Eric Tyler Michael (from left: Grandma, Grandpa, Sister, Girl Friend, Mom, Dad, Brother)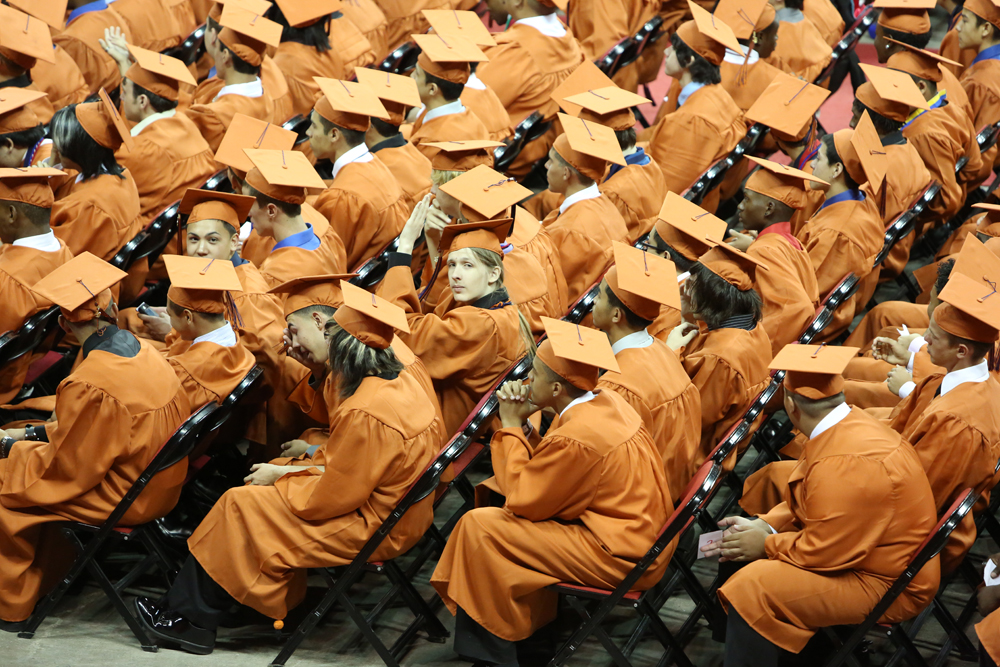 Our graduate finally sees his family in the crowd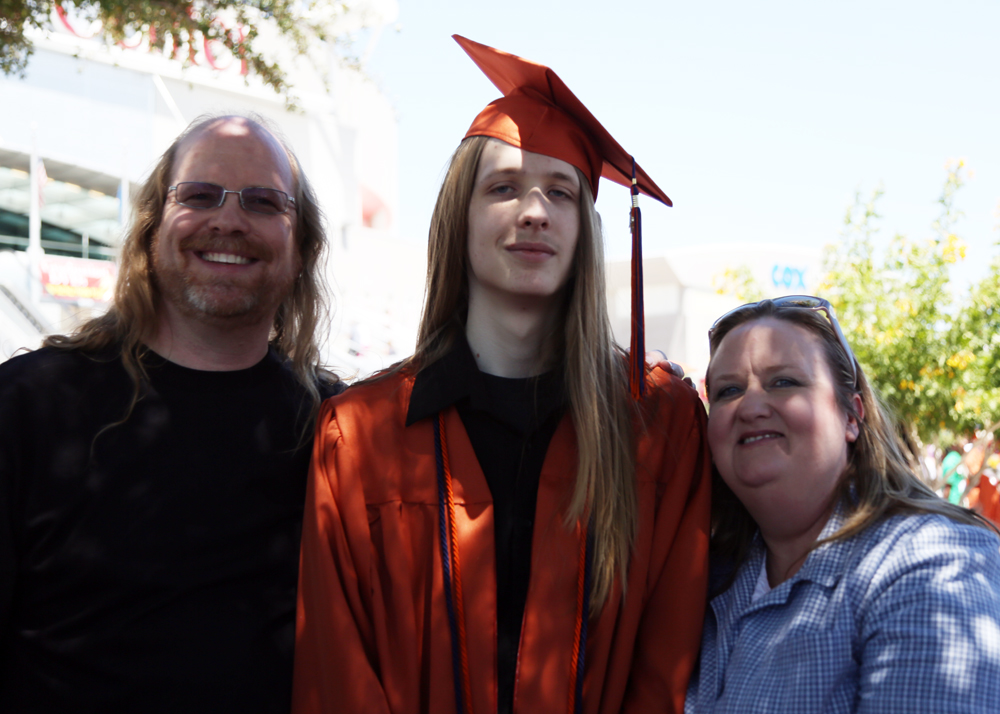 The Graduate and his proud parents
My wife and I could not be prouder of this young man. He graduated with a weighted GPA of 3.8 and will be attending UNLV in the fall to begin working towards his dream of becoming a forensics investigator. God Bless you, son!
Our thanks go out to our good friend, CJ, for the wonderful photos!
Now it's time for me to prepare for today's Acrylic Painting Workshop at Michael's. Today's lesson plan will be a seascape. If I can't be at the beach, at least I can paint it…
Happy Creating!
People tell me not to worry.
People tell me everything will work out fine.
I look out and see that it's really not that bad.
I know I'm over-thinking things.
But, still, I'm Stuck Inside My Own Head…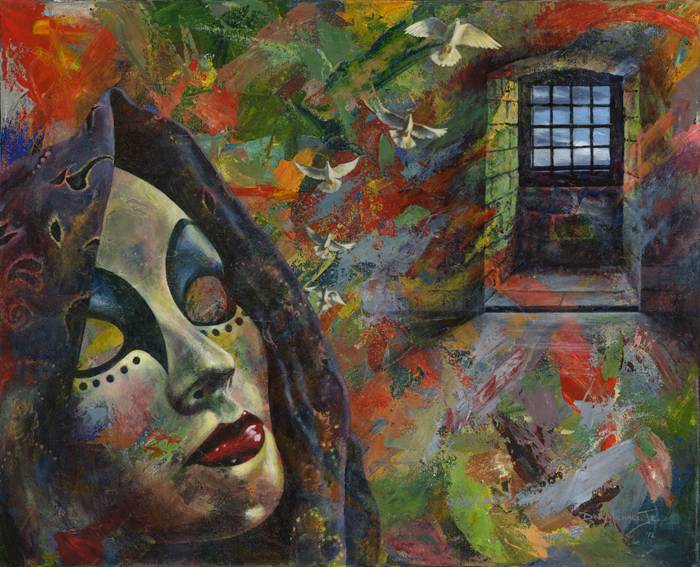 Stuck Inside My Own Head – 24″x30″ – Acrylic on canvas – Completed 6/11/12
©2012, Don Michael, Jr.
I must give my eldest son credit for the title of this painting. He once told me during a conversation, "That's all well-and-good, Dad, but I'm still stuck inside my own head". From that point on, that very telling phrase has been Stuck Inside My Own Head, ever-waiting to find a way out…
For those that read my last post, my fingers are still crossed. Sometimes what could be very exciting news has to percolate a while – which of course keeps me Stuck Inside My Own Head!
Happy Creating!
I was recently walking across the University of Las Vegas campus and saw something totally unexpected. There, sitting in a beautiful location, was the ginormous heart, Hope, that I painted for St. Jude's Affair of the Heart. I got a new surprise today when I was told that my heart and two others were featured on the UNLV website. You can click on the photo below to follow the link…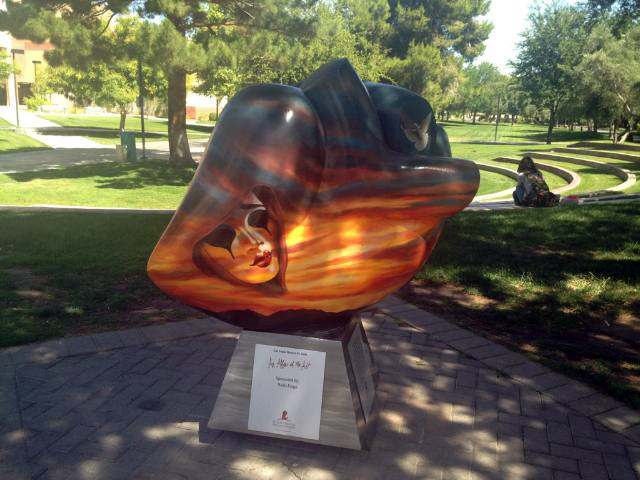 "Hope" on UNLV Campus – iPhoto courtesy: Geri Kodey
How cool is that?!?!
Speaking of ginormous hearts, Heartstrings,  the one I painted last year, continues to make the rounds here in Las Vegas. I had two different people mention to me last week at First Friday that they had seen it outside of the Whole Foods store in Henderson, a city just south of Las Vegas. It's very rewarding to know that the word about St. Jude's continues to be spread by these works of art.
In other news, I've been on a mini-hiatus from painting the past few weeks as I work on several graphic design projects. One of those projects should be released in the next couple weeks, at which point I'll be able to share more. I also have something very exciting in the works that could lead to bigger and better things. Fingers are crossed…
Happy Creating!