As an artist I love that special moment when I'm about to go to canvas with my latest concept. There's an excitement in the air as I anticipate what could be. There's a slight bit of trepidation mixed in as the thought of what could possibly go wrong sneaks in. At that point I have to relax and allow the confidence that can only come from years of intense training and practice to take over. As I begin to apply the paint to the canvas I find myself In the Moment…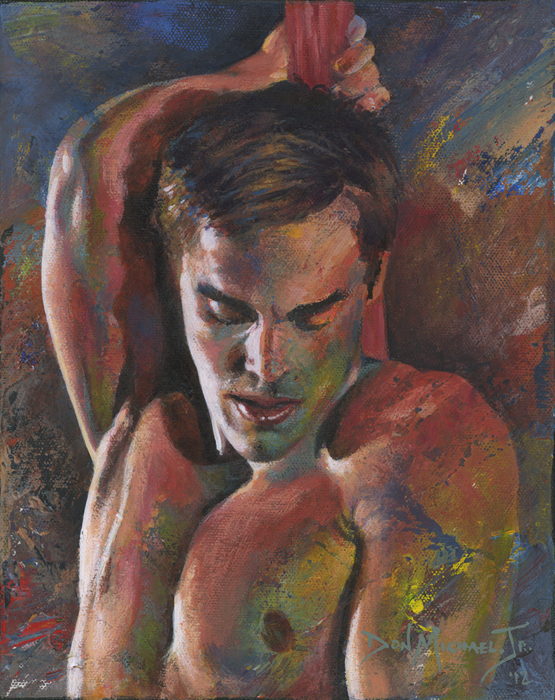 In the Moment – 10″x8″ – Acrylic on canvas – Completed 7/23/12
©2012, Don Michael, Jr.
My friend, Brien, seems to be in that very same moment as he prepares to perform an aerial fete that most of us earthlings can only stare at in amazement. Everything is ready. The years of training are behind him. Any second he will begin to spin and roll way above the ground, defying gravity while being suspended by only fabric and friction.
Holy smokes, this thing I do is fun! I think I want to go do some more…
Happy Creating!
Below is my latest Over the Under-Schmeerings (OTUS) painting. Usually, I would try to say something profound and insightful about my creation, but tonight I'm a little too numb with everything that's been going on, so I think I'll let it speak for itself…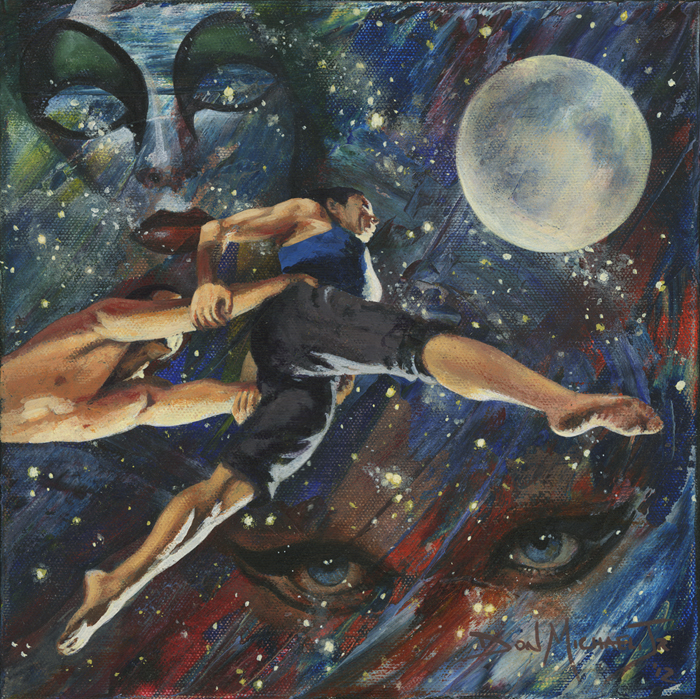 Leap of Faith – 10″x10″ – Acrylic on canvas – Completed 7/20/12
©2012, Don Michael, Jr.
What a crazy week this has been. After a meningitis scare which involved spending Monday night at the emergency room, our daughter was diagnosed with influenza. She had a follow-up Dr.'s appointment today and seems to be on the road to recovery. She's finally beginning to feel a little better and we hope to have her back to normal by the end of the weekend. Thank God!
Thursday evening, my folks called to check in on our daughter and just happened to mention that the donut shop they work at was robbed at gunpoint that morning. It was a big enough story that they even made it onto the news – which can be seen here. We thank God they are ok and don't seem to be any worse the wear for their experience.
Then, we wake up Friday to hear about the tragedy that unfolded in Colorado overnight. Wow! What is going on?!?!?!? How can someone have so much hate and disregard for the lives of their fellow humans?  Now everywhere I look I'm seeing hyperbole and politics beginning to manifest around this tragedy, when in truth I think we should only be worrying about the victims and their families. I finally had to quit listening to the TV and quit paying attention to what's being said online at different "news" outlets. My heart is broken for those affected in this atrocity and I do not want any more hateful rhetoric fed into my system while my emotions are in such an uproar.
As is almost always the case, painting helped me work through my strong emotions. Now, I'm tired and think I'll retire for the night. Hopefully, the weekend will be the beginning of a run of good things and wonderful news.
Happy Creating!
Once I finished this little palette knife painting and gave it a good look I realized that it had to be named after something crisp, fresh and cool. The first candy flavor that came to mind was spearmint. That wasn't quite cool enough for me, though, so I decided to name it after the Life Savers candy of that flavor…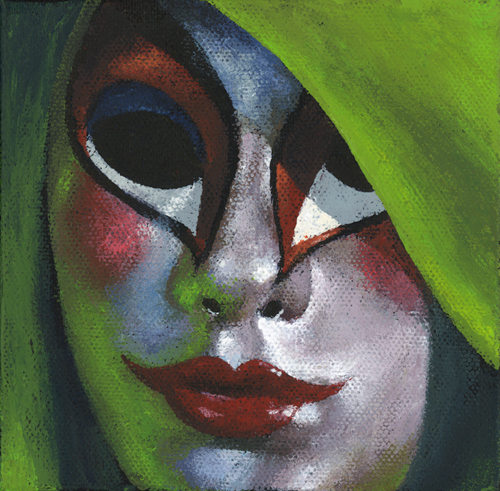 Spear-O-Mint – 5″x5″ – Acrylic on canvas – Completed 7/12/12
©2012, Don Michael, Jr.
I didn't realize until I was documenting this latest Eye Candy painting that it has the distinction of being the 300th painting in my mask series! I cannot believe I've done that many paintings, much less of the same subject matter.
On a historic note, the first painting I ever created which included masks was finished in September of 2002. That painting has never been seen outside of my household. In honor of today's milestone I think I will dust it off and finally share it.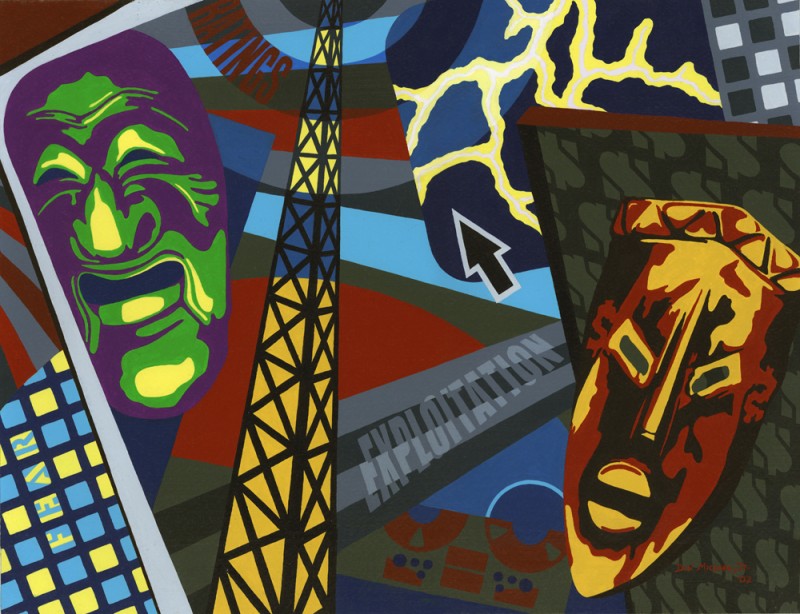 News at Eleven – 13″x 17″ – Acrylic on Arches W/C Paper – Completed 9/18/02
©2002, Don Michael, Jr.
Creating News at Eleven helped me stay sane at a tumultuous time in my life. I worked through a lot of angst during its creative process. (On a personal note, it was the first real painting I had done at the time in over 7 years.) News at Eleven is such a personal statement that I chose to keep it under wraps until now. People who have followed my work for a while may remember that I've always said Incongruous was my first mask painting. I even wrote about it here in one of my earliest posts. Maybe I should abridge that statement to be, Incongruous was the first mask painting that I was willing to share…
…well, I guess all that really matters is I've sure done a lot of paintings of masks. I've had so much fun in the process that I don't see any reason right now to end the streak. So, I think I'll head to the studio and work on the next one.
Happy Creating!
Here's my latest Over the Under-Schmeerings painting. Its title was inspired by the event (mentioned below) that I was taking part in while painting it. I think it fits pretty well, though…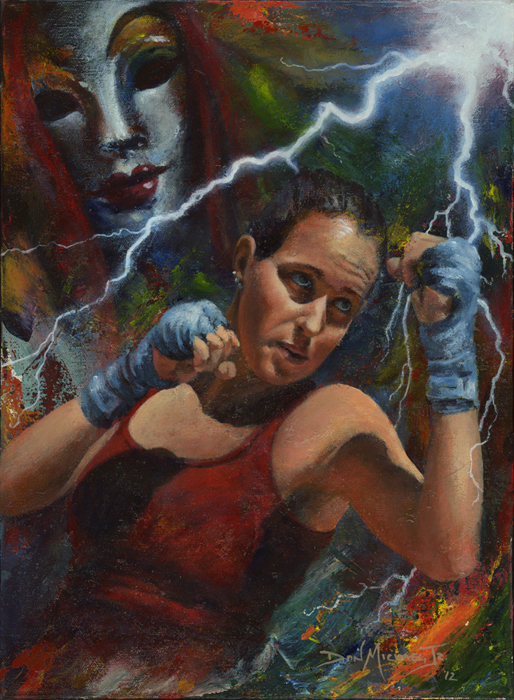 Synergy – 16″x12″ – Acrylic on canvas – Completed 7/10/12
©2012, Don Michael, Jr.
Last Friday morning found me and 3 other local artists painting live at a UFC press conference where Xyience announced it's national XenArt competition promoting their energy drink, Xenergy. (Details for the competition can be found by clicking here.) It was cool to be in that conference room with several of the UFC fighters and the Press Corp. I didn't get to spend any time with or around either, though, since I was busy painting. Below are some shots from the event provided by my good friend, CJ.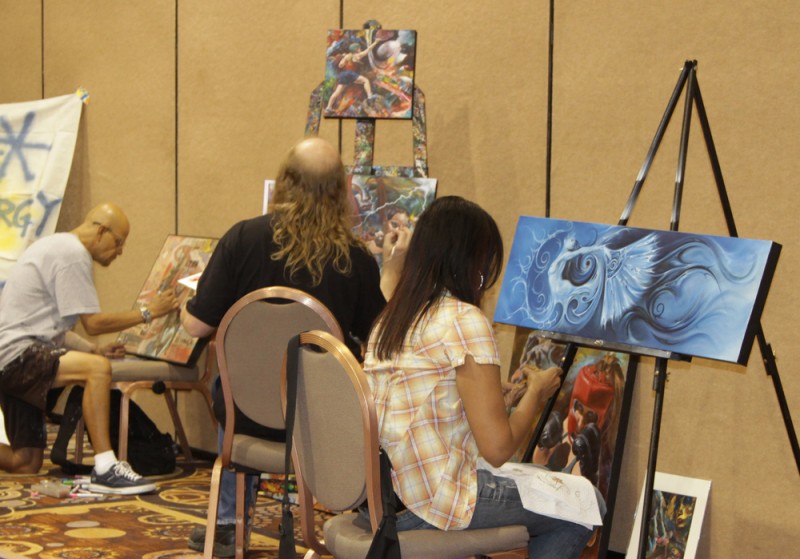 Artists Alex Huerta, Don Michael, Jr. and Teresa Maharaj hard at work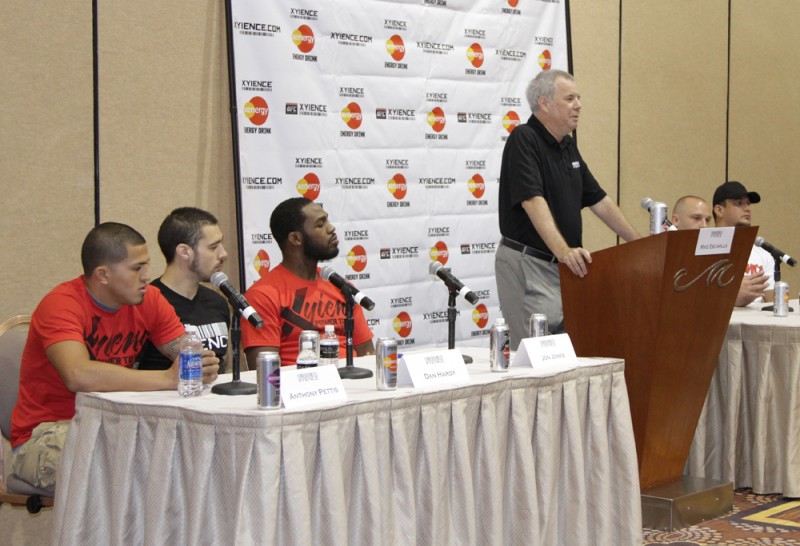 Five of the UFC fighters during the Q&A session. Light Heavyweight Champ Jon Jones is 3rd from left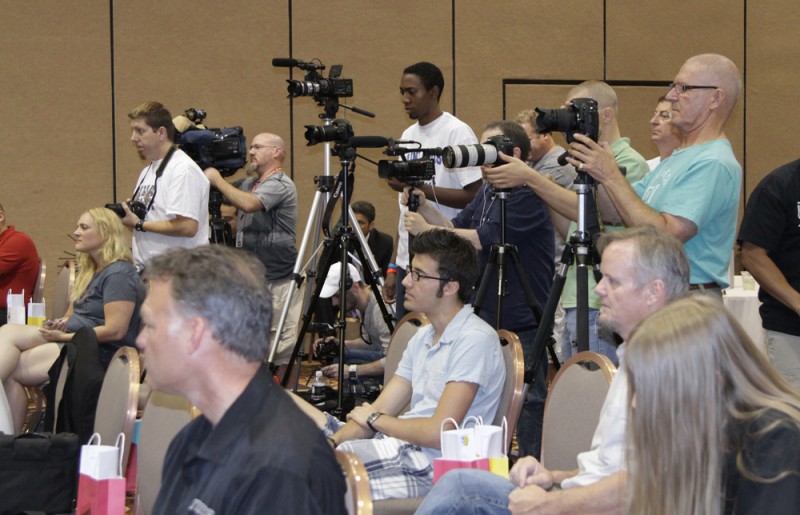 The Press Corp… (Yes, that's my son in the lower right – he couldn't miss a chance to meet the fighters)
After finishing up at the press conference it was time to head home and prepare for the downtown arts fest that is First Friday which began that evening at 6pm. Here's a portion of my wall…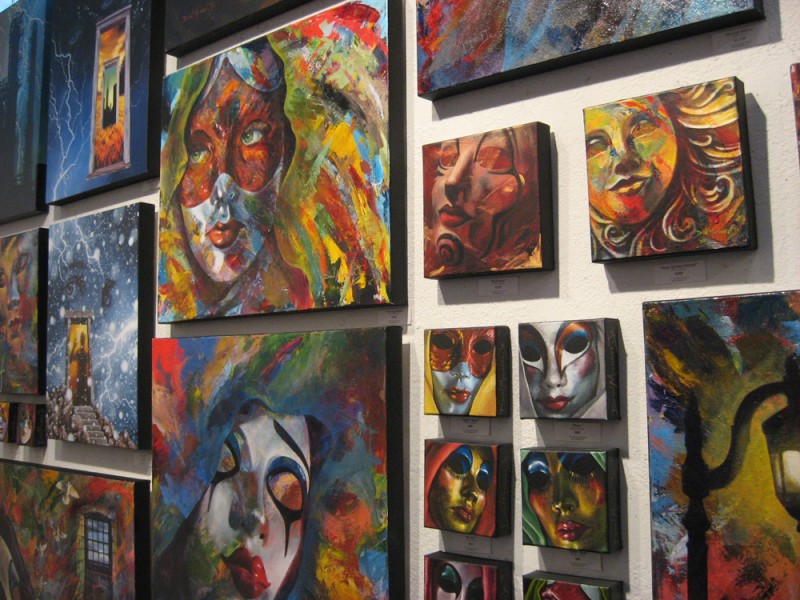 Fruits from my labors of love
After sleeping in Saturday, it was time to get back to work in the studio. Then, that night after midnight, CJ and I went to an "Aerial Jam" put on by a few of our Cirque du Soleil friends after they got off work from their respective shows. Even though it was hard not to just stand around with our jaws open in awe, we still got several great photos – some of which I plan to put to paint in the very near future. Here's a sample of these artists' awesomeness…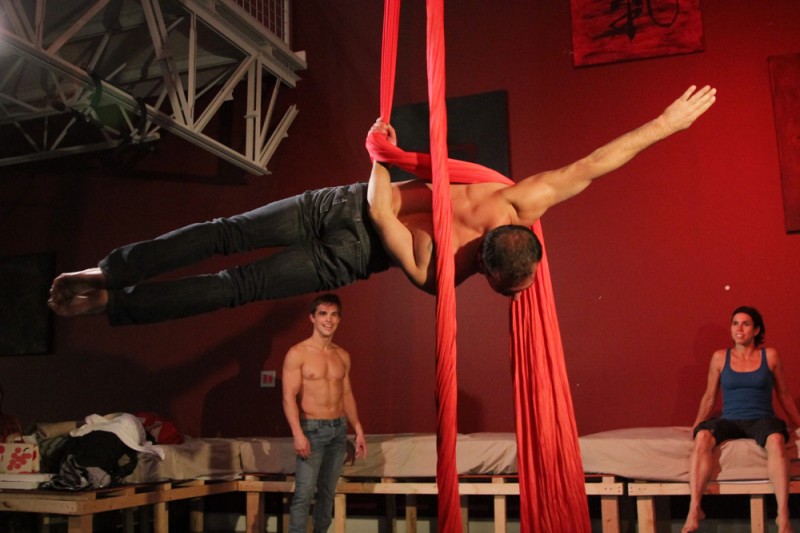 Brien and Julia appreciate Pierre-Luc's form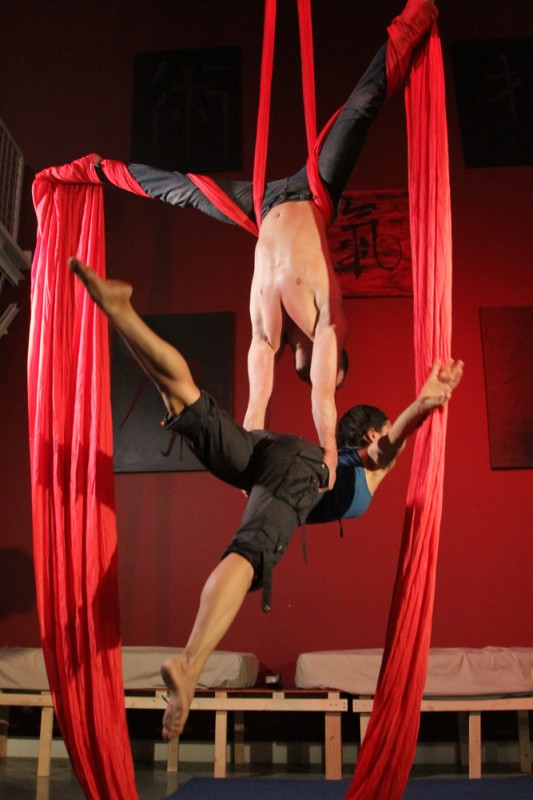 Pierre-Luc gives Julia a lift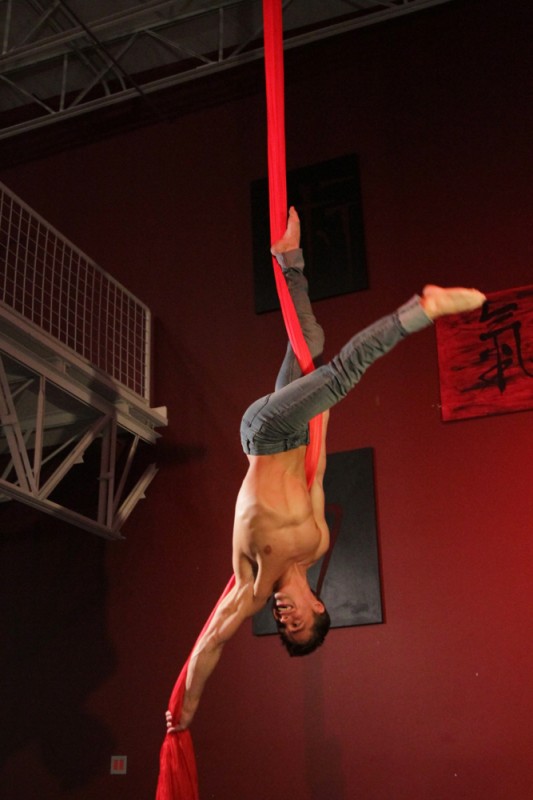 Brien is having too much fun
I am blessed to have so many talented friends who are willing to share in their joy of creating. Thank you all!!! I can't wait to find out what new and exciting opportunities will show up next…
Happy Creating!
Wow! I can't believe how quickly June flew by. It's no surprise, though, since there was so much going on with a graduation, a university orientation for the graduate, family in town, friends in town, and lots of other fun stuff. Also, I had a major distraction begin early in the month which even now continues to distract… Four weeks ago today I had a job interview which went amazingly well. Everything seemed to be in place for me to become the next Design Director at one of the local TV affiliates. Now it's been over 3 weeks since I've heard anything and that doesn't bode well. However, I'm still Cautiously Optimistic…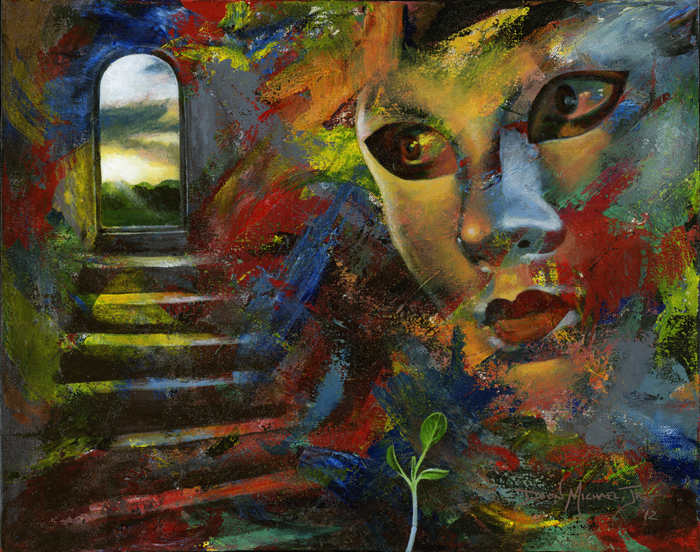 Cautiously Optimistic – 16″x20″ – Acrylic on canvas – Completed 7/2/12
©2012, Don Michael, Jr.
With everything going on I only finished two paintings in June, which was my lowest output for one month since early 2008. Now, it's the first week of July and I'm already halfway towards meeting my June quota. I think I can beat it…
Speaking of July… it's stacking up to be a wonderfully busy and creative month. I'll be painting live this Friday morning during a UFC press conference. Friday evening will be First Friday and I'll be exhibiting several of my paintings in wonderful Downtown Las Vegas. Saturday night I plan to be involved in a photo shoot that includes several Cirque du' Soleil performers in action. And that just gets me through the first week!
About that Design Director job… if it's meant to be, it will happen. Otherwise, I'll continue to do this thing I love. Maybe it doesn't pay as well, YET, but I'm Cautiously Optimistic that it will – and, hopefully soon.
Happy Creating!