My painting titled, Synergy, is a finalist in the XenArt: The Energy of Art juried competition!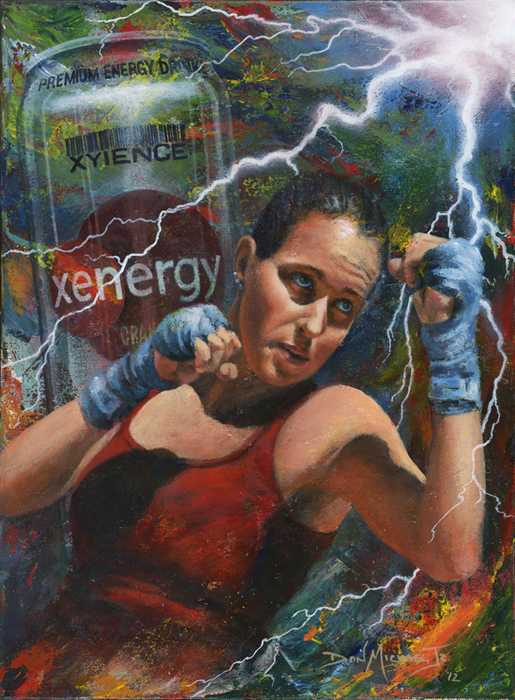 Synergy – 16″x12″ – Acrylic on canvas – Updated 8/12/12
Some of my regular readers may notice that this painting looks familiar. In early July I finished this painting, but decided after I wrote a post about it that I really wasn't entirely happy with it. So, I changed it – which is a very rare thing for me. When I finish a painting I almost never come back to it and change anything. If upon completion I decide I don't like something or feel I 'missed the mark' in any way shape or form, well then, I consider it a learning experience and move on. But, not this time…
In this case, I decided that since I was going to change it anyway, I might as well change it to include a Xenergy can and then submit it for consideration in the XenArt: The Energy of Art juried competition and art show. I'm happy I did…
Below is a side-by-side of what I had before and what it is now…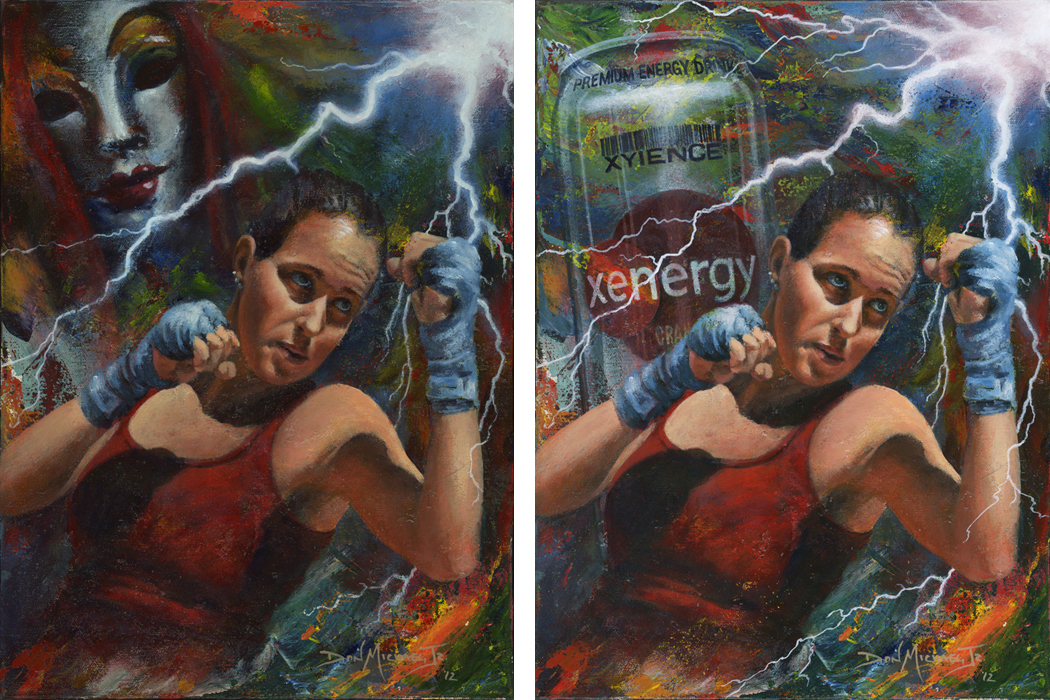 Synergy – before-and-after – ©2012, Don Michael, Jr.
If you would like to see the other finalists in the XenArt: The Energy of Art juried competition, just click here.
This Friday evening the winners will be announced during the gallery opening of the show. My fingers are crossed…
Happy Creating!
For the third year in a row I have honor of taking part in the wonderful charity event Circus Couture. This event combines the talents of aerialists, acrobats, fashion designers, musicians, dancers and fine artists to help generate monies that will be used to sponsor children in their treatment of cancers and bloodborn illnesses. My small part in each of these events has been to donate one of my paintings to be auctioned off during the event. Below is this year's painting…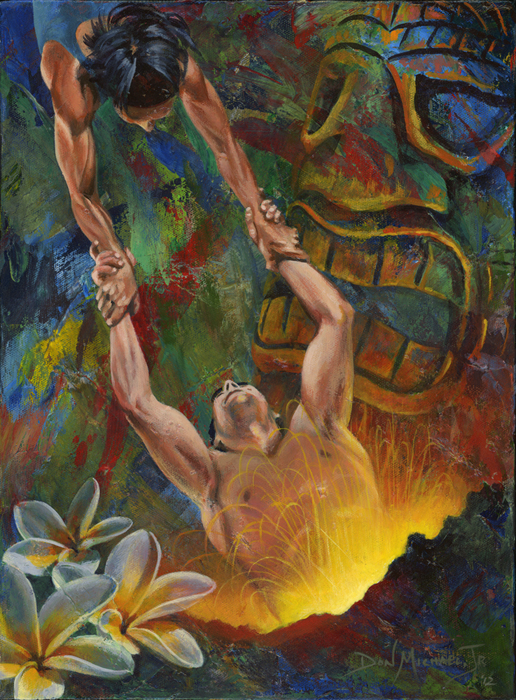 Esprit de Corps – 16″x12″ – Acrylic on canvas – Completed 8/18/12
©2012, Don Michael, Jr.
Before I even started this painting I gave a lot of thought to the ideals I wanted to convey. First of all, I wanted to 'tip-my-hat' to the wonderful performers who donate of their time and talents to this wonderful event. Secondly, I wanted to convey the idea that we all need each other to make it in this world. Other key words for me as I was designing this were: trust, exhilaration, fear, desire, collaboration and passion. I hope my ideals convey. More importantly, I hope my painting is able to generate significant monies to help our local children in their fight to beat cancer.
If you would like to find out more about this year's event be sure to click on this link: http://www.circus-couture.com/event.htm
Happy Creating!
Earlier this summer I had the opportunity to work on the graphics package for a wonderful journaling tool.
Now, I'm pleased to share that DavidRM Software has announced the release of The Journal 6. This is a convenient, flexible and secure way to satisfy your journaling or writing needs. To learn more about it, click here…
The fun thing about a project like this is that I get to create and then put together a giant 'graphics puzzle'. We want all the pieces to look like they belong together, whether its the online elements, the dvd elements, or the print elements. To start with, we refined and updated their logo.

The Journal Logo – ©2012, DavidRM Software
Then, it was time to come up with the color palette and figure out what design elements we wanted to employ. Below is what we came up with.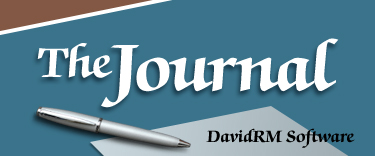 The Journal Graphic Element – ©2012, DavidRM Software
 Then it was time to come up with the DVD case. Be sure to click on the image below to see both the front and back of the case. Also, notice how we included the version of the software in the design.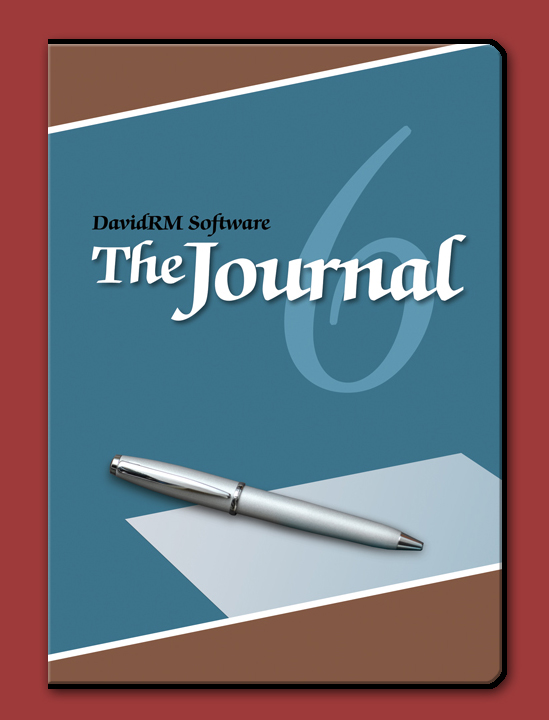 The Journal DVD Case Artwork – ©2012, DavidRM Software
Of course, then we had to make a cool label for the DVD itself.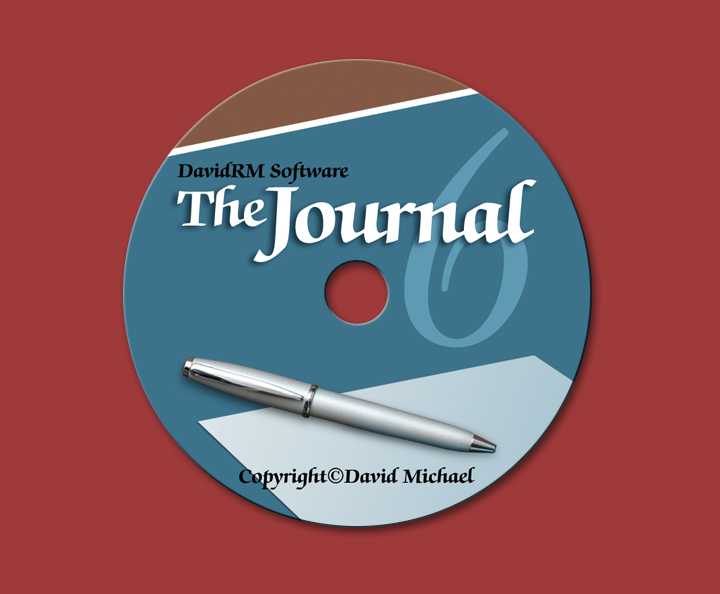 The Journal DVD Label – ©2012, DavidRM Software
There are several more elements that went with this project, but, I think you get the idea. I absolutely LOVE these type of design projects. I hope to find some more soon.
If you're interested in downloading The Journal 6, you can find it here.
Happy Creating!
When I named my latest Eye Candy palette knife painting I didn't realize that I was misspelling it. Once I did a little research, I discovered my mistake, but it was too late. I had already written its title on the back of the canvas. Oh well, maybe no one will notice that I added a space where it doesn't belong…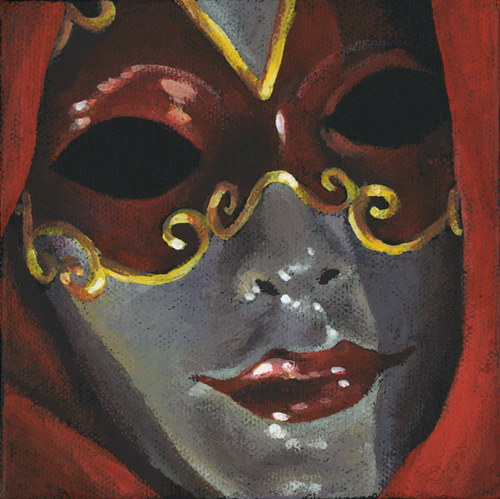 Jaw Breaker – 5″x5″ – Acrylic on canvas – Completed 7/31/12
©2012, Don Michael, Jr.
My little research venture taught me that jawbreakers – called gobstoppers in Great Britain – have been around for over a century. In America, the Ferrara Pan company has been making jawbreakers under the brand name Jaw Busters since 1919. Ferrara Pan also makes my favorite jawbreaker of all time called the Atomic Fireball, which I represented in paint last year and wrote about here.
Now that I've shared a little confectionary love, I think I'll retire to my studio for a while…
Happy Creating!